*This site uses affiliate links; if you make a purchase through these, I may receive a small commission at no cost to you.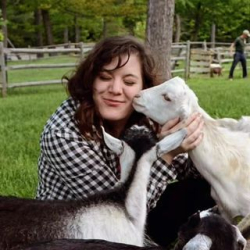 Latest posts by Amy Hartle
(see all)
There are plenty of awesome places to go on a weekend getaway or day trip from Boston, but if you want to spend some time in one of the best examples of Maine's unbridled beauty, why not take a road trip from Boston to Acadia National Park?
Sure, you could fly, but in my experience, you'd miss out on all the road trip fun— and with so many awesome things to see and do between Boston, Massachusetts and Acadia, Maine, there's a LOT of fun you could miss! Don't worry! We're here to help you plan your Boston to Bar Harbor trip.

Note: We will also refer to this as a Boston to Bar Harbor road trip, as Bar Harbor is the final destination and the town next to Acadia National Park.
Boston to Acadia National Park Road Trip Basics
What is the distance from Boston to Acadia National Park?
So, how far is Boston from Acadia National Park, anyway?
The drive from Boston to Acadia National Park is approximately 280 miles. If you're not focused on a scenic road trip, you can drive from Boston to Acadia in 4 hours and 30 minutes, with no stops. That route is essentially following I-95, so while it's the fastest way there, it's not going to be very exciting.
Alternately, you can follow the coastal route that runs between, which we highlight in this Boston to Bar Harbor itinerary. While this will increase your driving time to 5 hours 20 minutes, you'll be passing through far more scenic territory. If you're looking to get out and explore some of coastal Maine, this is the way to go.
How many days should a Boston to Acadia road trip take?
While you could technically make the longer drive in just one day, your stops will be limited. Ideally, we suggest that 2-3 days of adventuring is a perfect amount of time.

We've created this road trip itinerary for 2 days. With this plan, if you head out at 9am each morning and spend about 3 hours exploring each daytime stop, you will land at your overnight stop with plenty of time to explore before turning in for the night.
What's the best time to road trip from Boston to Acadia?
Acadia National Park is a fun spot to visit year-round, but you get the most bang for your buck when the weather is cooperative for all kinds of fun Acadia things to do, which is the late spring and early summer. But for fall foliage gorgeousness, visiting in time to enjoy Maine's autumn magic might just be the best plan of all!
Whatever time of year you choose to embark, you'll find Acadia National Park is one of the best places to visit in Maine. Pack your bags, gas up the car, and get ready to head out on your amazing Acadia road trip!
PS: Heading to New England from NYC? Here's a terrific New York to Maine road trip that covers many of the same great spots.
Renting a Car from Boston Airport
Heading straight from Boston airport to Acadia National Park? Find deals on the best rental cars here!
2+ Day Boston to Bar Harbor Road Trip
Day 1, part 1: Boston to Salem, MA (20.2 miles via US-1N)
Okay, so we know Salem is only about 45-mins up the road from Boston, but you really can't just drive past this historic (and quite possibly haunted) little town without stopping! You can easily swing through Salem and visit the most haunted places in town and the spots where Hocus Pocus filmed in just a few hours.

If you're making your trek through during the month of October, you'll find there's a ton of extra spooky stuff going on for the season. You might consider stretching your visit to an overnight if you're really into that kind of thing (you could go on a totally creepy ghost tour, too!)
There are also plenty of cool little Salem shops to check out, museums to visit, and great eats to enjoy, but pace yourself, friend… this is just the beginning of your adventure to Acadia from Boston. One somewhat non-negotiable: grab a bite or even just a cup of coffee at Gulu-Gulu Café before you hit the road… you won't regret it!
Day 1, part 2: Salem, MA to Portsmouth, NH (44.3 miles via I95N)
Just one more hour up the road is this little slice of Seacoast heaven that is Portsmouth, New Hampshire. Not only is Portsmouth a lovely sight to see, but with tax-free shopping, it is well worth pulling off of 95! Portsmouth is one of the most beautiful places in New Hampshire. There's substance behind this beauty, too, with so many terrific things to do in Portsmouth.
We suggest getting out to stretch your legs with a visit to Strawbery Banke Museum. This great outdoor history museum lets you sample a little of the history of the area.
Next, move on to the adorable downtown/historic district and get your stroll on as you pop in and out of the cute little shops. You're sure to find the perfect Portsmouth memento, and it's tax-free, remember?
Keep your eyes peeled. bIt's pretty cool how the well-preserved historical structures coexist with the spectacular street art you'll find gracing the sides of certain buildings. When you're starting to feel a little peckish, duck into Portsmouth Book & Bar for a quick bite/drink/book buying/music listening excursion! It's one of the coolest bars in town.

Before you head back to the car, consider paying your respects at the African Burying Ground Memorial on Chestnut Street. Portsmouth came together to memorialize this burying ground that had been so callously paved over centuries prior.
Then it's back on the road to Bar Harbor!
Day 1, part 3: Portsmouth, NH to Kennebunkport, ME (29.6 miles via 95N)
Just over a half-hour up 95 from Portsmouth is the little seaside town of Kennebunkport!
Known for beaches and the Bush's (the former President's summer home, not shrubbery!), this coastal gem is quaint and picturesque with plenty of things to do. With some of the best beaches in Maine located in Kennebunkport, you'll definitely want to see for yourself what all the fuss is about. Even if it's too cold to splash around in, you'll love those spectacular sea views!
Downtown Kennebunkport also delivers when it comes to aesthetics. Boutique shopping and art galleries are in no short supply in this delightful downtown area.
Seafood rules the roost in this seaside spot and The Clam Shack was recognized as having "America's Best Lobster Rolls" by Food & Wine Magazine. How's that for a solid recommendation?
Kennebunkport will also be where you set up camp for the night, and while there are plenty of great places to stay, many require 2-night reservations; The Lodge at Turbat's Creek is an exception and a lovely option.
Click Here to Check Prices & Book!
You can also set up actual camp for the night and go glamping at Sandy Pines Campground. We aren't talking about you wrestling to set up a tent because Sandy Pines has some super neat options for cottages and beautifully structured Glamp Tents.
They offer a little more comfort-wise than a standard tent staked on the dirt does! Wherever you stay, get some good rest for Day 2 of your Boston to Maine road trip adventure.
PS: You could also consider stops at these Maine coastal towns: Ogunquit, York, or Old Orchard Beach. Check out our recommended coastal Maine road trip itinerary here:
Maine Coast Road Trip: Kittery to Bar Harbor Road Trip Itinerary
Day 2, part 1: Kennebunkport, ME to Portland, ME (28.5 miles via 95N)
You'll only be on the road for about half an hour before arriving in Maine's largest city, and as many will argue, it's coolest! With an eclectic vibe of trendy chic hipster meets historical sophistication, Portland has tooooons of cool stuff to see and do; check out this ready-made weekend in Portland itinerary for ideas for your next visit!
Hope you brought your appetite because Portland is an up-and-coming foodie destination and you have fabulous food options galore.
You're not likely to hit a dud by choosing any popular Portland restaurant, but a sure bet is Becky's Diner on Hobson's Wharf. Featured on "Diners, Drive-Ins & Dives," Becky's offers authentic downhome cooking in a laid-back waterfront location. If you make Becky's your breakfast spot, consider getting the Lobster Benedict… yum!
After breaking your fast, walk the cobblestone streets of Old Port, wandering in and out of the unique shops, like Chart Metalworks. One-of-a-kind handcrafted jewelry and accessories would be a perfect memento of your Portland visit.
Next, consider checking out one of the several lighthouses that are in Greater Portland. Portland Head Light is just about 10 minutes or so from Old Port and offers those quintessential New England lighthouse views. Visit the museum and gift shop, meander around the beach and gardens, and take about a bazillion photos. This is one of Maine's most beloved lighthouses!
Then it's time to hop back in the car for part 2 of your 2nd day on the road from Boston to Acadia National Park.
Day 2, part 2: Portland, ME to Rockland, Me (78.5 miles via 295N)
It's not absolutely necessary to stop halfway along the road to Rockland in the tiny town of Wiscasset to sample a lobster roll from one of the best lobster shacks in the entire country… or is it? You will be driving right past Red's Eats about 50 minutes or so after leaving Portland, so do what you will with that information!
Just 45 minutes past Wiscasset is Rockland, one of the cutest small towns in Maine. This classic coastal town has an artsy vibe to it, and we wholeheartedly recommend checking out why that is!
There's the Center for Maine Contemporary Art, Farnsworth Art Museum, and The Muir Garden for Contemporary Sculpture at Harbor Square Gallery to choose from.
Once you've checked out some great art collections, head on over to the lovely Rockland Breakwater Lighthouse to ooh and ahh over that, too. The views both of and out of the Rockland Breakwater Lighthouse are positively perfect.
Your next leg of the trip will be the final stretch to Acadia! You're looking at almost 2 hours in the car before pulling into Acadia National Park, so consider a quick fuel-up at quirky Café Miranda before you leave! With a fabulous menu, there's lots to choose from—especially delicious desserts! Maybe have a little Blueberry Crisp or Focaccia Bread Pudding before you hit the road?
Day 2, part 3: Rockland, ME to Acadia National Park (80 miles via US-1N)
After your final 2-hour trek along the coast winding around and over the bays, rivers, and narrows that separate you from Mount Desert Island, finally, you will arrive!
You have got a whole lot of options when it comes to where to stay in Acadia, including some neat little Airbnbs, cabins, and beautiful hotels. Camping is also always a fun option! Pick your perfect landing spot so you can rest up from your road trip and get out and explore all the amazing things to do in Bar Harbor and Acadia.
We've stayed at Bar Harbor Inn & Spa and recommend it for anyone looking for a beautiful place to stay near Acadia! Plus, there's a pool!
Click Here to Check Prices & Book!
As for what to do on your Acadia adventure, feel free to follow our ready-made 3-day itinerary for Acadia National Park if you'd like to skip the planning part!
If it's outdoor adventure you're looking for, there's plenty of that, with gorgeous hiking trails, scenic vistas, and natural attractions like Thunder Hole. This rocky inlet is where saltwater dramatically rushes into the narrow space with a loud BOOM, often spraying onlookers that have come to witness the sight.
We actually discovered one of our favorite hikes ever at Acadia! If you're not a fan of heights, maybe skip it, but if not, check out Beehive Loop Trail. It was so fun to climb up the sheer rock face using only the embedded handles and rails. It's certainly not for anyone with a fear of heights, but we loved it and highly recommend it! The views from the summit are stunning.
There's plenty of opportunity for lounging around, too, with beaches to set up camp on, some of the best whale watching in the state, and even one of New England's top wineries located right there in Bar Harbor.
Whatever you're in the mood for, you're likely to find on your Acadia National Park getaway!
The Return Trip from Acadia to Boston

On the way home you've got a few options! You can either backtrack along the coast and visit all the spots you wished you had more time to spend in, or you can switch it up by staying on 95.
If you do this, you'll be driving through towns like Bangor, Augusta, and Freeport – don't forget to get a picture with the boot! If you choose to do a "straight shot" on 95 with no stops, the drive takes less than 5 hours total.
This could be a perfect way to cap your Boston to Acadia road trip if you're pressed for time.
Whatever roads you choose to take, you're sure to collect great memories of your road trip. Enjoy your Boston to Acadia getaway!
---
You might also like:
5 Spectacular Maine Road Trip Routes You Won't Want to Miss!
---