*This site uses affiliate links; if you make a purchase through these, I may receive a small commission at no cost to you.
Latest posts by Tori Trogani
(see all)
Whether you're looking for a weekend getaway or want to experience the charm of New England coastal cities for the first time, there are so many exciting things to do in Portsmouth NH and it should definitely be on your list.
Portsmouth, New Hampshire, located about an hour north of Boston, is one of New England's most popular port towns. With plenty of interesting shops, wonderful places to eat, and history to explore, it's no wonder that it is such a tourist destination for those in the know.
My first Portsmouth trip, I didn't know what to expect. I'd heard that it was a lot of fun but I didn't know a lot about its history or the best things to do in Portsmouth. Luckily, I went with someone who had been there before and acted as my Portsmouth tour guide.
Today, I want to be that for you so you can take full advantage of your trip! Without further ado, here are my recommendations for a perfect Portsmouth weekend getaway, or Portsmouth itinerary for however long you're visiting.
PS if you're looking for things to do in Portsmouth NH this weekend or things to do in Portsmouth NH today, check out this local events calendar to see what's going on in Portsmouth during your visit!
The Best Things to Do in Portsmouth NH
Get a delicious breakfast
La Maison Navarre
To start your day in Portsmouth NH off right, I recommend a visit to La Maison Navarre, which is a charming French Patisserie, Bistro, and Wine Bar located on Congress Street in downtown Portsmouth. Stepping inside, it feels like a traditional French bistro with antique posters hung on the walls and a long counter with bar seating where you can sit and watch the busy staff prepare your crepes.
They offer a wide selection of delicious sweet and savory crepes (My favorite is the nutella with banana and strawberries!).
They also have an impressive selection of specialty desserts, which look almost too beautiful to eat, as well as a wide variety of housemade macarons (including some made with ice cream!)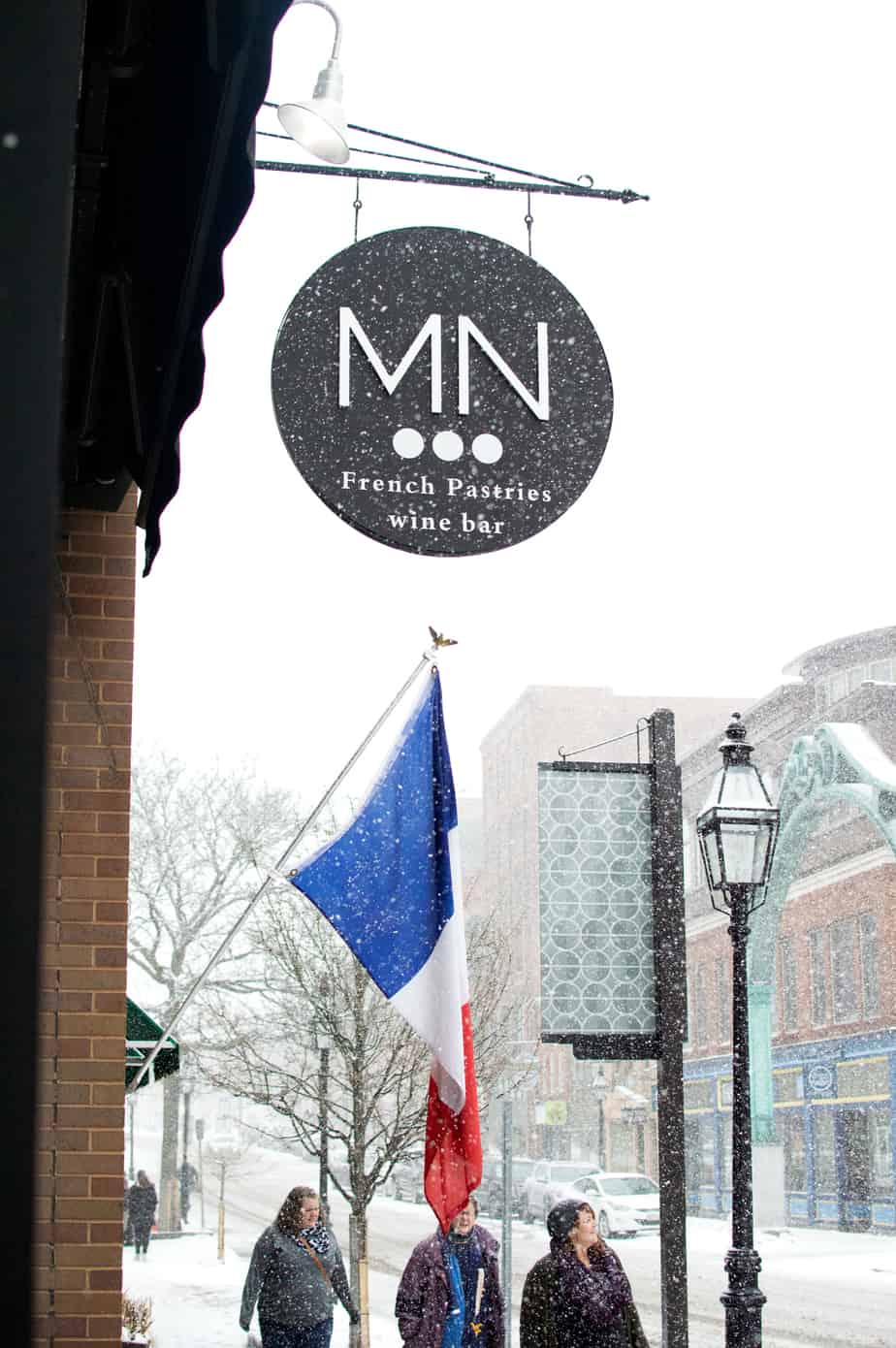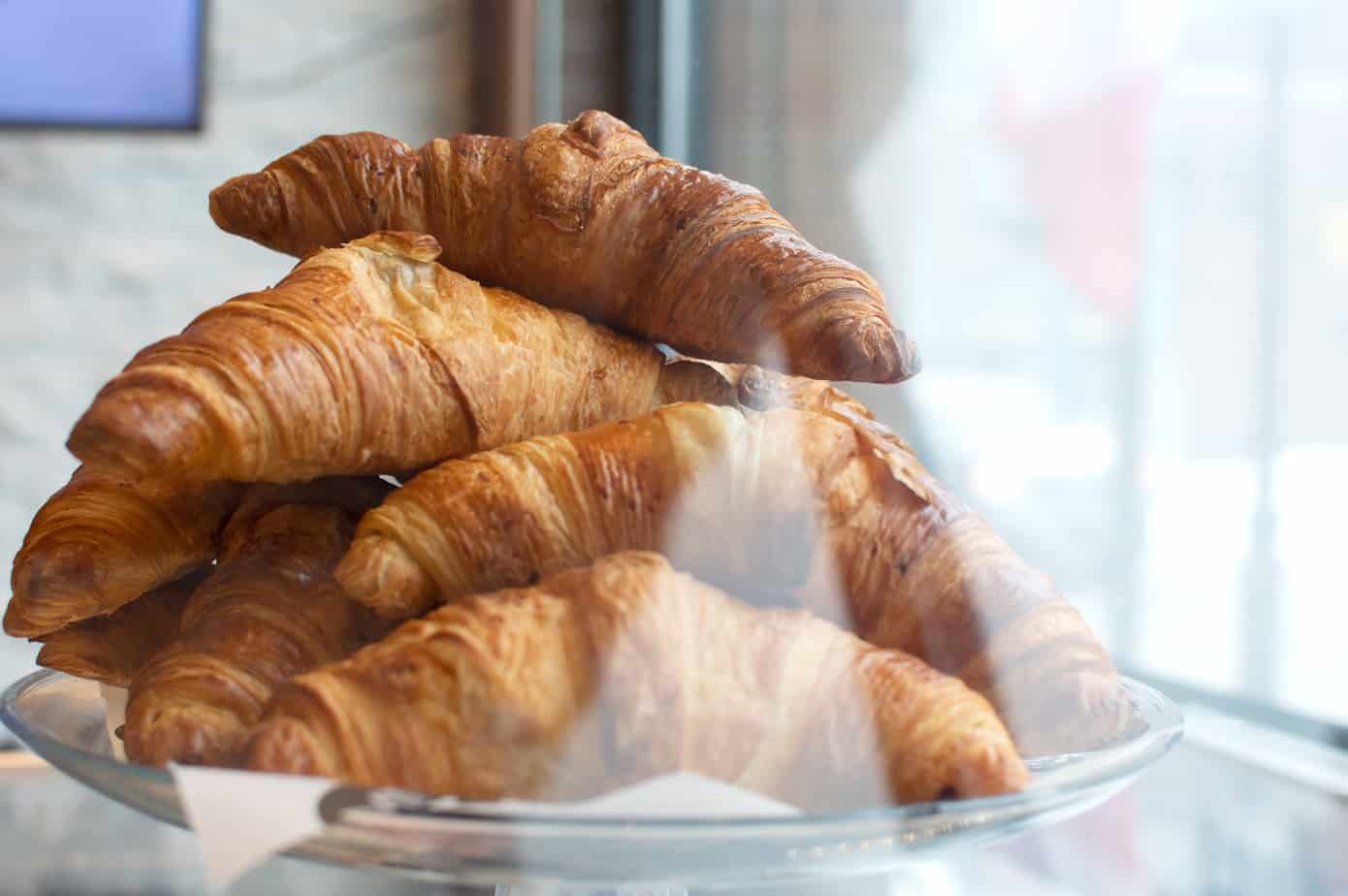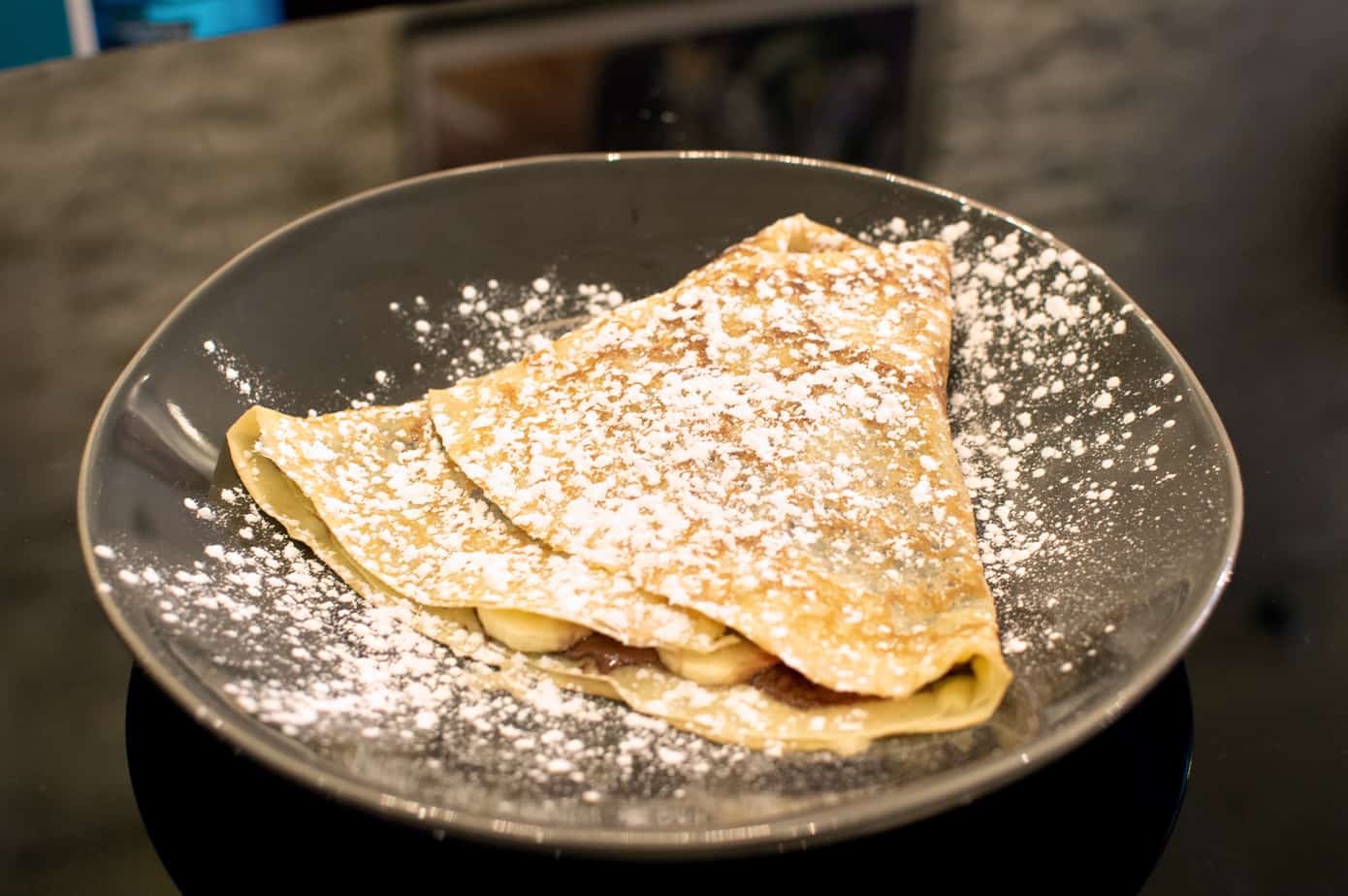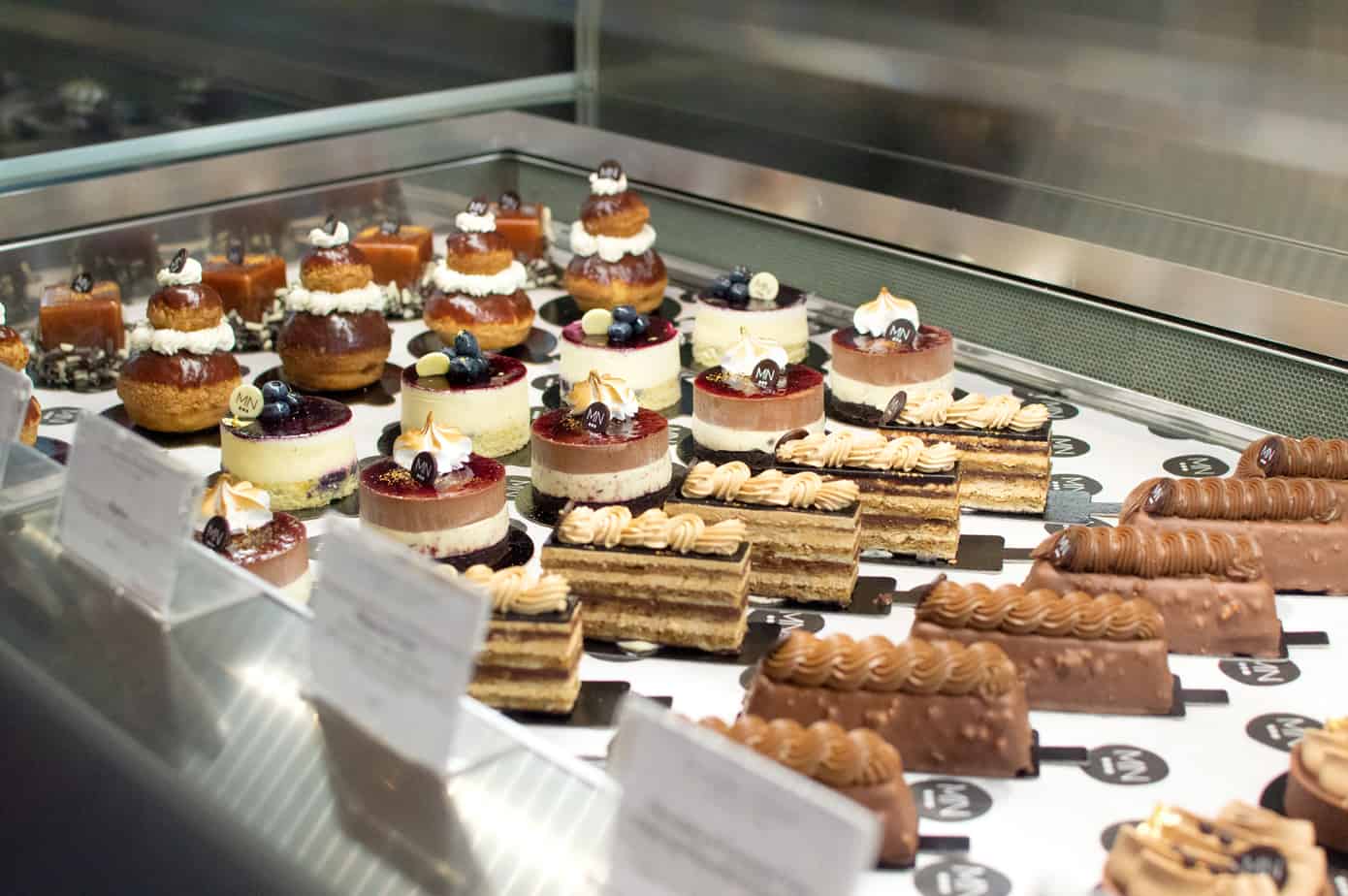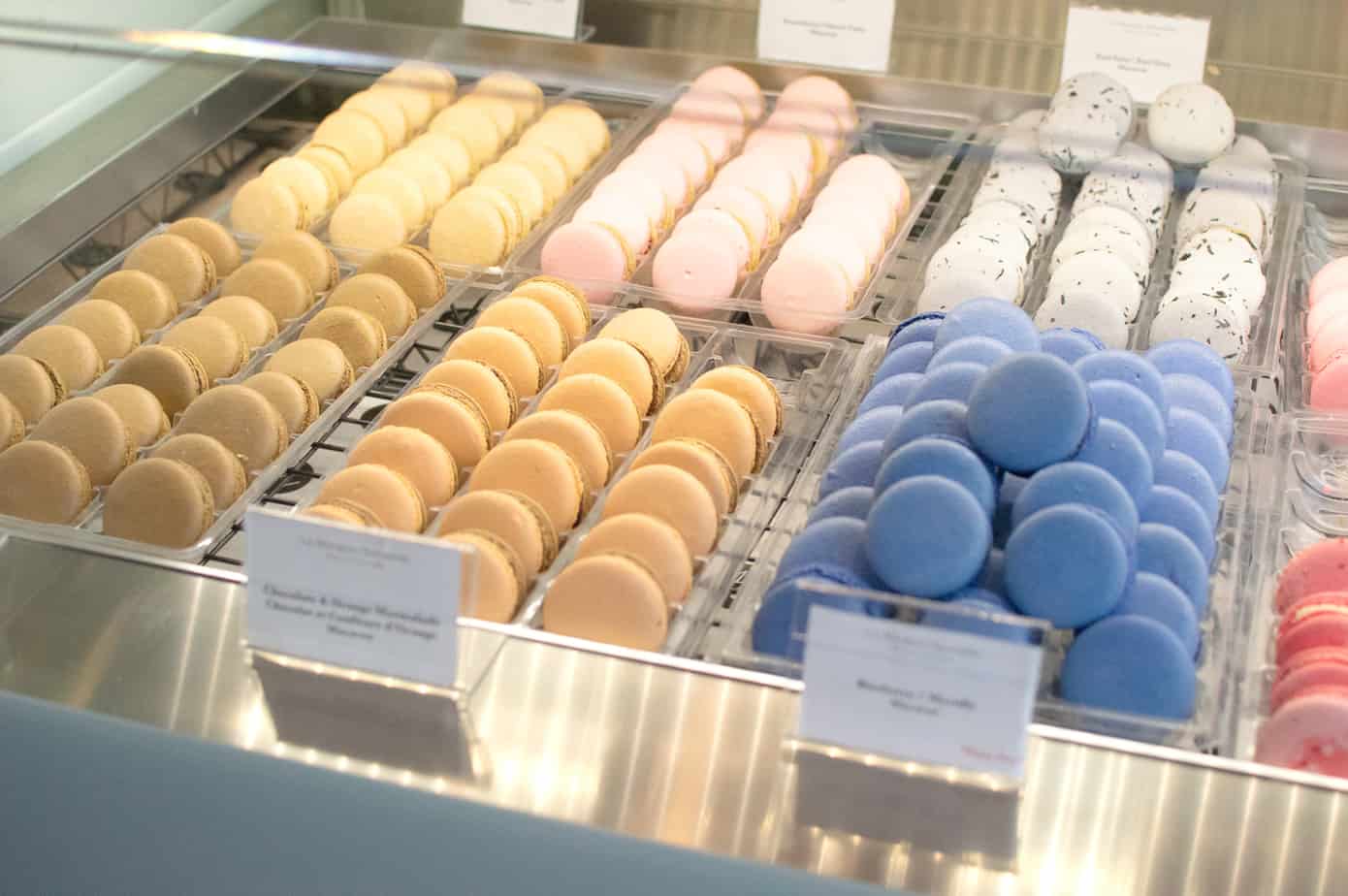 The Friendly Toast
If you prefer American diner food to European fare, right next door is another wonderful establishment called The Friendly Toast. It is part of a very popular local franchise with several New England locations.
The Portsmouth NH location, in particular, seems to always be very busy.
The space is pretty large and covered in colorful, eclectic décor featuring a number of retro signs, board games, quirky artwork, and a giant seahorse. They have an extensive breakfast, lunch, and dinner menu including vegetarian and vegan options, with all items available at any time of day. When I go, I tend to go for their basic breakfast with two of their perfectly poached eggs! It's the perfect Portsmouth breakfast!
Explore Portsmouth History
After getting breakfast, you can learn more about the history of Portsmouth New Hampshire by heading over to the Strawbery Banke Museum, which is about a 10-minute walk away from Downtown. Strawbery Banke is a 10-acre outdoor history museum detailing the story of how the settlement was founded and what life was like for those who lived there.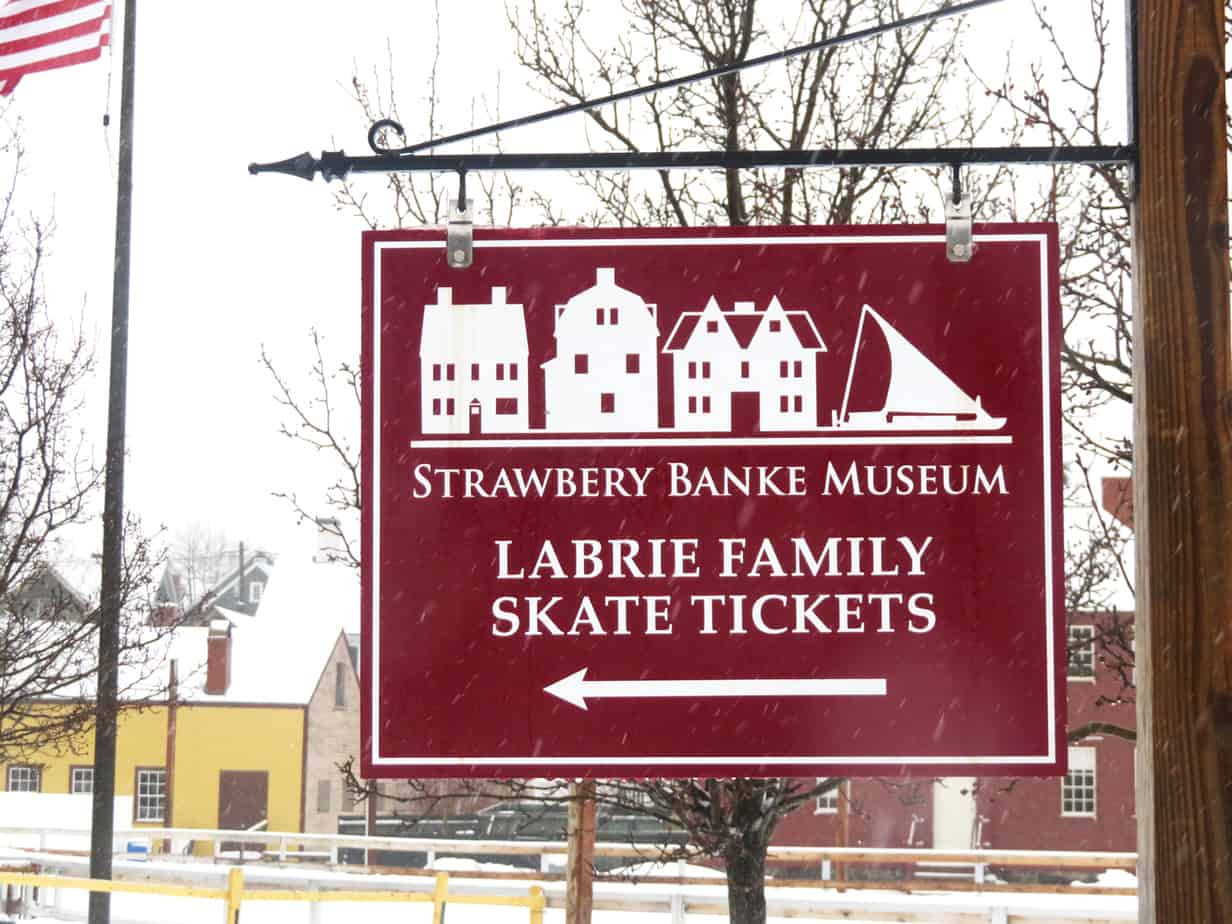 When visiting this Portsmouth attraction, you enter through the Visitor Center where you are shown a short intro video before being led out by a tour guide into the historic neighborhood. You are then given the option of remaining with the group or going exploring on your own.
Even if you choose to split off, there are signs posted throughout that detail much of the history. Also, I encourage you to talk to the staff posted in different locations who are often dressed in historic garb. They are very knowledgeable about the history and can give you a really good snapshot of daily life during the period they're portraying.
There are 39 historic buildings to explore. One of the most impressive is the Goodwin Mansion, which, as the name implies, was home to one of the wealthier families in Strawbery Banke. The grounds of that home also feature a greenhouse and one of the Banke's several historic gardens.
While it is beautiful to visit during the summer, particularly if you want to view the gardens in full bloom, if you happen to be there during the winter months they also have the Labrie Family Skating Rink, which is popular with Portsmouth locals and visitors, open from December to February.
Eat Some Truly Sensational Pizza
After visiting Strawbery Banke, you can make your way back into town and back up Congress Street to Flatbread Company, one of my all-time favorite pizza places in Portsmouth and beyond. They are part of another small franchise with 16 locations, mostly in the New England area.
The Portsmouth location is in a cool industrial space with a tin ceiling and exposed ductwork with rustic wood tables and booths. They specialize in wood-fired, clay oven pizza using locally sourced, natural ingredients.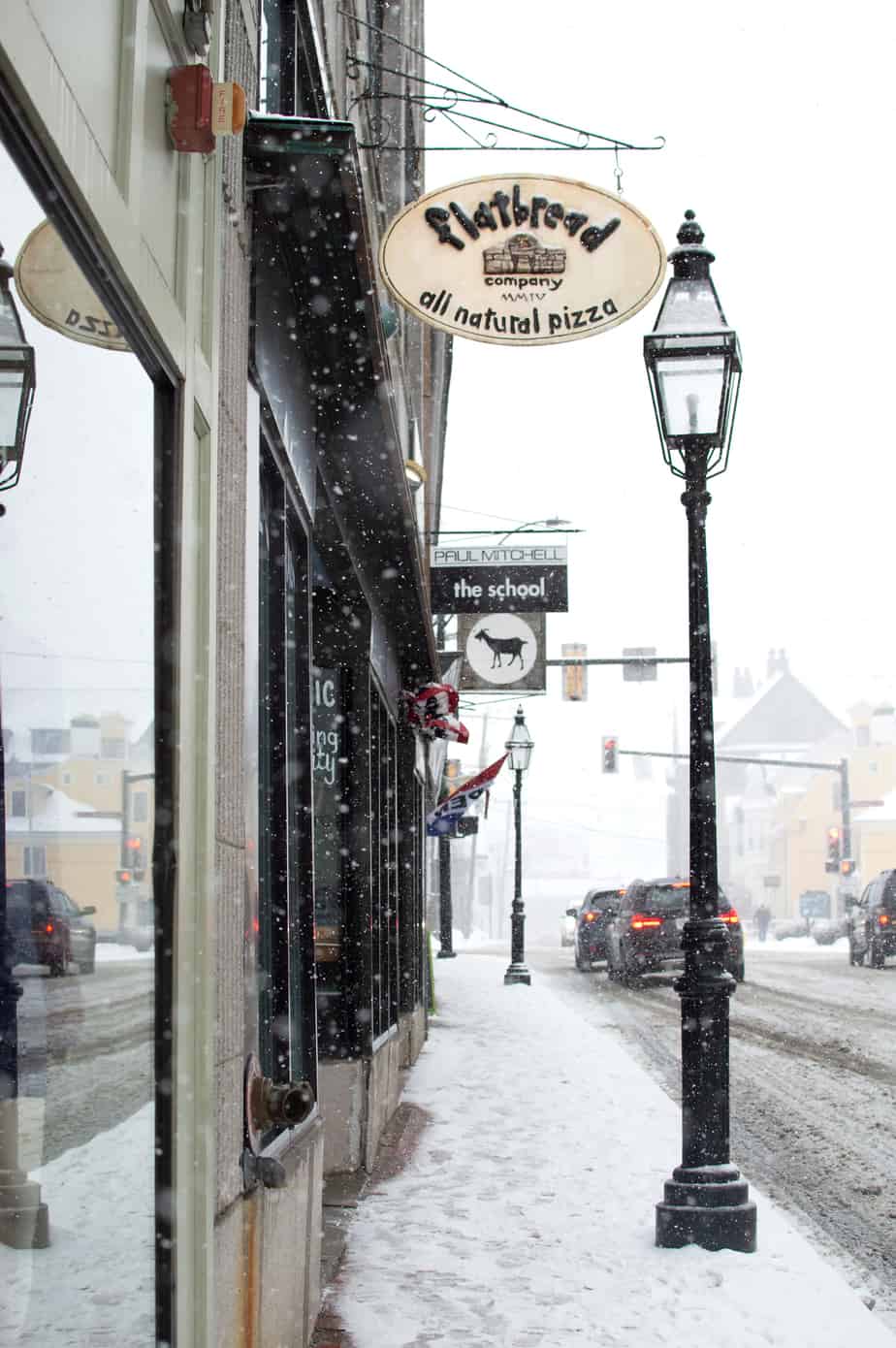 My favorite is the Portsmouth Community Flatbread, which is a red sauce pizza topped with organic caramelized onions, organic mushrooms, whole milk mozzarella, Parmesan cheese and their special herb blend.
They also make a carne and a veggie special that changes daily, both of which are always very creative and extremely delicious! They had a veggie special once which was made with a sweet potato puree, goat cheese, and a honey drizzle that I still dream about sometimes.
Take Advantage of the Great Portsmouth NH Shopping
One of my favorite things to do in Portsmouth, NH is to explore cute downtown Portsmouth which is packed with wonderful and unique small businesses. Shopping here is also tax-free as New Hampshire doesn't have a sales tax!
There are far too many great shops to list them all here so I'll just highlight some of my favorite places for shopping in Portsmouth NH.
Inside Out
The only way I can describe Inside Out is that it feels like New Hampshire. The interior is all cozy brick and rustic wood with worn leather seating and their merchandise consists of comfortable yet fashionable women's and men's clothing as well as gifts, craft cocktail tools and accessories, homeware, and kids toys and books.
In particular, if you're visiting and want to pick up a unique souvenir, they have a wonderful selection of Portsmouth-themed merchandise like jewelry and bottle openers with Portsmouth's coordinates or map on them.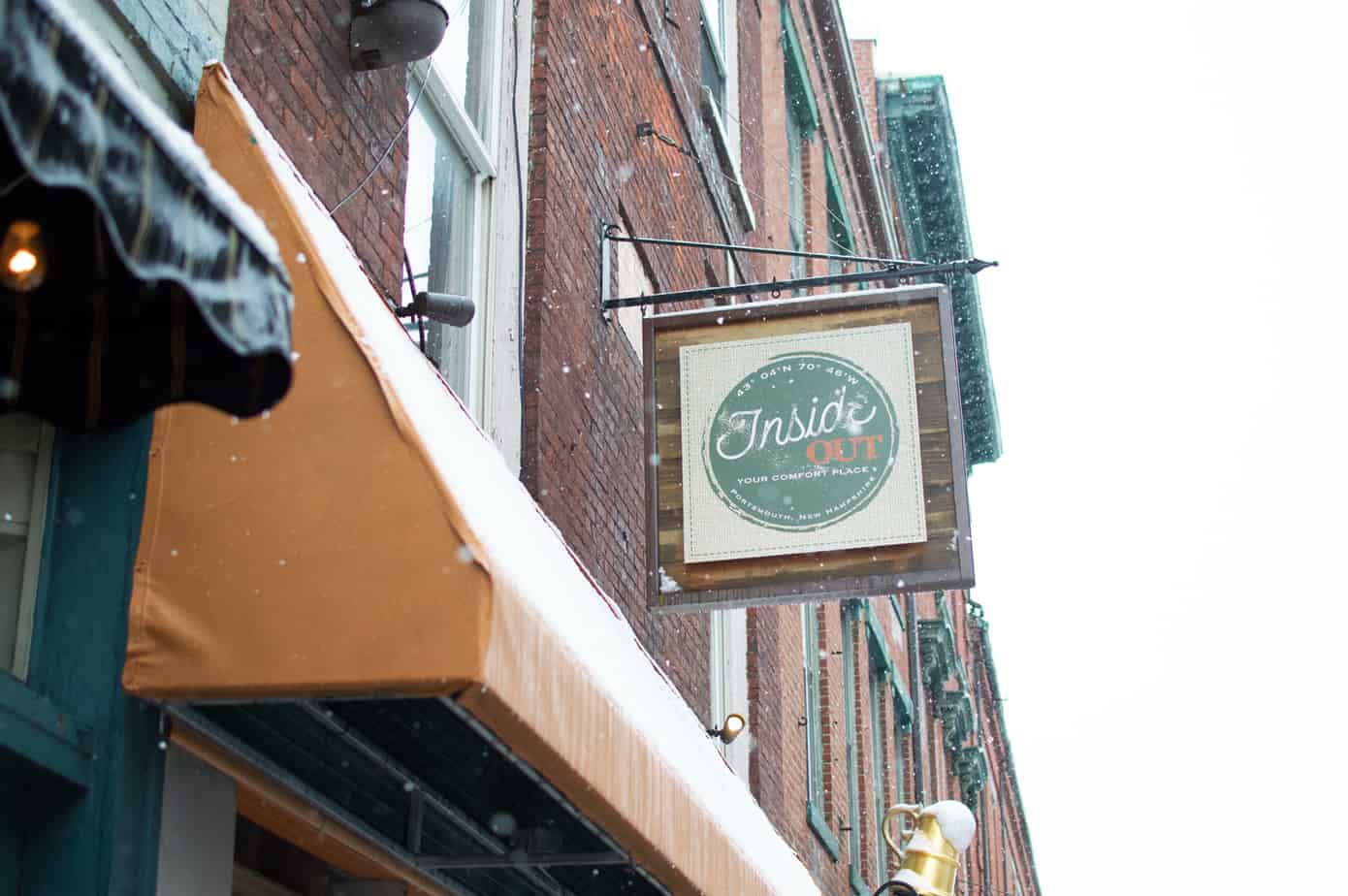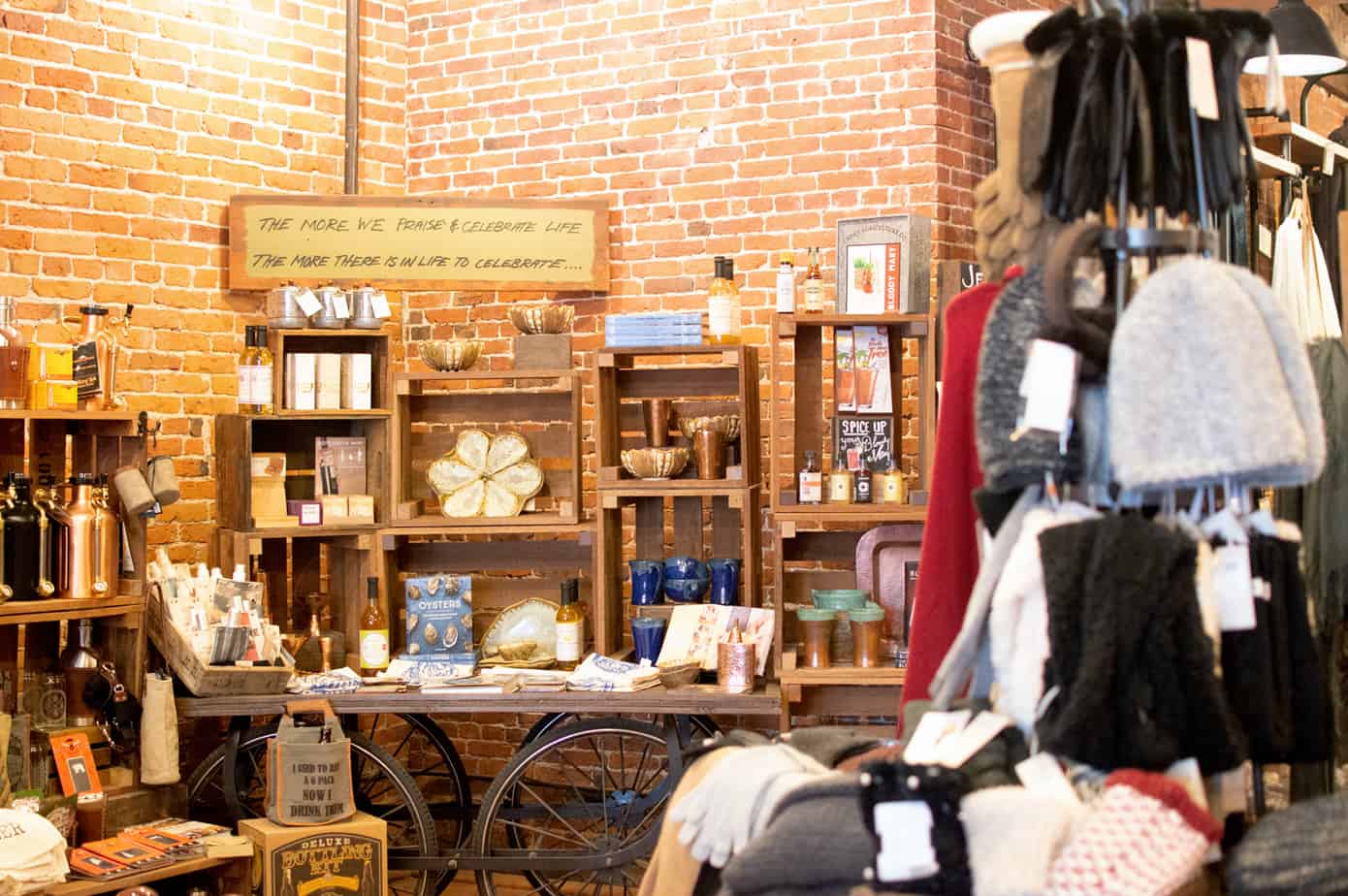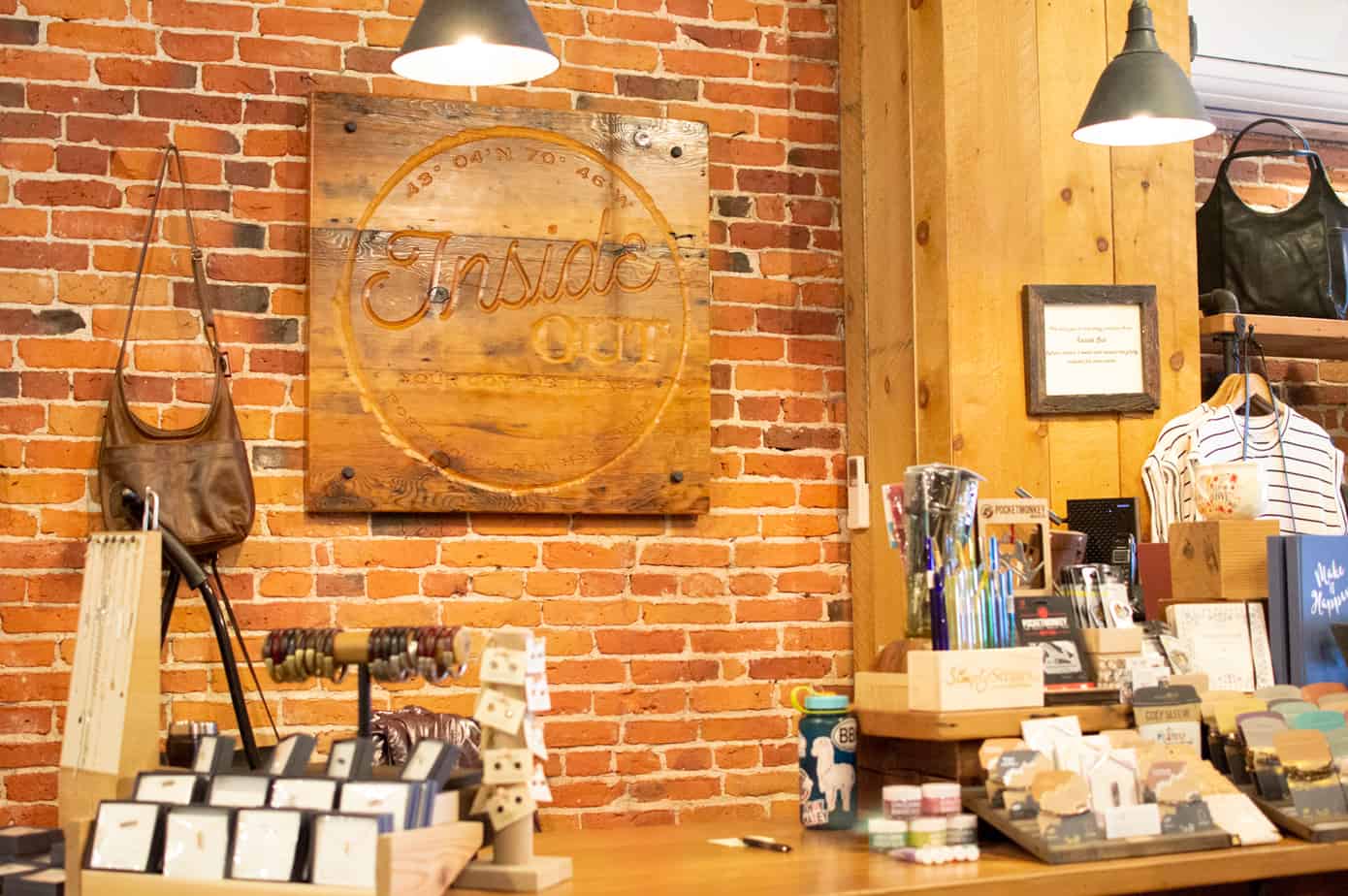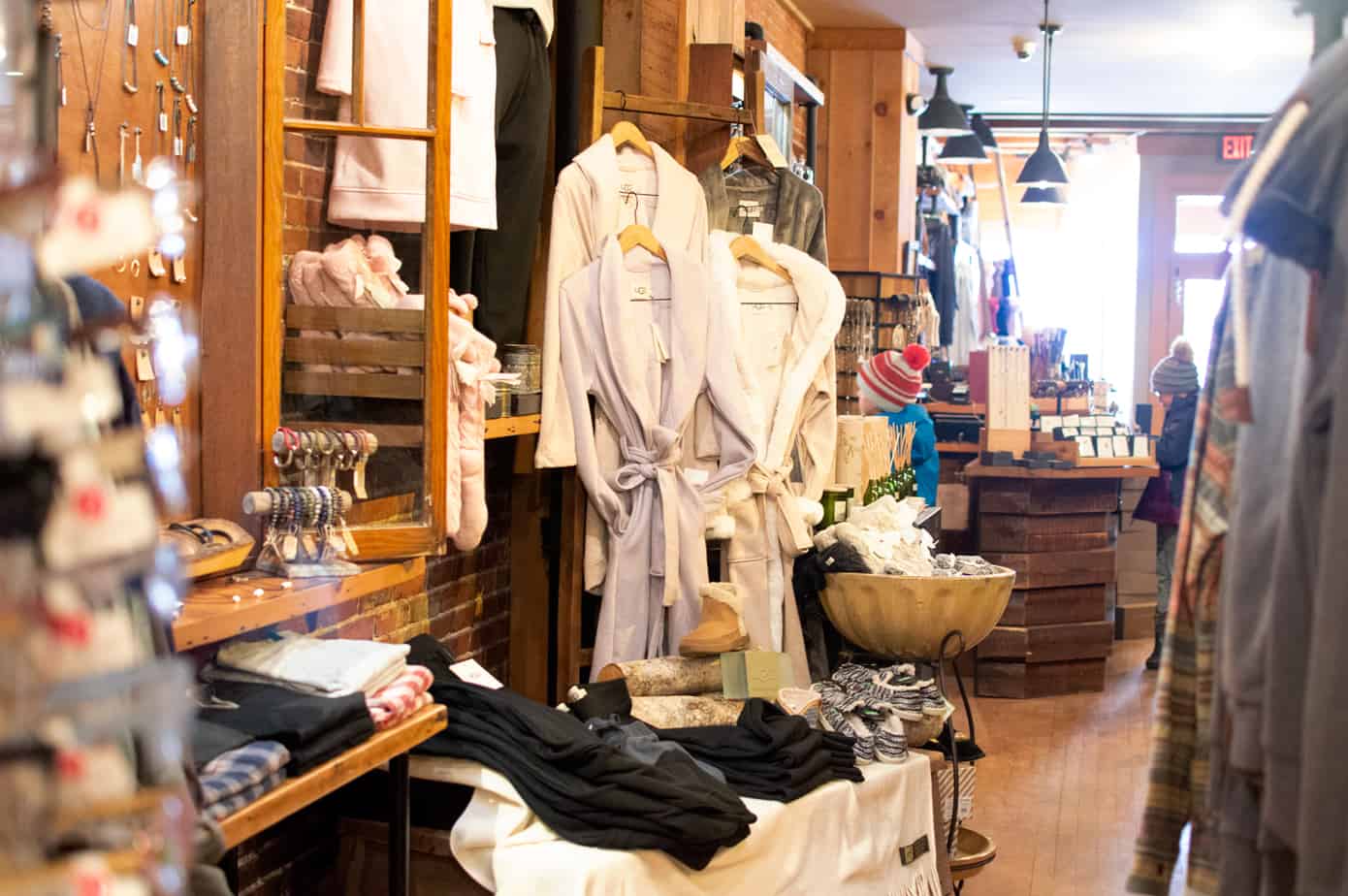 LIT Boutique
Every time I walk into LIT, I want everything. This super trendy boutique has several locations in Boston, Newport, and Portsmouth. The Portsmouth location is very fun to explore as they always have a great selection.
The jewelry, in particular, is always really beautiful and unique while being affordably priced. I never walk out without buying something! If you don't live near Portsmouth but want to check them out, they also have a great online store.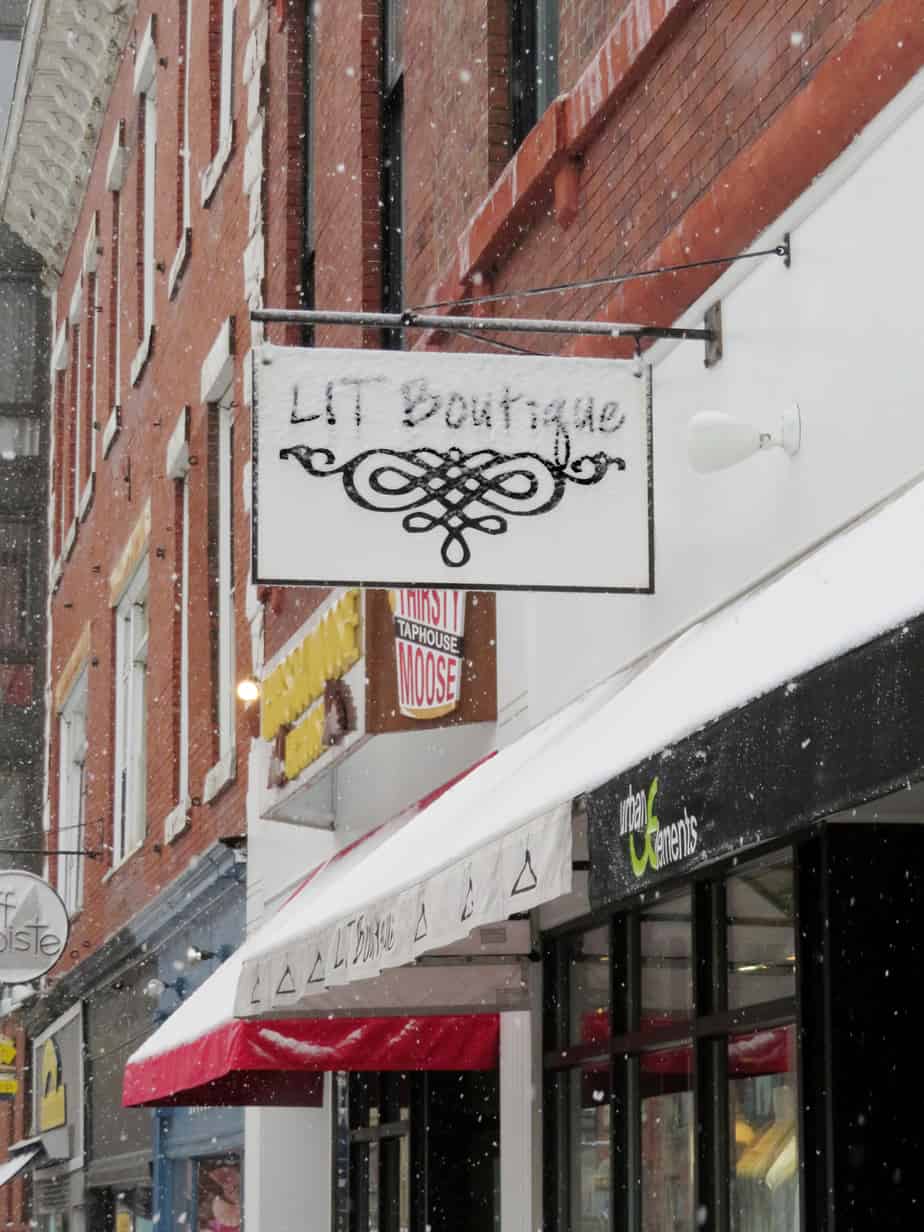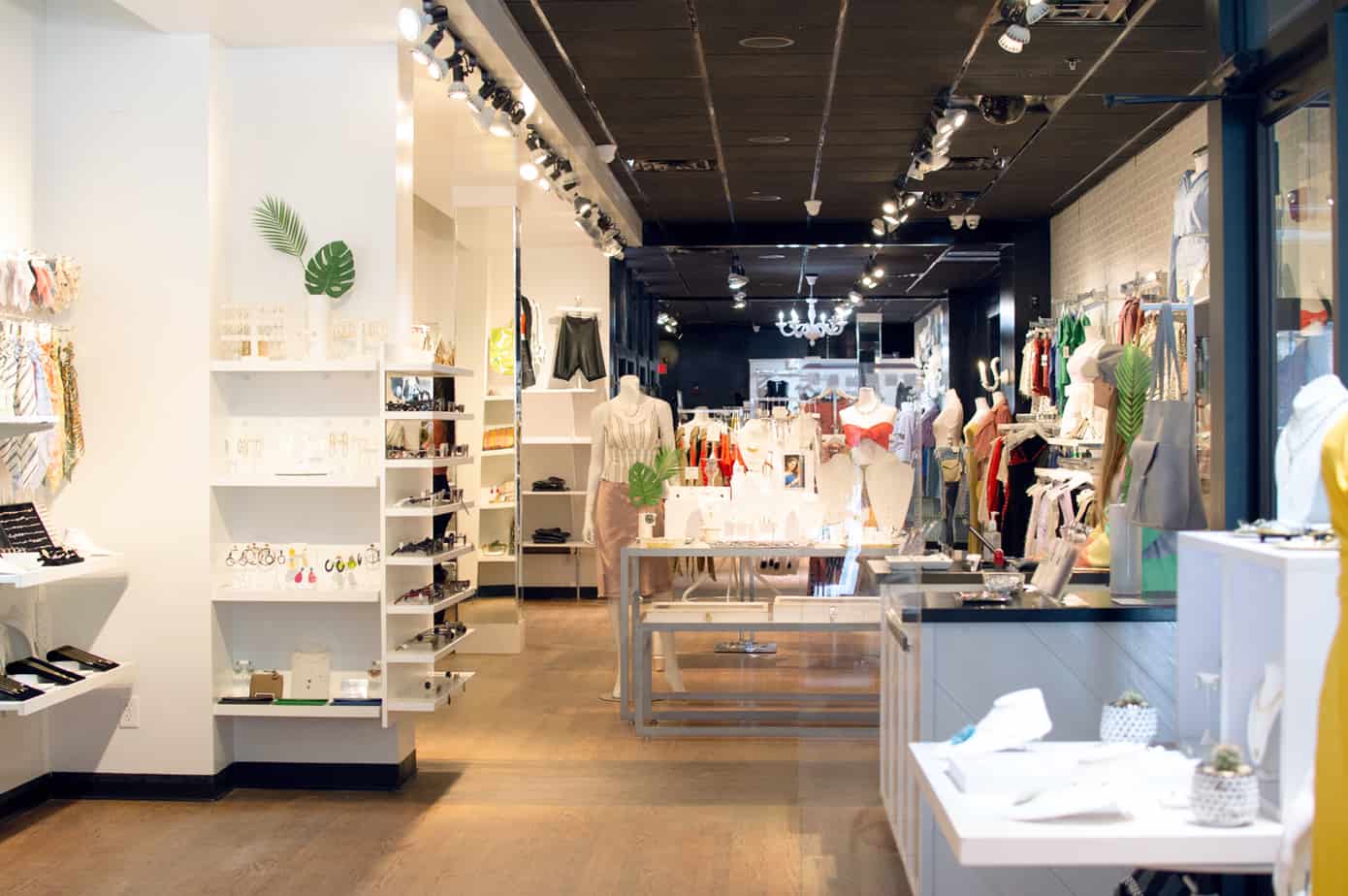 Sault
I always love finding a great menswear store and Sault, which was founded by owner Philip Saul in 2011 with hopes of creating a place that helps men achieve comfortable, effortless fashion certainly delivers.
It isn't very big but their carefully curated selection (which is a mixture of current trends, vintage items, and classic New England fashion) is always fun to check out.
I particularly like to visit when looking for gifts as I never know what to buy when shopping for a guy, but Sault makes it easy. Alongside the clothing, they also carry accessories, vintage goods, a gentleman's apothecary and other gift items.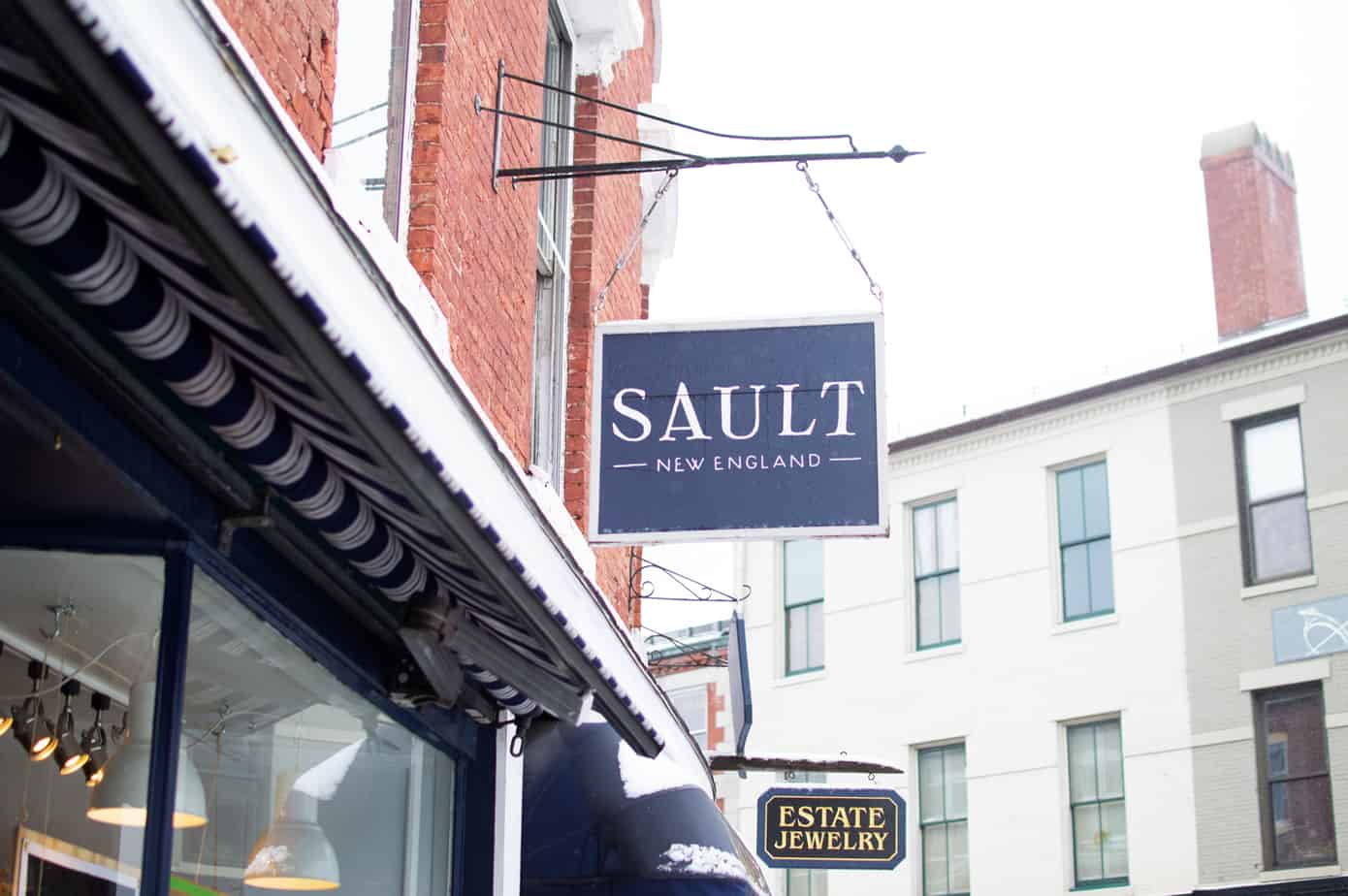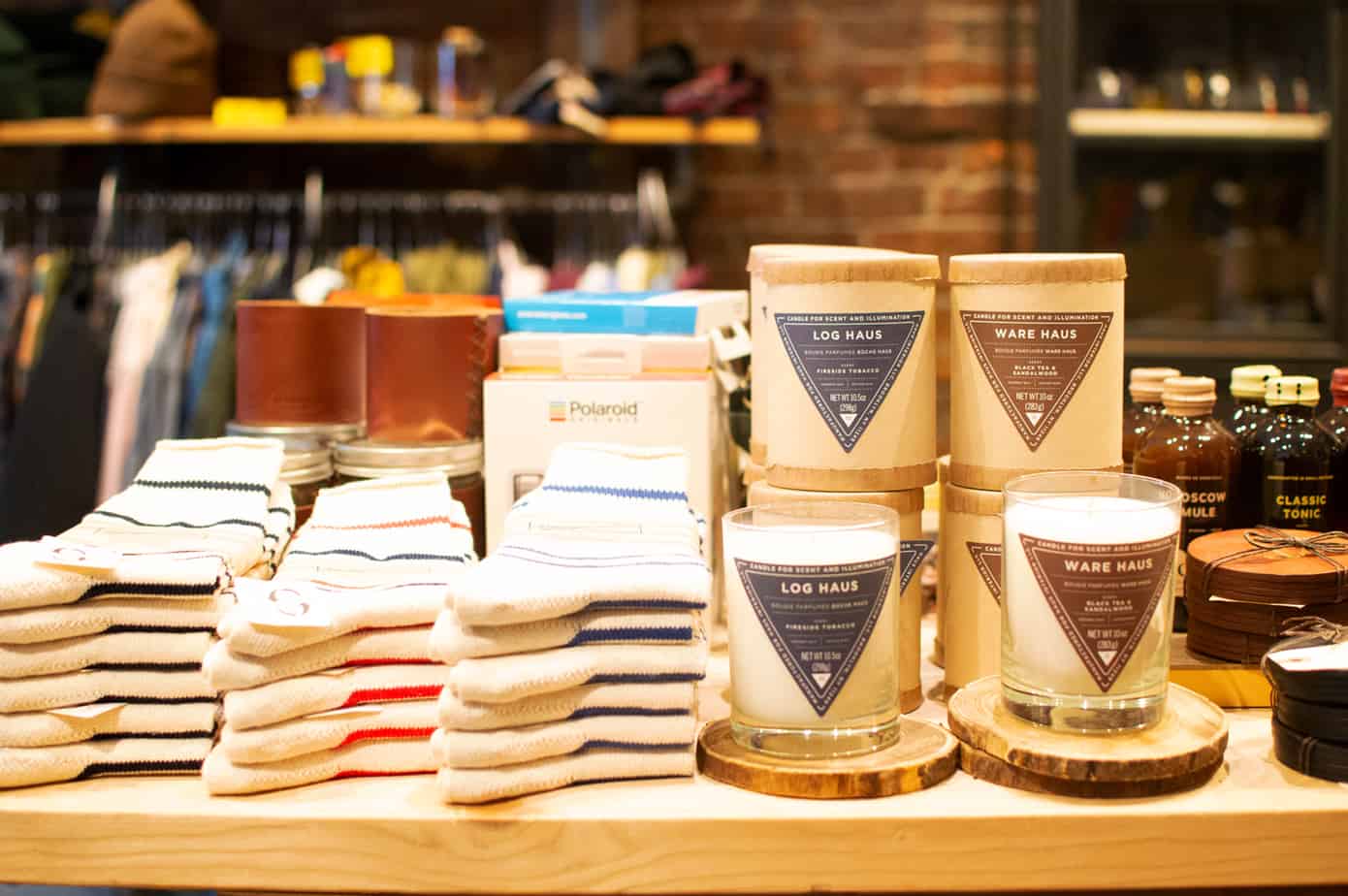 Gus & Ruby Letterpress
Named after co-owners Samantha Finigan and Whitney Swaffield's two dogs, Gus & Ruby Letterpress is a custom letterpress and paper goods store located right in the center of Portsmouth NH downtown across from North Church. The owners met while working at a small advertising agency and discovered their shared dream of creating a design studio and store focused on paper goods.
Now they specialize in creating wedding invitations, but for the casual visitor, their store is full of beautiful art prints, wrapping paper, cards, and other stationery goods. The perfect place to get a gift for the design enthusiast in your life or pick up something cute for yourself!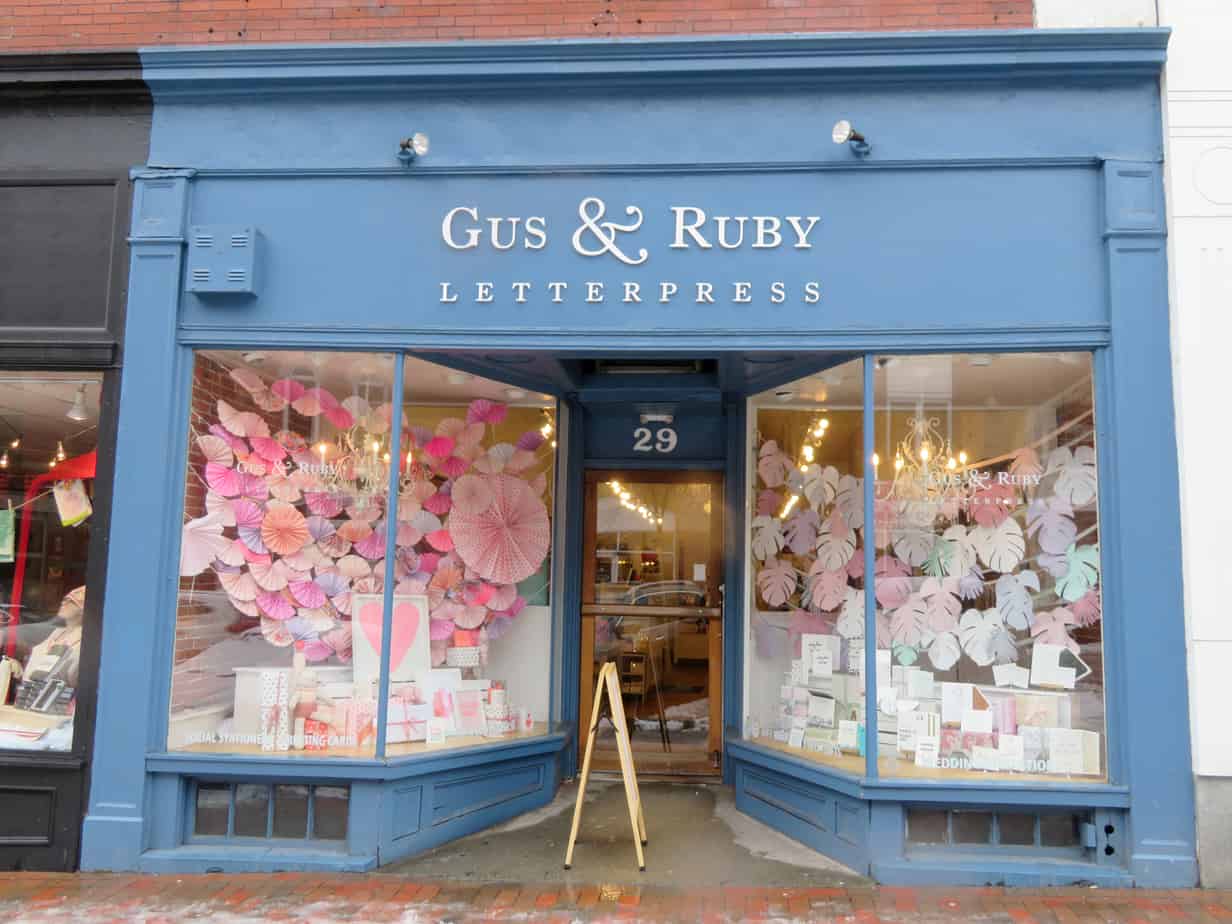 Pickwick's Mercantile
Pickwick's Mercantile is unlike any shop I've ever been to before and can only be described as pure magic. Stepping inside this Portsmouth NH shop is like being transported back in time to an idealized version of the Victorian era with costumed shopkeepers and a cozy interior made of warm wood decorated with fairy lights.
It is overflowing with eclectic array of merchandise, both imported and locally made, including greeting cards, candy, stationery, books, toys, perfume, candles, jewelry, clothing, and accessories. Fantastical and full of whimsy, shopping at Pickwick's is definitely an experience.
In addition to their flagship store, they also have a few other locations including Deadwick's Ethereal Emporium, Lady Pickwick's, and Pickwick's at the Banke (Strawbery Banke's museum store). They also own a cafe called Fezziwig's Food & Fountain (more on that later).
Portsmouth Book & Bar
Located in Portsmouth's old Custom House and Post Office, Portsmouth Book & Bar is a must-visit for any bibliophile. As the same suggests, it is a bookstore/bar and they do serve alcohol, but I personally go for the coffee.
There is something wonderful about sipping a cappuccino while being surrounded by shelves of used books that are carefully curated by owners John Petrovato, Jon Strymish and David Lovelace who are all longtime booksellers. They also do events such as live music, book readings, signings, and film screenings, and it is one of the best bars in Portsmouth New Hampshire.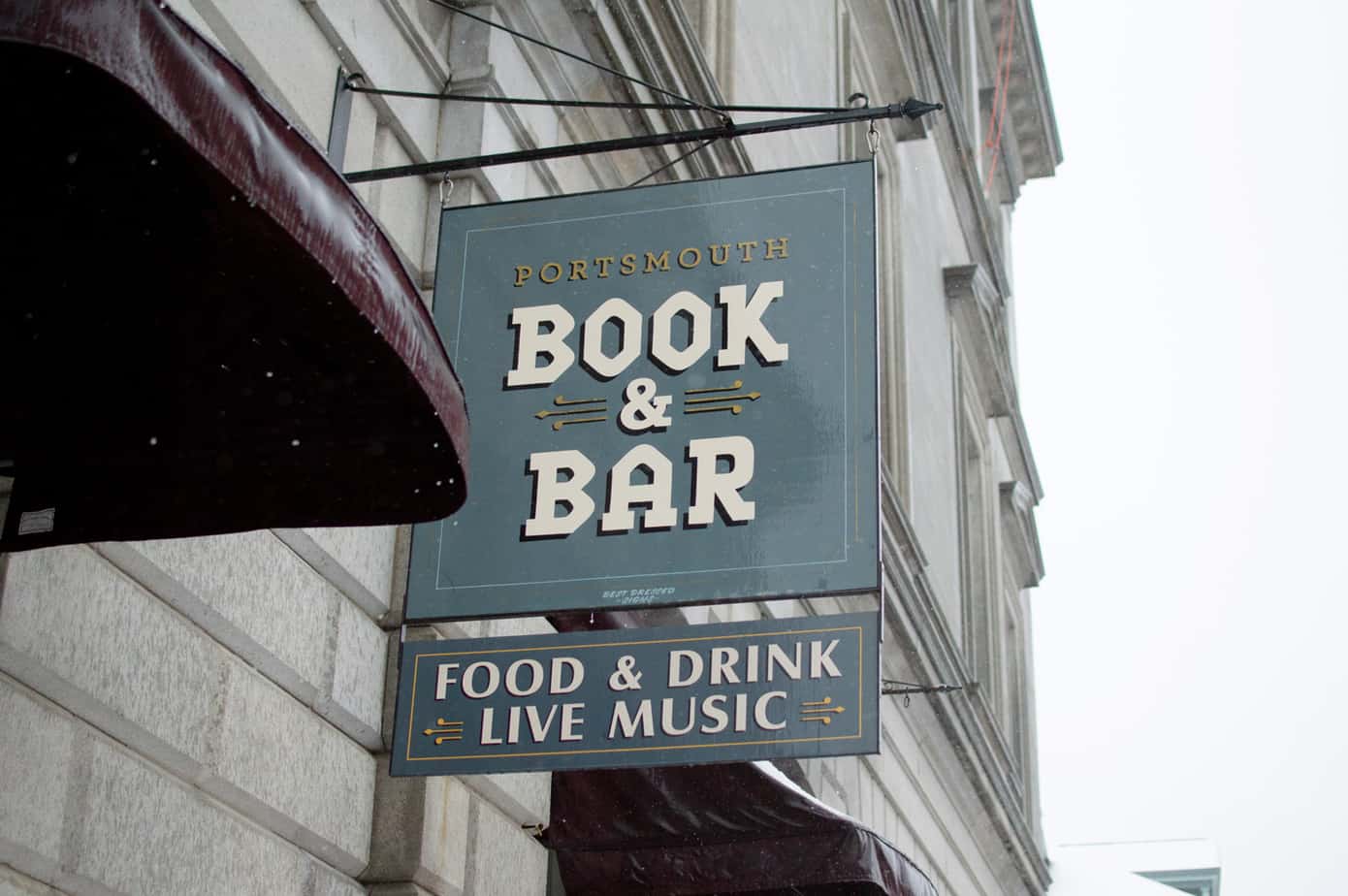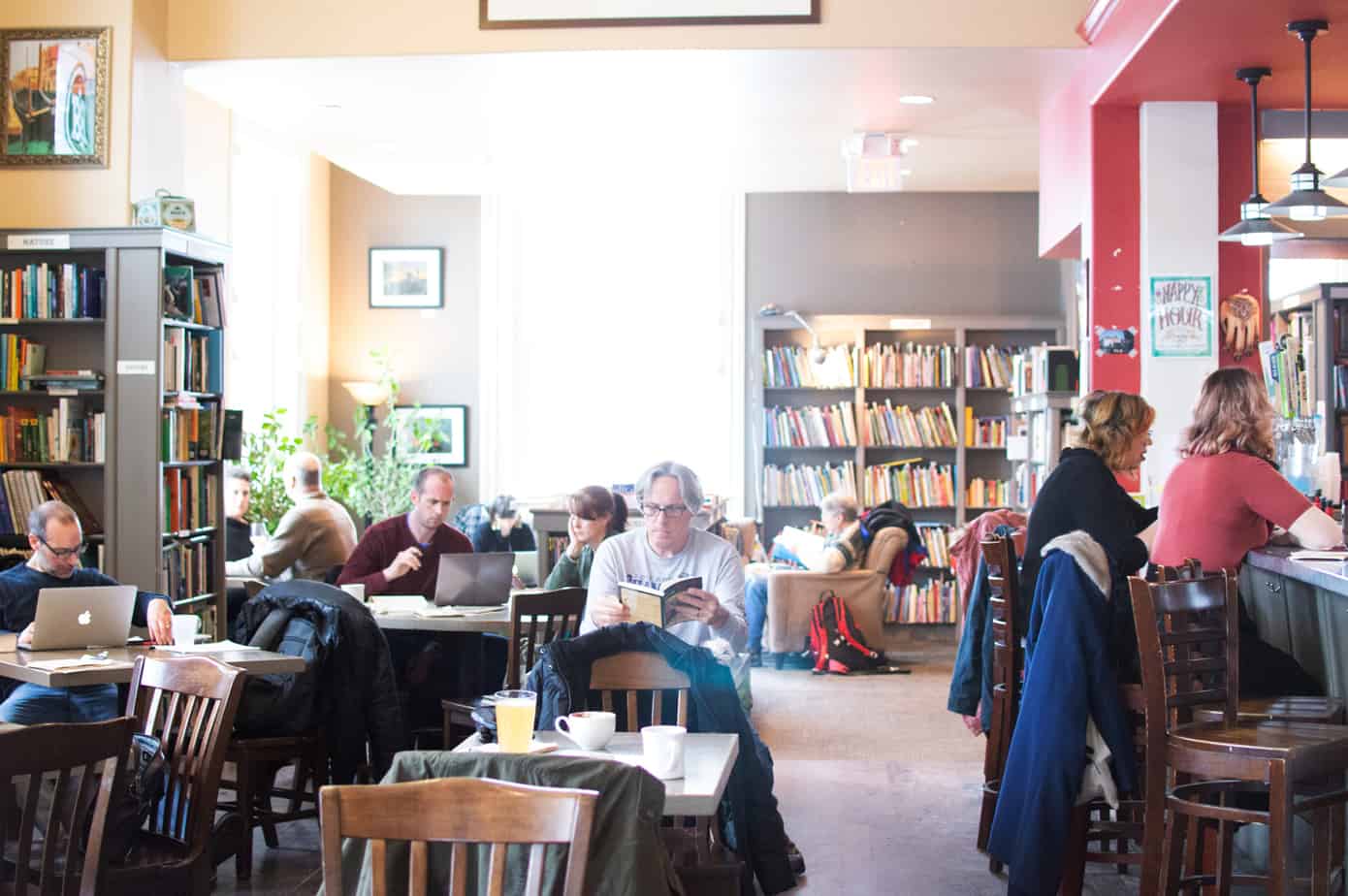 Have A Nice Dinner in Portsmouth
Wondering where to eat in Portsmouth next?
There are some great affordable dinner options around Portsmouth, a few of which I've listed in this post, but if you're willing to splurge a bit I highly recommend visiting Cure.
Owner and executive chef Julie Cutting has created a delectable menu of gourmet American comfort food with something for everyone, and Cure is one of the top Portsmouth New Hampshire restaurants. The name Cure comes from their method for preparing meats, many of which are brined and slow-cooked to bring out the flavor.
All of their dishes are prepared daily from scratch using fresh ingredients and everything I've tried has been absolutely fabulous. This is definitely one of the best places to eat in Portsmouth.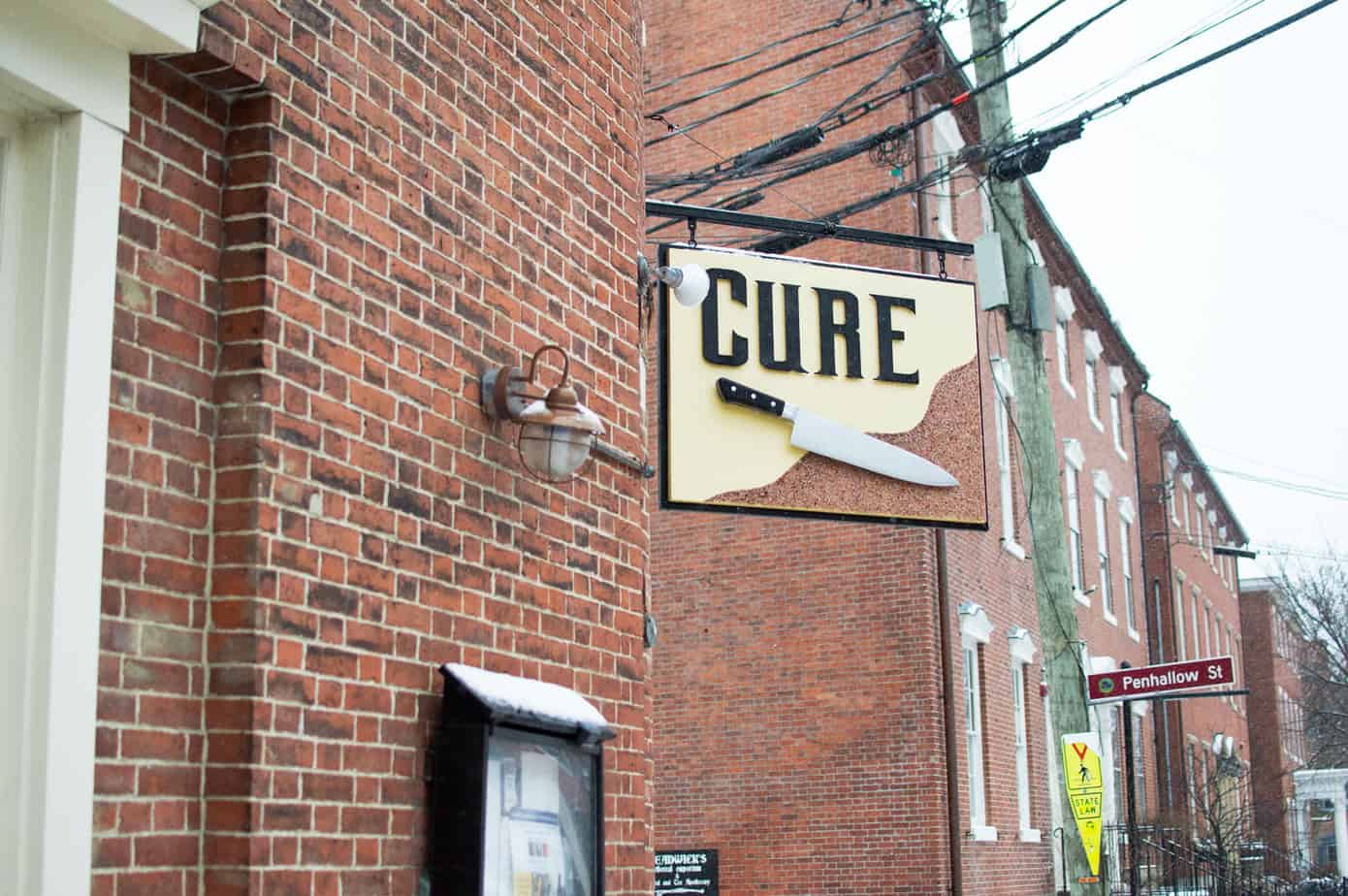 If you go, I highly recommend their Lobster Mac & Cheese entree which is rich and full of complex flavor as well as the Red Wine Braised Short Rib which is served with housemade mashed potatoes and a beurre rouge sauce. Also, the cornbread side is amazing!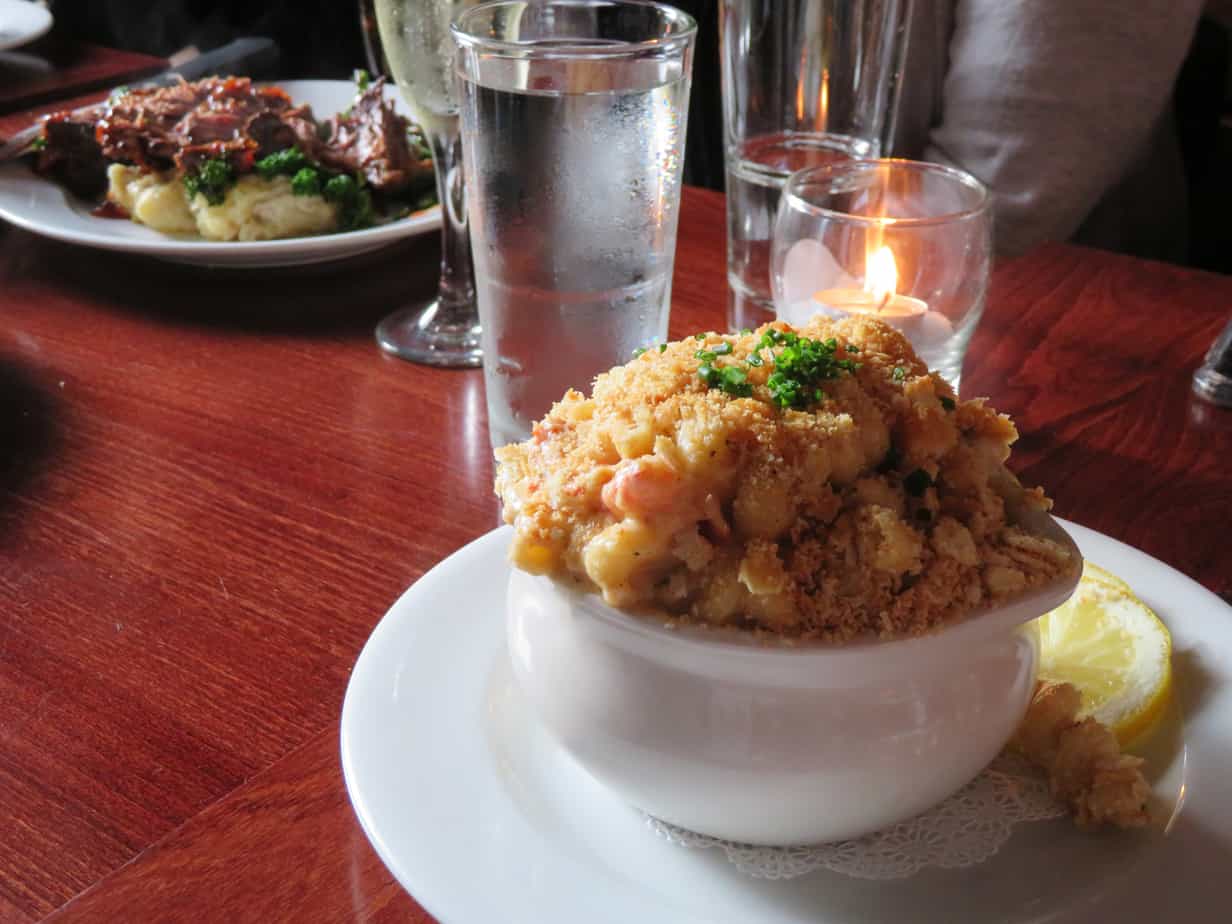 Treat Yourself to Dessert
Fezziwig's Food & Fountain
Fezziwig's Food & Fountain, which is owned by the same people as Pickwick's Mercantile, shares that nostalgia for a bygone Dickensian era. It has a slightly brighter interior than Pickwick's, with a brick wall with booth seating on one side and the other featuring white painted shelves displaying fanciful tea sets as well as teas, candies, and other goodies that are available for purchase.
The costumed employees and ivy wrapped chandeliers make you feel like you've stepped right into the pages of Alice in Wonderland.
Fezziwigs Portsmouth is well known for their spectacular sundaes and milkshakes and is a wonderful place to stop in for a treat, a coffee/tea, or a sandwich.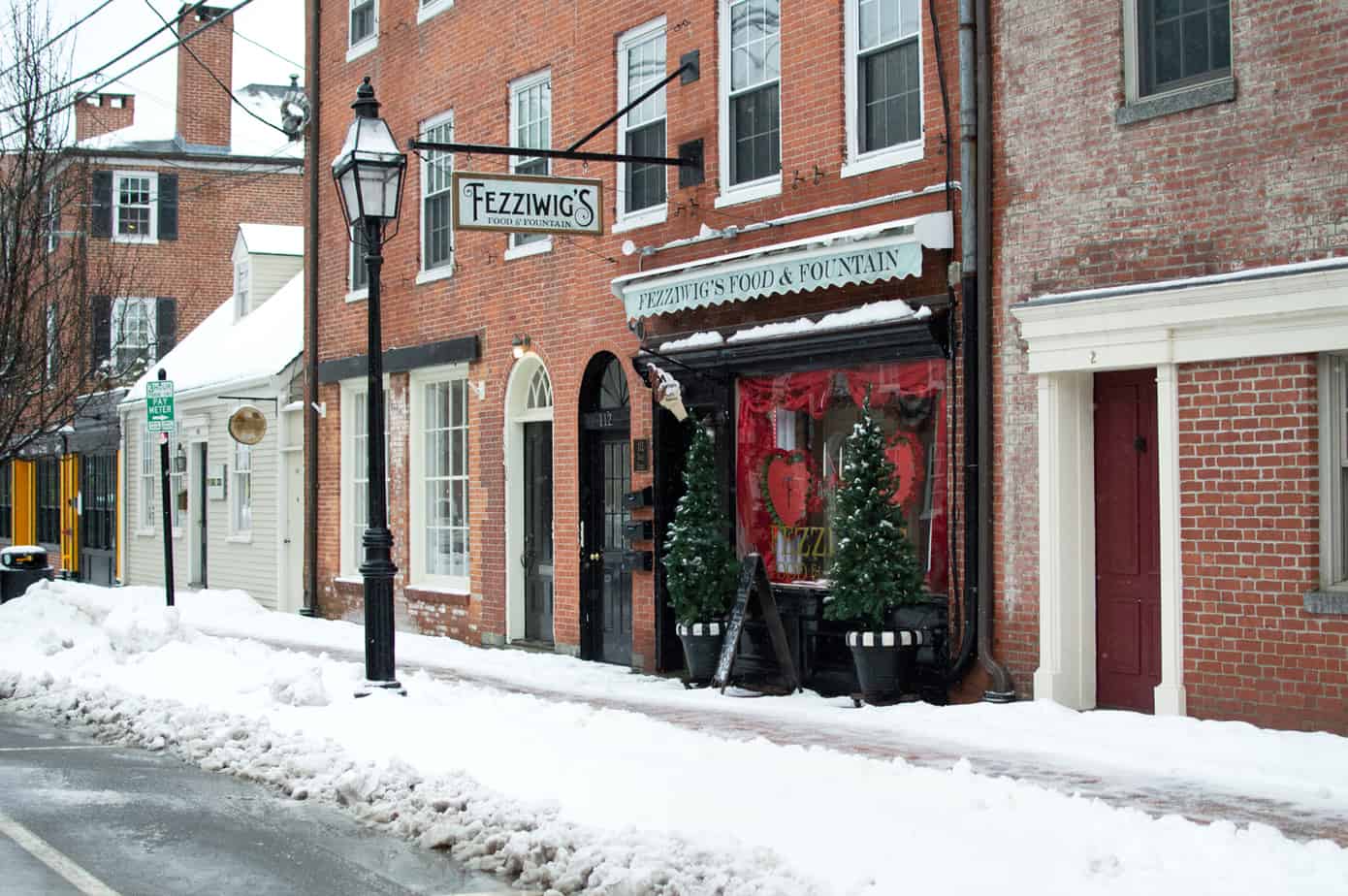 Get a Drink
New England and craft beer go hand-in-hand, so trying out some local brews is definitely one of the most important things to do in New England. Portsmouth is a perfect opportunity for some sippin'.
The Portsmouth Brewery has become a staple of downtown since they opened in 1991. If you're looking to try a pint of New Hampshire craft beer this is the perfect place to go as it's one of the most popular breweries in Portsmouth.
They have a busy bar area as well as an outdoor courtyard in warmer months and a wide selection of beers to try. You can also get an amazing Instagram shot with the mosaic on their front stoop!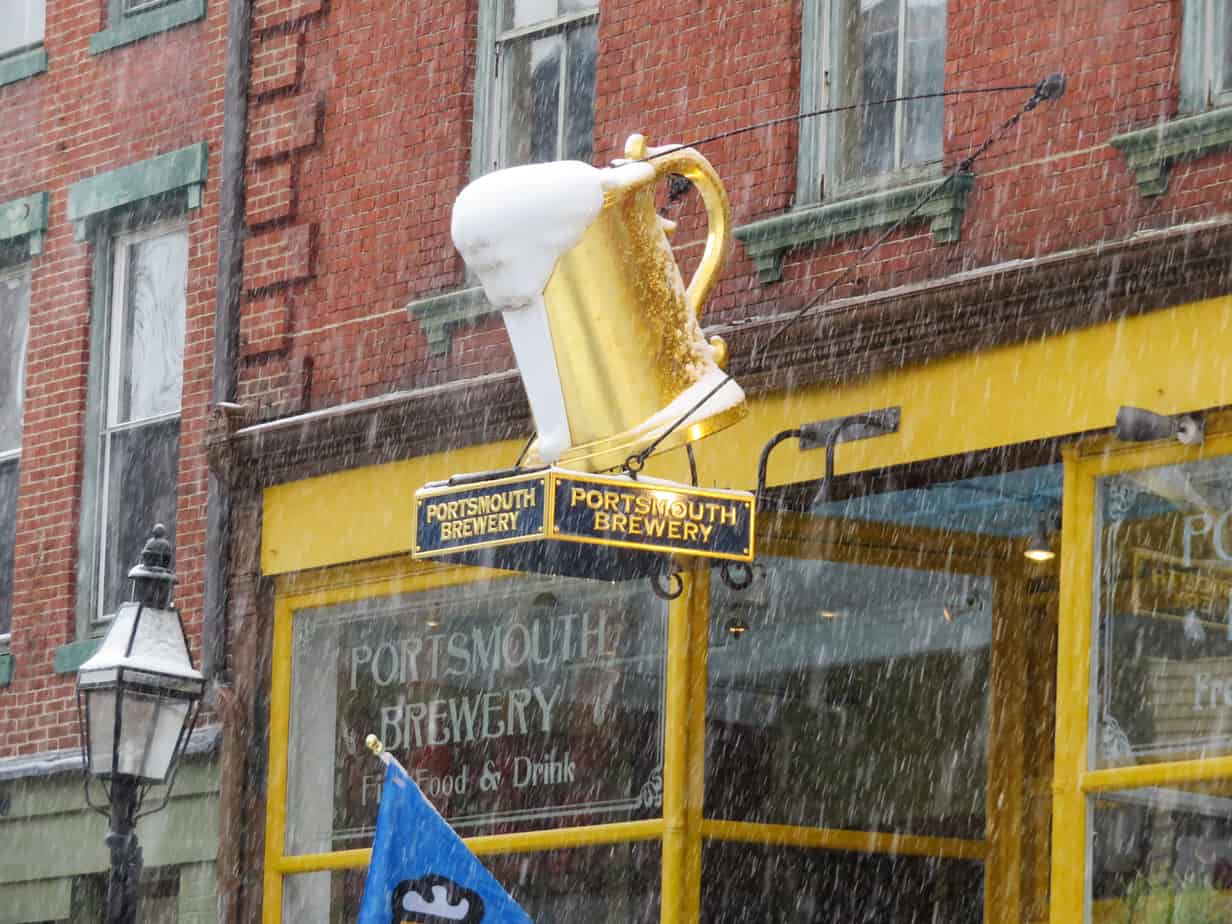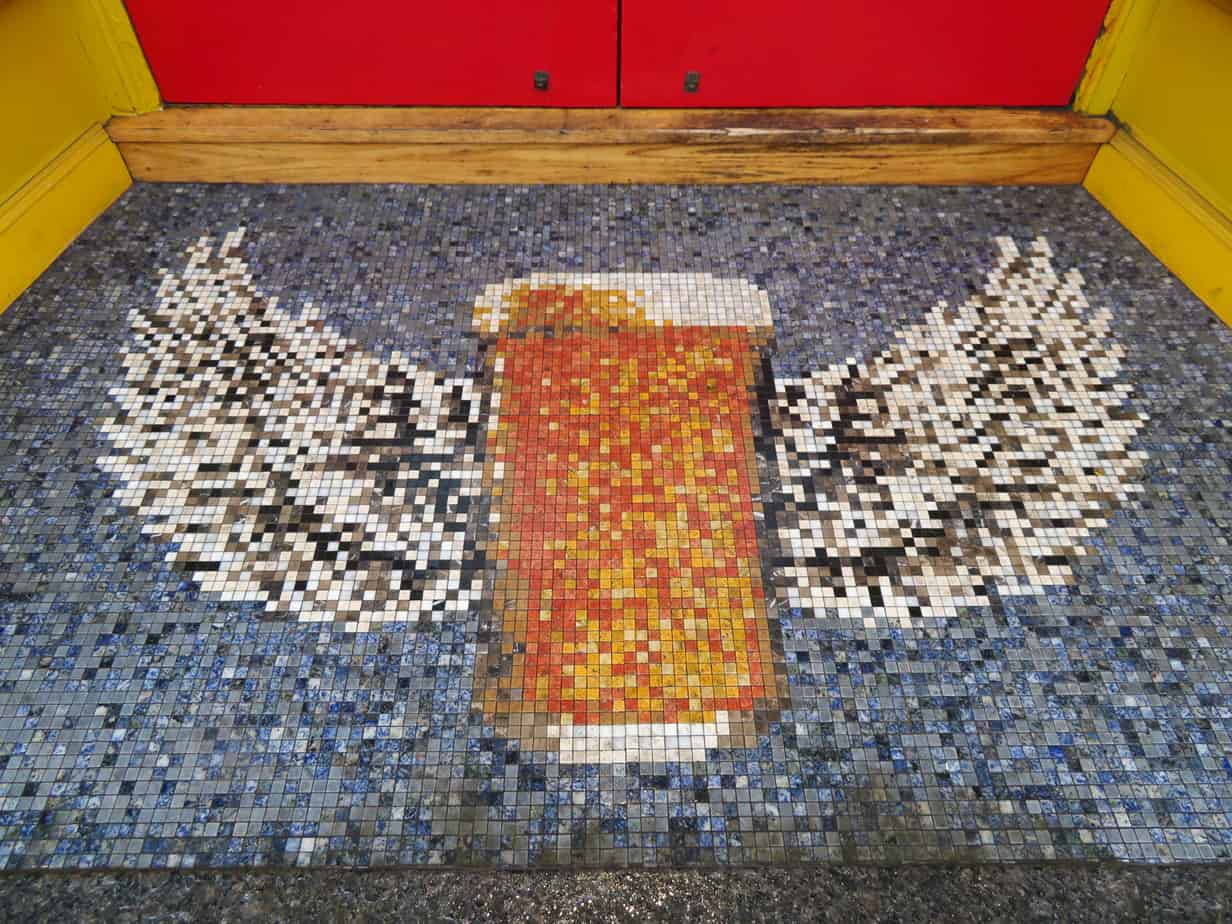 See a Show
The Music Hall, a historic venue that claims to be the oldest operating theater in New Hampshire, started out as a Vaudeville theatre. It has now become a big cultural and artistic hub hosting all kinds of Portsmouth entertainment including musicals, live concerts, and movie screenings.
The building itself is beautiful, and decorated which much of the opulence typical of Vaudeville-era theatres and their eclectic array of programming means there's always something interesting happening.
They also have another location called the Music Loft, which is a small, contemporary black box theater where they host more intimate events like Songwriters in the Round.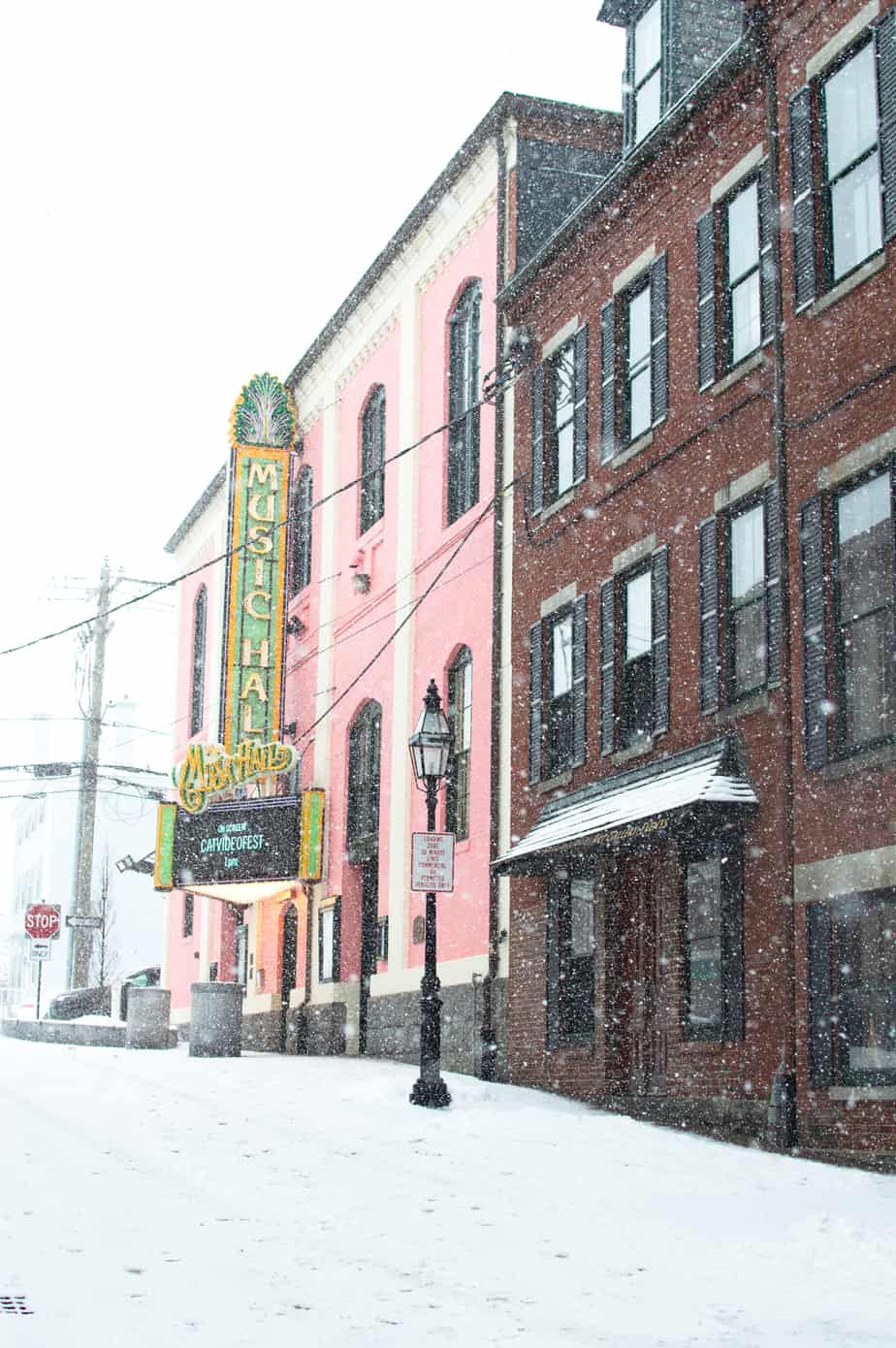 Tour Historic Portsmouth with Portsmouth Harbor Trail Tours
If you're looking to see Portsmouth NH tourist attractions, what better way than to take a guided tour by people that know it best? Portsmouth Harbor Trail Tours offers a walking tour that has been named "Best of New England Editors' Choice" by Yankee Magazine and will take you must visit spots like the Portsmouth NH waterfront, historic homes of Portsmouth, and more.
Take a Self-Guided Haunted Walking Audio Tour
Do you like all things spooky? Then you might like this self guided audio tour of all of Portsmouths most haunted locations! Perfect if you're looking for fall things to do in Portsmouth New Hampshire!
Cruise with Isle of Shoals Steamship Company
Offering an educational, narrated cruise and a one hour walking tour of the Isle of Shoals, the Isle of Shoals Steamship Company offers one of the most popular at sea and on land guided tours in Portsmouth New Hampshire. Not only will you be treated to the history of Portsmouth Harbor, but local lore and legend about pirates and ghosts will fill you up with all kinds of interesting stories about Portsmouth that you didn't know existed; do ghost stories and pirate legends ever really get old?
Visit the USS Albacore
Looking for cool things to do in Portsmouth NH with kids? And grown ups who love submarines and navy history? Definitely check out the USS Albacore, the research submarine that offers an opportunity to see for yourself what life inside a submarine would be like! This is a unique Portsmouth experience.
Go Sailing with the Gundalow Company
All aboard this stunning replica of the last commercial gundalow in operation, the Gundalow Company offers sailing excursions from the dock at Prescott Park between Memorial Day and Columbus Day, so if you've ever wondered what it'd be like to sail in a historic vessel on the sea, this is your chance!
Seasonal Things To Do in Portsmouth
Here are some Portsmouth, NH attractions that might interest you depending on the weather and season.
Vintage and Vine
Strawbery Banke Museum hosts Vintage & Vine, an annual fine wine and food festival on their grounds every September, and it's a great way to get the real flavor of Portsmouth! Not only is there fine wine and delicious food at this fun fall Portsmouth event, but all proceeds go to Strawbery Banke to help support this incredible Portsmouth museum!
Prescott Park
Prescott Park is a ten-acre waterfront park on the banks of the Piscataqua River. Only a short walk from the center of downtown, it has a stunning garden that is a lovely place to wander through in warmer weather.
They also have the Prescott Park Arts Festival in the summer months, which is free to attend (with a suggested donation). Pack a picnic and bring your own blanket and chairs for live concerts, movie nights, and musicals.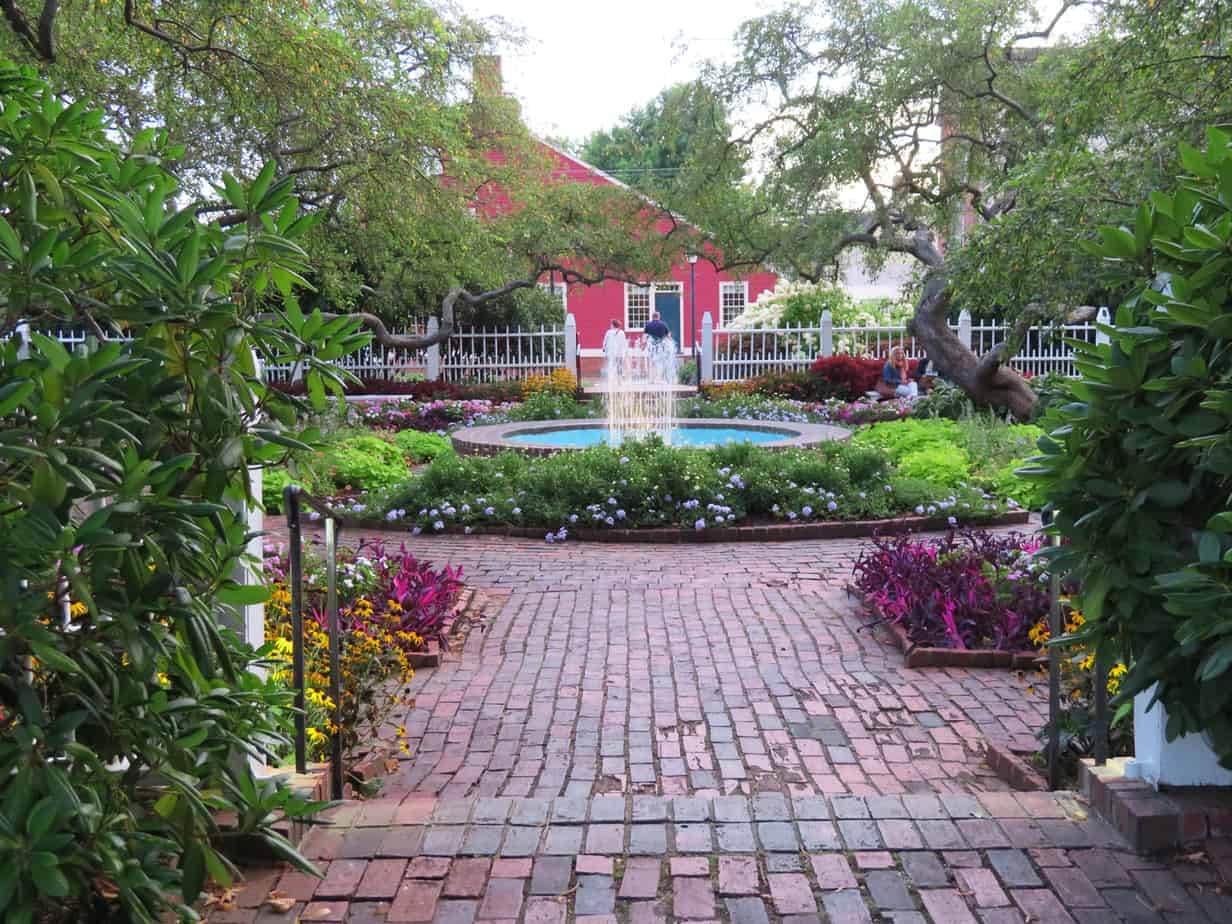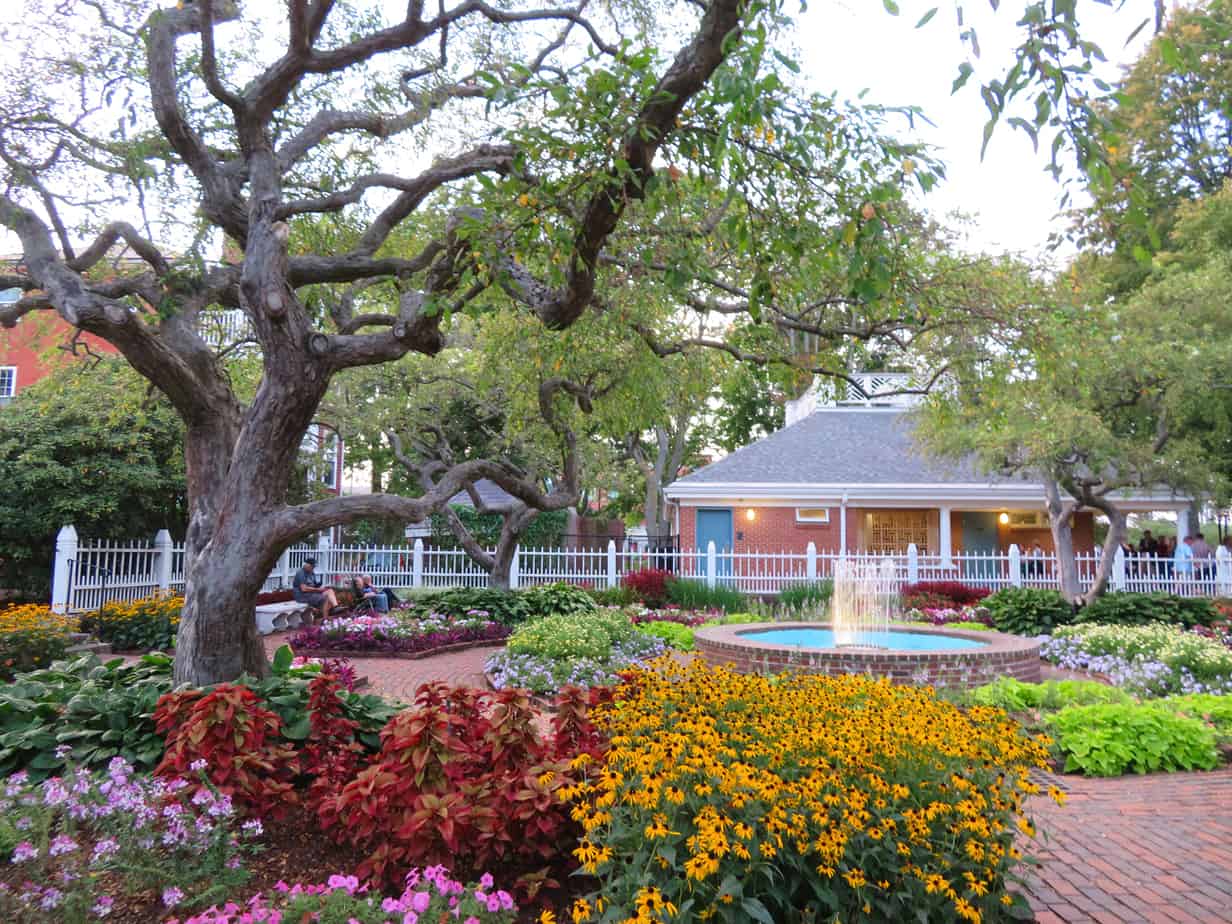 Portsmouth Harbor Lighthouse
Outside of Portsmouth's downtown area, another fun activity is taking a trip out to the Portsmouth Harbor Lighthouse. While it can always be viewed from afar, if you actually want to go inside they offer open houses every Sunday from late May (Memorial Day weekend) through mid-October (Columbus Day weekend) from 1:00 p.m. to 5:00 p.m and tours are available on a first-come, first served basis with no reservations necessary.
Remember not to wear sandals if you want to climb the ladder to the lantern room and see the spectacular view!
Vintage Christmas in Portsmouth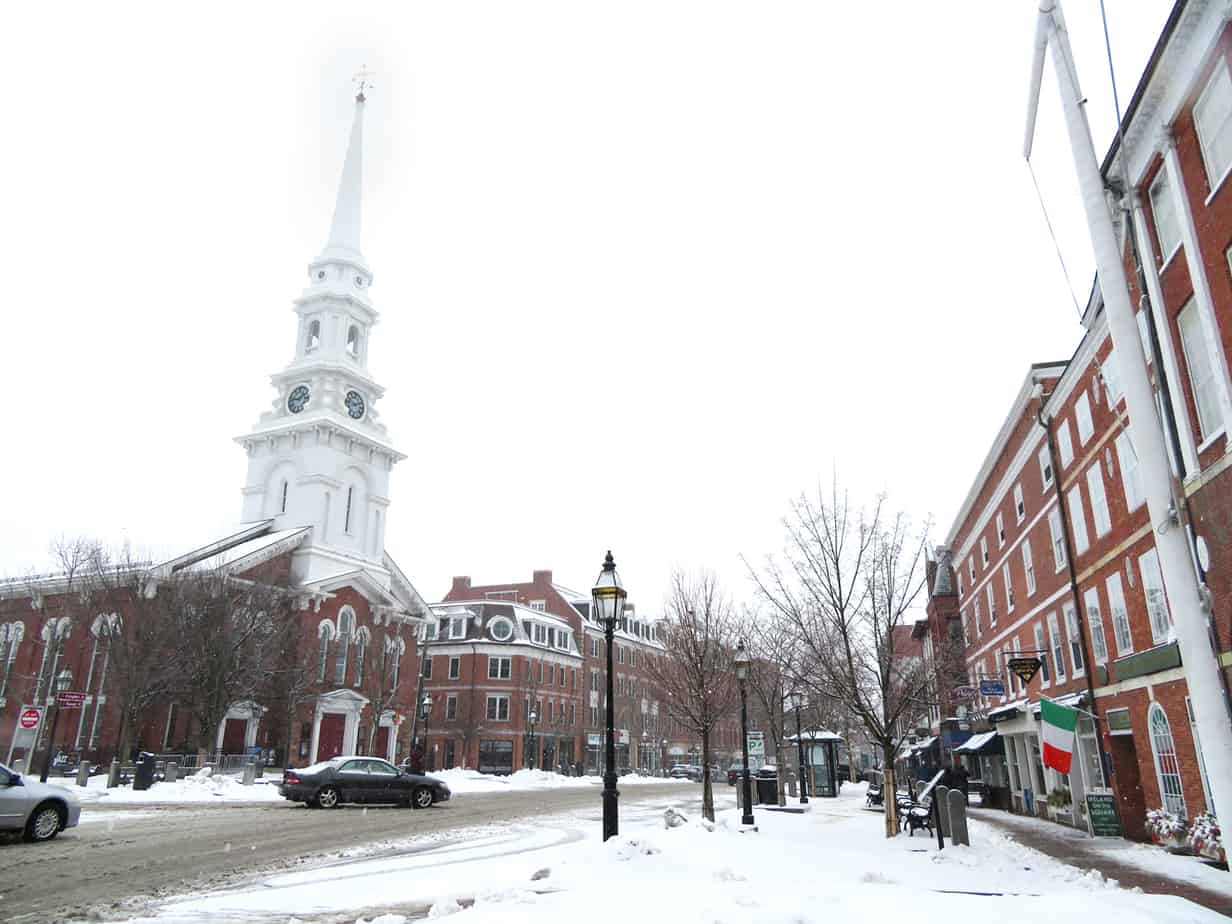 In 2017 Travel + Leisure Magazine called Portsmouth 'the Christmas Capital of North America,' and it certainly lives up to the title. It's definitely one of the top New England Christmas destinations!
Vintage Christmas in Portsmouth is a month-long holiday celebration that kicks off on December 1st with the Portsmouth Christmas Tree Lighting and Illuminated Holiday Parade and continues throughout the month of December, and it's one of the best Christmas events in New England.
They have a free Vintage Christmas Trolley that makes a 15-minute loop of downtown Portsmouth, stopping at public parking lots, garages, hotels, The Music Hall and Strawbery Banke Museum.
A big part of the celebration is Strawbery Banke's Candlelight Stroll which is held on weekends in the evening. The Museum grounds are lit with the soft glow of hundreds of candle lanterns as well as a bonfire, and the historic homes are decorated with live greens and dried flowers and herbs collected from the Bank's several historic gardens.
As mentioned before, December also marks the opening of the Labrie Family Skating Rink which adds more to the list of fun things to do in Portsmouth in the winter.
Portsmouth is an amazing place to visit any time of the year and every time I go I always find something new and exciting I hadn't known about before. If you're looking for a great time for all ages, put this picturesque New England town on your list.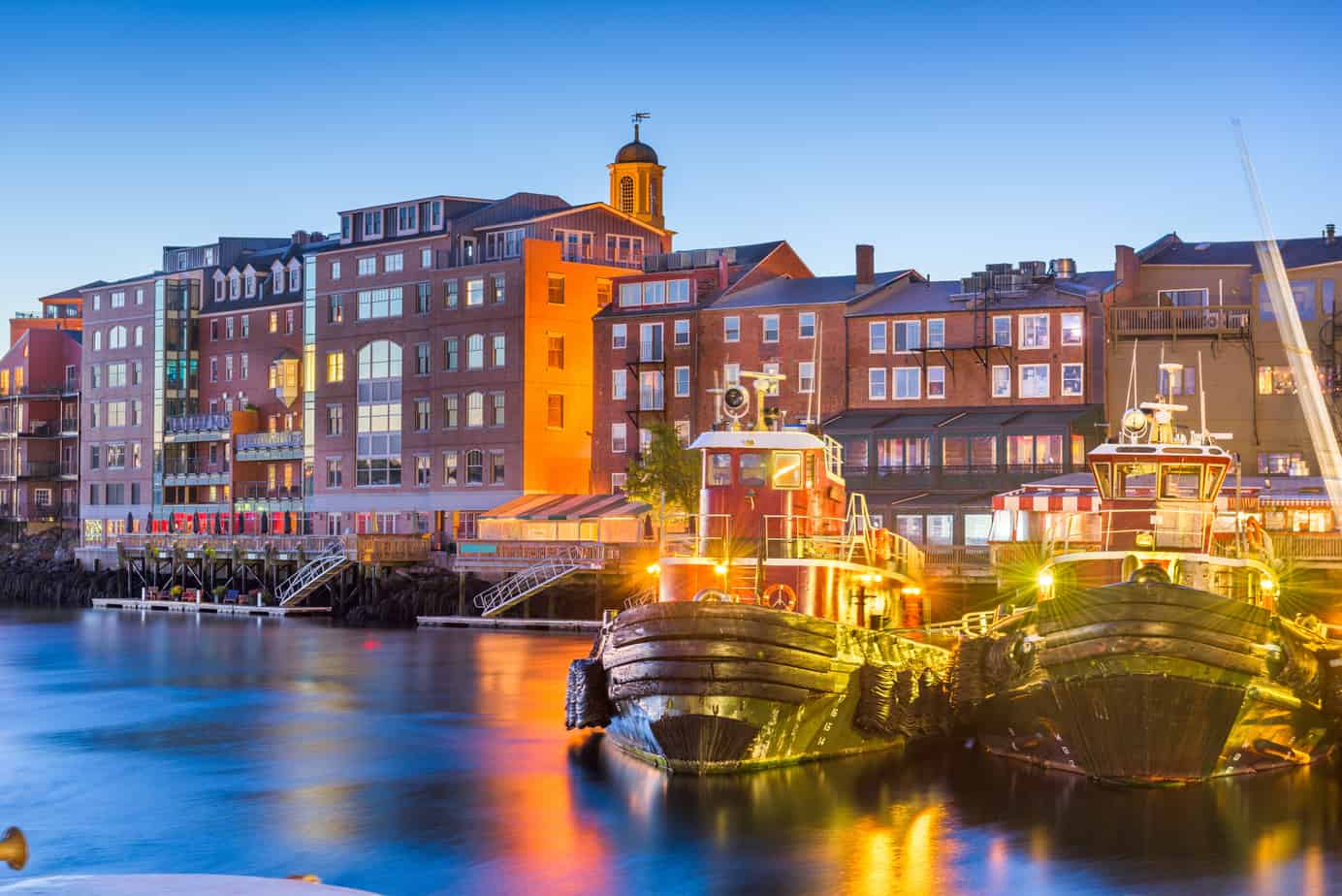 Where to Stay in Portsmouth, NH
Your visit to Portsmouth is complete with the perfect Portsmouth, NH lodging. While author Tori hasn't stayed at any of these particular Portsmouth NH inns, they are all very highly reviewed.
Ale House Inn
Ale House Inn
is located in the historic Portsmouth Brewing Co. building (c. 1880) very near Prescott Parkand is decorated with a modern loft feel. Some important things to note are that they have 12 exterior steps you must climb to enter the historic building, they offer free parking for one vehicle (but it is not guaranteed due to the central location, available only on a first come first serve basis) and they don't serve breakfast. They offer some unique amenities which include the use of their fleet of Trek cruiser bicycles, discounted golf rates at nearby
Sagamore-Hampton Golf Club
and a discount off a sail with the
Gundalow Company
.
The Hotel Portsmouth
The Hotel Portsmouth
is located less than a 10-minute walk from Market Square. It is a beautifully renovated 138-year-old mansion that is a classic example of Queen Anne Victorian architecture with a perfect blend of historic charm and modern amenities. It has a total of 32 rooms (one of which is pet-friendly!) and offers 24-hour front desk service. Amenities include a curated small plates breakfast and afternoon treats, complimentary parking for all guests, and gathering spaces for corporate and private events.
The Sailmaker's House
Looking for a cozy bed and breakfast in Portsmouth, NH?
The Sailmaker's House
is an intimate 10-room inn located right down the road from Strawberry Banke. Due to the historic nature of the home it features many quirks typical of New England architecture at that time such as narrow stairs, slanted pine floors, and original windows which add to the charm but unfortunately mean that it is not handicapped accessible and may not be suitable for children under 12 years of age as there are many small, fragile items scattered about.
They offer amenities such as coffee, tea, water, and snacks in the lobby, access to the beautiful perennial gardens, keyless access, and on-site parking (which is also available on a first come, first served basis). If you're visiting with a large group it is also possible to book the whole house for your stay. They also own the beautiful Water Street Inn in nearby Kittery, ME which is another nice place to stay.
See even more options: 10 Wonderful Airbnbs in Portsmouth, NH | 10 Awesome Spots for the Best New Hampshire Airbnb Stay
For more hotels near Portsmouth NH check out the options at HotelsCombined. Have fun planning your Portsmouth New Hampshire vacation!

---
You might also like:
---
Pin this post to save for later!