---
*Links in this article may be affiliate links, from which we may earn commission. See our
Privacy Policy
for full details.
---
Rugged beauty, fiercely independent vibe, duty-free shopping… what more could a person possibly want in a vacation spot? New Hampshire can be a dream destination for indoor and outdoor play (and home to some of the finest skiing in the East), any time of the year… as long as you know where to go to look for it! Here in this list of the 5 best places to visit in NH, you're sure to find all the information you need to choose your perfect New Hampshire getaway spot!
Lounge (and play!) around Lake Winnipesaukee in the Lakes Region, NH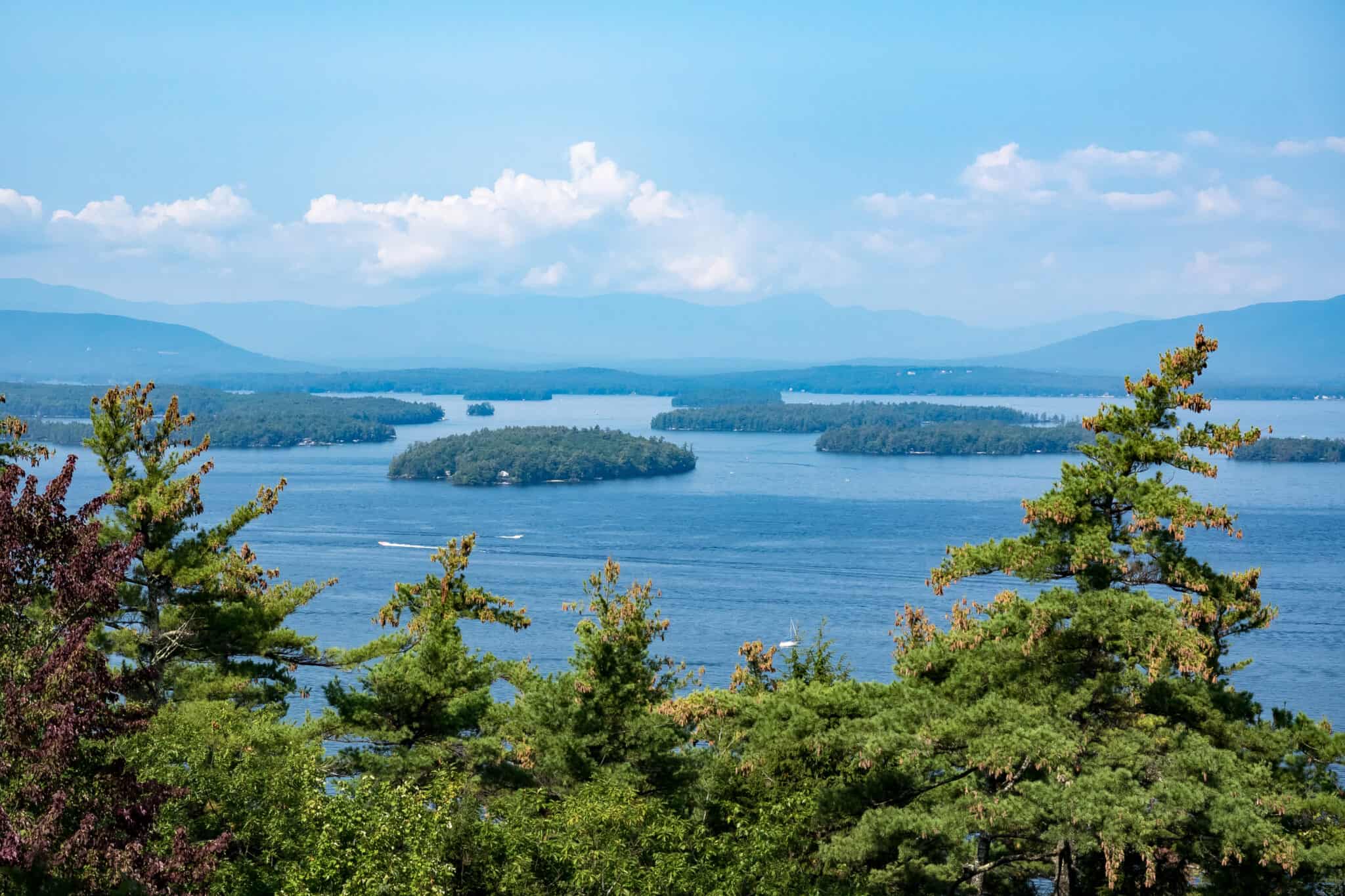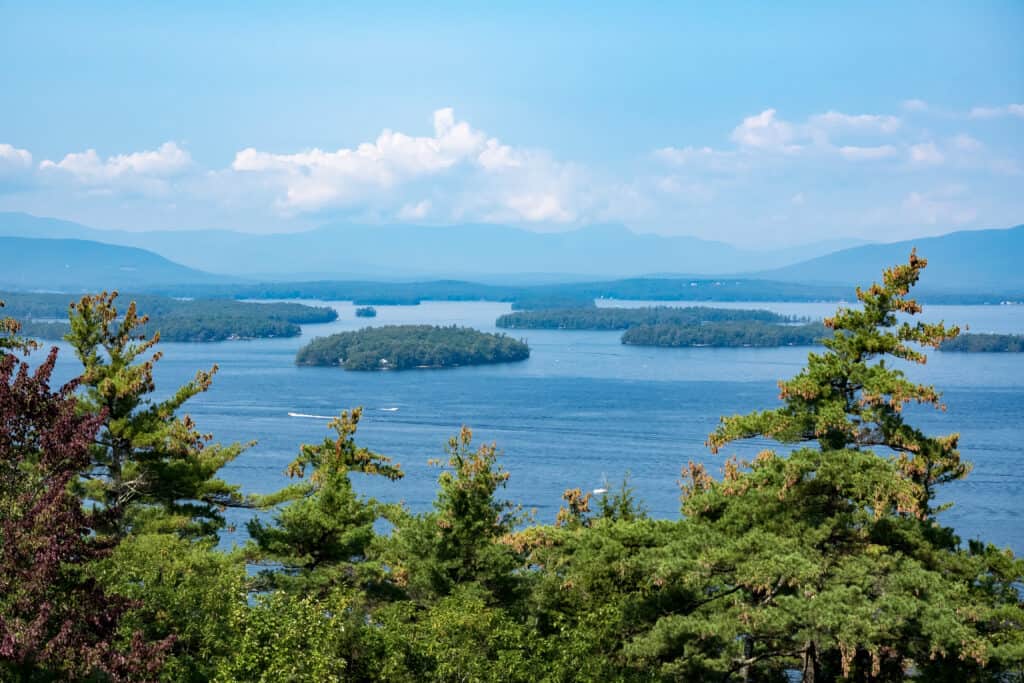 The Lakes Region is a gorgeous area of New Hampshire and is pretty huge and includes 273 bodies of water and a multitude of lovely little towns that make excellent destinations in and of themselves, but Lake Winnipesaukee is an easy stand-out. You may immediately conjure up images of fun in the sun and splashing about in the bracing New Hampshire water (and heck yes, there's plenty of boat rentals, watersports, and beach access, including ice-fishing in the winter) but there is so much more to do in this area than just play in the water!
On the west side of the lake, you can hike up to the summit of Mt Major (included in this list of 12 Best Hikes in New Hampshire) and then head up to Weirs Beach in Laconia, one of Lake Winnipesaukee's most popular beaches. (Laconia is also home to Pumpkin Fest, one of the 11 Essential Things to Do in New Hampshire in the Fall.) Swim in the summer or simply take in the view while walking the 1300-feet boardwalk, playing in the arcades, checking out the shops, and eating at one of the region's best restaurants, the Laconia Local Eatery, where eating local is taken very, very seriously, and carried out with a flair that pleases both the palate and the eye.
On the other side of the lake, you will find Wolfeboro, one of the 7 best places to spend spring in New England, and an excellent landing spot to be near several must-visit attractions, like Castle in the Clouds, one of four castles in the Lakes Region. There is no small number of options for lodging at the Lake, but if you're looking for a sweet Bed and Breakfast experience, 1810 House is an excellent option. Not only does this historic B&B offer clean and comfortable rooms with oversize jacuzzi tubs, but the on-site winery, Winnipesaukee Winery, practically guarantees you'll have a relaxing and restorative overnight stay ahead of you after sampling a tasting flight or three!
Situated at the foot of the White Mountains, there are over 40 individual communities that surround Lake Winnipesaukee. All of them have their charms and are worth a visit, whether you're looking for fun and frivolity or calm and quiet on your New Hampshire visit!
Revel in the Rugged Beauty of North Conway, NH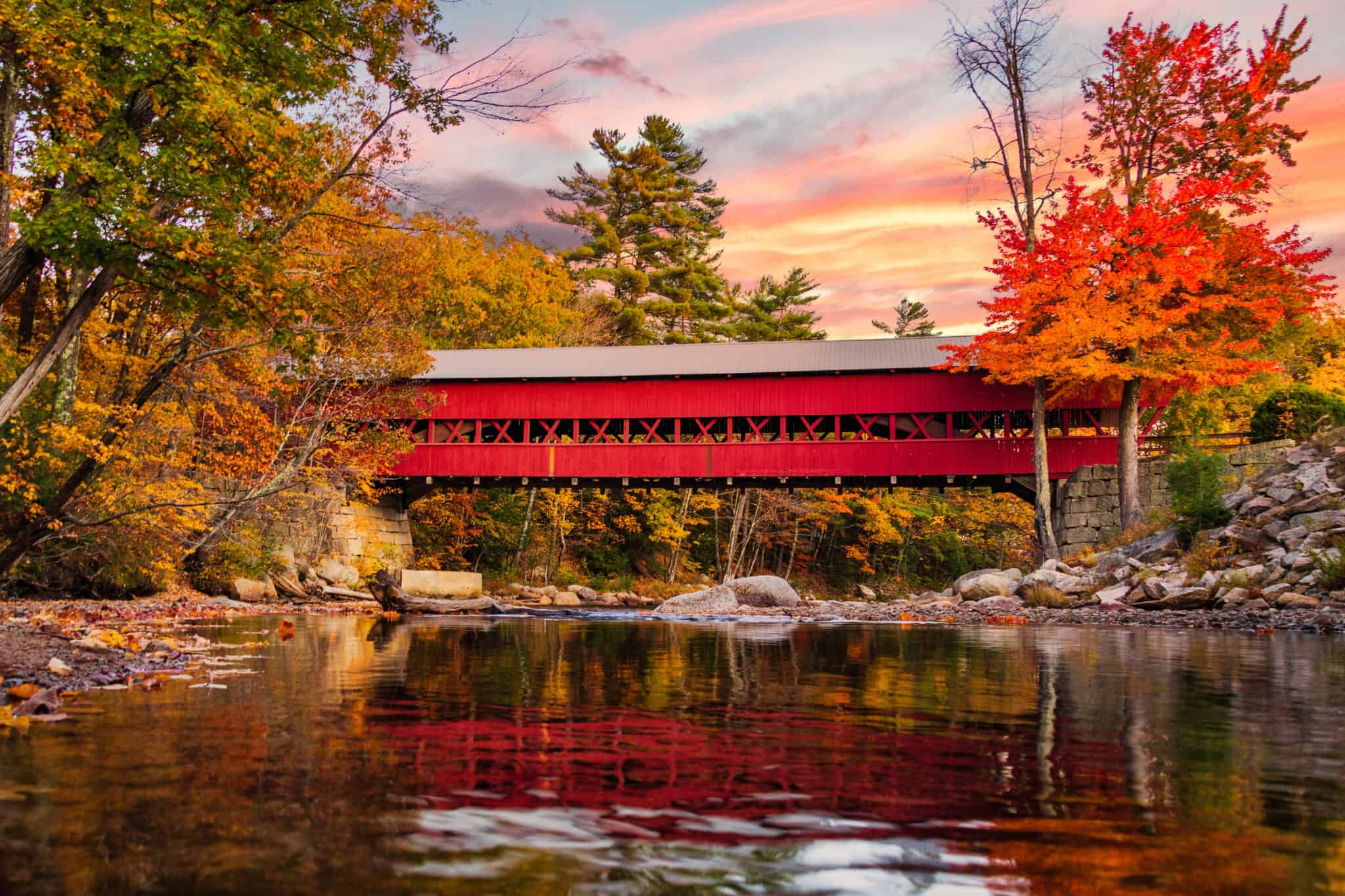 North Conway was named one of the Top 10 Best Small Towns in America for Adventure, and boy, does this town deliver on adventure and aesthetics. Holding court in the heart of the White Mountains and just right up the road from one of the most scenic highways in America (the Kancamagus Highway) the scenery is stunning everywhere you turn. Indoor and outdoor, there are a ton of great things to do in North Conway. Are you a snow hound? In the winter, there is just So. Much. Skiing: Attitash, Bretton Woods, Cranmore, Wildcat, and more are easily accessible for snow sports, and many ski resorts offer four-season fun, too. In the summer, North Conway's REI rentals offer a convenient way to get out and get moving, whether it's mountain biking, rock climbing, paddling, or one of the other equipment rentals they offer.
North Conway has more than just outdoor fun, too. Settlers Green Outlet Village is a shopping mecca, featuring tax-free New Hampshire shopping at designer outlets and local boutiques, like North Conway Olive Oil Company, where you can pick up one of their specialty infused oils as a scrumptious souvenir from your North Conway vacation. Speaking of scrumptious, there are several fantastic dining options both at Settlers Green and beyond; May Kelly's Cottage Bar & Restaurant is the place to go for a generous helping of traditional Irish dishes, whiskeys, and of course, Guinness on tap!
There are plenty of awesome places to stay in North Conway and the surrounding Mt Washington Valley, but if you're looking for a little extra pampering during your stay, check out North Conway Grand Hotel for lush accommodations, a full-service spa, and easy walking distance to Settlers Green shopping! There's also an amazing "Retro Hip & Cozy Couples Hideaway" that made it on this list of awesome Airbnbs. North Conway is a little town with a big bang for your buck (one of the coziest winter getaways in New England), and a must-visit destination for anyone New Hampshire bound.
Keep it Cool in Concord, NH
The capital city of New Hampshire, Concord has a newly revitalized downtown and is a great mix of arts, history, and recreation, and is an all-around great place to visit! Take a stroll downtown and visit the Capitol Center for the Arts, which began as a Vaudevillian theater in 1927 and has undergone many evolutions to become the powerhouse 1,304 seat theater that it is today. You can find performances of every kind, including major international acts at the Capitol Center for the Arts, but just up the road is Red Rivers Theatres, the art-house cinema that screens independent films. New releases or cult favorites, there is always something thought-provoking showing at Red Rivers Theatres. On the same street is Gibson's Book Store, the largest independent bookstore in Northern New England and one of the oldest shops in Concord, having been founded in 1898. Stop in and peruse their amazing selection and pick up a cup of coffee from True Brew, before heading over to Lilise Designer Resale for some sustainable shopping with vintage and luxury fashion finds you can feel good about; there's no "fast fashion" here!
Visit the McAuliffe-Shepard Discovery Center to explore the interactive exhibits, observatory, and planetarium so you can be engaged and enthralled by a closer look at outer space, or visit Concord's New Hampshire Historical Society's headquarters for a peek back at New Hampshire's past, including Native American artifacts, and pieces through World War II. Once you've filled your head with a lot of cool science and history, get outside and clear it at Carter Hill Orchard, home of some of the best apple picking in New Hampshire, and be sure to pick up some of the scrumptious apple cider, maple syrup, and cider donuts made on site!
For dinner, head on over to one of Concord's favorite restaurants, The Barley House Restaurant & Tavern. This hip and happening spot is known for its delicious locally-sourced grub and their regular live music and community events, like Trivia Nights and Music Bingo. Try the Dublin Burger, you won't be sorry. There are plenty of options for dining and lodging in and around Concord, but The Hotel Concord will put you right in the thick of vibrant Main Street. This 38-room boutique hotel has a comfortable elegance about it that will leave you feeling revitalized, much as the rest of this cool capital city will during your visit; Concord is an excellent choice for any visit to The Granite State!
Explore Pretty Portsmouth, NH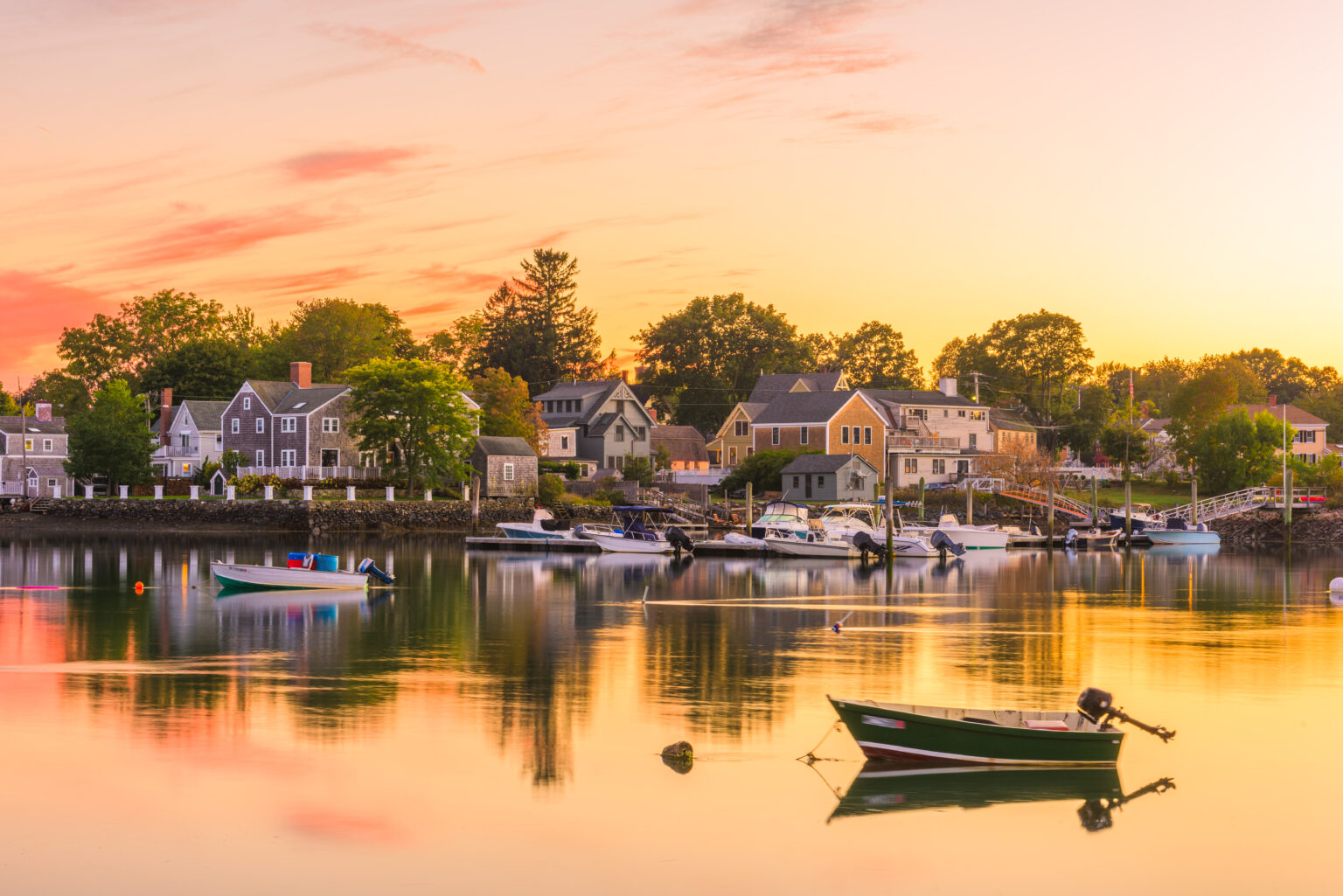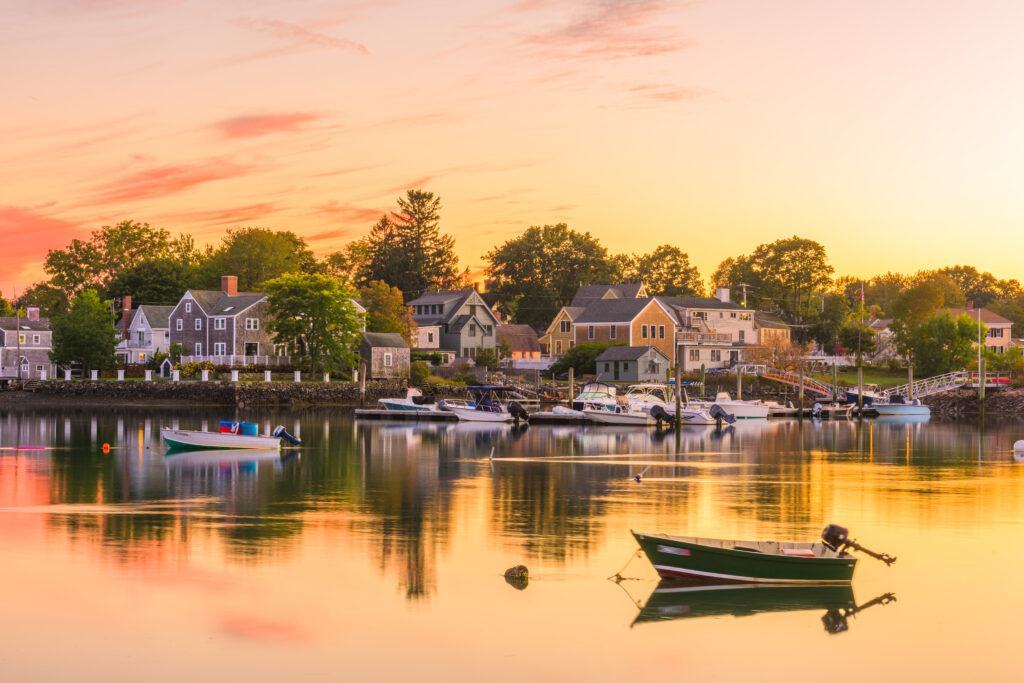 Portsmouth is one of the Seacoast's most popular destinations, and with good reason! Its lovely cobblestone streets and pretty downtown ooze charm, and it is one of those towns that looks like it came straight out of a Hallmark movie at Christmas, in part because it has one of the merriest Christmas celebrations in all of New England. There are so many terrific things to do in Portsmouth; it's no wonder that Portsmouth is considered one of the top vacation spots in New England. There is a ton of fabulous boutique shopping downtown: Inside Out is a unique shop that carries everything from clothing to cocktail kits and is sure to have the perfect piece for you to take home as a keepsake from your trip. For handmade, locally sourced, and oh, so pampering products, visit Portsmouth Soap Company, where you can find seacoast-inspired soaps, scrubs, lotions, creams, and other skin-care accessories. Switching gears a little, be sure to check out Portsmouth Book & Bar; bookshop-meets-bar, Portsmouth Book & Bar offers live music, community activities, and more in a hip and interesting historical building that will have you just as enthralled with the overall vibe as you are the books on the shelves.
Whimsical lighthouses and beautiful 10-acre waterfront Prescott Park give great opportunity to take in some of that fresh seacoast breeze, and the huge outdoor living history museum, Strawbery Banke Museum, is renowned for both its incredible immersive glance into the past and the ice skating they open to the public each winter on lovely Puddle Dock Pond. Pick up tickets for Music Hall or Seacoast Repertory Theatre for incredible live performances, and then grab something to eat at one of the fabulous restaurants Portsmouth has to offer. The Cure is always a good bet for some creatively inspired seacoast dishes like the Lobster Mac and Cheese, made with fresh lobster meat and white truffle oil… Yum! For dessert, visit la Cascade du Chocolat for handcrafted artisan chocolate treats.
There are some great options for where to stay while in Portsmouth, too! Beautiful Bed and Breakfasts, historic inns, and happening hotels abound, but if you'd like to stay at a downtown boutique hotel that offers the best of all worlds, look no further than Hotel Portsmouth, a gorgeous little hotel with a stellar downtown location. If you're more an Airbnb type person, Portsmouth also has some incredible Airbnb options for you! Regardless of where you stay, Portsmouth is the cute coastal getaway you maybe didn't even realize you needed!
Look for fun in Lincoln, NH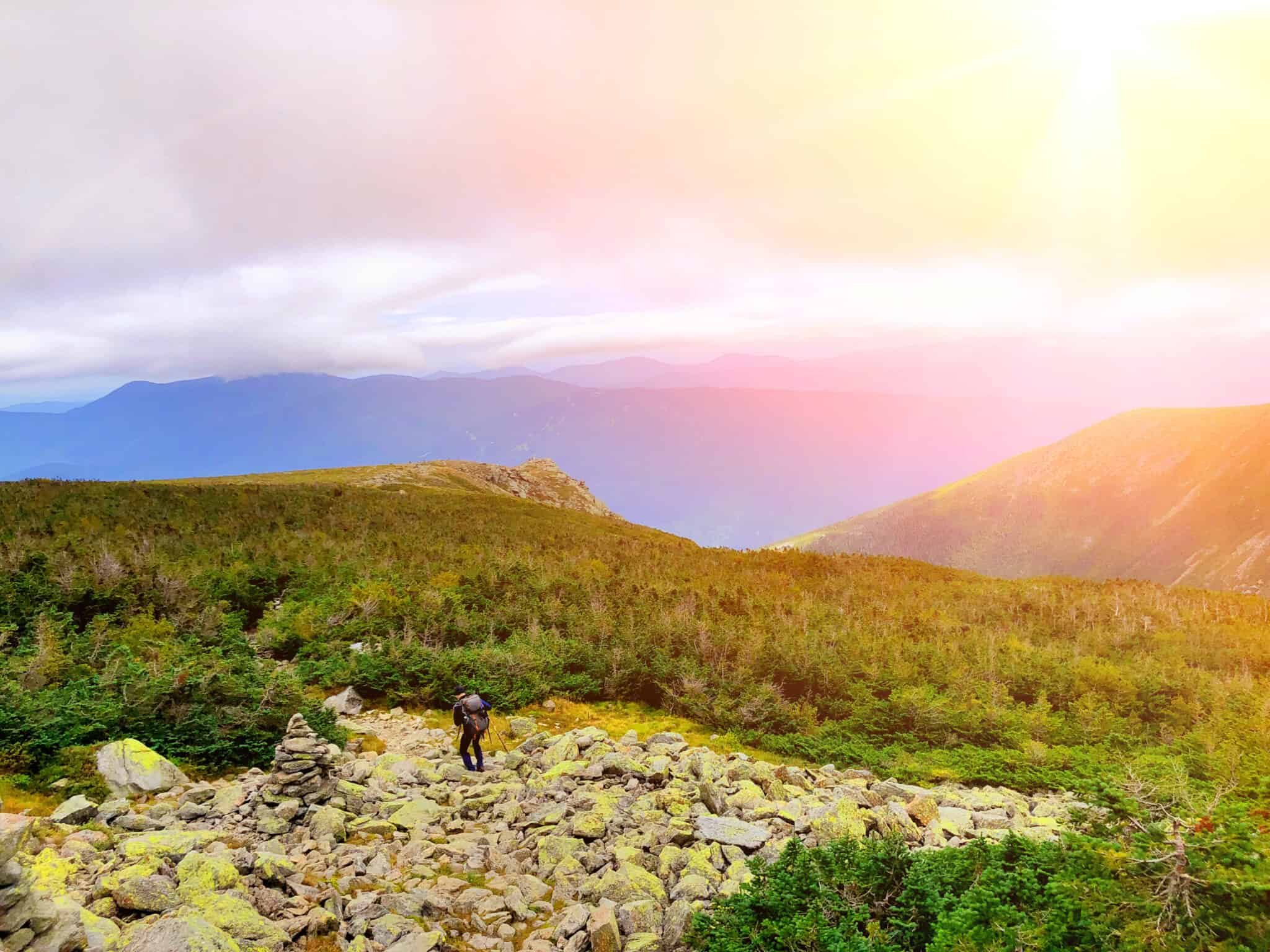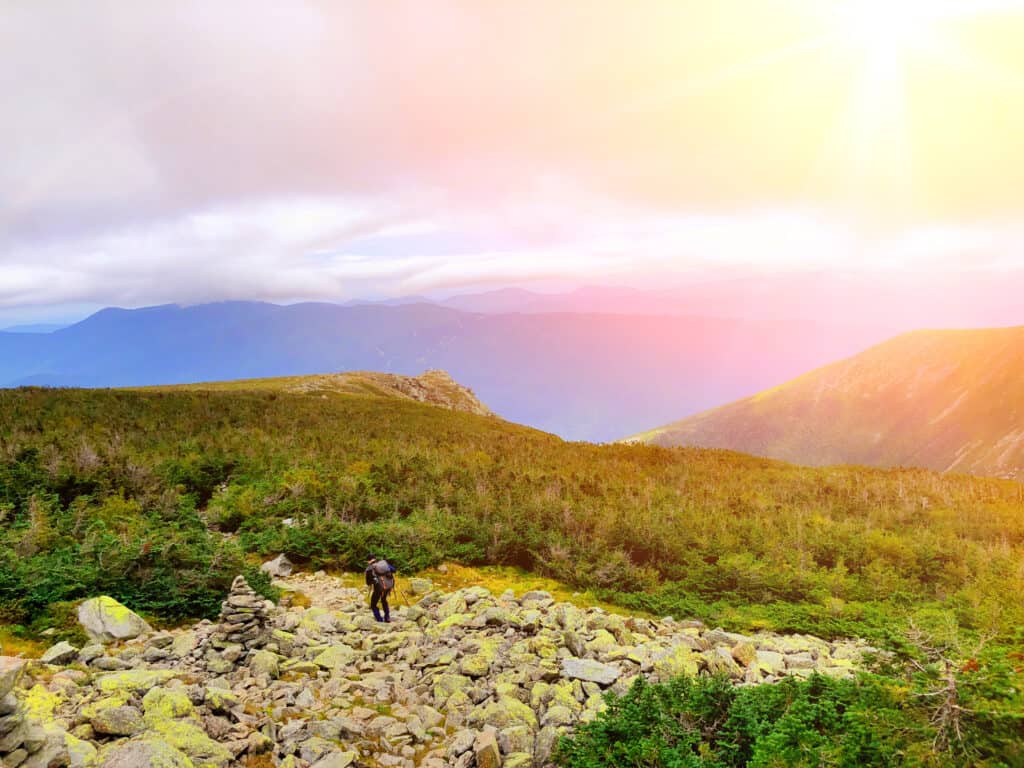 Lincoln is another lovely little town in the White Mountains with a gorgeous view and a wide return on fun things to do! First and foremost, Lincoln is the home of one of New England's favorite ski resorts, Loon Mountain Resort. If snow sports aren't your thing, no problem! For winter fun, you can also find the magnificent Ice Castle installations up the road to ooh and awe over, then in warmer weather, check out the Pemi Valley Moose Tours, where you can go on a climate-controlled moose safari to get a great up-close (as close as you can get safely, of course) look at these magnificent creatures! Alpine Adventures gives you a variety of ways to get outdoors and get active, including ziplining, self-paced challenge courses, an off-road low-speed "coaster" ride, and more.
If you're looking for an outdoor activity that is maybe a little less heart-pounding, check out the Flume Gorge in beautiful Franconia Notch State Park. This is a 2-mile walk through a natural gorge that lets you walk right through some of the coolest scenery and natural features you'll ever see, like moss-covered boulders, a scenic pool, and beautiful waterfalls. There are also adorable covered bridges along the way, and the entire loop through the Flume Gorge takes less than 2 hours.
Of course, just driving into Lincoln is a sight to see, because Lincoln is at one end of the Kancamagus Highway (Conway is on the other), so the scenery here is stellar any time of year. While Lincoln is absolutely an outdoor adventurer's paradise, there are fun indoor things to do here, too! Jean's Playhouse is a lovely indoor theater where you can catch a Broadway-style play or musical, a comedy show, a cover band, or a film showing. If you're looking for live music, check out One Love Brewery for drinks, entertainment, and a full menu of delicious eats, too.
When it comes to where to stay in Lincoln, you have plenty of awesome options, but if you can swing the River Walk Resort at Loon Mountain, you will be positively pampered with hot tubs, fire pits, and the Solstice North Day Spa on-site. Major bonus? Seven Birches Winery is at River Walk Resort, too; can't possibly get much better than that, can it?
The Live Free or Die state has a lot of cool places to see and explore, but if you're picking between the 5 on this list, you're sure to end up in one of the best places to visit in New Hampshire!
---
Read these next:
---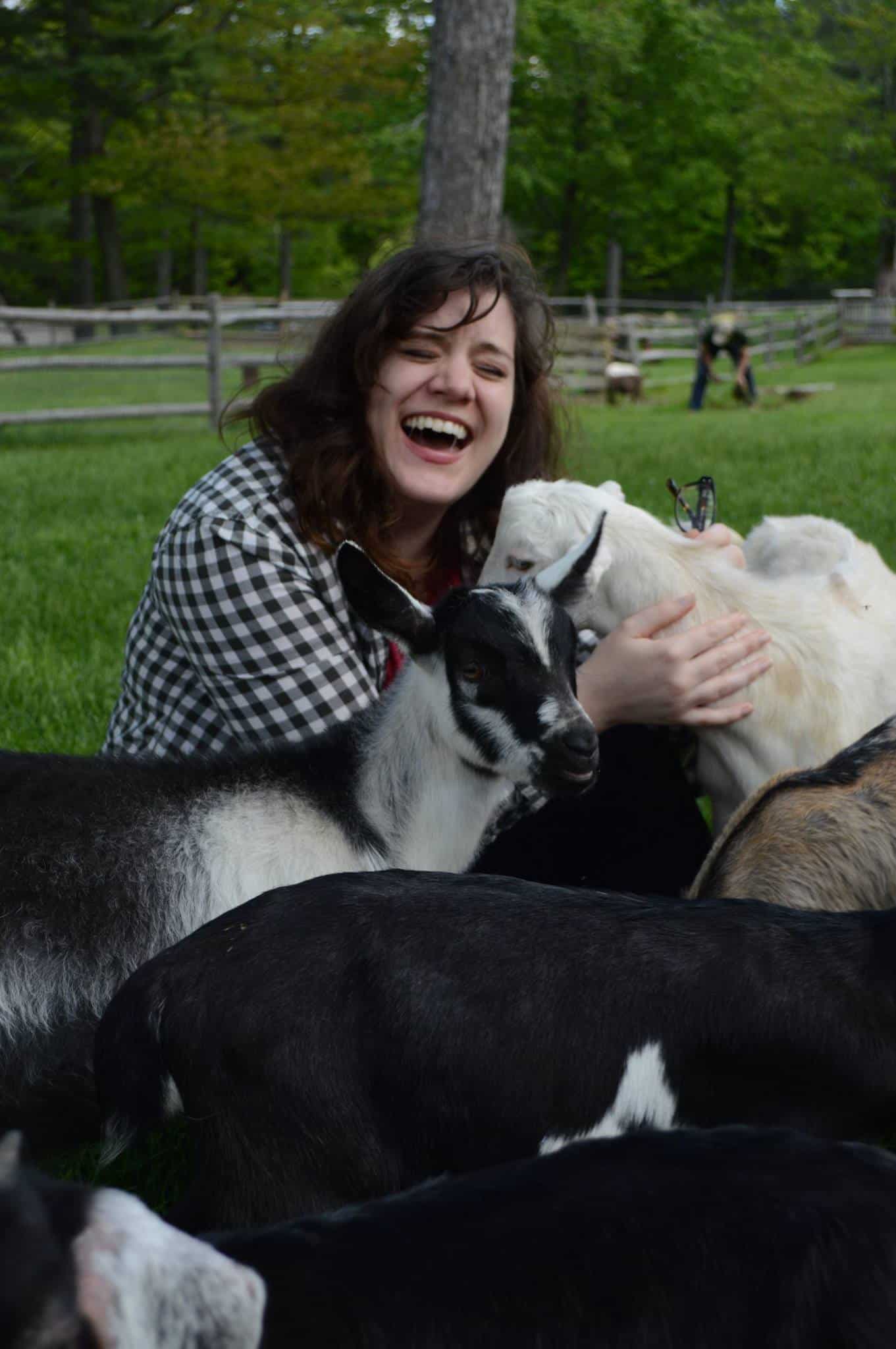 Amy is the founder of New England with love. A proud Vermonter, she hopes to share her love of New England and help you find the best adventures in the region. Amy is also blogger/founder at Two Drifters, where she writes alongside her husband about romantic and couples travel, relationships, honeymoons, and more. When not working on websites, Amy is probably reading, cuddling with her husband, son, and cats, & drinking a maple latte.