*This site uses affiliate links; if you make a purchase through these, I may receive a small commission at no cost to you.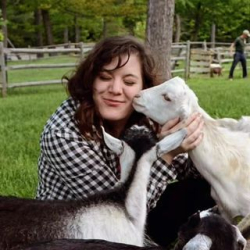 Latest posts by Amy Hartle
(see all)
Located in New Hampshire, Exeter is a picturesque mid-sized New England town with ample history related to the Revolutionary War. Anyone who loves history will enjoy visiting this destination, but there are many other things to do in Exeter NH too, like dining and hiking!
No matter if you've been to Exeter before or not, you're sure to find some fun activities throughout this list. Plus, many of the Exeter attractions on this list are entirely free to do, so it's perfect if you're visiting on a budget.
So, what are you waiting for? Below, find all of the best things to do in Exeter NH.
Play Tennis at Recreation Park
Recreation Park is the central play place and green space in Exeter. If you're in Exeter with kids, this is a must-visit, especially with their old-style wooden playground that will take you back to your own childhood.
At the Recreation Park, there are also many other fun activities, like playing tennis on the tennis courts, hitting baseballs on the baseball field, or even just jogging around on the trails. There's even a softball field and basketball courts at this destination, which was built back in the 1970s.
To get outdoors during your trip to Exeter, consider stopping by Exeter Park to get fresh air for free!
Explore Swasey Parkway
Another one of the great things to do in Exeter NH is to stop by Swasey Parkway. This is another great park within the town that is filled with fun activities, from watching the waves of the water to walking on the trails.
The parkway is rarely ever busy because it's mostly frequented by locals who are getting some exercise. For a truly fantastic experience, be sure to stop by Swasey Parkway in the fall. This is one of the best spots to capture the fall foliage that New England is well known for right in Exeter.
Exploring Swasey Parkway either by walking or biking is one of the can't-miss things to do in Exeter NH.
Dine at Thirsty Moose Tap House
The best place to eat in Exeter is Thirsty Moose Tap House. It's located on Portsmouth Ave and can't be missed with its signature sign and outdoor lighting. This restaurant is known for its tasty food and amazing live entertainment. They also have a host of craft beers on rotation, too.
When it comes to food at Thirsty Moose Tap House, there are a wide variety of options. Choose between tasty appetizers like loaded BBQ ranch fries or poutine fries or pick something like cheeseburger sliders, hand-breaded chicken tenders, or a specialty create your own mac n' cheese.
There's also a super long pizza menu with dough that's made fresh daily. There's classic cheese or more unique flavors like lasagna pizza or even moose mac pizza.
Attend the Exeter UFO Festival
Now, this may seem super odd, but Exeter actually has its own UFO festival. This event normally takes place during Labor Day Weekend and has been happening for over fifty years. The weekend was the very same one where a teenager (along with a group of police) saw a UFO in Kensington. It quickly became a popular story across the United States.
During the event, you can learn a lot more about UFOs through talks from researchers and miscellaneous speakers who are deep in the subject. It also doubles as a fundraiser for children's programs in the area, so your money for attending goes to a good cause.
Children can also attend this event, as there are special activities throughout just for them. So, it's a perfect weekend trip for the entire family!
See Who Wins at Captain's Cove Adventure Golf
Obviously, this list of fun things to do in Exeter NH wouldn't be complete without including at least one golf course! The best one in the area is Captain's Cove Adventure Golf. It's not technically located in Exeter, but it is in Hampton, which is only a ten-minute drive.
Their course is super fun and is especially beautiful in spring and summer. There's a waterfall, gorgeous flowers, and more. Once you're done golfing, you can grab some of Blake's Ice Cream right on-site. Choose between tasty flavors like blueberry parfait, chocolate cookie monster, and even chocolate peanut butter swirl.
Learn at the American Independence Museum
The best museum in Exeter is the American Independence Museum. As mentioned earlier, this town has a lot of history rooted in the Revolutionary War, and this is one of the best places to learn more about it.
The best way to explore the American Independence Museum is to go on a museum tour. They have self-guided tours normally any time that they are open, but the guided tours will delve into the history even deeper, and you'll have someone you can ask questions to.
There are tours of the Ladd-Gilman House and Folsom Tavern. Note that Folsom Tavern is only available to be visited via a guided tour, and they happen during specific hours and days throughout the week.
Hike Hillzilla Trail and Red Loop
Be sure to do a hike in the Exeter area, too! One of the great hikes that will definitely help you break a sweat is the Hillzilla Trail and Red Loop. This moderate trail is located in the Henderson Swasey Town Forest. It's a loop trail that's just shy of 4 miles long and around 300 feet of elevation gain.
The trail is beautiful in the summer or fall but can be hiked any time. Overall, the trail is only super well marked for the first half of the trail, so if you're worried about getting lost, just pay attention to the signs while they last, and also bring a map. Overall, the Hillzilla Trail and Red Loop is fairly relaxing and go through the woods. Be sure to bring bug spray.
Have a Drink at Sea Dog Brewing Company
When it comes to things to do in Exeter NH, don't miss out on Sea Dog Brewing Company. This brewpub has incredible drinks and food that you can enjoy while you're there. It's perfect for a graduation, party, or even just a get-together with friends and family.
Their menu consists of traditional appetizers, soups, salads, sandwiches, burgers, and other pub dishes like steak tips poutine, and haddock fish and chips. They also have a lot of different desserts on their menu that you can enjoy once you're done eating. Choose between peanut butter and chocolate pie, Downeaster blueberry pie, and even a chocolate chip cookie skillet.
Visit the Gilman Garrison House
Another of the historical museums in Exeter is the Gilman Garrison House. It's an old garrison house (like the name suggests) and it's a bright red color, so it's impossible to miss. Dating back to the early 1700s, this home is by the Squamscott River.
The home now belongs to Historic New England, and its last owner turned the interior into a museum to learn about the history of the Gilmans. It was initially built to be a defensive fortification, and pieces of that can still be seen by visiting the home today. Be sure to go on one of the tours to best enjoy it. Also, remember that it's only open seasonally throughout the year.
Go Apple Picking at Applecrest Farm Orchards
Located just thirteen minutes away from Exeter is Applecrest Farm Orchards in Hampton Falls. There are many apple orchards in New Hampshire, but this one is absolutely great if you're visiting the Exeter area.
This orchard has pick your own everything, too, not just apples. There are raspberries, blueberries, peaches, and more! Plus, they do pumpkin picking later in the fall, too. This is the perfect place to go and visit with your entire family, especially if you'll be visiting with little ones.
While you're there, be sure to stop by The Creamery at Applecrest if it's open during your trip. This is a newer addition to the farm, where they offer tasty ice cream with fine ingredients. Many of the ingredients even come directly from the farm, including the fruits used in the fruity flavors.
Satisfy Your Sweet Tooth at Charlie's Ice Cream
The best ice cream shop in all of Exeter, New Hampshire is Charlie's Ice Cream. This little shop has quickly become popular for its tasty ice cream, and they have pretty much every topping that you can imagine, too.
For flavors, they obviously have classics like cookie dough, vanilla, and strawberry, but they have unique ones too. There's peanut butter oreo, absolutely nuts, cinnamon toast crunch, and coconut almond swirl, to name a few! For toppings, there are graham crackers, waffle cone pieces, gummy bears… you name it, they most likely have it!
Charlie's Ice Cream is the perfect place to visit after a long, hot day hiking in town or even just shopping. Plus, kids (and the entire family) will absolutely go nuts over this place.
Woohoo, this post was all about the best things to do in Exeter NH! We hope you enjoy your trip and be sure to explore more of New England while you're there, too!
---
You might also like:
The 12 Best Breweries in New England You Need to Visit
Where to go White Water Rafting in New Hampshire