Have you ever considered dog sledding in New Hampshire?
Winters in New Hampshire offer many magical sights and activities. Hit the slopes at one of NH's famous ski resorts, venture out in a pair of snowshoes or just sit beside a crackling fire and watch the snow fall from inside a picture-perfect cabin. If you enjoy a more unique adventure, uncover one of New Hampshire's best-kept secrets: dog sledding.
When you think of dog sledding, you might think about the long-distance races over the Alaskan terrain or in the harsh Canadian winters. You actually don't have to leave New England, because you can find dog sledding in New Hampshire!
Dog sledding in New Hampshire is a unique winter experience, and different kennels and organizations offer a variety of experiences. You can race at top speeds with purebred huskie working dogs through the forest, and then follow it up with some playtime with the sled dogs that just pulled you. And if participating isn't for you, you can be a spectator at one of the professional NH dog sled races hosted each year. Read on for the top spots for dog sledding in New Hampshire.
Dog Sledding in New Hampshire
Muddy Paws Dog Sled Kennel, Jefferson NH
Muddy Paws Dog Sled Kennel in Jefferson, New Hampshire offers public dog sledding opportunities. Located in the White Mountain National Forest, Jefferson has stunning views for dog sledding experiences. While dog-sledding and visiting the local Santa Village is the perfect winter activity, Muddy Paws offers dog sled activities all year round.
The kennel features over 60 dogs, most of which are rescue or second-chance sled dogs. You can spend time with these hard-working pups after your ride and you even have the opportunity to sponsor your favorite sled dog.
Old Saco Inn, Fryeburg ME
Located just right across the Maine/New Hampshire border is the charming Old Saco Inn, where you can take in the beautiful New England views with a high-speed dog sledding team. The inn offers safe but thrilling dog sled tours with two different companies to accommodate all their guest's needs.
After your dog sledding experience, you can enjoy the inn's many other unique activities such as snowshoeing and ice fishing.
New England Dog Sledding, Colebrook NH
A truly once-in-a-lifetime experience located on 60 miles of the Umabgog Lake Region and Wildlife Refuge, the New England Dog Sledding organization features Iditarod-style dog teams.
Not only is this a unique dog sledding in New Hampshire experience, but you'll also have a great opportunity to see some NH wildlife. In the "Moose Safari" experience, you'll frequently spot coyotes, grouse, moose, deer and so much more.
Dog Sled Races in New Hampshire
Tamworth Outing Club, Lake Chocorua NH
The Tamworth Outing Club has hosted the Tamworth Dog Sled race on Lake Chocorua since 1937. This New Hampshire staple is held every winter, depending on snow conditions. These races feature a variety of races from sprinting to 11 miles races, and spectators have concessions available, including a fire to roast marshmallows over. Experience the amazing abilities of sled dogs from the comfort of the sidelines.
Lakes Region Dog Sled Club, Laconia NH
Laconia, NH is home to the Lakes Region Dog Sled Club. The first race in Laconia debuted in 1929 and has been a yearly tradition ever since. This is one of the oldest and largest races in the country, and food vendors and other activities are also available for spectators. New Hampshire dog sledding is dependent on weather conditions, so be sure to check in to the Lakes Region Dog Sled Club website for up to date information on races.
Don't forget to come prepared for your NH dog sledding experience with plenty of layers! New Hampshire winters are very, very cold, so come prepared with face protection, warm gloves, scarves, boots, and a great winter coat.
Dog sledding and racing is an age-old New Hampshire tradition, and if you're looking for adventure, you can try your hand at dog sledding in New Hampshire, too!
You might also like: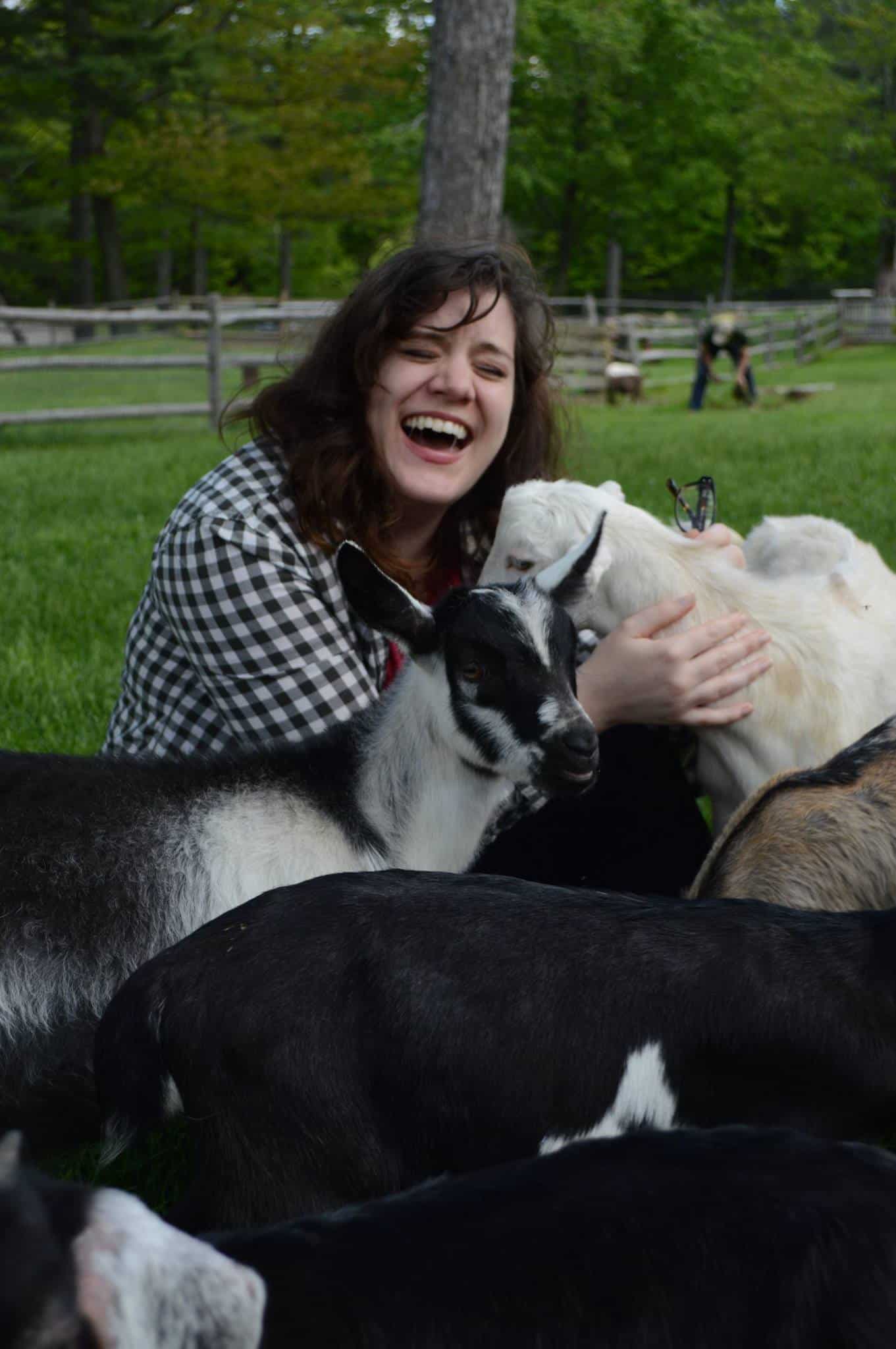 Amy Hartle is the founder and Editor-in-Chief of New England With Love, a comprehensive resource for travel in the New England region. Amy has been exploring New England since 2001. She lived in Vermont for many years and is a graduate of Plymouth State University in New Hampshire. Amy has been writing about travel for over a decade. On this site, Amy aims to share her love of New England and help you to have the best possible adventures!
Amy has been a full time blogger since 2012, and is also the publisher of Two Drifters, where she writes about couples travel and relationships, as well as Let's Adventure Baby, a family travel site. When not traveling the world or creating epic blog content, Amy can be found cuddling with her husband, son, and cats, & drinking a maple latte.