*This site uses affiliate links; if you make a purchase through these, I may receive a small commission at no cost to you.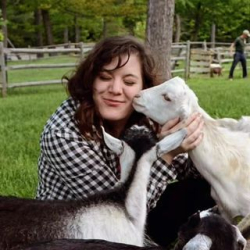 Latest posts by Amy Hartle
(see all)
New Hampshire is a fantastic place to visit any time of year, but New Hampshire in winter is basically a winter lovers dream. Not only are there so many fun winter things to do in New Hampshire, but with the amount of snow that The Live Free or Die State sees each winter basically guarantees lots of opportunity for playing in the snow!

If you're planning a New Hampshire winter trip, these are the top things to do in New Hampshire in winter.

Tips for Visiting New Hampshire in Winter
Come prepared for the weather! It gets COLD in New Hampshire, with a lot of snowy, icy precipitation so warm clothes and good footwear is a definite must. If you are driving your own vehicle to New Hampshire in winter, be sure you've got proper tread on the tires and your vehicle can handle the winter roads.
Things to Do in New Hampshire in Winter
Visit a Christmas Tree Farm
If you're spending Christmas in New Hampshire, skip burning the evergreen scented candle this year and leave your artificial tree in the closet! Channel your inner Goldilocks as you evaluate each tree's height, width, fullness, color, etc., until you find the one that is just right.

If you go the live tree route, I offer two suggestions: 1) know how tall your ceilings are, and 2) have a vacuum handy.
There's so much more to New Hampshire Christmas tree farms than just the trees, of course. As you pull up to Forsters Christmas Tree Farm, Gardens and Gift Shop, you'll see their dozens of acres of trees standing tall, sprawled over the countryside. Friendly faces greet you over a bonfire, offering hot cocoa and warm apple cider. No need to worry about tools – they've got you covered with hand saws, carts and free wrapping to get your tree easily back to the car! Their gift shop is not to be missed, with every ornament and winter decoration you can think of and more.
Headed a little further north? Check out The Rocks in Bethlehem. A conservation and education center, this beautiful and historic farm is nestled into the foothills of the White Mountains, and isn't to be missed. Thousands of people head there for their annual Christmas tree, but if you can't make it in the winter, check out their maple syrup tours, nature trails, and formal garden later in the year!
Cozy up in a New Hampshire Cabin
There are some many adorable cabins all around New Hampshire, so you've got your pick of great spots to stay in during your winter trip to New Hampshire. Is there anything cozier than staying in a gorgeous cabin with a fire crackling inside while the snowflakes swirl around outside the window? Nope, probably not.
Hop into a horse drawn sleigh
It can be the perfect romantic New Hampshire winter escape or a fun afternoon family adventure to be pulled through the snow adorned paths on a horse drawn sleigh ride. Charmingfare Farm has options for both as you cuddle up under a blanket and let yourselves be led by the clop-clop of the horses' hooves. Why watch a Hallmark movie, when you could star in your own?
Give dog sledding a try
Ever want to complete your own Iditarod? There are a few dog sledding places in New Hampshire that can help you achieve your dreams with the help of their furry four legged friends.
Most New Hampshire dog sledding places offer a chance to learn about the history of dog sledding, meet the dogs, and go on a fantastic dog sledding adventure. Belly rubs (for the four legged staff) are often encouraged.
See incredible snow sculptures
Check out master snow sculpture artists at work at the annual Jackson Snow Sculpting Competition in…you guessed it, Jackson, NH! These master snow sculpture artists from all over the Northeast will turn a giant 8 foot by 4 foot snow tube into a masterful work of snowy art by the end of the weekend – you just have to get there before it melts!
There are also other fun things to do onsite like a scavenger hunt for the kiddos. These aren't your neighborhood snowmen – prepare for some awesome additions to your instagram feed. Depending on weather, the sculptures usually last around one week in New Hampshire in winter.

Go snowmobiling in the NH woods
If you're looking to really get off the beaten path, the North Country awaits. Renting a snowmobile from a spot like Tall Timbers will allow you to travel miles and miles through snowy trails with scenic mountain views of Vermont, Maine, Canada and New Hampshire. You'll ride through both public and private land (even some maple syrup farms!), and over roads inaccessible to vehicles. On behalf of the local residents, please obey the rules of the trail! Finish the night over dinner and a bucket of brews at The Buckrub Pub, and you might even be able to catch a glimpse of a moose on the way home!
Stand in awe of the Ice Castles
Channel your inner Ana and Elsa at the larger than life Ice Castles that have taken over social media in the White Mountain region. Thousands of icicles and lights combine to make a wintertime wonderland filled with tunnels, slides and more.With both daytime and nighttime options, the Ice Castles can be both family friendly and a romantic getaway winter in New Hampshire experience.

Hit the slopes
A classic New England wintertime activity, the ski and snowboarding options abound from southern NH to the Lakes Region. Mount Sunapee, Cannon Mountain, Attitash, Bretton Woods, Loon Mountain offer something for all wintertime adventure seekers. Read more about New Hampshire's ski resorts here. Don't have equipment, or need a brush up on some skills? The mountains have you covered. Call ahead for lesson availability.
Shop tax free
For those who aren't as excited to jump onto a ski lift, take advantage of tax free shopping! Shopping the Outlets in Tilton, North Conway, and Merrimack offer great deals nearby to all the best winter adventures. Whether you need an extra pair of gloves or an entire wardrobe, you'll find it.
Go ice fishing
Ever caught a fish on Lake Winnipesaukee? How about through 12 inches of ice? Check out the Ice Fishing Derby in Meredith on February 9-10. The Rotary Club's annual event is a fun opportunity to hang out on the ice and compete for prize and bragging rights if you bring in the biggest catch. The Tackle Shack can get you set up with equipment and a fishing license!
If ice fishing isn't your style, still take a drive by to check out the festivities! It's always fun to see the bob houses on the iced-over lake with snowy mountains in the background.
Visit New Hampshire Breweries
New Hampshire is home to several great breweries just waiting to be discovered by you on a winters day. You can put together a brewery tour through Portsmouth alone, or a longer road trip all over the region to taste some of the best local brews.

Go snow tubing
Whether you're three feet tall or six, nothing beats the wholesome thrill of sliding down a snowy hill on an inflated tube! There are plenty of places all around the state that offer this classic New Hampshire winter activity, and places like Pats Peak has you covered for hours of tubing on their groomed hills made for everyone to have fun. Don't forget to warm up with hot chocolate and one of their famous giant cookies in the warming hut when you're finished!
Stay in style
Perhaps the most iconic hotel in the state, the Mt Washington Resort's grandeur attracts folks from all over for its classic Currier and Ives style and superior accommodations. While you're there, don't forget to reserve a horse-drawn sleigh ride! Nearby one of the top rated ski resorts in the world, Bretton Woods promises days worth of challenging and fun ski adventures and views.
If you've got an extra afternoon, consider "climbing" Mount Washington. As the highest peak in Northeast, the summit experiences some of the worst weather in North America. Outfitted with four tracks instead of wheels, the Snowcoach takes guests up to the treeline (about 2/3 of the way up) of the mountain, and stops for the ultimate photo opp. If you're feeling really adventurous, you can ski or snowshoe back down the mountain!
Click Here to Check Prices & Book!
Eat well
No matter where you go, ask the locals where to get the best food. New Hampshire isn't necessarily known for its diversity of fine foods, but you can count on its honesty and good home cooking. If you're craving Irish food, prepare to wait for a table at May Kelly's Cottage in North Conway – its well worth it. If its pancakes for breakfast, try Polly's Pancake Parlor in the mountains, or Parker's Maple Barn with their selection of fresh maple syrup. Either way, you can't go wrong. Cotton has a fabulous dinner menu where everyone can find something they'll like, and you'll only hear fabulous things about the Common Man restaurant family all over the state.
Take the Kids to Santa's Village
Santa's Village in Jefferson NH is one of the most popular holiday-themed amusement parks in the country! With all the classic rides and a great holiday theme that lends itself oh so well to some pretty fantastic holiday puns and witticisms like the Chimney Drop and the Yule Log Flume. You can also feed and pet real, live reindeer! Santa's Village is open on select weekends until New Years when it takes it's annual winter break, so be sure to plan your trip accordingly if Santa's Village is on the list of things you want to do during your trip to New Hampshire in winter.
Whether you're coming for a family adventure or a romantic getaway, New Hampshire has a winter activity for everyone. Winter in New Hampshire is a sight to see.

---
Read these next:
10 Beautiful Locations for Cross Country Skiing in NH
---