---
Traveling in 2021? Please check with each state/destination for its current COVID-19 guidelines, as these are constantly changing and the most accurate, up-to-date information may not be reflected here.

*Links in this article may be affiliate links, from which we may earn commission. See our Privacy Policy for full details.
---
Nothing is better than a cute, cozy cabin during a New England fall or winter evening. Nothing! If you want to capture that magic, with checkered blankets, crackling fires, and mountain views, you can't go wrong in the state of New Hampshire.
New Hampshire has TONS of cabins for rent, so you're in luck. The hardest thing is deciding which one to book for your vacation or weekend getaway.
I'm here to help you out. I've reviewed the many options on Airbnb and have identified for you some of the most amazing and well-ranked cabins in New Hampshire. All of these would make a great choice for your NH getaway. Don't see something that suits? Keep searching! There are countless cabins that you'll love!
Please note: As an Airbnb Associate, I earn when you book through these links.
Castle View Cabin, Private Mountain Retreat – Randolph, NH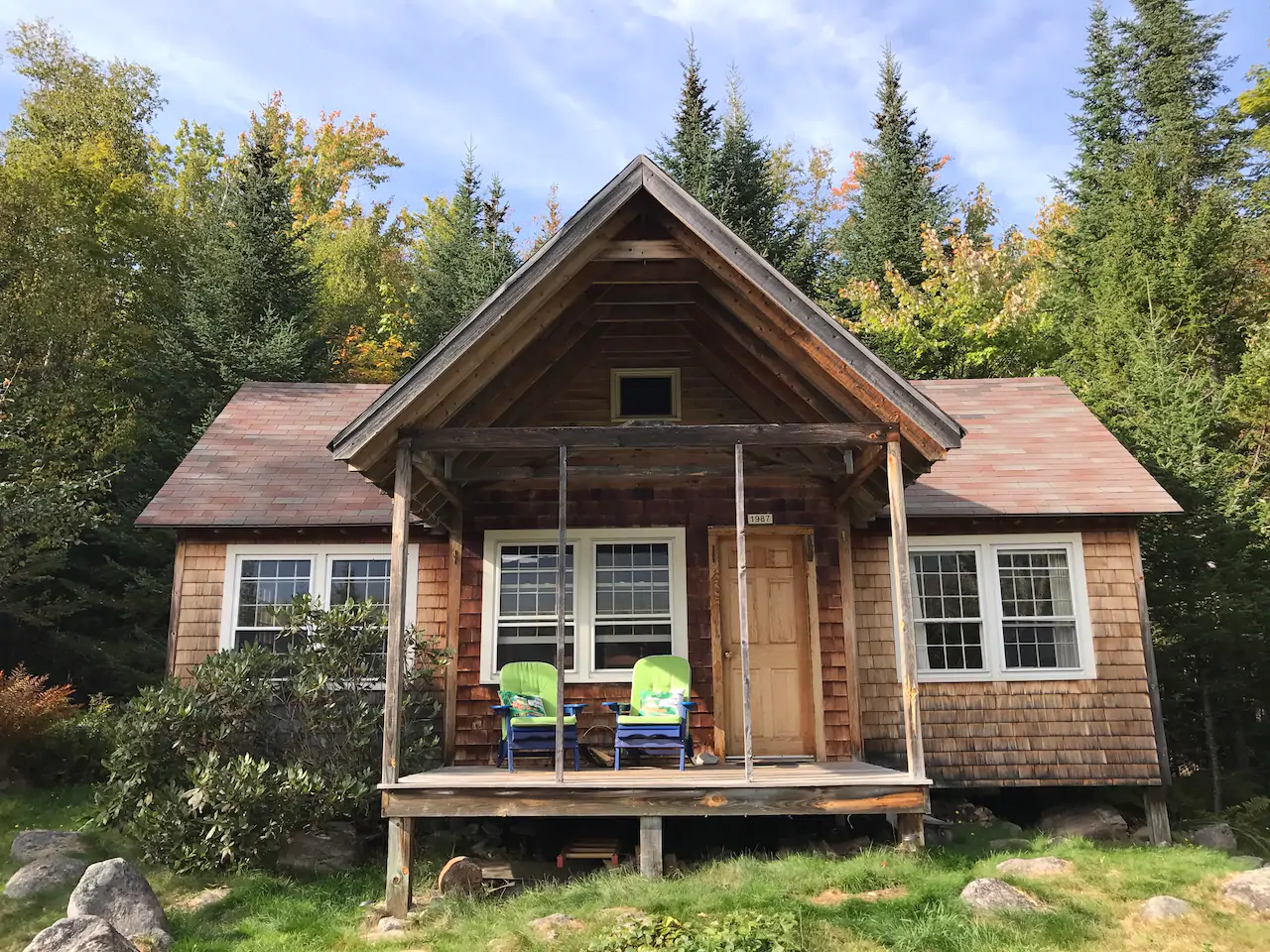 The listing for this NH cabin says it all: "Castle View Cabin is your own private retreat in the White Mountains of Northern NH. The cabin is surrounded by forest, with spectacular views of Mt. Madison, Mt. Adams, and Mt. Jefferson."
This off-the-grid cabin is the perfect spot for two people to cozy up together in nature. While there is no running water or electricity, there is solar power for charging your electronics (phones).
Sit by the fire in the evenings and watch the stars come out. Truly a great option for those looking to get away from it all.
---
---
Private Cozy Cabin with Fireplace – Jackson, NH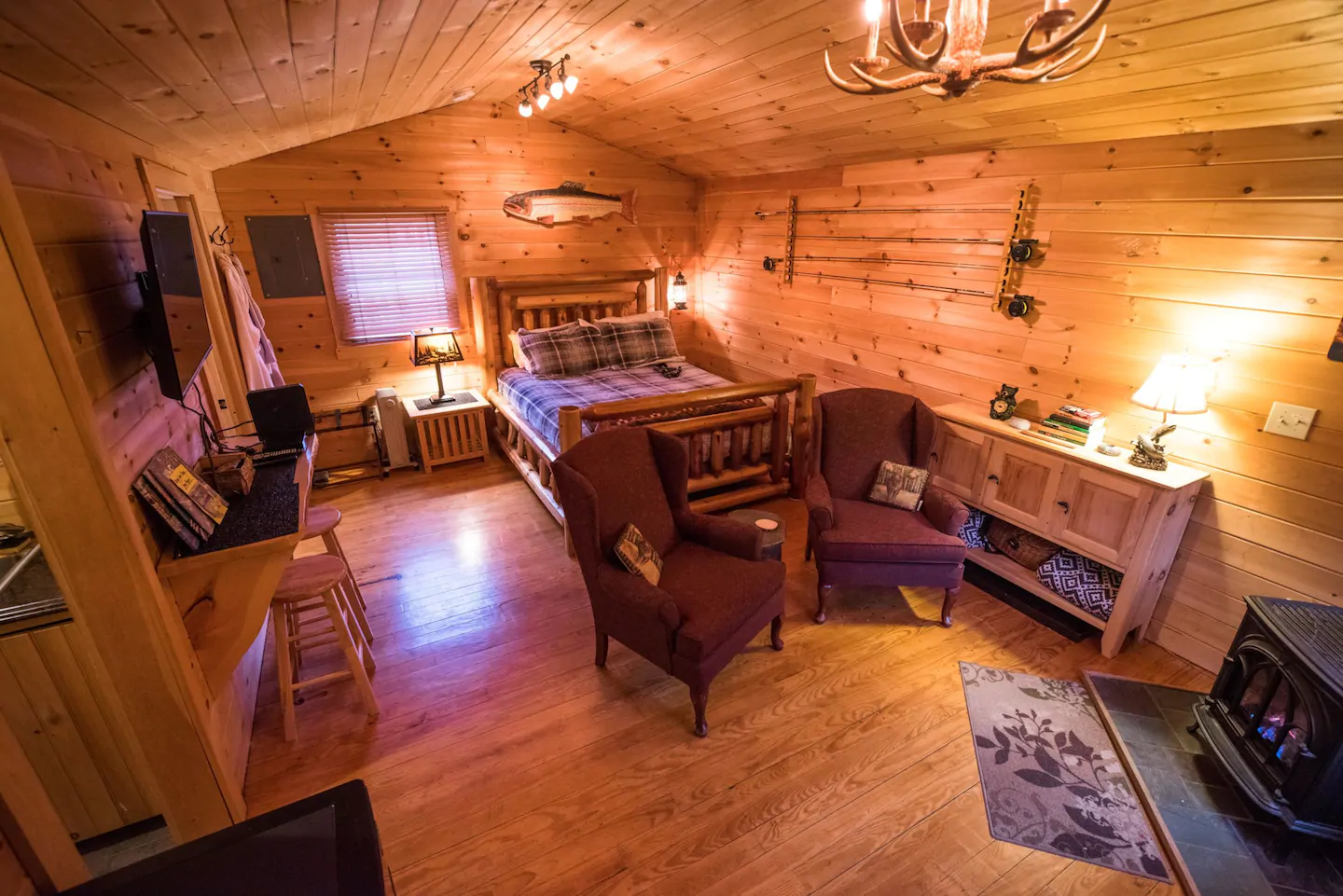 This is a perfect romantic Airbnb in New England for two. Jackson has a great White Mountains location, and this property is super charming. You've got a fireplace to keep you warm while you're tucked inside this cozy cabin, and when evening comes, head out for a private dip in the hot tub.
With a secluded space and all the iconic New England amenities you'll be in good hands here.
Read Next: Check out more of the coziest cabins in the White Mountains!
---
---
Timothy House – Tilton, NH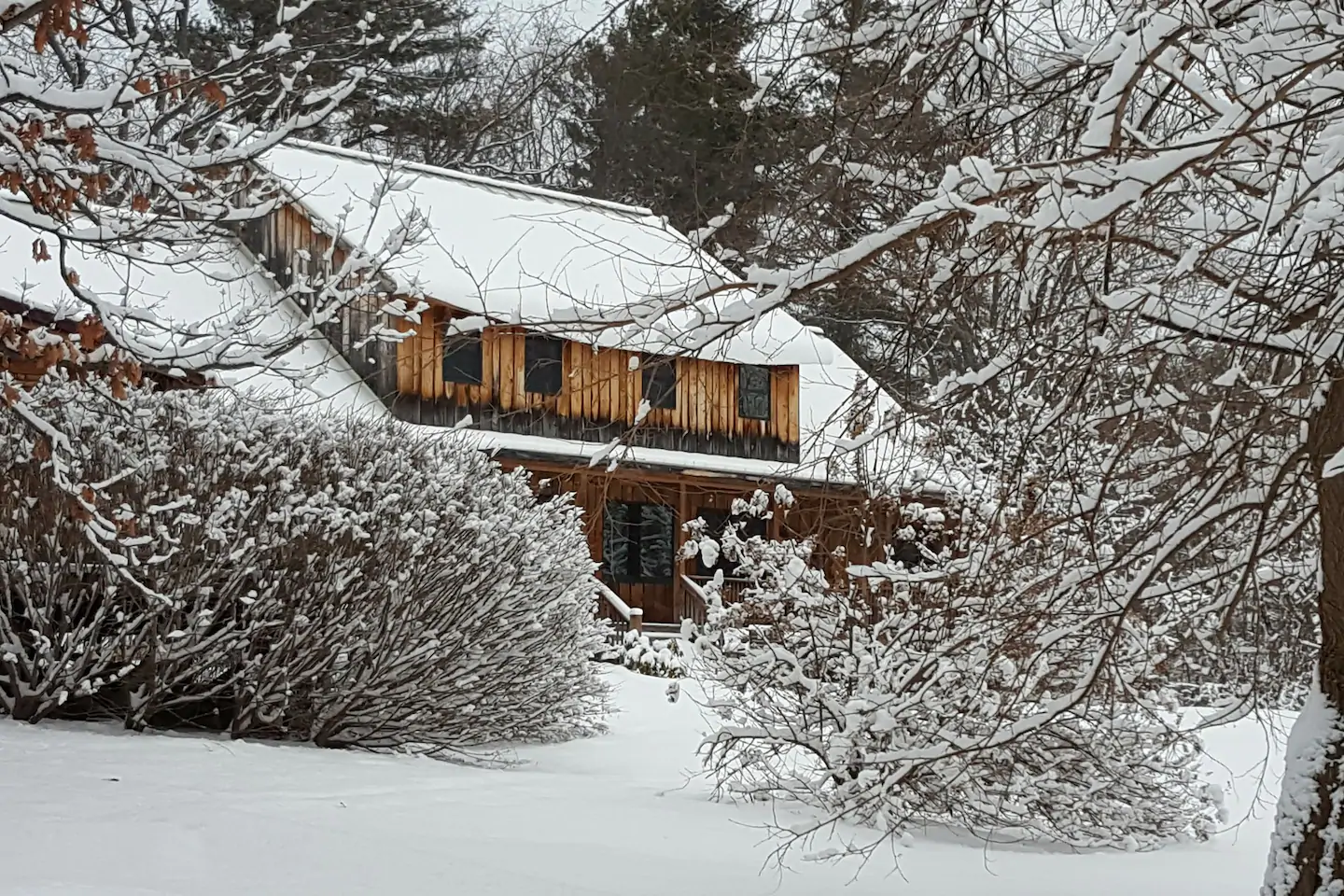 This cabin is regularly listed among the top Airbnbs in New Hampshire. A spacious, sprawling cabin, Timothy House can accommodate as many as 15 guests. Planning a small family reunion or a gathering of several friends? This might be a good choice! Kids are more than welcome, too, and they will really like the playground in the yard.
If you are looking for a classic cabin boasting traditional cabin style, you'll love this place!
---
---
Mountain Chic New Hampshire Family Getaway – Conway, NH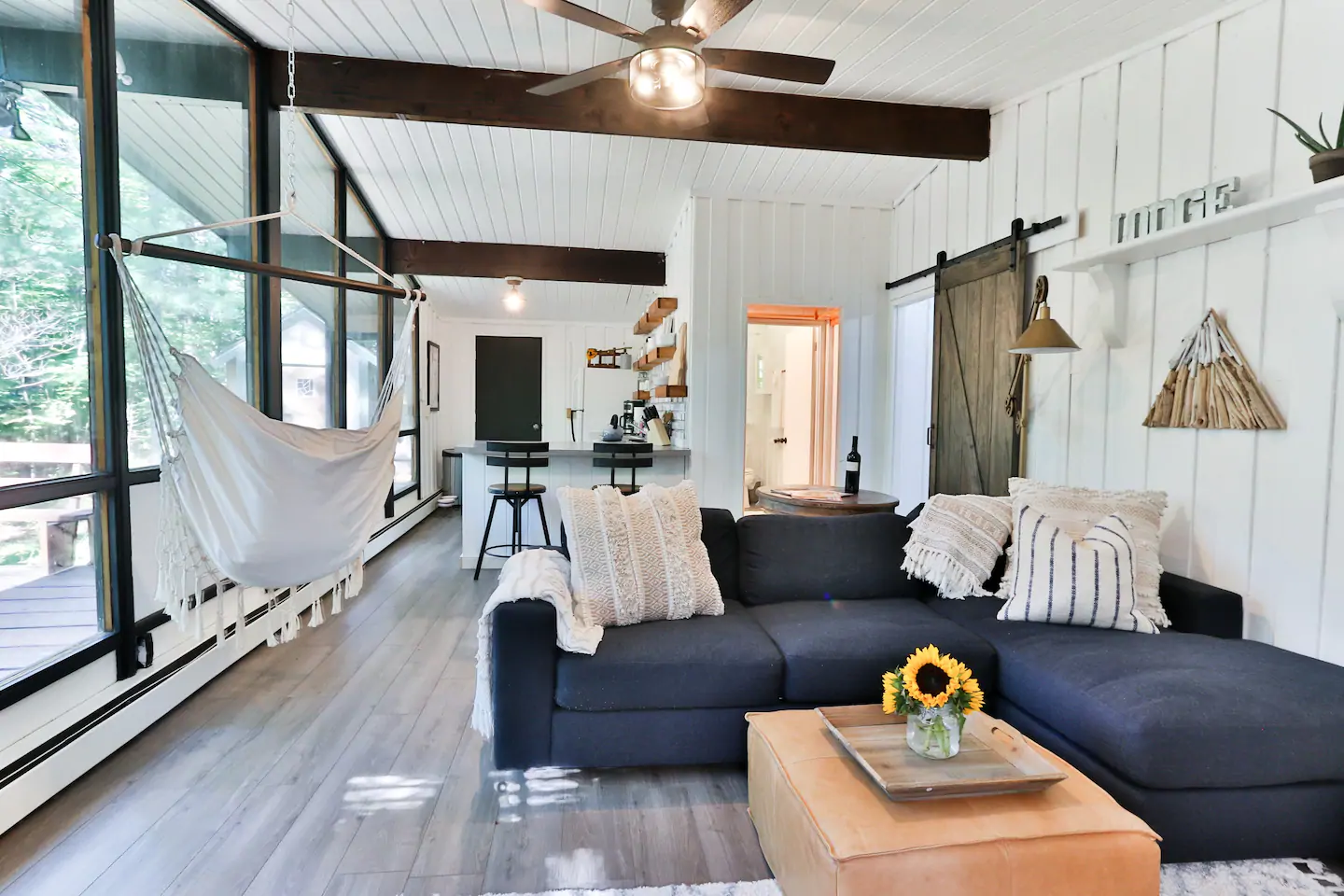 This swoon-worthy, modern cabin proves that cabins don't have to be dark and brown! What a lovely place!
Families visiting Conway and surrounding areas should definitely consider this chic cabin for their vacation. It can accommodate 6 guests in its 3 bedroom and 1 bath space. An indoor hammock is a special touch in the living room (pictured), and a great place to hang out and take in the views from the massive picture windows.
Cuddle up by the gas fireplace, chill out on the deck, and simply relax and take in the aura of New Hampshire's great outdoors.
---
---
WatersEdge! – Pittsburg, NH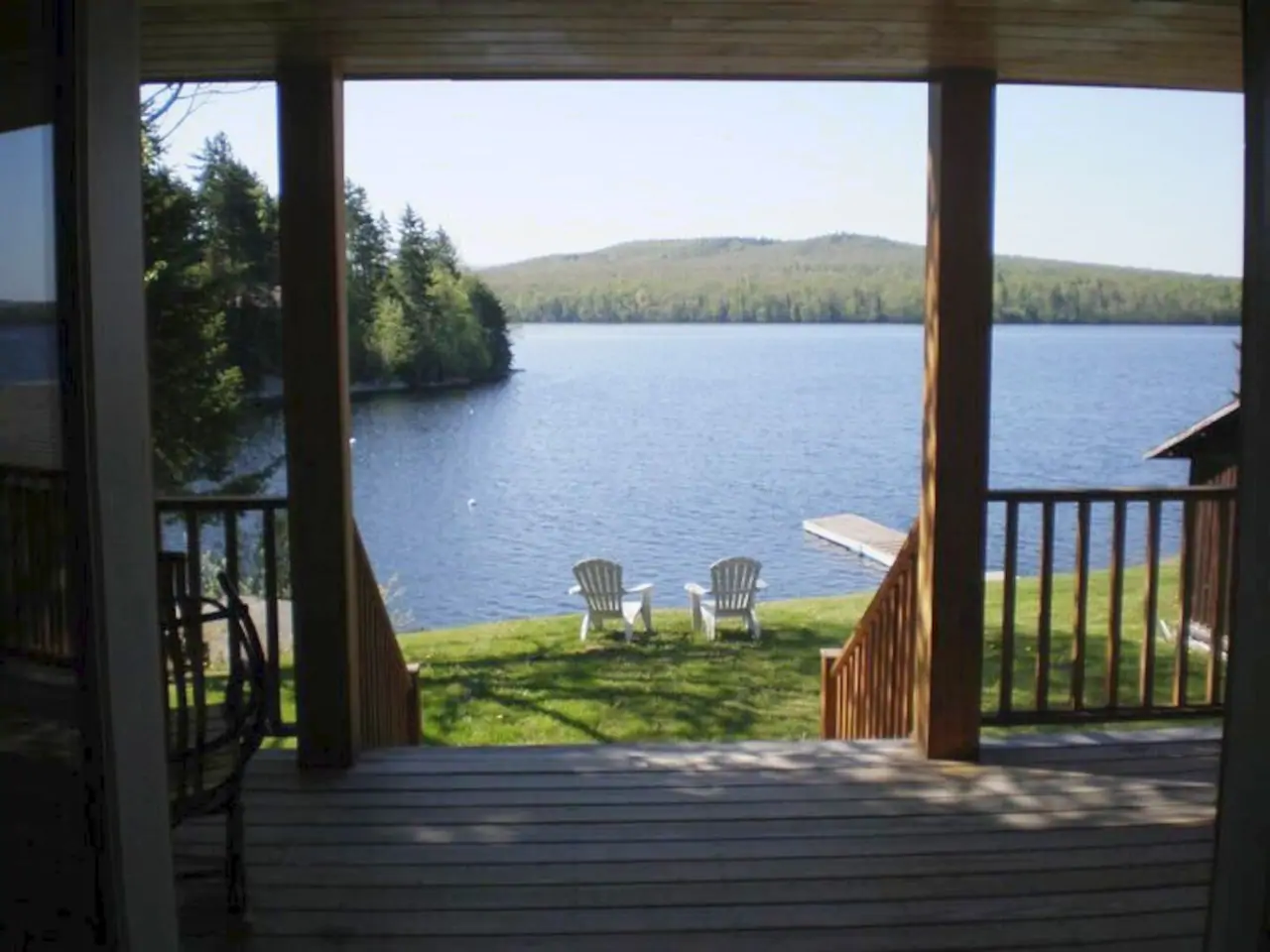 Way up north near the top of the state, is this 2-story cabin on First Connecticut Lake. Bringing your boat? There's a deep water dock just 50′ from the cabin, shared with the next door neighbors. A boat ramp into the lake is just 200 feet away.
This is a wonderful place for the family to gather together for a New Hampshire summer at the lake (although there's plenty to keep you busy in the winter months, too, like nearby snowmobile trails).
As many as 10 guests can snuggle up in this 3 bedroom 2 bath home that has a total of 5 beds.
---
---
Cozy Wooded Cabin/private hot tub/fireplace/river – Jackson, NH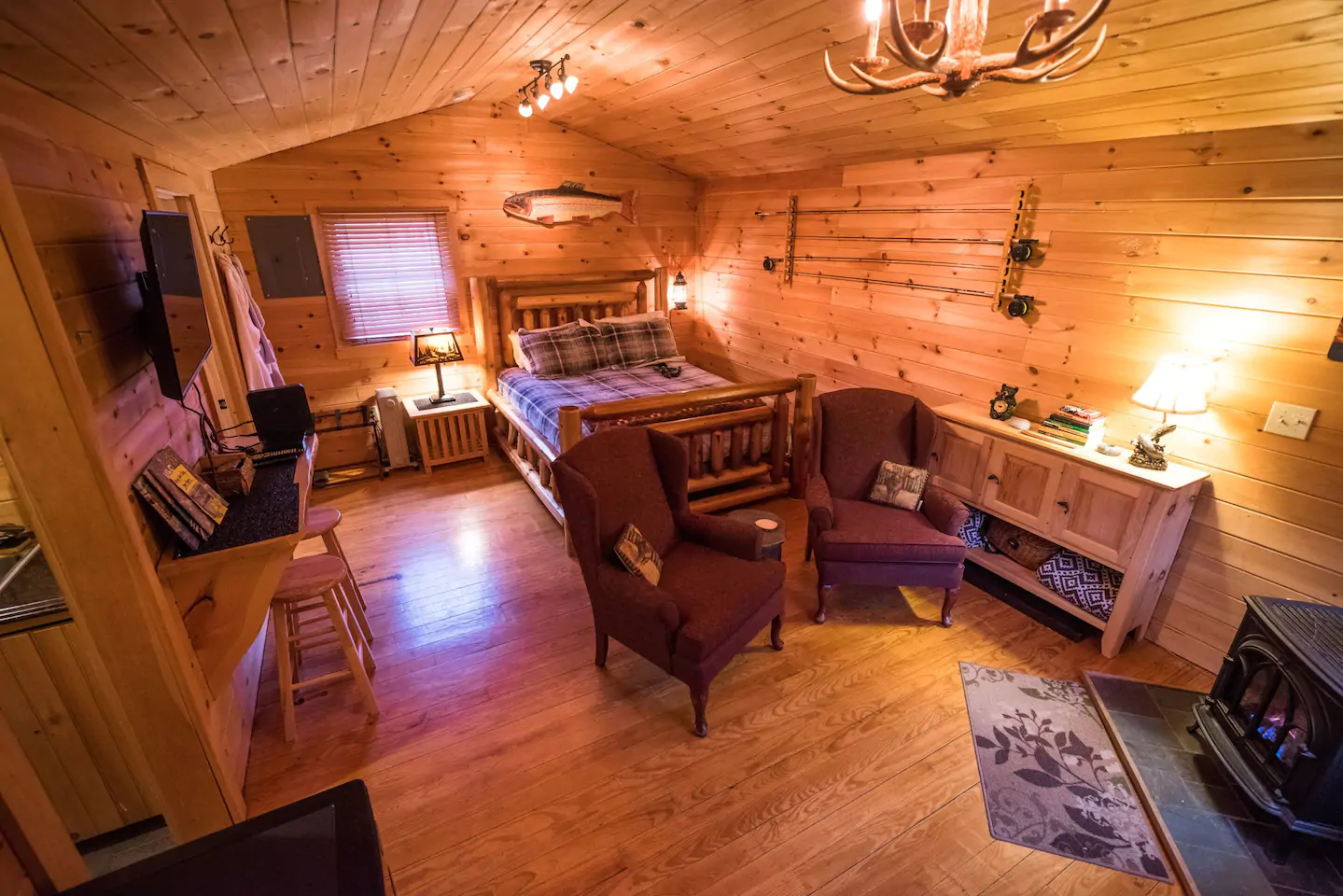 Many of the cabins on this list are located in and around Jackson, New Hampshire. It's no surprise given it's location. Nestled in the White Mountains, this area is a fabulous place to visit in all seasons.
This particular cabin is ideal for a romantic getaway. It is small and cozy, with the perfect amount of space for a couple to enjoy together. You're right in nature, too. The Ellis River is nearby and can be heard from the cabin. Many hiking trails are also close by.
---
---
Tiny house in the woods – Franklin, NH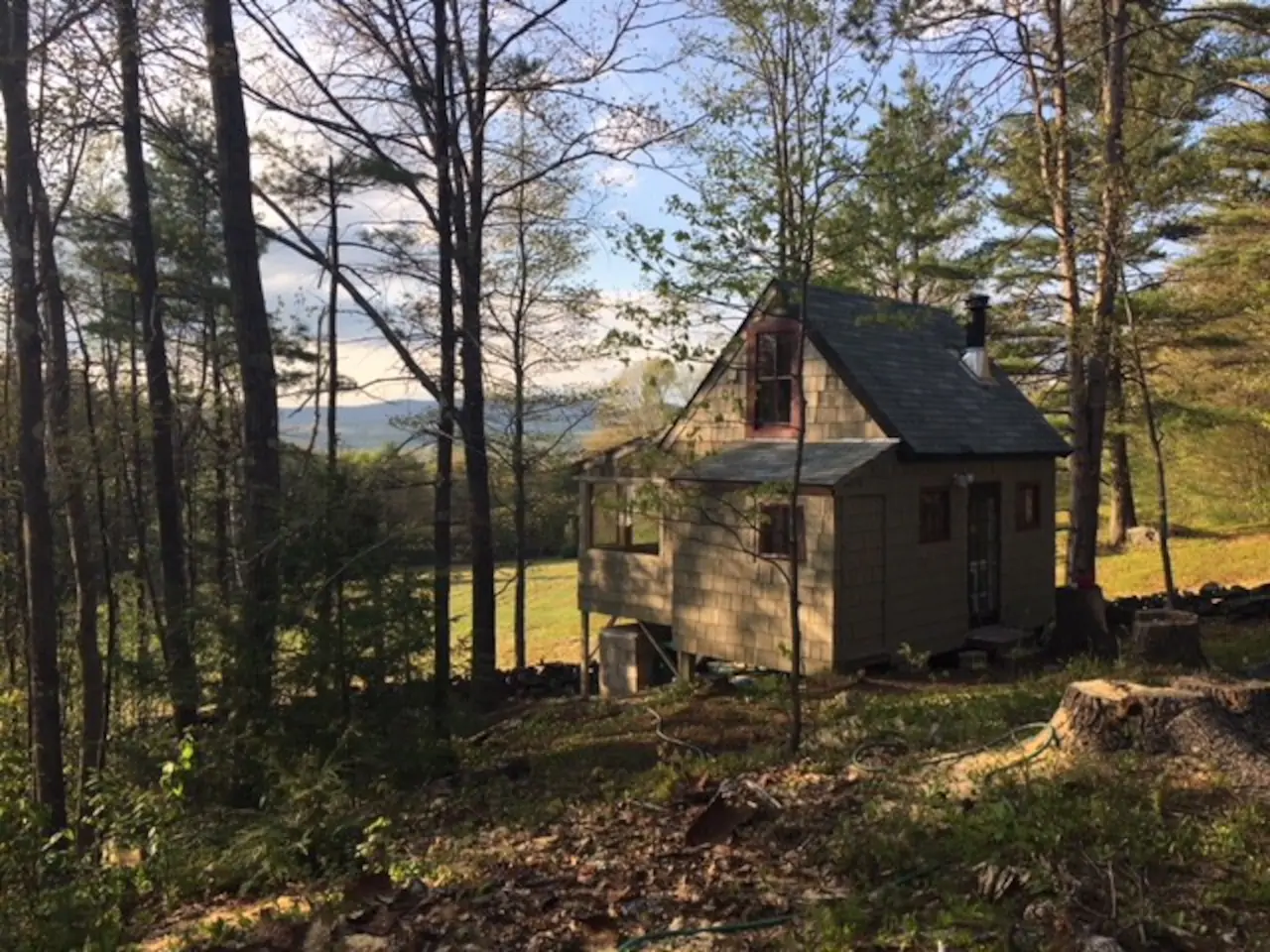 Who doesn't love a tiny house? While you might not opt for this NH cabin when traveling with a group, for those seeking a romantic getaway in New England, this is a great choice!
The 346 square foot house is secluded in the woods, yet just minutes from I-93. But you'll probably want to spend most of your time in and around the cabin enjoying the best of nature. You just might spot some wildlife such as turkey, deer, or fox.
The cabin has everything you need for a quiet, comfortable stay, including a rustic woodstove to keep you warm.
---
---
Dream A-frame – Bethlehem, NH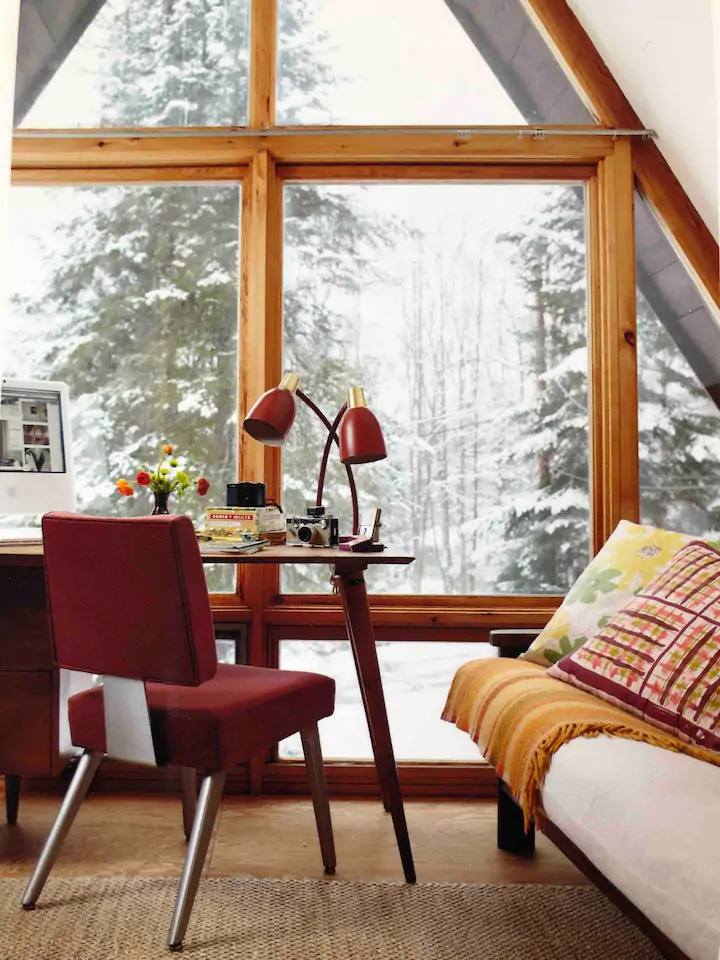 A-frame cabins are oh-so-picturesque, and this one does not disappoint. The floor to ceiling windows allow you serene views of the outside, which would be particularly lovely on a wintry day, like in the photo above. It's easy to see why this cabin has been featured in several magazines!
With a mid-century modern vibe, this 2-person oasis is a must-see. Located in Bethlehem, NH, the cabin is 30-minutes from the attractions of Lincoln, and the White Mountains are essentially at your doorstep.
---
---
Deer Valley Retreat, Lovely Log Cabin – Bradford, NH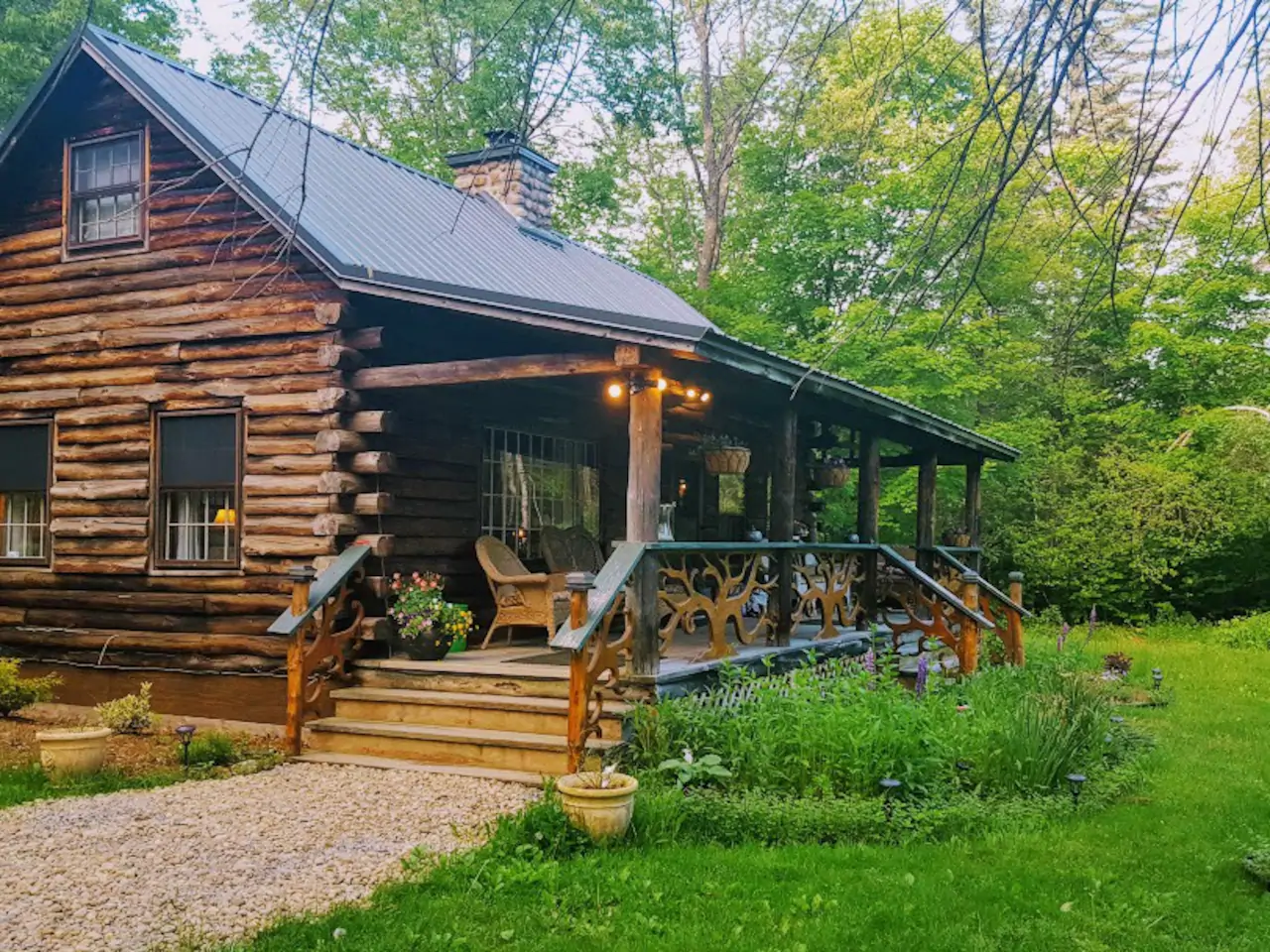 Here's another gorgeous classic cabin. (I love the details on the wooden railings!)
This space looks incredibly welcoming. The photos make me want to gather family around me and swap stories will lounging around the fireplace. If that sounds good to you, grab yourself and 5 friends (the cabin can hold up to 6) and get ready for a fun escape in NH's Lake Sunapee Region.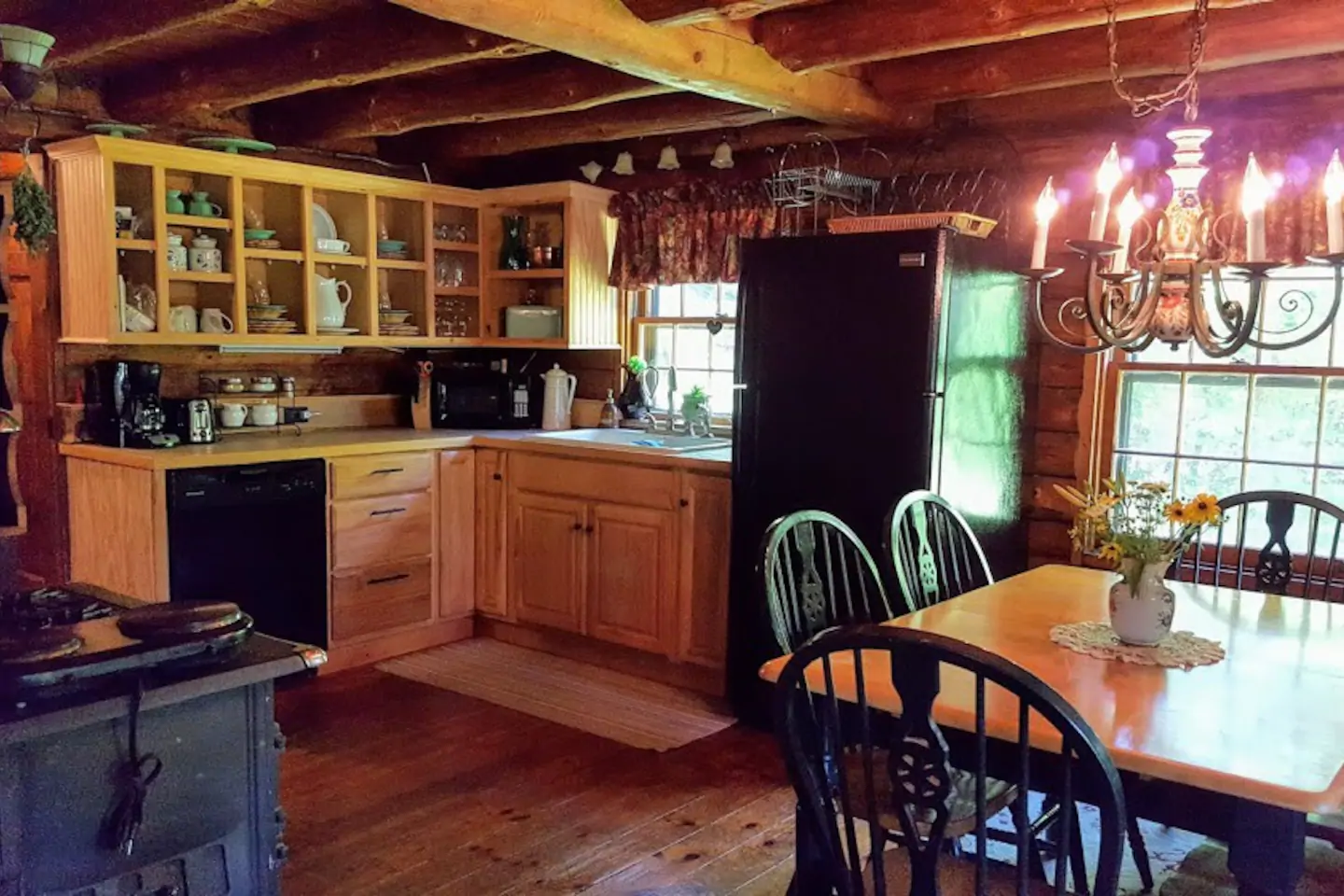 Centrally located between the region's lakes and mountains this is a smart place from which to base yourself during a New Hampshire vacation.
---
---
New Cabin, Hot Tub, Wooded, River, Fire Place – Jackson, NH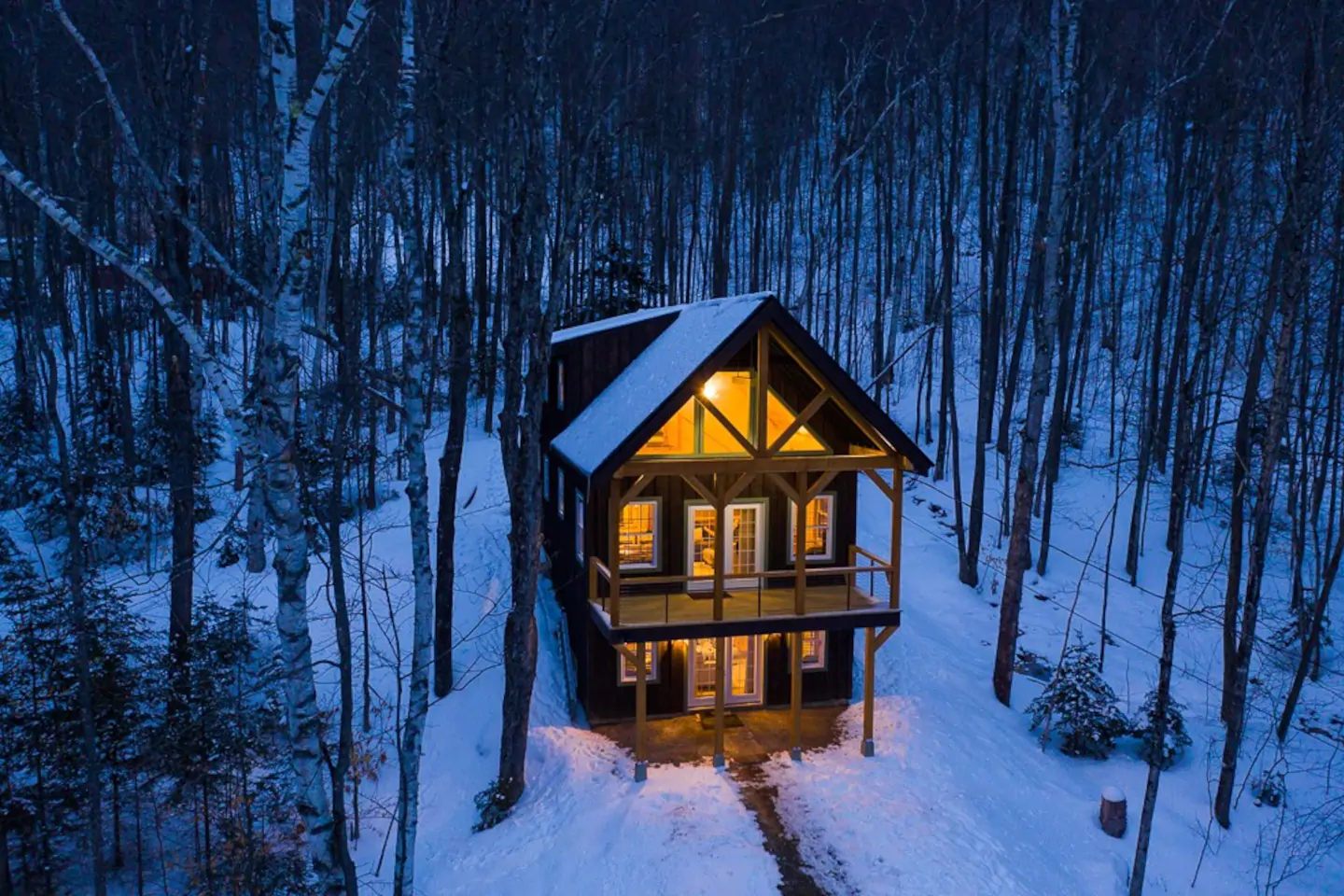 I wouldn't need much convincing to stay here. Just look at that gorgeous cabin tucked in the snowy woods! Bliss!
While you might feel the same way, you'd probably like to hear a little more about it before you book. So let's dive in:
This quaint multi-story cabin can accommodate as many as 10 guests. That means there's plenty of space for guests to spread out, enjoying the 2 gas fireplaces, hot tub, and comfy linens and robes.
The location is great, but has main road access, so it's not totally secluded. However, the property does back up onto these sprawling woods, so you'll certainly have nature in abundance.
---
---
Dog-friendly cabin w/ a fireplace – Franconia, NH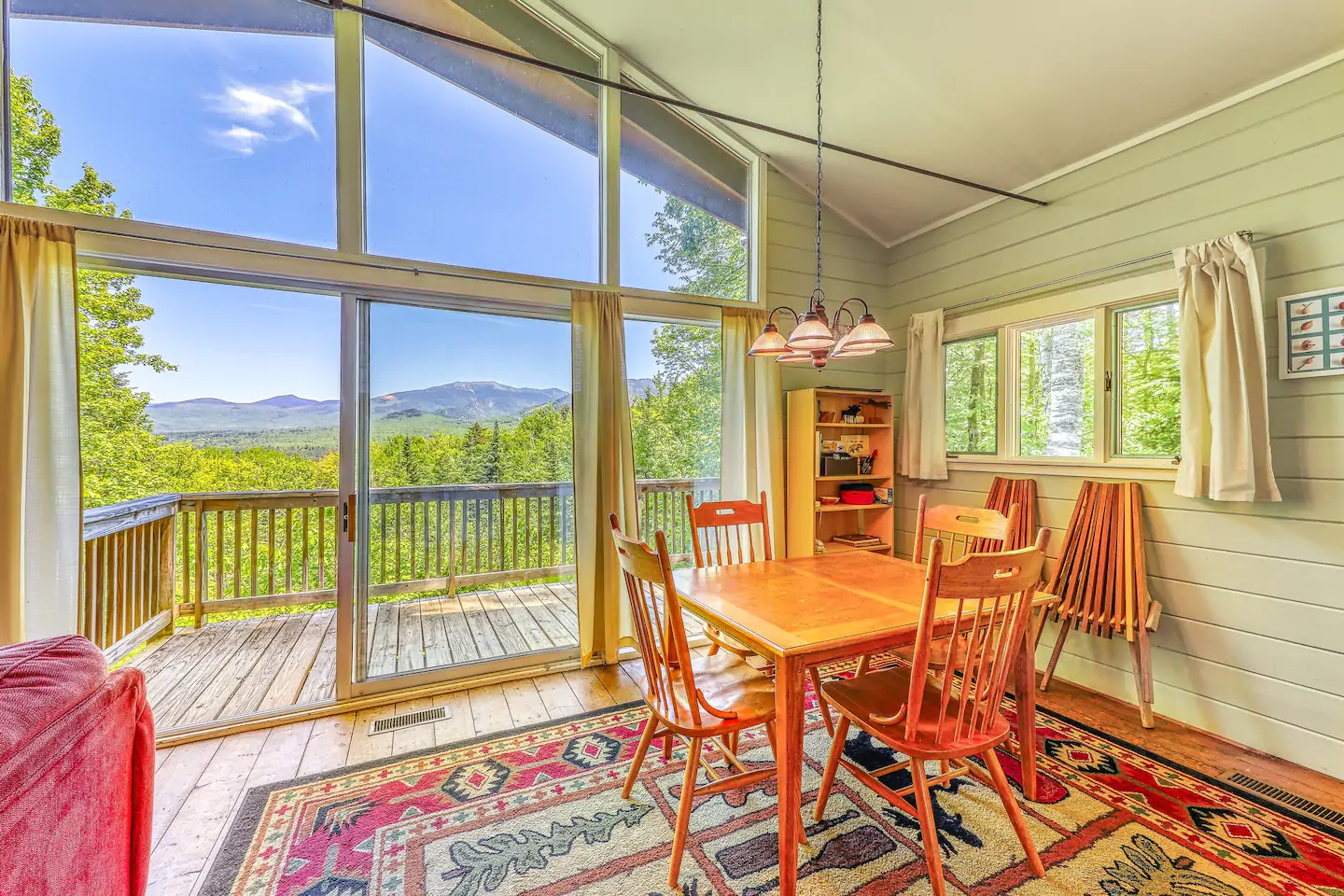 Want to travel with your furry friend? Dogs are welcome at this light, bright Franconia cabin, located just 3 miles from the center of town.
And yet, the cabin feels a world away!
Franconia's Little Red Cabin has unparalleled views. You'll enjoy a panorama of Mt. Lafayette and Cannon from the wraparound deck. A plush couch is waiting for you in front of the wood-burning fireplace, while downstairs, kids may enjoy hanging out in the media room. A total of 5 guests are welcome at the cabin and dogs (for an extra fee).
---
---
Garrett Woods – Gilmanton, NH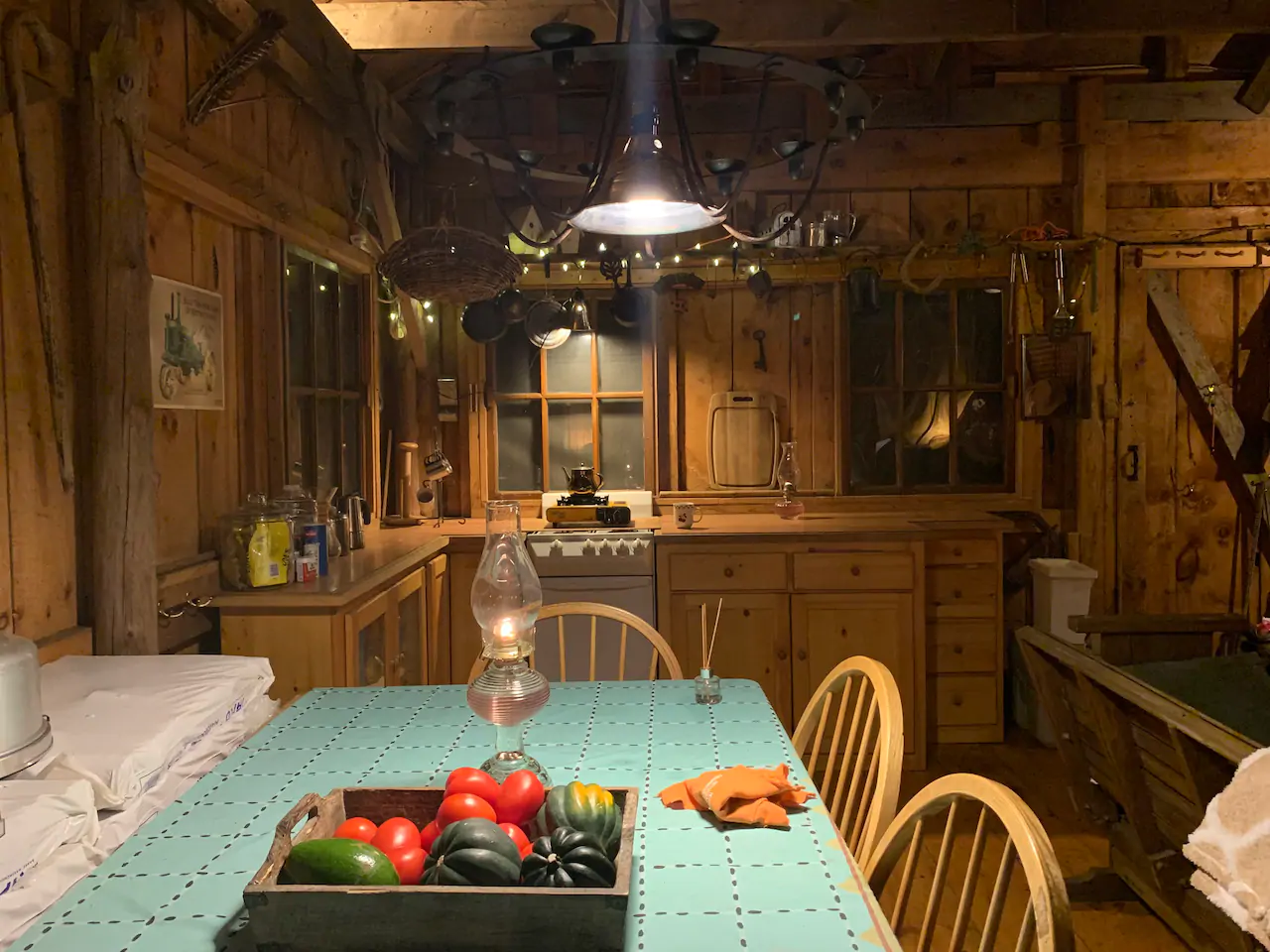 Rustic and adorable, this small New Hampshire cabin sits on 48 acres. Totally off-the-grid, you won't have electricity and hot water here, but you'll have nature and peace in abundance. The woodstove will help to keep you warm and cozy.
While this cabin is meant for 2 guests, if traveling with a small child, a toddler bed is available. Want to completely immerse yourself in nature? This might be the place to do it!
---
---
Sweet Apple Camp at Grey Shingles Camps – Wolfeboro, NH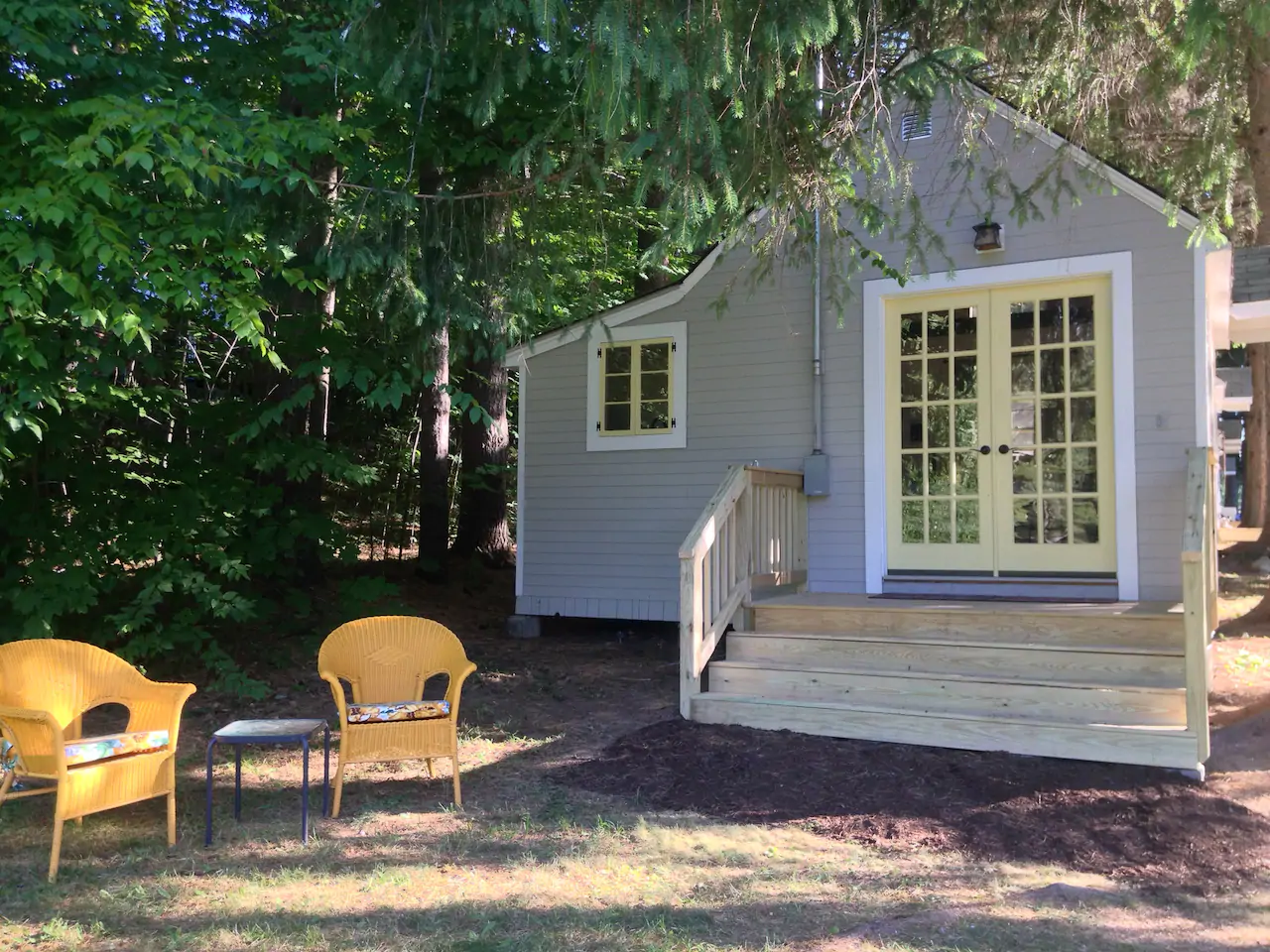 Finally, check out this charming cabin/cottage in the Lakes Region of New Hampshire. At 225 square feet, this Wolfeboro cabin is almost a tiny house. But it has everything you need for a comfortable retreat for 2.
Sweet Apple Camp is one of 5 camps located at Grey Shingles Camps, which has been a cottage colony since the 1940's. There is plenty to do on the 5-acre property, including use of the facilities such as the rec hall, field and court games, firepit and fireplace, and the waterfront with kayaks, SUP's, sailboat, and canoe.
---
Read these next:
---
Pin for future travel planning!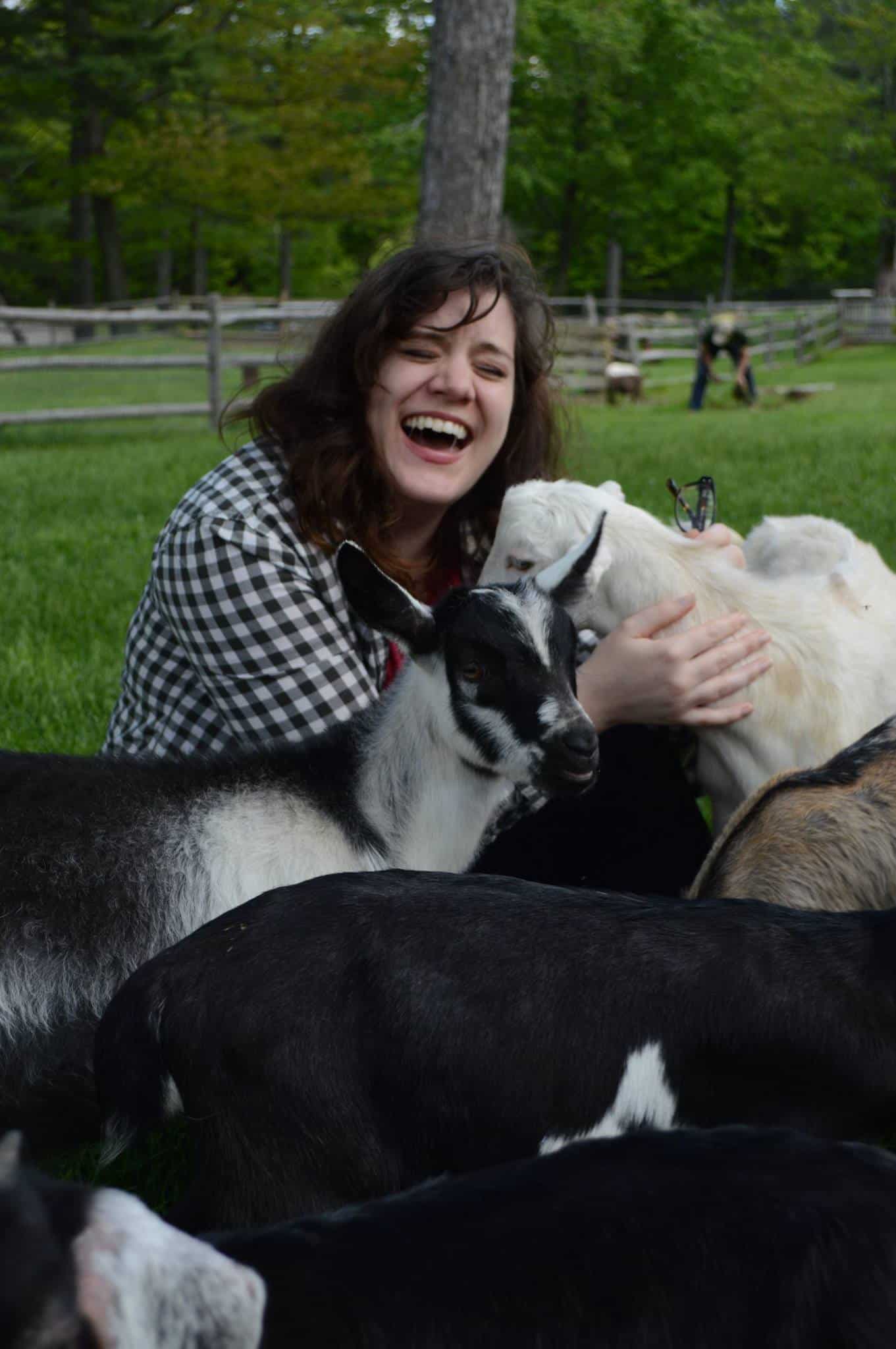 Amy is the founder of New England with love. A proud Vermonter, she hopes to share her love of New England and help you find the best adventures in the region. Amy is also blogger/founder at Two Drifters, where she writes alongside her husband about romantic and couples travel, relationships, honeymoons, and more. When not working on websites, Amy is probably reading, cuddling with her husband and cats, & drinking a maple latte.