Wolfeboro is a small town in southern New Hampshire that is most well-known for its excellent outdoor activities. It's located right on Lake Winnipesaukee, which is why it's a popular destination. Luckily, there are many great things to do in Wolfeboro, NH!
It can be hard finding what's worth doing with a quick Internet search, so this post includes all of the fun attractions and activities you won't want to miss out on. Plus, there are things to do in Wolfeboro NH for all ages!
Things to Do in Wolfeboro NH
Have fun at Lake Wentworth.
Lake Winnipesaukee isn't the only option for NH's beautiful lakes in this area. Lake Wentworth is the perfect place to go if you want to explore the outdoors and relax during your visit to Wolfeboro. The lake is massive, covering more than 3,000 acres. In fact, it's one of the state's biggest lakes, so the adventures you can have here are endless.
The most popular activity to do here is to go boating, but there are also spots for fishing, hiking, and even swimming. This can be a great spot to add to your Wolfeboro itinerary if you happen to be traveling with a family.
Walk The Cotton Valley Rail Trail.
This twelve-mile trail is on top of an old railroad track! The trail itself has been turned into a really easy walking path, and while you can see remnants of the old railroad, it pretty much just looks like a simple walking path now.
The trail has become one of the most popular things to do in Wolfeboro. It's a popular activity for families and those who like to be active while traveling. If you're lucky enough to visit in the winter, the trail becomes the perfect spot for snowmobiling!
Explore the Wolfeboro Art Walk.
Are you an art fan? Well, you're in luck! The Wolfeboro Art Walk is one of the most fun things to do in Wolfeboro, NH. It happens on the last Saturday each month between May and September during the year, because the weather is better.
A few different galleries in the area got together to create this fun festival, and it helps to support a lot of the local artists. Plus, there's often music from a local band or singer performing during the festival as well!
Attend a farmer's market.
New Englanders love their farmer's markets, so one of the best ways to get involved with the locals is to attend one! Luckily, there's a farmer's market every week in Wolfeboro that you're allowed to go to.
One thing to keep in mind is that the Wolfeboro Area Farmers Market is only open on Thursday afternoons. This is the perfect way to support local farmers in the area, and you might get some great recommendations for some other fun things to do in Wolfeboro, NH.
Go skiing or partake in another winter sport.
If you're lucky enough to be visiting Wolfeboro in the winter, then you can participate in the local skiing. The best place to go skiing in Wolfeboro is at the Wolfeboro Abenaki Ski Area. It's one of the country's oldest ski resorts.
There are a range of trails, so no matter what your skiing experience is, there is a trail that you'll be able to do comfortably. Plus, the pricing is relatively affordable compared to most other ski resorts because it is run by the community. It's only $20 a day per person!
Relax at Cate Park.
For a bit of relaxation, make your way to Cate Park. It's located right on the water, so it's the perfect place to go to just watch the boats drive by. Consider going to one of the local restaurants and grabbing some carryout to have a nice waterfront picnic.
This is the most popular park in Wolfeboro, so it can be pretty busy, especially on lovely days. However, it's usually not hard to find a spot just for yourself! Try to visit on a Wednesday night to listen to some live music as you watch the sunset.
Swim at Allen Albee Beach.
Allen Albee Beach is the most popular part of Lake Wentworth to visit because it does have sand and gives more of a beach vibe. Plus, there are many picnic tables, so you're able to sit around with your friends and family.
Compared to other parts of Lake Wentworth, Allen Albee Beach is considerably quieter. If you want a more tranquil beach experience, then this is where you're going to want to go. Plus, if you're staying at Allen Motor Inn, the beach will be right next to your accommodation!
Walk around the downtown area.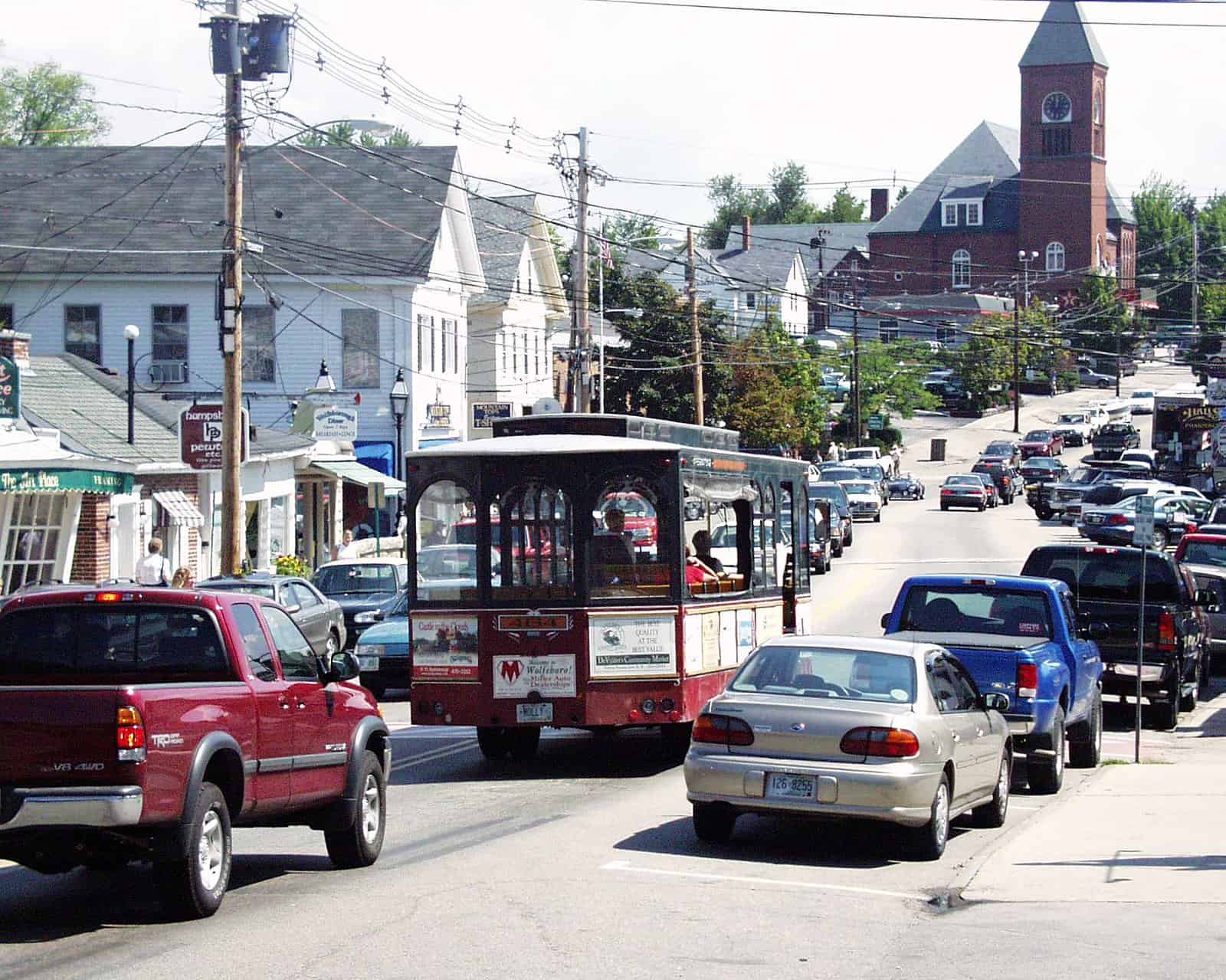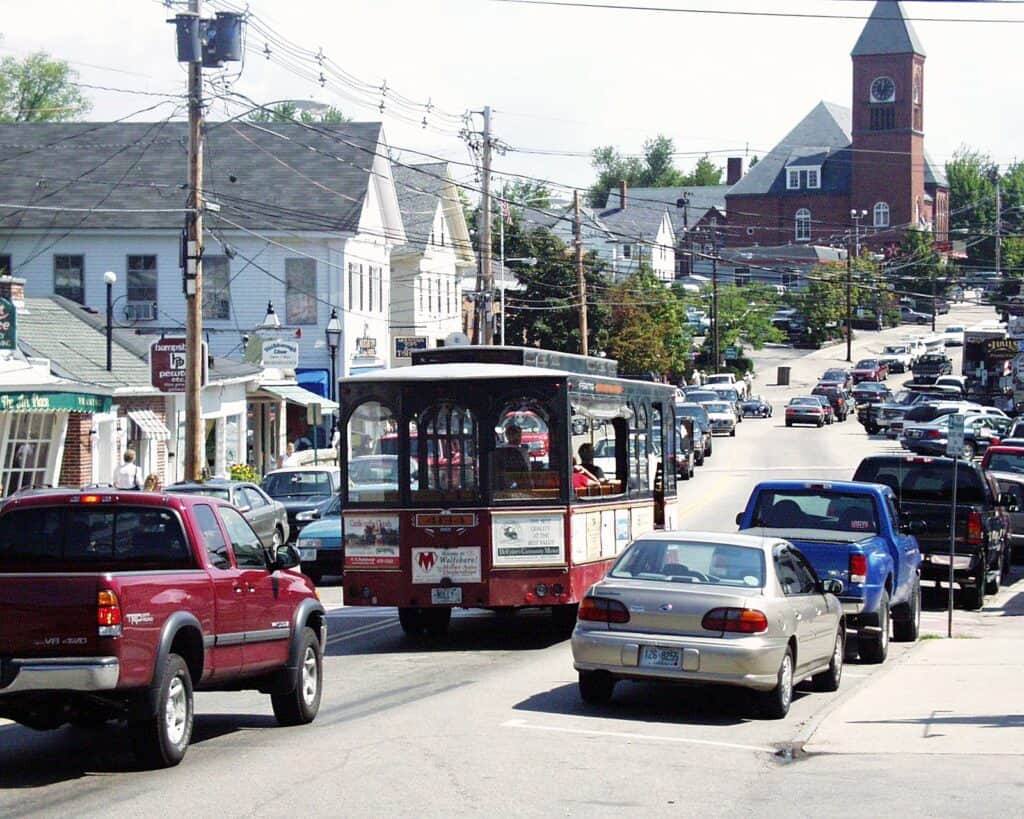 One of the best ways to explore a new place is to go downtown and see what it's like. This is usually a great spot to find locals, and you'll also be right in the heart of the entire town. There's no exception in Wolfeboro either!
The downtown area of Wolfeboro is very walkable too. You might even stumble upon some hidden gems! Some great spots downtown include the Lone Wolfe Brewing Company and Black's Paper Shop, which is an excellent shop for gifts.
Learn at The Wright Museum of WWII.
The Wright Museum of WWII is a great place to visit if you like to learn while traveling. This museum is truly a hidden gem but is only open during certain months, so be sure to plan your trip between May and October if you want to visit the museum.
Most people find that they only need one to two hours to explore the museum thoroughly. Often, the museum curators have rotating exhibitions that change each year, so every time you visit, it won't be precisely the same.
Try the tasty food at La Boca Restaurant.
For a lovely meal in Wolfeboro, make a stop at La Boca Restaurant. The atmosphere is pretty laid back, and the menu is quite extensive. Dishes change depending on the week, and there's always a chef special.
For example, one week may have paella as the main dish, while another week it might be spaghetti! There are always a few different versions of the main dish available to accommodate different tastes and dietary restrictions.
Hike Copple Crown Mountain.
New England has incredible mountain ranges, which means the hikes are unmatched. For a great hike, go up Copple Crown Mountain! This is the most popular hike in the area for both locals and tourists.
This moderate-level hike is only about eight miles long, and the views are incredible at the top. It's also a fun trail to do in the winter if you want to try out snowshoeing. Make sure you check the weather forecast because it can get muddy if it rained recently.
Visit the Libby Museum of Natural History.
Do you like museums? The Libby Museum of Natural History is the oldest natural history museum in the state and you'll find exhibits with art and artifacts that help tell the story of this area of New Hampshire.
Take horseback riding lessons at High Meadows Farms.
Have you always wanted to learn how to go horseback riding? You're in luck! There's a great place to learn how to horseback ride in Wolfeboro called High Meadows Farms. Plus, it's in a beautiful location surrounded by rolling mountains and lush forestry.
If you've been horseback riding before, then you can take a more advanced lesson too. No matter your experience, this is a great place to have some fun. The trails are also known for being impeccable.
Visit the New Hampshire Boat Museum.
The New Hampshire Boat Museum is one of the more unique things to do in Wolfeboro, NH. The museum is a bit quirky and is filled with lots of history of boating in the area.
For a more fun experience, be sure also to book one of their vintage boat tours. You'll be able to ride an old boat with a local guide as you learn more about the area and the boating heritage, which is truly unforgettable!
See the sunset at Merrymeeting Lake.
Last but surely not least is Merrymeeting Lake. This lake is more than 1,000 acres and is a short drive from Wolfeboro in New Durham. It's filled with fun activities like swimming, hiking, boating, and fishing.
The sunset views at Merrymeeting Lake are absolutely stunning. Plus, it can be a great way to spend some time with your friends and family, especially in the warmer months.
Where to Stay in Wolfeboro, New Hampshire
There are lots of great places to stay in the area (hello dreamy lake house rentals in New Hampshire!) but if you love staying in historic bed and breakfast style inns, you're going to love Wolfeboro Inn. This adorable place to stay in Wolfeboro offers lovely accommodations, gourmet breakfast, and a very convenient location in downtown Wolfeboro!
Click Here to Check Prices & Book!
—
There are genuinely so many fun things to do in Wolfeboro, NH. Of course, the activities that are available during your trip depend on the time of year, but Wolfeboro is a skiing destination in the winter and an outdoor oasis in the summer.
Have fun planning your trip to Wolfeboro!
---
Read these next:
---
Krystianna is a born and raised Vermonter and lived in the state for 22 years. She is the founder of Volumes & Voyages, a blog devoted to books and travel. After studying abroad in Dublin for a semester, Krystianna got bit by the travel bug and has been chasing her wanderlust ever since.