---
*Links in this article may be affiliate links, from which we may earn commission. See our
Privacy Policy
for full details.
---
Newburyport is a beautiful city located right on the coast of Massachusetts. It includes the beautiful Plum Island, which is known for its excellent outdoor activities and pure beauty.
Whether you're traveling with family, friends, or solo, there are so many fun things to do in Newburyport. You're sure to at least find a few things on this list that you can easily work into your itinerary, especially if you're a foodie!
Below are all of the best things to do in Newburyport MA!
Relax at the beautiful Plum Island Beach.
One of the most gorgeous and fun things to do in Newburyport is to head to Plum Island Beach. The beach is always open to the public and is often visited by both visitors and locals. However, keep in mind that unfortunately there isn't a lot of parking, so you'll want to get there early for a spot!
Plum Island Beach is pretty long, so you can easily find a spot to hang out with just your family or friends. Plus, there's nothing more relaxing than listening to the sound of the ocean and watching the turquoise blue waves crash against the sand.
Explore the great outdoors at Maudslay State Park.
The state parks in the northeastern part of the United States are genuinely unlike those in the rest of the country. Maudslay State Park is no exception! It's home to gardens from the nineteenth century and covers almost 500 acres of land.
There are lots of trails at the park, and you could easily go jogging, walking, or even go on a run with your dog here. It's commonly used as a picnic spot among locals because it's always really tranquil compared to the rest of Newburyport.
Learn at the Custom House Maritime Museum.
Next up is the Custom House Maritime Museum, one of the more educational things to do in Newburyport. This museum is situated inside an early nineteenth-century building. It was a custom house for a while and was eventually turned into the museum that it is today.
Besides being a historic building, the inside is filled with artifacts and exhibits that will teach you more about Newburyport's history. The museum also often hosts different events throughout the year.
Adventure through Salisbury Beach State Reservation.
The Salisbury Beach State Reservation is another breathtaking beach in Newburyport. It does have set hours every day, and to avoid the crowds, you'll want to come in the early morning when it opens at 7:30 a.m.
One of the best things about Salisbury Beach State Reservation is that you can go camping here. It's so beautiful, so this is a fun activity you'll want to consider when visiting if you love living in nature.
Gawk at the Newburyport Lighthouse.
One of the things that many coastal towns in New England are known for is lighthouses, so you'll want to add the Newburyport Lighthouse to the top of your travel list here. This lighthouse is also called the Rear Range Lighthouse and serves as one of the most excellent places to eat in the town.
You'll want to make reservations ahead of time to eat here. Keep in mind that the food is luxury, so it is a bit pricier than other places to eat within Newburyport. However, the views from the lighthouse make it worth it.
Visit the Cushing House Museum & Garden.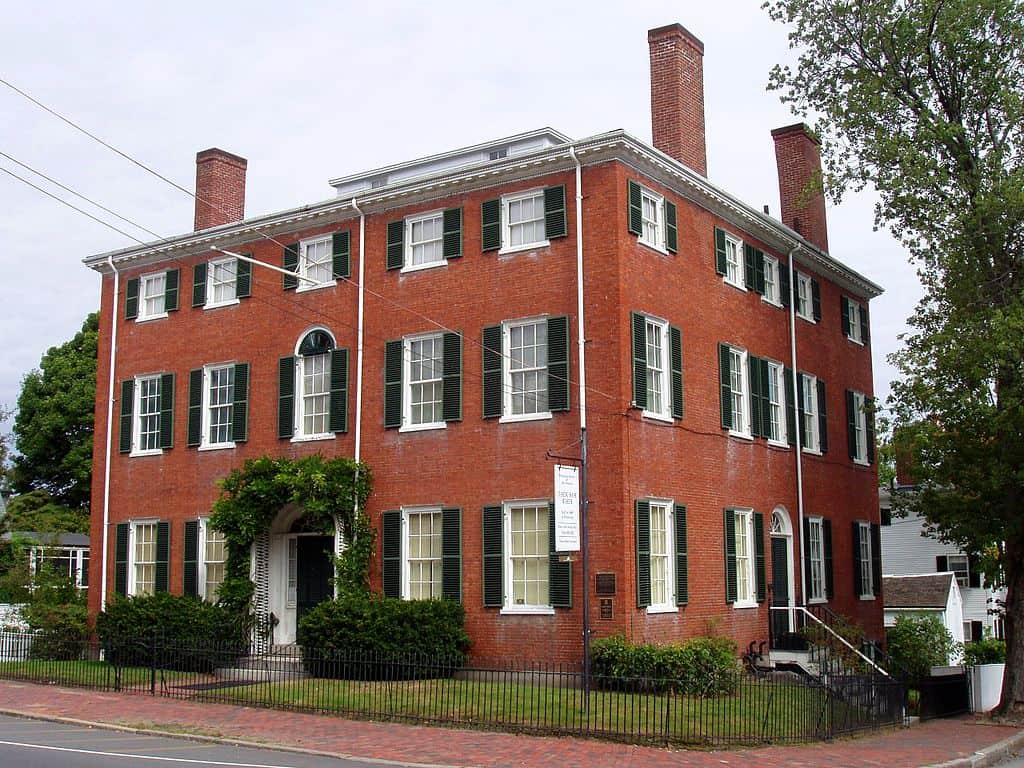 The Cushing House Museum and Garden (aka Museum of Old Newbury) is a nineteenth-century museum popular visited by tourists in Newburyport. It's named after Caleb Cushing, who was a diplomat. It's located inside of a beautiful New-England-style mansion.
Besides having rooms decorated to go with the house's period, there are also many pieces of art, furniture, and artifacts throughout the home. Be sure to look closely at the architecture as well!
Grab a fantastic meal at Loretta.
You can't help but get hungry when exploring, so when you're ready for a meal, head to Loretta. This is easily one of the best things to do in Newburyport because the food is superb. The pricing is mid-range with a casual ambiance, so it's great for families too.
The majority of the menu is classic American meals. You'll find pasta, salads, sandwiches, and even traditional desserts on the menu. Loretta is open for both lunch and dinner every day.
Shop from locals at Tannery Marketplace.
One of the best ways to explore a new place is to support locals by heading to a marketplace. So, head to Tannery Marketplace in Newburyport! It's open daily but has shortened hours on Sunday.
The Tannery Marketplace was also top-ranked by Boston Magazine for being one of the best places to shop in this area of Massachusetts. Inside, you'll find tons of great restaurants like Brown Sugar by the Sea and many shops, including Jabberwocky Bookshop.
Attend the annual Yankee Homecoming.
Yankee Homecoming is an annual summer event held in Newburyport. If you're traveling with family, this is easily one of the top things to do in Newburyport for you! This event has occurred every year since 1958.
The celebration lasts for an entire week and includes lots of vendors, entertainment, and more. This is such a great event that even the locals join in and look forward to it every year. There are even tours held by the community for guests who have never been to Newburyport before!
Go on an epic Food Tour.
Honestly, the food in Newburyport is out of this world. So, why not try a bit of it all by going on a food tour? The top food tour organizer here is Cape Ann Foodie Tours, which runs a tour called Taste Newburyport.
The tour costs $55 and lasts between two and a half and three hours. Plus, the price of the ticket includes all of the food tastings. It's genuinely a great deal and is the perfect way to get introduced to local favorites like clam chowder and whoopie pies!
Explore Parker River National Wildlife Refuge.
This wildlife sanctuary is actually what covers almost all of Plum Island. It's most well known for being home to many different bird species and was created in the mid-twentieth century. Even if you're not a fan of bird watching, this sanctuary is terrific.
There are a few trails that go throughout the Parker River National Wildlife Refuge, so you can easily walk through it. It's usually top-rated among families visiting Newburyport too! Visit at sunrise or sunset for an incredibly unforgettable view.
Ride a bike along the Clipper City Rail Trail.
If you want to get a bit of exercise in, then the Clipper City Rail Trail is one of the top things to do in Newburyport for you! This trail is just under four miles long and is well-paved. If you don't have a bike, you can easily rent one in Newburyport.
Even if you don't plan on biking the whole length, it can be fun just to bike a portion of it. It starts near the MBTA station, which also is a great place to park your car if you plan on using this trail. The views along the route are beautiful.
Take in the views at Waterfront Park.
If you want to relax while visiting Newburyport, head to Waterfront Park. It's beautiful and overlooks the breathtaking water of the Merrimack River. Many people sit along the area in this park and have a picnic while they watch the boats come and go in the water.
It's located right in downtown Newburyport, so you couldn't miss this green space if you tried. Plus, there are many restaurants in the area so that you could make a whole afternoon out of it.
Taste the best seafood at Michael's Harborside.
Newburyport is known for its seafood, so you won't want to go back home without trying it at least once. Arguably the top-rated seafood restaurant in Newburyport is Michael's Harborside. It's located right along the Merrimack River, so the views are incredible.
There's ample outdoor seating due to the restaurant having three different decks. There is also often live music playing that only adds to the ambiance. Plus, pricing for the menu is mid-price, so you won't break the bank and still have high-quality food.
Watch the planes at Plum Island Airfield.
Last but not least is one of the more unique things to do in Newburyport! This is an enjoyable activity if you happen to be visiting with children. The Plum Island Airfield is historical, and you can easily come and watch the planes fly overhead.
This is also a great place to go to get some fresh air. Sometimes there are even food trucks in the area so you can grab a bite to eat while watching the planes overhead.
---
As you can see, there are tons of fun things to do in Newburyport. From tasting the best food and going on a tour to relaxing near the river, you'll surely have an unforgettable experience during your visit.
---
You might also like:
---
Krystianna is a recent college grad who is the founder of Volumes & Voyages, a blog devoted to books and travel. After studying abroad in Dublin for a semester, she got bit by the travel bug and has been chasing her wanderlust ever since.