Are you looking for fun things to do in Plum Island MA? You're in luck! No matter what time of year you visit, Plum Island is filled with fun activities for all ages.
Located right in Massachusetts on the coast, Plum Island is one of the most beautiful places to visit in New England. It may only be 11 miles long at its longest, but with its prime location by the water, Plum Island is absolutely scenic and breathtaking.
Here are all of the best things to do in Plum Island MA.
Have a Meal at Bob Lobster
The absolute best place to eat in Plum Island is Bob Lobster! It's been open since 2001 and has quickly become the go-to for all things seafood in the area. Plus, it was opened by a local couple, so it's the perfect way to support local establishments.
Unlike other restaurants, this one has a classic New England feel. You walk right in and place your order, and then there are ample spots to sit throughout. There's minimal decor on the walls, but the place is always busy.
The menu includes every type of seafood dish that you could imagine, like chowder, clams, scallops, shrimp, calamari, oysters, and of course, classic fish and chips made with haddock. Pricing is mid-range, and it's a great place to go for a family night out.
Relax on the Beach
No trip to this area of the United States is complete without at least going to one beach! That's why one of the best things to do in Plum Island MA is relax on one of Plum Island's beaches. There are a few to choose from, and each is great.
The three different beaches that most people visit are Plum Island Center, Refuge, and North Point. Each of the beaches has its own parking lot and amenities. However, in the summer months, the beaches can get super busy. Get there bright and early to make sure you have your own spot away from everyone else!
Visit Parker River National Wildlife Refuge
To get outdoors on Plum Island, head to the Parker River National Wildlife Refuge. It's a giant sanctuary that actually takes up most of the land space on Plum Island, so it's impossible to miss. It was officially deemed a sanctuary in the 1940s.
Most people visit this area in order to go bird watching, as many migratory birds come to the area. Pricing to visit is per day by car, and it's open every day of the week between sunrise and sunset.
To learn more when you first get to the Parker River National Wildlife Refuge, be sure to stop by the Visitor Center. This is the perfect opportunity to chat with the rangers and hear about what may be going on with the birds during your visit.
Snap a Photo at the Pink House
There are actually quite a few different abandoned homes throughout Massachusetts that many people see as photo opportunities. One of those such homes is the Pink House, which some people even refer to as the Plum Island Pink House!
It's right off Plum Island Turnpike, so it's impossible to miss. Many locals say that the home was actually built out of spite, which makes it even more worth visiting.
The story goes that a couple was getting divorced, and the woman requested that she had a replica of their home for herself. However, she never actually said where it should be built, so he built it on top of a marsh… and now people can visit it!
Visit the Plum Island Lighthouse
One of the best things to do in New England is to head out and explore the lighthouses! Luckily, Massachusetts has quite a few of them, and one of them happens to be the Plum Island Lighthouse. It's also referred to as the Newburyport Harbor Light.
This historical site is a classic white lighthouse with a black top. Visitors are welcomed to the area where they can walk around the lighthouse and see it up close. Sometimes the tower itself is also open, but that depends on the time of the year and if there is a special occasion.
For an unforgettable experience, consider visiting the lighthouse for sunrise or sunset. Truly, snapping a photo of the lighthouse with the gorgeous colors of the sky behind it is a once-in-a-lifetime experience!
Grab Coffee at Mad Martha's Island Cafe
You'll surely have to grab some coffee, which is why one of the top things to do in Plum Island MA is to head to Mad Martha's Island Cafe! This is easily the most popular spot to grab a coffee on the entire island.
It's a funky little restaurant that doesn't look like much from the outside, but the interior is super bright and filled with color. There's always fun decor on the walls, and sometimes it's even hanging from the ceilings too.
In addition to basic coffee drinks, they also have breakfast items. You could order caramelized banana french toast, blueberry granola buttermilk pancakes, or even special egg breakfast sandwiches. Most items on the menu are under $10.
Explore Sandy Point State Reservation
Another great spot to explore outdoors is the Sandy Point State Reservation. It's technically a Massachusetts state park, but it's coastal, so it's much different from other state parks in New England.
It's located on the southern edge of Plum Island and is absolutely breathtaking. It opens right in the morning, which is the best time to visit. During this time of the morning, there are not many people at the beach, making it even more serene.
Parking is available right at the beach. The main activity is to go swimming, but you can also go fishing or even attend some fun educational programs, which are perfect for kids who love learning. Restrooms are on-site, and dogs aren't allowed.
Kayak With Friends
Because of its location, one of the top things to do in Plum Island is actually to go kayaking! This can be fun for all ages, and there are many spots around the island where you can rent a kayak. The best place to do this is at Plum Island Kayak.
Plum Island Kayak offers a variety of different services to the public. Visitors can learn how to kayak, rent kayaks, or even go on a fun tour. There are also special programs and activities offered for kids!
The tours, in particular, are super fun. They have a few different ones to choose from, including intro to kayaking, intro to stand up, and full moon. They also just have basic daily tours as well, if you want something a little more traditional.
Whale Watch in Newburyport
Since you're in New England, consider taking a short trip to Newburyport to go whale watching! Luckily, there are many different whale-watching tours. The most popular company that offers them is Newburyport Whale Watch.
This company offers a few different tour options, but they can get booked up in advance during popular times of the year. Be sure to book the second you know you want to do one of these tours so you can rest assured that you can go.
During the whale watching tours, guests often see finback whales, humpback whales, and even minke whales. Sometimes, other animals like seals or even sharks have been spotted. The tour is normally about four hours long.
See a Show at Blue Ocean Music Hall
Head to Blue Ocean Music Hall to see a show if you want an indoor activity while in Plum Island. This music venue is actually right by the ocean, which is where it got its name. There are many different types of concerts at this music hall throughout the year.
Sometimes, Blue Ocean Music Hall even has funny comedians come and perform. The venue has been open since 2009 and features two bars as well as dining options. There's a classic Seaglass Restaurant next door to the restaurant, as well as the Capri Seaside Italian Kitchen + Pizzeria.
Fish with Captain's Fishing Parties
Last but not least, consider going fishing in Massachusetts with Captain's Fishing Parties on Plum Island. This fun excursion is perfect for all ages, especially children who want to get out on the water.
There are different boats that go out depending on the time of year. There are also various types of excursions. Guests can choose between 12-hour marathon fishing, all-day fishing, half-day fishing, or even striped bass or blue fishing, which are a bit shorter.
Similar to other fun things to do in Plum Island MA, it's best to book this activity far in advance, especially if you'll be visiting during the summer months. That's because summer is definitely the most popular time to visit and explore everything that this beautiful island has to offer.
This post was all about the best things to do in Plum Island MA. We hope that it has helped you plan the perfect trip to Massachusetts!
---
Read these next: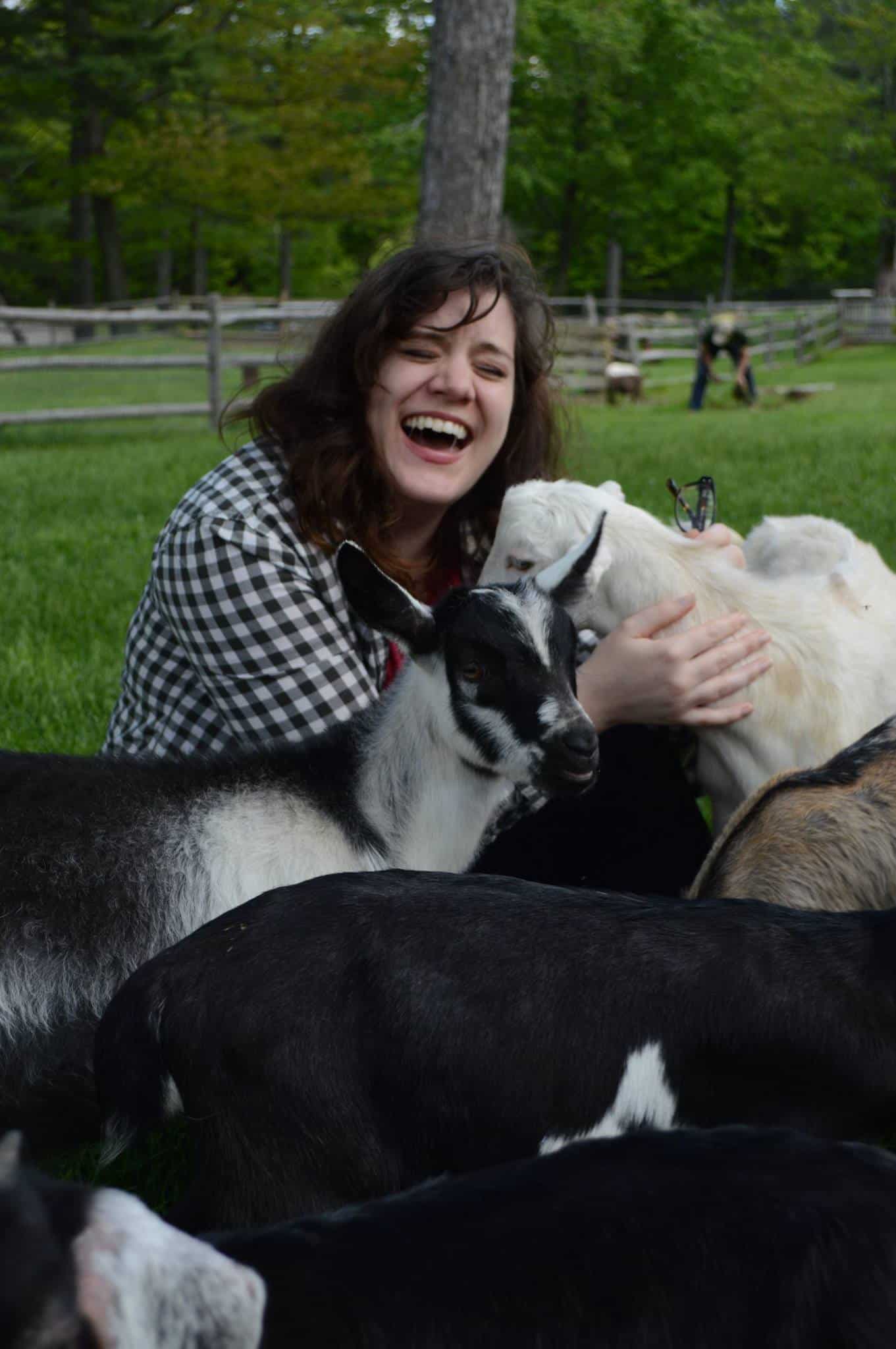 Amy Hartle is the founder and Editor-in-Chief of New England With Love, a comprehensive resource for travel in the New England region. Amy has been exploring New England since 2001. She lived in Vermont for many years and is a graduate of Plymouth State University in New Hampshire. On this site, Amy aims to share her love of New England and help you to have the best possible adventures!
Amy has been writing about travel for over a decade, and is a full time blogger, publishing both Two Drifters and Let's Adventure Baby. When not traveling the world or creating epic blog content, Amy can be found cuddling with her husband, son, and cats, & drinking a maple latte.