*This site uses affiliate links; if you make a purchase through these, I may receive a small commission at no cost to you.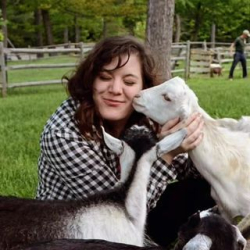 Latest posts by Amy Hartle
(see all)
Whether you're planning a Massachusetts fall foliage trip or a winter getaway, staying at one of the best cabins in Massachusetts is a great way to enjoy a trip to New England! From beautiful MA cabins on the Cape to those located in the Berkshires in Western Mass, you can't go wrong.
Massachusetts is also filled with so many fun things to do, no matter your age or interests. You can check out the historic city of Boston, go hiking, check out waterfalls, or just enjoy some great small-town charm.
Before you start planning your next trip, check out this post on the best cabins in Massachusetts to save yourself some time finding a place to stay!
Cabins in Massachusetts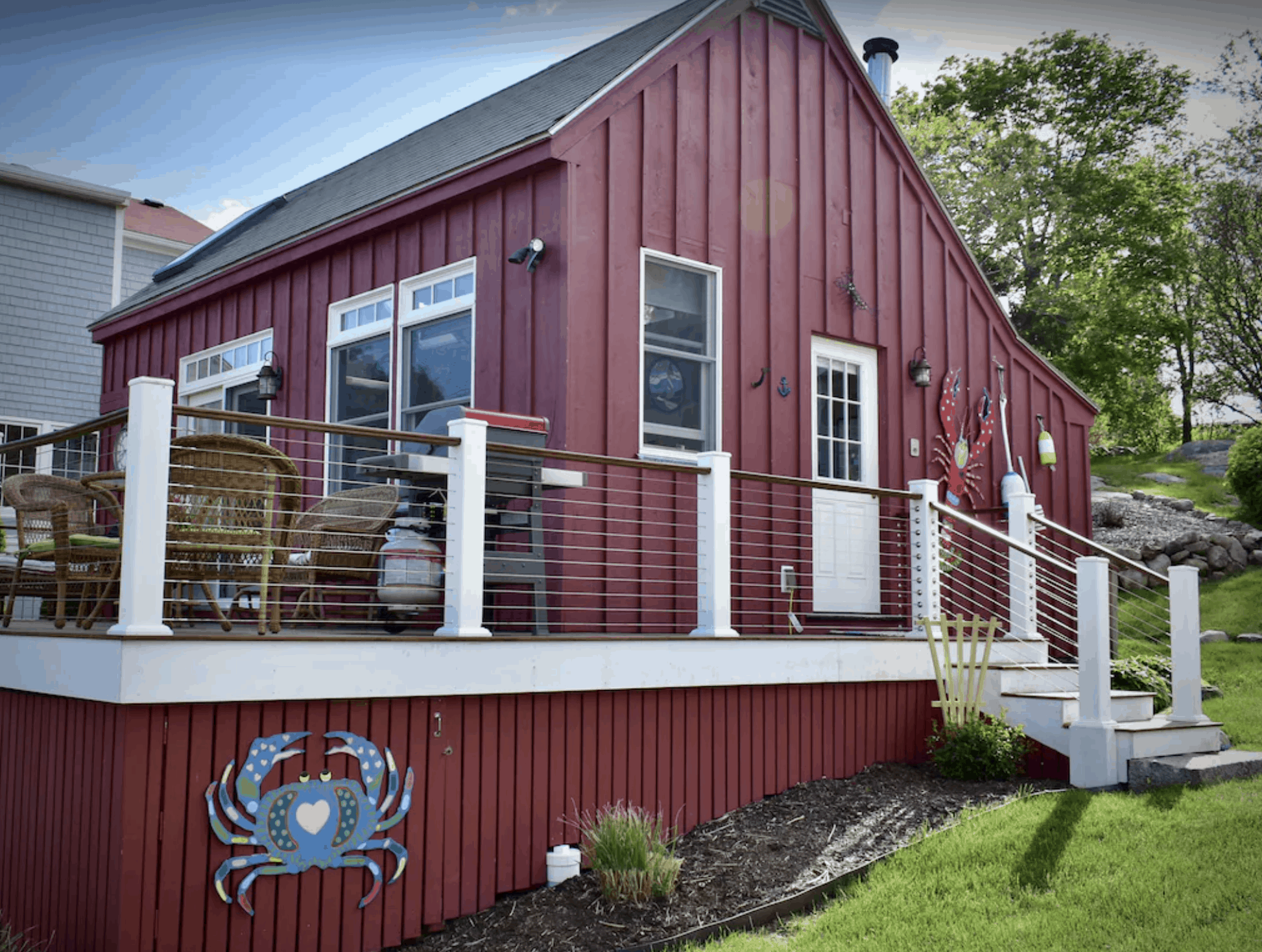 First up is an Artist's Studio in Rockport, which is easily one of the best cabins in Massachusetts. This amazing cottage sleeps up to three people at a time. It's a super cozy space, with about 450 square feet and one bathroom. Inside, it's a studio, but that's what adds to the charm.
Despite being so small, there is a kitchen, living room, sleeping area, and a deck outside so you can enjoy the fresh air no matter the time of year! Plus, the accommodation is decked out with amenities, including fun skylights, heat and AC, and even a love seat.
Enjoy some time outside by renting a kayak nearby at Bearskin Neck! The space feels more open inside due to a murphy bed.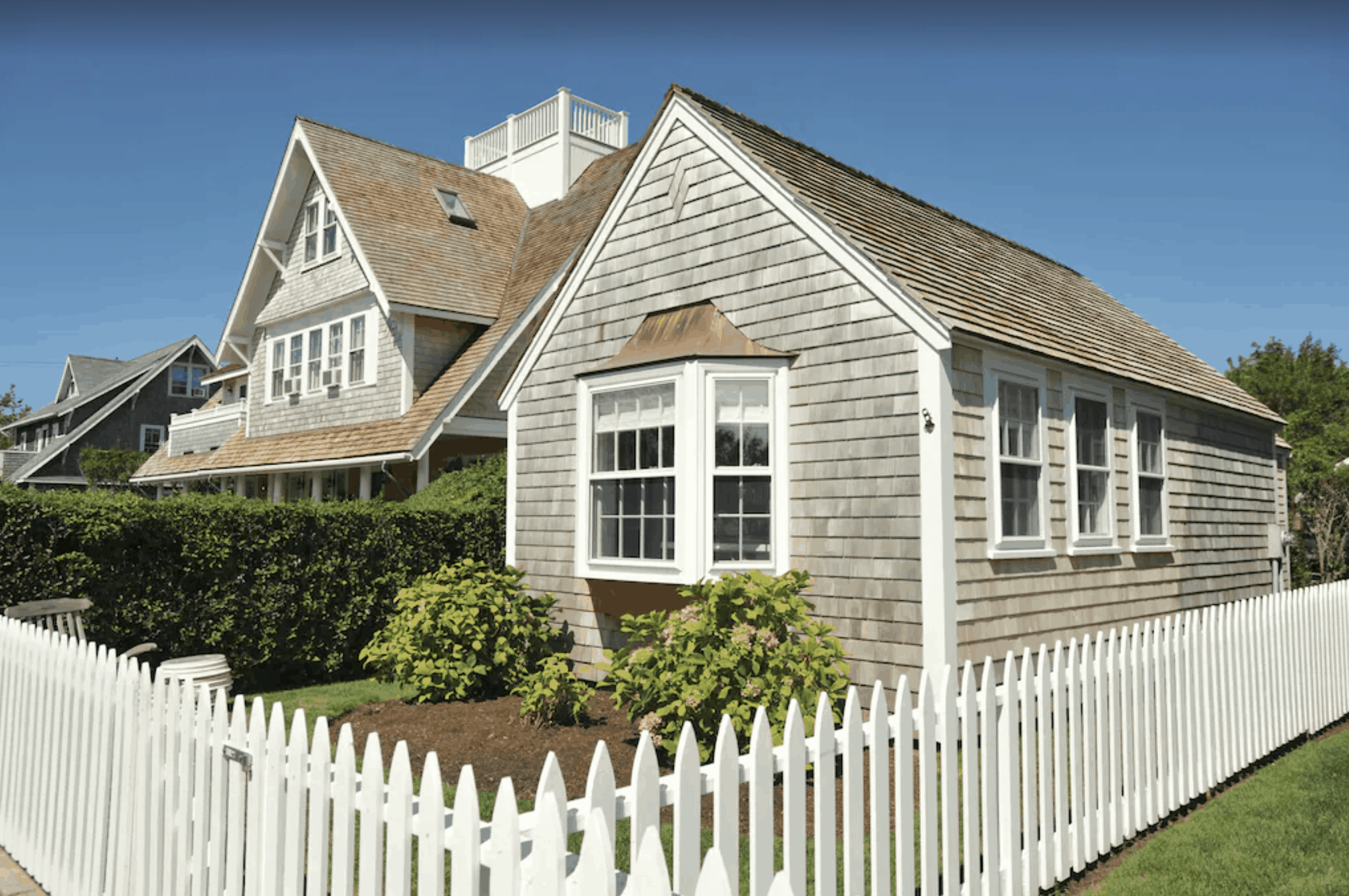 Another fun coastal place to stay is this Luxurious Harbor View Cottage in Nantucket. The owner likes to call it their "Eliza" cottage and it's right near White Elephant, a luxury 5-star hotel on Nantucket.
Instead of staying at the White Elephant, though, you can save money by staying at this lovely cottage. It sleeps up to four people at a time and has one bedroom and a bathroom, in addition to a kitchen, living room, and a deck. The inside is super beachy, which is fitting considering its location!
The cottage is fairly large at just under 1000 square feet. Plus, it has an unbeatable view of Nantucket Harbor and Children's Beach. What more could you want out of a beachy Nantucket cottage?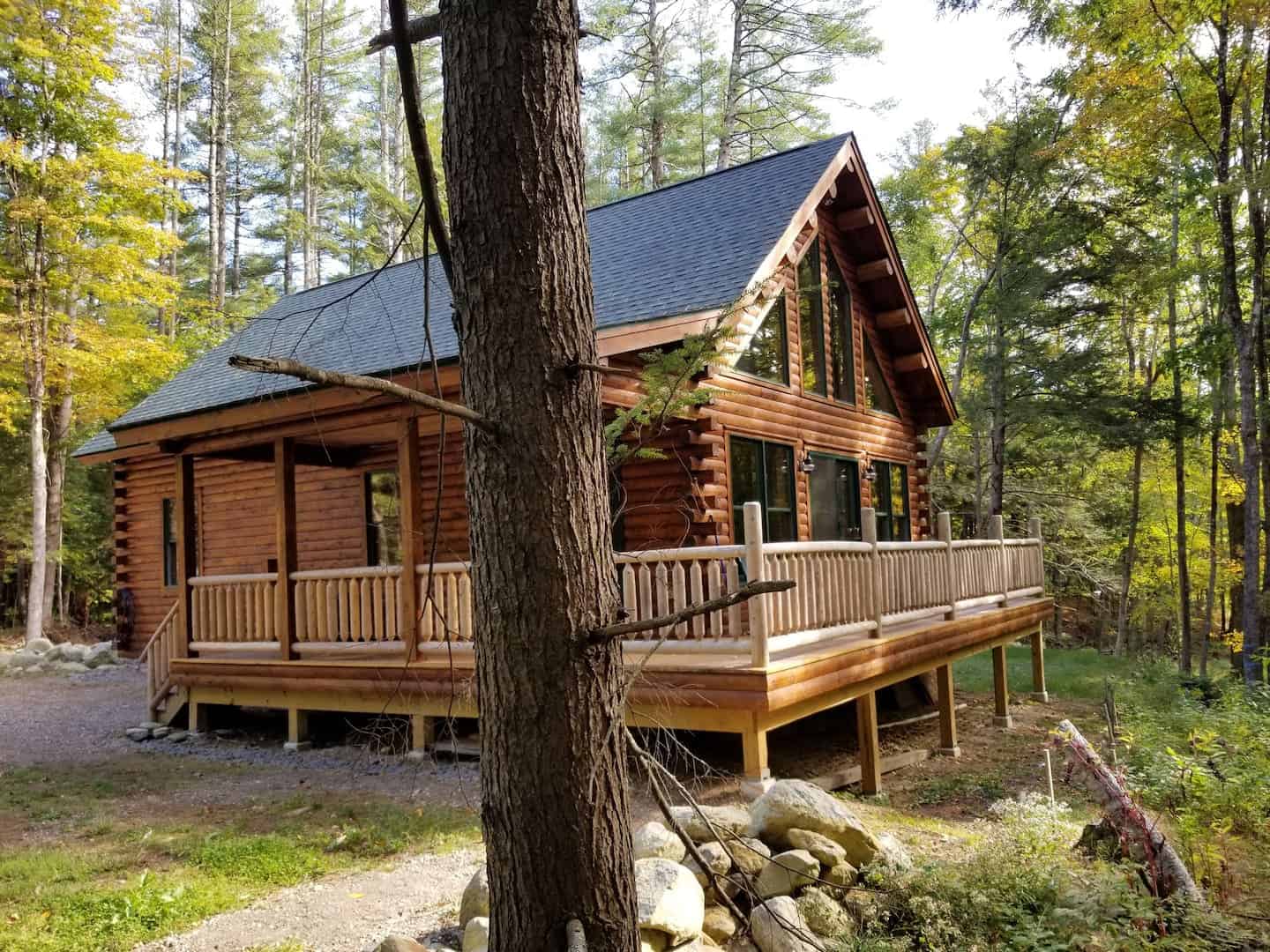 For a fun cabin in the woods, look no further than Bear Creek Cabin. It's located in Charlemont and is easily one of the cutest cabins in Massachusetts. It's perfect if you're traveling with larger groups of people because it can host up to eight guests at a time!
With three bedrooms, six beds, and two bathrooms, this place is literally huge. Plus, it has an outdoor deck so you can enjoy the weather if it's nice out. The home was recently built too so it's really nice and elegant despite being in the forest.
If you're an outdoor lover, you'll love this cabin. It's right near the Berkshire East Ski Resort, which is filled with tons of fun activities like hiking and skiing. Guests are also welcome to explore the nearly 8 acres of land that the owner has.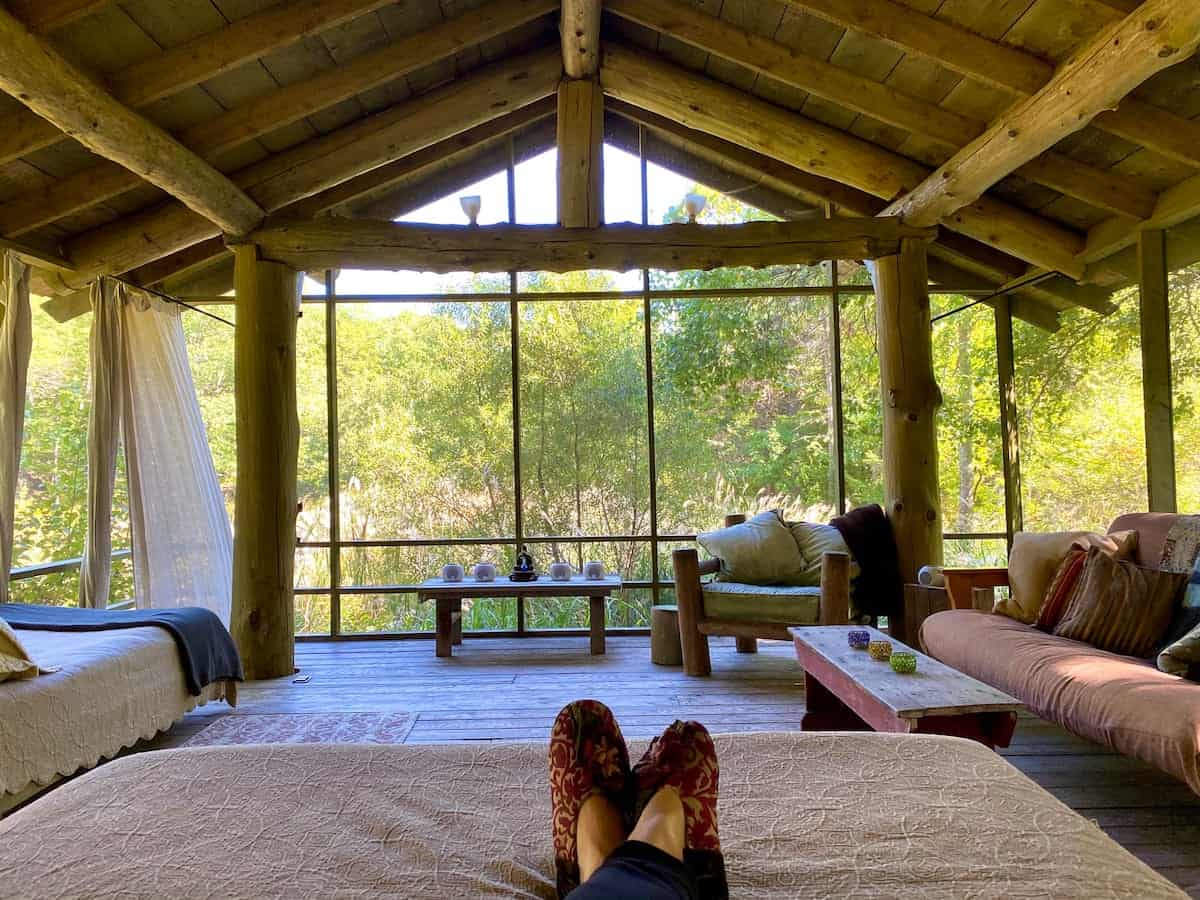 The Pondhouse is so amazing! It's located in Ashfield and is another of the larger Massachusetts cabins on this list, as it can host up to five guests. There's a bedroom, three beds, and a bathroom. The Pondhouse is a bit different than other MA cabins on this list… it's actually a place where you can completely unplug.
Yes, you read that right! There isn't any service or electricity here, but that's what makes it so great. There isn't even a kitchen; you actually have to use the fireplace outside to cook your food. If you want to get the feeling of camping while staying in a cabin instead of a tent, this is the place for you.
Don't worry though, there is a great outdoor shower that gets super hot when it's cold. In addition, you'll be fully stocked with all of the kitchen supplies you'll need to cook outside.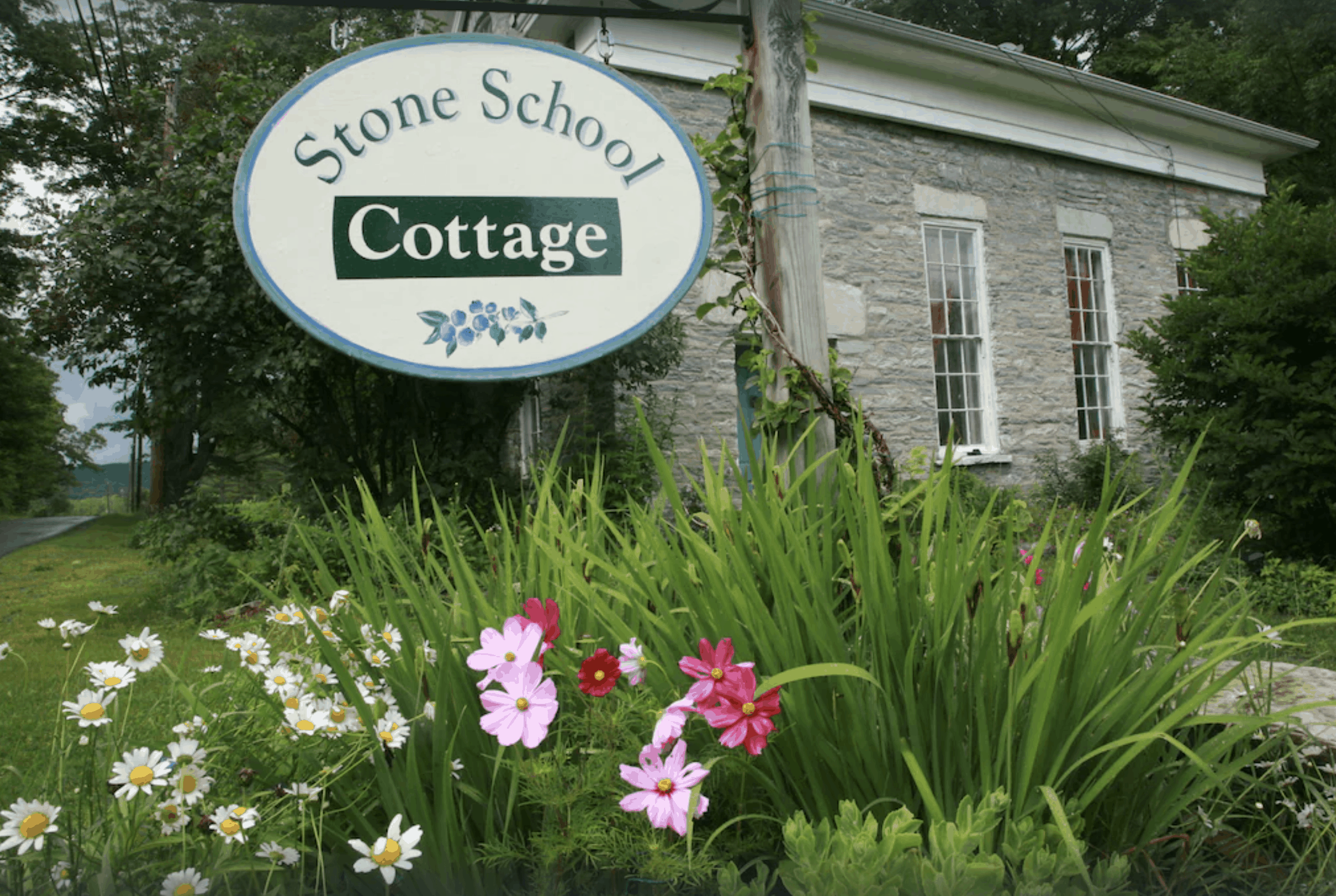 Would you rather stay in western Massachusetts? You'll want to check out this Charming Historic Cottage! It's absolutely massive at 1600 square feet spread across a dining room, kitchenette, two bedrooms, and bathroom. There's even an outdoor seating area on the lawn.
This MA vacation home is historic, just like the name says. It was built back in the 1830s and was used as a schoolhouse up until the 1950s, which is what truly gives this accommodation its charm. The home is also two floors.
Despite being able to house many people, this is one of the top rated cottages to rent for couples in Massachusetts!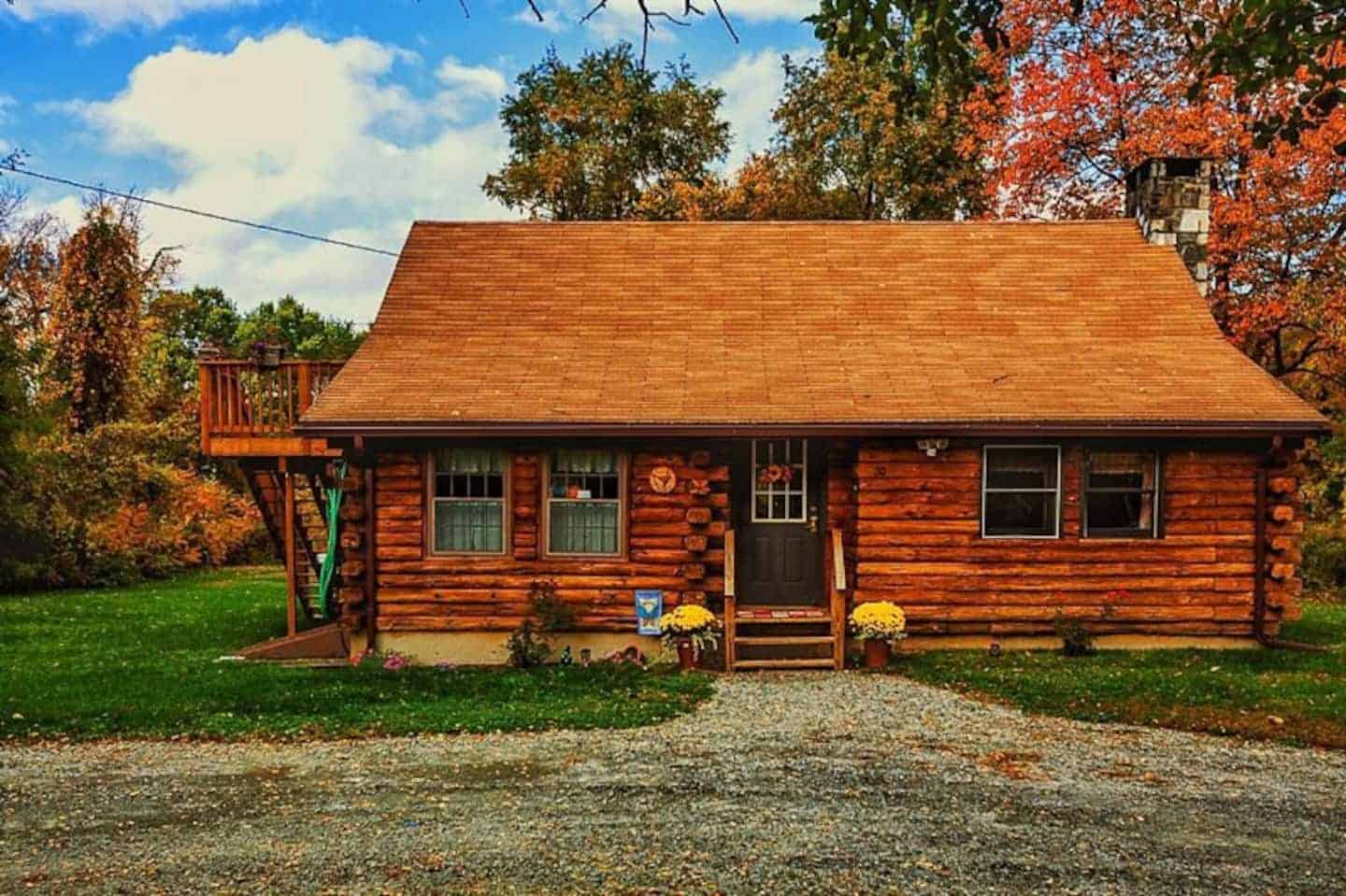 Located in Great Barrington, this Cozy Log Home will genuinely leave you in awe at its rustic beauty. Of course, it's run by a super host, too, so you can rest assured that you'll be well taken care of during your stay.
Six guests can stay here at a time, and there are two bedrooms with five beds plus a bathroom. The inside has a super open floor plan, too, which is what makes this Massachusetts log cabin feel so comfortable without being claustrophobic.
Everything you need for a great stay will be provided to you, including board games, books, kitchen supplies, and movies.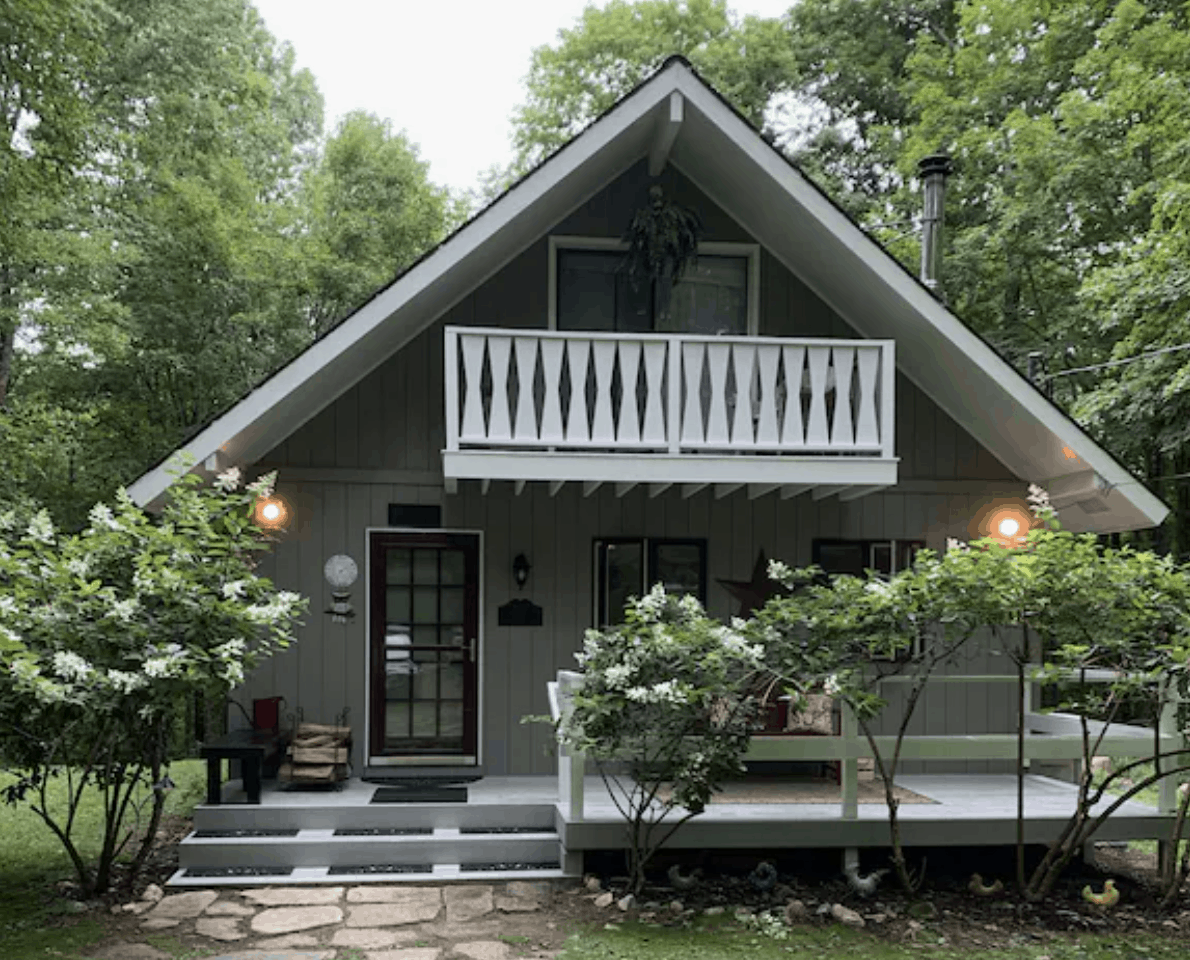 Level up from a basic cabin by staying at a cozy chalet located in Monterey! This fun home is about 1300 square feet with two bedrooms, three beds, a kitchen, living room, patio, and bathroom.
What makes this place so great is that it's a family home that has been really well-loved and now serves as an amazing retreat. It's an amazing place to stay no matter the time of year because it's near Lake Garfield, which is a beachy area with lifeguards and also the Butternut Ski Area.
The interior is very cozy and has been decorated with families in mind. As you walk through it, you'll find fun little touches that only make you love this MA vacation home more.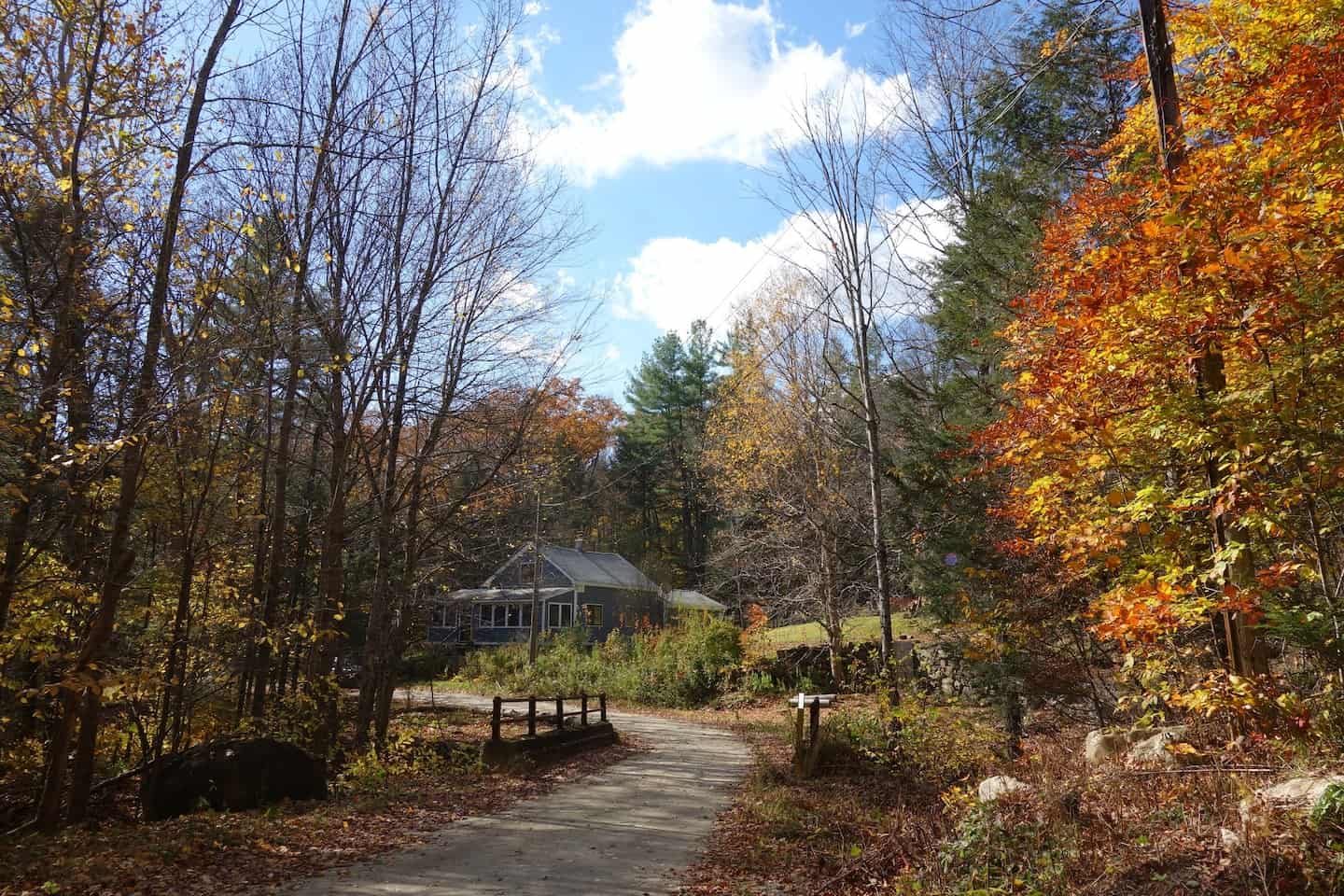 Even though it's a super minimalist place to stay, The Glow Room at Indian Hollow is one of the coziest cabins in Massachusetts. It can host four guests at a time and has three beds across two different bedrooms.
The home itself is inside of an old barn that was created in the 1850s and has a very simplistic style inside. With super large windows and exposed beams, this place has its own sort of rustic charm that will make you want to book it again.
Plus, it's got a great scenic location, which is even more beautiful in the fall and winter in Massachusetts.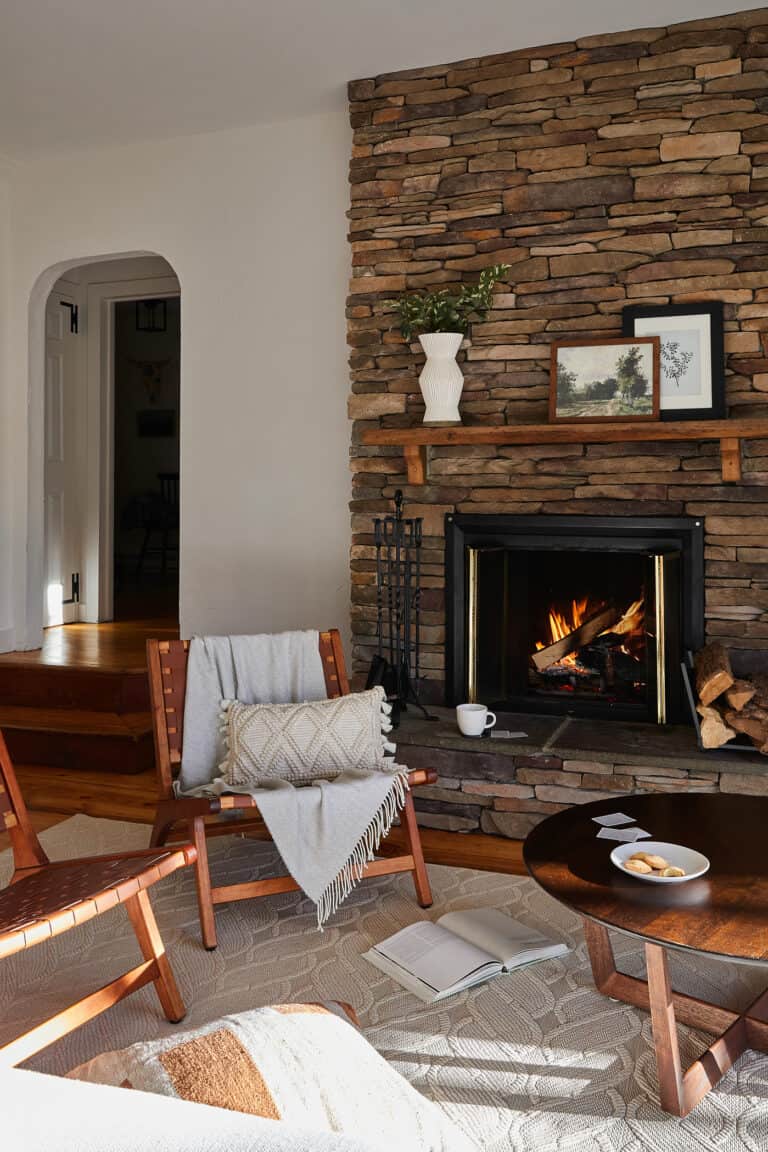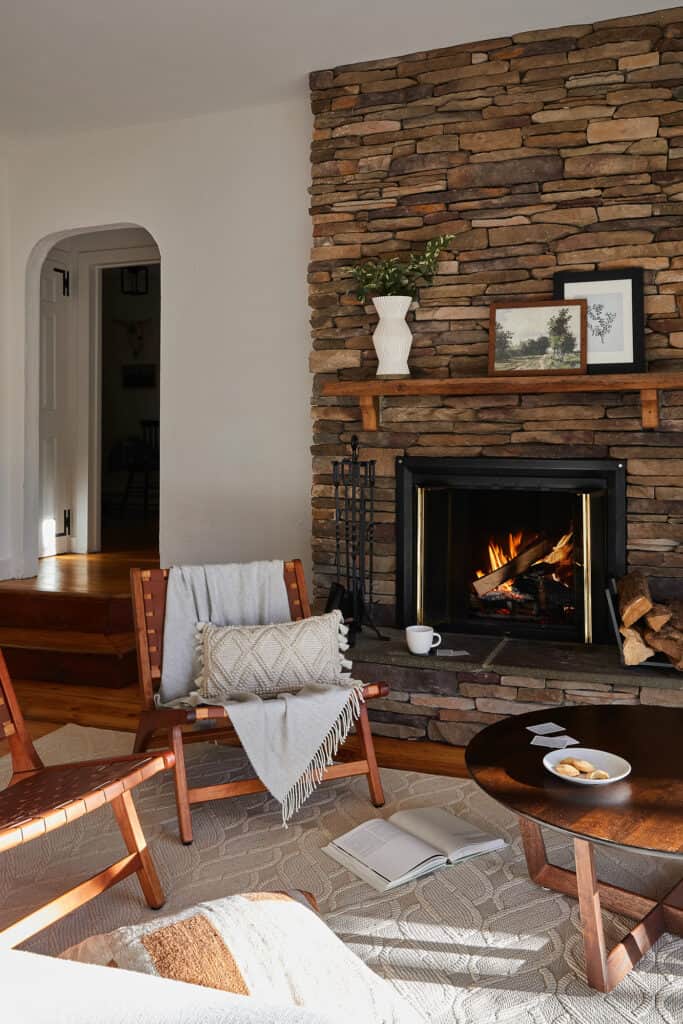 This beautiful Berkshires cabin can sleep up to 8 people with its three bedrooms and three bathrooms, and as it has been recently renovated, you'll be staying in style! This adorable MA cottage is situated on 12 wooded acres, so you'll feel like you're perfectly tucked away from it all, while still being within easy reach of all the fun things to do in the Berkshires!
There's also a wood burning fireplace, outdoor fire pit, and hot tub, so this is the perfect MA cabin getaway!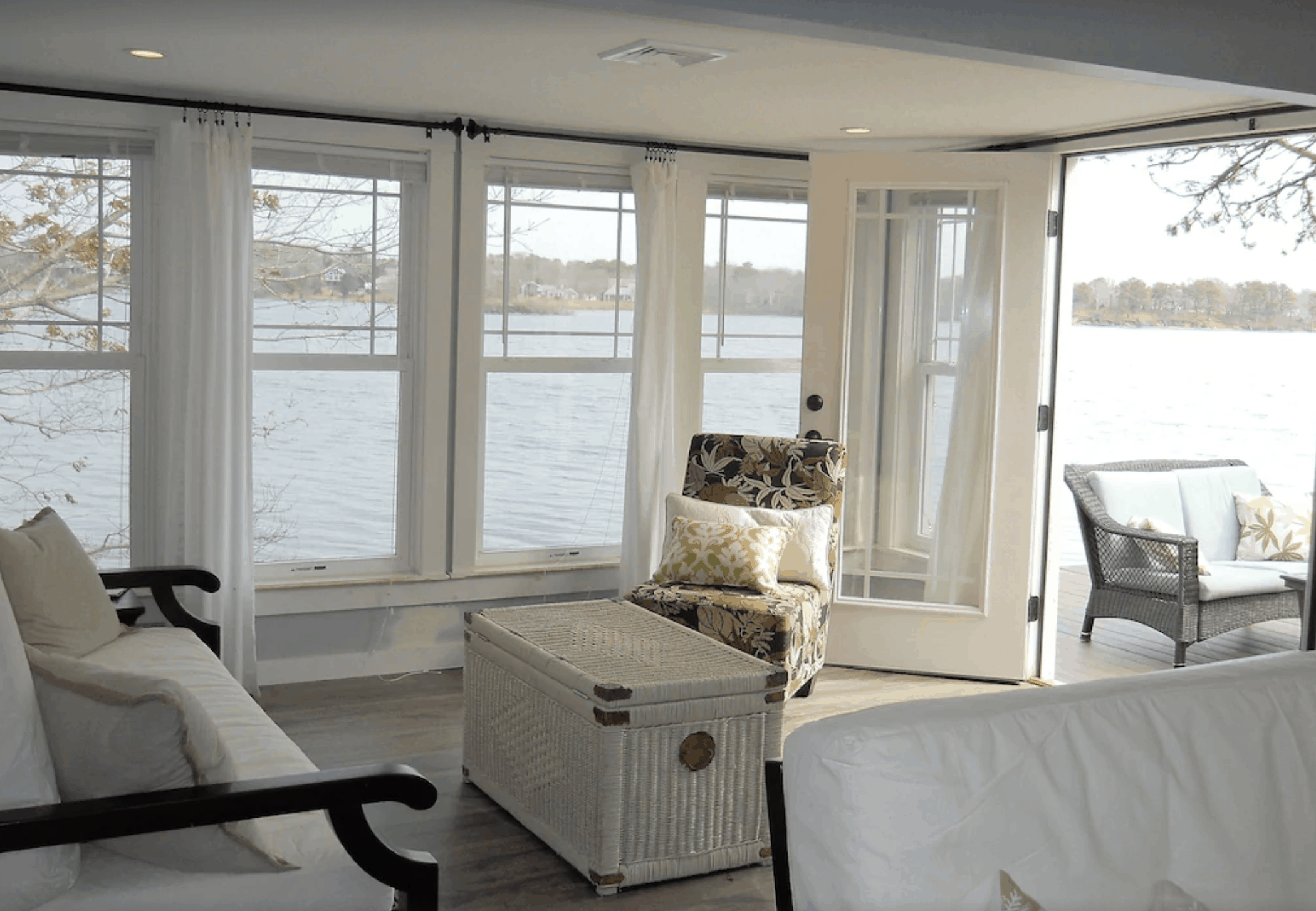 Swan Pond Cottage in Dennis Port is one of the prettiest coastal cabins in Massachusetts that you won't want to miss. From the sitting room and outdoor deck, you can look right out onto the water. Relax in the hammock all day with a breeze and breathtaking view!
This place can sleep up to five people at a time and is approximately 1000 square feet. It has an open floor plan and isn't that far from Nantucket Sound or Great Island, which is why it's normally booked out far in advance.
Everything you could want also comes with the place, including a Keurig coffee maker, kitchen with all the essentials, and outdoor furniture.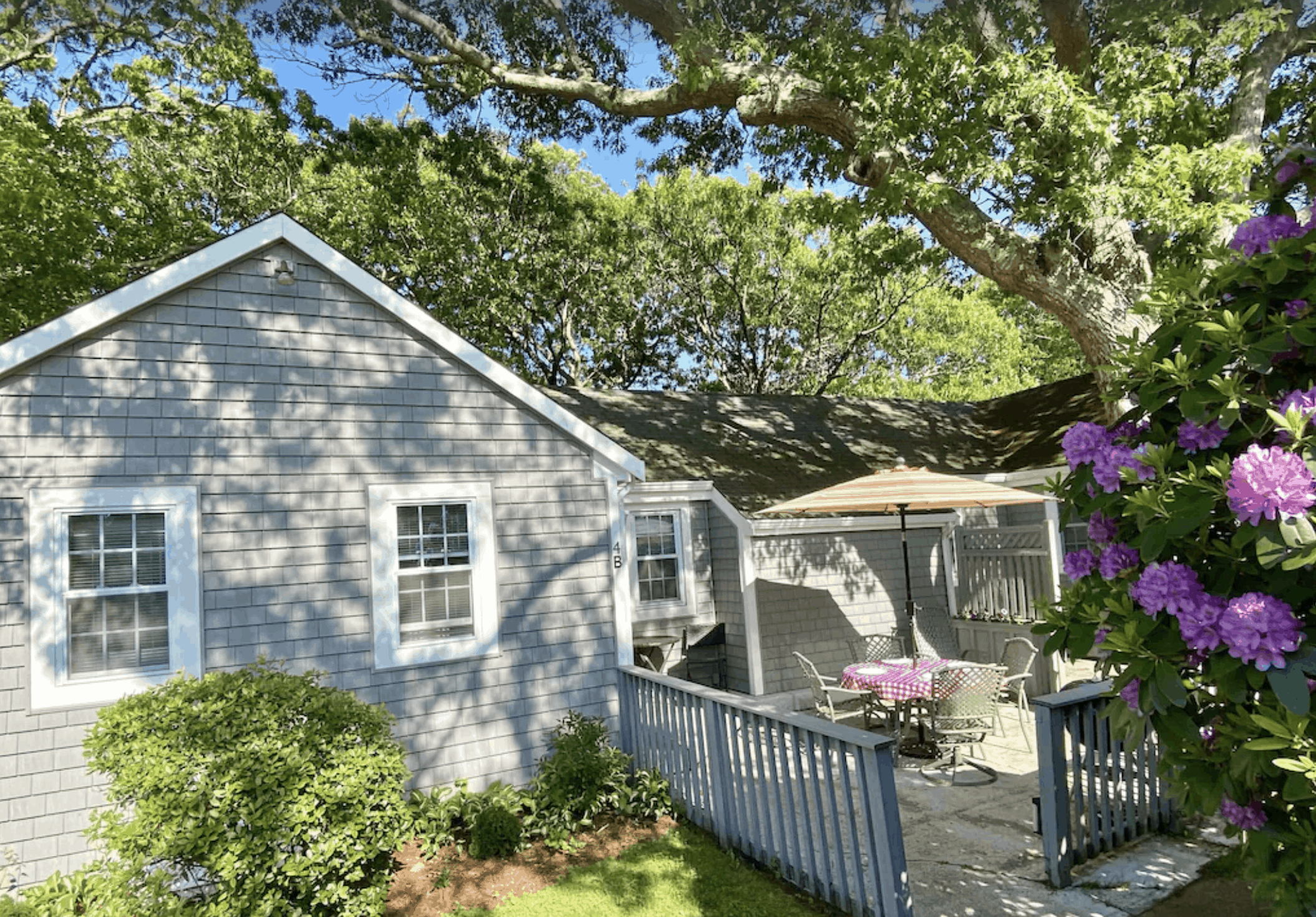 Head to Hyannis for one of the best Massachusetts cabins to rent. This place feels very airy and spacious inside and is truly a relaxing place to stay. It's perfect for up to six guests at a time and is a bit smaller at 600 square feet.
This Hyannis Water Cabin is only a short walk from the beach and is truly one of the top places to stay near the water. It's located pretty centrally on Cape Cod, too, and is a great place to stay if you want to do day trips in the area, such as to P-Town.
You can find many great amenities here, including a private patio, air conditioning, parking, and swimming pool access.
Stockbridge Cabin is a lovely place to stay in Massachusetts! As the name suggests, it's located in Stockbridge, and can host up to six guests. There are three bedrooms, five bathrooms, and one and a half bathrooms, so it's pretty large in size.
The inside screams rustic, yet hip. There are exposed wood beams everywhere, so you can live out your log cabin dreams. There are also super high ceilings, which makes the place feel very open.
This Stockbridge MA Cabin is only a short walk from the public beach, which is why it's so amazing. The neighborhood itself is also known for being very quiet and tranquil, making this an amazing place to stay if you need a romantic weekend away.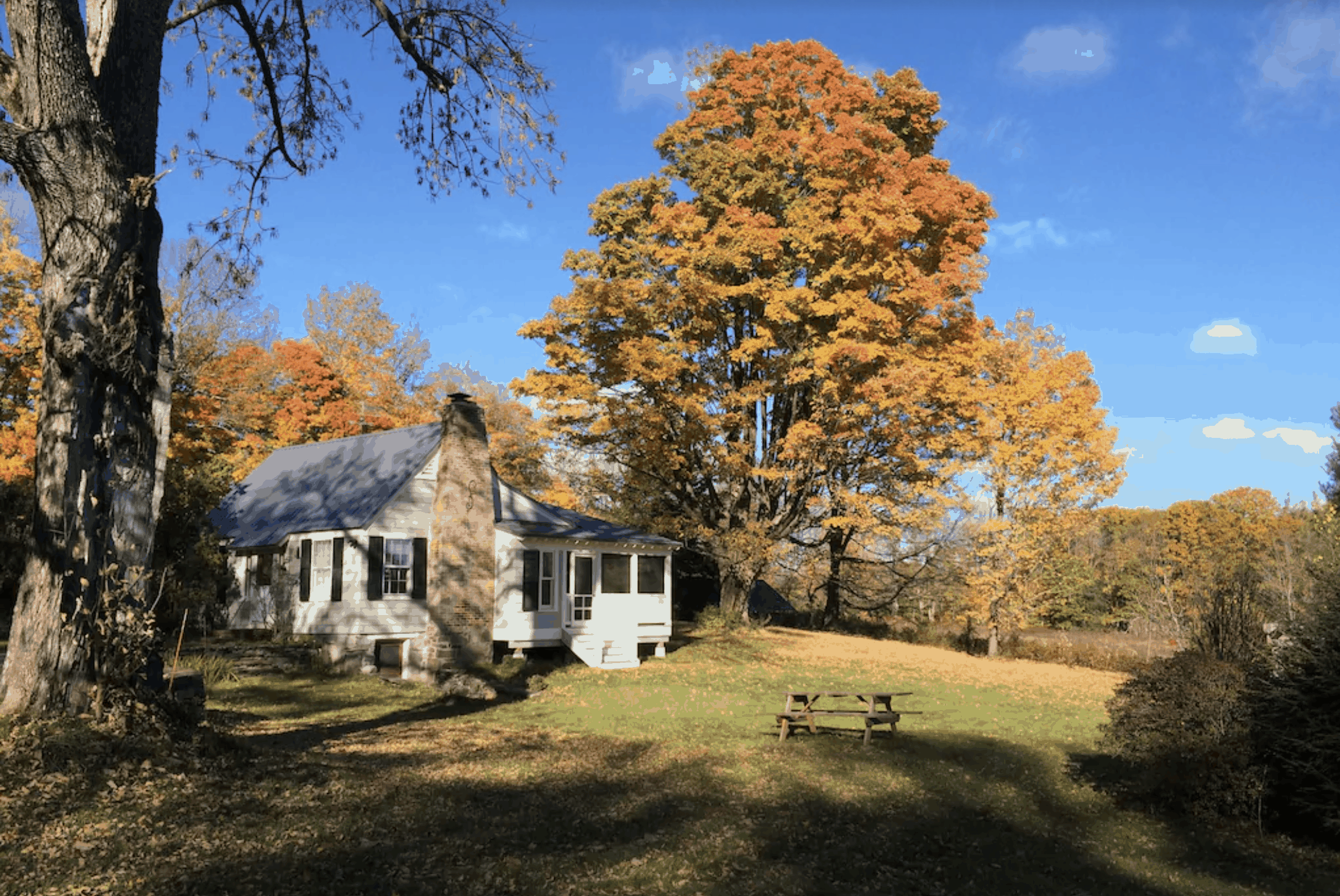 Located in Hampshire County, The Clearing is a terrific place to stay. It's located right in nature and looks breathtaking in the fall. It's at a lower price point and can house four people at a time.
It's a bit smaller at 700 square feet with a kitchen, living room, bathroom, and bedroom, but there's also a deck and tons of outdoor space. The owners kindly leave some outdoor furniture so you can sit outside at any time.
This MA vacation home has been recently renovated and is right near the Westfield River. If you're a bird watcher, you'll love it here! Outdoor lovers will enjoy this place too because all you have to do is leave the house for a great nature walk or snowshoeing adventure.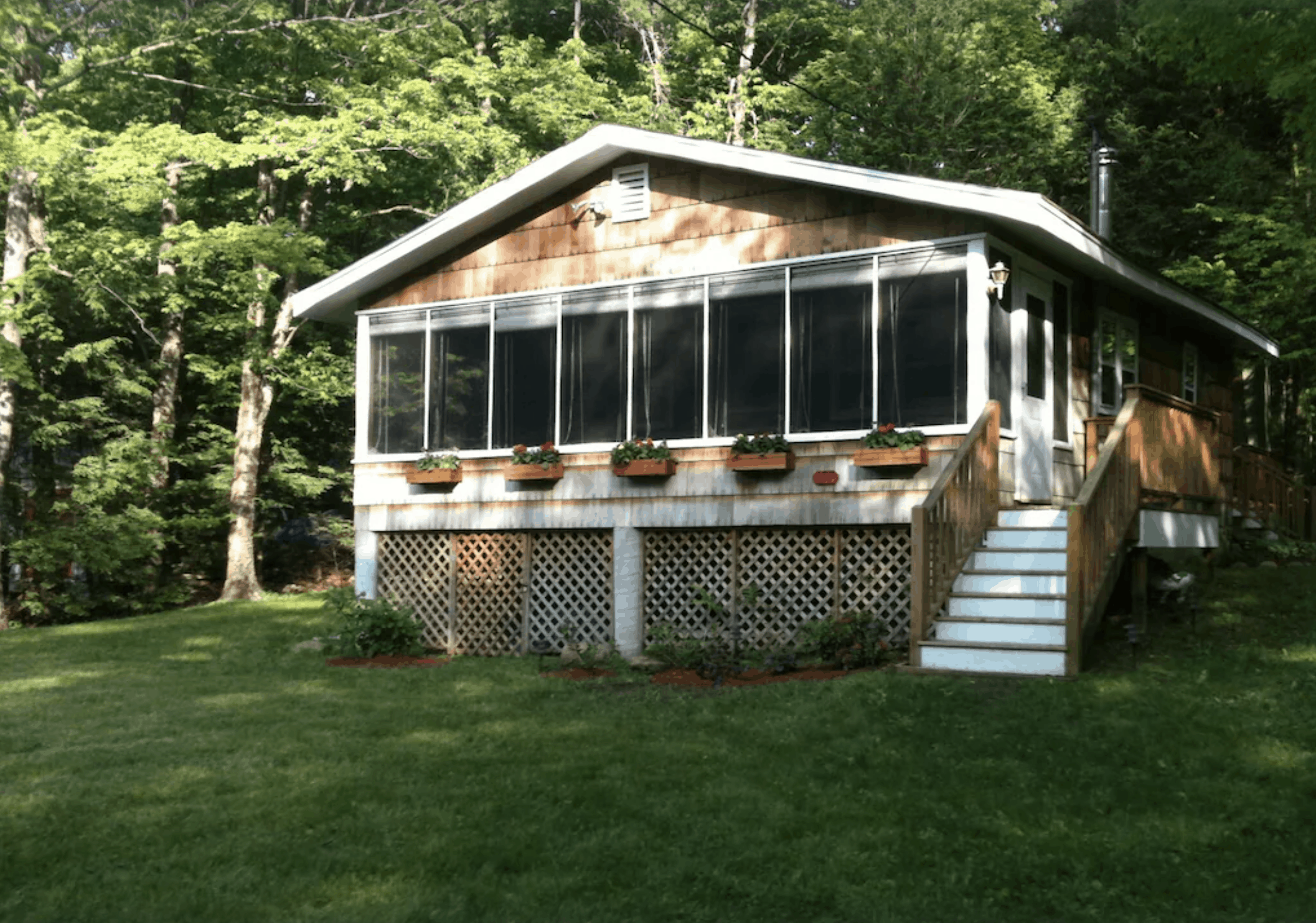 This Quiet Comfortable Cabin in Sherwood Forest truly can't be overlooked. While it doesn't look like much, it's one of the most charming cabins in Massachusetts perfect for friends and families visiting the Berkshires.
It can host up to four people at a time and is literally a few steps away from a calming lake. Imagine just waking up and watching the sunrise from a kayak on the water. Truly, what could be better than that?
The home has two bedrooms, with a master Queen and a double bunk bed. Amenities include a fireplace, air conditioning, washer and dryer, and more.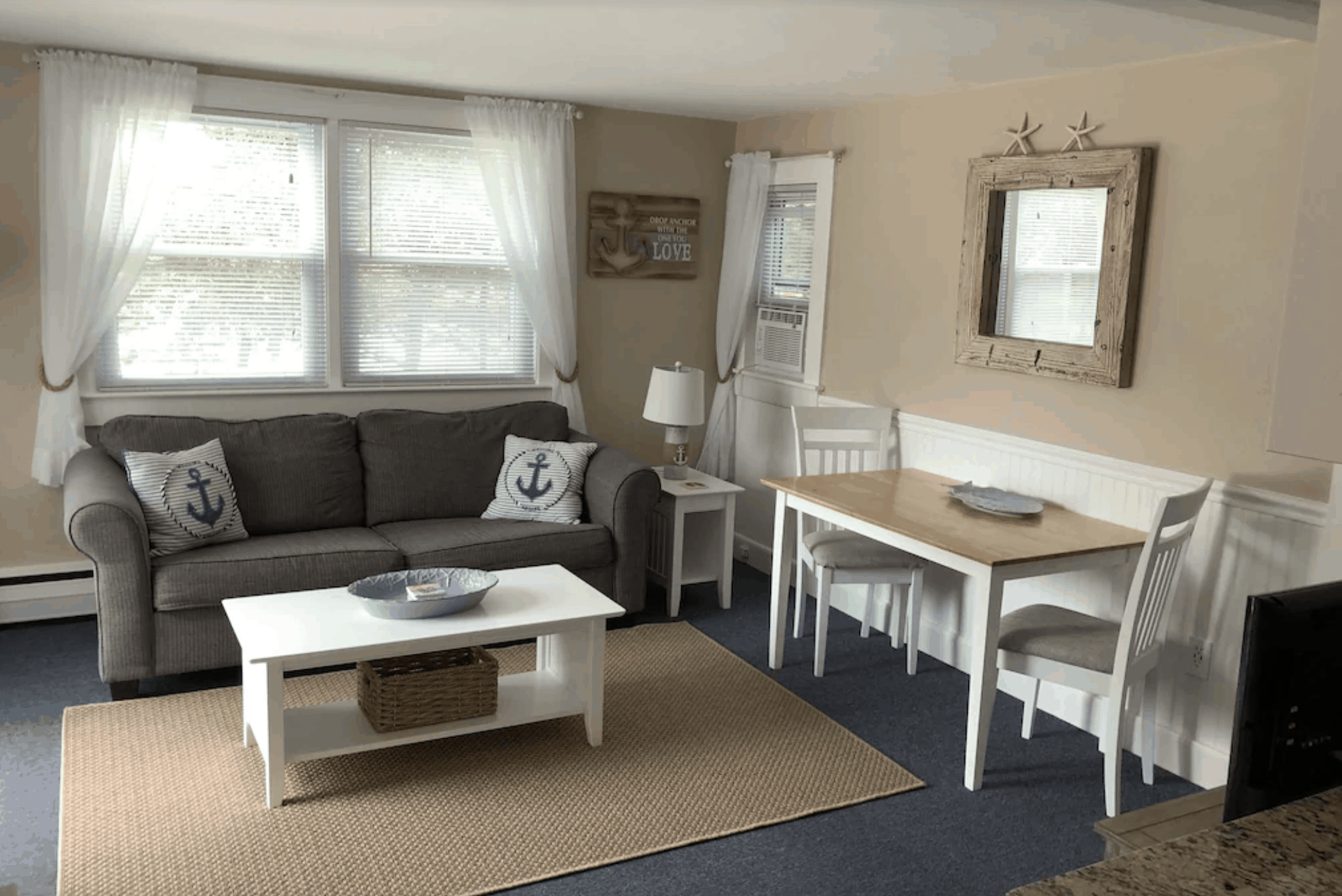 Last but not least is another one of the best Massachusetts cabins in Hyannis. It's just a few short steps from the sandy beach where you can enjoy a relaxing day in the sun! This cabin sleeps up to six people at a time. The beach it is near is called Keyes Beach.
If you're looking for a great beachy vacation spot, this is truly it. With views of the ocean out the window, it truly can't be beaten. Amenities are abundant, including wifi, air conditioning, a coffee maker, and even a DVD player.
This is a fantastic MA cabin to stay in if you're traveling with family or you want a romantic beach vacation.
---
Now you know all of the best and coziest cabins in Massachusetts! Book these cabins well in advance to make sure you can stay there during your trip. Where on this list would you most want to stay?
---
You might also like:
10 Best Boston Vacation Rentals: AirBnb, VRBO + More
---