Massachusetts is known for a lot of things, like its delicious clam chowder, gorgeous fall foliage, covered bridges, rich history, and some of the best beach towns in the US.
It's also known for having incredibly charming small towns that are simply perfect. Everything from the unique architecture to the cozy local shops makes a lasting impression.
There are so many Massachusetts small towns worthy of visiting, though; how do you narrow down which ones to visit first?
Don't worry, that's where we step in. These are our top picks for the most charming small towns in Massachusetts to visit!
Best Small Towns in Massachusetts
Concord
County: Middlesex
Population: 17,668 (as of 2010)
Compared to its southeastern neighbor, Boston, the town of Concord is considered a small one! This charming town was founded in 1635 and has historical roots in the American Revolution. With that kind of history and draw, you can see why it's one of the must visit small towns of Massachusetts!

It's easy to see why Concord is one of the most charming Massachusetts small towns. It's the quintessential New England town that has a healthy mix of picturesque living and beautiful nature. It's home to Minute Man National Historical Park, one of the best ways to explore early United States history.

You've got to heck out North Bridge (where "the shot heard 'round the world" in the Revolutionary War happened) and visit Walden Pond, where Henry David Thoreau went to live simply.
There are also plenty of restaurants to stop at while taking in all Concord has to offer. A trip here is one embedded in history and culture—and it's one you'll want to make again.
Looking for places to stay in Concord? Concord's Colonial Inn is a historic hotel that is charmingly picturesque.
Click Here to Check Prices & Book!
Rockport
County: Essex County
Population: 6,952 (as of 2010)
Is there anything more charming than a small seaside New England town? Head to Rockport in Essex County to get your fix of Massachusetts charm. It's only an hour north of Boston, but it feels like you're in another world.
There's plenty to do in this cute MA town, like kayaking along Cape Ann, exploring the Rockport quarries, and even visiting a local art gallery.
One of the things you must do in Rockport is visit Motif #1. It's a red replica of an old fishing shack located on Bradley Wharf. It's an iconic building known around the world, especially in the art community.
Since you'll be in a seaside Massachusetts town, it's only fitting that you indulge in some seafood. Some restaurants to check out include Roy Moore Lobster Co., The Lobster Pool, and Brackett's Oceanview Restaurant.
Personally, we absolutely adored Roy Moore Lobster Co., they have some of the best lobster rolls in MA. Coastal villages are the best for seafood lovers!

Read Next: Where to Stay in Rockport MA: The Best Rockport MA Hotels
Wellfleet
County: Barnstable
Population: 3,566
One of the cutest small towns on Cape Cod, Wellfleet should definitely be on your must visit small towns in Massachusetts list – especially if you love the beach!
Wellfleet is a lovely little Cape Cod town with some absolutely gorgeous scenery. You've got the regionally famous Marconi Beach, which is absolutely picturesque. You've also got beautiful walking trails in this area, including the Great Island Trail.
Sign up for a whale watching expedition in nearby Orleans, or just take it real slow and go to the Wellfleet Drive-In for some good, old fashioned entertainment.
Prefer live entertainment? Head to Wellfleet Harbor Actors Theater!
Wellfleet is a darling Massachusetts town and should def be added to your list of must visit Cape Cod towns.
Wondering where to stay during your Wellfleet visit? Even'tide Resort Motel & Cottages is amenity filled, super family friendly with an indoor pool, and it's just a short hike to Marconi Beach!
Click Here to Check Prices & Book!
Great Barrington
County: Berkshire
Population: 6,852 (as of 2018)
You'll find this incredibly charming small town in the valley of the Housatonic River in southwestern Massachusetts. Great Barrington defines a picturesque town, from its adorable downtown area to the beautiful nature that surrounds it. The downtown area is also home to multiple cultural and historic spots, including the Mahaiwe Performing Arts Center.
Head downtown to indulge in Great Barrington's restaurant and retail scene. Then, head out for a scenic hike at Monument Mountain Reservation or the Housatonic Flats Reserve for a nice hike in the beautiful Berkshires. Grab your camera and capture as many memories of this trip as you can!
Recommendations for where to stay in Great Barrington are many because there are plenty of great vacation rentals, inns, cabins, and B&Bs in the area. However, the Wainwright Inn is one of the prettiest historic inns in New England, and is very highly rated. If you can book a room there, that would be the move!
Click Here to Check Prices & Book!
Stockbridge
County: Berkshire
Population: 1,947 (as of 2010)
If you find yourself in the Berkshires, be sure to stop and explore the wonderfully charming small town of Stockbridge. Stockbridge is an adorable small town with classic architecture that has that quintessential New England feel to it.
You'll see historical buildings and lovely small businesses as you stroll down picturesque Main Street, where you can shop around and get to know the area. It's beautiful any time of year, but visit around Christmas and you'll see Main Street transform into something out of a Hallmark movie!

One of the must visit places in Stockbridge is the Norman Rockwell Museum. Norman Rockwell was a famous artist who created incredible art that reflected American culture. He created the covers for The Saturday Evening Post magazine for decades before passing away in 1978. He was a resident of Stockbridge, and as such, it's only fitting you can travel to the town to see his work.
Other activities to do in Stockbridge include visiting Naumkeag Public Garden, the Berkshire Botanical Gardens, and hiking along the Laurel Hill Association trails. There's a little bit of something for everyone in Stockbridge and is worth visiting for anyone who likes that small town aesthetic.

Looking for places to stay in Stockbridge? Red Lion Inn is quintessential Berkshires inn charm all the way!
Click Here to Check Prices & Book!
Marblehead
County: Essex
Population: 19,808
If you're looking for small towns near Boston to put on your MA itinerary, definitely add Marblehead! Its historic streets and beautifully preserved architecture make the entire town feel like history has come alive.
But with modern coffee shops and restaurants and all that good jazz, of course!
Take a Historic Home Walk and learn a little more about the beautiful homes that date back to the 17th and 18th century, and admire how wonderfully they've been preserved. You'll even be able to see who lived there from the plaques; were they fishermen, captains, merchants, sailmakers, cobblers, or merchants?
Visit the Maritime Museum at Abbot Hall, catch a show at the Marblehead Little Theatre, then enjoy some of the fantastic restaurants in town, like Little Harbor Lobster Company!
Looking for where to stay in Marblehead? Harbor Light Inn is cozy, quaint, and the perfect Marblehead inn to host your stay!
Click Here to Check Prices & Book!
Provincetown
County: Barnstable
Population: 2,994 (as of 2011)
Head to Cape Cod to get a glimpse of this charming seaside small town. Provincetown, also known as P-Town, is located on the northern tip of the cape and is a popular summer destination in the Bay State.
It has some of Massachusetts' best beaches, including Race Point Beach and Herring Cove Beach.
In addition to being a great beach town, this MA town at the tip of Cape Cod is known for having an impressive art scene. You'll find these galleries along Commercial Street, where you can walk along and pop into each gallery. Commercial Street is also an incredible street to walk down and shop along.
Grab lunch at one of the restaurants lined along the street and poke around in the shops until you find the perfect thing to remember your trip to Provincetown. Expect to see a lot of foot traffic in the summer, though, as that's the busiest time in P-Town.
Oh, and be sure to swing by the Pilgrim's Monument while you're visiting this adorable Massachusetts town.
Read Next: 15 Dreamy VRBOs & Airbnbs in Provincetown MA
Oak Bluffs
County: Dukes (on Martha's Vineyard)
Population: 4,678 (as of 2018)
Located on the idyllic Massachusetts island of Martha's Vineyard, Oak Bluffs is a charming small town rich with history and culture, especially African American culture. It's a top tourist destination in the summer, so if you're looking to go during a quieter time, try going in late fall or winter.
A trip to Oak Bluffs is sure to be a trip you won't soon forget. Once you get there, head to one of its lovely beaches like Oak Bluffs Town Beach or Inkwell Beach. Then, make sure you head to an Oak Bluffs iconic landmark: The Flying Carousel.
The Flying Carousel is truly a piece of history, as it's the oldest operating platform carousel in the United States. It was originally in New York City but moved to Martha's Vineyard in the 1880s. It's a favorite landmark for tourists and locals alike, so add it to your must-see list on this trip. Then, head to Circuit Avenue to poke around charming local restaurants and shops.
Read Next: 15 Best Hotels in Martha's Vineyard: Where to Stay | 15 Dreamy VRBOs & Airbnbs in Martha's Vineyard to Book ASAP
Chatham
County: Barnstable
Population: 6,125 ( as of 2010)
Head to the southeastern part of Cape Cod to experience this charming small town. Chatham is a lovely seaside town that has plenty of beaches to explore.
One of the coolest ones to visit is Lighthouse Beach, located near the historic Chatham Lighthouse. It's one of the 16 remaining lighthouses on the Cape Cod coast, so make sure you head there to see a unique piece of history.
Some other things to do in this charming cape town include visiting the Monomoy National Wildlife Refuge, seeing the Steve Lyons Art Gallery, and taking a stroll through the Chatham Railroad Museum. Everyone in the family will find something they'd like to do!
Oh, and don't forget all the fantastic places to eat and stay in Chatham! We got to stay at the Captain's House Inn in 2022 and it was such a darling place to stay.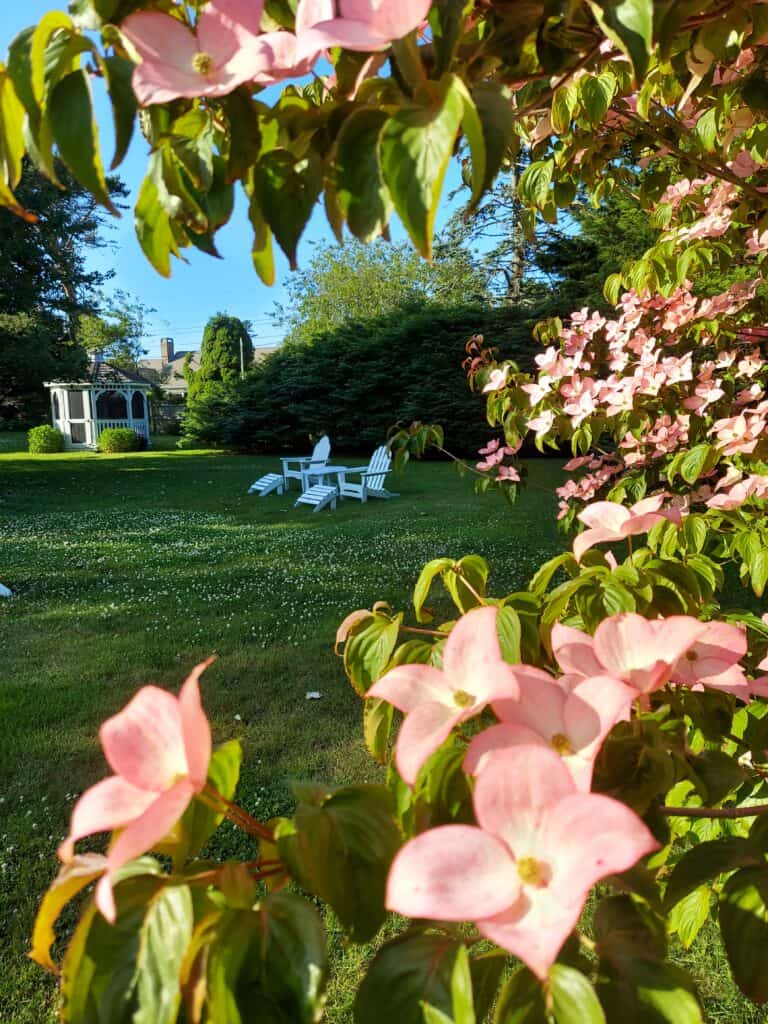 We highly recommend a stay at this beautiful historic inn, it's just about as charming as charming can be. There's a gazebo, gorgeous gardens, and original historic details throughout. It definitely has our vote for one of the best places to stay on the Cape!
Click Here to Check Prices & Book!
Read Next: Staying at the Captains House Inn, Cape Cod: A Review
Nantucket
County: Nantucket
Population: 11, 327
Nantucket is home to one of the best small towns in Massachusetts, and it should be on everyone's must visit in MA list! There are more than just beautiful beaches in Nantucket, too.
This island has a rich marine history and tradition, so you'll find there are many things to do on this cute MA island that celebrate this.
A visit to the Whaling Museum will explain some of this island's historic whaling industry, and a Nantucket lighthouse tour will show you some of the most picturesque and important lighthouses in the area.
Stroll downtown Nantucket and its cobblestone streets, stopping in to explore the boutique shops that represent the upscale affluence of this little Massachusetts town.
Whether you opt for a Nantucket day trip or you're planning an off season exploration, this is a definite must visit small town in MA!
Read Next: 10 Best Hotels on Nantucket: Where to Stay for a Nantucket Getaway | 15 Glorious Nantucket Airbnb and VRBO Rentals to Book
Lenox
County: Berkshire
Population: 5,025 ( as of 2010)
Add Lenox to your list of must-visit small towns in Berkshire County. This lovely and scenic small town is just 10 minutes away from Stockbridge, so you can easily go from one town to the next.
There are plenty of fun things to do in Lenox, like visiting the Ventfort Hall Mansion and catching a show at the popular Tanglewood, known for being the summer home of the Boston Symphony Orchestra.
You'll also find lovely boutiques, restaurants, and stores to shop at in Lenox. If you're in need of a nature fix, walk through Kennedy Park or Parsons Marsh Reserve to become one with the Berkshire beauty.
Wondering where to stay in Lenox? Conveniently located and stunning to see, 33 Main is one of the most beautiful properties in Massachusetts. It's perfect for a couples trip!
Click Here to Check Prices & Book!
Sandwich
County: Barnstable
Location: 20,226
Another Cape Cod gem, Sandwich is one of those towns that not necessarily super small, but certainly isn't big, either! It's just about the perfect size to feel like you can adequately explore during your vacation, and explore it you should.
Sandwich is home to a lovely boardwalk that is also a historic landmark! Originally built in the 19th century, it's had some renovations over the years but still maintains its historic charm. You'll find gorgeous views here. It's even been mentioned by National Geographic for being one of the best boardwalks in the US!
Looking for the beach in this quaint MA beach town? You've got options! Sandy Neck Beach and Scusset Beach State Reservation are two popular spots in Sandwich to get a little Vitamin Sea.
One unique attraction in Sandwich is the Sandwich Glass Museum. This interesting museum showcases many pieces from the art of glassblowing, and even has onsite demonstrations!
If you'd like to book a room in Sandwich, consider Belfry Inn & Bistro. With stained glass windows and rich architectural details throughout, it's one of the most magnificent places to stay on the Cape!
Click Here to Check Prices & Book!
Hadley
County: Hampshire
Population: 5,346 (as of 2018)
Massachusetts charm takes hold in this adorable small town. Hadley is a wonderful place to stroll through, especially if you're looking to get lost in nature for a bit.
Skinner State Park is a top place to visit; there, you'll see incredible views of the Connecticut River Valley while walking through beautiful trails. There are other activities to do within the park too, including mountain biking and even hang gliding.
Other things to do in Hadley include visiting the New England Falconry and the Hadley Farm Museum. Add them to your list of activities and experience the great charm Hadley has to offer.
Looking for Hadley accommodations? Homewood Suites by Hilton Hadley Amherst has an indoor pool!
Click Here to Check Prices & Book!
Newburyport
County: Essex
Population: 18,289 (as of 2020)
While not as tiny as some of the other small Massachusetts towns on this list, Newburyport certainly deserves as a spot as a small coastal gem!
One of the most gorgeous areas of Newburyport is Plum Island, where you can enjoy strolling Plum Island Beach for a gorgeous coastal view.
You've also got two beautiful lighthouses to see in this charming coastal MA town, Plum Island Lighthouse and the Newburyport Lighthouse. Is there anything more lovely than lighthouses in New England?
Another popular must visit spot in Newburyport is the Maudslay State Park with almost 500 acres of gorgeous walking trails to explore; there's even a cool historic garden area in the park!
Of course, you're in coastal Massachusetts, so expect fantastic restaurants and delicious seafood – you won't be disappointed!
Consider booking a room at Compass Rose Inn – it's as lovely as can be!
Click Here to Check Prices & Book!
Sturbridge
County: Worcester
Population: 9,640 (as of 2018)
You'll get a nice dose of New England historic charm during a trip to Sturbridge. One of the most interesting things to check out is the Old Sturbridge Village, a living museum that depicts what New England life was like in the late 18th and early 19th centuries. You can literally step into another era and see what life was like before electricity.
If you prefer more modern activities, Sturbridge has plenty of other things to do. You can visit the Hyland Orchard and Brewery or catch a show at the Stageloft Repertory Theater. You'll be planning your next trip to this charming small town before you know it!
Looking for places to stay in Sturbridge? The Publick House Historic Inn & Country Lodge is the perfect base for your Sturbridge explorations!
Click Here to Check Prices & Book!
Massachusetts' small towns are full of history, culture, and scenery. Wherever your travels take you, hopefully you'll be able to visit some of these charming small towns in Massachusetts that we love so much!
---
You might also like:
---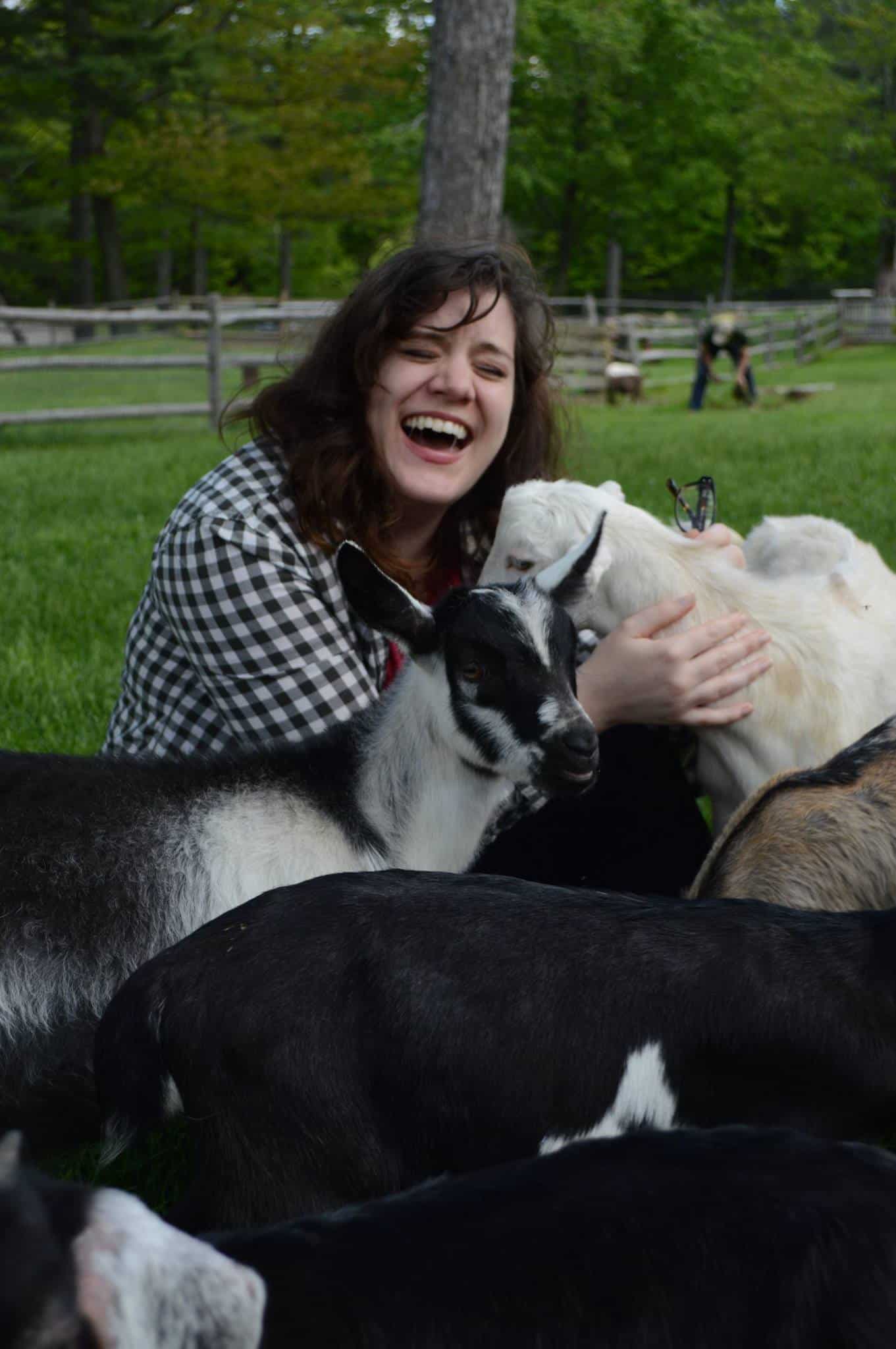 Amy Hartle is the founder and Editor-in-Chief of New England With Love, a comprehensive resource for travel in the New England region. Amy has been exploring New England since 2001. She lived in Vermont for many years and is a graduate of Plymouth State University in New Hampshire. Amy has been writing about travel for over a decade. On this site, Amy aims to share her love of New England and help you to have the best possible adventures!
Amy has been a full time blogger since 2012, and is also the publisher of Two Drifters, where she writes about couples travel and relationships, as well as Let's Adventure Baby, a family travel site. When not traveling the world or creating epic blog content, Amy can be found cuddling with her husband, son, and cats, & drinking a maple latte.