---
*Links in this article may be affiliate links, from which we may earn commission. See our
Privacy Policy
for full details.
---
As one of the most popular places to visit in Massachusetts, you absolutely can not miss the beauty and charm of Martha's Vineyard! Because of the size of the town, it can be hard to decipher the best restaurants in Marthas Vineyard. It's right near Cape Cod and is absolutely breathtaking, especially in summer. Throughout this post, we've got you covered!
No matter what type of food you're in the mood for, you'll be able to find something to satisfy your craving on this list. Martha's Vineyard has classic American restaurants and Japanese, Italian, and even Brazilian restaurants to choose from.
Be sure to have your itinerary at the ready; you'll want to add the best restaurants in Marthas Vineyard to your list!
Alchemy Bistro & Bar
Location: 71 Main St, Edgartown, MA 02539
First is none other than Alchemy Bistro & Bar, one of the best restaurants in Marthas Vineyard. This restaurant may have higher prices for their dishes, but the food is well worth it. It's an American restaurant that's relatively popular among couples looking for a romantic evening out.
The restaurant itself is very charming on the inside. It feels like old school meets modern with the decor. There are beautiful chandeliers on the walls with light green accents and lots of white space, which helps to open up the interior.
The menu has almost everything you could think of and would expect at an elegant restaurant. There are cocktails, entrees, and even desserts. Some great dishes on their menu include Maplebrook Farm burrata, grilled blackened tiger prawns, and Alchemy's wagyu burger. Most entrees cost between $30 and $50.
Salvatore's Ristorante Italiano
Location: 20 Union St, Vineyard Haven, MA 02568
If Italian food is what you're in the mood for, then you're in luck! Salvatore's Ristorante Italiano is one of the best restaurants in Marthas Vineyard. They're known for their excellent staff, incredible food, and long wine list available for those who eat there.
The restaurant looks like a classic east coast restaurant situated in a historic building. Inside, there are hardwood tables with an overall dark ambiance. If you wish to enjoy the beautiful Martha's Vineyard weather, there is also some patio seating.
There is every type of Italian food that you could imagine on the menu at Salvatore's Ristorante Italiano. Think caprese, spaghetti al pomodoro, spaghetti carbonara, parmigiana eggplant, and even risotto prima vera. Be sure to try their decadent tiramisu once you're done! They also have cannolis, chocolate cake, and even Bella Italia if you're up to it.
Copper Wok
Location: 9 Main St, Vineyard Haven, MA 02568
Copper Wok is the place to go in Martha's Vineyard if you want some Chinese food while you're there. This is a modern restaurant with great Asian dishes and can easily accommodate larger groups.
Inside, the restaurant is exquisite, with warm lighting and an open floor plan. Though the lighting is dim, the red wood of the tables helps to really open up the interior. There's also tons of room inside the restaurant, and when it's warm out, they open part of the wall to allow for guests also to sit outside.
The menu has mid-range pricing. You can order shrimp po'boy sliders, edamame, Korean bbq pulled pork sliders, sushi, and even ramen noodle soup. If you want something a little heavier, they also have full entrees on the menu like my oh my pad thai and even spicy entree with vegetables.
Chesca's Restaurant
Location: 38 N Water St, Edgartown, MA 02539
Chesca's Restaurant is definitely one of the best places to eat on Edgartown's oceanfront. Though their prices are a little higher than average, the food is incredible and well worth it. They serve Italian American food, which is some of the best around.
The atmosphere is warm and inviting, perfect for a romantic dinner or just a good time with friends. The restaurant looks like a classic east coast restaurant with wooden paneling, but it's easily recognizable with its distinguishable porch. People are almost always out there in the rocking chairs with a drink!
You can find excellent dishes on the menu like white clam sauce over angel hair, grilled black Angus New York strip, and chicken marsala. There are also great starters like bacon-wrapped feta stuffed dates, spicy tuna tartare, and even warm gorgonzola dip with pancetta and baby shrimp.
Little House Cafe and Bakery
Location: 339 State Rd, Vineyard Haven, MA 02568
If you're looking for a delicious and healthy Mediterranean meal, Little House Cafe and Bakery in Martha's Vineyard is the perfect spot. They have gluten-free and veggie options, and their prices are excellent. Plus, their service is excellent!
While their food is incredible, they have a more laid-back atmosphere. The interior will remind you of home because it's so comfortable and cozy. They also have great picnic tables outdoors if you wish to enjoy the great weather. There are umbrellas as well in case it's sunny!
Everything on the menu is super affordable, especially if you're going for breakfast. Choose between dishes like bagels with smoked salmon, breakfast wraps, or even classic egg sandwiches. For lunch, they have salads, wraps, burgers, and even tacos on the menu.
The Golden Bull Brazilian Steakhouse
Location: 13 Beach Street Extension, Vineyard Haven, MA 02568
The Golden Bull Brazilian Steakhouse in Vineyard Haven is one of the best restaurants in Marthas Vineyard for Brazilian food. The restaurant offers a unique dining experience that is sure to satisfy even the most demanding palate. They are also open reasonably late at night, especially on the weekends, so if you spend a long day out exploring Martha's Vineyard, The Golden Bull is the perfect place to go.
The setting is rustic and romantic, with wood floors and warm Edison bulb lighting adding to the atmosphere. Plus, there are leather seats that help to add a level of elegance. The menu features all of the classic Brazilian dishes and some unique twists on traditional recipes!
The menu features mid-range prices with dishes like honey mustard chicken breast, chicken parmesan, and even sauteed golden seafood. There are also unique juices like sugar cane juice and passion fruit.
Life at Humphreys
Location: ​​455 State Road Woodland Plaza, Vineyard Haven, MA 02568
If you're looking for a great place to eat in Martha's Vineyard, Life at Humphreys is the perfect place. Not only do they bake delicious pastries, but they also sell sandwiches and other light eats, perfect for a quick meal. Plus, their prices are really affordable.
The inside of the restaurant is very welcoming. There are green and red accents everywhere, and you can walk right up and place your order at the counter. There are also some great spots to sit right inside, but there's not an abundance of seating, so keep that in mind if you go during lunchtime when it's busy!
The menu features dishes that are mostly around $10ish or so. There are specialty sandwiches like Humphreys famous turkey gobbler, zucchini falafel, and even roasted portabella, but there are also classics like maple honey ham and chicken salad.
The Port Hunter
Location: 55 Main St, Edgartown, MA 02539
Next is The Port Hunter, an excellent restaurant for those who want to try the seafood that New England is so well known for. They even have live music during certain parts of the year, which adds to the atmosphere.
The style of the restaurant will very much remind you of a pub, with classic brick accents on the exterior and the interior. However, there's somewhat of an upscale vibe inside, with fun plants hanging from the ceiling and unique light fixtures.
This restaurant is definitely on the pricier side, but it's very much worth it. Some great items on the menu include fish tacos, roasted green circle farm chicken, and the world-famous chicken sandwich. Be sure to try the delicious key lime pie once you're done!
Offshore Ale Co
Location: 30 Kennebec Ave, Oak Bluffs, MA 02557
Sometimes pub food is just what you're in the mood for! If that's the case, then you'll want to go to Offshore Ale Co. They have the best wood-fired pizza, and of course, there are excellent beers to go with it that pair perfectly.
This is probably the most laidback place to eat on this list of best restaurants in Marthas Vineyard, so it's perfect if you're looking for a more casual dining experience. The inside has wood finishes, and there's a giant outdoor patio as well.
In addition to their brick oven pizzas, there are salads, burgers, and quesadillas. Small finger foods are also available, like fried ravioli (a must-try), Offshore's famous wings (with BBQ, buffalo, or teriyaki), or even parmesan truffle fries.
This post was all about the best restaurants in Marthas Vineyard! Hopefully, you've found a great place to eat during your visit there. Don't forget to save this post and share it for later. No matter which place you choose to eat from this list, you're truly in for a tasty meal!
---
You might also like: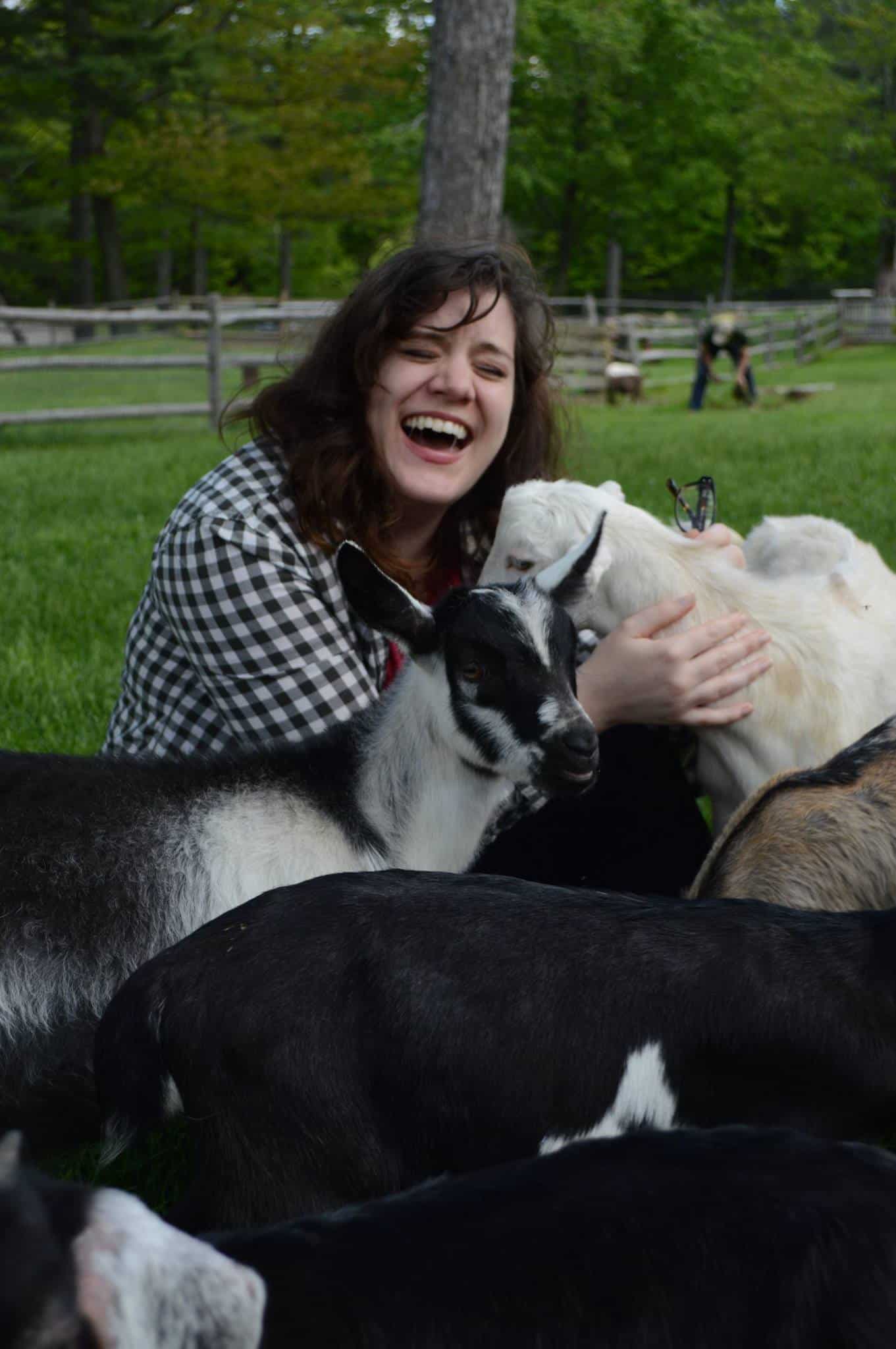 Amy is the founder of New England with love. A proud Vermonter, she hopes to share her love of New England and help you find the best adventures in the region. Amy is also blogger/founder at Two Drifters, where she writes alongside her husband about romantic and couples travel, relationships, honeymoons, and more. When not working on websites, Amy is probably reading, cuddling with her husband, son, and cats, & drinking a maple latte.