The Berkshires is easily one of the most beautiful and scenic places to visit in Massachusetts. Located in the western part of the state, the Berkshires are filled with gorgeous towns, including Lenox! In addition to all of the amazing scenery, there are great restaurants in Lenox MA where you can refuel between outdoor adventures.
Even though Lenox is a smaller town with around 5000 people living there, it's filled with many different types of restaurants. In fact, almost any kind of food that you're in the mood for, you can easily find at a local restaurant!
Here are all of the top restaurants in Lenox MA, in no particular order.
Luau Hale Restaurant
Location: 569 Pittsfield Rd, Lenox, MA 01240
If Polynesian food is what you're in the mood for, then look no further than the Luau Hale Restaurant. It's located on Pittsfield Road and is known for its great Chinese entrees, food quality, and portion sizes.
The inside of the restaurant is super fun, with Hawaiian decor almost everywhere you look. Plus, there are dark wood tables and bright red chairs, which help to set the scene. You'll forget that you're eating at a restaurant in western Massachusetts because of how much work they've put into the interior atmosphere!
The menu is pretty long and includes appetizers like pork egg rolls and sesame chicken as well as larger entrees with lo mein, steak, seafood platters, and more. Appetizers tend to be around the $10 mark, while entrees are closer to $20 to $30 depending on what you order.
Alta
Location: 34 Church St, Lenox, MA 01240
Next on this list of best restaurants in Lenox MA, is another one you won't want to miss: Alta! This Mediterranean restaurant has mid-range pricing and some of the best outdoor seating that you can get at a restaurant in Lenox.
While the restaurant's atmosphere is very lively, the decor is super minimalistic. There's some funky lighting and decor on the ceilings with simplistic art on the walls. The main star of the show inside is the bar area, which has its own seating spot and an array of drinks that line the walls behind the bartender.
Alta is the perfect place to eat at if you're looking for a romantic dinner out. The menu is extensive and includes appetizers, entrees, salads, desserts, and even coffees with alcohol. Most of the main dishes cost around $30 and include options like braised lamb shank, blue cheese crusted beef tenderloin, and even pan-seared cod.
On a Roll Cafe
Location: 55 Pittsfield Rd, Lenox, MA 01240
For an amazing local cafe, look no further than On a Roll Cafe! This restaurant is best known for its incredible breakfast (seriously, everyone raves about the eggs benedict) as well as its affordable prices and excellent service.
The cafe itself has a classic American restaurant atmosphere, with multi-colored walls and some decor hanging up. There's ample seating indoors, and they can seat quite a few groups at once. Plus, there's an outdoor patio where you can eat if the weather is nice during your visit to Lenox!
They have two different menus; one for breakfast and one for lunch. There are burritos, pancakes, french toast, yogurt, and more at breakfast. Everything costs around $10 for breakfast, which is really affordable for breakfast in Massachusetts. There are also tons of side-order options, like bacon, chicken apple sausage, and fruit.
Firefly Gastropub
Location: 71 Church St, Lenox, MA 01240
Firefly Gastropub is one of the more luxurious restaurants to eat at in Lenox, so it's perfect for a celebration, anniversary, birthday, or a romantic evening out. The bistro mainly serves up classic New American dishes and does have higher prices because it's fine dining, but it's well worth it.
The inside of the restaurant is absolutely divine. There's beautiful dark wood, booth-style seating, a huge bar with ample spots to sit around it, and mood lighting. You can really sense the elegance when you go inside the restaurant. Sometimes, there are even live local bands playing to help set the ambiance.
The menu isn't as long as some other restaurants in Lenox MA, but there are still quite a few different options for food. There are salads, burgers, macaroni and cheese, quinoa bowls, and even duck and shrimp. In addition, there are a wide variety of sides that you can choose from to make the dish your own.
Brava
Location: 65 Church St, Lenox, MA 01240
Brava is definitely one of the more unique restaurants in Lenox MA. It's a wine bar that has charcuterie as well as tons of delicious drinks that you can pair with it. Despite being a wine bar, prices are mid-range. The restaurant is known for its great food and cozy setting.
The inside of Brava is truly quaint, but that's part of its charm. When eating there, you'll feel genuinely taken care of because of the small interior. Most people will sit and relax right around the bar itself, where you can chat with the bartenders and learn more about the different drinks on the menu.
One thing to note about Brava is that there are absolutely no reservations. Seats are given on a first-come, first-serve basis, which can be challenging, especially on the weekends in the evenings. Be sure to plan your trip wisely if you really want to get a seat when going to Brava! You'll want to enjoy the amazing pizza, charcuterie, and drinks.
Frankie's
Location: 80 Main St, Lenox, MA 01240
Of course, this list of the best restaurants in Lenox MA, would not be complete without mentioning at least one Italian restaurant. In this case, it's Frankie's, a tiny local joint in the Berkshires that is well-loved by locals and is known for its fantastic food options.
The inside of the restaurant has a very industrial feel, with exposed wood beams, white walls, and black accents. The tables almost make it seem like you're having a picnic, with red and white checkered tablecloths. There's also a small outdoor covered patio with heaters, so you can eat outside of the main dining room as well if you'd prefer.
No matter what type of Italian food you're in the mood for, you'll be able to find it on the menu at Frankie's. There's arancini, calamari, fried artichoke, and more. In addition, there's pasta, salads, meats, and even desserts for you to try something after you finish your meal. Rest assured that there arae also gluten-free and vegan options on the menu.
Jae's
Location: 1032 South St, Pittsfield, MA 01201
Even though it's located at the Hilton Garden Inn, Jae's is one of the top restaurants in Lenox MA. It's a pan Asian restaurant that has great quality, variety, and service. Plus, if you're a tourist staying right at the Hilton Garden Inn, you won't even have to walk far to enjoy a delicious meal.
It's hard to spot the restaurant from the outside because it just has one door and a small sign, but the interior is great. There's tons of decor all over the place, and it's quite large inside. Choose between booth-style seating or regular table and chairs; it's totally up to you! There's also a bar with bright red bar stool seating as well.
For food, you can order crab cakes, grilled tuna stakes, fried rice with spicy Korean pork, and even sushi sets! There are also large "party animal" boats that include up to 110 pieces of sushi if you happen to be eating at the restaurant with a larger group of people. Plus, the arrangement of the large assortment is quite a look!
The Old Heritage Tavern
Location: 12 Housatonic St # 201, Lenox, MA 01240
Last but not least is The Old Heritage Tavern. This bar slash restaurant serves classic American food and drink and is one of the more lively places to eat in Lenox, which is why it's so popularly visited. It's the classic type of place where you'd go out on the weekend to meet up with friends or family that you hadn't seen in a while just to have a chat.
It's impossible to miss The Old Heritage Tavern with the bright red sign that it has in front. The inside is classic pub style, with hardwood floors and ample seating, as well as some high-rise tables. If you'd like to eat outdoors, there's also a huge red-covered patio with heaters and lots of seating that you can even use in the cooler months of the northeast.
The menu features all the traditional pub food that you'd expect The Old Heritage Tavern to have. There are quesadillas, nachos, soft-baked pretzels with honey mustard, potato skins, spinach and artichoke dip, salads, soups, and more. For the most part, everything costs between $10 to $20, depending on what you order.
There are so many incredible restaurants in Lenox MA. Each restaurant on this list was carefully vetted, so rest assured that no matter which one you choose to eat at, you'll have a great time. Don't forget to explore the rest of the Berkshires while you're in Lenox!
—
You might also like: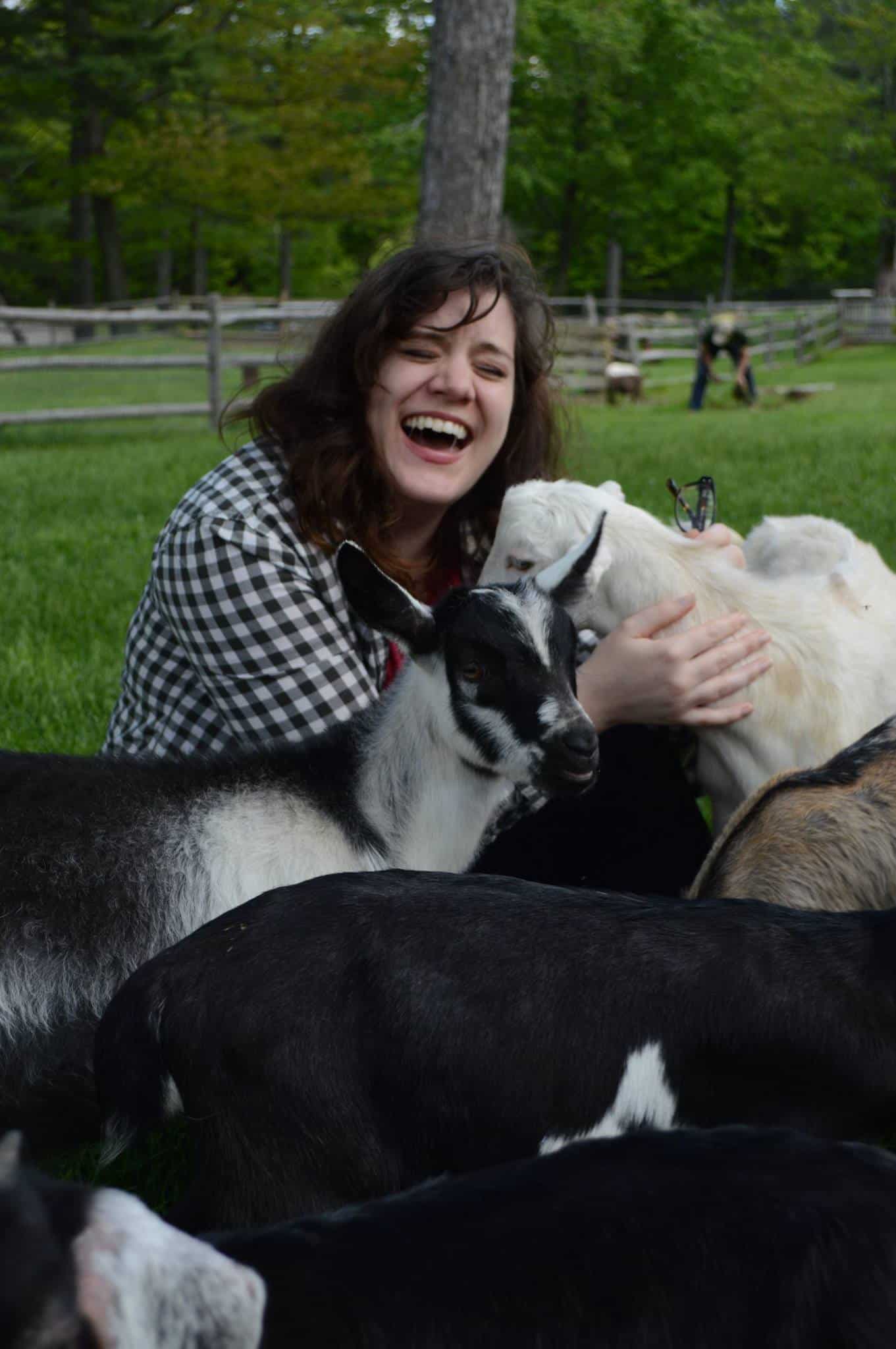 Amy Hartle is the founder and Editor-in-Chief of New England With Love, a comprehensive resource for travel in the New England region. Amy has been exploring New England since 2001. She lived in Vermont for many years and is a graduate of Plymouth State University in New Hampshire. Amy has been writing about travel for over a decade. On this site, Amy aims to share her love of New England and help you to have the best possible adventures!
Amy has been a full time blogger since 2012, and is also the publisher of Two Drifters, where she writes about couples travel and relationships, as well as Let's Adventure Baby, a family travel site. When not traveling the world or creating epic blog content, Amy can be found cuddling with her husband, son, and cats, & drinking a maple latte.