*This site uses affiliate links; if you make a purchase through these, I may receive a small commission at no cost to you.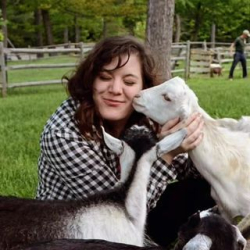 Latest posts by Amy Hartle
(see all)
There are zillions of places to stay on Cape Cod, it seems. How do you know what is the perfect spot for you?
On New England With Love, we aim to review as many New England hotels as possible for you, to help you discover wonderful places to stay across the region.
Considering The Captain's House Inn in Chatham, Mass? Or starting from scratch searching for the best inns on Cape Cod? We hope this detailed accommodation review will be of use to you.
Our visit to Captain's House Inn was hosted courtesy of the Inn. As always, opinions are our own and reflect our true experience.
Just a Super Pretty Cape Cod B&B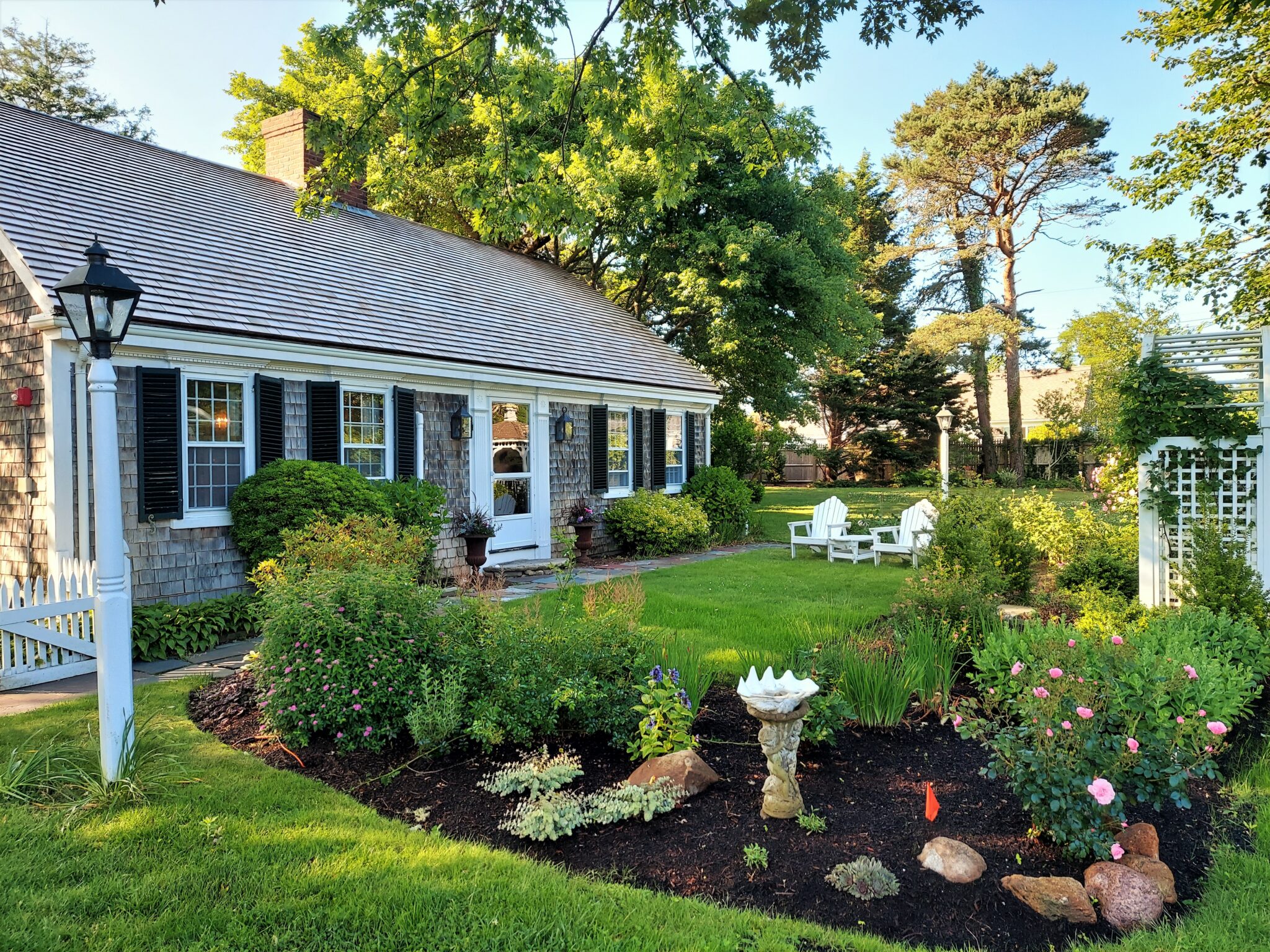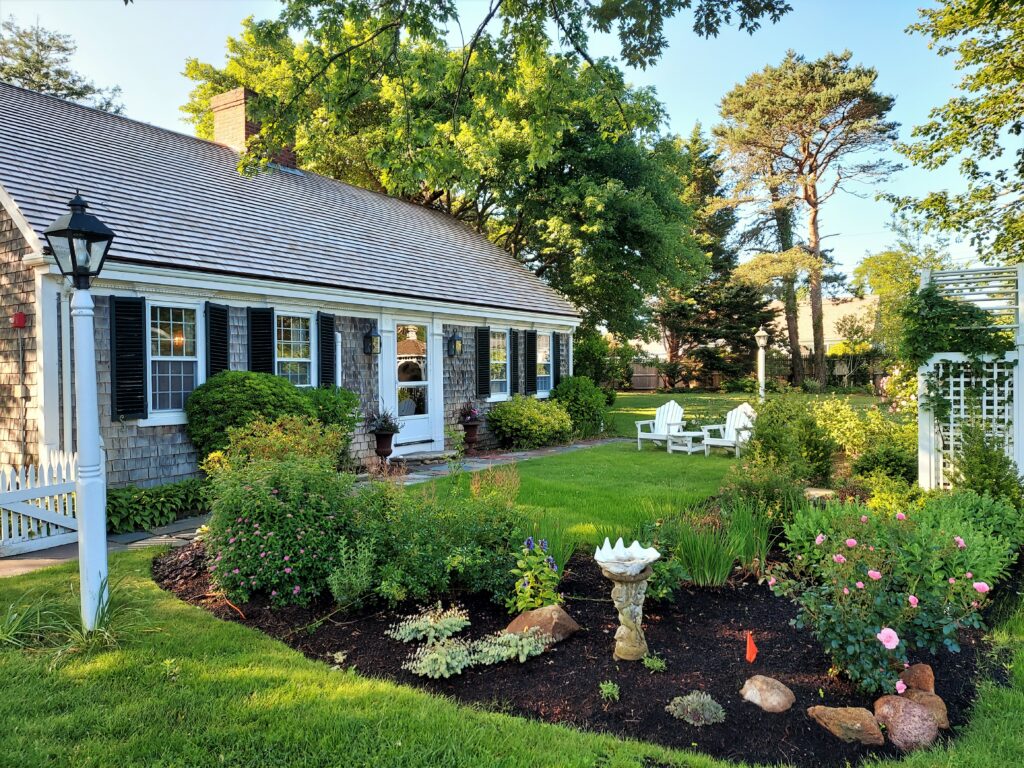 I don't know about you, but when I am picking out a hotel I want it to be as beautiful and charming as possible. You definitely get that at the Captain's House Inn in Chatham. First of all, if you're not sure where to visit on Cape Cod, we've got a guide to its towns right here. But let me definitely recommend Chatham as a quaint and fun spot. It's not *too* far out on the Cape to feel like super-long drive, but it's ideally situated near the southeastern edge. There's a lighthouse, great shopping, lots of sandy beaches. But don't let me convince you; check out our article on the best things to do in Chatham for all the details.
Back to the Captain's House Inn. Right away you'll get the sense that this is a special place. The B&B sits on a quiet street. It's sprawling lawn is bedecked with classic white Adirondack chairs, pretty flower gardens, a cute gazebo, and an inviting tree swing. Simply put, there's plenty of nature to relax amongst here.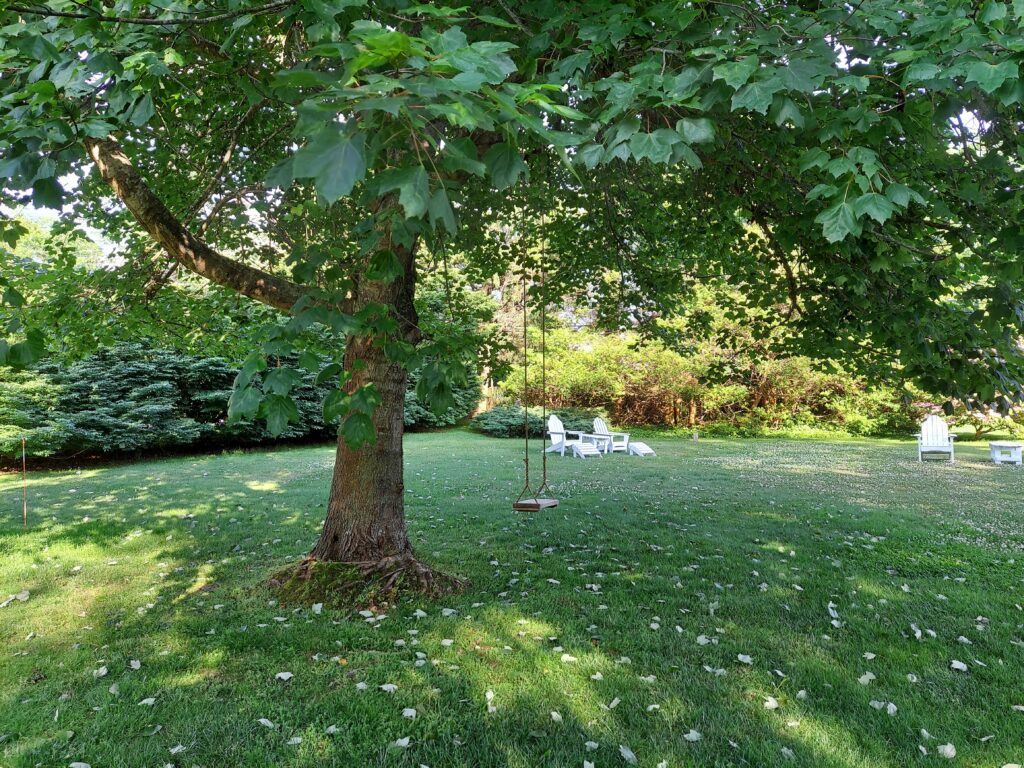 About the Captains House Inn
One of the best things about New England is how it is so deeply steeped in history. This inn is no exception. You can read the entire inn's history on the website, but the basics are that Hiram Harding, a young newlywed ship's captain, had the main house (a Greek Revival) built for his new bride Lydia back in 1839. Since that time, the inn has expanded, and clearly gone through some changes, but it still has a strong sense of being original and authentic. Some things haven't changed since then!
The Inn has a very welcoming atmosphere: staff is friendly, smiling, and always ready to offer advice or service. Innkeeper Aubrey was especially helpful and welcomed us warmly upon arrival. (Also welcoming us upon our arrival were the freshly-baked cookies that come out of the oven in the early evenings. Yum!)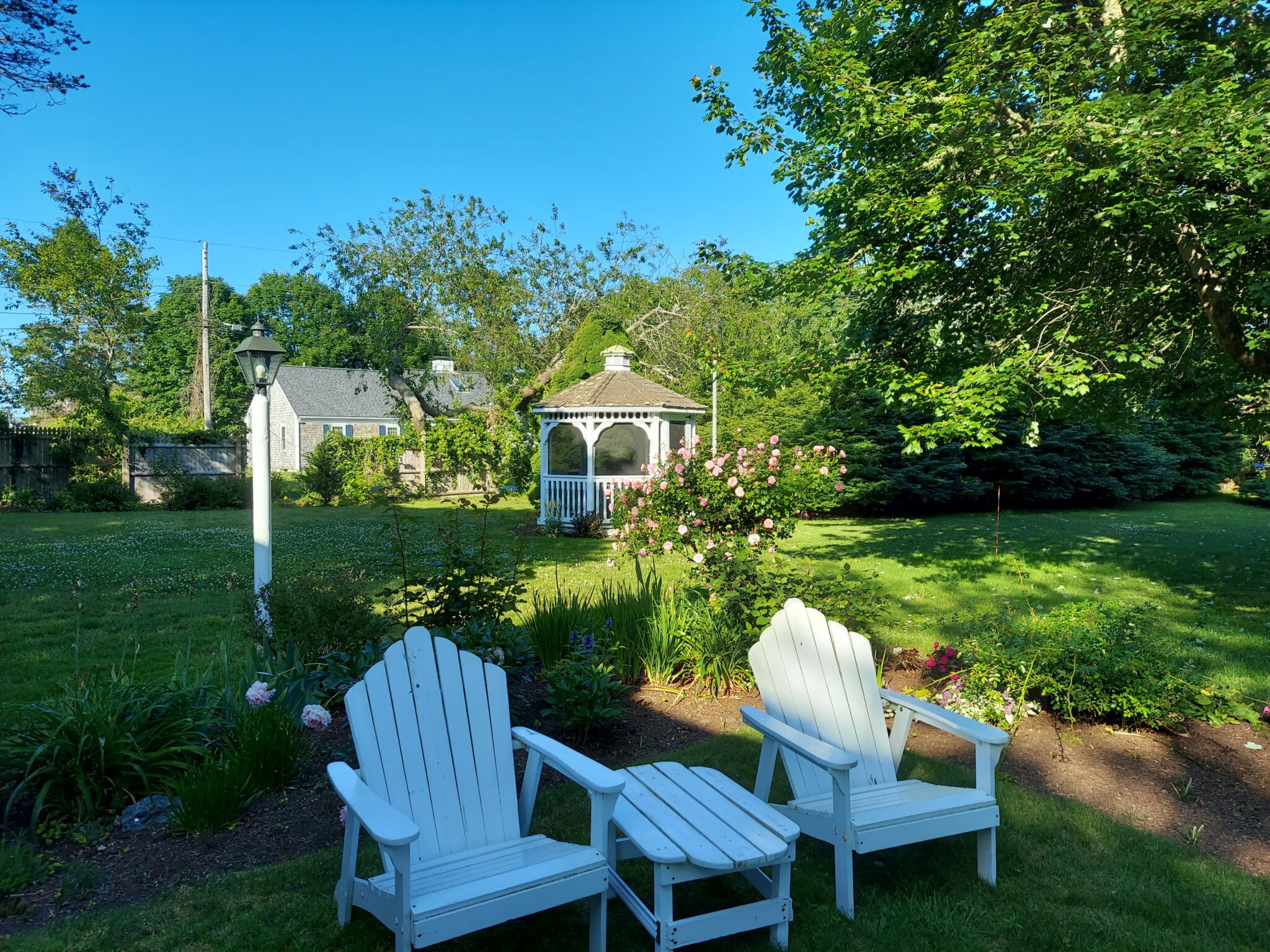 We arrived in the early evening hours, though check-in begins at 3pm. When we got there, the summer lighting was so soft and beautiful that we immediately spent some time wandering through the yard and gardens.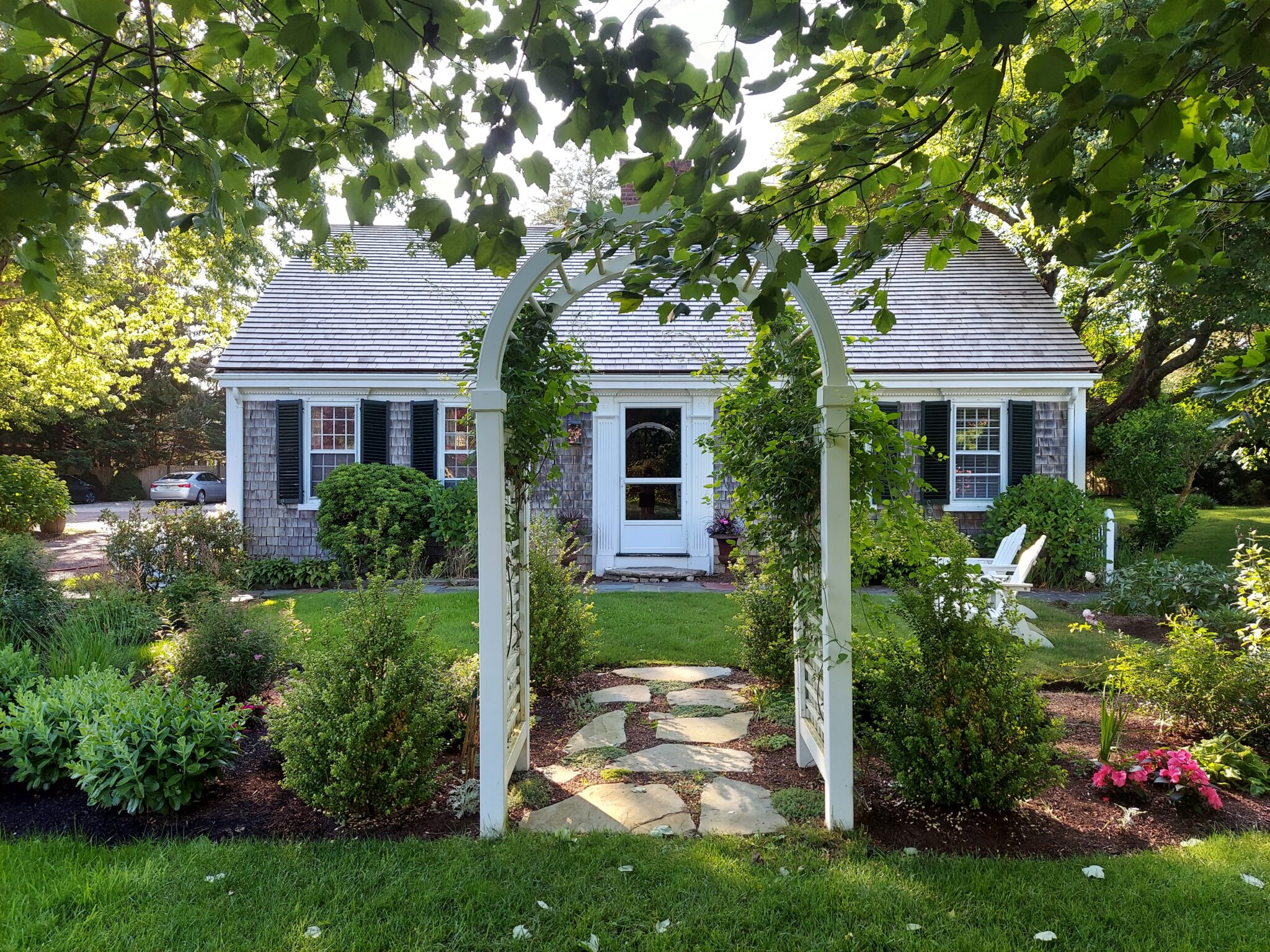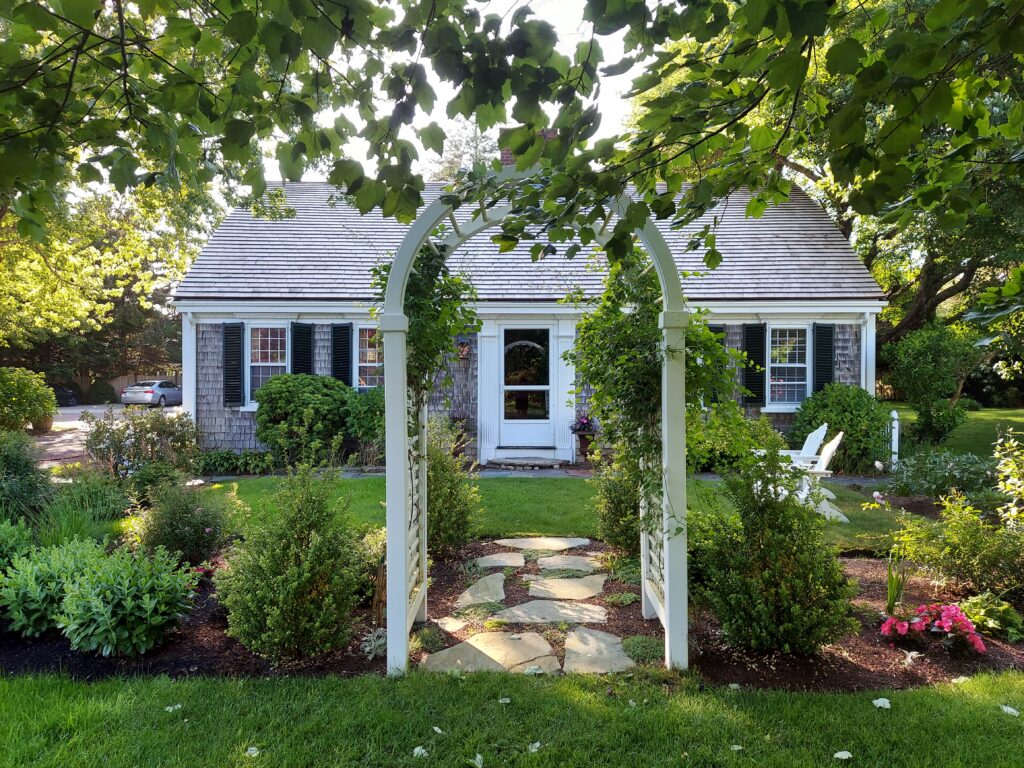 The Rooms
The Inn today has 16 guest rooms, all of which are unique and well-appointed. I think that one of the most charming aspects of a bed & breakfast is that each room is so different. It makes every single stay original and distinct and gives each space its own flavor. While we stayed in the Hiram Harding room—which was so dreamy and perfect for us—the other rooms look incredibly inviting and cozy. Among of my favorites would be the Eliza Jane Suite in the main house (romantic tub, fireplace, and rich red wallpaper), and the Lydia Harding Suite in the stables (whirlpool tub, deck, and more).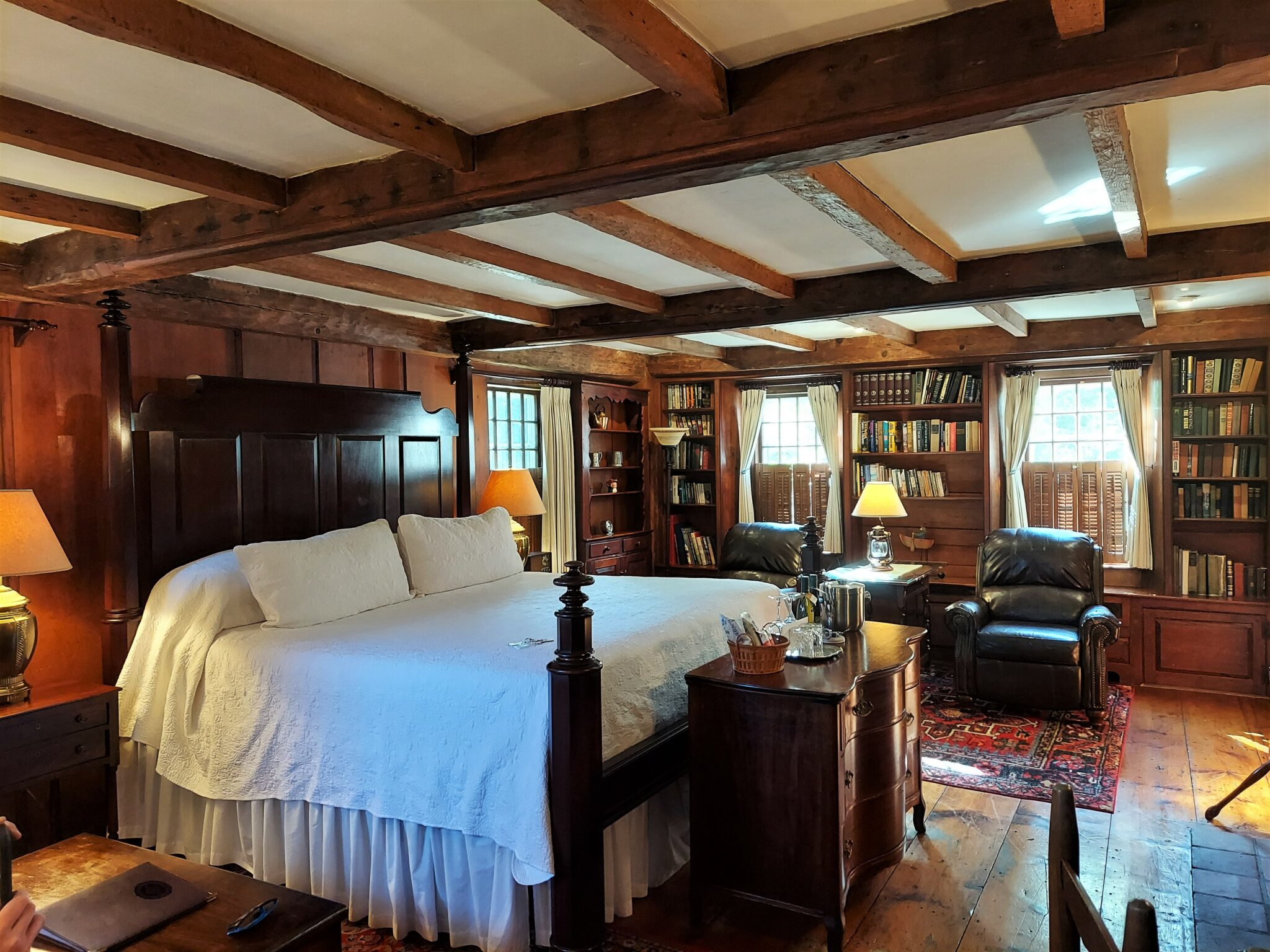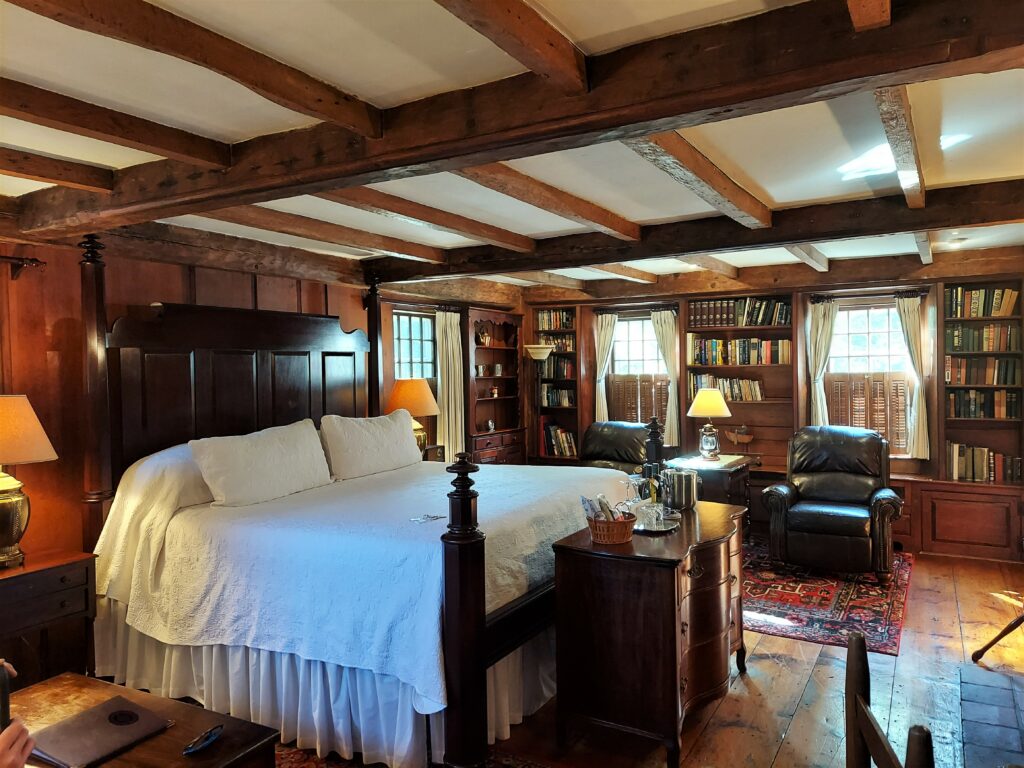 But the Hiram Harding Room is definitely worth your consideration. Situated on the first floor of the Captain's Cottage, this room is spacious and warm. It is outfitted like an opulent, masculine library: books, leather, wood. We adore that style and so this space felt incredibly cozy to us. Historic details include original pumpkin floors, walnut walls, and beamed ceilings.
The bed is epically comfortable (though a little high for us shorties; be sure to use the supplied little stairs to climb aboard!) I can't say enough about the soft sheets! We definitely slept like babies during our stay.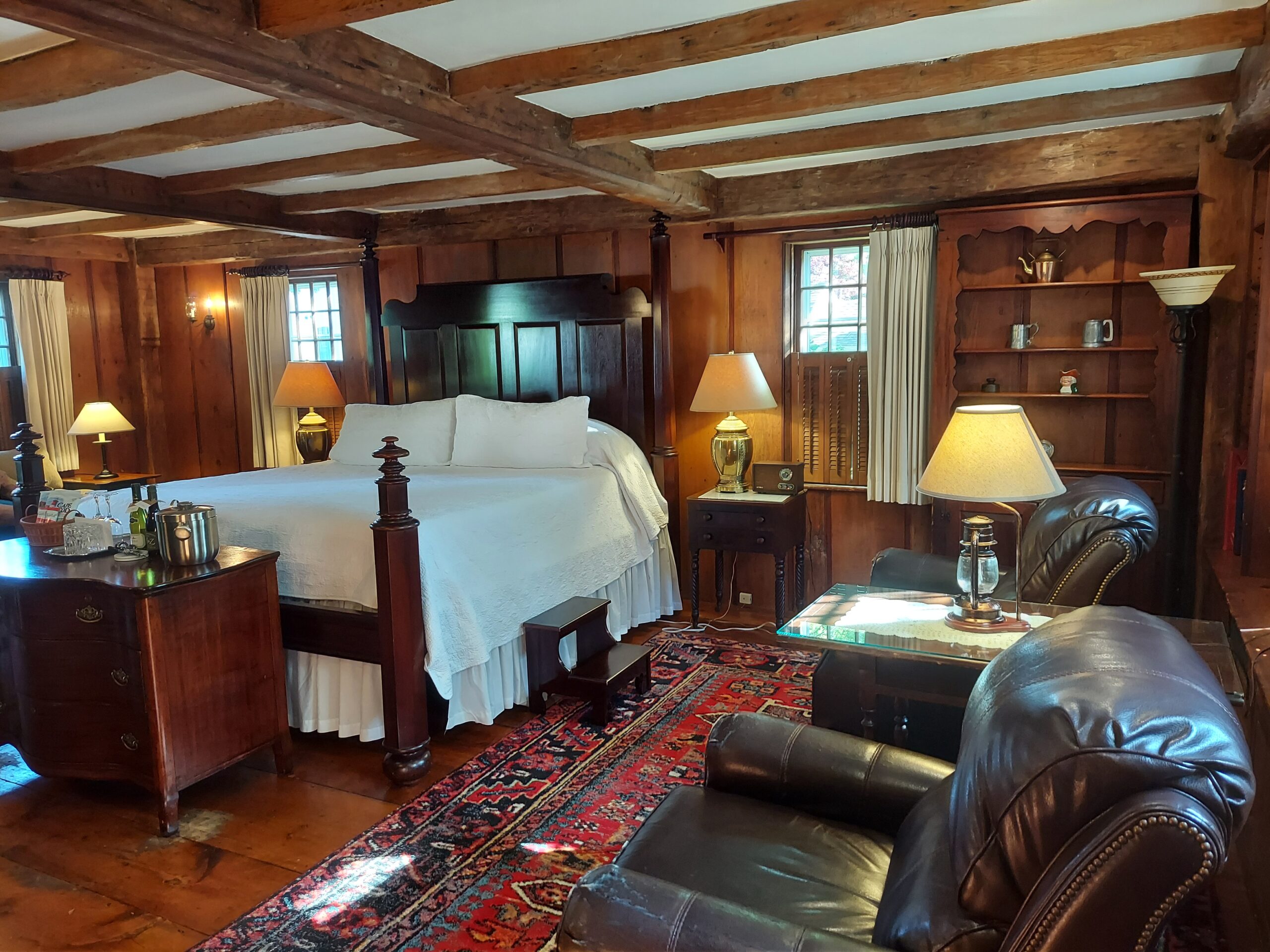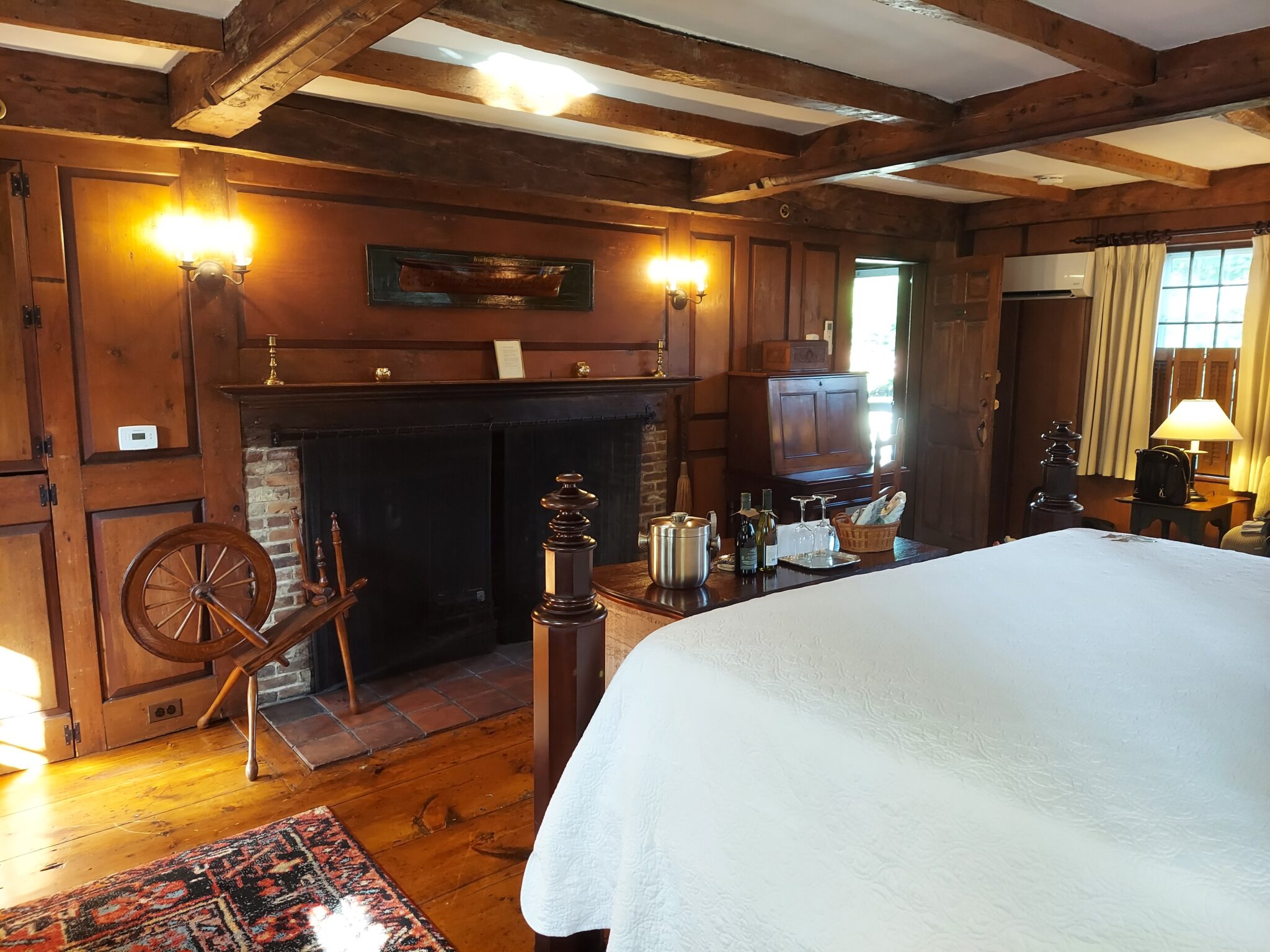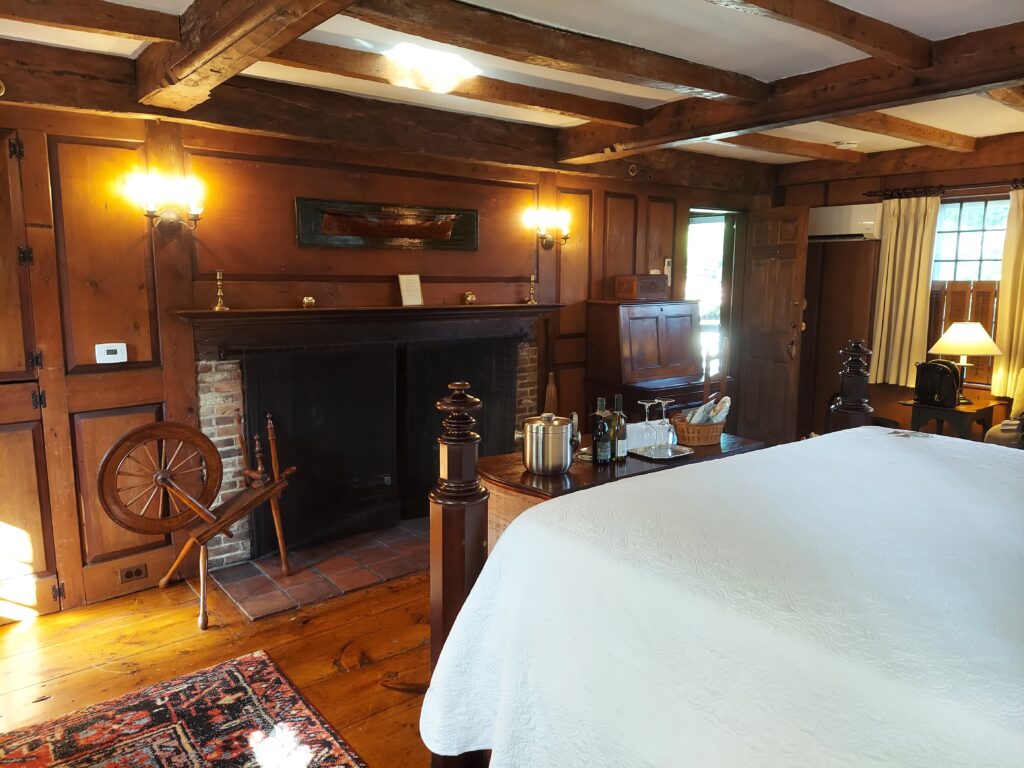 There is a large wood-burning fireplace in the room as well. Although it was a bit too warm during our summer stay to light the fire, there are plenty of cool nights on the Cape that would give you the opportunity to do so. We would have loved to share a bottle of wine while relaxing in front of the fire!
Perfect for a Romantic Getaway
The Captain's House Inn could be an excellent choice for a romantic Cape Cod getaway! The setting and the rooms all perfectly lend themselves to romance, and the inn offers lots of packages and special touches that could make your stay that much sweeter.
For example, you can arrange to have flowers, chocolate-covered strawberries, or other treats ready in your room upon your arrival. You could opt for a guest room with a jacuzzi tub fit for two. Or the staff can help you arrange for a relaxing couples massage nearby. Definitely do not hesitate to ask how your stay can be ultra-romantic, and be sure to check out the inn's romance, wedding, and even babymoon packages!
Breakfast & Tea
We can't talk about this Cape Cod bed & breakfast without mentioning the breakfast itself! Your stay will be made complete by the tasty breakfast you can enjoy from 8-10 in the mornings. Just head to the peaceful breakfast nook in the main inn building and you'll be treated to the usual suspects like eggs, bacon, and toast, or opt for one of their daily specials like this incredible crunchy French toast. I miss it already!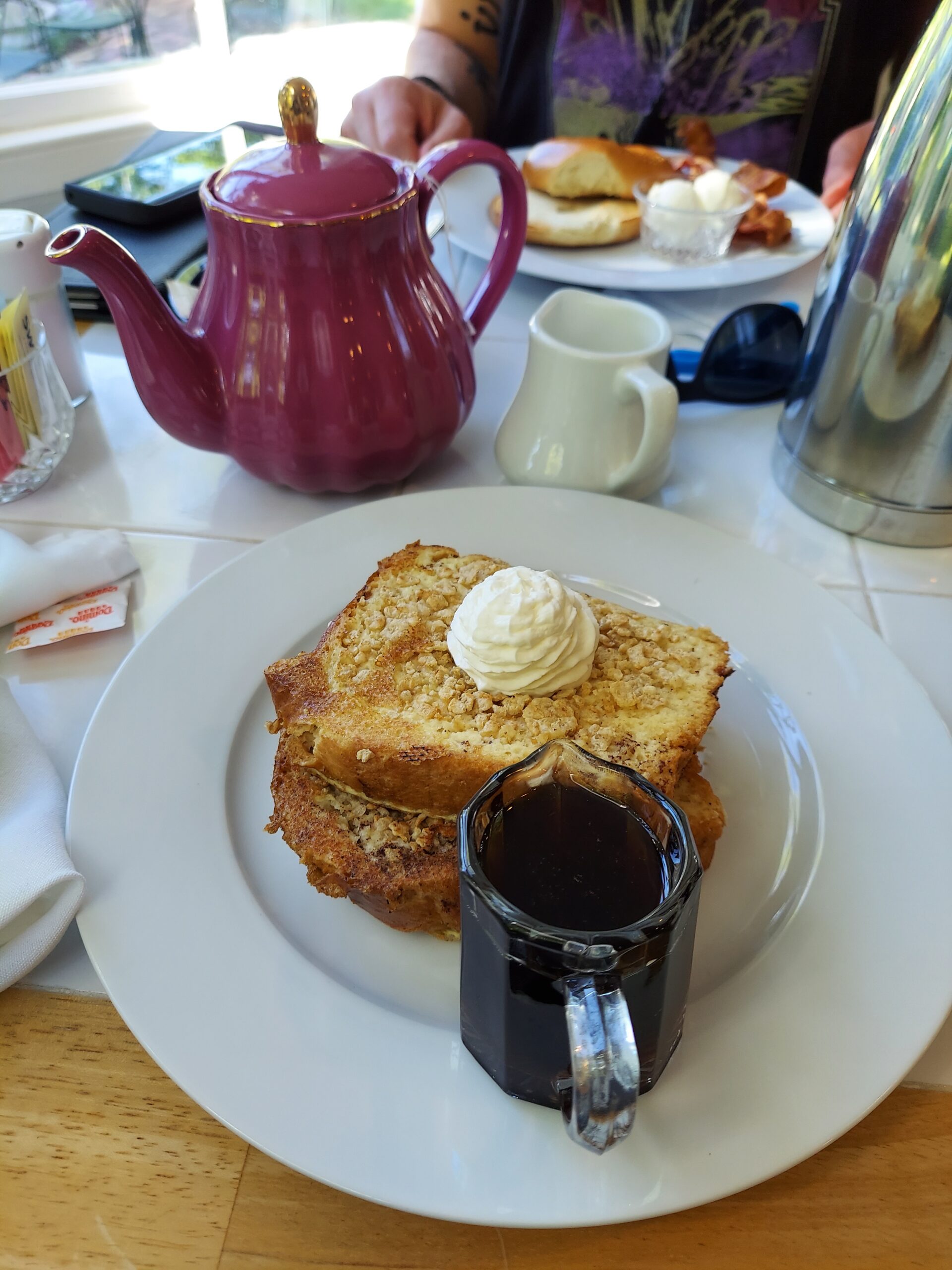 More Info
The Captain's House Inn is a member of the Distinctive Inns of New England as well as Select Registry, so you can feel confident you're choosing a highly-rated and distinguished property for your stay in New England! If you're looking for a bit of luxury on the Cape—and really, who isn't?— we recommend considering Captain's House!
You can book direct through the website, or through your favorite accommodation search engine such as Trivago or Booking.com. PS: These are also great sites to check out the glowing reviews of the inn.
---