Cape Cod, Massachusetts is an exquisite getaway destination for any time of the year. With beautiful beaches, scenic nature, gorgeous hotels and vacation rentals, and culture of all kinds, there's a lot to explore, learn, and experience.
But where should you start when looking for Cape Cod fun? What are the best towns in Cape Cod to visit and to stay?
Let's take a look at some of the most distinctive and enticing factors about the many wonderful Cape Cod towns, so you can start planning your next coastal adventure.
Best Cape Cod Towns for Beachgoers
If you're planning a trip to Cape Cod with one mission in mind – spending as much time in the sun, sand, and sea as possible – then these towns are for you! While every single one of the towns on Cape Cod is near water, these ones offer especially good opportunities to enjoy yourself on the beach.
Dennis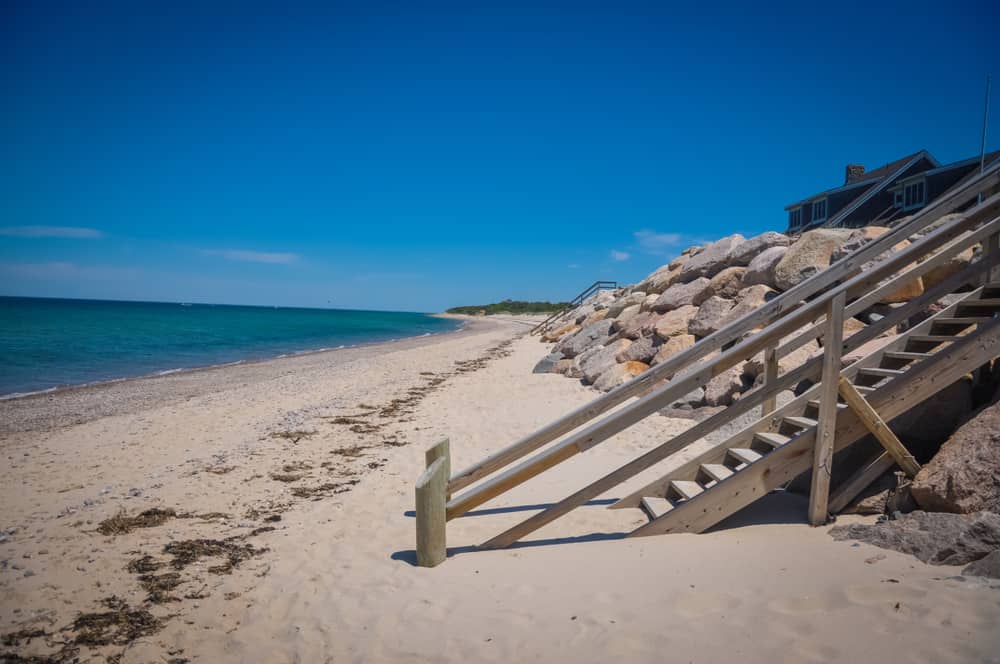 Dennis spans the length of the mid-Cape, with shores on both Cape Cod Bay and the Atlantic Ocean/Nantucket Sound. The ever-popular Mayflower Beach on the Cape Cod Bay side of town has calm, warm waters and an expansive shore to relax on all day long. Corporation Beach, also situated on Cape Cod Bay, is popular with families, for its similarly placid waters and fascinating tidepools that have plenty to discover.
On the ocean side, try out West Dennis Beach, where you'll discover three miles of public coastline. As a popular vacation town, there are plenty of vacation rentals available all year long. Given its central location, it's also the perfect launching point if you plan to visit all the towns of Cape Cod during your trip.
Where to Stay in Dennis: Kingfisher Lodging, one of the best pet friendly hotels in Cape Cod!
Click Here to Check Prices & Book!
Eastham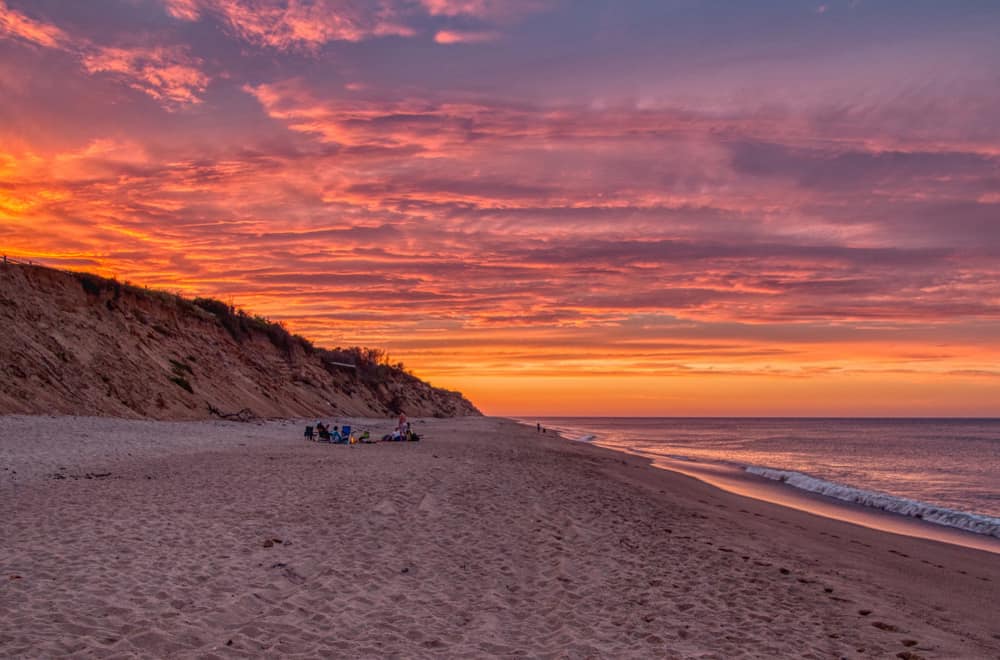 A beach town to its core, Eastham is situated on the Outer Cape with beaches on both the Atlantic side and the Cape Cod Bayside. As the home to Coast Guard Beach, which routinely ranks as one of the best beaches in the United States, it may come as no surprise that Eastham is one of the top places to visit for a spectacular coastal experience.
Coast Guard is just one beach along the Cape Cod National Seashore, a stretch along the Atlantic coastline full of beaches with big waves, picturesque sand dunes, dazzling beach cliffs, and iconic lighthouses just waiting for you to explore. First Encounter Beach is a quiet Bay-side beach with expansive views and balmy, tranquil water. What makes it especially amazing is that it is a no-frills, hidden gem of a beach, where you can really get away and let the beach work its magic on you.
Where to stay in Eastham: Blue Dolphin Inn, great for families with an onsite playground and a large outdoor pool!
Click Here to Check Prices & Book!
Falmouth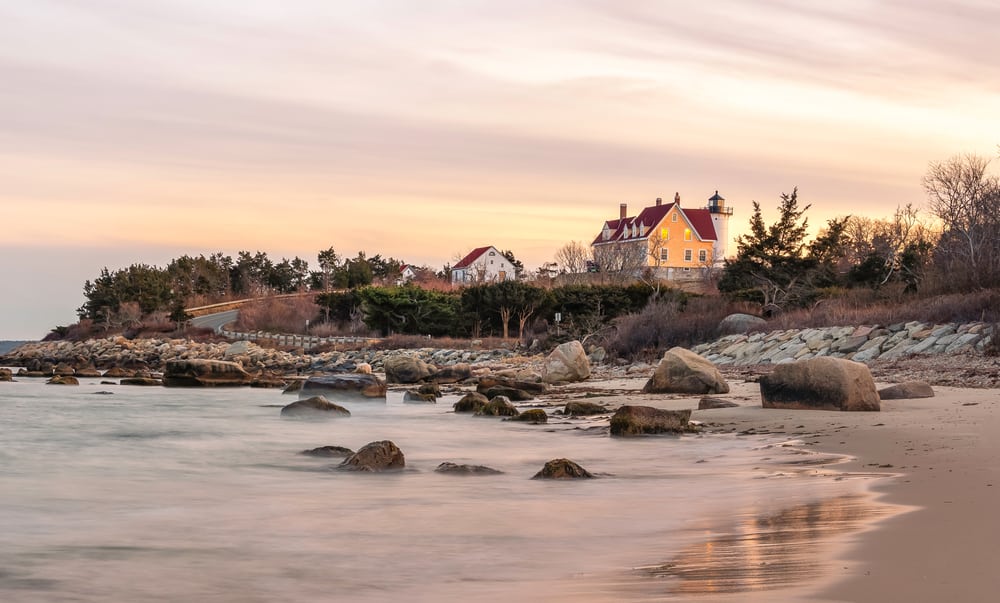 If you're searching for a town where the beach is ingrained in its identity but it's not too distant a drive from Boston or other places in New England, then Falmouth is a great place to stay.
One of the westernmost Cape Cod towns, Falmouth has incredible beaches. There's Old Silver Beach, which boasts clear water, a wide swath of sand, and spectacular sunsets. Chapoquoit Beach (or "Chappy") is a special place located on a peninsula in Buzzards Bay. Its secluded location and small size mean it's quieter than the bigger beaches, but it's worth it for the amazing swimming in deep waters, salt marshes and animals that live in them, and superb westward views of the sunset.
Once you're done with the beach, be sure to visit Falmouth's beach-town-perfect Main Street, which has candy shops, souvenir shops galore, and amazing places to eat everything from Chinese food to surf & turf.
Where to stay in Falmouth: AutoCamp Cape Cod! Like glamping on steroids. Really and truly, their accommodations are so nice.
Click Here to Check Prices & Book!
Wellfleet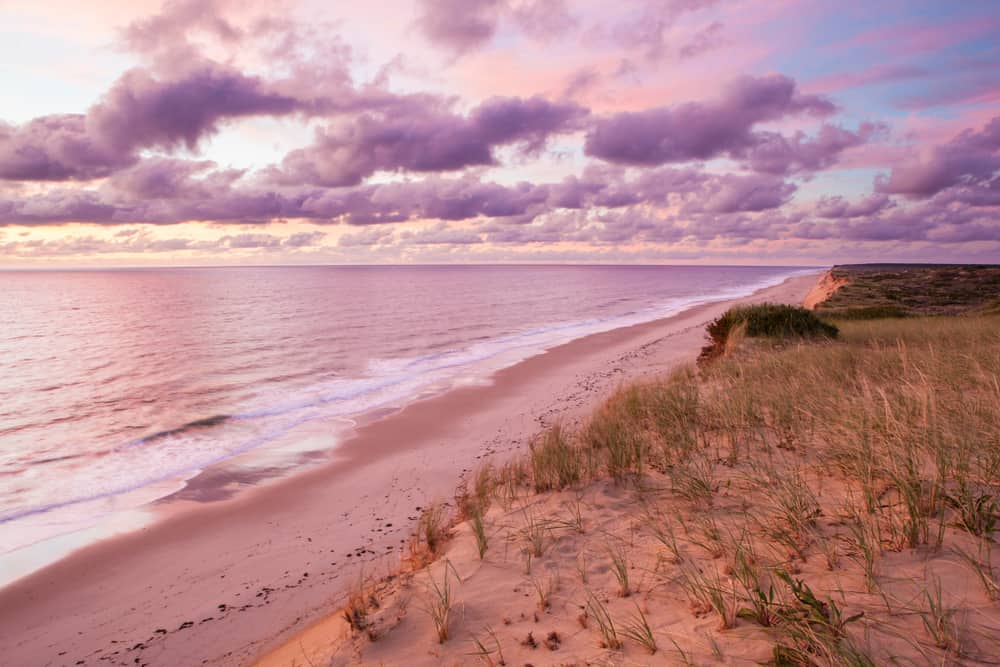 For a town that offers variety, head to Wellfleet, a blissful escape route to myriad saltwater and freshwater beaches. Here, you'll discover amazing Wellfleet beaches like the popular Marconi Beach, a part of the Cape Cod National Seashore, and the quieter Whitecrest Beach. There are also smaller freshwater beaches like those on Gull Pond and Long Pond.
This community embodies the beachy lifestyle, and visitors who love sand and surf will savor spending time here. Over sixty percent of the land is along the Cape Cod National Seashore; how much of it can you traverse during your stay?!
For those looking to make the seaside atmosphere last into the night, a visit to the Beachcomber is a can't miss experience for live music and a beach bar. Movie lovers will enjoy capping off their day at the old-school Wellfleet Drive-in theater.
Where to stay in Wellfleet: A classic Cape Cod family-run motel, the Wellfleet Motel & Lodge has both outdoor and indoor saltwater pools on their 12 acre property, so swimming is always in season!
Click Here to Check Prices & Book!
Best Towns on Cape Cod for Nature Enthusiasts
While many towns of Cape Cod are known for their beaches, sandy shores aren't the only place to get outdoors while down the Cape. With unique marine habitats, pitch pine forests, and trails of all kinds, Cape Cod is a nature enthusiast's paradise and offers plenty of venues for essential summertime activities.
Whether your Cape Cod goals are to hike, birdwatch, bike, paddleboard, or something else entirely, there's plenty of nature to explore and activities to be discovered in these Cape communities.
Sandwich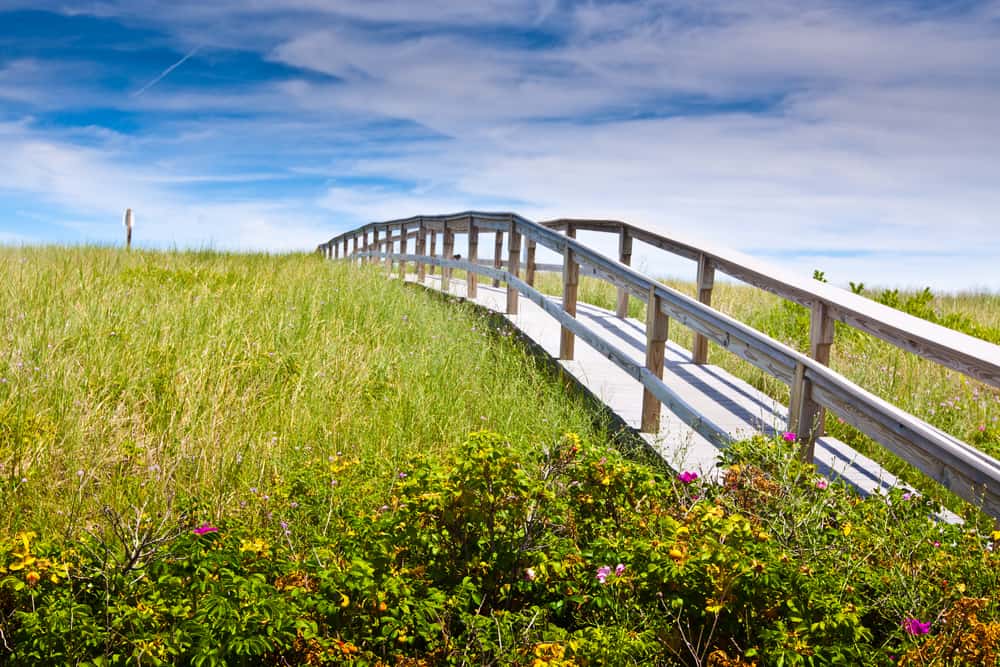 Home to Shawme-Crowell State Forest, Sandwich is a great getaway for beach and forest lovers. With 15 miles of trails and almost 300 camping sites, Shawme-Crowell is the place to stay if you like sleeping under the stars.
Sandwich is also home to the Heritage Museums and Gardens. It has acres of luxuriously manicured gardens and miles of trails, where your mind will be at ease as you walk and admire the flowers. Plus, Heritage Museums and Gardens has a can't-miss antique automobile collection, a historic carousel, and a treetop adventure park.
The tidal flats of Cape Cod Bay off Sandwich are a gorgeously scenic place to get out on the water. Rent a kayak or paddleboard and get out on the water, see Cape Cod wildlife, and take a walk in the landscape.
And when you're ready for the ocean? Check out Town Neck Beach and don't miss the boardwalk! Sandwich is also a perfect launching point if you plan to visit the beaches of Buzzards Bay.
Where to stay in Sandwich: Belfry Inn & Bistro! This gorgeous Cape Cod bed and breakfast style inn is a delight for the senses, from the architecture to the decor to the scrumptious offerings of the inhouse restaurant!
Click Here to Check Prices & Book!
Bourne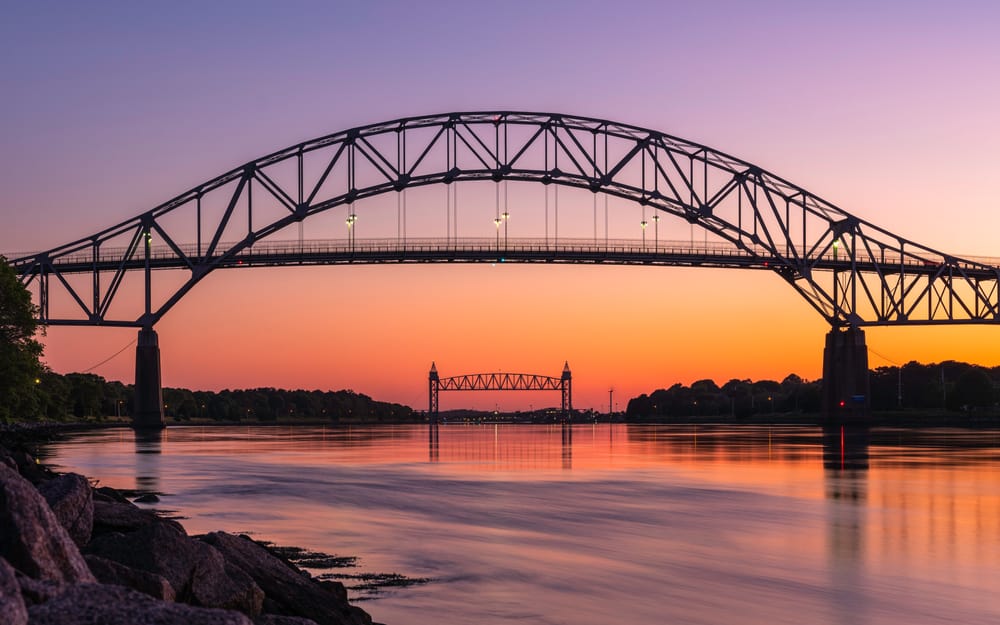 Known for its namesake bridge that carries people, automobiles, and bikes over the Cape Cod Canal and onto Cape Cod proper, Bourne is home to countless outdoor adventures. Adjacent to the canal is a 7-mile long path, where runners, walkers, bikers, and meanderers enjoy time off the road to observe the canal and everything in it. Rent a bike nearby or take a stroll.
Whether it's an up-close look at a boat or a fish, there's a lot to see in the canal separating the Cape from the mainland. For those fascinated by aquatic animals, be sure to visit the National Marine Life Center, which has an education center as well as an animal hospital.
Hikers will enjoy hitting the trails at one of several properties managed by the Bourne Conservation Trust. Some especially gorgeous trails can be found at the Bourne Sisters Woodland, Little Bay & Monks Park, and Red Brook Pond Conservation Area.
Where to stay in Bourne: Quality Inn Cape Cod is dependable, reliable, with an indoor pool and hot tub. Need we say more?
Click Here to Check Prices & Book!
Yarmouth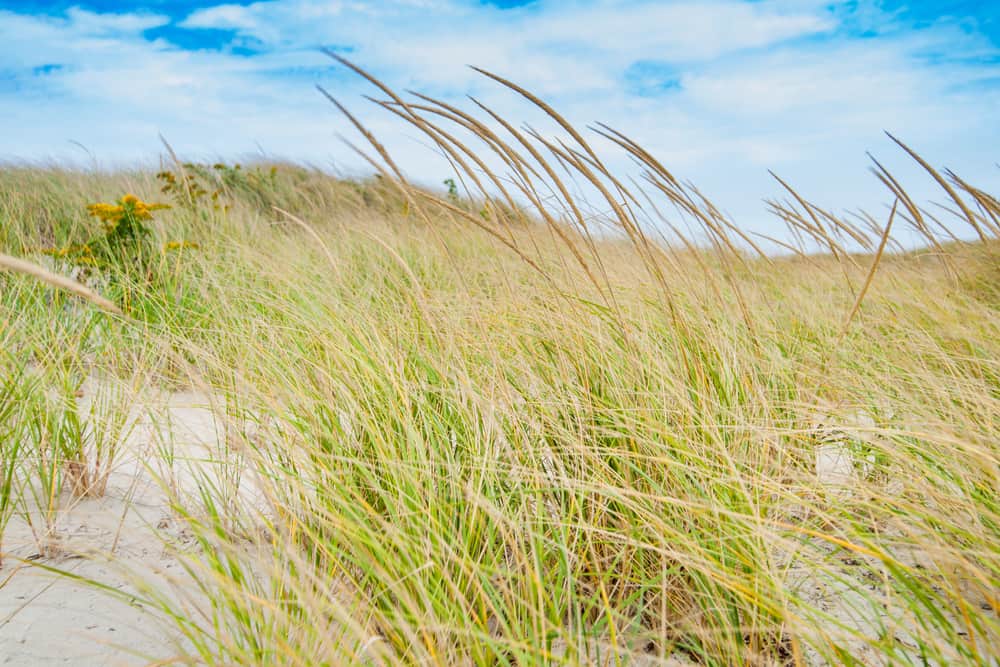 Yarmouth, a town situated mid-Cape, is the perfect place to go if you're seeking an active Cape Cod vacation. The newest section of the Cape Cod Rail Trail is located in Yarmouth, connecting the town with other Cape communities and amenities to the east. This flat pathway is great for bicycling, walking, jogging, and exploring!
For the perfect place to take in a sunset, head to the end of the 900-foot boardwalk at Grey's Beach in Yarmouth Port. It's a trek to get out there, but the sensational views over Cape Cod Bay make it worthwhile.
Head to Crab Creek Conservation Area or anywhere along the Bass River for a glimpse of people crabbing and coastal life galore. If you want to get out on the water yourself, rent a kayak or paddleboard (try Bass River Kayaks and Paddleboards, just on the other side of the river in West Dennis) and paddle your way along the Bass River.
Where to stay in Yarmouth: Riviera Beach Resort, especially if you're looking for kid friendly places to stay in Cape Cod! With sooo many onsite amenities, including beautiful indoor and outdoor pools, a private beach, onsite restaurant, and a whole slew of kid friendly activities, this is a very popular place to stay with kids.
Click Here to Check Prices & Book!
Best Towns in Cape Cod for a Refined Oceanside Getaway
If you're looking for a fancier coastal getaway, these towns are where to go in Cape Cod! With upscale dining, a winery, and posh places to stay and visit, you'll have a resplendent time in any of these Cape Cod towns.
Hyannis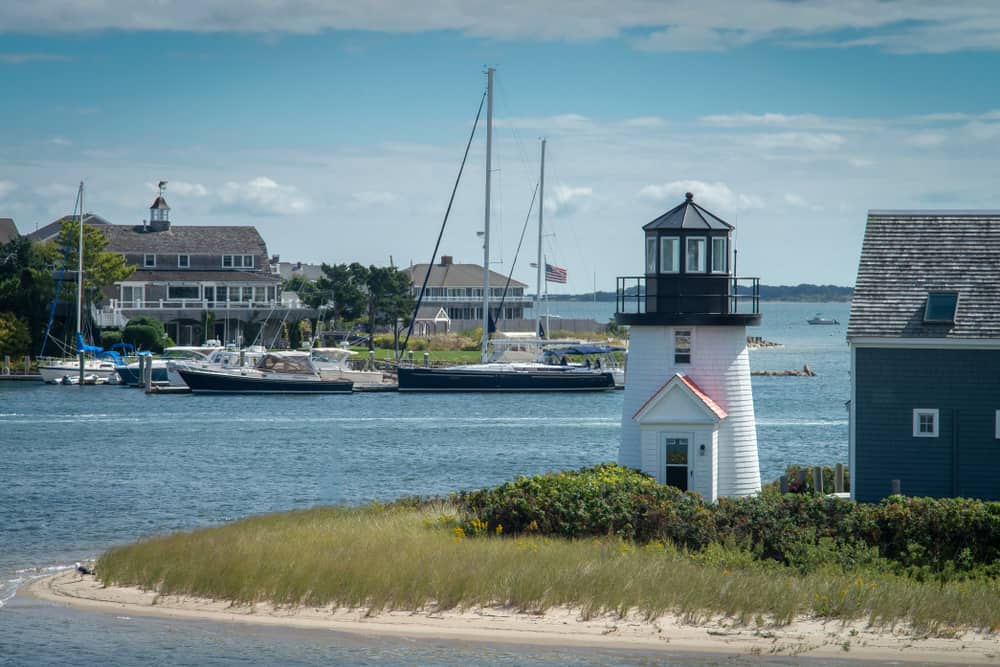 If the Kennedys vacationed there, it's got to be a classy spot – right? Technically a village in the enormous Town of Barnstable, Hyannis offers a refined and charming getaway on Nantucket Sound. Take a walk along Main Street for chic restaurants and shops. For dinner, try the Naked Oyster, and for delectable handcrafted pastries or Brazilian cuisine, patronize Mayflour Bakery and Cafe.
A visit to the JFK Hyannis Museum in Hyannis Port will give you new insights into this former president's life and family, contributions to society, and connection to Cape Cod towns. After visiting the museum, take a stroll along Main Street for charming sites and shops.
Hyannis is also a great launching point for a day trip to ever-classy Nantucket, as the Steamship Authority, located in Hyannis, provides hour-long ferry service to the island.

Where to stay in Hyannis: Cape Codder Resort & Spa! This is a great family friendly Cape Cod resort with plenty to accommodate both the kids and the adults in the group.
Click Here to Check Prices & Book!
Brewster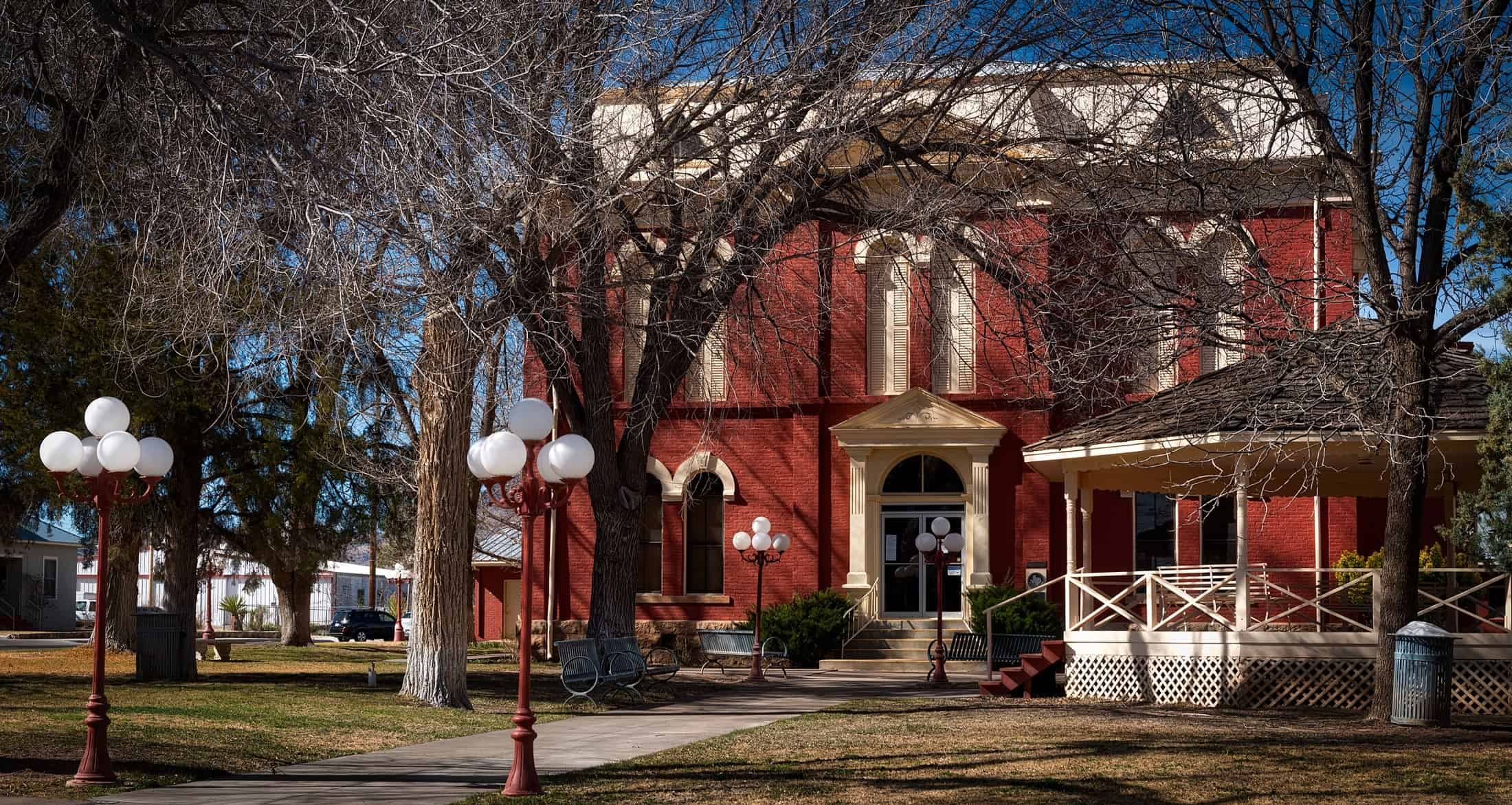 A stay at one of Brewster's inns in Cape Cod towns will invariably ease your mind, letting you slip right into vacation mode! Try out Bramble Inn, Brewster By The Sea Inn, or Old Manse Inn for an unforgettably relaxing and ambient experience. The Ocean Edge Resort and Golf Club is a fine place to stay or to spend the day; after teeing up, pay a visit to the spa or dine at one of several restaurants and cabanas on the property.
To learn about Brewster's history, take a tour with the Brewster Historical Society – there's even an option to participate in a Sea Captain's Tea at the Captain Freeman Inn! For fine shopping, walk along Main Street, where you'll find the Brewster Bookstore, Wisteria Antiques, and HandCraft House.
Or, go to the Lemon Tree Village Shops, for artisan goods and galleries. In the mood for a show? The Cape Repertory Theatre has indoor and outdoor performances that will please anyone's desire for culture.
Where to stay in Brewster: For a beautiful bed and breakfast experience on Cape Cod, Brewster by the Sea is always a great choice.
Click Here to Check Prices & Book!
Chatham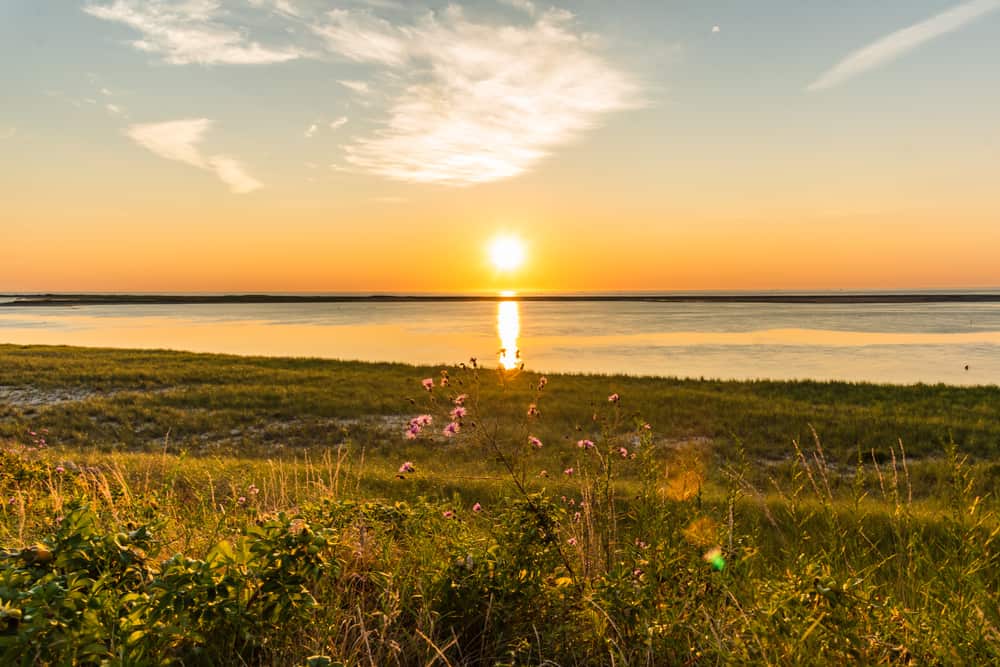 Chatham is one of the classiest Cape Cod towns and villages around, and you'll relish a stay in this sophisticated Outer Cape community. Book a room at the Chatham Bars Inn and you'll delight in gracious hospitality, farm-to-table dining, gardens overflowing with hydrangeas, and beachfront cabanas. Or, just book a table and enjoy a cocktail on the veranda or a meal at one of the property's oceanview locations.
Visit Chatham Light for a scene straight out of a classic Cape Cod postcard. For a story, you'll be sharing for ages to come, book an oyster tour with Chatham Shellfish Company. You'll even get to participate in the harvest and of course, enjoy some of your catch after the tour's over.
Where to stay in Chatham: The very epitome of Cape Cod luxury, Chatham Bars Inn is where to go for pampering on the Cape!
Click Here to Check Prices & Book!
Editor's Note: My little family was fortunate enough to stay at the Captain's House Inn in Chatham last summer, and it was such a beautiful experience! We highly recommend it, and you can read all about our experience here.
Truro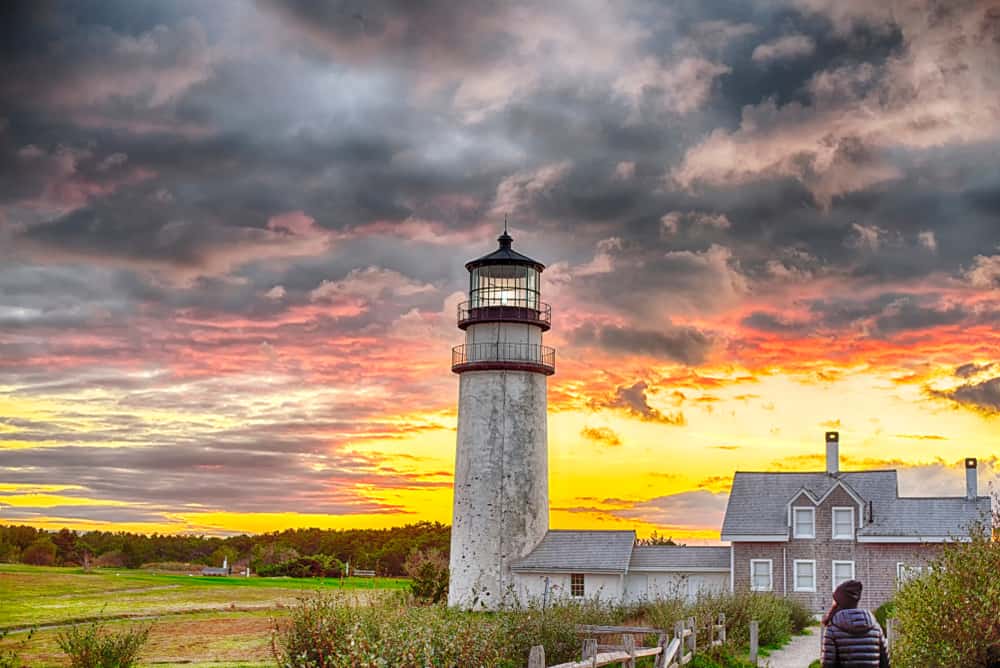 For a simple and romantic getaway, Truro is the place to go. Its rural charm is in contrast to some of the busier, more developed Cape Cod towns, but you'll still get a healthy dose of coastal magic in this community.
For a refined afternoon in this Outer Cape destination, take a trip to Truro Vineyards. The 19th-century farmhouse tasting room and rolling lawn will make you want to linger and savor the day.
For dinner, try out Blackfish for an excellent dining destination with upscale local fare in a rustic setting (the building is a former blacksmith's shop!) and the Whitman House Restaurant and Bass Tavern, a historic venue with both pub-style and seafood menu options.
If you're searching for a place to have a romantic walk on the beach, Truro is just the place. Head to Corn Hill at sunset for an especially picturesque view.
Where to stay in Truro: Dune Crest Hotel is beautifully situated on the dunes of Truro, and guess what? It even has a dog park onsite, so if you're looking for pet friendly Cape Cod hotels, check this one out!
Click Here to Check Prices & Book!
Best Towns on the Cape for Culture and Arts
Many towns of Cape Cod are home to artists and artisans all year long. From artist's colonies to exquisite fare to historical and cultural festivals and more, these towns will spark your sense of intrigue. Whether you're staying in one of these towns or another nearby, spend some time at any of the destinations in these communities shared below to learn, let loose, and ignite your sense of creativity.
Provincetown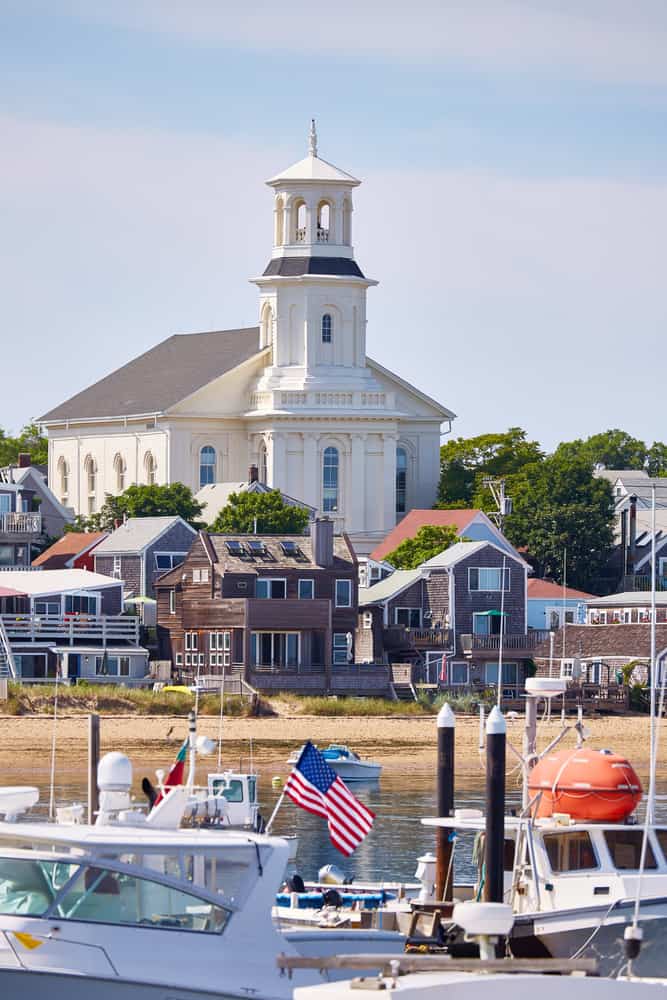 Provincetown, situated at the very top of the Cape Cod peninsula, is a community rich in culture and culinary treats. Visit the Provincetown Art Association and Museum for exhibits featuring artists who called the Outer Cape home, as well as works that draw upon the unique landscape of the region. The Provincetown Museum will teach you about the native and colonial impact and maritime culture, and the presence of each today.
If you're looking for an event that illuminates the significance of Cape Cod towns to the LGBTQIA community, check out PTown Carnival in August and Women's Week in October. Provincetown is a destination where you're just about guaranteed to have a spirited and memorable vacation; check out all the great vacation rentals in Ptown, too!
Where to stay in Provincetown: Planning a couples getaway? The Brass Key Guesthouse is your adults only luxury accommodation in Provincetown!
Click Here to Check Prices & Book!
Harwich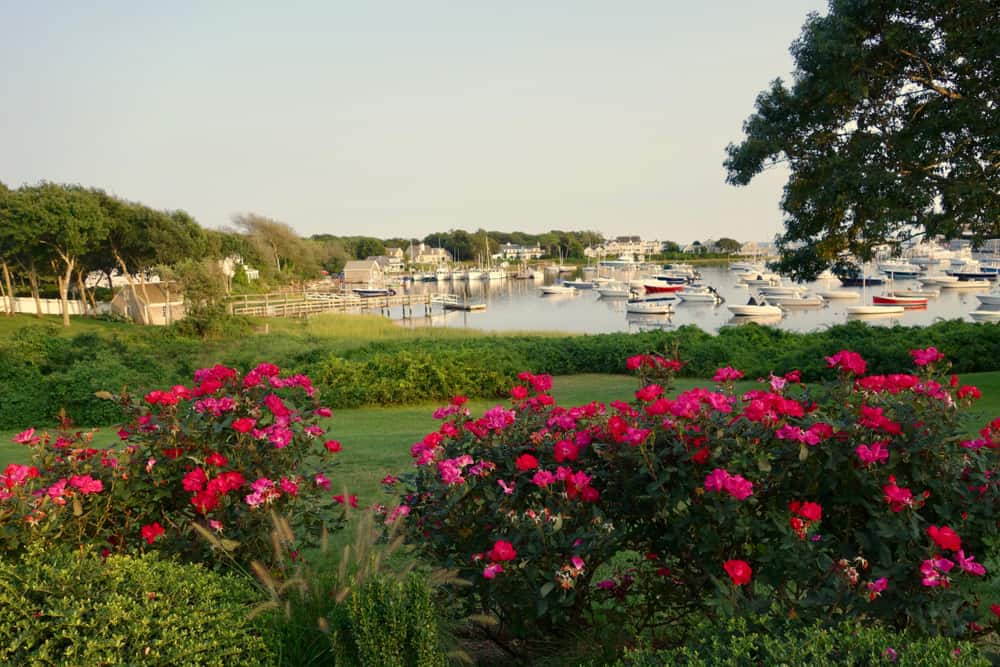 Harwich is a friendly community chock full of festivals that showcase the relevance of the landscape to local culture and society. Harwich Cranberry Arts and Music Festival, a weekend celebration featuring local music, arts and crafts vendors, and a taste of local flavors, takes place each September.
Harwich is also home to Cape Cod Lavender Farm, which vends lavender products of all varieties. Delight your senses on a visit to the farm, where you can take in the 11 idyllic acres.
For another treat, head to First Crush Winery, where you can participate in one of several tastings or be served by the glass. The tasting room is decorated with displays of winemaking tools old and new, which are sure to capture your sense of curiosity.
Where to stay in Harwich: Winstead Inn & Beach Resort! Technically two properties, the inn is located near the bike path, while the beach resort is located, well, on the beach, but both offer elegant, classy hotel experiences in Cape Cod.
Click Here to Check Prices & Book!
Mashpee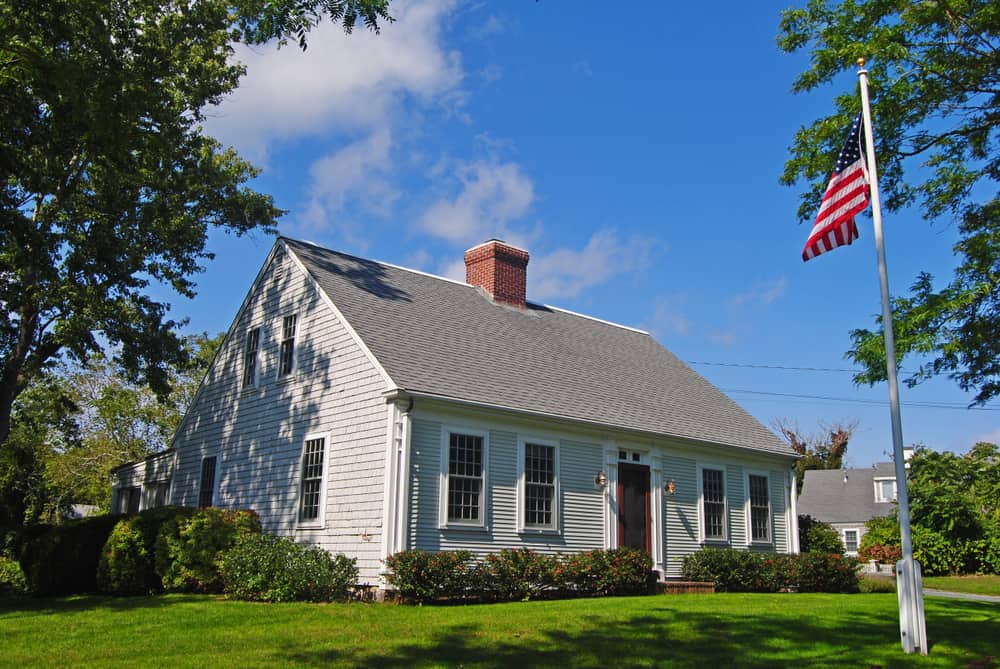 The town of Mashpee, situated on the upper Cape not far past the Cape Cod Canal, illuminates the intersection of Native American culture and nature. Visit the Mashpee Wampanoag Indian Museum to learn about the traditions, history, and modern culture of the Mashpee Wampanoag Tribe. In August, visitors can attend the Mashpee Pow Wow, a festival of dancing, crafts, food, and culture.
Those who admire art should not miss the Cahoon Museum of American Art, which features both historic and contemporary works, accentuating New England tradition.
If you want to head outdoors, visit the Waquoit Bay National Estuarine Reserve. This protected area on Nantucket Sound is home to aquatic life and their habitats, and visitors can attend public programming and partake in outdoor amenities that will suit many interests, including swimming, boating, fishing, hiking, birding, and more!
Where to stay in Mashpee: Southcape Resort and Club is just minutes to the beach, with a variety of great onsite amenities, making this a great place to stay for families.
Click Here to Check Prices & Book!
Orleans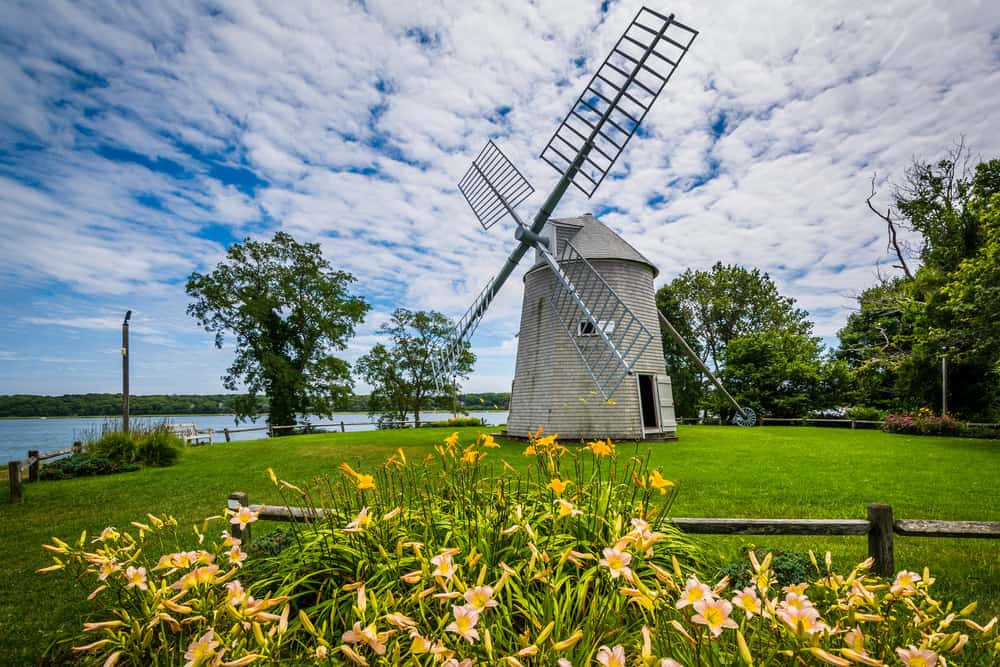 With tons of art galleries along its main streets, visitors won't be surprised to learn that Orleans is a designated Cultural District in the Commonwealth of Massachusetts. Visit Tree's Place, Addison Art Gallery, or the Artisan Cottages at Orleans Market Square for art, gifts, decor, and more.
If you want to learn more about the history of Cape Cod Towns, check out the Orleans Historical Society, which is housed in the old meetinghouse and offers walking tours, exhibits, and lectures.
Its artsy scene crosses over to restaurants, where you'll find funky establishments including The Barley Neck (a spot with local fare in a former sea captain's house), and Hog Island Beer Co, which is named after the local island that is rumored to have buried treasure!
Where to stay in Orleans: The name might be a testament to the past, but The Olde Tavern Motel has been beautifully updated with the modern conveniences of today!
Click Here to Check Prices & Book!
All in all, there are Cape Cod towns that are ideal for just about every kind of vacation you're planning. Some are better suited for those that like to stay active and dive deep into community events and happenings, others are a better match for those who are looking for relaxing, scenic beaches to lounge on, and there's plenty in the middle that are a lovely mix of both; have fun on your Cape Cod vacation!
---
Read these next:
---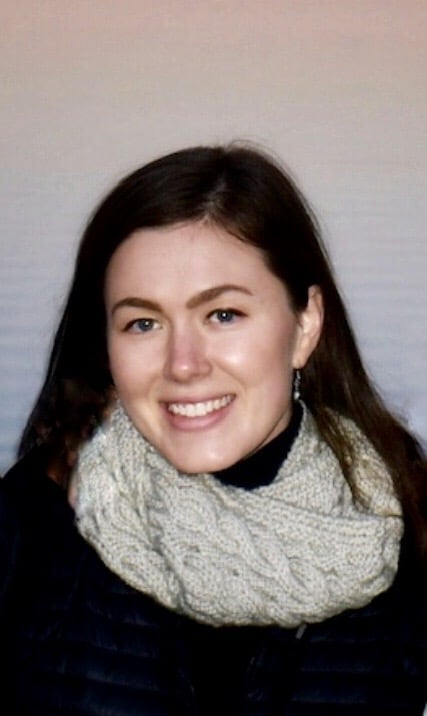 Mallory grew up in Connecticut, and after some time living in Ireland, Montana, and Virginia, she felt called back home to New England. She lives in Boston and writes about the intersection of urban living, outdoor adventure, and enjoying the simple things at SimpliCity Outside. Her favorite New England adventures involve hiking, finding ice cream shops, and exploring small towns.