Located on Cape Cod, Provincetown is one of the most popular places to visit in New England. It's very well known for being where the Mayflower landed back in the 17th century, but P-town has also become known for being a lively and liberal town that's welcoming of everyone. Plus, there are so many great restaurants in Provincetown MA!
Because there's so much to do in Provincetown, you'll definitely work up an appetite and will want to rejuvenate by eating at one of the local joints. Luckily, there are so many great restaurants throughout P-town, and many of them have great views of the water!
Keep reading to find out all of the can't-miss restaurants in Provincetown MA!
The Squealing Pig
Location: 335 Commercial St, Provincetown, MA 02657
First up is The Squealing Pig, which is a pub known for its tasty food and fun, live music that will make you want to dance. The exterior of the building is very inviting with its calm blue color and red accents. It looks like a classic building on the Cape!
Inside, the restaurant has a casual vibe, with wooden tables, an open bar, and televisions in different corners of the room. If you've ever been to a pub in England before, this may remind you of your time spent abroad!
The menu has mid-range pricing and includes tons of great dishes and starters. There are soups, salads, sandwiches, curry, kebabs, and more. They have traditional dishes like fried chicken to more traditional pub foods like Guinness braised sirloin stew!
Strangers & Saints
Location: 404 Commercial St, Provincetown, MA 02657
Next is Strangers & Saints, a local Mediterranean restaurant that served as a home for a sea captain in the area! It's definitely one of the more charming and unique restaurants in Provincetown MA, which is why it deserves a spot on this list.
The decor at Strangers & Saints is impeccable and really helps with the ambiance, which almost feels like a mix of historical goodness and elegance. There are wooden tables with gold accents, Edison-style lighting hanging from the ceiling, and teal blue walls. Even though the interior is relatively dark, the food will surely make you smile.
You can find dishes like pizza, octopus, salmon, short rib, and more on the menu. There are also many starters and even desserts that you can choose from, like honey cake with sour cream glaze and cranberry jam. Be sure to try one of their tasty house cocktails while you're visiting!
The Canteen
Location: 225 Commercial St, Provincetown, MA 02657
The Canteen is easily one of the top five most popular and well-known restaurants in Provincetown MA. It's an American restaurant that has a unique, eclectic theme to it. Seating is mostly all outside, right on the sand. You'll truly feel like you're eating right at the beach!
They're open every day of the week, so you can rest assured that you'll be able to eat there during your time in Provincetown. The Canteen is known for serving up traditional Cape Cod dishes, including lobster rolls made from local lobsters.
The menu isn't super long, but that's because they make a few dishes incredibly well. You can get sandwiches, fish and chips, salads, bowls, and more. There is also a wide variety of sides and small plates available, like raclette plates, currywurst, pork schnitzel, cheesy potatoes, and poutine.
The Mews Restaurant & Cafe
Location: 429 Commercial St, Provincetown, MA 02657
For a fantastic high-end romantic experience, be sure to go to The Mews Restaurant & Cafe. This New American restaurant has impeccable views of the water and a bar that it's pretty well known for, including every type of drink you could imagine.
The inside of The Mews Restaurant & Cafe is very laidback, with fun lighting on the ceiling and minimal decor. There's ample seating both indoors and out. For a great view right along the beach, be sure to ask for a seat outside. You'll literally be right by the sand and will generally have an unparalleled view of the water!
The Mews Restaurant has been open since the 1960s, so it's truly become a classic Provincetown staple that's loved by both locals and tourists alike. Because they are a more high-end restaurant, pricing is a bit higher as well, but it's worth it. The menu consists of seafood, salads, meats, pasta, burgers, sandwiches, and more.
Box Lunch Provincetown
Location: 355 Commercial St, Provincetown, MA 02657
Box Lunch Provincetown is a local chain well known for its amazing sandwiches made with pita rolls. The restaurant itself is a lively blue color, so it's impossible to miss when exploring P-town.
While the interior is quaint, it's exactly what you'd expect from a sandwich shop. You can walk right up and order whatever type of sandwich you'd like, and they have tons of sandwich options to choose from. Honestly, even the pickiest of eaters can find a great sandwich on this menu.
Box Lunch opened in 1977 and now has multiple locations across the area too, including in Wellfleet and Truro. It's truly become a favorite of locals in the area. It started as a seasonal restaurant that opened in the summer more than 40 years ago and has since bloomed into much more.
Mac's Fish House Provincetown
Location: 85 Shank Painter Rd, Provincetown, MA 02657
When you're on the Cape, you can't leave without trying seafood at a local restaurant. So, be sure to stop by Mac's Fish House Provincetown. This seafood restaurant is one of the most popular restaurants in Provincetown MA, so you won't want to miss it.
The restaurant itself has a very minimalistic interior. There's also a patio area where guests can opt to sit outside and eat if they prefer, which is perfect because the weather is almost always great on the Cape.
The menu consists of every type of seafood that you could imagine, and everything is very reasonably priced. There are also daily specials that sometimes include noodle night or all you can eat fish & chips! Be sure to inquire about specials before going to see if you can go on a night where you can get a great deal.
Fanizzi's Restaurant
Location: 539 Commercial St, Provincetown, MA 02657
Fanizzi's is a restaurant known for its incredible Italian and American seafood! The interior is very upscale, yet prices are mid-range. It's the perfect place to go for either a romantic night out or a celebration of some sort.
The restaurant opened in 2001 by Paul Fanizzi. He heard that a restaurant was for sale in P-town back in 2001 and immediately put an offer in; before long, Fanizzi was the talk of the town. Plus, it has incredible views of Cape Cod Bay, only adding to the restaurant's allure!
The menu changes throughout the day depending on the time, but for the most part, you can find mainly fish dishes like fish and chips, fried clam plates, cod cakes, and even fresh mussels over linguine. There are also other Italian dishes and burgers and sandwiches for those who might be a bit pickier.
Jimmy's HideAway
Location: 179 Commercial St, Provincetown, MA 02657
Lastly is Jimmy's HideAway, a New American restaurant with an eclectic European twist. This is another restaurant with mostly outdoor seating, with great views of the ocean. Don't worry; there are heaters outside in case you are visiting Provincetown in winter!
Jimmy's Hideaway is a local favorite. Because of that, if you'll be visiting during a popular time of the week, be sure to call in advance to make a reservation. If you don't, you may be waiting quite a bit before you'll be allowed to sit down and dine!
The menu is pretty extensive. It has classic local favorites like New England clam chowder and other great dishes like scallop piccata and Portuguese cod. Pricing at Jimmy's HideAway is a bit higher than other restaurants in the area, so keep that in mind if you're visiting Provincetown on a budget.
Hopefully, this post has introduced you to some of the top restaurants in Provincetown MA! Each one has been carefully selected for this hand-curated list of top picks. Have you been to any of the restaurants on this list? Leave a comment below!
—
You might also like: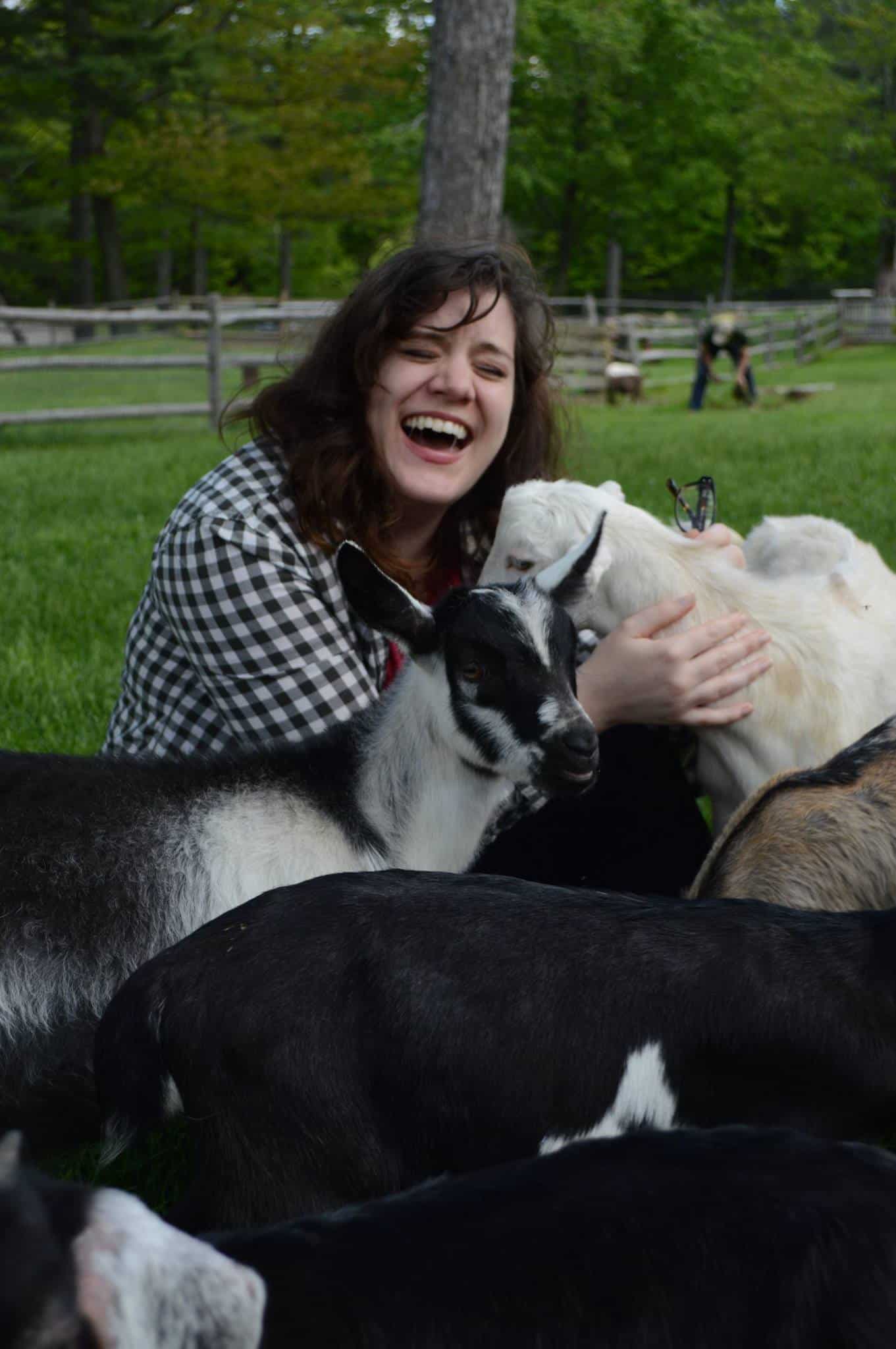 Amy Hartle is the founder and Editor-in-Chief of New England With Love, a comprehensive resource for travel in the New England region. Amy has been exploring New England since 2001. She lived in Vermont for many years and is a graduate of Plymouth State University in New Hampshire. Amy has been writing about travel for over a decade. On this site, Amy aims to share her love of New England and help you to have the best possible adventures!
Amy has been a full time blogger since 2012, and is also the publisher of Two Drifters, where she writes about couples travel and relationships, as well as Let's Adventure Baby, a family travel site. When not traveling the world or creating epic blog content, Amy can be found cuddling with her husband, son, and cats, & drinking a maple latte.