*This site uses affiliate links; if you make a purchase through these, I may receive a small commission at no cost to you.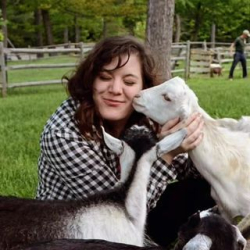 Latest posts by Amy Hartle
(see all)
One of New England's most popular states, there are so many fantastic things to do in Connecticut! It's southerly location and proximity to New York City make it an easy choice for a day trip or weekend trip to New England. And like the rest of the region, Connecticut is chock full of charm, history, and things to do and see.
Planning a visit to the Nutmeg State? We've put together an essential list of top things to do in Connecticut. The CT activities on this list range from historic sites, family attractions, and quirky highlights to classic Connecticut things to eat and drink and beautiful spots not to be missed. Get ready to check off your Connecticut bucket list!
Also, if you're wondering when is the best time to visit Connecticut, you can see our thoughts on that right here!
62 Best Things to Do in Connecticut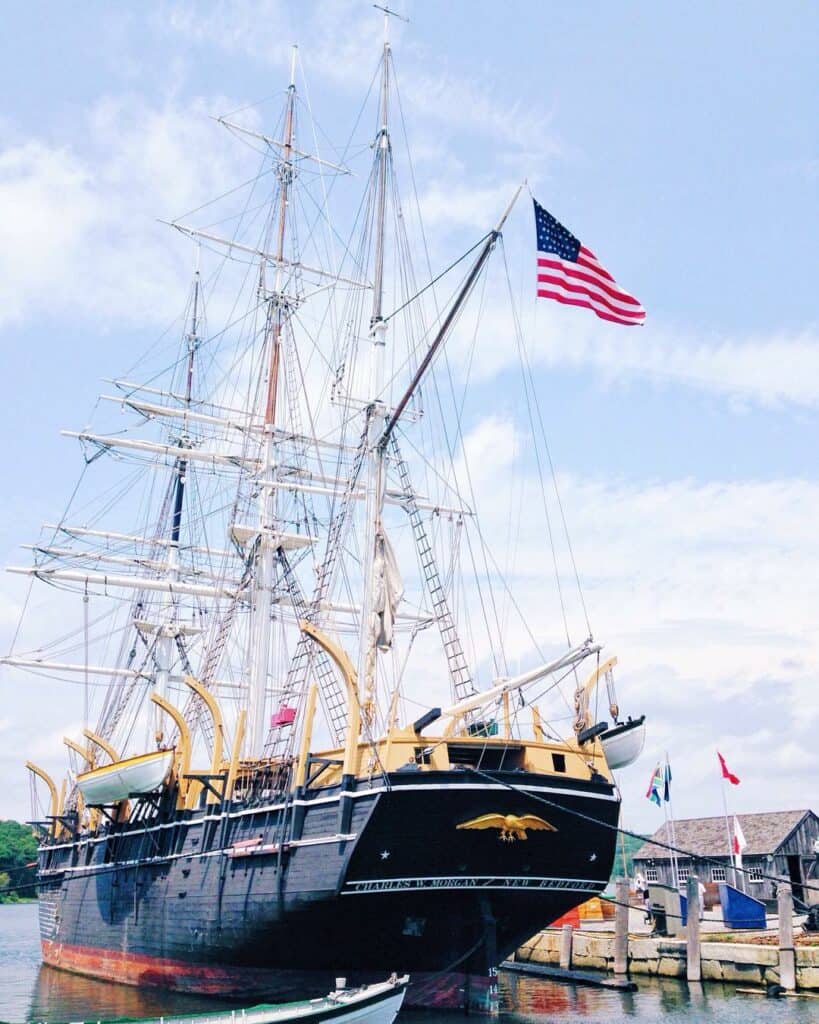 See the world's last remaining wooden whaling ship
At one time, the fleet of whaling ships regularly sailing in the Atlantic was 2,700. The very last of these, The Charles W. Morgan, can be seen at the Mystic Seaport Museum. It's actually the largest maritime museum in the United States!
The ship, built in 1841, has the distinction of being the only wooden whale ship still afloat. There are a lot of great things to do in Mystic in general, so don't miss it when looking for things to do in CT.
You can get your tickets to this Connecticut attraction here!

Be impressed at Gillette Castle
Want to visit the epic stone castle of "Sherlock Holmes" high on a cliff? Yep, me too! Gillette Castle is well known among Connecticut attractions and is listed on the National Register of Historic Places. The actor William Gillette commissioned this home, and it was built in 1914. Gillette was most famous for portraying Sherlock Holmes, thus, the character has become quite attached to the castle.
Even without that interesting tidbit, this place is impressive, sitting high atop one of the hills of the "Seven Sisters", in what is now known as Gillette Castle State Park; definitely one of the more unique things to do in CT!
Read Next: 30+ Famous People From Connecticut
Hit up the Durham Fair
This is one of the biggest agricultural fairs in all of New England. Today, it is a huge event, with a midway, rides, animal events, a monster truck rally, amazing fair food, and so much more.
Durham Fair is an iconic CT fair and a visit here is one of those super cute autumn things to do in Connecticut in the fall!
Try your luck at CT's famous casinos
When New Englanders want to win big, they play in Connecticut. The always popular Mohegan Sun and Foxwoods are the two spots everyone knows, and they're two of the best places to gamble in New England.
They are both top notch resorts, with much more than just gambling going on. Entertainment and activities are endless here, so be sure to take a closer look, especially if you're looking for indoor activities for adults in CT!
Stroll Connecticut's longest stretch of beach
Heading to the coast is one of those must do things in Connecticut. If you're in search of a long, welcoming beach, the 2-miles of sand at Hammonasset Beach Park in Madison are calling your name.
Summer in Connecticut means lots of beach time, and I think Madison is beyond beautiful on a summer's day!
Stop by The Mark Twain House
Are you a literary fan? You might want to pay a visit to The Mark Twain House & Museum in Hartford. Author Mark Twain, born Samuel Clemens, lived in this 11,500 square foot home from 1874 to 1891.
While in residence, he wrote some of his most famous works, including The Adventures of Tom Sawyer, The Adventures of Huckleberry Finn, and A Connecticut Yankee in King Arthur's Court.
Take a peek at the Glass House
Speaking of cool houses, albeit ones of a very different nature, architecture lovers should not miss The Glass House. This is—you guessed it—a house made largely of glass.
But truly, it's more than that!
The site comprises 14 structures across 49 pastoral acres, the focal point of which is The Philip Johnson Glass House, built by architect Philip Johnson between 1949 and 1995; if you're looking for interesting things to do in CT, consider the Glass House! It's open for tours April through December.
Sip at CT's craft breweries
New England is keen on craft beer, and when in Connecticut, you simply have to stop at some of the local breweries. You can follow the CT Beer Trail to see and sip them all; if you're looking for fun things to do in Connecticut for adults, here ya go!
Dine at Arethusa al Tavolo
Regularly listed among the best restaurants in Connecticut, this Litchfield Hills spot has a robust menu that changes daily. Arethusa al Tavolo offers fine American dining crafted by Chef Dan Magill.
Truly a farm-to-table establishment, the restaurant sources its butter, cheese, and all of its dairy from the 350 cows at its own connected Arethusa Dairy Farm and makes for a tasty addition to any CT visit.
PS, Arethusa Farm Dairy & Cafe is one of the best ice cream shops in CT!
Relax on a riverboat
To best enjoy the beauty and atmosphere of the Connecticut River, why not take a river tour? You can sail aboard a classic riverboat AND take a ride on a steam train with this company.
If you just want to get on the water, various other cruise options are available to help you experience CT's wildlife and scenic charm, and could make for a fun date night in Connecticut!
Ride an antique carousel
In downtown Hartford, you'll find a classic carousel that's over 100 years old! The 1914 Bushnell Park Carousel has been lovingly restored and guests can now take a ride on the historic painted steeds. This is a fun thing to do in CT with kids and almost anyone, honestly!
Go chasing waterfalls
Connecticut may not be the first New England state that comes to mind when you think waterfalls, but it has some lovely ones! Waterfall hikes are always a great option for things to do in CT in the summer, so check out this list of the prettiest waterfalls in Connecticut.
Explore the Wadsworth Atheneum Museum of Art
Get your culture on while traveling in Connecticut! The Wadsworth Atheneum Museum of Art, located in Hartford, boasts of a collection of nearly 50,000 works of art.
The oldest continuously-running public art museum in the United States, the Wadsworth Atheneum is a definite must visit while in CT. There are a variety of exhibits in their galleries with famous works in both permanent and traveling collections, and all art lovers should have this one on their Connecticut bucket list!
Dont Miss: 12 Fun Free Things to do in Hartford CT | 13 Best Restaurants in Hartford CT
Visit the belugas at Mystic Aquarium
Mystic Aquarium is one of the top things to do in Connecticut with kids! No kids? No problem? Adults love aquariums, too!
While there are many species living at the aquarium, the highlight might be the bright white beluga whales. They are lucky to have the largest outdoor beluga whale habitat in the entire United States. Plus, it's in Mystic, one of the must visit places in Connecticut!
Grab a slice at Mystic Pizza
After admiring those adorable belugas, head to Downtown Mystic, CT for a slice of pizza. Specifically: Mystic Pizza! Fans of the 1980's film starring Julia Roberts might find it hard not to stop here at the original location. And delicious pizza is available, of course! Definitely add this to the list of Connecticut things to do.
Have some fall fun in a pumpkin patch
If you're looking for cute places to visit in Connecticut in fall, definitely check out some of CT's best pumpkin patches! Not only can you go traipsing through the patch to find your perfect pumpkin, but many also offer cool autumn activities like sunflower fields, corn mazes, and warm apple cider. Pumpkin patches are always great activities for kids in CT, too!
Glamp it up with a glamping trip
There are actually some pretty cool glamping options in the Nutmeg State, so if you're looking fun experiences in CT, consider a cool glamping trip; how about a stay in a gorgeous yurt at Finnegan's Farm?
Go to Devil's Hopyard State Park
This is a great place for outdoor adventure in CT. Devil's Hopyard State Park has beautiful hiking trails criss-crossing its 1000 acres, but it also has a lovely cascading waterfall, Chapman Falls. This is definitely a place you'll want to explore for a bit, so considering camping here in the park, too.
Discover the inspirations for Gilmore Girls
The early 2000's saw many viewers obsessed with the quaint setting of the WB series Gilmore Girls. Set in a fictional town called Stars Hollow, CT, this show brought small-town Connecticut to life for many. While you won't find the real Stars Hollow here, sadly, you can find spots that are reputed to have inspired creator Amy Sherman-Palladino.
Towns in the Litchfield Hills like Washington and Bantam will certainly give you a Stars Hollow vibe, but be sure to stop by The Mayflower Inn & Spa, said to be the inspiration for Stars Hollow's Independence Inn, if not the whole show itself; a stay at this adorable inn is perfect if you're looking for relaxing things to do in CT!
Click Here to Check Prices & Book!
Have idyllic fall fun in a corn maze
What could be more representative of Connecticut fall fun than a corn maze! There several great corn mazes around the state that have all kinds of fun autumn activities, and getting lost in a corn maze is always one of the best things to do in Connecticut in the fall!
Eat a lobster roll (in the place where it was invented)
If you're visiting New England, you pretty much have to sample a lobster roll… if you're a seafood lover, at least!
Did you know that Milford, Connecticut claims to be the first place that this iconic sandwich was created? Whether that's true or not, you'll certainly find some fantastic lobster roll options in the Constitution State, and you'll find them typically served warm (which is how I like them!) as opposed to cold, like their more northern neighbors.
Visit the oldest operating amusement park in the US
You will find nostalgic charm at Lake Compounce, currently the USA's oldest amusement park still in operation. It's not just classic rides either, they've also got as well as Connecticut's largest water park onsite.
PS: Don't miss riding "Boulder Dash", voted the world's #1 wooden roller coaster. Add this to the list of fun date ideas in CT!
Peruse the The Aldrich Contemporary Art Museum
Like contemporary art? Come to The Aldrich Contemporary Art Museum in Ridgefield. If you're looking for Connecticut indoor activities, this museum exhibits exclusively contemporary art and prides itself on its "visionary exhibitions."
Delight in nature at the Elizabeth Park Conservancy
You will find exquisite natural beauty at the Elizabeth Park Conservancy in Hartford. Perhaps most stunning is its rose garden, which typically blooms from Father's Day to early fall. The Conservancy is open to visitors 365 days a year and is one of the most beautiful places in CT.
Follow the Connecticut Wine Trail
Did you know Connecticut has one of the fastest growing wine regions in the US? Yep! And you can tour the hottest spots when you follow the Connecticut Wine Trail. Stop and sip at amazing wineries and vineyards all over the state.
If you're looking for a guided tour of CT wineries, those are available also, from providers such as this one; wineries are always a fun bet for things to do in Connecticut on a lovely summer day!
Drop by the campus at Yale University
Ah, Yale. That beacon of higher learning and academia. And a beautiful campus, too if you're looking for things to do in New Haven, Connecticut!
Yale is definitely worth a visit. The 318-year-old university offers guided tours to the public, which will take you all over the scenic campus.
Don't forget to check out the Yale Peabody Museum of Natural History while there!
Fly into the New England Air Museum
The New England Air Museum is located in Windsor Locks, CT, and is a great place to visit for those with an interest in aircraft. There are not only exhibits of historic aircraft, but regular demonstrations and opportunities for learning.
More than 55 aircraft of all kinds are on display in large sweeping hangars, definitely one of the coolest places to go in CT with family!
Visit one of the most unique state parks in the country
Dinosaur State Park is an incredible opportunity to see dinosaur tracks with your very own eyes! That's right, a 200-million-year-old fossil trackway is just waiting for your to explore in Rocky Hill CT.
You'll also find an arboretum, interactive exhibits, and nature trails to hike on. You'll find a wide variety of habitats, including swamps, forested areas, and a traprock ridge where you can even see broken bits of basaltic rock that was once hot lava. Truly, this is a fascinating state park!
Explore CT beach towns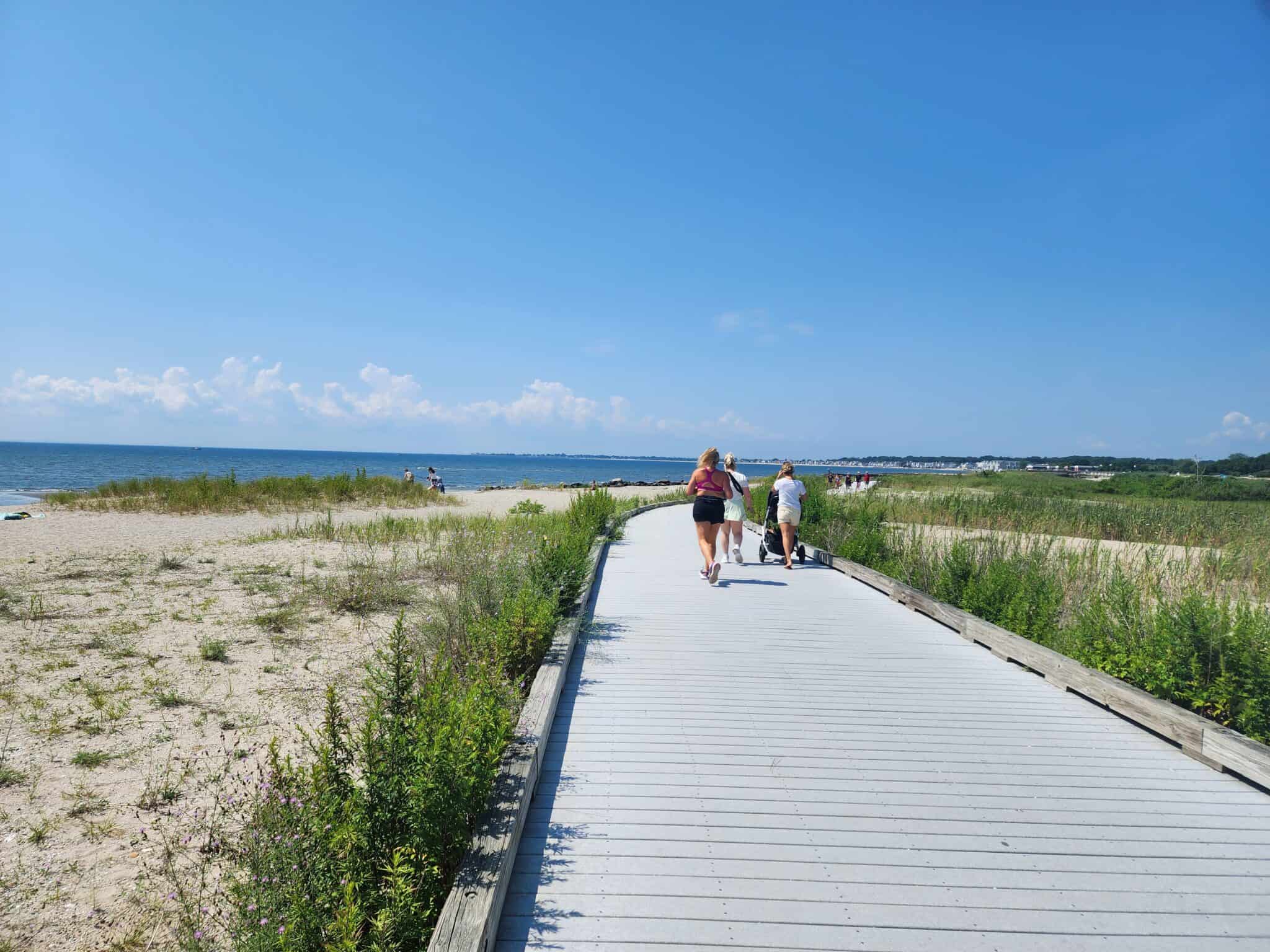 This might not be the most unique item on this Connecticut bucket list, but it's one worth including. There are many awesome beaches in Connecticut and adorable beach towns where you can have a fun day on the sand, and if you're visiting in summer? It's high on the list of Connecticut things to do!
Stop at B.F. Clyde's Cider Mill
Did you know there is only one remaining steam-powered cider mill in the United States? That is B.F. Clyde's Cider Mill in Old Mystic. They make hard cider and many other delicious apple treats. Visit in the autumn (they open in September), and get ready to wait in line for their delicious cider doughnuts; this is a good one if you're looking for cute fall date ideas in CT!
Tour the Connecticut State Capitol
Even if you don't have time to tour this state building, it's worth a look at the grand exterior! There are self-guided tours, doable with a brochure available inside the building, but if you can, take a guided tour to explore Connecticut history.
Browse this massive used book store
Avid readers and bookworms (like me) will find heaven on earth at the Book Barn in Niantic, CT. Not only is this used bookstore MASSIVE, with approximately 500,000 books on their shelves, they also have adorable CATS walking around. I mean, this is probably the #1 thing to do in Connecticut as far as I'm concerned.
Climb aboard the USS Nautilus
Have you ever wanted to tour a submarine? The Submarine Force Library & Museum is home to the USS Nautilus, the world's first nuclear powered submarine. The self-guided tour of the Nautilus is free, so if you're looking for places to go in CT with family, this would def be a budget friendly CT activity that would be remembered for years to come!
Go apple picking
Does it get more quintessential Connecticut fall activity than apple picking? If you're looking for places to visit in Connecticut in the fall, you've got a great selection of apple orchards to choose from!
Not only can you find apples to pick, but many also offer other fall attractions like flower fields, corn mazes, pumpkin patches, and yummy fall flavored baked goods. This is one of the top things to do in Connecticut during the fall for good, wholesome fun.
Get your hike on
Hiking is an essential New England activity. While you might not think of Connecticut as being a hiking mecca—it's certainly not as hilly and mountainous as states like New Hampshire and Vermont, there are still hundreds of fantastic trails for hiking, walking, and pretty places in CT for exploring.
Find some historic, classic covered bridges
Covered bridges are a New England staple, and Connecticut has a few. The longest of these is the West Cornwall Covered Bridge, pictured below. Drive across slowly and revel in a moment that will take you back in time.
Experience the world's largest indoor ropes course
The largest indoor ropes course in the entire world is located in New Haven, CT. Perhaps surprisingly (and a bit oddly) it's located at a furniture store!
There are more than 100 things to do at the IT Adventure Indoor Ropes Course, including a "liquid firework show (water show), double catwalk, crisscross angled rope ladders, zig-zag swinging beams, cargo nets, bridges, and so much more."
This place looks Fun with a capital F, especially when you're looking for things to do in CT indoors.
Visit the Mashantucket Pequot Museum & Research Center
The Mashantucket Pequot Museum & Research Center is a nonprofit educational center dedicated to the knowledge and celebration of indigienous cultures. It has been open since 1998 and is owned-and-operated by the Mashantucket Pequot Tribe.
There's a lot going on at this museum, which houses an auditorium, gallery, restaurant, classrooms, and plenty of exhibit space. This is the place to go to discover the history of the Mashantucket Pequot Tribe and dive deeper into the area's natural history as well.
Admire Roseland Cottage
Historic homes are a wonderful place to visit, allowing guests to step into the past. The pink-painted Roseland Cottage, located in Woodstock, is a Gothic Revivial home built in 1846.
You can tour the house and gardens and see what summers were like for Henry and Lucy Bowen and their family; if you're a fan of gorgeous gardens, add this to your list of things to do in CT in the summer!
The house is simply beautiful, and also boasts the oldest indoor bowling alley in the world.
Ride a snowbike at Powder Ridge Park
Powder Ridge Park is a perfect place to go when you're looking for fun things to do in Connecticut in winter. They also have plenty of summer activities, too!
In the winter, the unique thing not to be missed is snowbike riding. This unusual activity is a great way to enjoy the magic of the slopes if you're not a skiier or snowboarder. It's just like…riding a bike!
Learn stuff at the Connecticut Science Center
Science museums are a great idea for when you're looking for what to do on a rainy day in CT: there's so much to see and do. The Connecticut Science Center is no exception. In addition to exciting traveling exhibits there are over a dozen permanent exhibits, including Exploring Space, Butterfly Encounter, River of Life, Engineering Lab, and Rooftop Garden. Kids will be thrilled about all the interactive stuff that invites them to touch, jump, and even be LOUD (check out the Sight and Sound Exhibit). Definitely should be added to the list of things to do in CT for kids!
Eat some apizza
No, that's not a typo. "Apizza" is New Haven-style pizza, and it has some pretty interesting distinctions. Check out this definitive guide to find the best place to sample apizza. This is a yummy Connecticut bucket list activity!
Revel in fall colors in Litchfield County
It's no secret that fall in New England is spectacular. And Connecticut boasts its own fair share of gorgeous autumn foliage. Litchfield County is one of the best places to take in the fall color, with its rolling hills and pastoral scenes everywhere you look.
Go ice skating at Bushnell Park
When winter arrives, Winterfest hits Hartford. In downtown Bushnell Park, an ice skating rink appears each year, where families can glide on the ice and enjoy one of the best winter activities there is. Best of all, the ice skating and skate rentals are totally free.
This is a unique offering that you don't see often and it makes it possible for thousands of visitors to enjoy the rink each holiday season; would make a great addition to a list of ideas for fun dates in Connecticut!
Hop aboard Essex Steam Train
All aboard!!!! If you're a train lover, you'll want to check out the Essex Steam Train and Riverboat. This railroad dates back to the 20th century, while the actual tracks date back even further than that, and they offer a variety of different rides and events throughout the year.
Catch some live theatre
There is a great deal of excellent professional (and amateur) theatre in the state of Connecticut. Check out Goodspeed Opera House for Broadway-quality productions, Yale Repertory Theatre for some serious drama, and the Ivoryton Playhouse for fun summer stock shows.
Visit a Christmas tree farm
If you're looking for a great way to experience Connecticut Christmas charm, consider a visit to a Christmas tree farm! Not only can you pick out your next Christmas tree, but there are often all kinds of fun holiday activities like sleigh rides, hot chocolate sipping, wreath making and more.
Spend time at Bluff Point State Park
Bluff Point State Park is an 800-acre park on a largely undeveloped peninsula between the Poquonnock River and Mumford Cove. Here you'll discover pleasant trails for biking and hiking, with views over Long Island Sound.
Keep your eyes peeled for plenty of avian wildlife, and if you're into fishing, bring your poles. Potential species to be caught include bluefish, striped bass, summer and winter flounder, blackfish, and more. With a permit, you can also fish for shellfish here.
Check out the historic homes in Wethersfield
One of the things that attracts many visitors to New England is its historic buildings. If you enjoy historic homes, make your way to Old Wethersfield. There you'll come upon CT's largest historic district, with over 100 pre-Civil War-era homes.
Escape to one of CT's charming small towns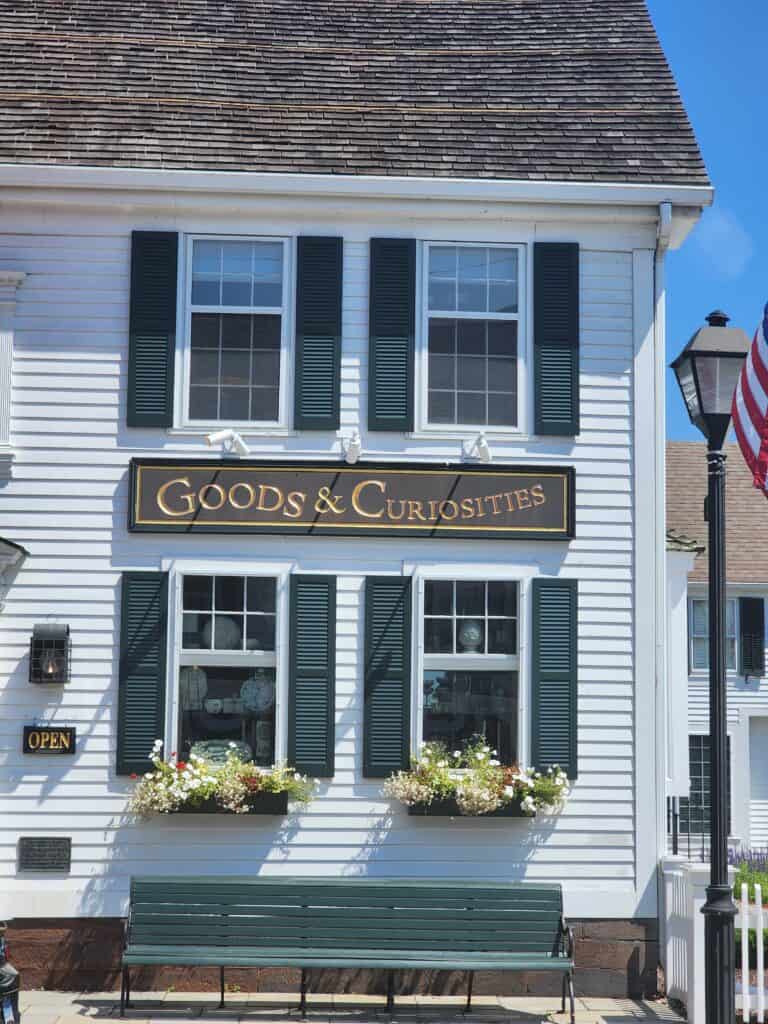 Small towns in New England are such special places. In Connecticut you can find many such villages and towns, perhaps even when you're not looking for them. But to give you a few hints, here are a couple of the cutest small towns in Connecticut: Old Saybrook, Guilford, Kent, Storrs, and Simsbury.
Personally, I think Guilford is one of the cutest small towns in Connecticut and beyond!
For an excellent place to stay in/near these towns, consider one of these charming Connecticut cabins.
Visit Hammonasset Beach State Park
This is actually the largest shoreline park in the state, and Hammonasset Beach State Park is an excellent CT destination if you're interested in spectacular Long Island Sound views.
There's more than just sandy beach at Hammonasset, too, with camping sites, bicycle rentals, and Meigs Point Nature Center, where you'll find educational programs like nature walks, touch-tank programs, and craft workshops, designed to teach visitors about the natural history and wildlife of coastal Connecticut.
Eat at the cafe that invented the hamburger
Louis' Lunch in New Haven has the true record: they are the birthplace of the hamburger sandwich and the Library of Congress says so. Grab a classic burger in this small, cute restaurant, but know that they only offer tomato, onion, and cheese so you get the burger's true flavor; add this to your list of unique and fun experiences in CT!
Go lighthouse hopping
It should come as no surprise that Connecticut has lighthouses in abundance! You can tour some of them or view them from land or by water only in some cases. You may find that one particular lighthouse quickly becomes your favorite.
Interestingly, there are many tales of haunted lighthouses in Connecticut.
Read Next: 13 Most Haunted Places in Connecticut: Ghosts & Ghastly Tales 👻
Stay in a charming Connecticut Bed and Breakfast
If you're looking for romantic things to do in Connecticut, you've got to check out the dreamiest B&Bs Connecticut has to offer. Connecticut romantic getaways are all about embracing that New England charm!
Bike along the Farmington River Trail
Connecticut is a great destination for cycling with many trails zig-zagging across the state. One not to miss is the Farmington River Trail, a 26-mile stretch of mostly paved trail. With pretty views of the river, woods, and scenic mills, this is one of the best.
Explore Ghost Towns
It might be surprising to you to learn that there are actually quite a few ghost towns in the Nutmeg State!
One of the most intriguing ghost towns in CT to explore is Gay City, and its conveniently now a protected state park so people are able to completely access this lost city!
Take a walk on the Niantic boardwalk
This walk isn't very long, comprising just over 1 mile, but it's a pleasant and relaxing place to take in views over Long Island Sound, and certainly one of the prettiest sights in Connecticut. Seriously, I think Niantic is such a darling little town on Long Island Sound!
Stroll downtown Milford
Okay, I absolutely adore Milford! This is such a cute Connecticut town, it definitely needs to be on your CT bucket list.
The Milford Green is one of the most historic greens in the region (and that's actually saying quite a lot!) and the downtown area has lovely Milford Duck Pond with its very own little waterfall. This is just such a sweet place to explore and feels very quintessential New England.
Sample the delights at Jonathan Edwards Winery
Wine is, to me, one of my favorite parts of travel, if not life itself. The Jonathan Edwards Winery is a fabulous CT winery of a bicoastal nature: much of the harvest still comes from Wine Country itself, California's Napa Valley.
Enjoy tastings and tours at this beautiful site and take home a bottle of your favorite to remember your Connecticut trip with, if you so choose.
Go camping in Pachaug State Forest
Get out in the wilderness in Connecticut's largest state forest. Covering 24,000 acres, Pachaug State Forest presents countless opportunities to revel in the great outdoors.
There are several different campgrounds for pitching your tent (or parking your RV) and there is even a horse camp, so equestrians can enjoy the trails over several days.
Visit the Connecticut Trolley Museum
One of the coolest things to do in Connecticut is to visit the Connecticut Trolley Museum, where you can ride a historic trolley before visiting the museum that showcases the history of what was once the best ride in town.
Explore Kent Falls State Park
Kent Falls State Park is a definite must visit in Connecticut, with a historic covered bridge, 250-feet of cascading waterfalls, and waterfall trails that let you get so close to the falls that you'll feel the cool mist on your face.
This is hands down, one of the most popular parks in CT.
Visit Lover's Leap State Park

Situated along the Housatonic River, Lovers Leap State Park was named after a centuries-old legend of a pair of star-crossed lovers who perished together in the river trying to reach one another.
That story has since been thoroughly debunked, but it's still an interesting story to ponder as you explore this 160-acre state park with its hiking trails, historic ruins, and incredible views of the Housatonic, especially over the historic truss iron bridge that was originally erected in 1895.
Connecticut is a gorgeous state that offers a wide variety of activities for just about every kind of visit, whether you're looking for coastal CT fun, historic points of interest, and beyond, there are things to do in Connecticut for everyone.
---
Check out our guides for more of Connecticut's towns:
14 Fun and Fabulous Things to Do in Bridgeport CT
13 Grand Things to Do in Greenwich CT
11 Fun Things to Do in Stamford, CT
13 Terrific Things to Do in New London, Connecticut
12 Fun Things to do in Waterbury, Connecticut
---

Need more guidance planning your Connecticut adventure? Look here:
---