If you've never been to New England in the fall, then you're missing out, my friend! It's genuinely one of the most magical times to visit the states here because fall foliage is absolutely unmatched compared to the rest of the United States.
While leaf peeping, consider checking out some of the best pumpkin patches in Connecticut. There are so many to choose from, so it can be hard deciding which ones are actually worth visiting. Throughout this post, you'll find some of the top-rated pumpkin patches in Connecticut!
Best Pumpkin Patches in Connecticut
Whittle's Willow Spring Farm
First is one of the top pumpkin patches in Connecticut, Whittle's Willow Spring Farm. It's located in Mystic, Connecticut, one of the best destinations in the state that you won't want to miss out on.
While it's essentially just a market spot, they also have a pumpkin harvest patch that is totally amazing for picking out a pumpkin for fall. There are even tractor rides, and usually, there's a huge pumpkin that they put out to celebrate the fall time. Consider grabbing some beautiful mums while you're picking your dream pumpkin!
Read Next: Fall in CT: 13 Top Fall Foliage in Connecticut Spots
The Pickin' Patch
Next is The Pickin' Patch, another of the great pumpkin patches in Connecticut. This one is located in Avon, right along the Farmington River! It's a small but mighty farm that you won't want to miss.
To get to the pumpkin patch here, you do have to hop on a short hayride, but it has excellent views along the way! It's usually open only on the weekends, but it's well worth it to stop by if you can. Be sure to stop by the farm stand before leaving to grab some great fall decor.
Read Next: 10 Best Corn Mazes in Connecticut
Riverview Farms
Riverview Farms is a great pumpkin patch to visit. It's in South Glastonbury and has a decent-sized pumpkin patch for guests to visit and explore when looking for the ideal pumpkin. They also have tons of other fun fall things to partake in.
They usually have a huge giant pumpkin bounce house that you can hop around in too! In addition, there's a corn maze, zoo, tons of snacks (like apple cider and apple cider donuts), and of course, hayrides. Fall wouldn't be fall without the hayrides!
Read Next: 12 Abandoned Places in Connecticut
Foster Farm
Foster Farm is a beautiful pumpkin patch that is located in South Windsor. You can usually start picking pumpkins in September, which is right around the perfect time to start carving your pumpkin to put on your doorstep.
There are great corn mazes, a huge play area for children, and more. They even have a pirate ship made out of wood that kids can play on! Foster Farm also has a fun hayride that will bring you to and from this cute Connecticut pumpkin patch.

Read Next: 14 of the Best Hikes in Connecticut for an Outdoor Adventure
Lyman Orchards
Lyman Orchards is located in Middlefield and is an amazingly picturesque Connecticut pumpkin patch to visit in the fall. Seriously, from the elevated pumpkin patch, you can look out and see blue skies and beautiful fall foliage! It's honestly picture-perfect.
Don't forget to check out the corn maze too, which Lyman Orchards is most well known for. It's said to be extremely tricky to do, even if you've done quite a few corn mazes on your own! There are also amazing treats for your sweet tooth too.
Read Next: Apple Picking in CT: 10 Best Connecticut Apple Orchards
Angevine Farm
Angevine Farm is another of the best pumpkin patches in Connecticut. It's located in Warren and has a wide variety of different pumpkins to choose from. They even have ones that don't look super traditional, so if you want something a little out of the ordinary, this is one of the best pumpkin patches in Connecticut for you to go to.
Be sure to grab one of the wheelbarrows to go around and find the perfect pumpkin. It makes it a lot easier to bring it to the car. Kids will love playing with the wheelbarrow during the trip.
Read Next: New England Fall Road Trip: 7 Day Itinerary 🍁
Rose's Berry Farm
Rose's Berry Farm is one of the best pumpkin patches in Connecticut for many reasons! Not only do they have a huge pumpkin patch that you can explore to find the perfect pumpkin to bring home and carve, but they really pull out all the stops when it comes to fall festivities.
There's an excellent tractor hayride that you have to even get to the pumpkin patch, which is super fun, especially for young kids. There's also a corn maze, a huge slide for children, croquet that's Halloween-themed, and more! It is usually only open on the weekends, though, which is something to consider if you plan to visit Rose's Berry Farm.
Read Next: 16 Classic New England Foods to Try: Creemees, Chowder, & More!
Karabin Farms
Karabin Farms is located in Southington and is one of the great pumpkin patches in Connecticut. They have a pumpkin patch, but a lot of the time, there are also just pumpkins available at the farm stand, so you can save yourself some time.
Karabin Farms also has tons of other fun events like tractor rides and, of course, tasty fall treats. There is also a petting area so families can check out some of the animals that are right at the farms. Kids especially love this about Karabin Farms!
Read Next: New England Apple Picking: Top Spots in Each State
Silverman's Farm
Next is Silverman's Farm, one of the best pumpkin patches in Connecticut. It's located in Easton on Sport Hill Road and is a great one to visit if you're traveling in that area of the state. In addition to the great pumpkin patch, Silverman's Farm has tons of fall festivities perfect for families visiting the area.
There's weekend live music too, which is super fun. Children can have fun petting the animals from the farm, taking hayrides, and enjoying some delicious apple cider donuts from the shop. What more could you want?
Read Next: 60 Awesome Things to Do in New England with Kids
Warrup's Farm
Warrup's Farm is located in Redding and is a great spot to visit in the fall. It's a classic Connecticut pumpkin patch, but sometimes that's all you want to make a memorable fall experience! Right at Warrup's, you can find a great pumpkin and pick it yourself.
The food at Warrup's Farm is also incredible. Don't leave without at least trying some of the delicious apple cider. They also sometimes have other treats made with ingredients from the farm, so don't miss out.
Read Next: Fall in New England: Best Foliage, Farms, Fun 🍁
Johnny Appleseed's Farm
Even though this farm is named Johnny Appleseed's Farm, it's known for being one of the best pumpkin patches in Connecticut! It's located in Ellington and has tons of pick your own produce, including pumpkins from late September to late October.

The farm is located on Schoolhouse Road and is filled with tons of things to do. Of course, you should pick a pumpkin, but you may also want to check out the epic apple orchards while you're there. Their apples are excellent and cover more than 50 acres of land!
Read Next: 15 Beautiful Waterfalls in Connecticut to Visit
Wright's Orchard
Wright's Orchard in Tolland is a beautiful spot to go if you want to get a great pumpkin. They operate on limited hours and are never open for more than a few hours a day, though, so make sure you plan your trip wisely, or you may just miss them!
The orchard opened in the 1980s and has since truly evolved into a lot more than just an orchard. There's a huge spot to pick pumpkins, as well as an area to purchase almost any time of produce you can imagine: blueberries, peaches, apples, and more!
Read Next: 10 Best Campgrounds for Camping in Connecticut
Blue Jay Orchards
Blue Jay Orchards is a great pumpkin patch to visit with family in the fall! It's located in Bethel, Connecticut, on Plumtrees Road. They have big wheelbarrows that you can use to grab the pumpkin of your dreams and bring it to your car.
Once you're done finding the perfect pumpkin, be sure to grab some delicious sweets on your way out. Blue Jay Orchards, of course, has tons of fantastic apple products because they are an orchard! Don't forget to try the apple pie or even the apple cider or donuts.
Read Next: 10 Dreamiest Connecticut Bed and Breakfasts To Book
Brown's Harvest
Brown's Harvest is one of the best pumpkin patches in Connecticut in Windsor. They have a great pumpkin patch that is usually ready for people to pick from in mid-September, which is right around the time that the rest of their fall festivities open too!
At Brown's Harvest, there's a huge play area for children, as well as a small corn maze, fun snacks, and hayrides. One of the most fun things about Brown's Harvest is The Flashlight Maze which opens a bit later in the fall season.
Read Next: 13 Haunted Places in New England That are Wicked Creepy
Plasko's Farm
Located in Trumbull, Connecticut, on Daniels Farm Road is Plasko's Farm. This fantastic farm has some history in the area, and the same family still runs it. It first opened back in the 1920s by a family who moved here from Europe.
The pumpkin patch is the main thing to visit here, but they also have tons of old tractors, which are fun to see and check out. They also have great corn mazes, mums, and more! If you're in a time crunch, they also have pumpkins they've already picked available for purchase.
There are pumpkin patches galore in Connecticut, all over the state! No matter which CT pumpkin patch you end up visiting, you'll truly have an epic time that will be a lifelong memory, especially if you're visiting with children. Which pumpkin patch in Connecticut would you most want to visit?
---
You might also like:
---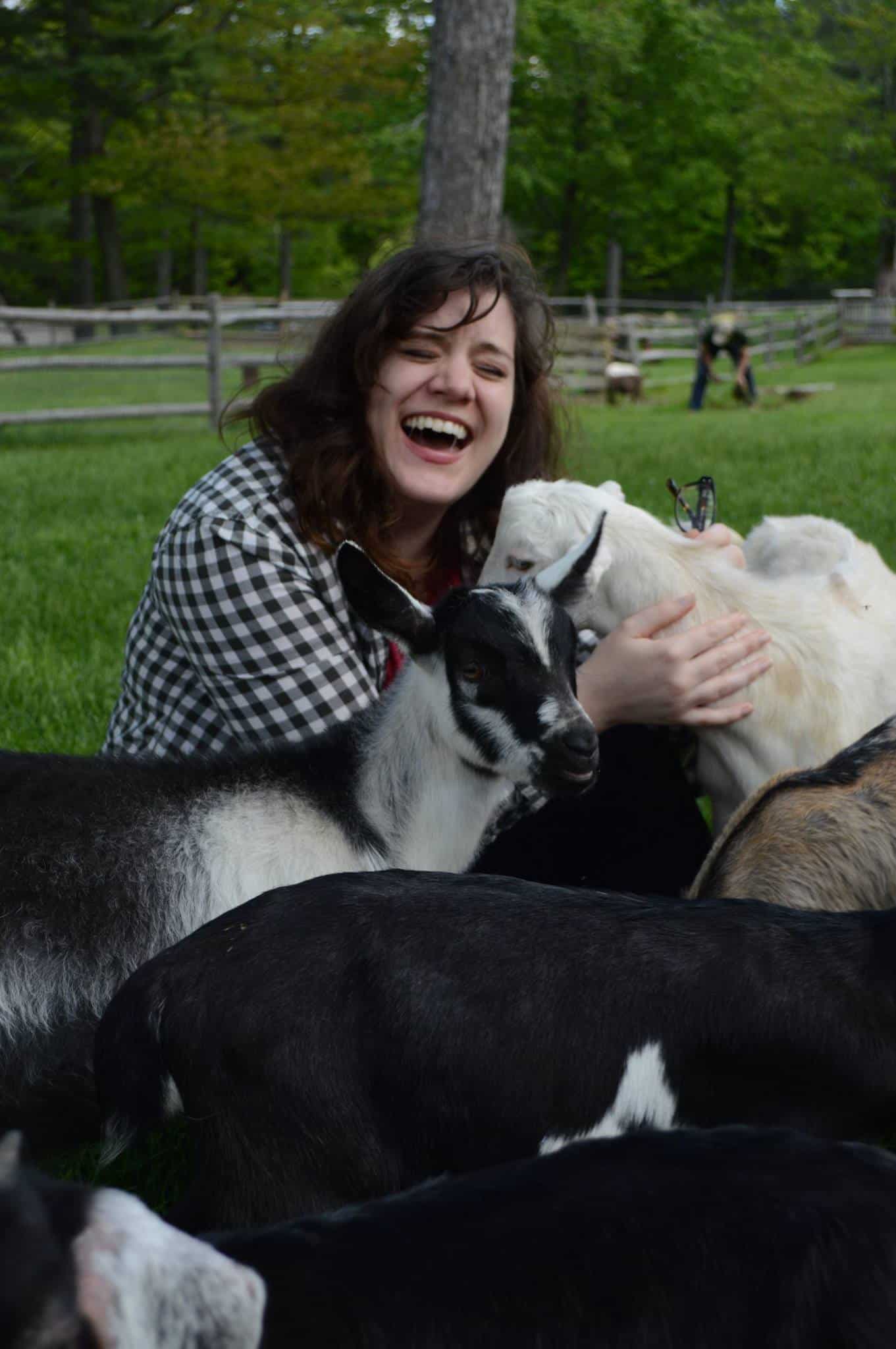 Amy Hartle is the founder and Editor-in-Chief of New England With Love, a comprehensive resource for travel in the New England region. Amy has been exploring New England since 2001. She lived in Vermont for many years and is a graduate of Plymouth State University in New Hampshire. On this site, Amy aims to share her love of New England and help you to have the best possible adventures!
Amy has been writing about travel for over a decade, and is a full time blogger, publishing both Two Drifters and Let's Adventure Baby. When not traveling the world or creating epic blog content, Amy can be found cuddling with her husband, son, and cats, & drinking a maple latte.