---
*Links in this article may be affiliate links, from which we may earn commission. See our
Privacy Policy
for full details.
---
Connecticut is a beautiful New England state that's filled with natural beauty. There seems to be an endless amount of forests and hiking trails to explore, and there are also beautiful waterfalls travelers can check out.
If you want to explore those waterfalls and bask in that natural beauty, here are 10 of the most gorgeous waterfalls in Connecticut to add to your sightseeing list.
Buttermilk Falls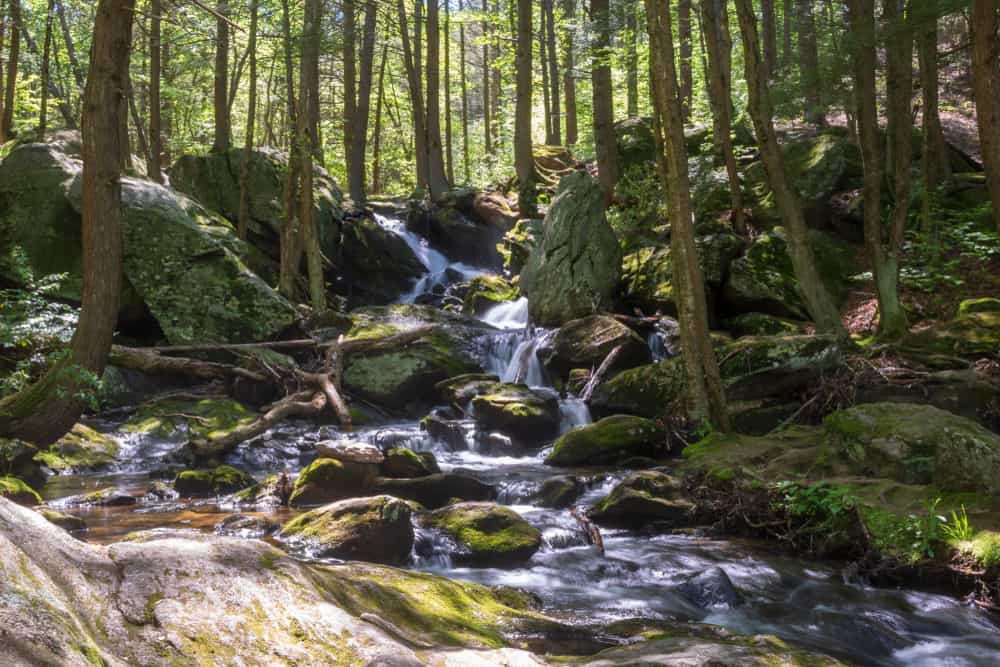 One of the prettiest waterfalls in Connecticut to explore is Buttermilk Falls, located in the quaint town of Plymouth. The waterfall is often referred to as a "hidden gem", and there's generally light foot traffic at the falls at one time. You can hike Buttermilk Falls Trail for a little more than a half mile to get to this beauty.
Buttermilk Falls is a 55-foot waterfall that's quite a site to see. Hikers and sightseers have noted that if you stand at the top of the falls, you may miss its true beauty. If you can (very carefully) make it to the bottom of the falls, you'll get an incredible view of this hidden gem. There's also ample space around the falls and the trails to stop and rest, or have a picnic with a beautiful view.
Chapman Falls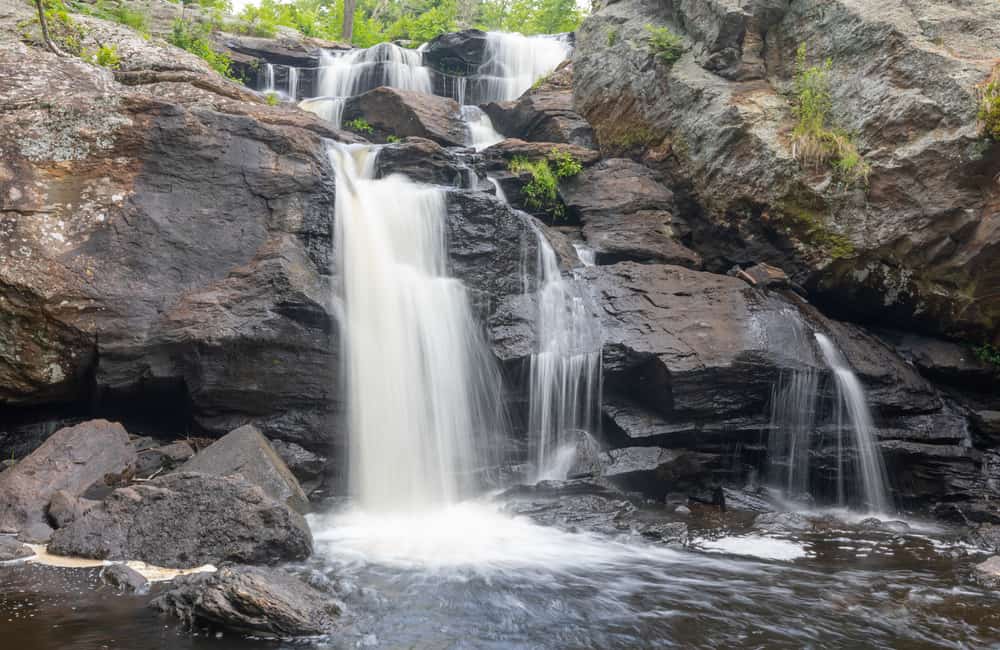 Many people say Chapman Falls is one of the most beautiful and intriguing waterfalls to visit in the Nutmeg State. Chapman Falls is located in East Haddam in an area known as Devil's Hopyard State Park. Why the ominous name? Legend has it that Satan himself used to walk along the falls. One day, his tail got wet and, while he was infuriated, he marched his hooves over sections of the falls and left unique scars on the rocks that shaped its fixture. Others believe that centuries of water flowing over the rocks caused its unique shape. You decide which version to believe.
The interesting legend, coupled with the 60-foot waterfall's unique structure, makes it a popular spot for hikers and sightseers. There are trails around the waterfall that allow you to view it from the top or from the bottom. And since it's located along the Eightmile River, you'll get some beautiful waterway views while you walk the trails.
Mount Carmel Springs Falls
Another great Connecticut waterfall to visit (and one of the highest as well) is Mount Carmel Springs Falls, located within Sleeping Giant State Park (no joke, that's the real name!) in the town of Hamden. This 76-foot waterfall is known for its unique rock formations and is a great sight to see while hiking within Sleeping Giant.
It's worth noting that the falls can dry up a bit in the summer, but there's plenty of water flowing during the rainy season. Make a stop at this large waterfall while you explore the rest of the state park!
Great Falls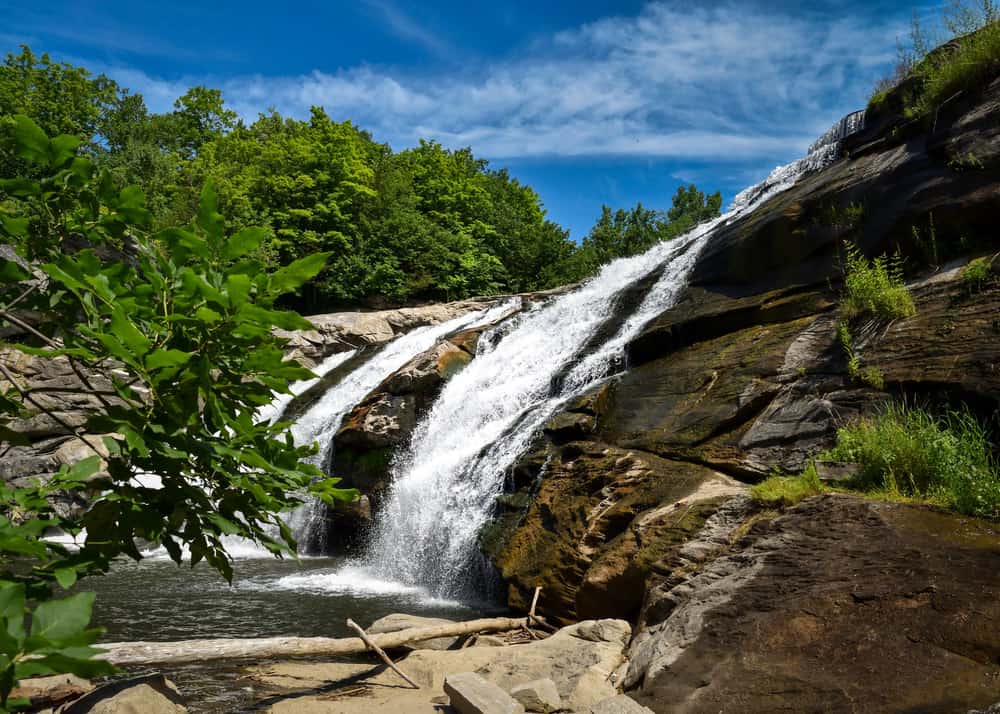 Great Falls is a waterfall formed along the Housatonic River at Falls Village in the town of Canaan. It's widely considered one of the favorite waterfalls in Connecticut to visit because of its pure power. Some people even compare its power to that of Niagara Falls!
This 60-foot powerful waterfall is picturesque for hikers and sightseers, and many people report being in awe while looking at the natural structure. The waterfall is dam-controlled and supplies Canaan and Falls Village with water, so the volume of water you see going over the falls may vary from time to time.
If you just want to admire the falls and skip the long hike, you're in luck. The waterfall is only a short hike from the parking lot. If you want to go on a longer hike after seeing the falls, you can always head to the Appalachian Trail in Falls Village. And, if you're feeling adventurous, you could try kayaking or tubing on the Housatonic River.
Dean's Ravine Falls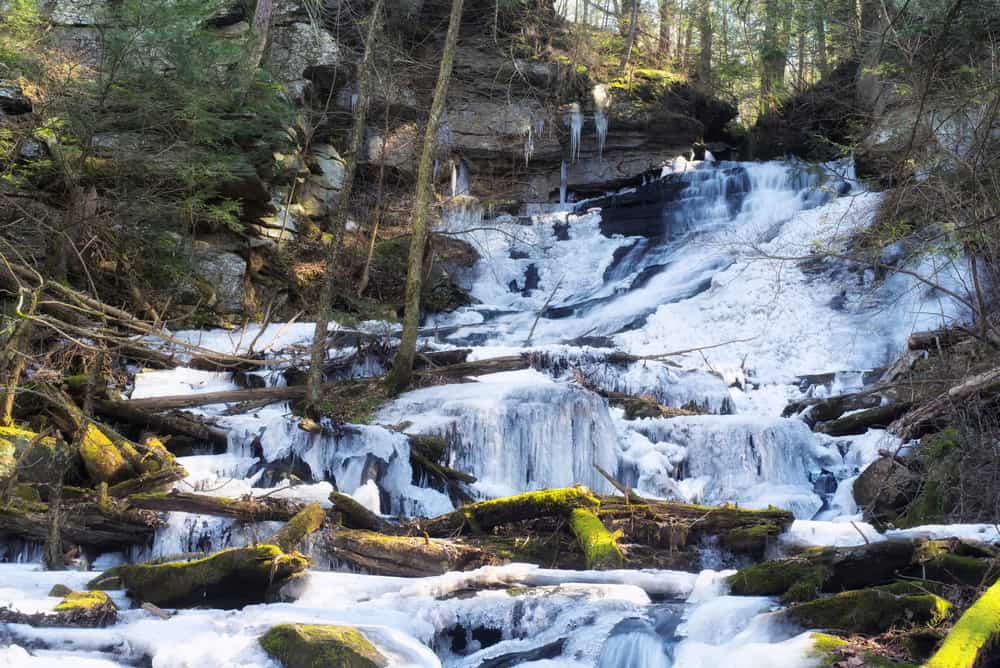 While you're hanging out in Canaan, you can visit another one of the coolest CT waterfalls: Dean's Ravine Falls. This waterfall has a reputation for being stunning, but can be overshadowed due to the fact that it's in the same area as Great Falls. Don't underestimate this waterfall, though — it's one to behold! It's even beautiful when frozen!
This beautiful waterfall formed along Reed Brook in Canaan is a 50-foot waterfall that's surrounded by hemlocks and a bit rugged (but still a sight to see). Depending on the season, you can see water gushing down the waterfall via an overlook that's a short walk to from the parking area. If you're craving more adventure after visiting the waterfall, you can always hike to the Appalachian Trail, which is only a few miles from the ravine.
Mill Pond Falls
You'll find this cute little waterfall within Mill Pond Park in the town of Newington. Locals call this scenic waterfall the "smallest natural waterfall in the United States". The falls flow into Mill Pond, and there's an incredibly cute observation area below the falls to sit down and bask in the beauty. There's also a footbridge over the falls that leads to a path you can take to Mill Pond.
Mill Pond Park is also a perfect place to take pictures. The park is filled with beautiful wildflowers and has numerous gardens in it. Between the flowers, the waterfall, the pond, and the bridge, you can take some great pictures to freshen up your Instagram account.
Wadsworth Little Falls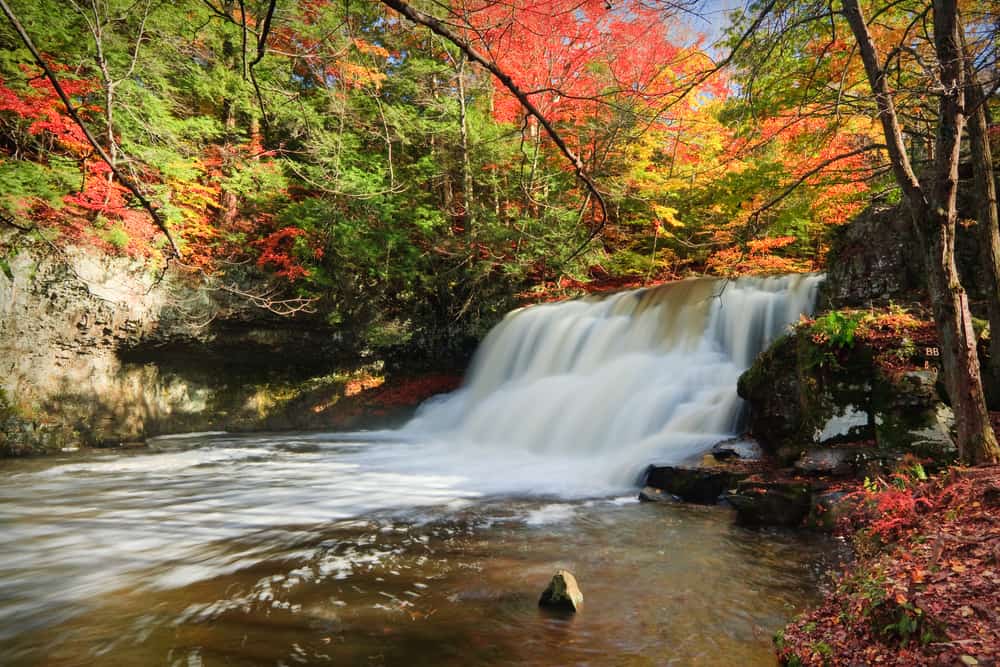 If you're looking for a site that's beautiful and gets you moving, then Wadsworth Little Falls is the place to go. It's located within Wadsworth State Park in Middlefield and is 40 feet tall. This waterfall isn't particularly powerful, but if you visit it after a large storm or a longer rain season, you'll see plenty of water flowing.
If you're interested in seeing the falls, it's worth noting that there are two ways to get there. You could park right next to the falls, or you could park farther away and hike there. Once you see the falls, feel free to walk the other trails in Wadsworth State Park. The park is filled with beautiful scenic routes you can walk with friends and family, but keep in mind that it can get pretty busy when the weather is nice.
Kent Falls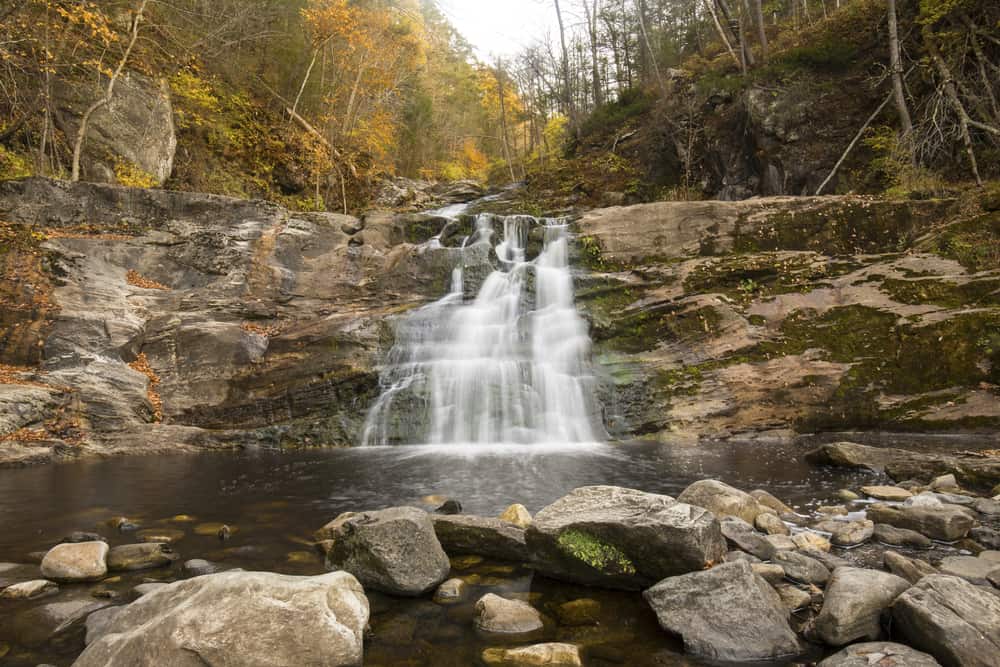 If you're planning to visit the most incredible Connecticut waterfalls, carve out enough time to visit the beautiful group of waterfalls known as Kent Falls. Kent Falls can be found within Kent Falls State Park and is made up of several unique waterfalls and cascades that create a gorgeous scene. Their makeup also shows the geological evolution of Connecticut and how much it's changed over the centuries. In total, there's a 250-foot drop in the falls.
Kent Falls State Park is one of the most popular parks to visit in Connecticut, so you should expect people to be there when you visit. It's also a great place to go hiking, have a picnic, and take lovely photos to remember the trip.
Yantic Falls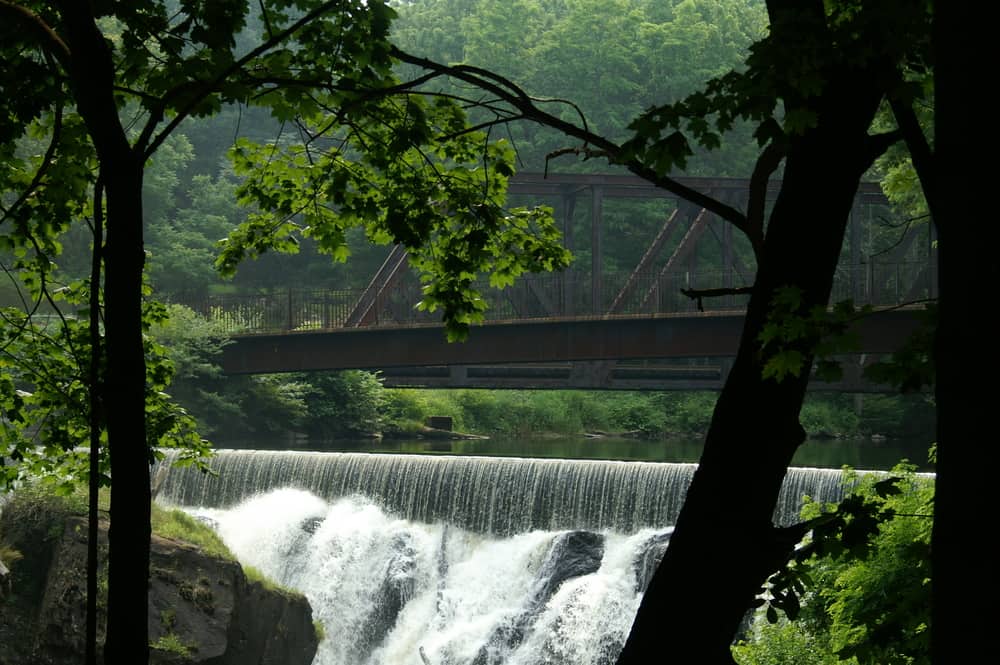 If you want to visit a beautiful waterfall that's also rich in history, Yantic Falls is just the place for you. Yantic Falls is a 40-foot part-natural, part-dam waterfall in Norwich. The falls gush water into a narrow gorge, which then pumps into the Yantic River.
Yantic Falls has another name: Indian Leap Falls. According to plaques in the park, it was a favorite encampment of the Mohegan Indians in the 17th century. In 1643, the Mohegans were in battle against the Narragansetts. Legend has it that a group of Narragansetts unknowingly reached the high escarpment of the falls during the battle. The Narragansetts, rather than surrender, attempted to leap but plunged to their deaths. The falls also played a key role in the industrial development of Norwich.
In addition to having a rich history, the falls are a beautiful site to see. There's a train bridge that goes over the falls that many people like to take pictures on, and there's a pedestrian bridge across from the falls where you can see the falls in all their gorging glory.
Enders Falls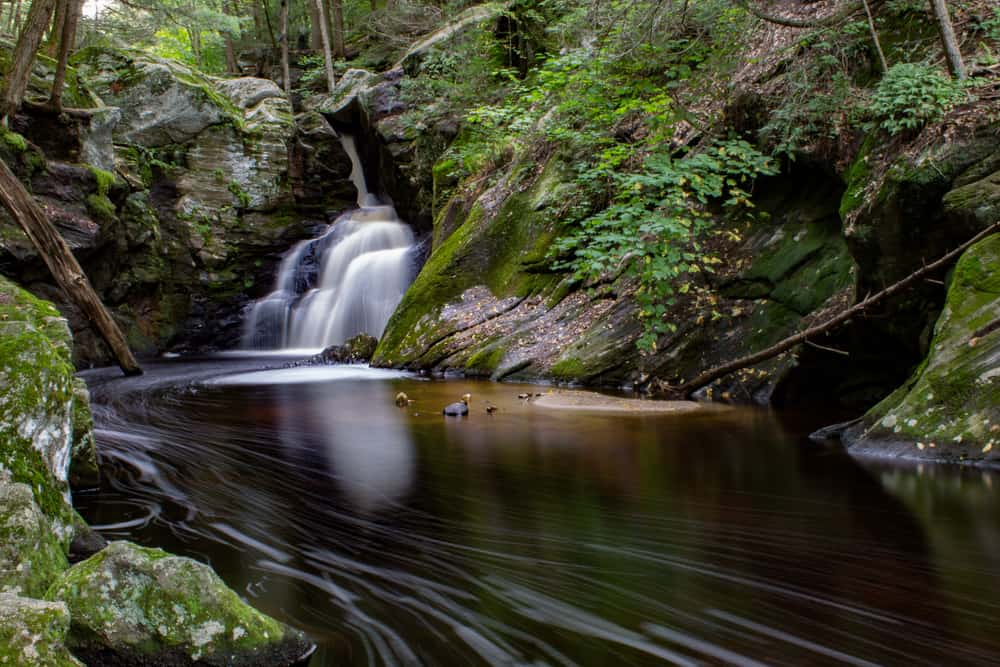 We can't walk about the best waterfalls in Connecticut without mentioning Enders Falls. Enders Falls is located within Enders State Forest (which lies primarily in the town of Granby). This state park is known for having gorgeous scenery, and the falls definitely contribute to that beauty.
Enders Falls actually comprises five different waterfalls that have several pools people like to swim in. The tallest drop for the falls is 30 feet. It's worth noting that while the falls and the pools are beautiful, it can be easy to slip and fall if you aren't paying attention. So, do go exploring — but explore carefully.
Enders Falls is a popular spot for people to hike, so you shouldn't be surprised if you see many people there — especially during the warmer months. Some people estimate the waterfall hike can take between 30 and 45 minutes, but if you want a longer hiking experience, you can always hike the acres upon acres of forestry in Enders State Forest.
—
Connecticut is a state that's filled with gorgeous waterfalls you can hike and admire. These waterfalls are natural wonders that can help you relax and connect with nature. The key is to plan your waterfall visits properly and come prepared. Then, you can enjoy chasing waterfalls and seeing the wonderful sights Connecticut has to offer.
---
You might also like:
---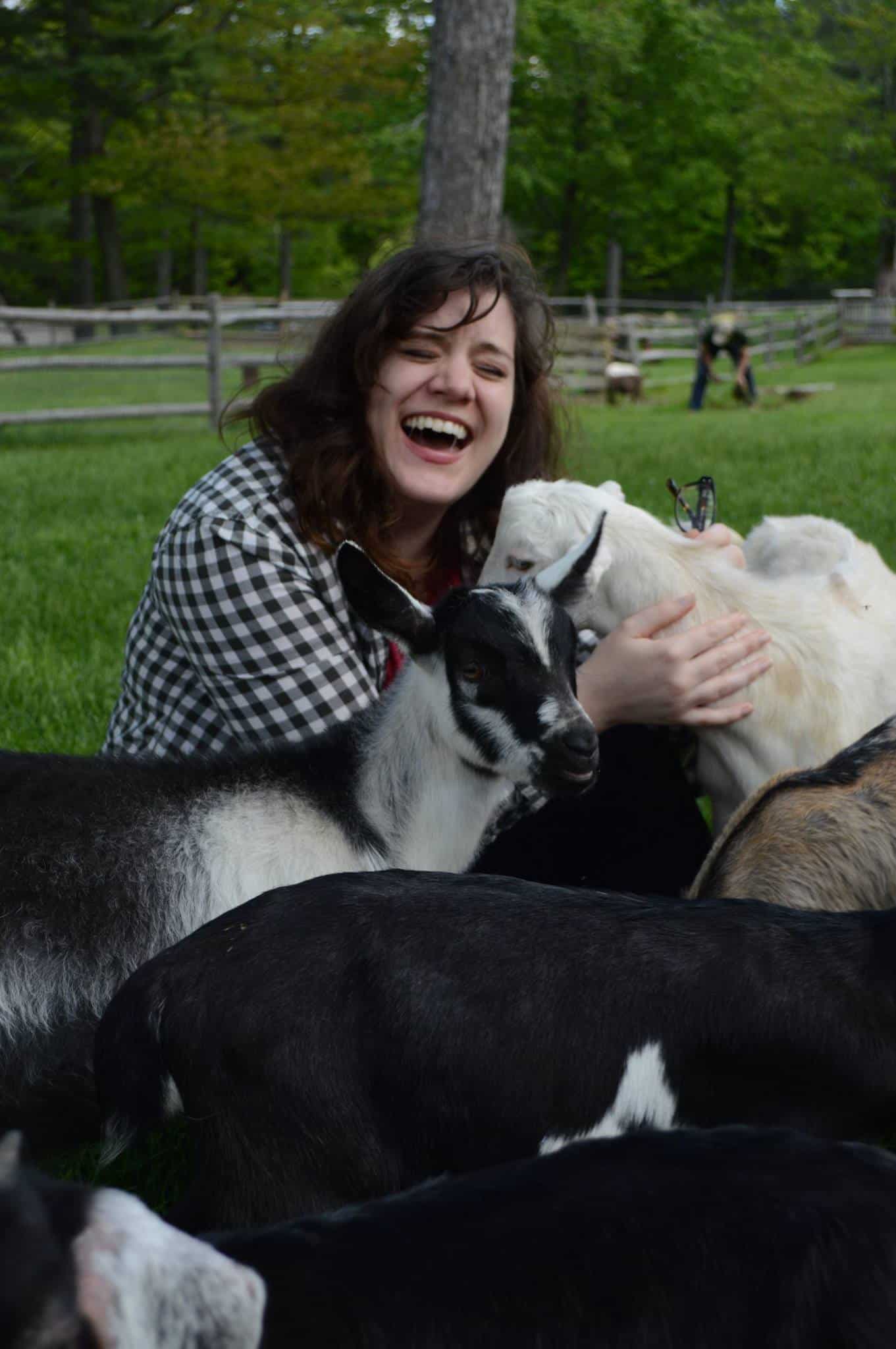 Amy is the founder of New England with love. A proud Vermonter, she hopes to share her love of New England and help you find the best adventures in the region. Amy is also blogger/founder at Two Drifters, where she writes alongside her husband about romantic and couples travel, relationships, honeymoons, and more. When not working on websites, Amy is probably reading, cuddling with her husband, son, and cats, & drinking a maple latte.