*This site uses affiliate links; if you make a purchase through these, I may receive a small commission at no cost to you.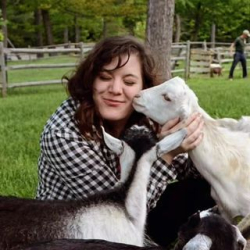 Latest posts by Amy Hartle
(see all)
Connecticut is filled with natural beauty, all around the state. With a fantastic amount of forests and hiking trails to explore, you'll find there are also plenty of waterfalls in Connecticut just waiting to be discovered by you, too.
Some waterfalls fly somewhat under the radar and others are major tourist attractions, but all of these waterfalls in Connecticut have their own draw. If you're looking for cool waterfalls to explore this year, these are 15 of the most gorgeous waterfalls in Connecticut to add to your sightseeing list.
Waterfalls in Connecticut
Buttermilk Falls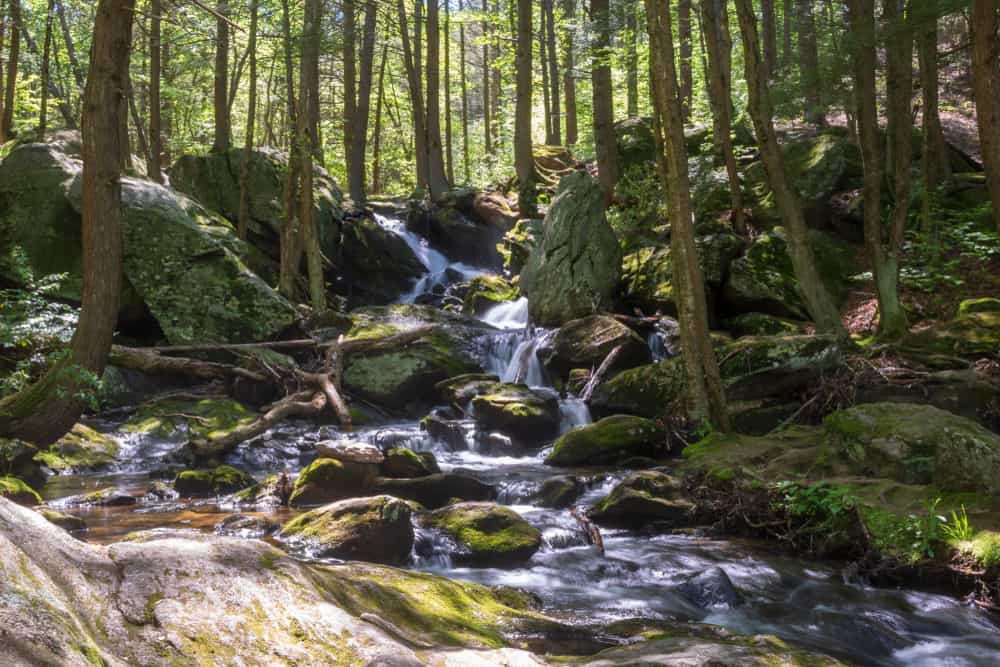 One of the prettiest waterfalls in Connecticut is Buttermilk Falls, located in the quaint town of Plymouth. The waterfall is often referred to as a "hidden gem", and there's generally light foot traffic at the falls. Buttermilk Falls Trail is only a little more than a half mile to get to this beauty.
Buttermilk Falls is a 55-foot waterfall that is quite a sight to see, and one where the best view is found at the bottom of the falls. There's also ample space around the falls and the trails to stop and rest, or have a waterfall picnic.
Roaring Brook Falls
Located in lovely Cheshire at Roaring Brook Park, Roaring Brook Falls is the second tallest waterfall in Connecticut. With an 80 foot single drop, it is one of the more dramatic waterfalls in Connecticut to see.
The hike to get to Roaring Brook Falls has some steep parts, so just a heads up to be prepared! This is not a waterfall hike to attempt without proper tread on your shoes.
Chapman Falls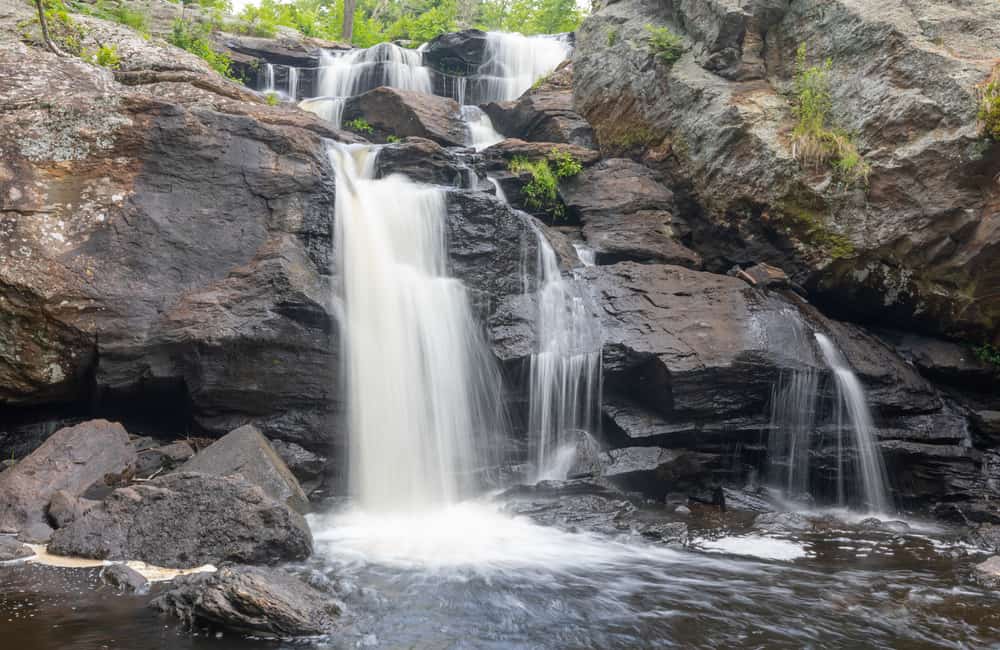 Many people say Chapman Falls is one of the most beautiful and intriguing waterfalls to visit in the Nutmeg State. Chapman Falls is located in East Haddam in an area known as Devil's Hopyard State Park.
Why the ominous name? Legend has it that Satan himself used to walk along the falls. One day, his tail got wet and infuriated, he marched his hooves over sections of the falls and left unique scars on the rocks that shaped its fixture. It's a fun story to tell while marveling at this natural attraction!

This 60-foot CT waterfall is a popular spot for hikers and sightseers. There are trails around the waterfall that allow you to view it from the top or from the bottom. And since it's located along the river, you'll get some beautiful water views while you walk the trails.
Mount Carmel Springs Falls
Another great Connecticut waterfall to visit (and one of the highest as well) is Mount Carmel Springs Falls, located within Sleeping Giant State Park in the town of Hamden. This 76-foot waterfall is known for its unique rock formations.

It's worth noting that the falls can dry up a bit in the summer, but there's plenty of water flowing during the rainy season. Make a stop at this large waterfall while you explore the rest of the state park!
Great Falls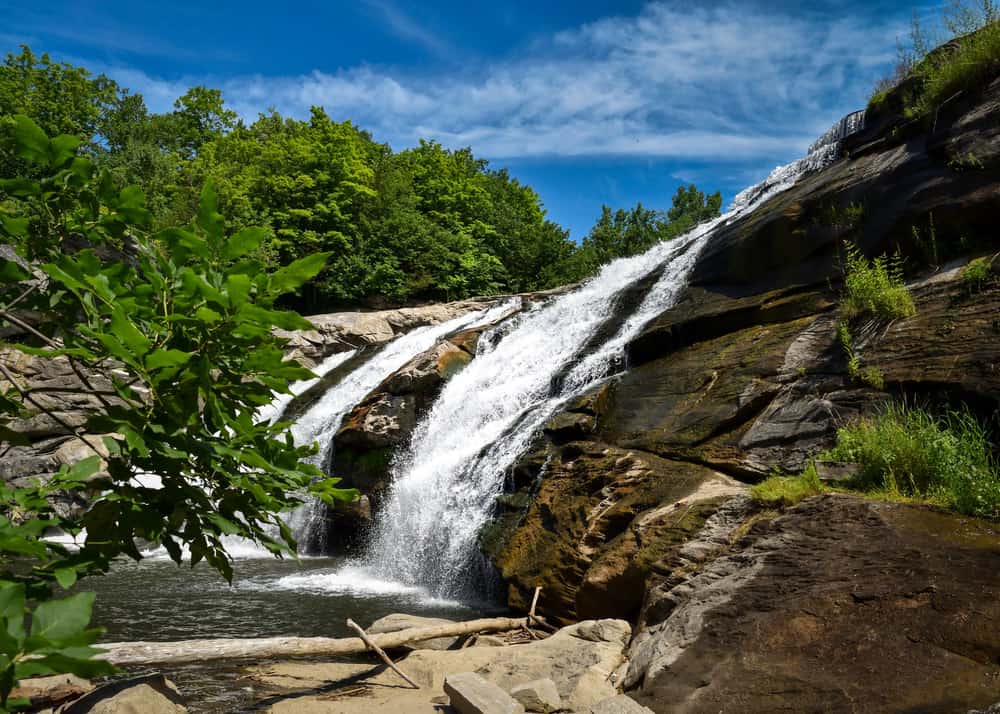 Great Falls is a waterfall formed along the Housatonic River at Falls Village in the town of Canaan. It's widely considered one of the favorite waterfalls in Connecticut to visit because of its pure power. Some people even compare its power to that of Niagara Falls!
This 60-foot powerful waterfall is picturesque, but it is dam-controlled and supplies Canaan and Falls Village with water, so the volume of water you see going over the falls may vary from time to time.
If you just want to admire the falls and skip the long hike, you're in luck. The waterfall is only a short hike from the parking lot. If you want to go on a longer hike after seeing the falls, you can always head to the Appalachian Trail in Falls Village.

Aspetuck Falls (New Preston Falls)
If you're looking for Connecticut waterfalls that are very easily seen and enjoyed without having to do much hiking to get to them, Aspetuck Falls is located right in the village of New Preston and can be seen from behind the town shops.
With 20 feet of plunging waterfall, this CT water feature can be seen from the side of the road, or you can walk down to an observation platform to get an even closer look of these lovely falls.
Dean's Ravine Falls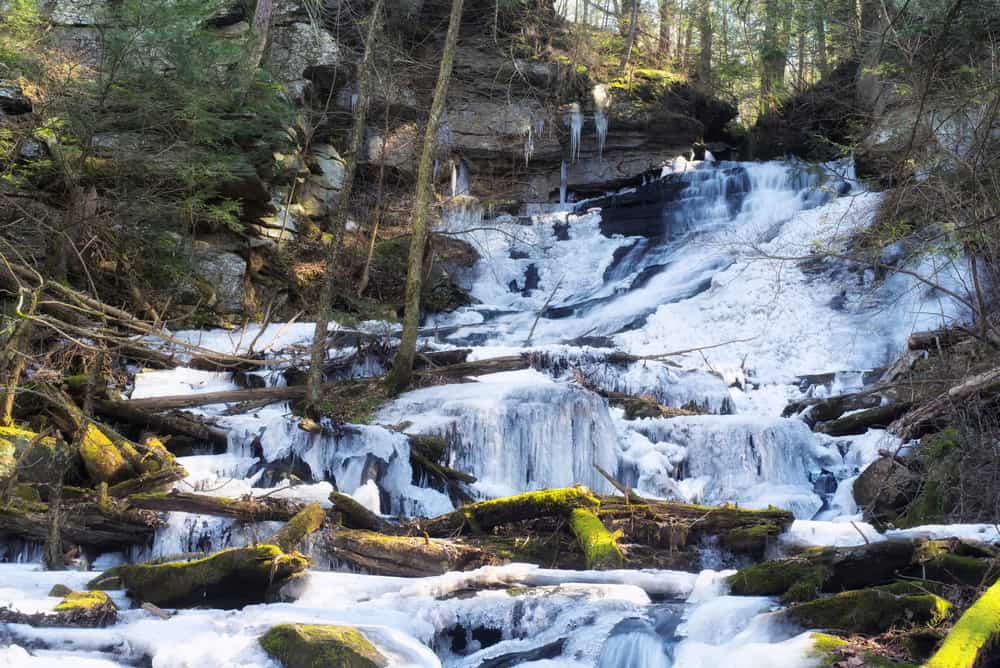 While you're hanging out in Canaan, you can visit another one of the coolest CT waterfalls: Dean's Ravine Falls. This waterfall has a reputation for being stunning, but can be overshadowed due to the fact that it's in the same area as Great Falls. Don't underestimate this waterfall, though — it's one to behold! It's even beautiful when frozen!
This 50-foot waterfall is surrounded by hemlocks and a bit rugged. Depending on the season, you can see water gushing down the waterfall via an overlook that's a short walk to from the parking area. If you're craving more adventure after visiting the waterfall, you can always hike to the Appalachian Trail, which is only a few miles from the ravine.
Mill Pond Falls
You'll find this cute little waterfall within Mill Pond Park in the town of Newington. Locals call this scenic waterfall the "smallest natural waterfall in the United States." There's an incredibly cute observation area below the falls to sit and enjoy the view, and a footbridge over the falls that leads to Mill Pond.
Mill Pond Park is also a perfect place to take pictures. The park is filled with beautiful wildflowers and has numerous gardens in it. Between the flowers, the waterfall, the pond, and the bridge, you can take some great pictures to freshen up your Instagram account.
Wadsworth Little Falls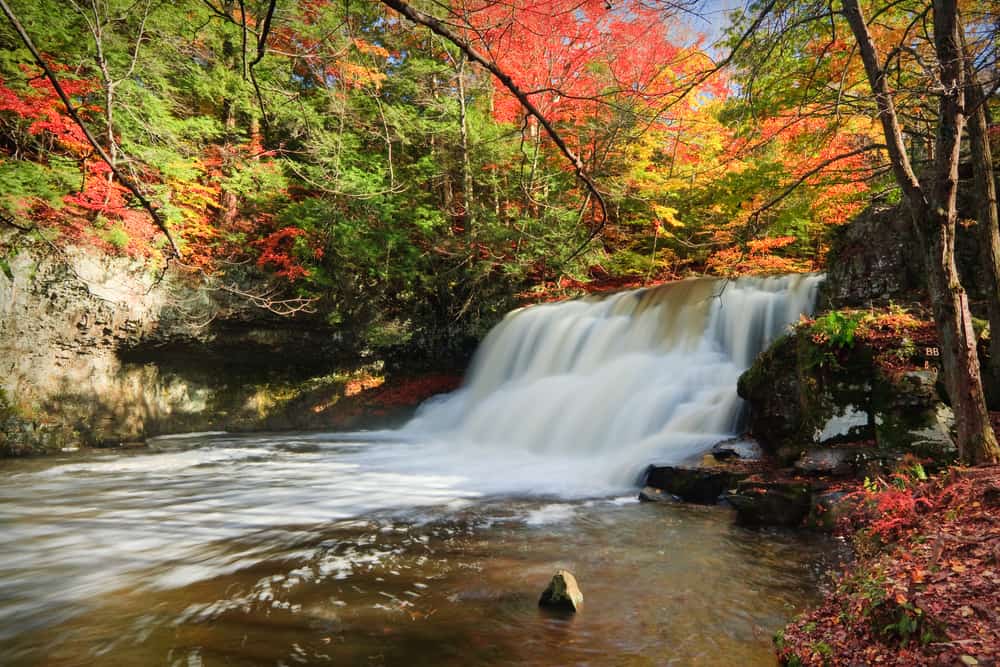 If you're looking for a site that's beautiful and gets you moving, Wadsworth Little Falls is the place to go. It's located within Wadsworth State Park in Middlefield and is 40 feet tall. This waterfall isn't particularly powerful unless you visit it after a large storm or a few days of rain.

If you're interested in seeing the falls, there are two ways to get there. You could park right next to the falls, or hike there. The park is filled with beautiful scenic routes you can walk with friends and family, but keep in mind that it can get pretty busy when the weather is nice.
Knife Shop Falls
Located in Humaston Brook State Park of lovely Litchfield CT, Knife Shop Falls is so named because it is located on the site of a former knife company, and the ruins remain to this day.
Knife Shop Falls is about 40 feet of falls and can be accessed downstream from the dam by following a small trail near Knife Shop Road. This is definitely one of the lesser known waterfalls in Connecticut.
Blackledge Falls
Blackledge Falls is perfect for those looking for waterfalls in Connecticut near Hartford, as it's only about a twenty minute drive away. The hike to get out to this CT waterfall is pretty quick as it's just a little over a mile loop, but the Blackledge Falls are best seen after a good rain.
The highest plunge is just over 20 feet, but if you can make the muddy hike after a few days of rain, you'll be rewarded with some pretty picturesque plunges! As an added bonus, the backside of the trail connects to Gay City State Park, home to one of the coolest abandoned towns to explore.
Kent Falls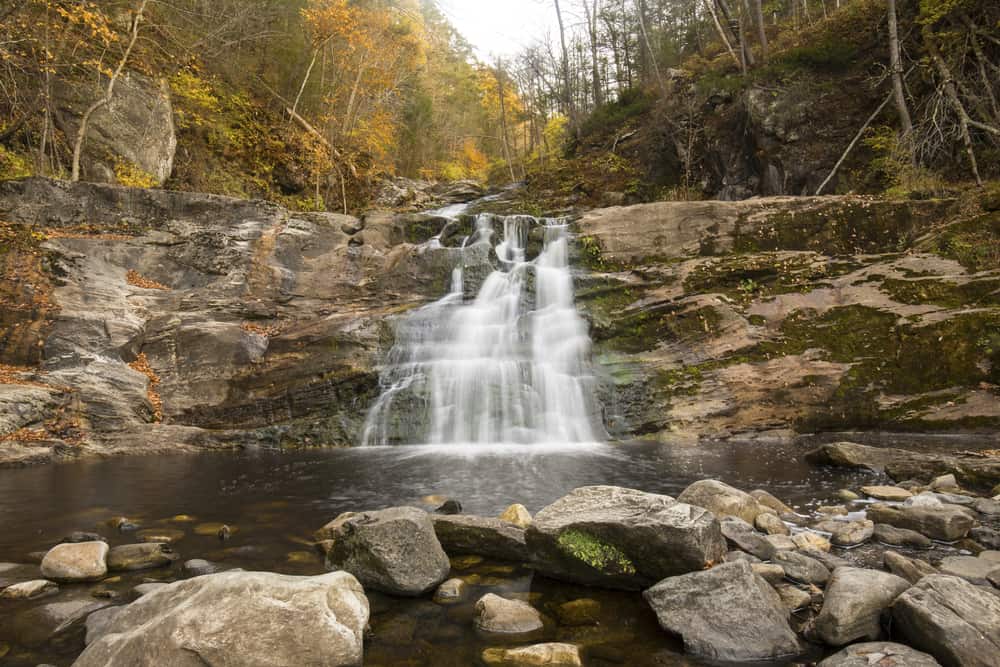 If you're making a list of the most incredible Connecticut waterfalls, make sure you add the beautiful group of waterfalls known as Kent Falls. Located within Kent Falls State Park, it is made up of several unique waterfalls and cascades. In total, there's a 250-foot drop in the falls.
Kent Falls State Park is one of the most popular parks to visit in Connecticut, so you should expect people to be there when you visit. It's also a great place to go hiking, have a picnic, and take lovely photos to remember the trip.
Spruce Brook Falls
You'll find Spruce Brook Falls in Naugatuck State Forest, one of the prettiest areas of the state. With a height of 40 feet, this Connecticut waterfall is one where you really want to aim to see it after some rain so you can see it at its fullest.
The loop itself to the falls is only 1.2 miles, so it's not a long waterfall hike in CT at all, and is considered a moderate hike.
Yantic Falls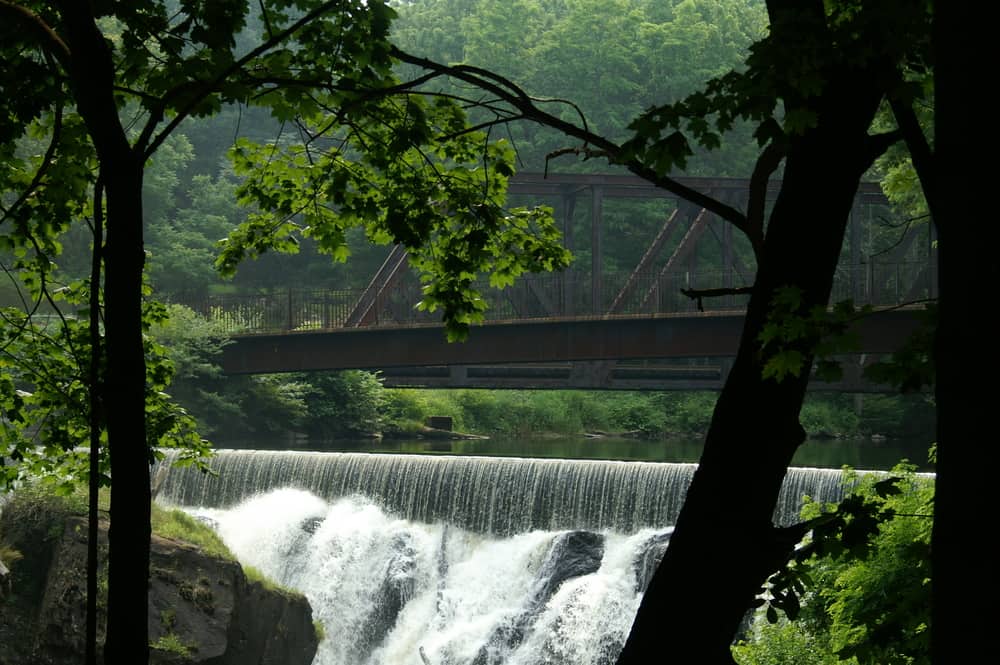 If you want to visit a CT waterfall rich in history, check out Yantic Falls. This 40-foot part-natural, part-dam waterfall in Norwich pumps into the Yantic River.
Yantic Falls is also called Indian Leap Falls. Said to be a favorite encampment of the Mohegan Indians, in 1643 the Mohegans were in battle against the Narragansetts. Legend has it that a group of Narragansetts unknowingly reached the high escarpment of the falls during the battle. Rather than surrender, they attempted to leap but plunged to their deaths.

In addition to having a rich history, the falls are a beautiful sight to see. There's a train bridge that goes over the falls that many people like to take pictures on, and a pedestrian bridge across from the falls where you can see the falls in all their plunging glory.
Enders Falls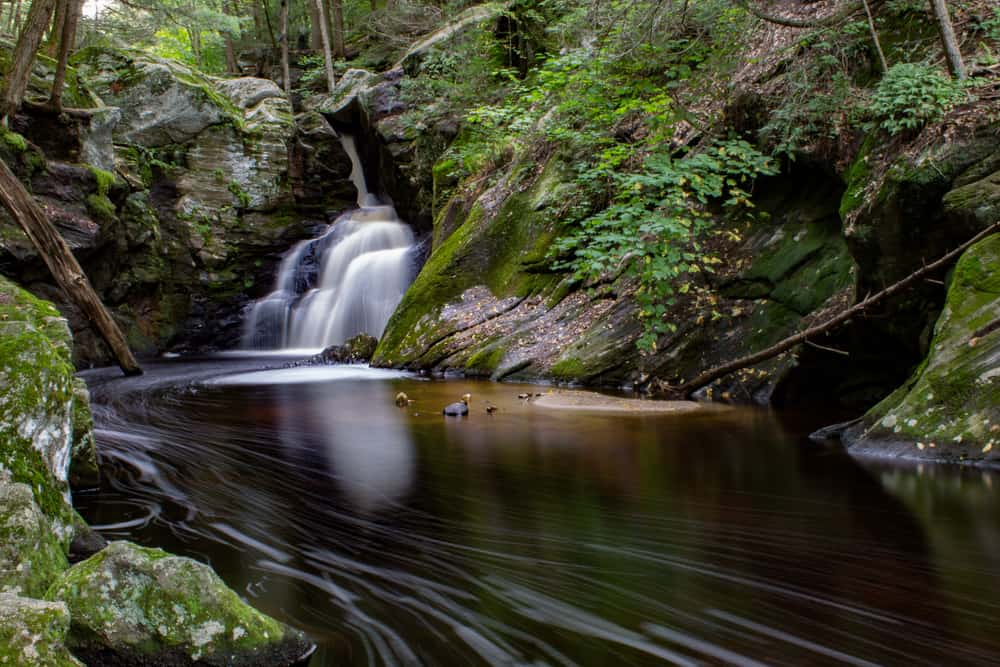 We can't talk about the best waterfalls in Connecticut without mentioning Enders Falls. Located within Enders State Forest, this state park is known for having gorgeous scenery, and the falls are a big part of that!

Enders Falls actually comprises five different waterfalls that have several pools people like to swim in, so if you're looking for Connecticut waterfalls you can swim in, here ya go! The tallest drop for the falls is 30 feet.

Enders Falls is a popular spot for people to hike, so you shouldn't be surprised if you see many people there — especially during the warmer months. This waterfall hike can take between 30 and 45 minutes, and the dip you can take at the end is the perfect reward.

—
There are many gorgeous waterfalls in Connecticut you can hike and admire. Be sure to plan your waterfall visits properly and come prepared. Then, you can enjoy chasing waterfalls and seeing the wonderful sights Connecticut has to offer.
---
You might also like:
12 Best Connecticut State Parks
---