Are you looking for romantic getaways in Connecticut? The Nutmeg State has some great options. Whether you're looking for small-town charm, big-city fun, or country quiet, you'll find it here on this list of the best romantic getaways in Connecticut!
Romantic Getaways in Connecticut
The Inn at Woodstock Hill, Woodstock CT
Located in Connecticut's "Quiet Corner," The Inn at Woodstock offers a respite from the hustle and bustle of everyday life. The inn itself is beautifully decorated and rooms with a fireplace are available by request; how does a night in, you and your love, with a crackling fire in the background sound? The Inn at Woodstock offers regular specials, too, like their Valentine's Day special with discounted room rates, a bottle of Hallmark wine, and a copy of the Hallmark movie that was filmed at the inn!
Woodstock is a quaint little town with plenty to explore. Visit Roseland Cottage, the 19th century home that is a favorite historic regional attraction, and Loos Center for the Arts for local art and performance pieces. Woodstock is also home to Taylor Brooke Winery and Taylor Brooke Brewery (conveniently located across the road from each other!), so be sure to pick yourself up a bottle or two of Connecticut-made vino or a few craft brews to enjoy in your room at the inn. Woodstock is a romantic Connecticut destination any time of year!
Click Here to Check Prices & Book!
Saybrook Point Resort and Marina, Old Saybrook CT
Beautifully situated on the Sound, Saybrook Point Resort and Marina in Old Saybrook is an ideal spot for any romantic getaway! The very picture of coastal elegance, Saybrook Point Resort and Marina is a comfortable luxury with welcoming furnishings, private balconies, and fireplaces; kick it up a notch with their Lighthouse Suite, deemed the "Most Romantic Place to Stay" by Connecticut Magazine!
With the onsite spa, year-round heated pools, fantastic dining options, and spectacular views of the Long Island Sound, you and your love may decide to just hunker down on the property for the entirety of your stay at Saybrook Point Resort, but if you do decide to venture out, there's plenty to see and do in Old Saybrook! Take in a show at The Kate, hunt for interesting antiques, or take a romantic beach stroll at Harvey's Beach, one of the prettiest beaches in Connecticut. If it's a view you're looking for on your romantic getaway in Connecticut, Saybrook Point Resort delivers!
Click Here to Check Prices & Book!
Manor House Inn, Norfolk CT
Considered one of Connecticut's dreamiest B&Bs, Manor House Inn is beyond picturesque with its idyllic setting on 5 pristine acres in the lovely Litchfield Hills region. Manor House Inn even offers a Romantic Getaway package in one of their luxury suites with a whirlpool tub, fireplace, and private balcony. Chocolate-covered strawberries and champagne are presented upon arrival, and breakfast is delivered directly to your door the next morning!
A stay at Manor House Inn places you within easy walking distance of Norfolk favorites like the Infinity Music Hall and The Norfolk Pub, both must-visit spots while in the area. It also happens to be one of the best places for fall foliage in Connecticut, so Manor House Inn is an especially gorgeous romantic getaway destination in the autumn months!
Click Here to Check Prices & Book!
Delamar, Greenwich CT
If it's luxury and elegance you're after, then the Delamar at Greenwich Harbor might be your perfect Connecticut romantic getaway choice! Old World European style meets coastal Connecticut charm at this opulent hotel, with rooms that are stylish, refined, and ever so lavishly decorated. The on-site full-service spa, fine dining, live entertainment, and phenomenal views of the Greenwich Harbor all add to the magic of a stay at the Delamar.
Book the "Forever Romantic" package and get a $100 dinner voucher for a romantic dinner out for two, champagne on ice and a cheese and fruit plate sent to your room, and a late checkout so your romantic getaway doesn't require an alarm clock! There is plenty to see and do in Greenwich as well, but with all the amenities and services to be found at the Delamar, you two might not want to leave the grounds!
Click Here to Check Prices & Book!
Stonecroft Country Inn, Ledyard CT
Stonecroft Country Inn is a beautiful B&B that is listed on the National Registry of Historic Places and features 200+-year-old stone walls on the carefully manicured grounds. Thoughtful touches abound, and the overall feeling is "old-world elegance meets modern comfort" in this lovely B&B, and some rooms have wood-burning fireplaces. Ask about their romance packages; perhaps the Elopement Package might be needed during your romantic getaway?
Stonecroft Country Inn is also conveniently located just 5 miles north of Mystic, one of the must-visit spots in Connecticut. Mystic is full of fun things to do and great restaurants to check out; you and yours won't have any problems finding fun during your romantic getaway!
Click Here to Check Prices & Book!
Winvian Farm, Litchfield Hill CT
For a unique Connecticut romantic getaway, check out Winvian Farm in Litchfield Hills. With 18 stunning resort cottages to choose from, Winvian Farms is a non-traditional luxury resort, with each cottage decorated in a different theme; for example, you can stay in the Charter Oak room, which is literally built around a gorgeous giant White Oak! Rainfall steam showers and fireplaces are just a few examples of the in-room amenities each cottage boasts.
Winvian Farm is a Relais & Chateaux resort with a five AAA Diamonds rated restaurant, a full-service luxury spa, and a 40-foot pool surrounded by beautifully landscaped greenery, so absolutely everything you might possibly need will be found out on these 113 acres of heavenly bliss, but if you do decide to venture off the grounds, you'll find plenty to do in lovely Litchfield Hills, too!
Click Here to Check Prices & Book!
Silas W Robbins House, Wethersfield
Located in beautiful Wethersfield, Silas W Robbins House is a stunning B&B that remains true to its historical roots (it is listed on the National Registry of Historic Places) and has been beautifully maintained to feature its original Victorian intricacies, with each room a pinnacle of elegant luxury and sophistication, like something you might see in a Hallmark movie. In fact, you can see it in the Hallmark movie "Christmas on Honeysuckle Lane," filmed there in 2018!
Every room at the Silas W Robbins House is gorgeous, but if you're looking for extra romance, ask for The Cupids and Roses Room, where little touches like rainfall showers abound to maximize romance. Plus, Hartford is less than 10 minutes up the road, with plenty to see and do! Hartford has a great restaurant and brewery scene, so after you've acquainted yourself with The Cupids and Roses Room, take your love out on the town in Hartford!
Click Here to Check Prices & Book!
The Inn at Stonington, Stonington CT
This romantic inn is situated in the charming town of Stonington, and The Inn at Stonington is a part of that quaint coastal charm! Featuring 18 luxuriously decorated rooms, many with gas fireplaces and soaking jacuzzi tubs, every space at this inn has a comfortably intimate feel. Request a room with a seaside view to really make your coastal Connecticut romantic getaway feel even more special.
Enjoy a massage in the spa rooms at the inn before heading out to explore the lovely town of Stonington, where you'll find plenty to see and do! The Inn at Stonington is within easy walking distance to shopping and beaches, and the wineries in town are some of the best wineries in all of New England; visit Stonington Vineyards to pick out the perfect bottle of vino to take back to the inn for your romantic night in!
Click Here to Check Prices & Book!
The Nutmeg State has a bit of something for every kind of couple, whether you're looking for a romantic getaway that includes hiking, waterfalls, or a comfy-cozy winter getaway, you can find it in Connecticut. There are also some fantastic options for where to stay in Connecticut, including charming cabins and unique vacation rentals; whatever kind of romantic getaway you and yours are looking for, you can find it in Connecticut!
Read these next: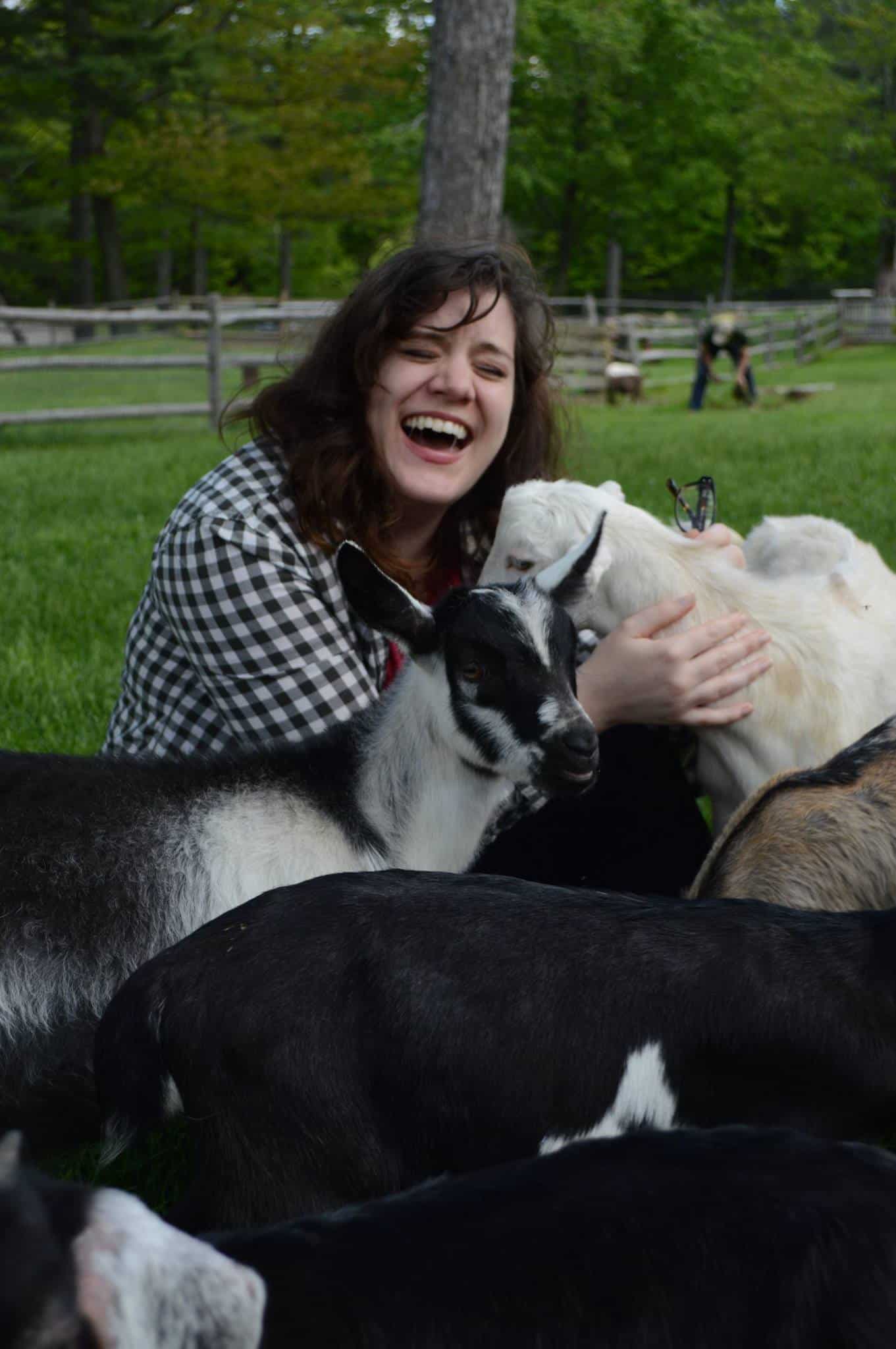 Amy Hartle is the founder and Editor-in-Chief of New England With Love, a comprehensive resource for travel in the New England region. Amy has been exploring New England since 2001. She lived in Vermont for many years and is a graduate of Plymouth State University in New Hampshire. Amy has been writing about travel for over a decade. On this site, Amy aims to share her love of New England and help you to have the best possible adventures!
Amy has been a full time blogger since 2012, and is also the publisher of Two Drifters, where she writes about couples travel and relationships, as well as Let's Adventure Baby, a family travel site. When not traveling the world or creating epic blog content, Amy can be found cuddling with her husband, son, and cats, & drinking a maple latte.