If you happen to be visiting Connecticut and you have extra time on your hands, then it's worth it to take the time to explore other areas nearby! Luckily, there are many Connecticut day trips that can be taken both in and out of the state.
Throughout this post, you'll learn all about the top day trips in the area. They are all super easy trips to take from Connecticut, depending on where you are, and range from other great places to visit in the state and Vermont, Massachusetts, and other surrounding spots.
Keep reading to learn all about the best Connecticut day trips.
Cape Cod, Massachusetts
Home to incredible lobster rolls, ice cream shops, restaurants, and more, Cape Cod is one of the best Connecticut day trips. It's located in Massachusetts but is a reasonably short drive depending on where you'll be staying in Connecticut.
If beaches are what you're after, you're in luck because there are many great beaches within Cape Cod. There are also whale watching tours if you'd rather be out on the water instead of swimming in it.
Other fun things to do in Cape Cod include seeing the Massachusetts lighthouses, going on the Cape Cod Rail Trail, mini-golfing, and even stopping by Truro Vineyards. Honestly, there is so much to do with so many towns on Cape Cod.
East Haddam, Connecticut
One of the lesser-known Connecticut day trips is to East Haddam. It's a small town that actually has quite a bit to do in the area. It's near Gillette Castle State Park, Devil's Hopyard State Park, and Chapman Falls.
East Haddam is the perfect place to visit if you're visiting Connecticut as a couple with a partner because there are also some great romantic activities, like checking out the Staehly Farm Winery! It's a family-run farm that produces some of the best wine in the area.
Fans of the outdoors will also love East Haddam because there are many hikes within the area due to all of the state parks. Some of the great hikes in the area include Vista Trail and Devil's Oven Loop in Devil's Hopyard State Park, the Richard Goodwin Trail (note this is a long one), and the Burnham Brook Preserve Trail at the Burnham Brook Preserve.
Keene, New Hampshire
If you want to take a trip to New Hampshire, you can! Keene is one of the top Connecticut day trips. It's located in Cheshire County and is a classic small New England town that's often seen as a college town because it's home to Keene State College.
For those who love the outdoors, there is so much to do in the surrounding area. You can hike Mount Monadnock, go on a rail trail, visit Madame Sherri Forest to find castle ruins, or even swim at Otter Brooke Lake Beach.
Of course, there is also a lot to do right within the town of Keene, too. One of the most fun activities is to attend a home game for the Keene State Owls. They play lots of sports, so there's almost always a home game! You can also visit the Cheshire Children's Museum, explore downtown Keene, or have a drink at Branch and Blade Brewing.
Mansion at Bald Hill, Connecticut
Located in Woodstock, Connecticut, the Mansion at Bald Hill is one of the best Connecticut day trips. It's a historic attraction that serves as both a restaurant and accommodation, but many people will also visit as a day trip.
With a day trip, be sure to make a reservation at their premier restaurant. The food is incredible and absolutely shouldn't be missed. It's fine dining, so the prices are a bit higher. They have seasonal menus, but some great dishes in the past have included whipped ricotta crostini, baked onion soup au gratin, and black pepper-crusted Hudson Valley duck breast.
If you have extra time and want to spend more than a day, then book a stay at the mansion. They have different rooms available!
Providence, Rhode Island
Many people will love visiting Providence, Rhode Island! There are tons of both free and paid activities within Providence, and it's also a pretty short day trip from Connecticut, no matter where in the state you are.
Foodies will love visiting Providence. There are incredible breweries, coffee shops, and restaurants (including Italian), making it a foodie lover's paradise. Seriously, there's a great place to eat around every corner.
In addition to food, there are many other fun things to do in Providence, too. Explore Roger Williams Park, visit the Stephen Hopkins House, go on a Providence Walk, or ride a gondola (Venetian style) along the river for a unique experience.
Yantic Falls, Connecticut
If you want to stay within the state, visit one of Connecticut's best waterfalls! Yantic Falls is an incredible day trip in the state because of its natural beauty. It's forty feet high and is located in Norwich.
Many people will refer to Yantic Falls as Indian Leap Falls, which has a bit of a dark history. There are plaques throughout the area where you can learn more about where the name comes from if you'd like to.
For an excellent picture at Yantic Falls, be sure to head to either the pedestrian bridge or the train bridge. Both offer incredible views of the waterfall from a distance, making for a swoon-worthy photo for Instagram. Note that during peak times of the year, Yantic Falls can get busy.
Berkshires, Massachusetts
Filled with incredible hikes, charming cabins, and beautiful small towns, the Berkshires is one of the top Connecticut day trips that you won't want to miss out on. They're located in western Massachusetts and are a must-visit, especially for those visiting New England for the first time.
Fans of arts and culture will absolutely love visiting the Berkshires. Learn at The Berkshire Museum, check out the art at MASS MoCA, walk the trails (and peruse the art) at the Clark Art Institute, and even stop by The Bookloft.
Of course, the Berkshires are also not short of outdoor activities either. The top place to visit is Mount Greylock, which is a hiker's paradise. There's also October Mountain State Forest and the Natural Bridge State Park.
Newport, Rhode Island
For a great day trip outside of Connecticut, head to Newport, Rhode Island. This coastal town is filled with incredible beaches, history, and tons to explore… including mansions that you won't want to miss.
It's easily one of the best Connecticut day trips and is one of the top New England gems. While there, enjoy the Cliff Walk, cruise Ocean Drive, and even learn about tennis at the International Tennis Hall of Fame.
But, absolutely don't forget to visit the Newport Mansions. Some tours will bring you to them, or you can visit them independently. For a fun time, consider booking one of the Newport trolley rides that will show you from a distance.
If you have extra time, be sure to have dinner at the White Horse Tavern and head over to The Vanderbilt Hotel to take in the view from the roof deck.
Old Saybrook, Connecticut
A great place to visit on the coast of Connecticut is the beautiful town of Old Saybrook. It's definitely one of the most historical places to visit within the state, dating back to the 1600s. Fans of history and historic sites will love this town.
Old Saybrook is home to one of Connecticut's best state parks: Rocky Neck State Park. This is a perfect place to go looking for wildlife, hiking, and more. Fans of the outdoors should also stop by Harvey's Beach to catch the sunset.
As mentioned before, Old Saybrook is filled with history. History buffs should take the time to explore Main Street, visit Fort Saybrook Monument Park, and take a trip to Gillette Castle, one of the best castles in New England.
Once you're done exploring, grab seafood at the famous Liv's Shack (some of the best seafood in Old Saybrook) and have a drink at 30 Mile Brewing Co.
Mystic, Connecticut
Obviously, one of the best Connecticut day trips is none other than Mystic! This is easily one of the most visited places within the state for a reason. It's located right along the water and has tons of history. Plus, there are many fun things to do in Mystic.
One of the best things to do in Mystic is to stop by the Mystic Aquarium. This is one of the attractions that is an absolute must-do because of how fun it is! It's a great attraction no matter the age and can be perfect for those who are traveling with families.
Other great things to do include visiting the Denison Pequotsepos Nature Center, running the Mystic Half Marathon (if you're up for the challenge), doing part of the Connecticut Wine Trail, or attending the Eastern Connecticut Symphony Orchestra.
Stop by the Mystic Seaport Museum & Village if you're a fan of history, and don't forget to stop by one of the great Mystic restaurants if you get hungry.
This post covered all of the best Connecticut day trips! Hopefully, you now know exactly where to go during your visit to explore more of the surrounding area. Don't forget to share this post for later!
---
You might also like: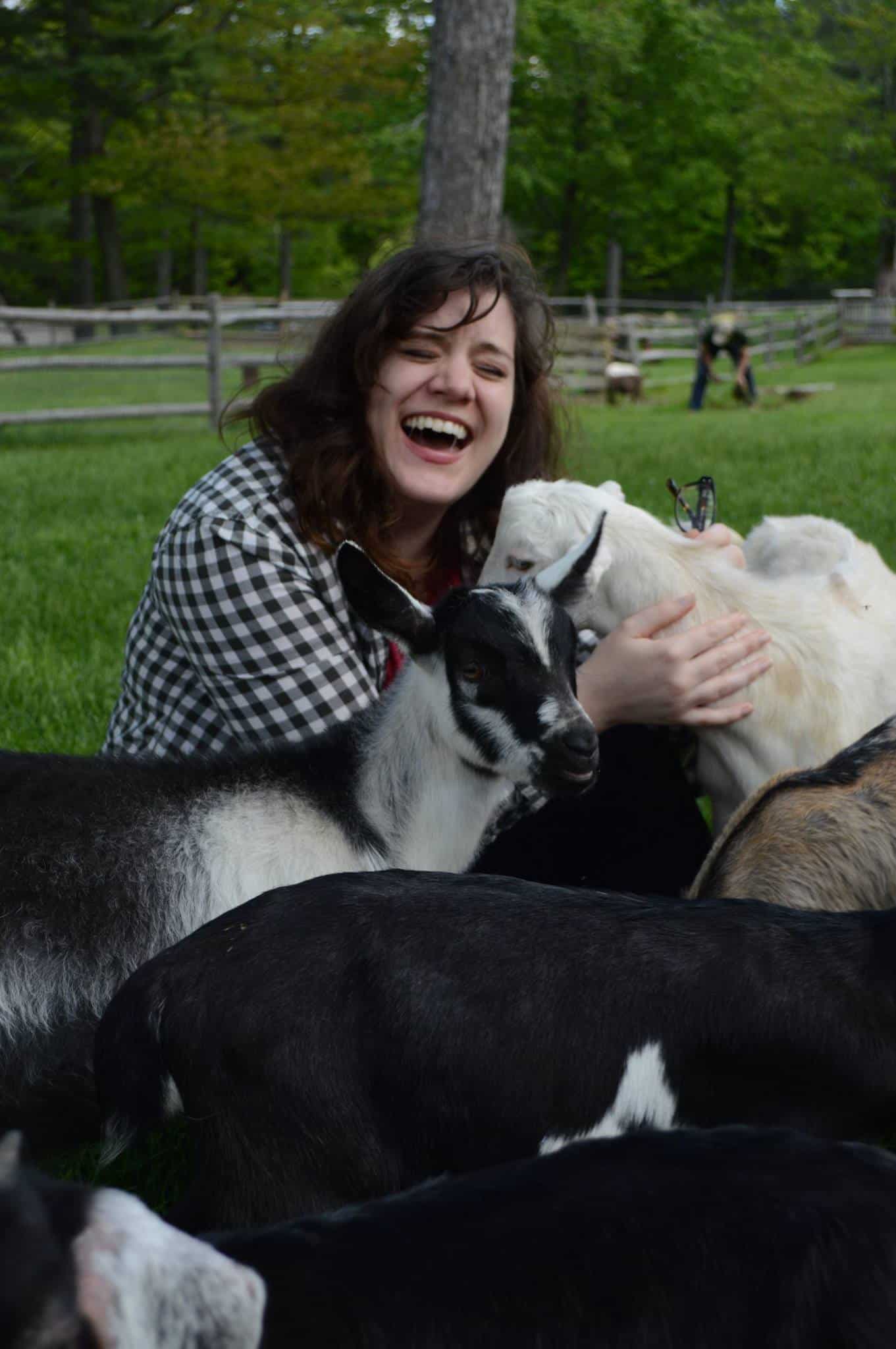 Amy Hartle is the founder and Editor-in-Chief of New England With Love, a comprehensive resource for travel in the New England region. Amy has been exploring New England since 2001. She lived in Vermont for many years and is a graduate of Plymouth State University in New Hampshire. Amy has been writing about travel for over a decade. On this site, Amy aims to share her love of New England and help you to have the best possible adventures!
Amy has been a full time blogger since 2012, and is also the publisher of Two Drifters, where she writes about couples travel and relationships, as well as Let's Adventure Baby, a family travel site. When not traveling the world or creating epic blog content, Amy can be found cuddling with her husband, son, and cats, & drinking a maple latte.