---
*Links in this article may be affiliate links, from which we may earn commission. See our
Privacy Policy
for full details.
---
Located right on the coast of Connecticut, Old Saybrook is a mid-sized town known for being one of the most historic in the entire state. It was first founded in the 1600s and has served as inspiration for many different movies over the years!
Because of its history, there are so many great things to do in Old Saybrook, Connecticut. No matter what type of traveler you are, you're bound to find something great to do here. There are great art activities, outdoor excursions, and more!
Below are all of the best things to do in Old Saybrook CT.
Look for wildlife at Rocky Neck State Park
Rocky Neck State Park is one of the absolute musts on the list of things to do in Old Saybrook. There are tons of fun ways to spend the day while at Rocky Neck State Park, from swimming on the beach to going on picnics.
The most popular thing to do in Rocky Neck State Park is to go on hikes to search for amazing wildlife. There are many different trails here ranging in difficulty, too, so whether you're a new hiker or you're more seasoned, you'll be able to enjoy your time here. There are even hikes that are better for those traveling with children too!
Visit the Katharine Hepburn Cultural Arts Center
Visiting the Katharine Hepburn Cultural Arts Center is one of the best things to do in Old Saybrook. It opened in 2009 and is named after none other than Katharine Hepburn. With a theater capacity of 250, this is a fantastic place to see a performance.
There are tons of different performances and events throughout the year, so you truly have a wide variety of options. There are famous singers and small-town bands who come to perform too. Sometimes you can even be lucky enough to catch an opera performance! Just be sure to buy tickets well in advance.
Make art at Ocean Art Studio
Making art at Ocean Art Studio is one of the more unique things to do in Old Saybrook. It's a pottery painting studio. They allow guests to come and join for a class or even just a walk-in to come and paint pottery. The studio also hosts birthdays and other events in the area.
Their class schedule can be explored by checking up on their social media or by giving them a call at their phone number. Sometimes the classes also have a capped number which is something to keep in mind. It's one of those things that if you know you want to go, you'll for sure want to book your tickets in advance.
Educate yourself at the Connecticut River Museum
With a short drive from Old Saybrook, you can get to the Connecticut River Museum. It opened in the 1800s and serves as a famous educational museum for those visiting the area who want to learn more about maritime history.
The museum hosts a variety of rotating exhibitions too throughout the year. In 2021, the Connecticut River Museum housed the Hands on the Land exhibit. Sometimes they even host significant paintings and put them on display, like The Schooner Yachts Dauntless and Coronet.
Ride the dinner steam train
Take a ride on the Essex Steam Train for a fantastic ride. It starts at Essex Station, and then there's a four-mile ride that ends in Old Saybrook. It's an incredible historic ride that started back in the 1960s.
The regular train ride is only open to the public between June and October because New England can get unpredictable winter weather. The ride is generally in the morning, starting around 10 a.m., and lasts for an hour.
The dinner version of the train is, of course, in the evening. They only offer this at certain times throughout the year, so you'll want to check their website to see if you can go during your trip to Old Saybrook.
Learn at Fort Saybrook Monument Park
For great history and some time outdoors, look no further than Fort Saybrook Monument Park. The park is just shy of 20 acres, so it's relatively large. Throughout the park, you can find different pieces of history that educate visitors on what happened in Old Saybrook's past.
The Fort Saybrook Monument Park is located near the water, so there is usually a nice breeze. Follow the trails for a fun early morning stroll! Keep in mind that it is a public park, so it does have certain opening hours. Be on the lookout for the wildlife, including the birds!
Catch the sunset at Harvey's Beach
Obviously, one of the best things to do in Old Saybrook, Connecticut, is to head to the beach! Honestly, no trip to a coastal Connecticut town is complete without a stop at the beach, and Harvey's Beach is perfect for that.
Harvey's Beach is said to be one of the top beaches in the entire state. It's a great spot to go swimming, but New England water tends to be cold a lot of the time. You can also go fishing here, walk along the water, or even hop out on a boat to explore more of the area.
If you are traveling with younger children, rest assured that there are lifeguard hours at Harvey's Beach too.
See the collections at Florence Griswold Museum
Visiting museums and other educational institutions while traveling is one of the best ways to learn more about the place that you're traveling in. The Florence Griswold Museum is no exception!
The Florence Griswold Museum was owned by none other than Florence Griswold and has since become a place filled with paintings in the Impressionist style in American history.
Even if you aren't a big fan of art, then you'll genuinely enjoy just walking around the inside of this house. It was built in the early 19th century, so it's a beautiful example of Georgian-style architecture in New England.
Take a trip to Gillette Castle
While technically located a ten-minute drive away from Old Saybrook in Lyme, Gillette Castle is one place you can't miss out on when visiting this part of Connecticut. This historical and medieval castle will genuinely make you feel like you're in Europe.
When you're done visiting the castle, you can also walk around and explore the rest of the state park. It's just shy of 200 acres, so there are tons of spots for you to adventure through. There are spots for hiking, camping, and more. You can even book a tour of the area.
Have seafood at Liv's Shack
Absolutely one of the top things to do in Old Saybrook, Connecticut, is to stop by Liv's Shack. This restaurant is super unassuming from the outside, but it's the best spot for seafood in all of Old Saybrook.
The food here is very affordable too, and outdoor seating is abundant so you can enjoy the beautiful New England weather. The menu includes everything from their famous lobster rolls to grilled cajun fish tacos and even salads and hamburgers. Add on a side of truffle fries for a great treat!
Discover the beauty of the Lynde Point Lighthouse
Connecticut (and the rest of New England, honestly) is known for its incredible lighthouses. Head to the Lynde Point Lighthouse to experience one for yourself! Some locals still call it the Saybrook Inner Lighthouse.
It's located along the Connecticut River and was built in the early nineteenth century. The lighthouse has tons of history that you can learn more about online. If you want an incredible view, you can even stop by to catch the sunset right next to the lighthouse as it overlooks the water.
Have a pint at 30 Mile Brewing Co
Everyone loves a good night out (or late afternoon), and the top spot to do that in Old Saybrook is at 30 Mile Brewing Company. They have limited open hours and are closed Monday through Wednesday, but they have incredible drinks.
The microbrewery has been an Old Saybrook staple since 2015 and is run by friends and family, which makes it a fantastic local establishment. They also have tons of outdoor seating in addition to indoor seating and do takeaway if you'd rather enjoy their delicacies at home.
They have a menu that changes throughout the year, but some of their interesting flavors include I Got My Peaches Down In Georgia (a peach sour ale), and Whatcha Got That's Lite (an American Lager with mosaic hops).
Explore on Main Street
For a more leisurely thing to do in Old Saybrook, go straight to the town's Main Street. It's an extremely historic part of the town and has even been the inspiration for Americana in many Hollywood movies, so the street will genuinely take you back in time.
The area is filled with tons of shops, restaurants, and other local establishments. It's great just to go down and spend time there walking around to see what you stumble upon. This is also a fantastic spot for a bike ride.
There are so many fun things to do in Old Saybrook, Connecticut! It's an amazing place to visit if you want to experience a small coastal Connecticut town. Visit any time of the year, and you'll genuinely have a great experience.
---
You might also like:
---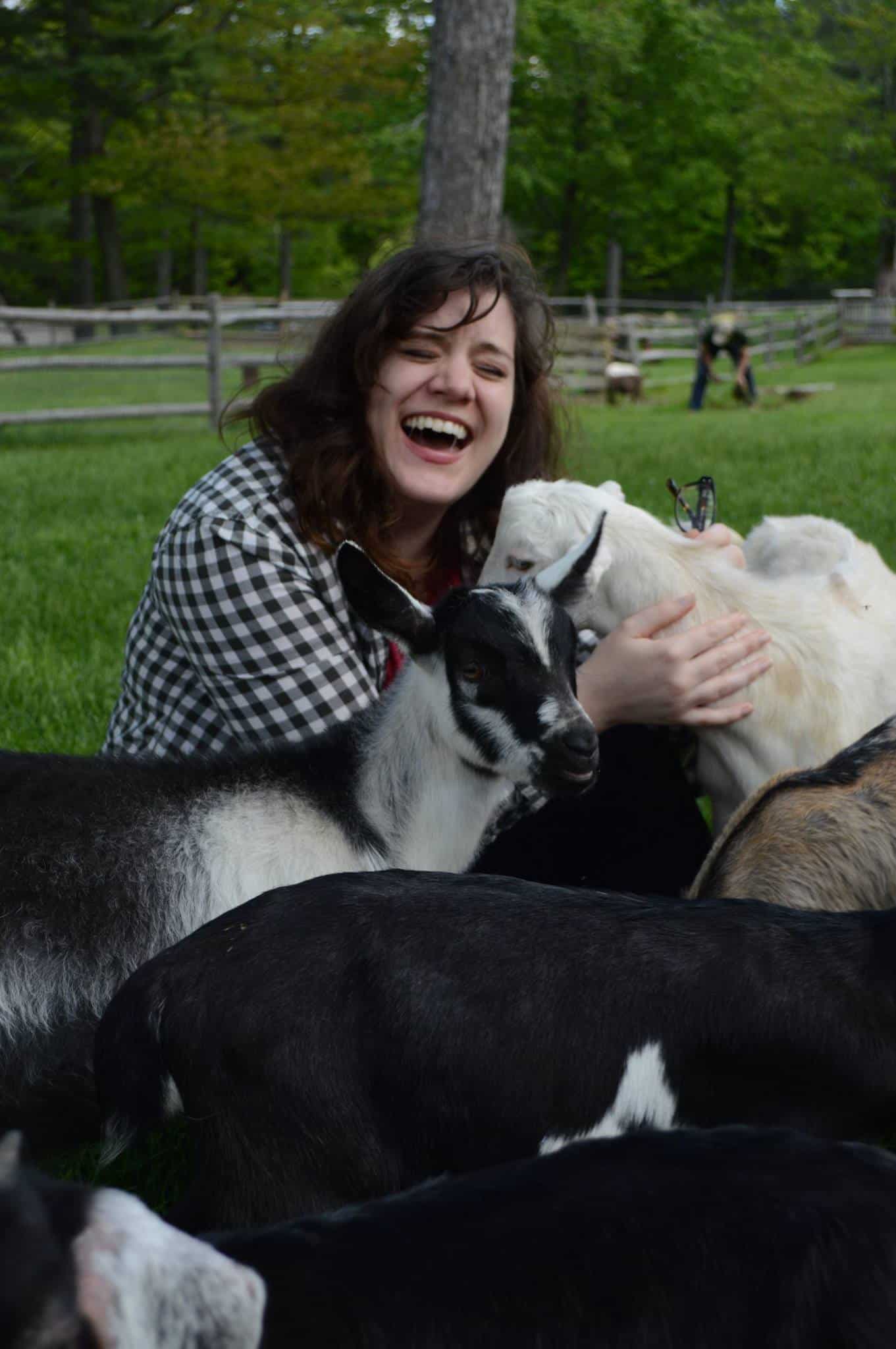 Amy is the founder of New England with love. A proud Vermonter, she hopes to share her love of New England and help you find the best adventures in the region. Amy is also blogger/founder at Two Drifters, where she writes alongside her husband about romantic and couples travel, relationships, honeymoons, and more. When not working on websites, Amy is probably reading, cuddling with her husband, son, and cats, & drinking a maple latte.