We all might rely on Dunkin and Starbucks in a pinch, but, the specialty coffee shop scene is here to stay in Connecticut and beyond. From themed coffee shops to serious coffee shops, there's something out there for everyone among the many coffee shops in New Haven CT.
If you're looking for a great place to grab a cup, these are some of the top New Haven CT coffee shops to check out next time you're in town.
Coffee Shops in New Haven CT
The Best for the 'Gram: Pistachio Café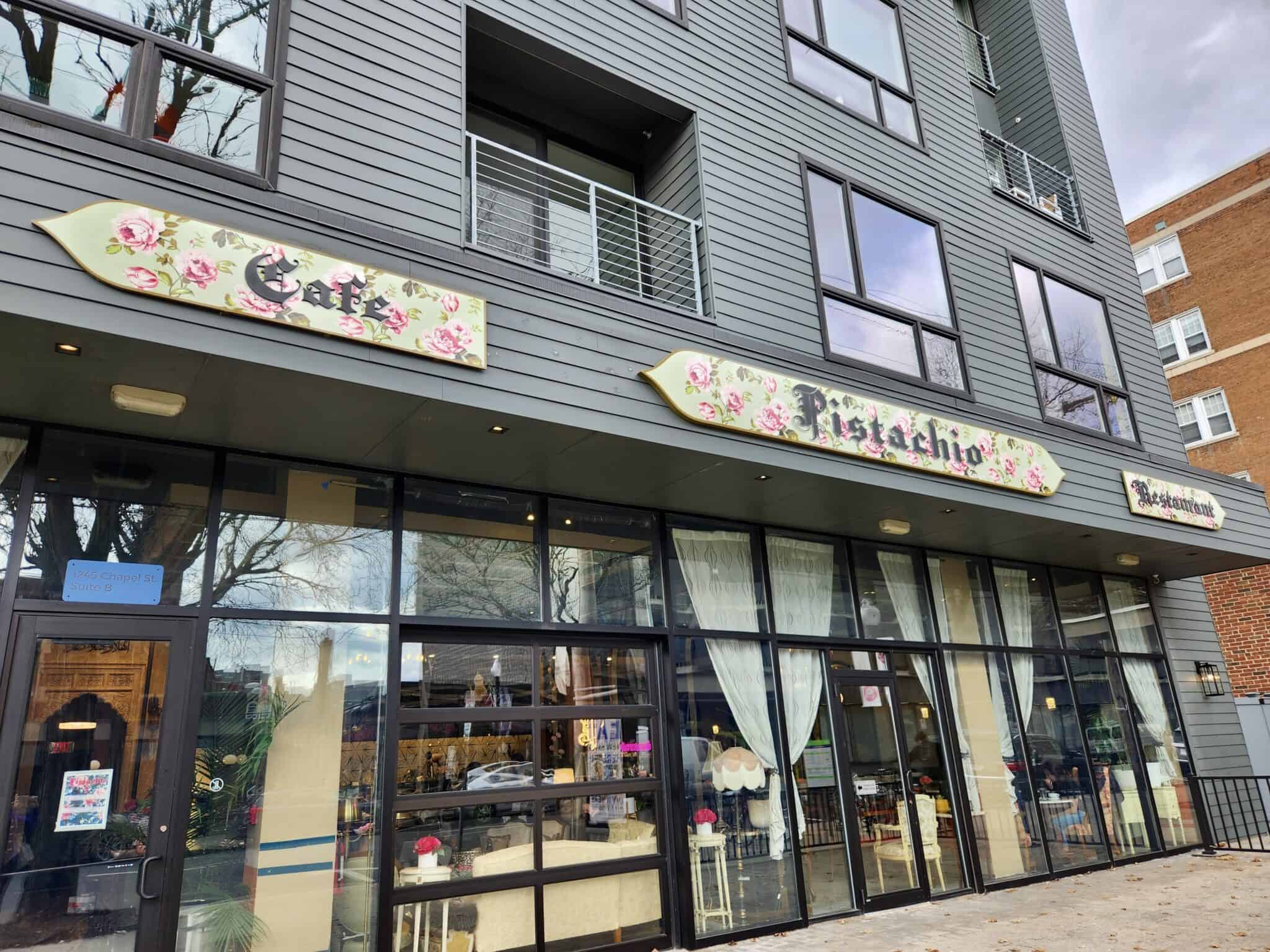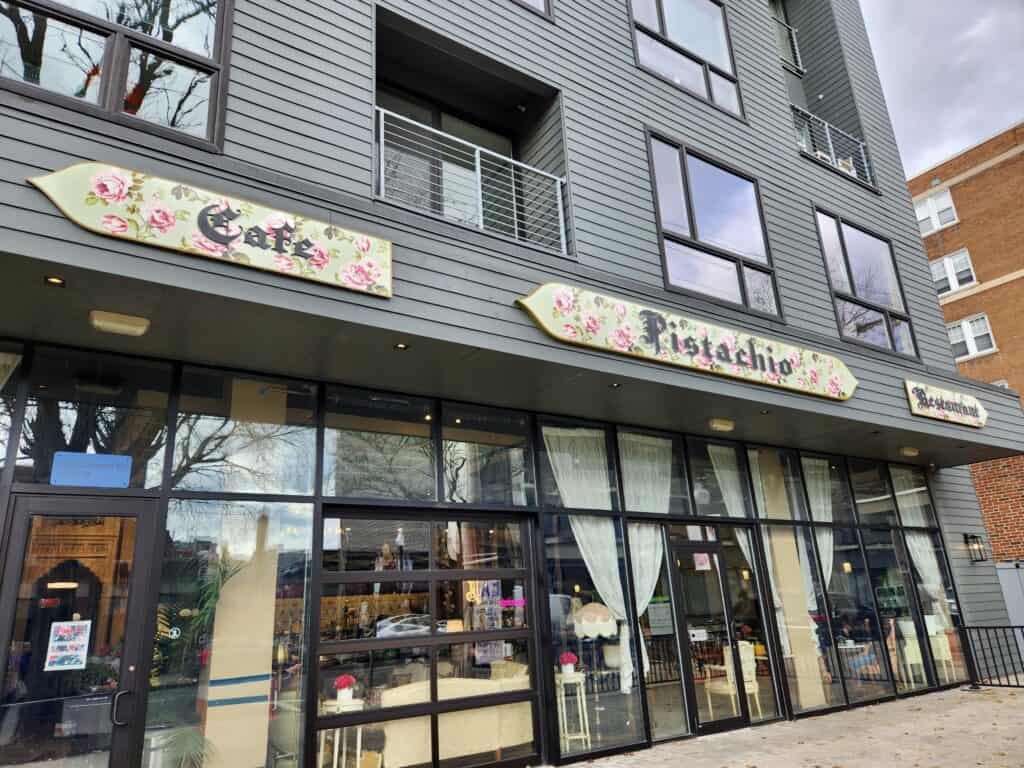 It's decadent. It's fancy. It's ornately and beautifully decorated. In short: it's an influencer's dream spot. Go here and take your picture taken in front of the 'Pistachio' sign. And, while you're there, enjoy some sweets and coffee too.
Pistachio Café is a Mediterranean-themed coffee shop in New Haven CT. As over-the-top and fancy as it is, it's not just for looks. The mind behind the operation is Syrian born and Pistachio has a large and authentic selection of Turkish and Syrian coffee, baklava, and Turkish delights (as in the sweet from The Lion, The Witch, and The Wardrobe that Edmund betrays his siblings over).
In addition to sweets, they have brunch and lunch offerings available including waffles, salads, and sandwiches. There's also a wide selection of teas for the non-coffee drinker.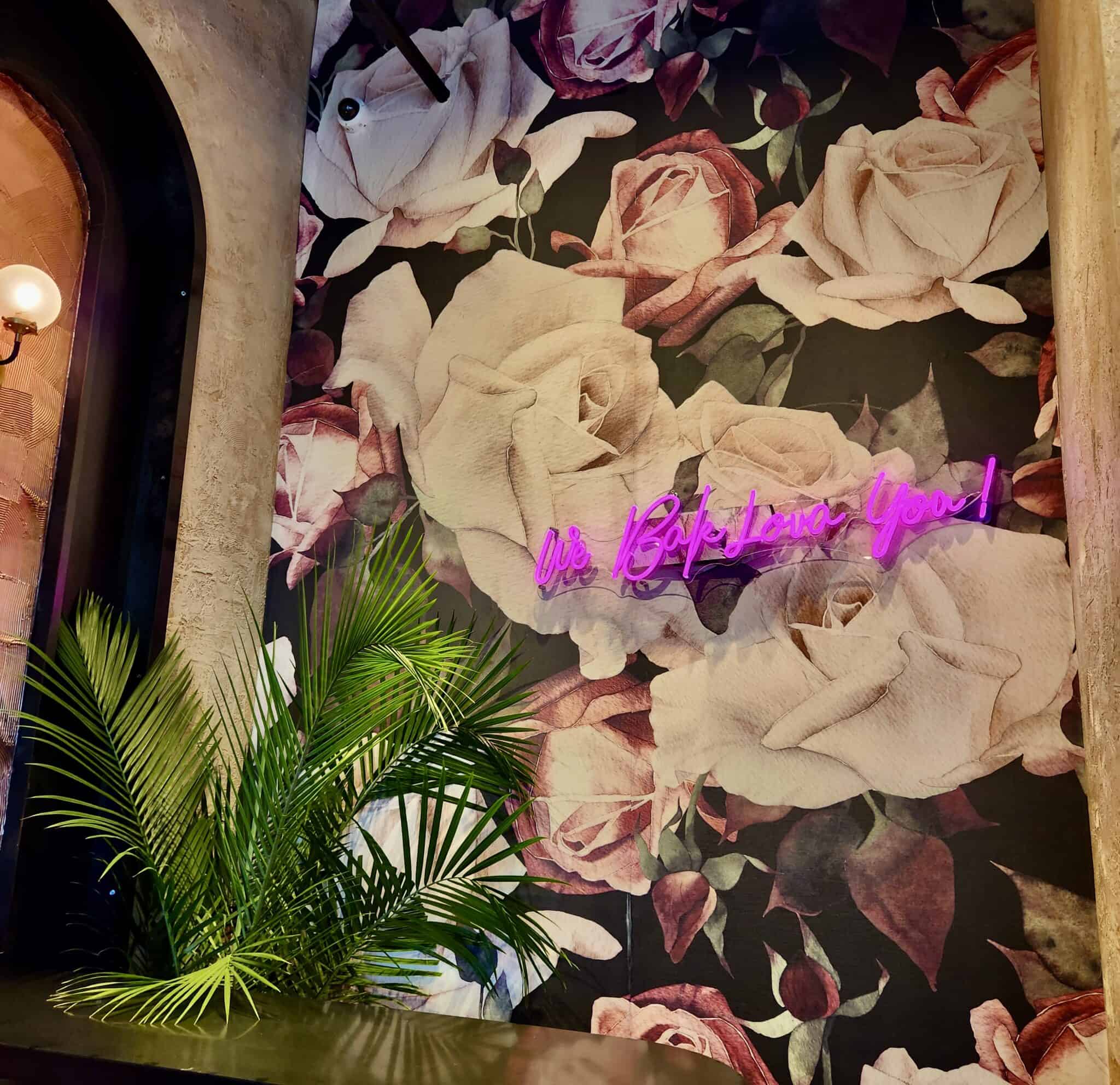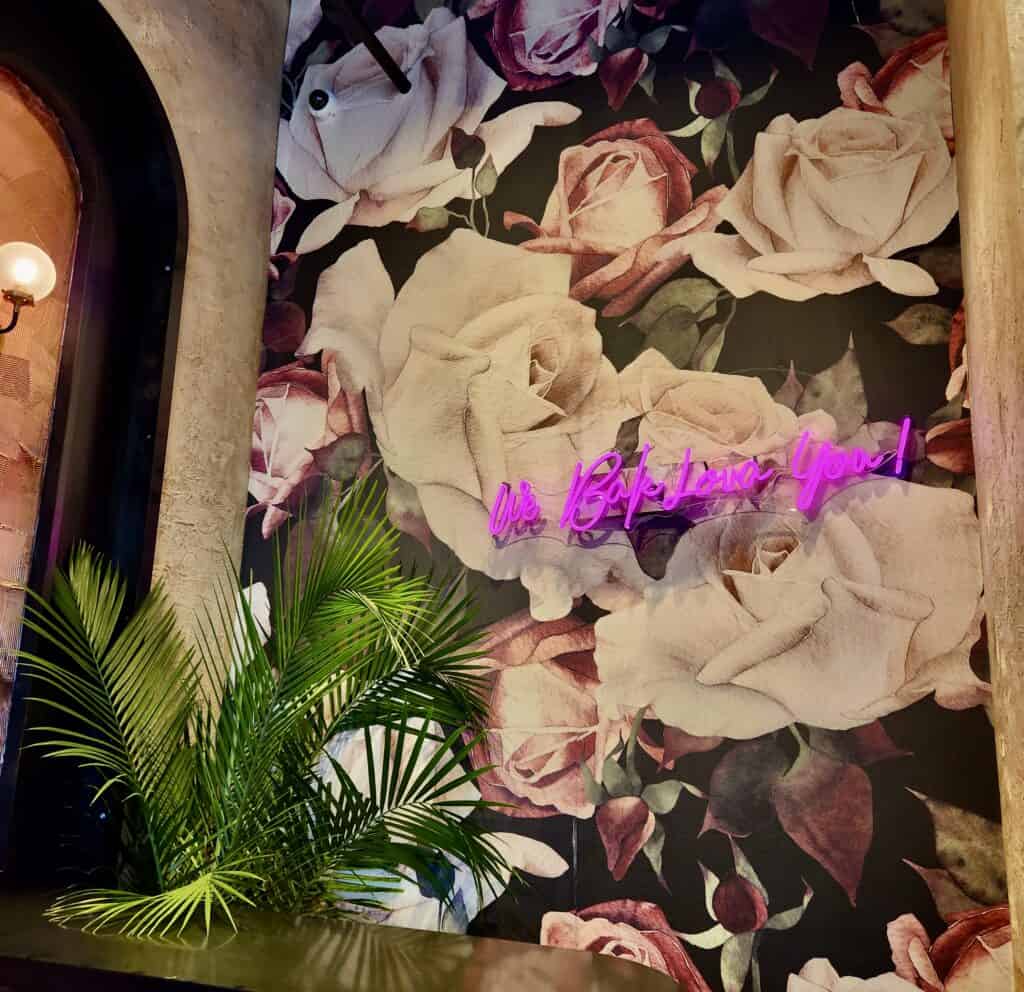 Pistachio Café promotes the creative culture and the artist community. Their "House Rules" include no alcohol (even if you rent the space) and, "Be cool. We are not interested in balancing your ego." Intended as a relaxed, creative space and not a workspace, their house rules also ask for no laptops in the dining area and no FaceTime or speakerphone calls. While it sounds like a lot to demand of a patron, in reality, it's quite refreshing. We've all been subject to the annoying fellow patron talking way too loudly on a FaceTime call and, for all its glam, Pistachio Café was truly a relaxed coffee shop experience.
The Best for a Funky Atmosphere – Koffee?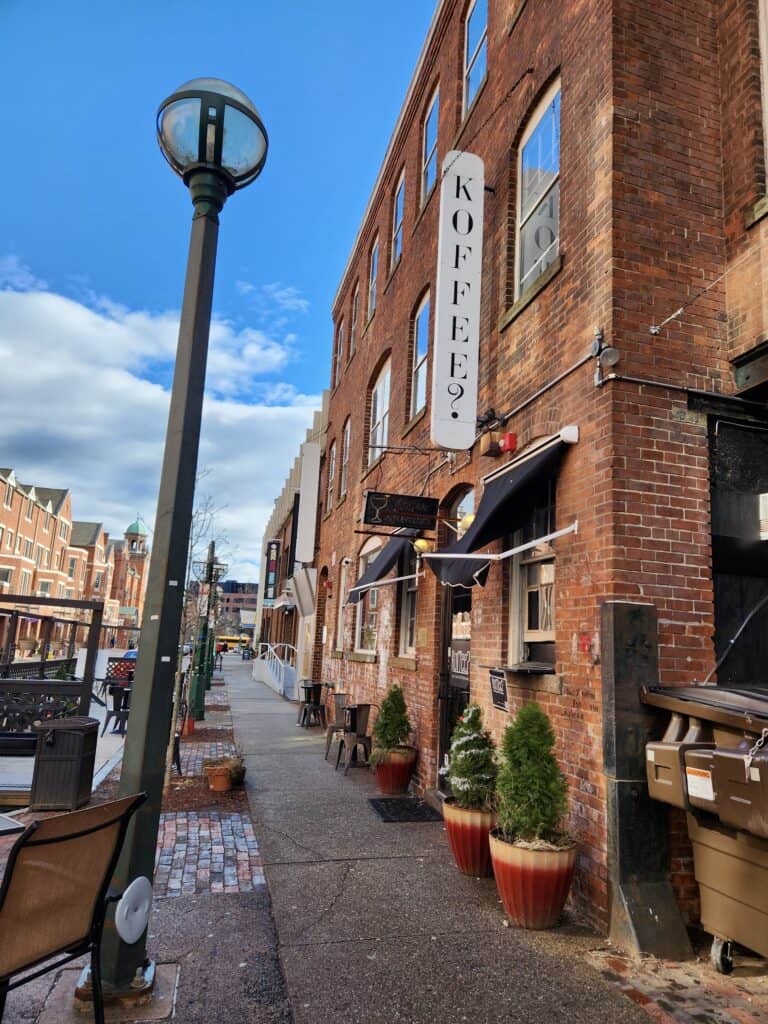 Let's be honest, you can tell this place is funky immediately; they don't even spell coffee the right way. This is solidified when you walk in the door and are faced with a décor style that includes painted brick, funky art, and mismatched pillows strewn on couches. Additionally, a shelving unit in the corner houses several board games and books for community use.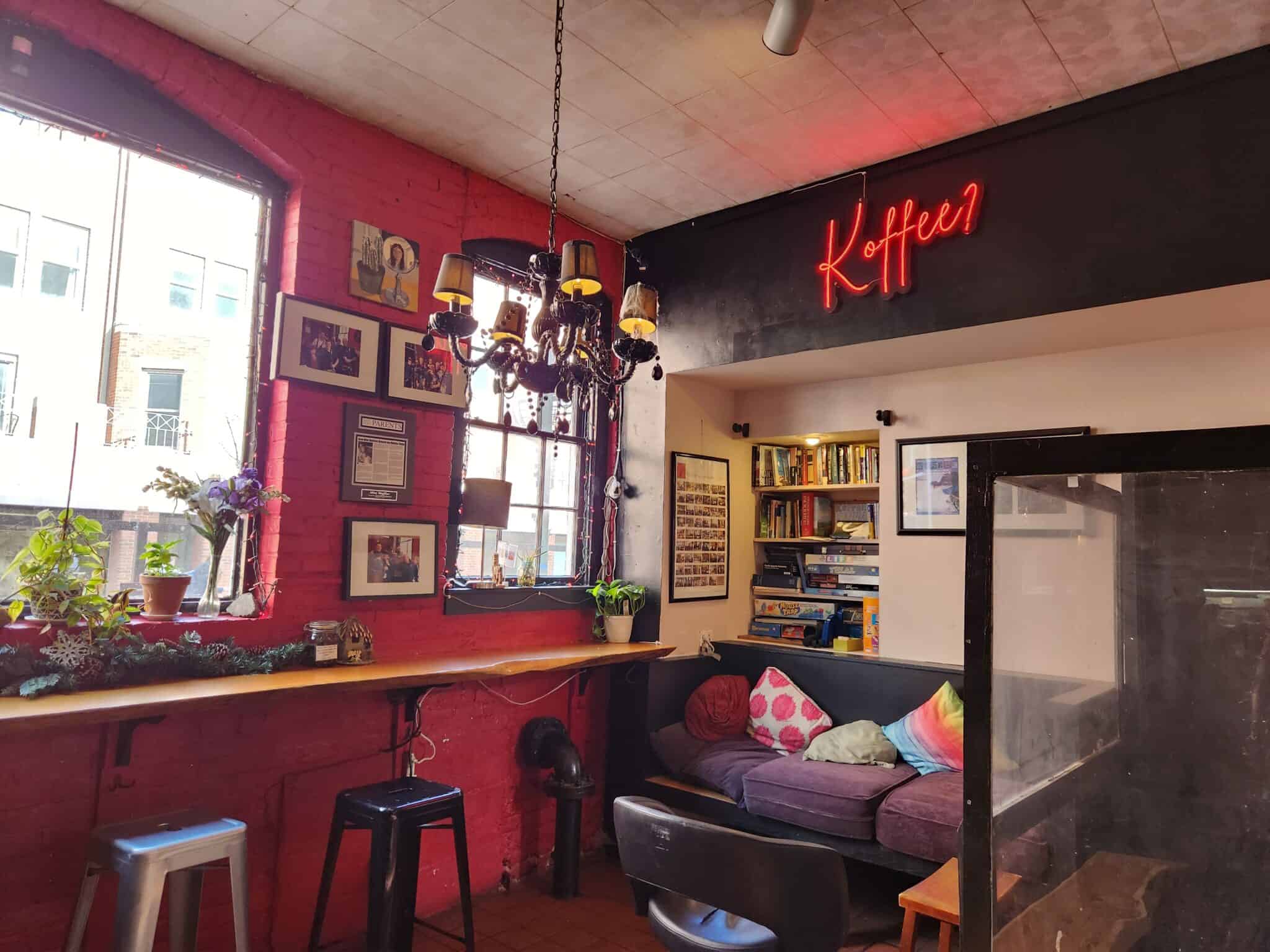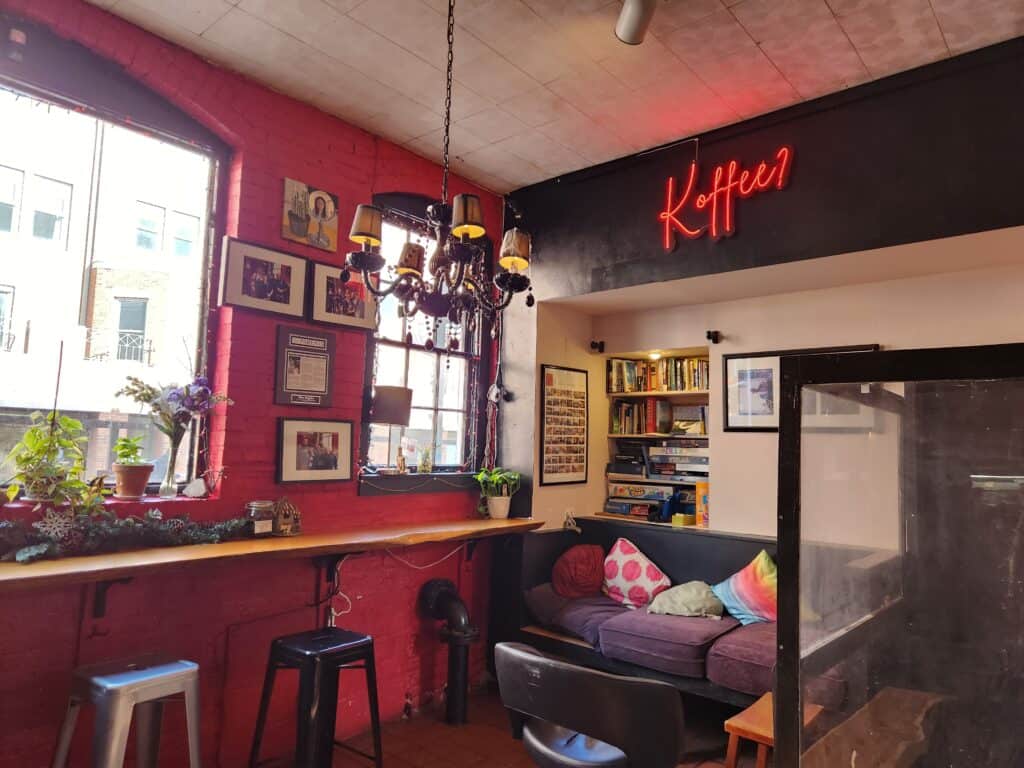 The coffee at this New Haven coffee shop is organic, fairly traded, and tasty. They offer several gluten-free options among their baked goods and boast to being a completely nut-free kitchen.
At 3pm everyday Koffee? turns into Koffee Afterdark. They begin selling wine and beer as well. The goal of Koffee Afterdark is a bar with the relaxed coffeehouse vibe. No loud, overcrowded bar scene. Overall, Koffee? is just a chill place to hang out with friends.
The Best for the Coffee – Willoughby's Coffee and Tea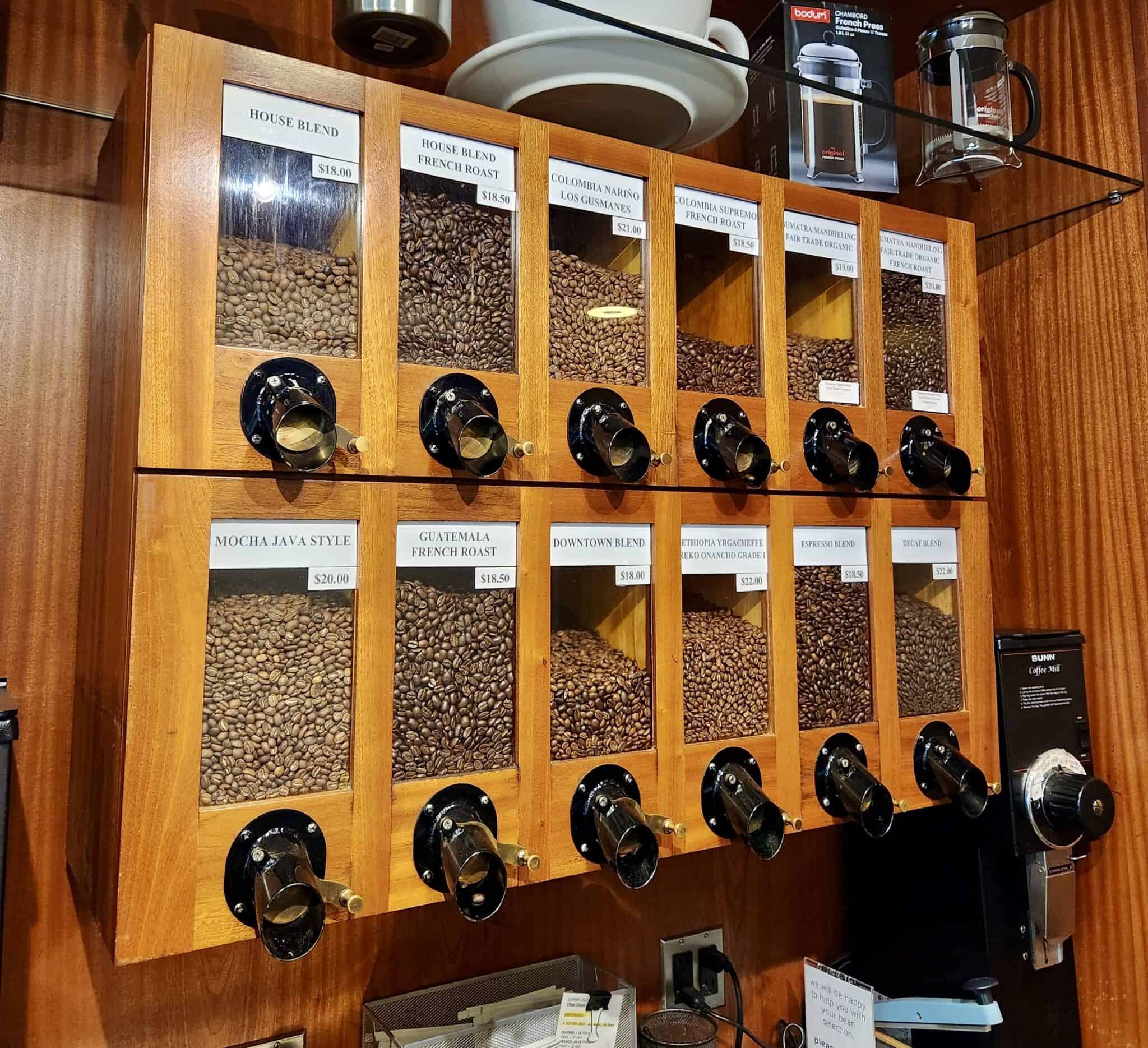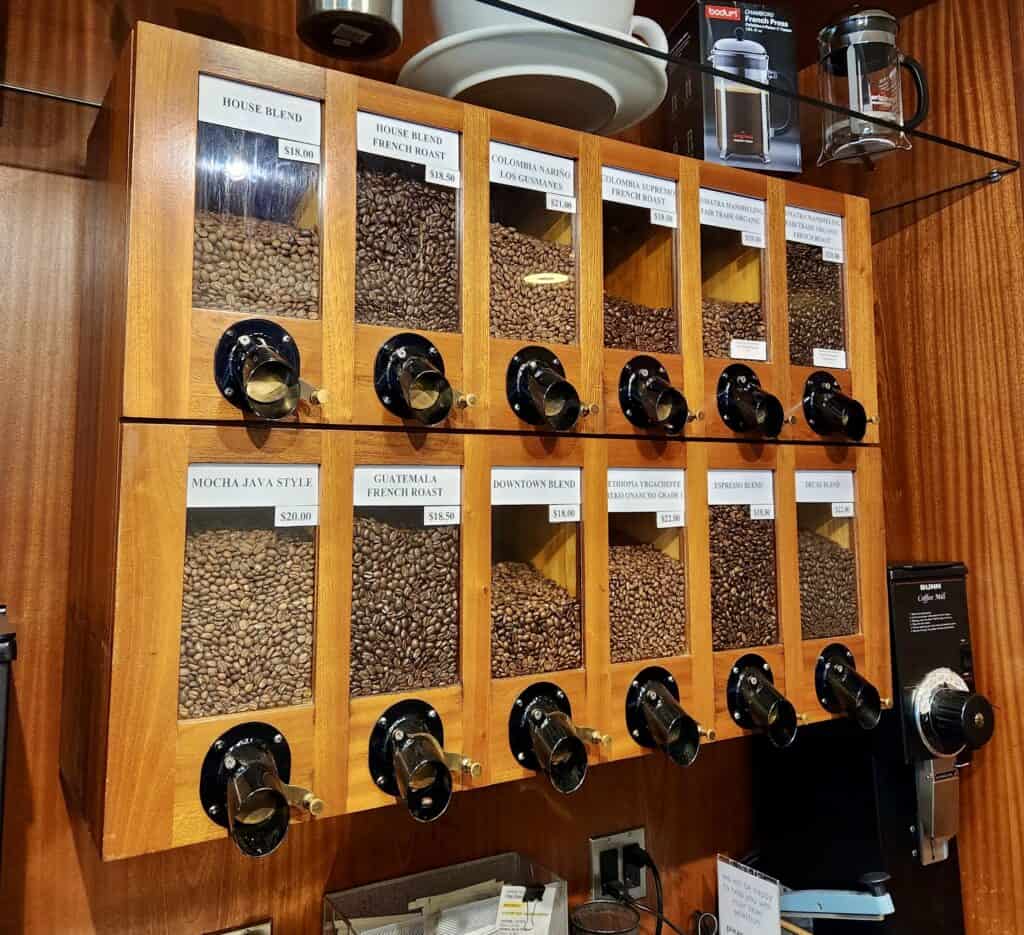 Well, this is an article for the coffee, after all. All the places on this list serve great coffee. Willoughby's, arguably, serves the best.
This is a New Haven coffee shop that is for the coffee. There are no outlandish decorations or kooky themes. The theme is coffee. It's a coffee shop. There are tables and chairs and a counter. To drink the coffee. That's not to say that it isn't cute; it's clean and simple and window heavy making it a bright and welcoming space to enjoy your coffee beverage of choice.
They have a small case of baked goods available (with a gluten free option or two to accommodate the gluten free trend), and they will offer a reasonable amount of "fun" coffees such as flavored mochas or seasonal specials. However, overall, they're about the coffee beans themselves.
They offer nearly 30 different coffee bean varietals. They sell their coffee beans in house as well, some of which you can buy pre-packaged and some of which you can portion yourself. The first Willoughby's opened over three decades ago, in 1985, and they now house four locations: two in New Haven and two others in nearby towns. Do yourself a favor and go find out why this is one of the best coffee shops in New Haven.
Best for the Busy-body: Atticus Bookstore and Café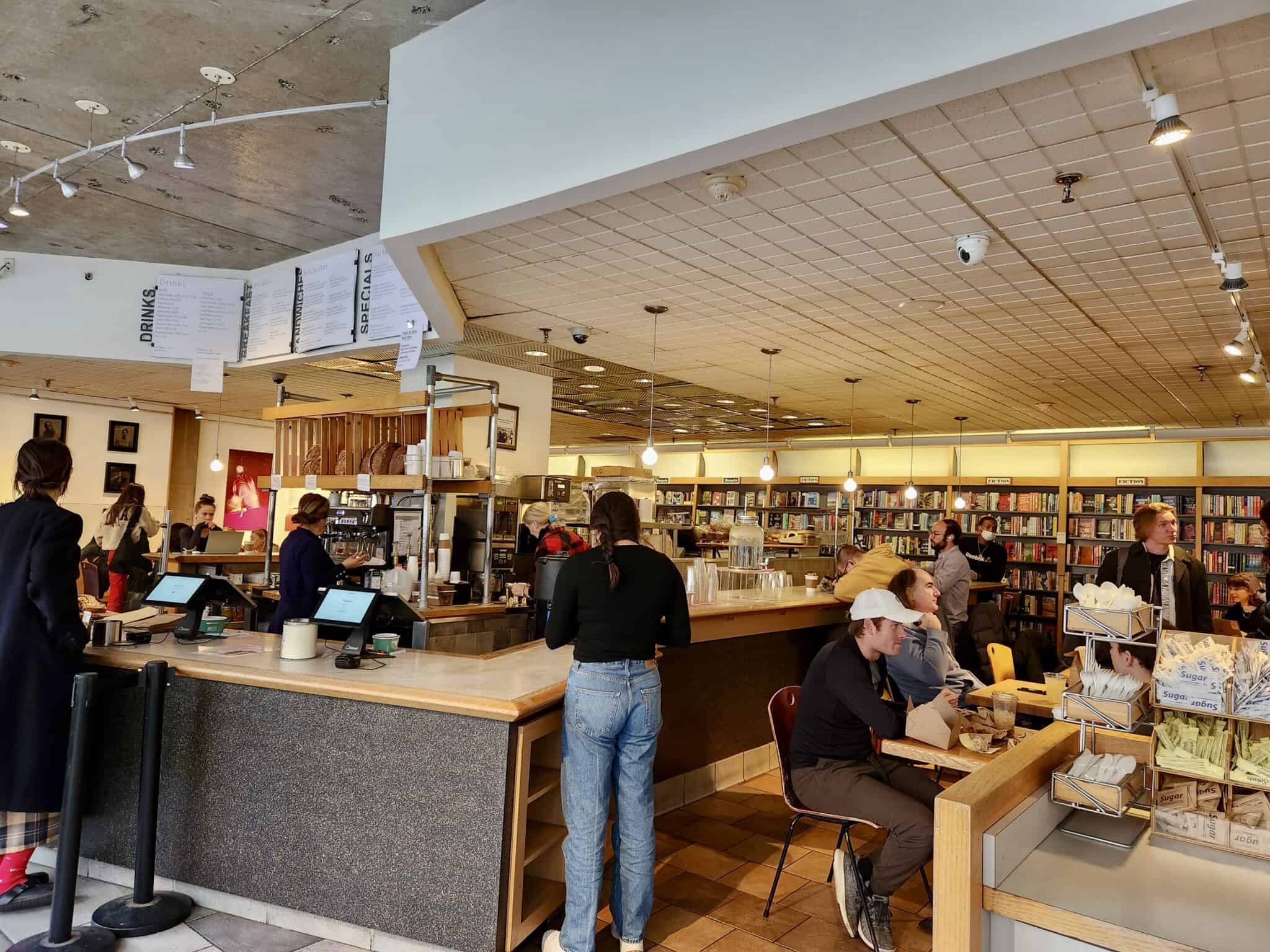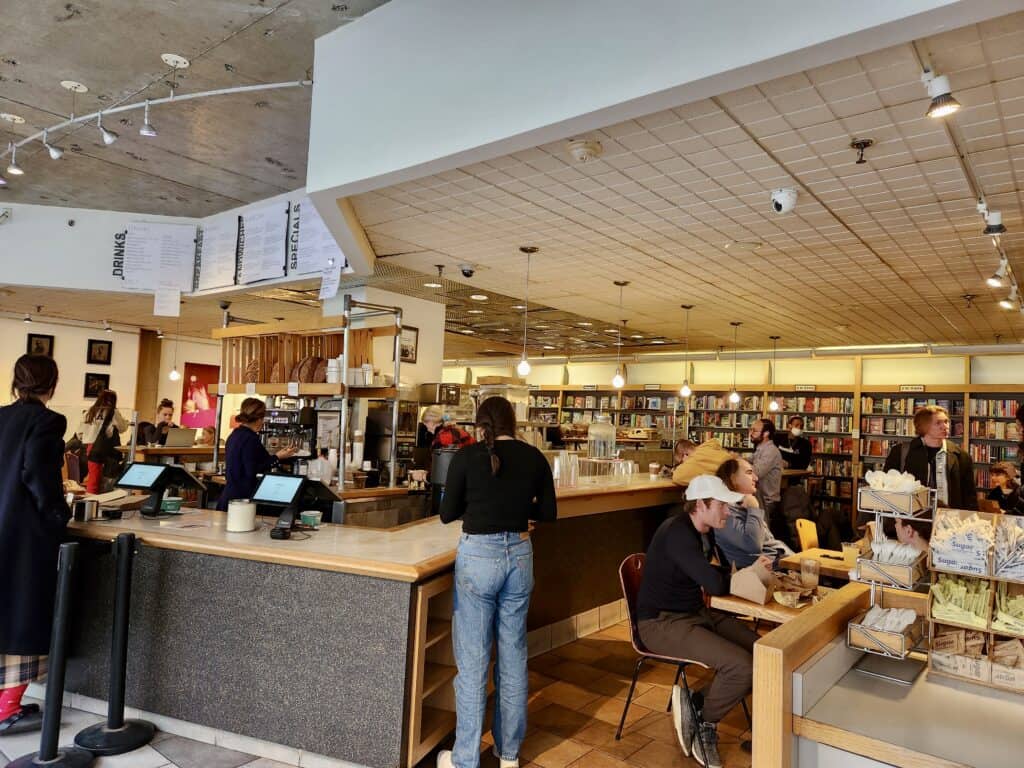 Books and coffee shops just kind of go together. At Atticus you'll find both under the same roof. Not, however, in the same way that Barnes and Noble is a bookstore that also has a Starbucks in it. It's more like: Atticus is a busy coffee shop that also has a bookstore in it and the coffee side is generally the busier side.
Located right on Chapel Street in downtown New Haven it's convenient to get to, in a high traffic area, and close to Yale. As opposed to the other coffee shops on this list, Atticus is lively and active and frequently full of students and professionals alike working on laptops, chatting with friends, and browsing for books.
They offer the standard coffee shop baked goods and quick breakfast items as well as a small amount of pre-made Grab and Go salads and sandwiches. Overall, Atticus is good all-around and a solid New Haven coffee shop choice.
Best for a Quick Stop OR a Long Talk With Strangers: Midpoint Coffee Brewers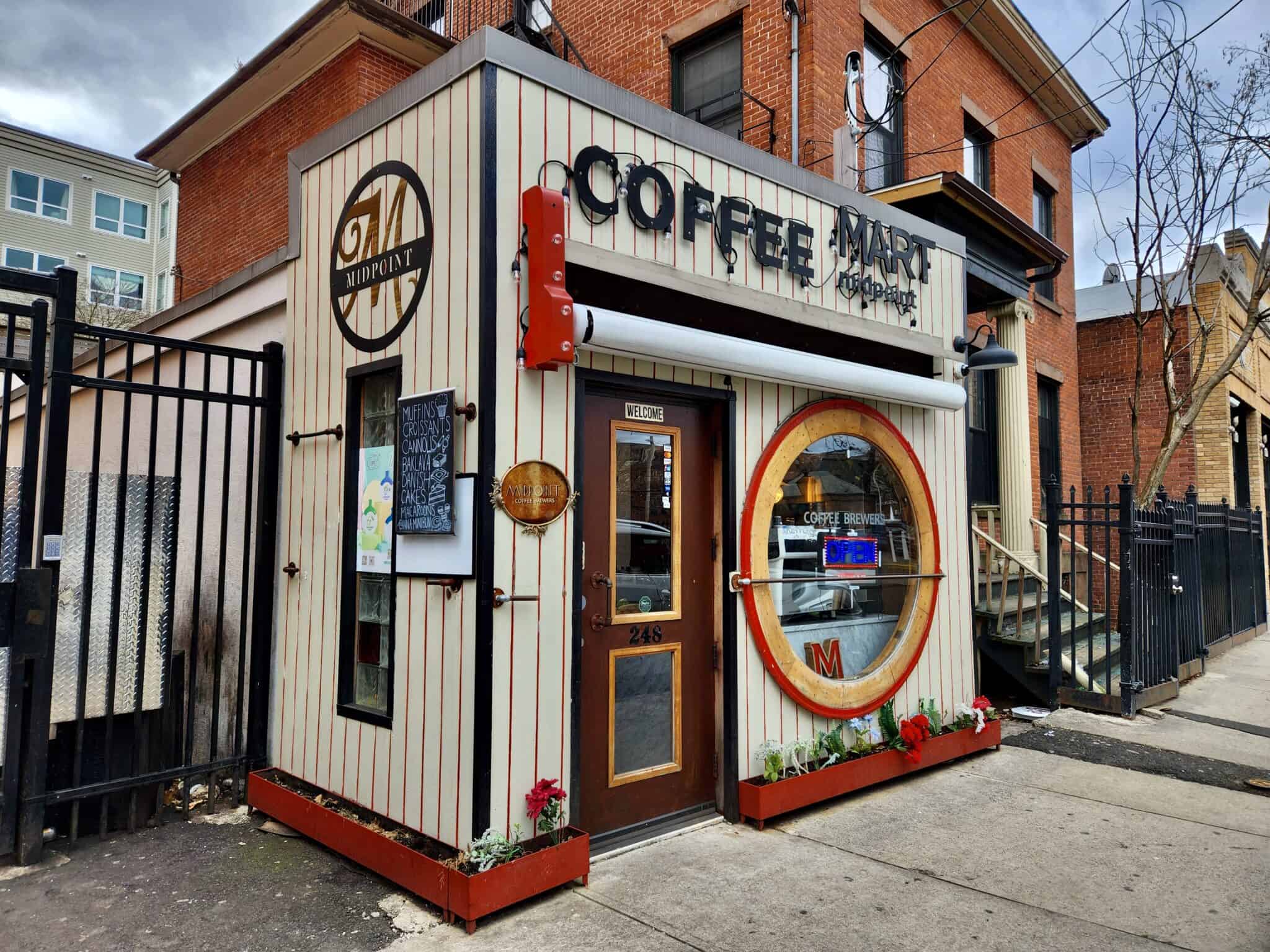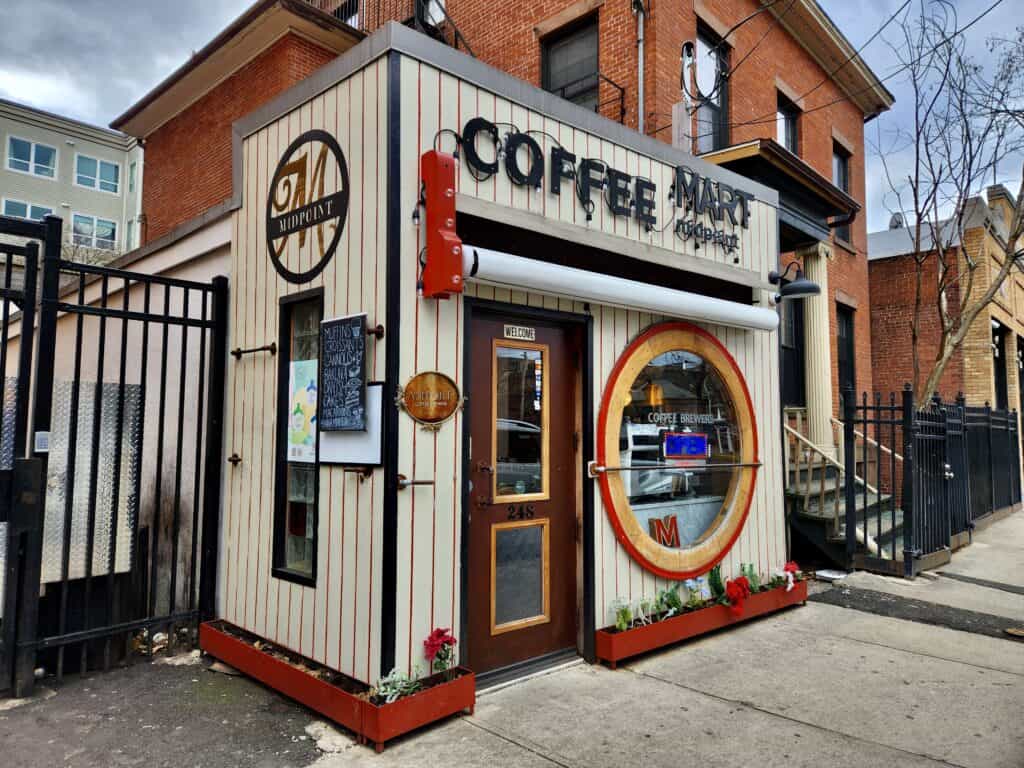 It's cute, it's tiny, and it's quiet. It doesn't have much say in the quiet part because did I mention that it's tiny? There is a small counter with three seats and that's it. This is most frequently used as a spot to get coffee to-go but, if you want to take one of those seats, the barista is more than happy for your company and will happily chat along with you.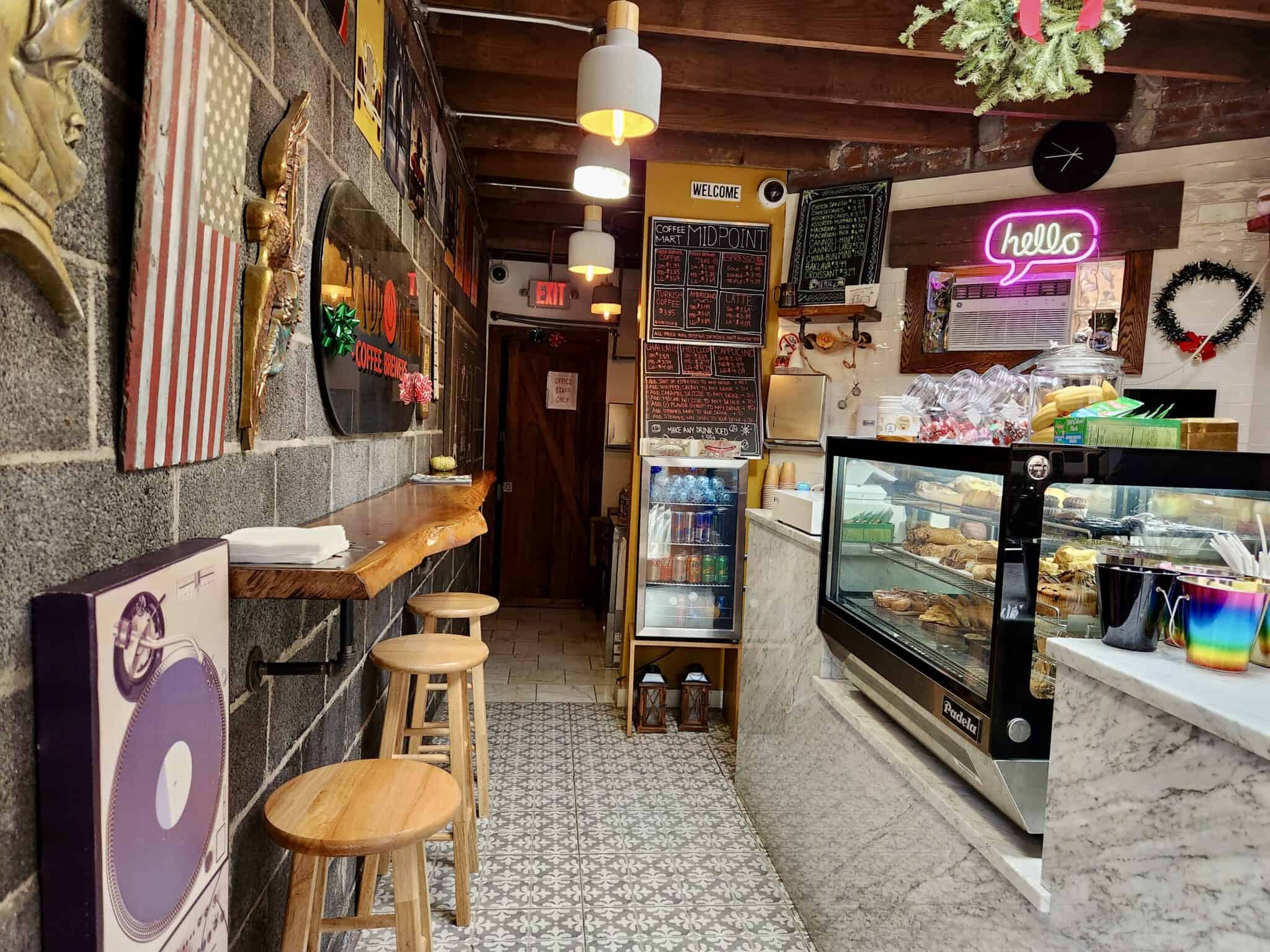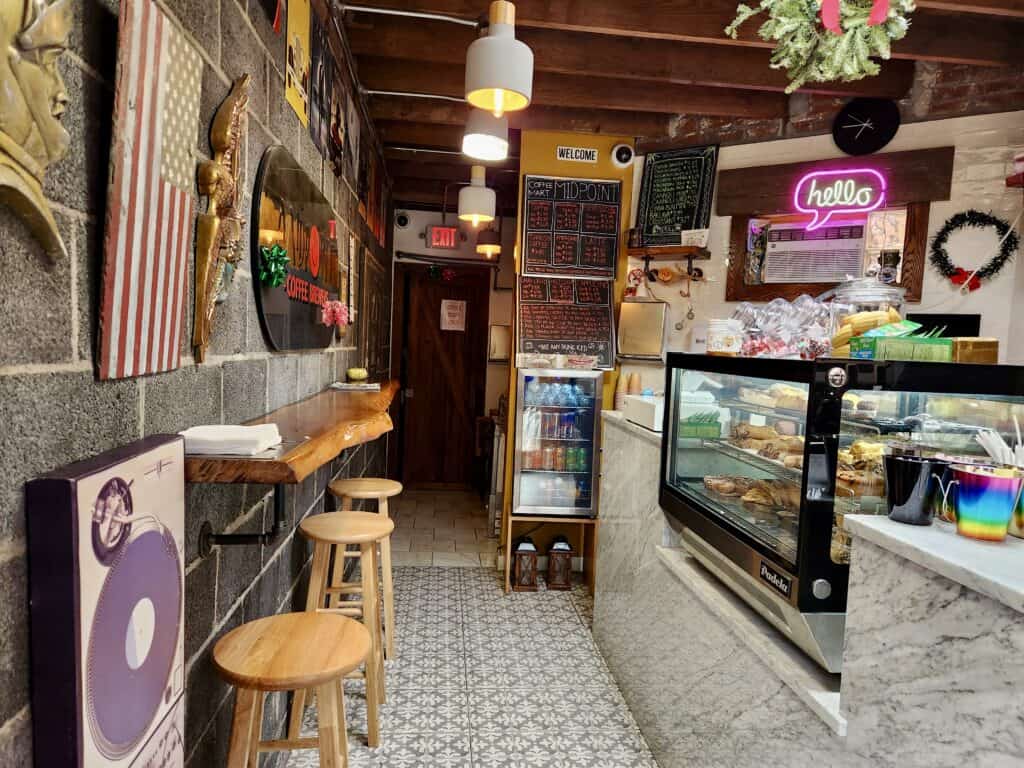 The literal size of this New Haven coffee shop is the only thing that makes it small. Oftentimes places with small storefronts or to-go prominent businesses put less care into the aesthetic of their space. Similarly, small space can also mean small inventory. Not so at Midpoint; it is both delightfully decorated and offers just as much coffee and baked good items as a standard coffee shop.
Bonus? It's close enough to downtown New Haven to easily walk to but far enough where there won't be a line.
Coffee Shops Near New Haven CT
In the New Haven area but don't want to go into New Haven itself? Here are a few extra coffee shops near New Haven Connecticut that are worth your while.
Walnut Beach Coffee House – Milford
Go for the coffee and enjoy it with a view. Walnut Beach Coffee House is, that's right, at Walnut Beach in Milford. It's a quintessential coastal Connecticut coffee shop. Get an iced coffee before the beach on a hot summer day or get a hot coffee on a chilly winter day and listen to the crashing waves.
It's also just a couple of streets over from Silver Sands State Park and just a few miles from downtown Milford. The hardest part is going to be deciding if you want to enjoy your coffee inside the adorable, nautical-themed coffee shop, or take it to one of the neat, nearby places.
Cheshire Coffee – Cheshire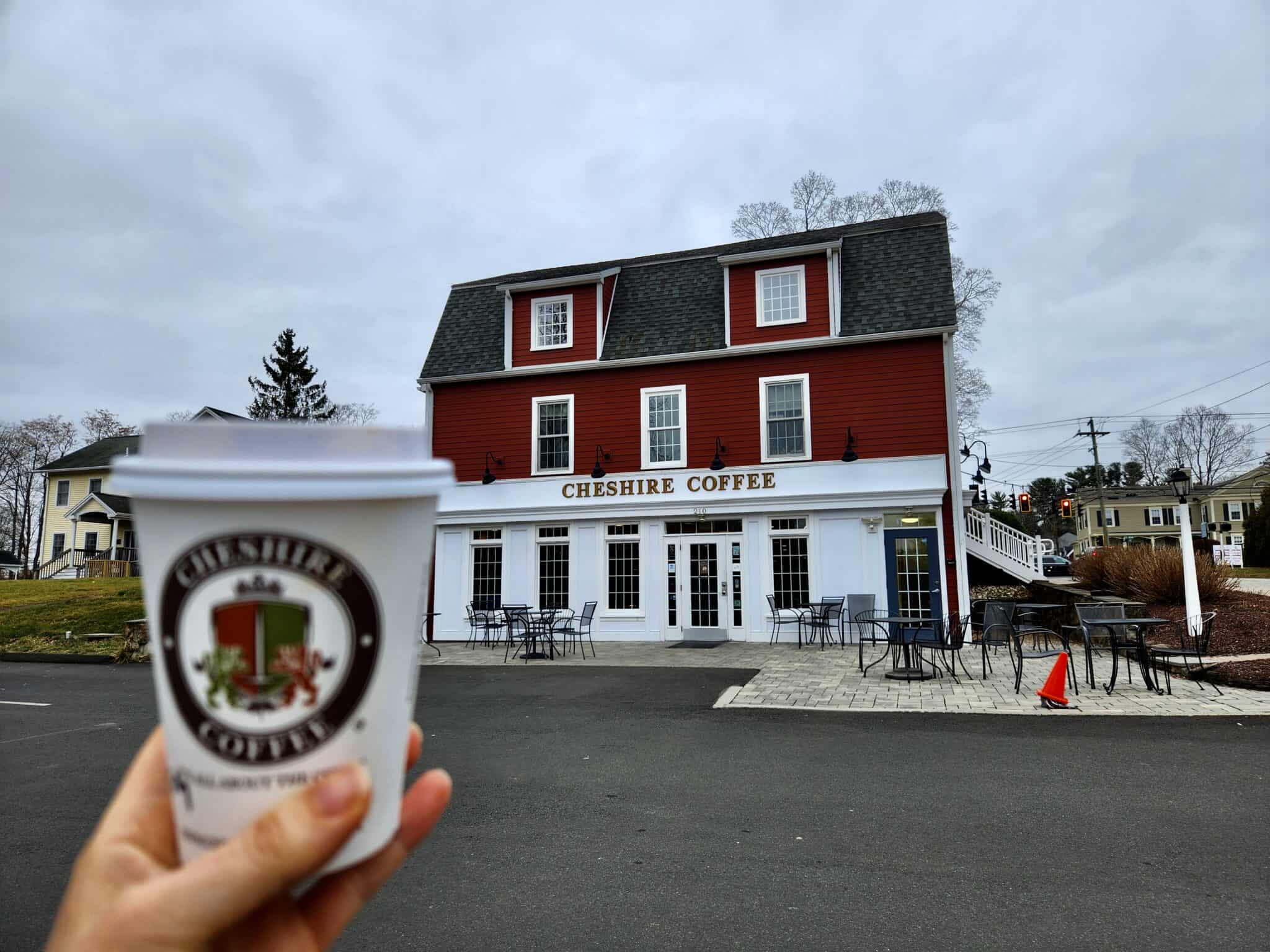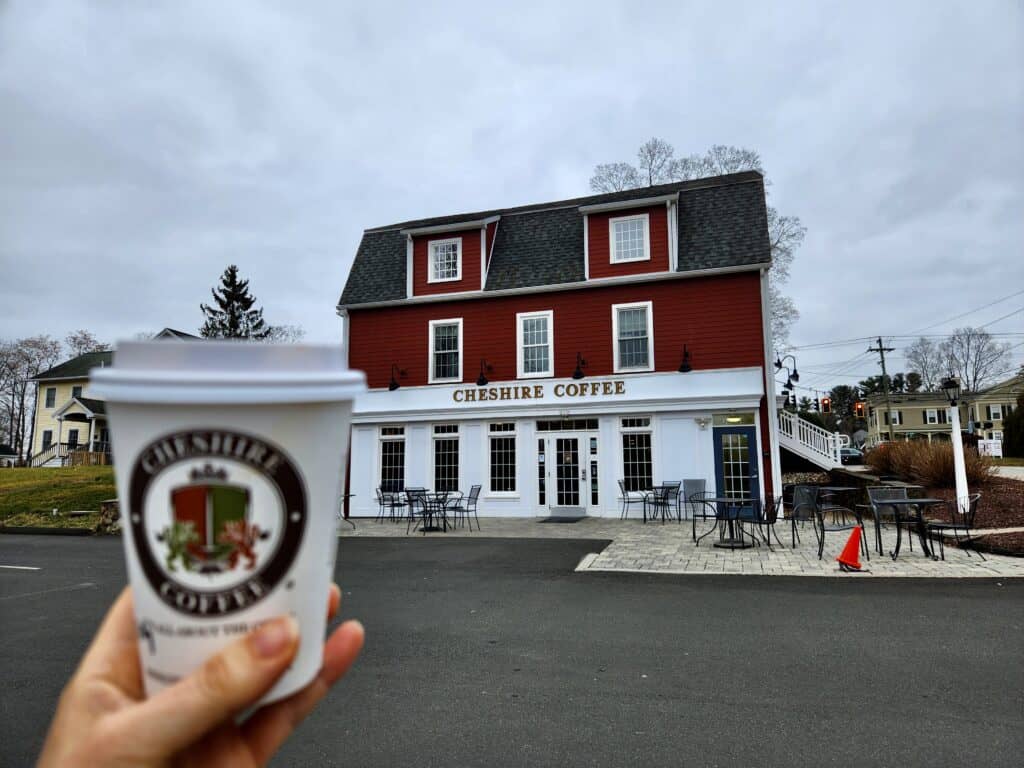 The lack of effort put into naming Cheshire Coffee is made up for in absolutely everything else. It's clean and a nice space to spend your time. It has a small, well-maintained parking area and a small space for outdoor seating. The coffee options are expansive with the standard favorites as well as fun and seasonal flavors to try. Their baked goods section is mouth-watering and they also had homemade granola bars which were absolutely amazing. And, of course, there's the coffee itself. It's absolutely delicious.
The only downside is traveling to get there if you don't live in Cheshire. But, arguably, worth the drive.
In a town like New Haven, there are plenty of places to get a cup of coffee. But if you're looking for a cool spot to grab a delicious cup, these are the top coffee shops in New Haven to check out first!
You might also like: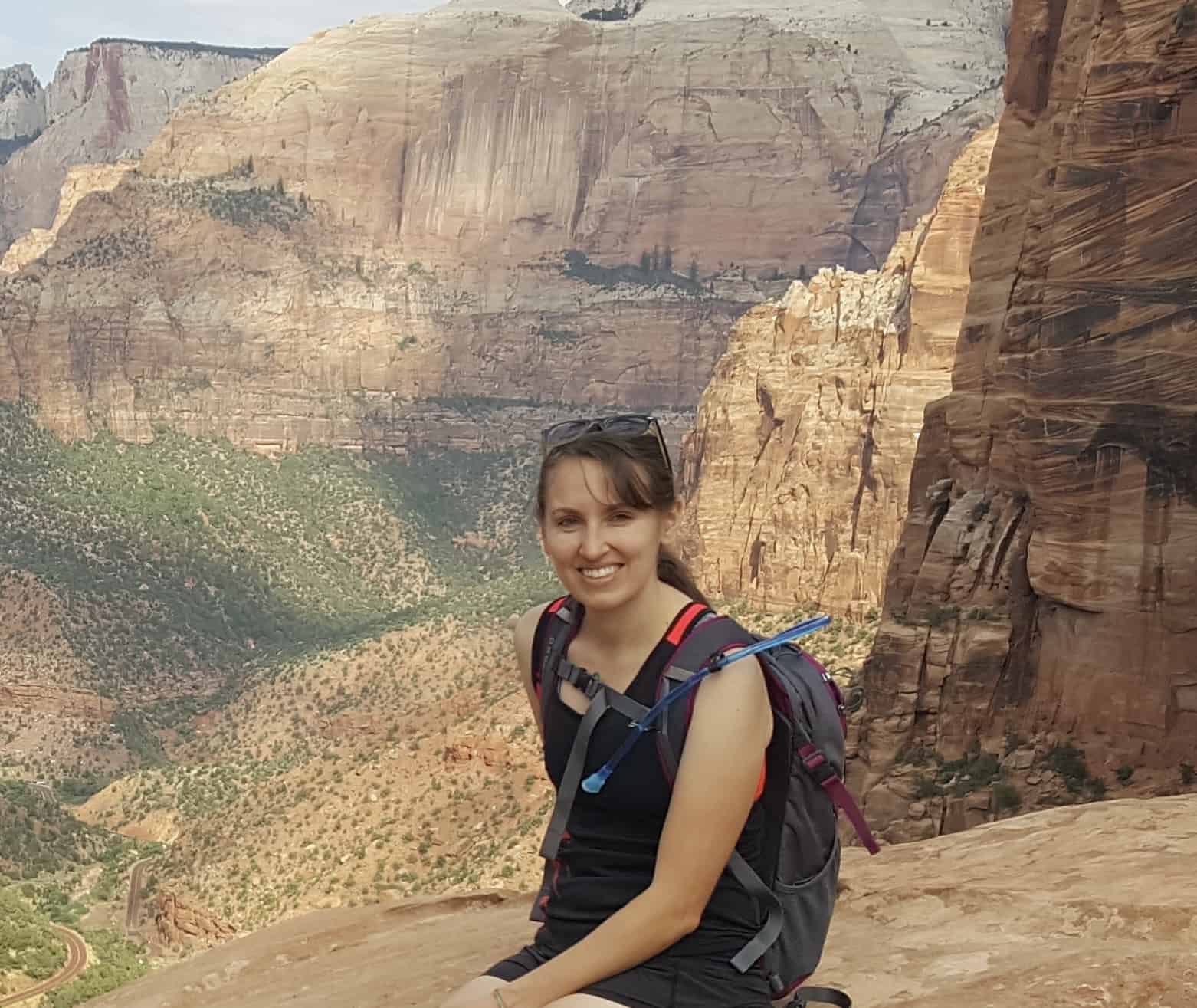 I am a backpacker, day-hiker, and 2019 Appalachian Trail thru-hiker based out of Connecticut. I love to travel domestically and abroad to explore new places and trails and then write about it for either online publications or my personal travel blog: Sidewinder Explores