---
*Links in this article may be affiliate links, from which we may earn commission. See our
Privacy Policy
for full details.
---
Looking for cool Burlington VT coffee shops? You're in the right place because we're rounding up the coziest, best Burlington Vermont coffee shops for you here!
Why are coffee shops so wonderful? We are guilty of being super coffee shop devotees. Working as bloggers and freelancers, it can be boring to stay at home all day. To solve that conundrum, we head out daily for a yummy latte and some WiFi. Do you do the same?
Today, we talk about the cafes in one of our favorite New England cities: Burlington, Vermont.
Artsy, hip, and in a beautiful location, Burlington is a great town. It's Vermont's biggest city, but by usual standards, it's still quite small. There's a lot to see & do here, but when you need a quick break, these 7 cozy coffee shops will help you refuel.
7 of the Best Burlington Vermont Coffee Shops
---
Muddy Waters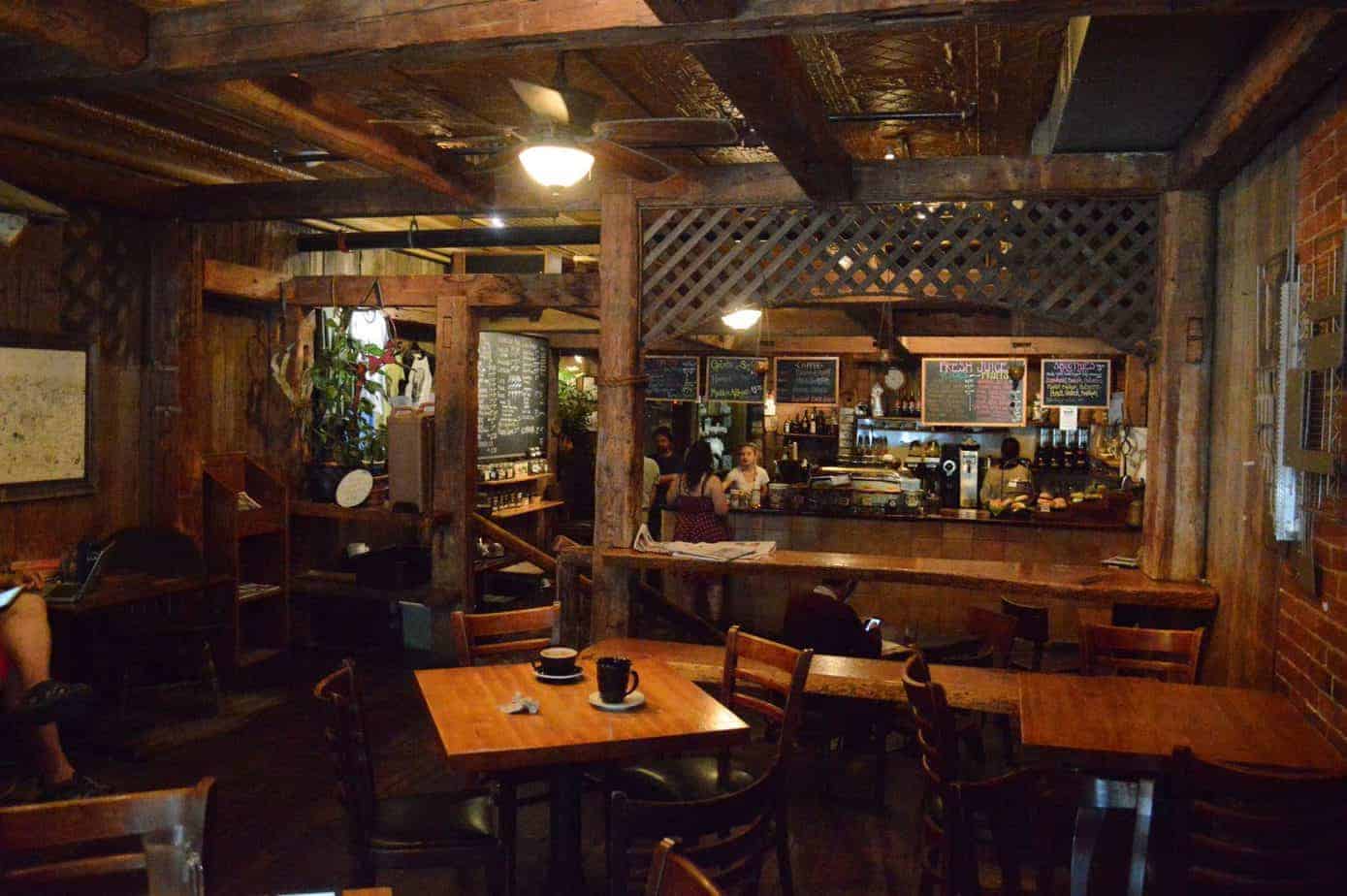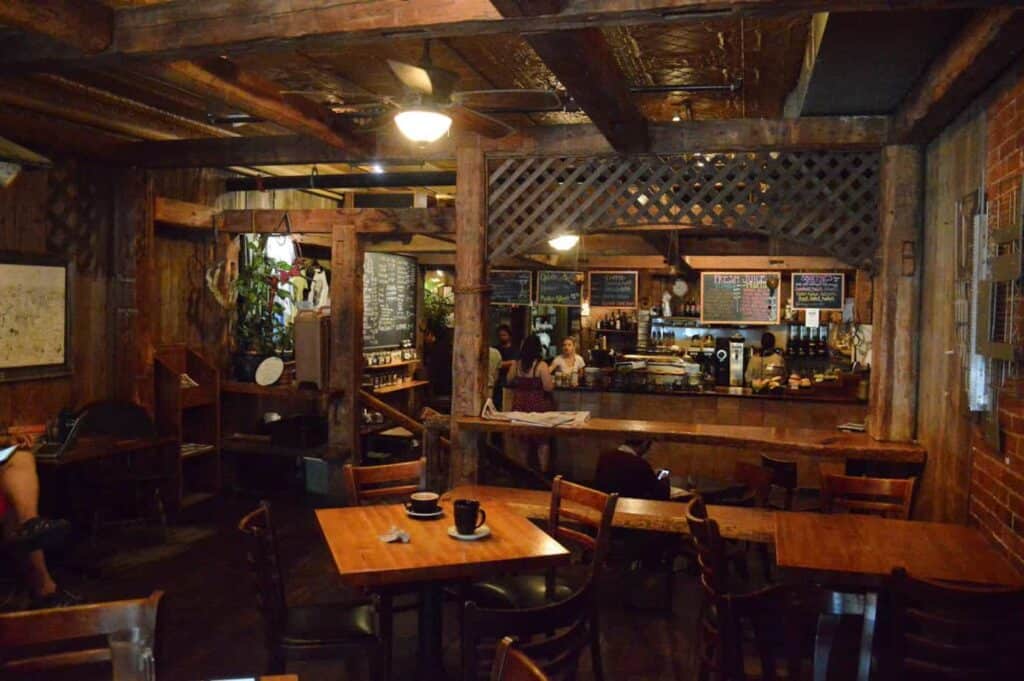 Muddy Waters is very much a Burlington coffee shop staple. There's a laidback, hipster vibe that is unquestionably "Vermont." One of the highlights of this shop is its decor, which is rustic and cool and incorporates a lot of wood. It's a little bit like a Hobbit hole!
Muddy Waters is popular with locals and college students, and is known as a great place to relax with a book and a beverage. In addition to tasty coffee & tea, you can enjoy bagels, desserts, gelato, smoothies, and fresh juices.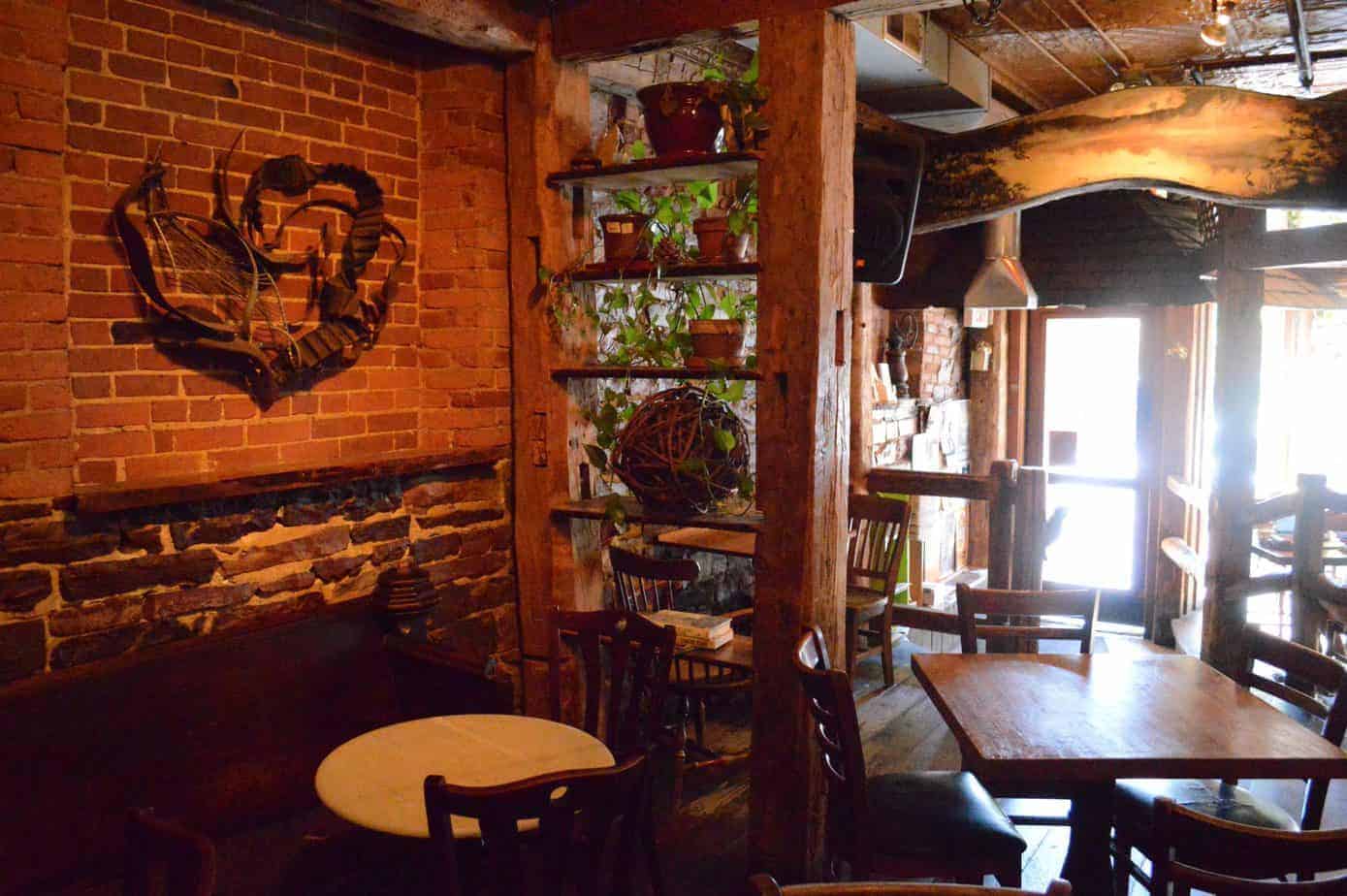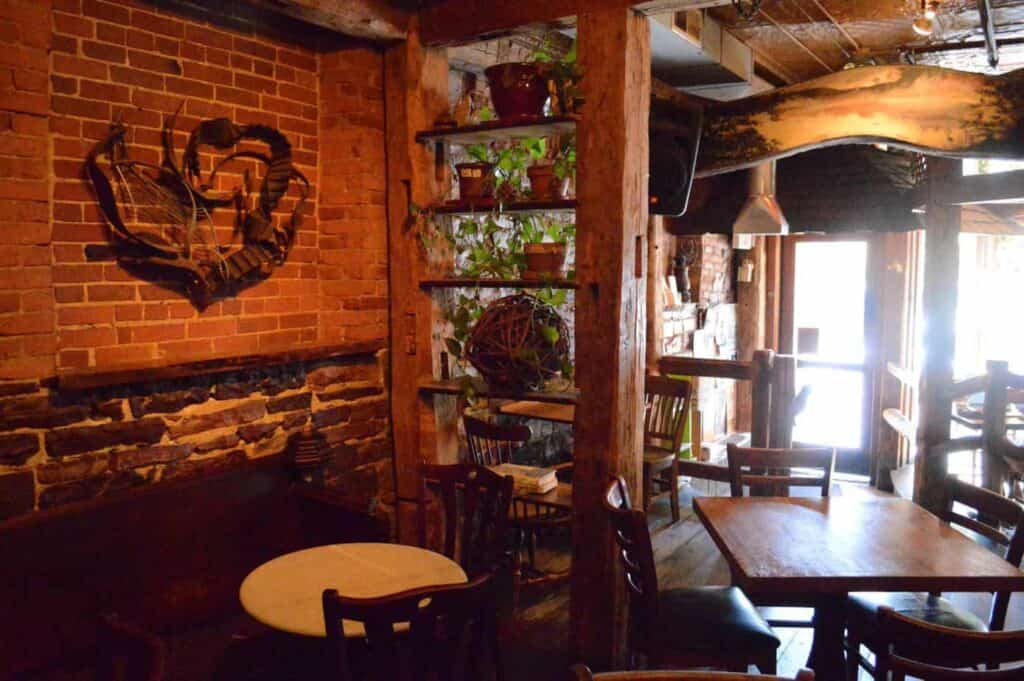 Muddy Waters is right in the heart of downtown Burlington just a block or so from bustling Church Street.
Essential Info:
Kestrel Coffee Roasters (formerly Maglianero)
In late 2019, Maglianero became Kestrel Coffee Roasters' newest cafe location. The cafe will serve only Kestrel coffee, specialty, single-origin coffee sourced from small farms. While I have yet to visit, I am confident that the coffee sold at Kestrel is going to knock your socks off.
It is likely the space will have an update as well, so photos below are from early 2019.
This is a bright, modern cafe that is an ideal place to bring your laptop and catch up on some work. It's also dog friendly! We got to pet a few cute pups and we were in heaven.
With a pleasant atmosphere and really great coffee, this is a serious contender for best coffee shops Burlington VT. It is located downtown near Lake Champlain. While not as centrally located as some of the others on this list, it's worth the walk. There is street parking nearby as well as a parking lot with a day rate.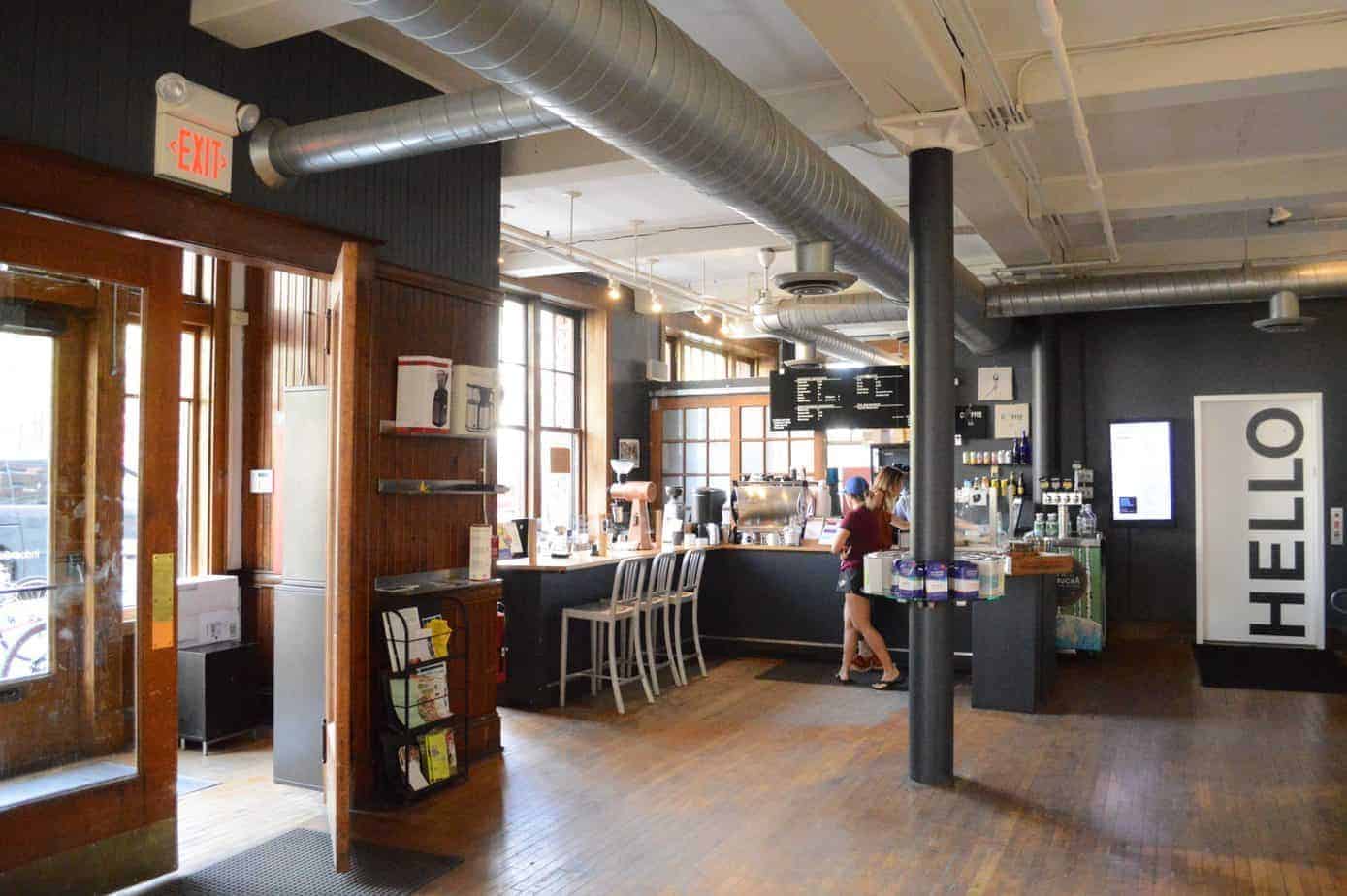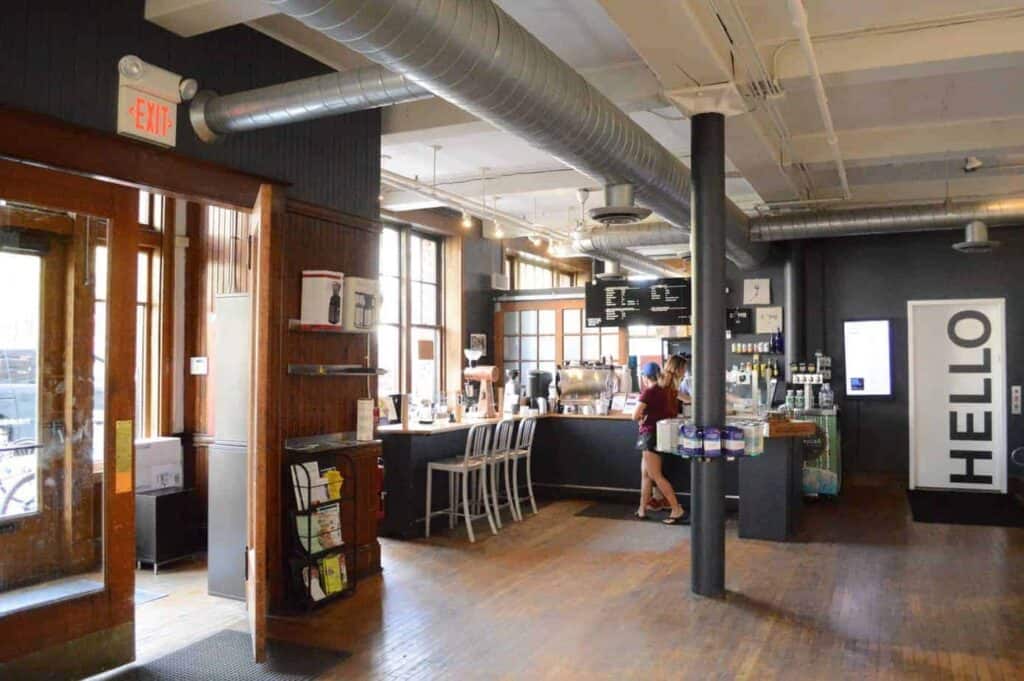 If you're a cyclist, this is an excellent place for you. They celebrate biking culture and have an indoor bike storage spot. It's roomy and—important in cold Vermont winters—warm, and you can feel good knowing your bike is secured safely.
Also, don't miss the whimsical art displays and the tiny library in the corner!
Update! Since our last visit, they have opened up a second location on Pine Street.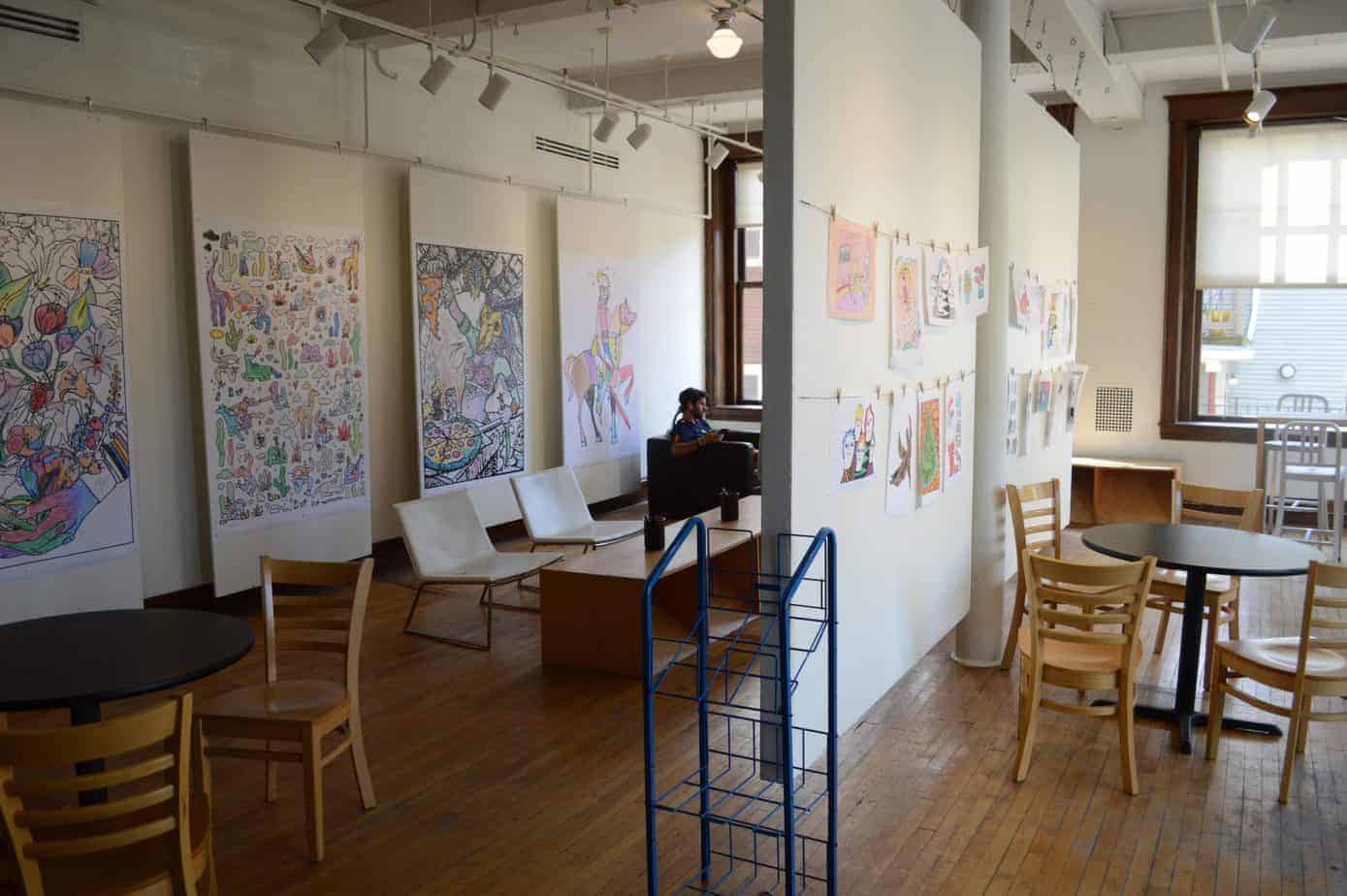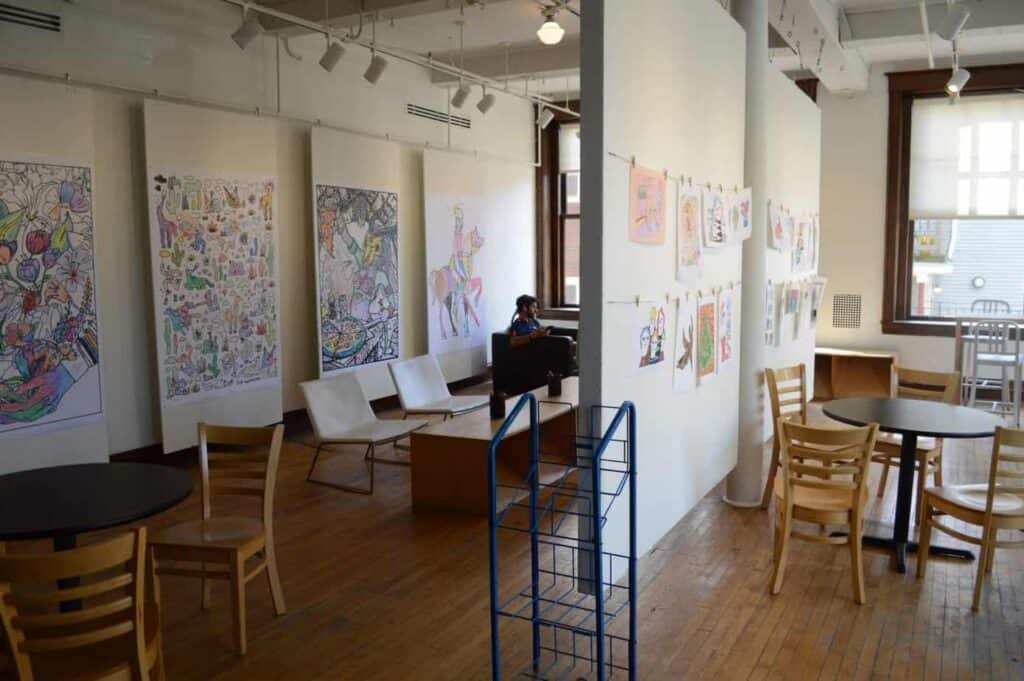 Essential Info:
47 Maple Street
Hours: M-Sat 8am-3pm
77 Pine Street
Hours: M-F 8am-3pm
Onyx Tonics
Onyx Tonics is a newer addition to the list of coffee shops in Burlington VT, having opened in 2016. This coffee shop strives to be a little different than your usual spot as they feature a constantly rotating menu. Every week, new coffees are offered, reflecting the changing seasons and a desire to celebrate the variety of roasts. This means every visit you could try something new!
Creatures of habit, we had maple lattes, but damn, were they good! Extremely well balanced and of course, bedecked with professional latte art.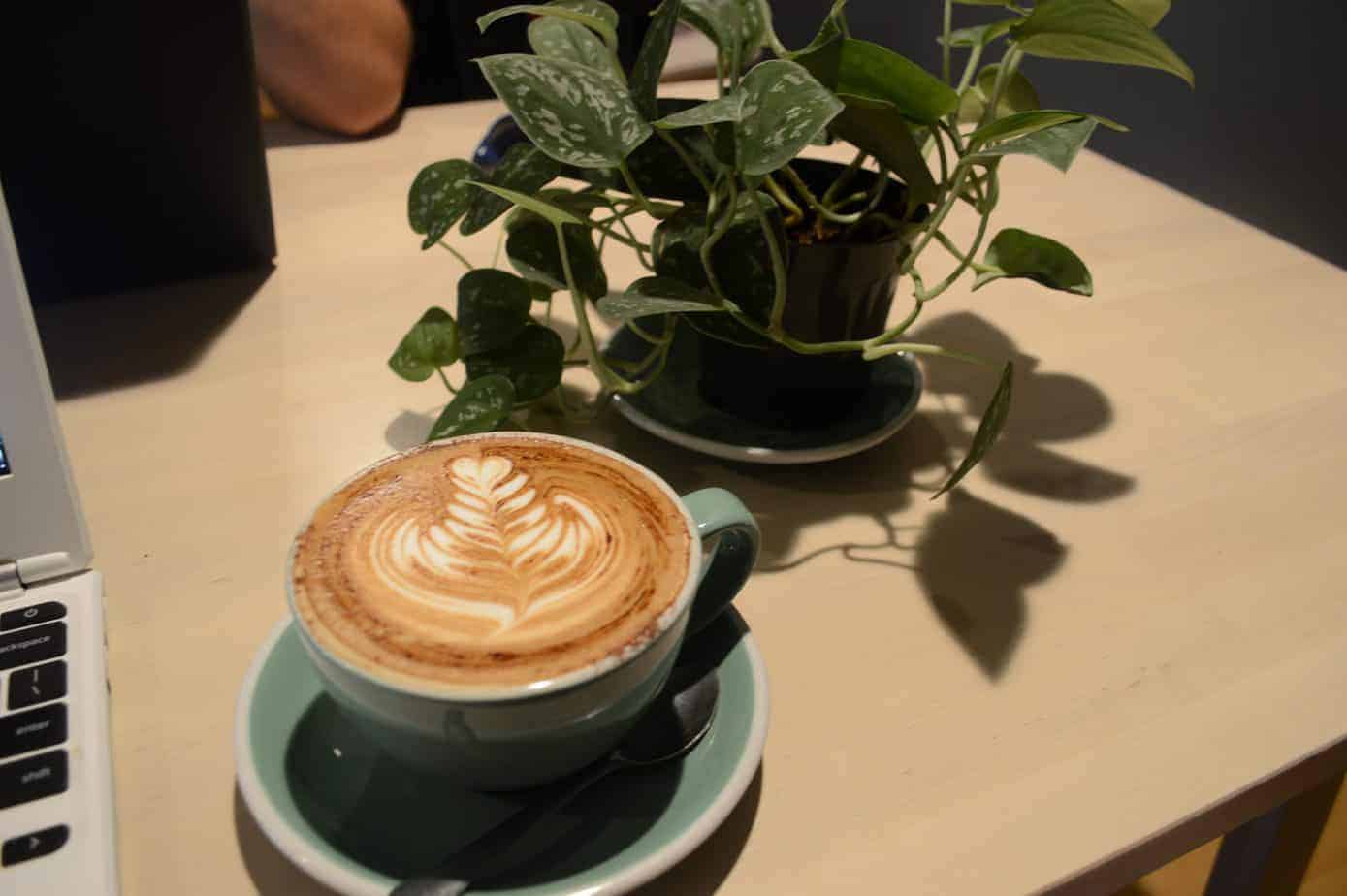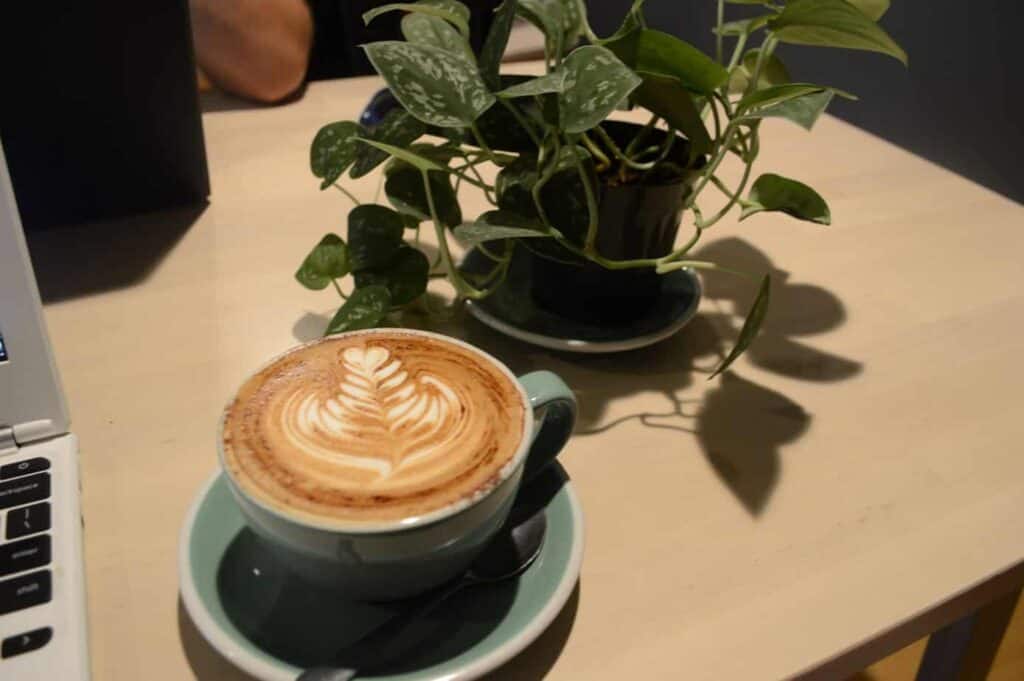 The staff was especially nice at Onyx Tonics—an extra special touch as today's hipster barista can often be a bit aloof. They were smiling and friendly here and we enjoyed working for a few hours in the cute, quirky shop. There weren't too many people around either, so it didn't feel overly crowded.
Onyx Tonics has some awesome pop art style pieces on the wall, where you'll see some familiar faces! There's beloved Vermont Senator Bernie Sanders, Nicholas Cage, Game of Thrones' Peter Dinklage, "The Dude," Jared Leto, and even Barb from Stranger Things!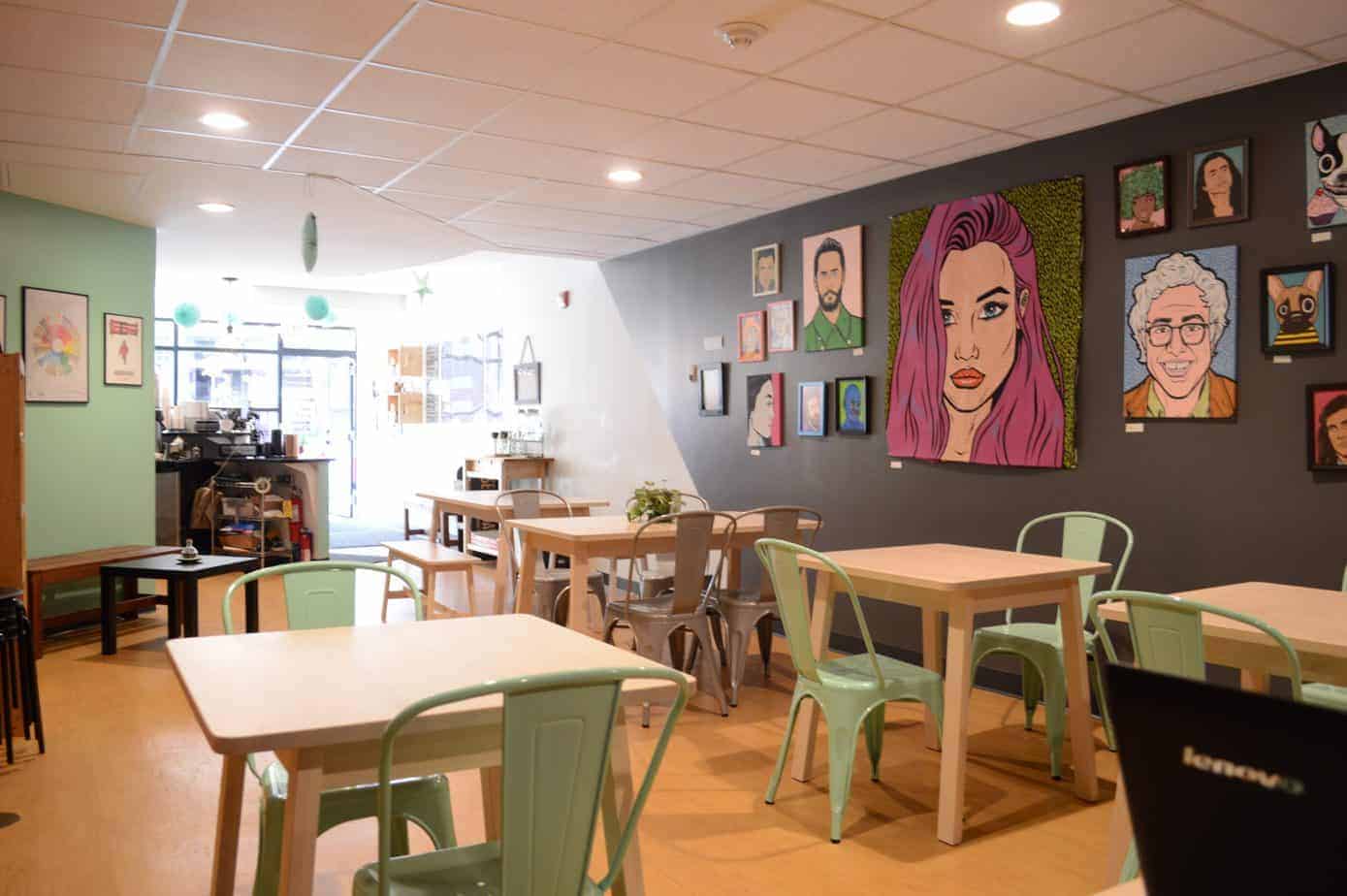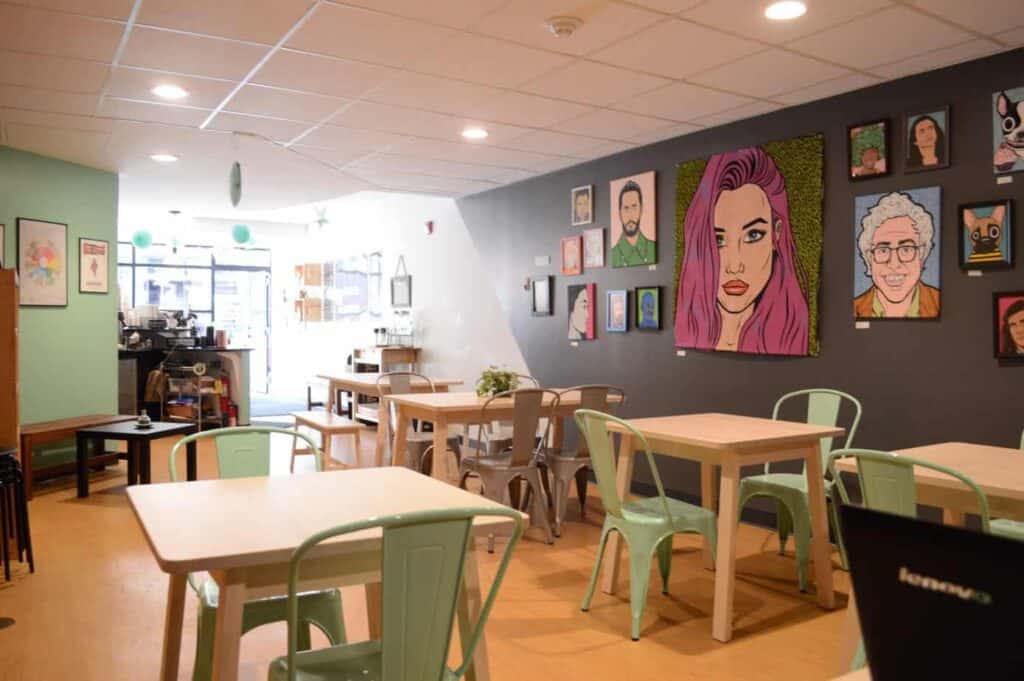 Essential Info:
126 College St.
Hours: Monday-Saturday 8am-5pm, Closed Sundays
Another Burlington staple is Speeder & Earl's. This family-owned small batch roastery has been bringing tasty beans to the region for more than 20 years.
Speeder & Earl's brews up drinks at their location in the South End Arts District, an area of Burlington that has exploded in the past several years. Once populated by industrial type buildings, the South End is now filled with art galleries, breweries, and quirky shops.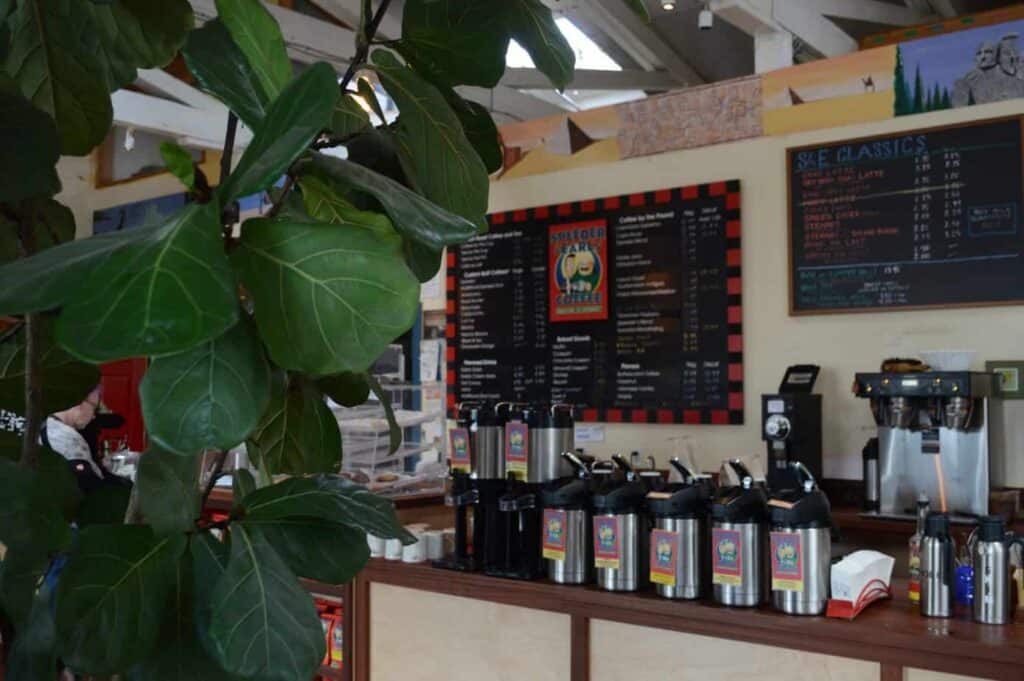 Speeder & Earl's takes its roasting and brewing seriously, and has established as a coffee house Burlington knows and loves. Their cafe has a very relaxed vibe, making it a top place to sit and work for a couple hours. On a recent visit I chose a blended sort of chocolaty espresso drink called a Mud Season. Amazing!
Essential Info:
412 Pine St.
M-F 7:30-6, Sat 7:30=6/Sun 8:30am-4pm
Vivid Coffee (Formerly New Moon)
Vivid Coffee is the newest and perhaps largest space of all the coffee shops on this list, and in some ways, it is the most work-friendly of the spots.
There is plenty of seating and electrical outlets and if you're looking for a cozy spot, the fireplace near the front of the cafe is extremely welcoming on a cold day.
But let's talk about the coffee! Vivid Coffee Roasters is a brand of coffee that is served up at many of the other Burlington coffee shops on this list, and this particular coffee shop is their first brick and mortar cafe. The coffee here is so, so, SO good.
You might remember when this place used to be New Moon, but now New Moon is a catering company and plot twist, they are located just upstairs.
Essential Info:
150 Cherry St.
Open M-F 7am-4Pm
S/S 8am-4pm
Scout & Co
To find the best coffee in Burlington VT, you just might have to head into its Old North End. Here you'll find the original location of Scout & Company and all of the charm it offers. The O.N.E. location is just about a mile north of downtown Burlington, making for an easy drive or bike ride. There's an adjacent parking garage, making your life a lot easier.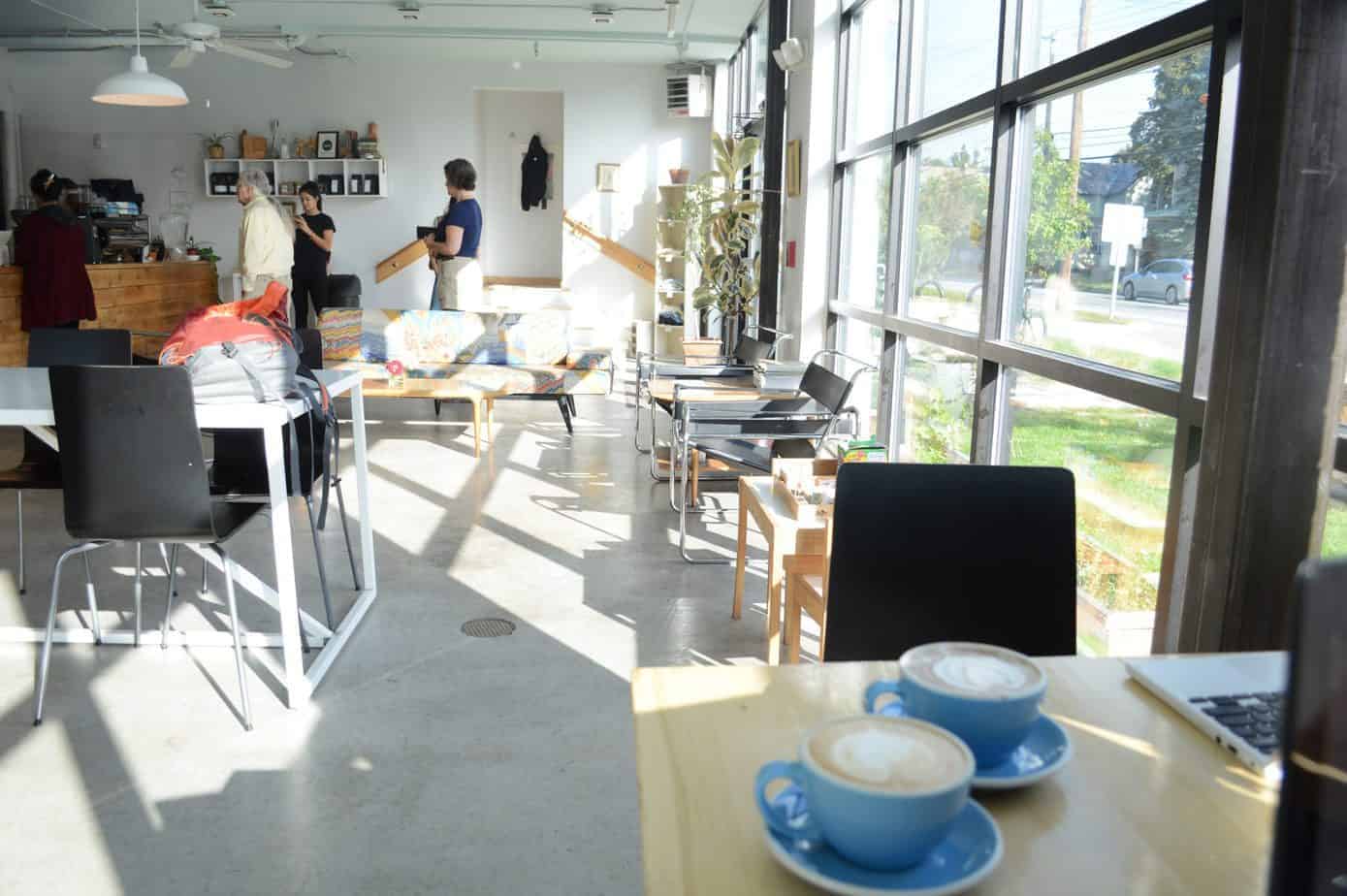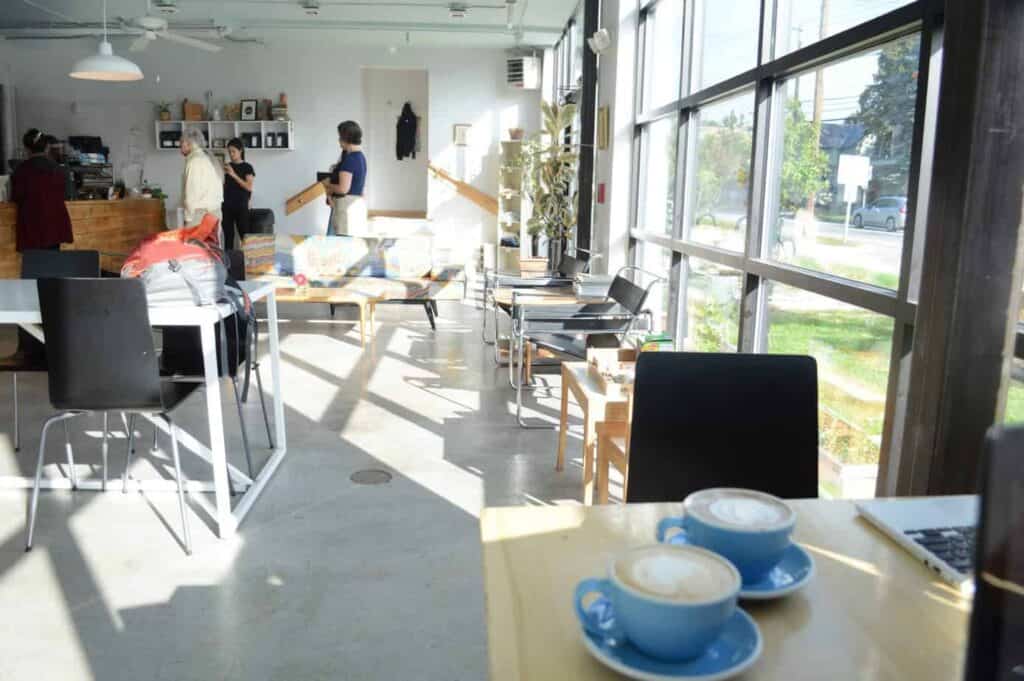 Scout & Co. is light, bright, and airy, with huge windows and plenty of sunlight. Seating is abundant, and electrical outlets aren't hard to find (good news for the working gal or guy). And the main question on your mind: how's the coffee? Tremendous and gorgeous. See Exhibit A below.
But this location also boasts house-made ice cream in unique flavors, pastries, and waffles. We won't lie to you. The waffles we had at Scout & Co. were literally the best we've ever had. Golden buttery and perfectly crisped. You won't find a better waffle in town. And if you're feeling really adventurous, you need to order the Wafflegato, a waffle topped with ice cream & espresso.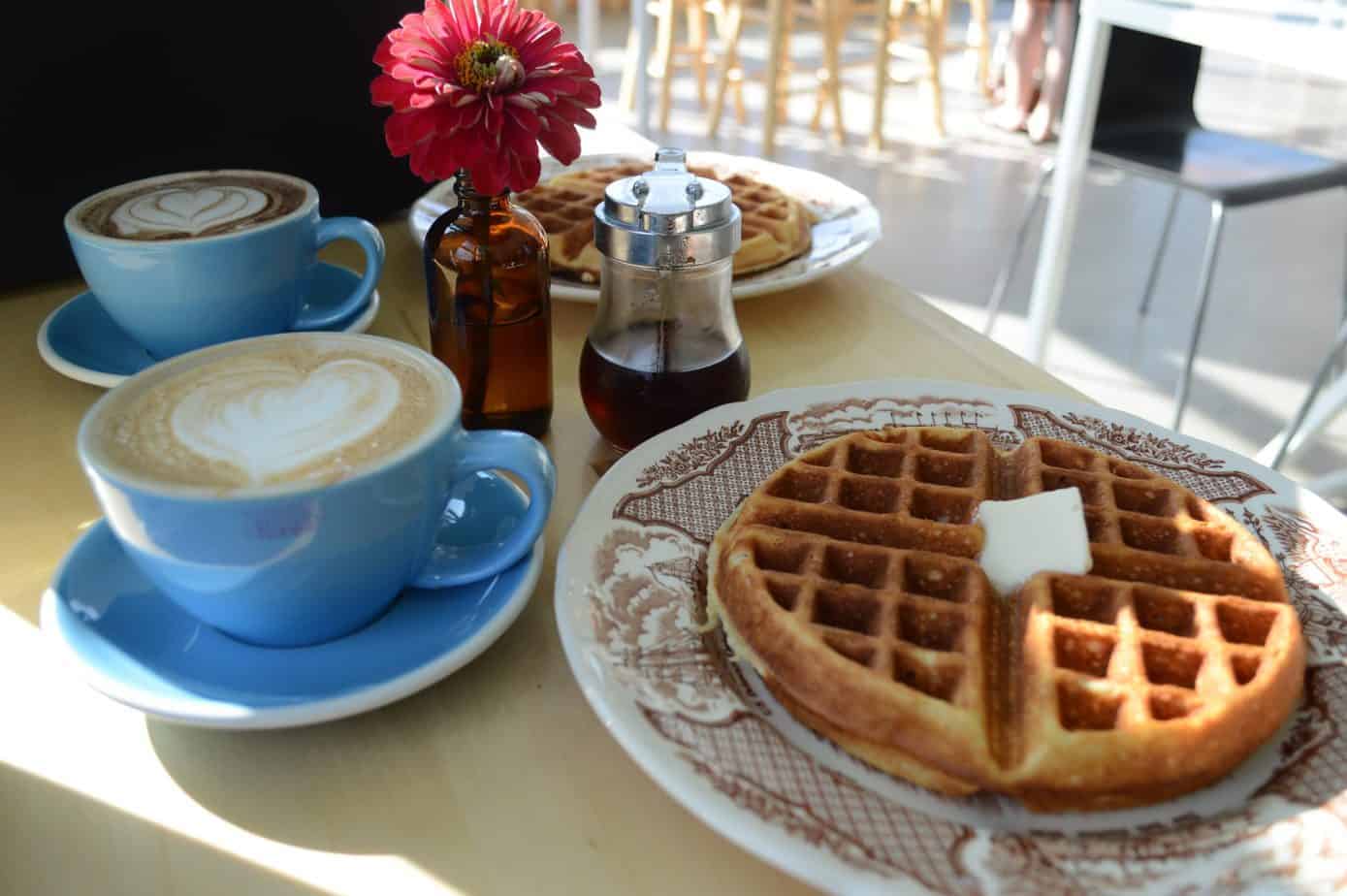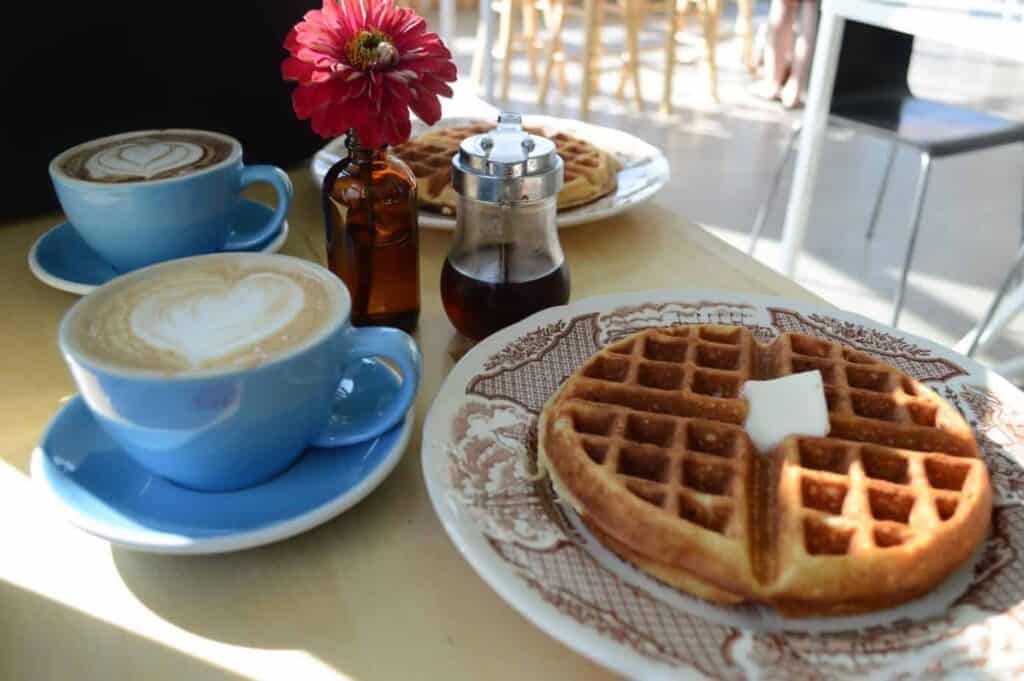 There are two other locations of Scout & Co. on Pine Street and in nearby Winooski (with an on-site coffee roastery).
Essential Info:
Scout ONE – 237 North Ave // Hours: M-Th 7am-5pm, F 7am-6pm, S/S 8am-6pm
Scout Victory Circle – East Allen St, Winooski // M-Th 7am-5pm, F 7am-6pm, S/S 8am-6pm
Scout South End – 696 Pine St, Burlington // M-Th 7am-5pm, F 7am-6pm, S/S 8am-6pm
The Cosmic Grind
The Cosmic Grind is pretty much everything you want when you ask where to get coffee in Burlington, Vermont. It's dog friendly, it's got cool art on the walls, it's super cozy, and of course, the coffee menu is killer! You can even get CBD-infused beverages at this Church Street coffee shop.
The interior is pretty small, but this cozy little coffee place serves up delicious baked goods and exceptional beverages in a very interesting atmosphere. The intergalactic decor and the plants make you feel like you've stepped into another world… a world with wicked good coffee.
Essential Info:
104 Church St
M-F 8:30-4, Sat 9am-6pm, Sun 9am-5pm
So, who's ready for coffee? Have we brought you the best Burlington VT coffee shops? What's your favorite?
---
Read these next:
---
Pin this post to save for later!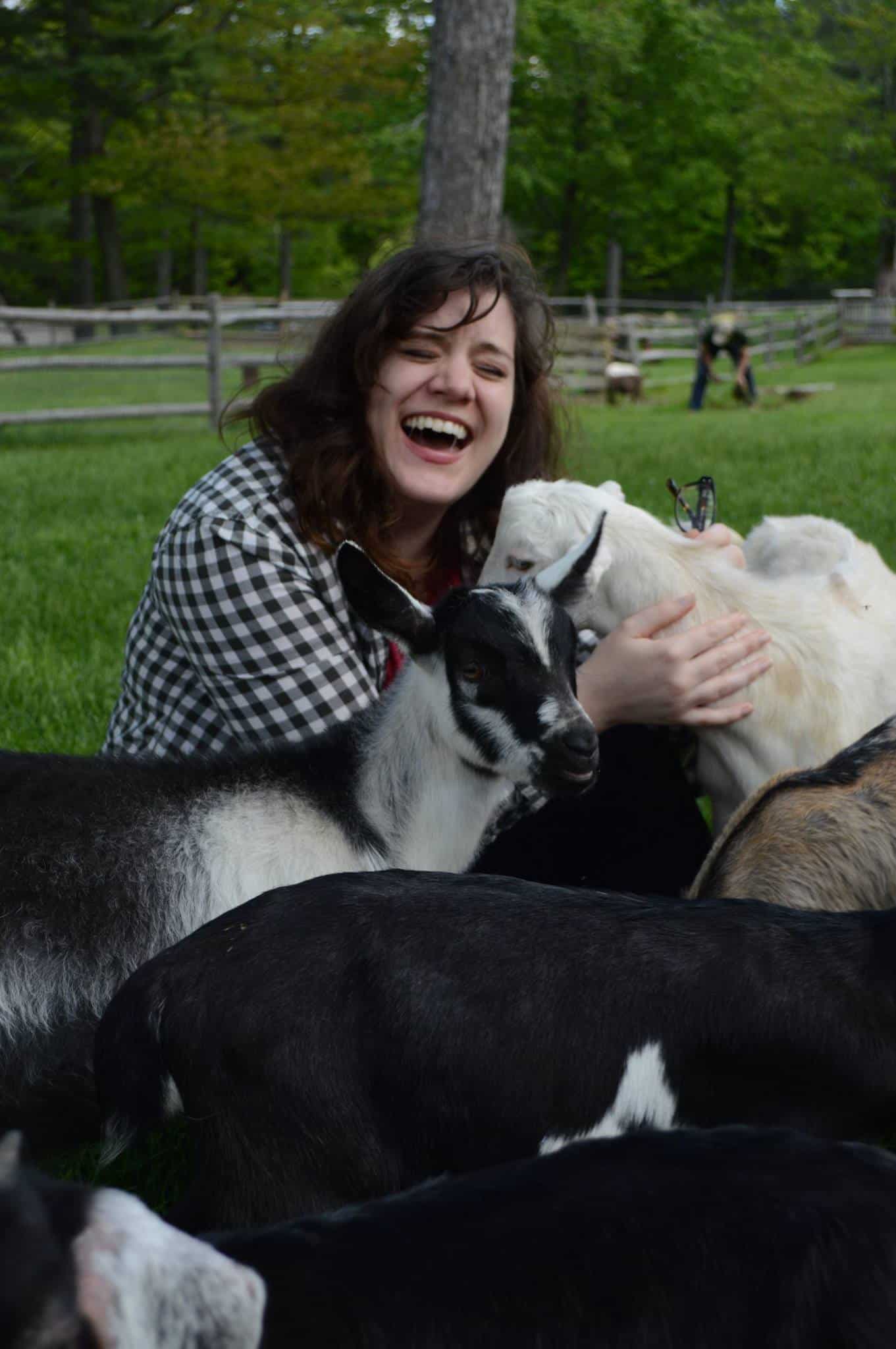 Amy Hartle is the owner and editor of New England With Love, a comprehensive resource for travel in the New England region. Amy lived in Vermont for 15 years, attended Plymouth State University in New Hampshire, and continues to travel regularly around the entire New England region. On this site, Amy aims to share her love of New England and help you to have the best possible adventures!
Amy has been a full time blogger since 2012, and is also the publisher of Two Drifters, where she writes about couples travel and relationships, as well as Let's Adventure Baby, a family travel site. When not traveling the world or creating epic blog content, Amy can be found cuddling with her husband, son, and cats, & drinking a maple latte.