*This site uses affiliate links; if you make a purchase through these, I may receive a small commission at no cost to you.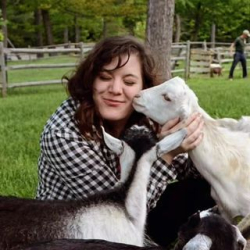 Latest posts by Amy Hartle
(see all)
While Burlington, Vermont itself is a beautiful place to explore with free activities, restaurants, coffee shops, and more, it also serves as a great home base to visit other sites in the state! There are many incredible day trips from Burlington VT.
Because Vermont is a relatively small state, you can explore pretty far down south with just a day trip from Burlington! You can also hop on over to New York to check out some other popular places New Englanders vacation to, like Saratoga Springs or even Lake George.
Each of the day trips on this list has been carefully vetted by a local, so rest assured that each place is worth visiting. Here are the top day trips from Burlington VT, in no particular order!
Killington, Vermont
Drive time: 1 hour and 34 minutes (91.6 miles)
First up is none other than Killington! It's one of the most popular day trips from Burlington VT in the winter because Killington is known for its skiing opportunities. The drive to Killington is reasonably short, only taking about an hour and a half. Plus, the road is pretty scenic along the way!
Once you're in Killington, there are lots of fun things to do. Of course, the most popular activity is to head to Killington Resort, where you can go skiing, snow tubing, ice skating, or even go snowboarding and cross-country skiing. This is more of a winter activity, though!
If you're visiting during a different time of the year, don't fret. Killington is filled with excellent hiking trails (like the Thundering Falls Trail), one of Vermont's state parks: Gifford Woods State Parks, and there are also outdoor adventure centers that are tons of fun for kids.
Lake George, New York
Drive time: 2 hours 23 minutes (101 miles)
Are you interested in taking a day trip outside of Vermont? Then consider heading to Lake George, New York! It's a bit of a longer trip, but it's completely worth it if you wake up early enough. Lake George is a popular destination among couples looking for a getaway and families who want to have some outdoor fun.
Located in the Adirondacks, Lake George is absolutely breathtaking. If you're visiting with your significant other, definitely consider going on a cruise along Lake George. They usually have different cruises throughout the day, with the most romantic option being a dinner cruise. Consider booking through Lake George Steamboat Company or Lake George Shoreline Cruises.
Other great activities in Lake George include stepping back in time at Fort William Henry, having fun at the Six Flags Great Escape theme park, or shopping at the Factory Outlets of Lake George. There's also the incredible Revolution Rail Co., where you can pedal your own rail bike along an old New York railroad.
Waterbury, Vermont
Drive time: 29 minutes (26.7)
One place you absolutely must visit from Burlington is none other than Waterbury! That's because it's actually home to the original Ben & Jerry's Factory. The factory gives free tours to the public, where you can get a behind-the-scenes look at how the ice cream is made. In the end, you can even sample the flavor that they're making that day!
There are also other fun things to do at the factory, like exploring the Flavor Graveyard of retired ice cream flavors or shopping at the merch shop, where you can get some fun ice-cream-themed goodies.
If you're an outdoor enthusiast, then be sure also to check out the Perry Hill Trailhead. It was recently updated and is a fantastic trail for mountain bikers. You'll get quite the exercise, but it's tons of fun and is a great way to escape into the great outdoors.
Grafton, Vermont
Drive time: 2 hours 14 minutes (137.7 miles)
A great small-town day trip from Burlington VT, is none other than Grafton! It's located in the southern part of the state and is filled with small businesses and unique hidden gems that you won't be able to find elsewhere.
One of the best things to do in Grafton is to stop by the Grafton Village Cheese Company Facility & Retail Shop. This place has won cheese awards in the past, so you know it's good! Plus, there are windows where you can actually watch the cheesemaking process.
Another must-visit spot in Grafton is the Grafton Trails & Outdoor Center, where outdoor activities are galore. Go hiking, snowshoeing, bike riding, or even swimming! There are also sleigh rides and other fun winter activities when it snows.
Bennington, Vermont
Drive time: 2 hours 44 minutes (133.1 miles)
Even though this is one of the longer day trips from Burlington VT, it is so worth it! Bennington is a charming small town nestled in the southwestern corner of Vermont, right on the border of New York and Massachusetts. The town is known for its views and history.
When visiting Bennington, be sure to stop by the Bennington Battle Day Monument, one of the state's historic sites. It's open for visitors to climb during certain parts of the year, and you can get the best view of the town from the very top of the monument. Plus, it's so tall that it's impossible to miss it no matter where you are in the town!
Local favorite activities include hiking to the top of Bald Mountain (this is a day excursion in itself), having a maple creemee at Tastee Freez, or shopping downtown at the local stores. Honestly, there are some hidden gems in Bennington; you just have to spend a day in town to see it and appreciate all that it is truly!
Saratoga Springs, New York
Drive time: 2 hours 29 minutes (115.7 miles)
Saratoga Springs is another one of the incredible day trips from Burlington VT, that will get you outside of the state! It's only about 2.5 hour drive from downtown, which isn't too bad.
Saratoga Springs is famously known for being the home of the Saratoga Race Course. One of the most popular summer activities is to attend the races, whether you opt to sit in the stands or book a different ticket to eat lunch at one of the beautiful restaurants overlooking the track.
Of course, there are other great activities and places to visit in Saratoga Springs, too! Consider visiting the National Museum of Racing and Hall of Fame to learn more about horse racing, get outside at the Saratoga Spa State Park, or explore the downtown area. One can't-miss spot is definitely the Northshire Bookstore, a Manchester-owned bookshop that just opened a second location in Saratoga.
Manchester, Vermont
Drive time: 2 hours 18 minutes (100.3 miles)
A little shorter of a drive than Bennington, Manchester provides a welcome escape from the city life in Burlington! Manchester is another charming Vermont small town that's home to none other than the famous Hildene, the Lincoln home.
In Manchester, one of the best things to do is shop at all of the outlet shops. They have pretty much any outlet you could think of, with some local shops spread throughout. If you get hungry while you're there, stop for a delicious sandwich on homemade bread at Zoey's Deli.
If shopping isn't your thing, don't worry! There are tons more fun things to do in Manchester, like climbing Mount Equinox, playing pinball, relaxing at Emerald Lake, or even having a tasty latte at Charlie's Coffee House.
Middlebury, Vermont
Drive time: 51 minutes (34.4 miles)
A short day trip from Burlington is Middlebury, a small college town that's most well-known for being the home of Middlebury College. Of course, this small town packs a punch with its fun artfulness and culture.
This is a great place to visit if you're doing a girl's trip or you're visiting the area with your significant other. The Lincoln Peak Vineyard is an absolute must; this Vermont vineyard has wine tasting, and you can even buy a bottle to take home.
Art and history lovers will want to stop by the Middlebury College Museum of Art and the Henry Sheldon Museum. There are also a few covered bridges in the area, like the Pulp Mill Covered Bridge and the Halpin Covered Bridge, both of which are significant landmarks to stop by if you're into Vermont history.
Stowe, Vermont
Drive time: 43 minutes (36.1 miles)
Lastly is none other than Stowe! Stowe is one of the most popular places to visit in the entire state because it's a charming small town that's often featured in Vermont postcards. When you visit it in person, you'll see why!
Many people visit Stowe for winter activities, like ice skating, going on a sleigh ride, and of course, skiing and snowboarding. There are also other things to do in the winter like exploring the village or snowshoeing!
If you're visiting during a different time of year, don't worry; there are still more fun things to do in Stowe. You can have a spa day, take a ride in a hot air balloon, check out a waterfall, and even visit the iconic Trapp Family Lodge.
This post was all about the top day trips from Burlington VT! Don't forget to share this post and save it for later to help you plan your trip to the great state of Vermont.
—
You might also like: