Are you looking for a great place to stay during your getaway to Stowe, Vermont? Well worry not, because I've put together a curated list of the best hotels in Stowe Vermont.
This charming town is a stunningly scenic vacation destination with so many great things to see and do. There's hiking on picturesque trails, delicious restaurants, some of the best spas in New England, and of course, one of the best ski resorts in Vermont.
Any time of year, you'll find Stowe is the perfect spot for your next Vermont getaway, and any one of the hotels and inns on this list would make for an excellent landing spot while staying in this sweet little town!
So, wondering where to stay in Stowe VT? I got ya!
My Top 3 Picks: Stowe Vermont Hotels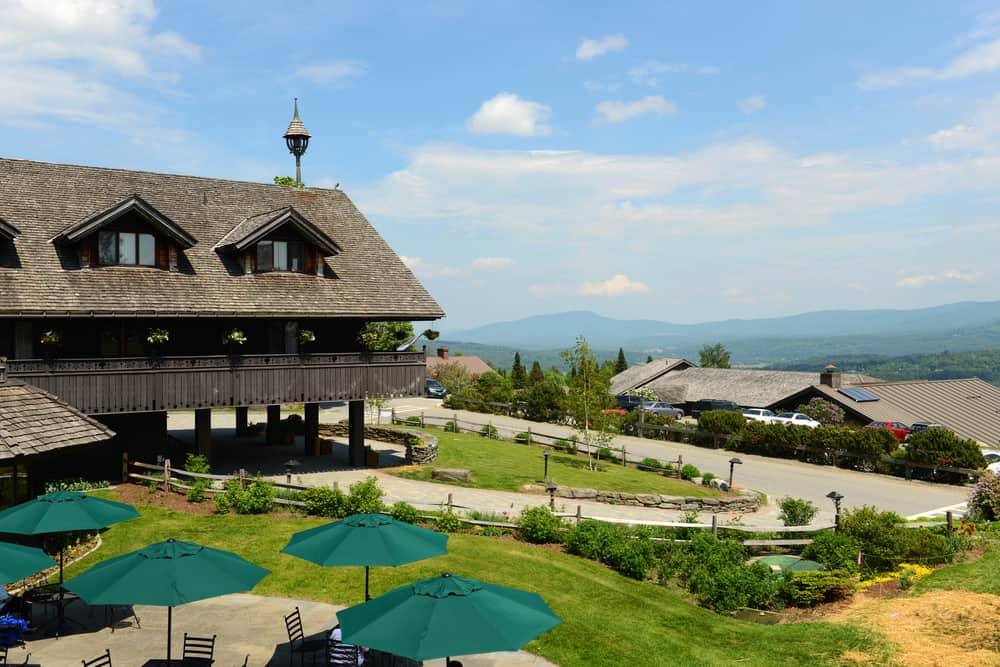 🍁 A family-friendly spot with so much to do
🍁 Gorgeous views over Stowe
🍁 Iconic & historic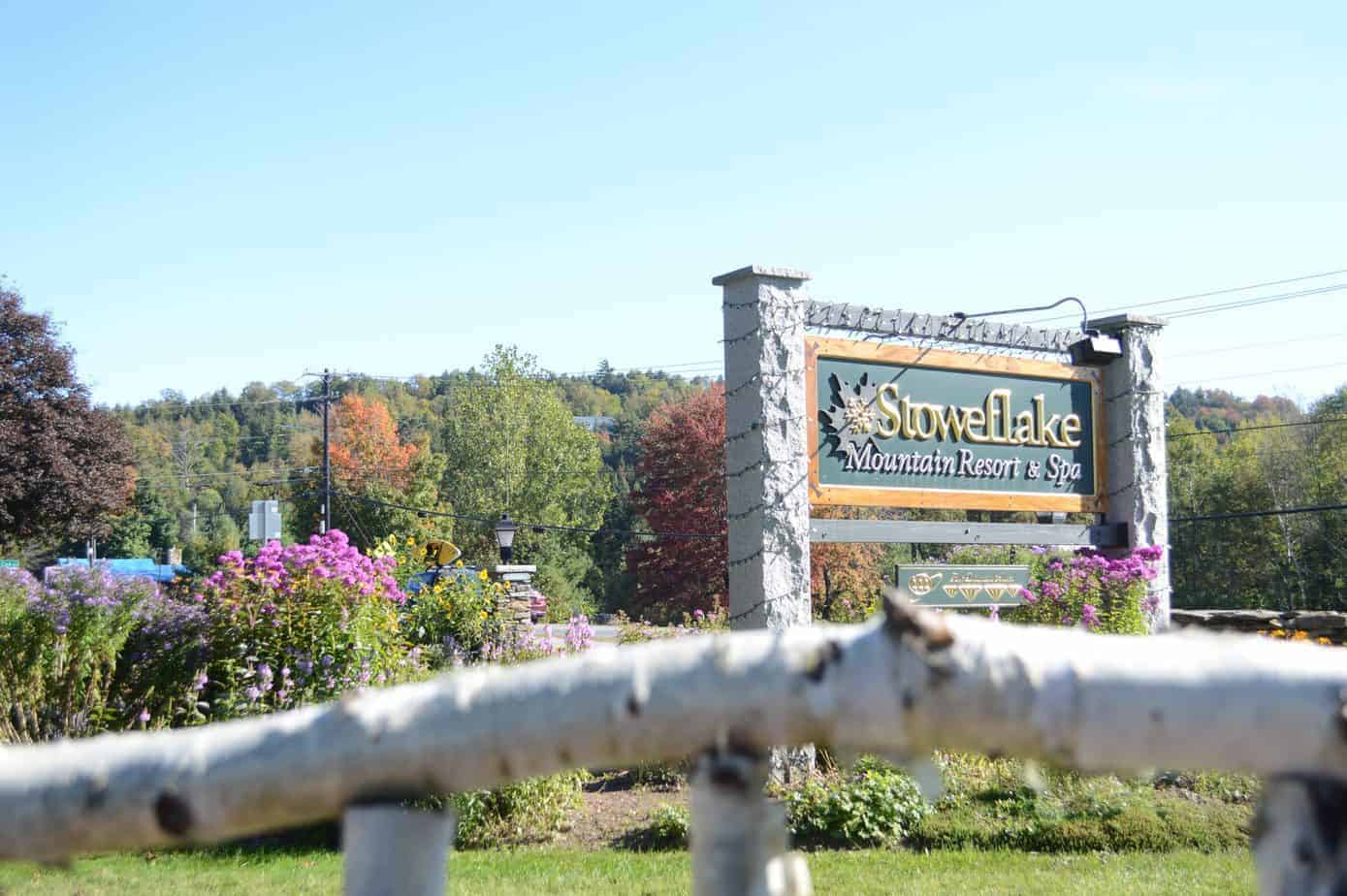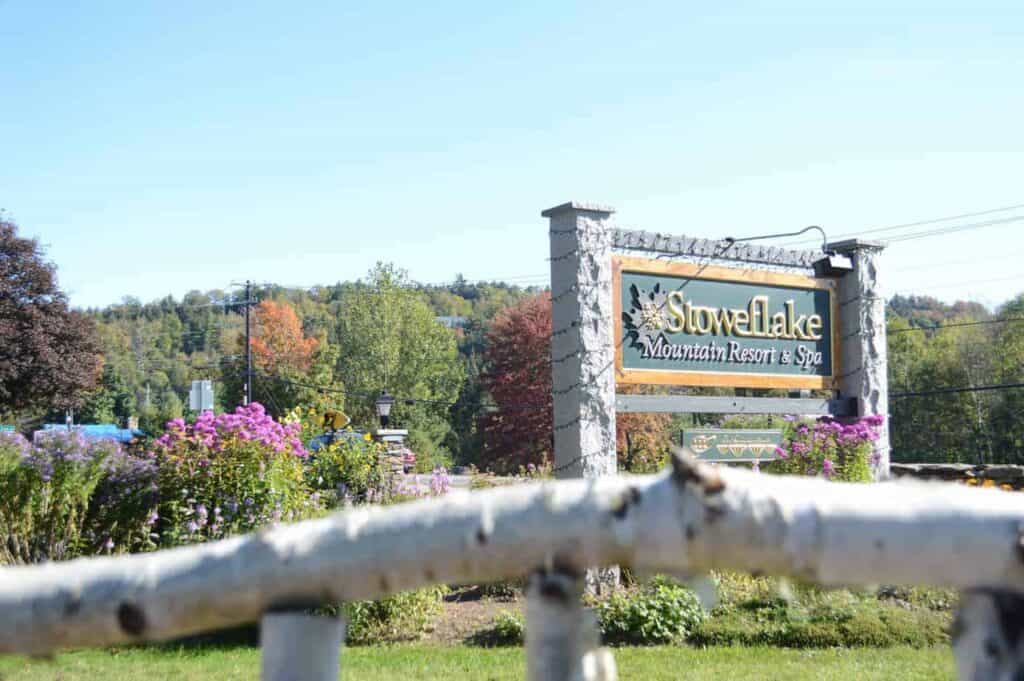 🍁 Award-winning spa
🍁 Convenient Mountain Road location
🍁 Lots of accommodation options
Stone Hill Inn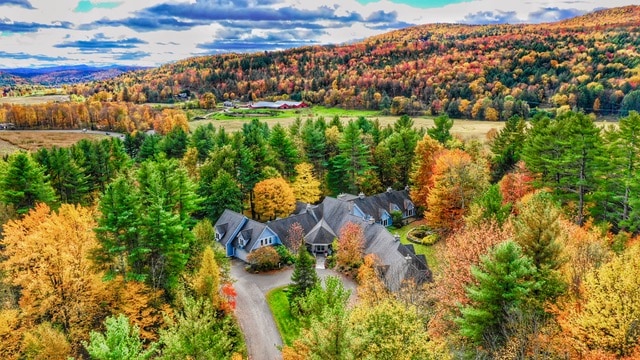 If you're looking for a romantic inn in Stowe that you can feel like you and yours have retreated from the world at large—while still being just a quick hop, skip, and a jump from all the action of the village—then Stone Hill Inn might be the perfect vacation spot for you!
One of the best inns for a romantic getaway in Vermont, Stone Hill Inn is tucked away in 9-acres of woods, with fireplaces in the guest rooms and each room leading out to a shared peaceful garden space with a waterfall.
A gourmet breakfast is served in their gorgeous dining room each morning, and Stone Hill Inn's onsite massage therapists are available to work their magic if you'd like to squeeze in a therapeutic couple's massage before heading out to explore the village. Stone Hill Inn has a strict no-kids policy, so if you're looking for calm and peaceful romance, Stone Hill Inn might be the perfect spot for you!
Read Next: Stowe Vermont in Summer: 11 Fun Things to do for All Ages
Topnotch Resort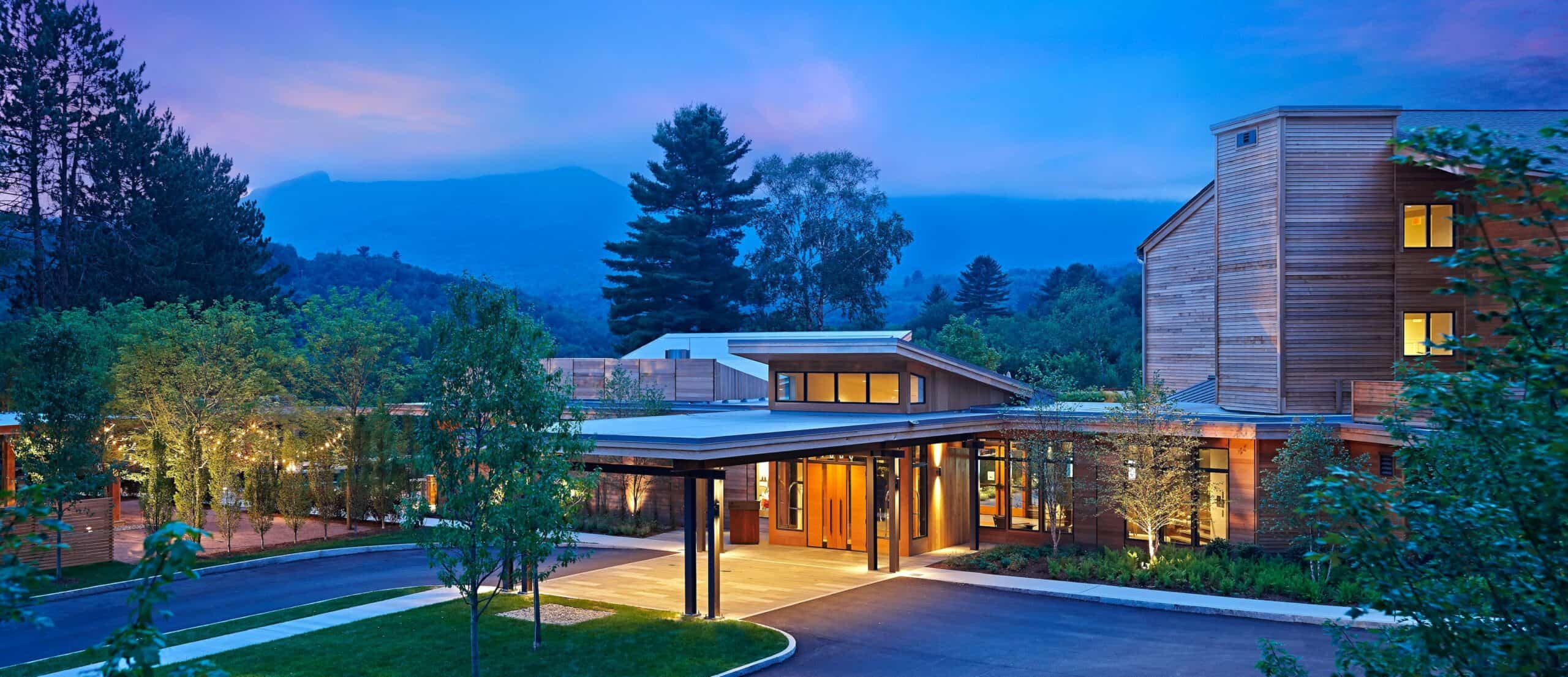 Topnotch Resort is one of the best hotels in Vermont, and this 4-star luxury resort and spa is the place to go if you're looking for a little indulgence in your Stowe trip!
The rooms are "contemporary country-chic" and well-appointed with all the amenities you could need, and the onsite restaurant, The Roost, features local, artisanal ingredients that showcase Vermont's culinary prowess.
Live music is regularly scheduled at The Roost, too!
The spa is one of the stars of the show at Topnotch, with indoor and outdoor pools, an indoor hot tub with cascading waterfall, a full-service salon and boutique, and 30 treatment rooms where you can receive massages and body treatments that will leave you feeling restored and rejuvenated.
Sometimes a person needs a little extra pampering on vacation, and Topnotch Resort is the place in Stowe to get it!
I have stayed here twice, and both stays were excellent. In addition to their classic hotel rooms, you can rent condos or townhouses at Topnotch. My friend did this for a birthday party once, and it was a great choice for a group of ladies on a long weekend.
Read Next: Where to Have the Best Breakfast in Stowe VT
Trapp Family Lodge
Trapp Family Lodge is one of the most well known hotels in Stowe. Owned and operated by the very von Trapp Family that the film The Sound of Music was based on, you won't be surprised to discover that the hills are alive here!
With absolutely stunning views looking out over the town of Stowe, Trapp Family Lodge is very family-friendly, with activities like hiking, biking, guided nature walks, classes, maple-sugaring tours, skiing, snowshoeing, wagon and carriage rides, and more.
There are also incredible options for dining. They have a wine cellar with weekly wine tastings and a classic Europe-style brewery & bierhall that serves up their famous von Trapp lagers.
Accommodations include rooms in the rustic, Austrian-inspired lodge, rentals of the vacation villas and guest houses, and excellent amenities like the onsite pool, fitness center with massage rooms, a 20-person outdoor hot tub with heated slate surround, and of course, incredible views all around.
Staying in the main lodge offers fabulous views. I recently stayed at the Trapp Family Lodge with my husband and 1 year old son, and our room was spacious and comfortable with a balcony looking right out over the mountains.
The scenery is breathtaking even in the relative grey of early spring.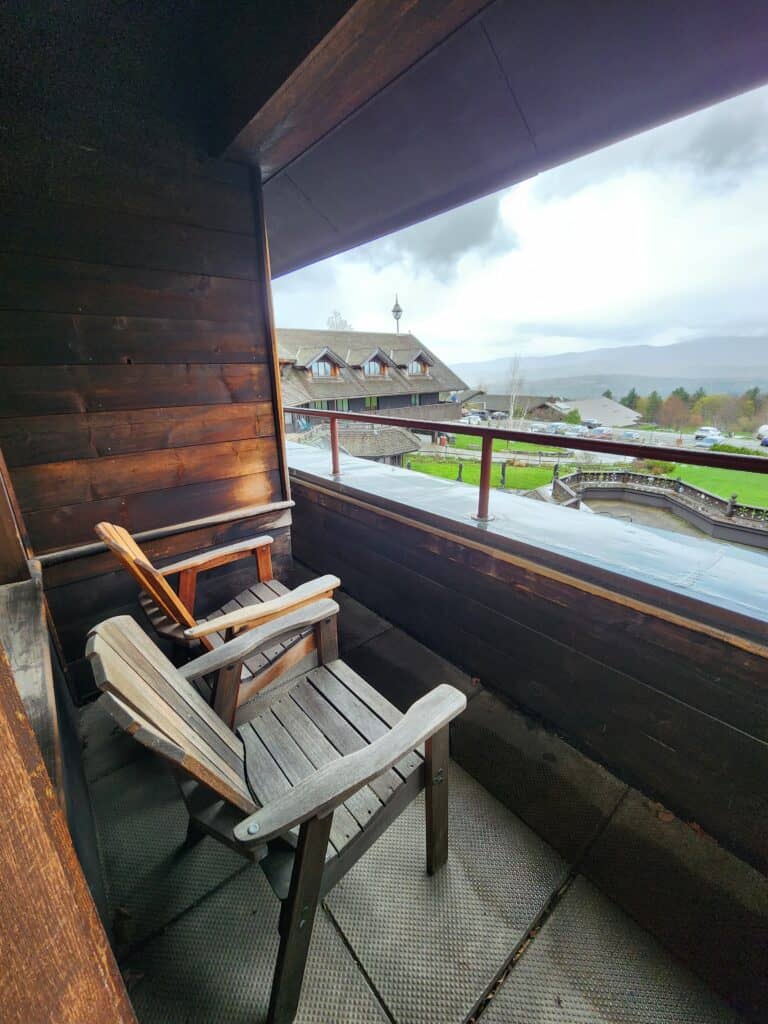 The staff was also incredibly friendly here, and we had an excellent stay.
Undoubtedly one of the best hotels in New England, a visit to the Trapp Family Lodge is a must for any Vermont bucket list!
Stoweflake Mountain Resort and Spa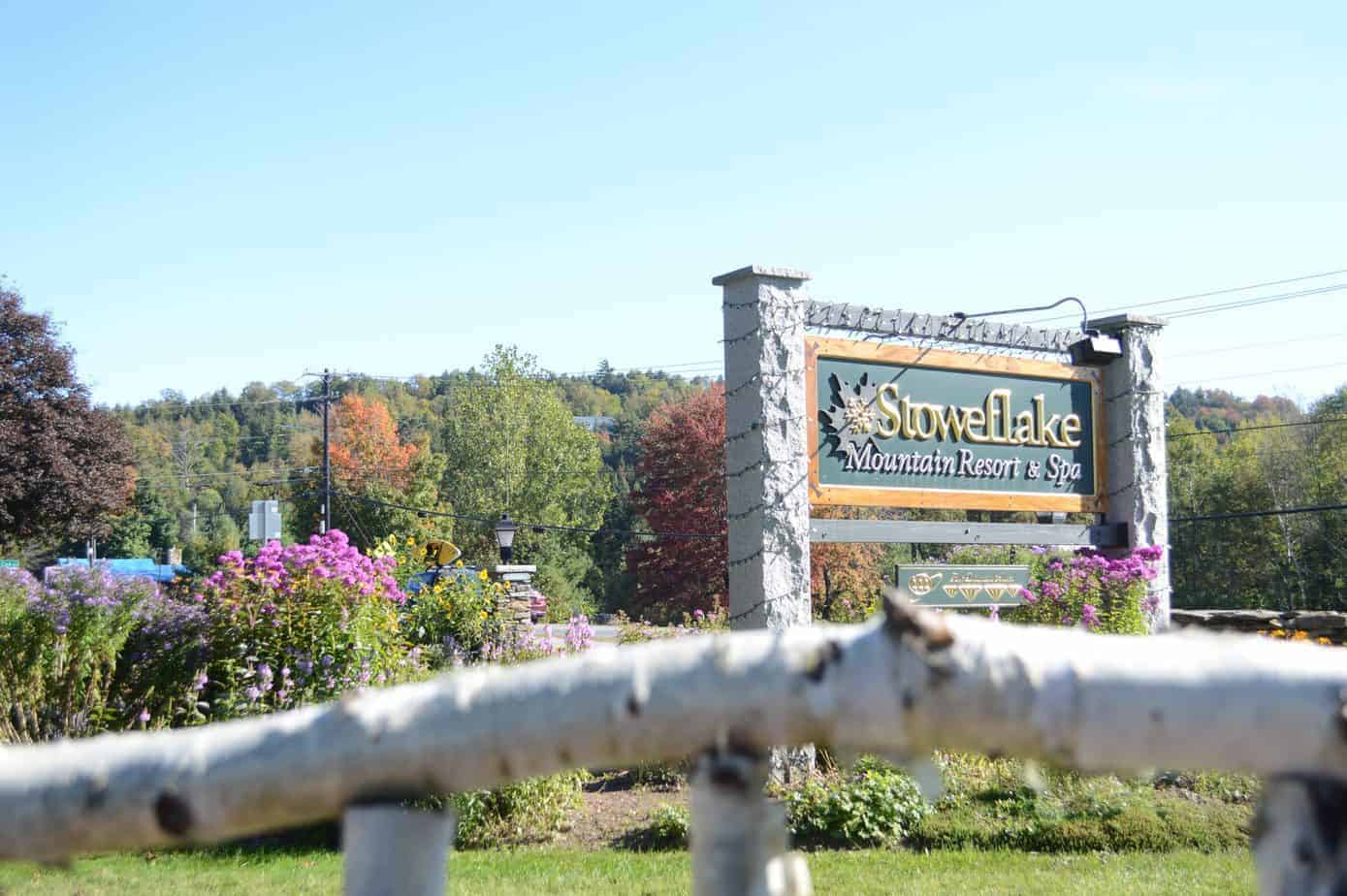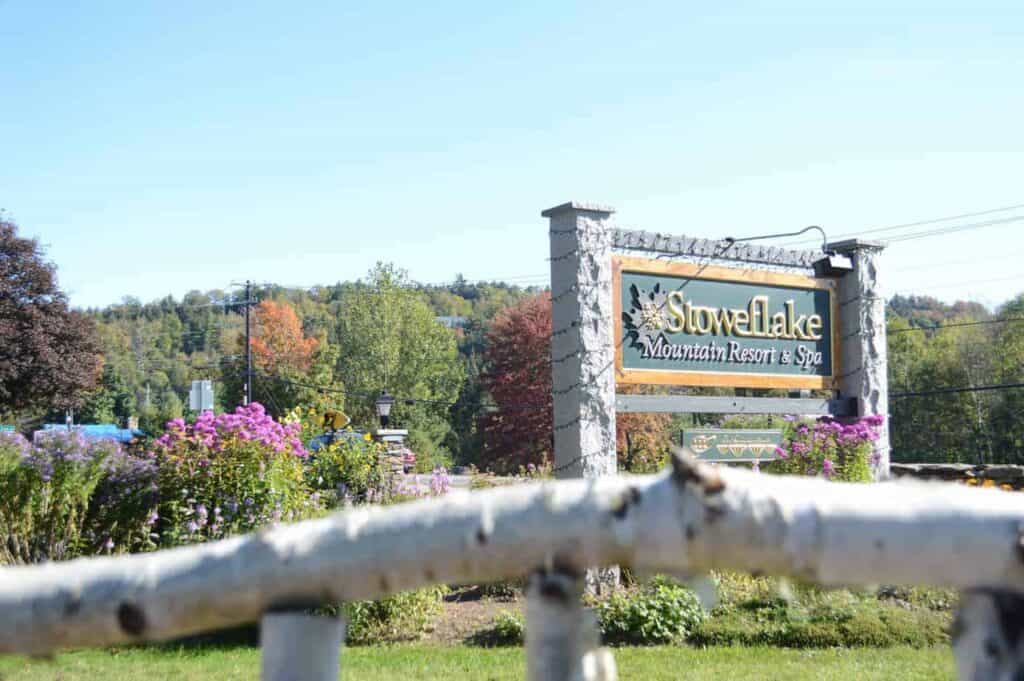 One of the ultimate Stowe destinations, Stoweflake Mountain Resort and Spa has it all: inviting accommodations, accessible amenities, great places to eat, and basically all of the recreational activities you can want!
Guestrooms are well-appointed with rooms that are both beautiful and comfortable, and townhouse rentals that are available for those that need more space; be sure to ask for a room with a fireplace if you're looking to up the coziness level!
Onsite is the Spa at Stoweflake, a full-service, world-class spa with a wide variety of therapeutic treatments, and cascading waterfalls in the background to set the mood for maximum tranquility.
I have personally stayed at the Stoweflake and visited the spa, and it truly is so gorgeous. The waterfall pool is unlike anything I've ever seen at a spa and it's really serene and inviting.
Charlie B's Pub, the onsite restaurant, is a favorite for guests and locals alike, with quintessential tavern food offerings including Vermont wine and craft beer selections, and a poolside spa café where you can nibble a little in between spa treatments and laps in the pool.
In addition to the sports and wellness center, there's shopping, golf, racquetball, squash, and more onsite.
You'll also find thoughtful little touches around the property that add to your experience like the outdoor meditative labyrinth, perfect for taking a few minutes out of your busy day to clear your head a bit.
Brass Lantern Inn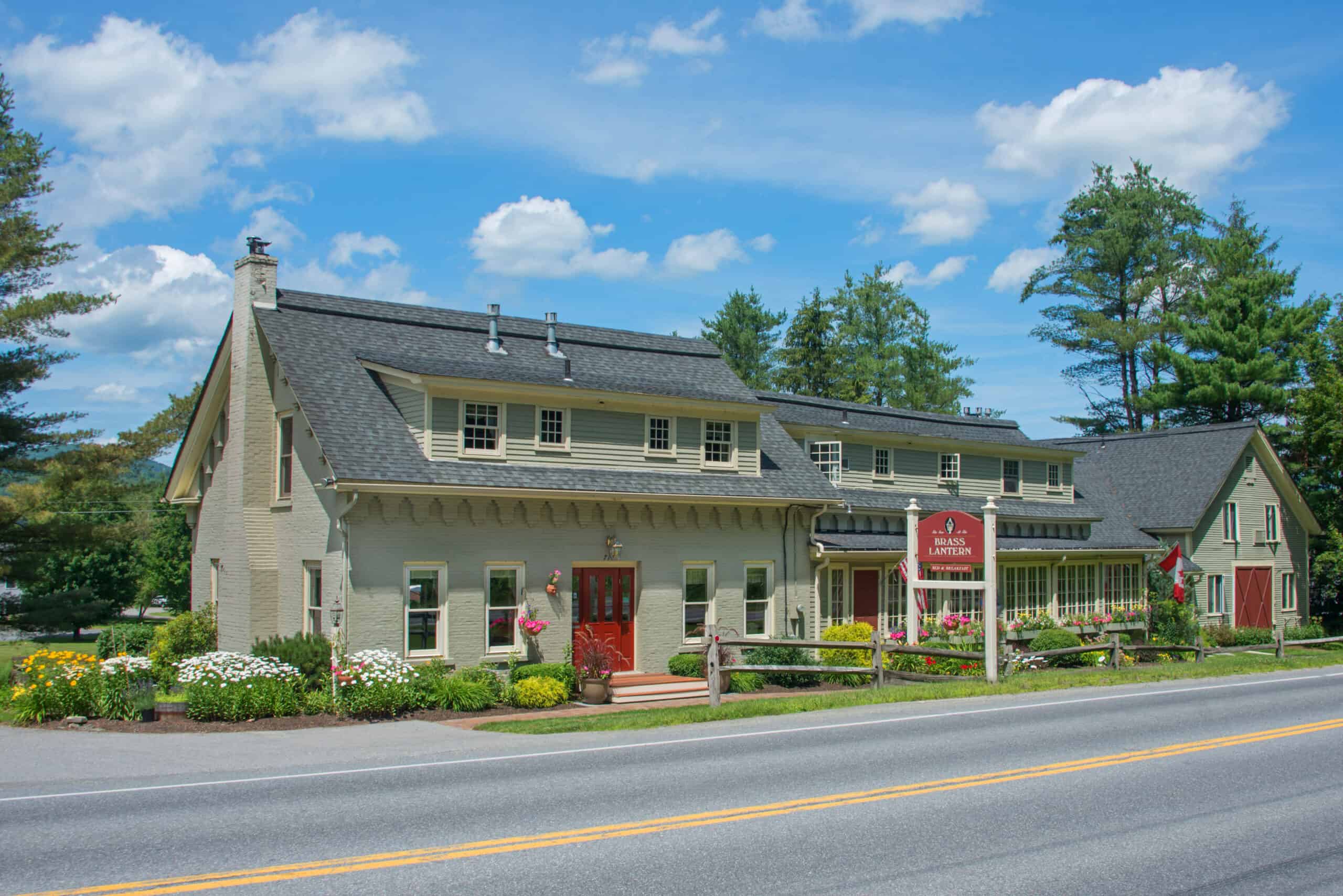 Brass Lantern Inn is a restored 1810 farmhouse that has been converted into an inn that focuses on delivering stellar service to each and every guest during their stay.
Rooms are absolutely beautiful, with furnishings that are unique, charming, and perfectly complimentary of the gorgeous hardwood floors and carefully placed décor.
Some rooms prioritize the grand views of the Green Mountains and others feature working gas fireplaces, so you can decide for yourself what you are looking for in the perfect hotel room.
The property includes an acre and a half of well-tended outdoor space that features an outdoor hot tub that is open year-round.
There is also a game room, a sitting room with a fireplace, and a breakfast room, where the inn's complimentary gourmet breakfast is served.
Expect a multi-course spread that features the flavors of Vermont, thoughtfully prepared and presented for guests to enjoy all aspects of their first meal of the day, from the visual appeal to the all-important taste of the breakfast offerings!
Brass Lantern Inn is only about a 15-minute walk from downtown Stowe, so this beautiful inn is perfectly situated to be your landing spot during your Stowe vacation!
Talta Mountain Lodge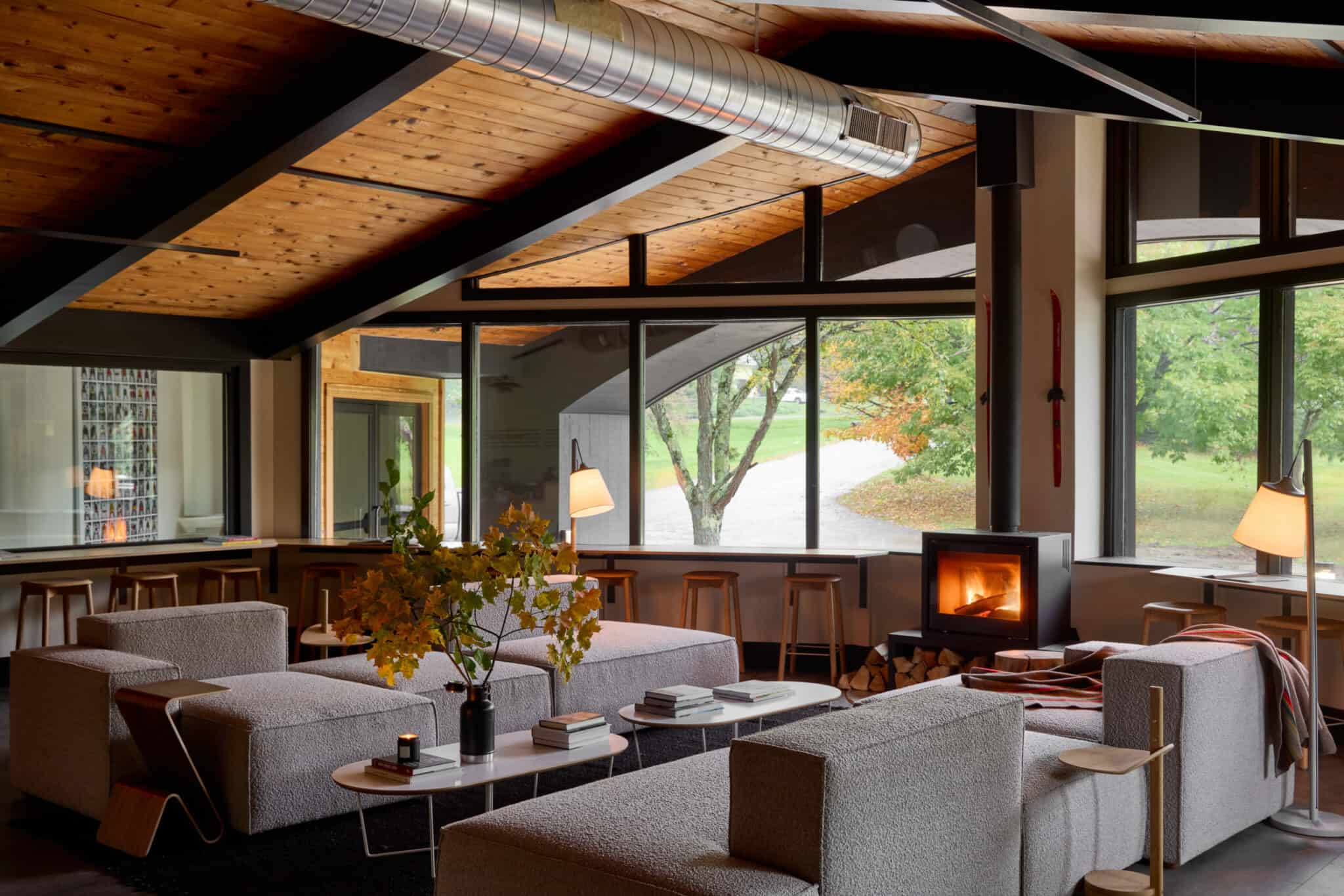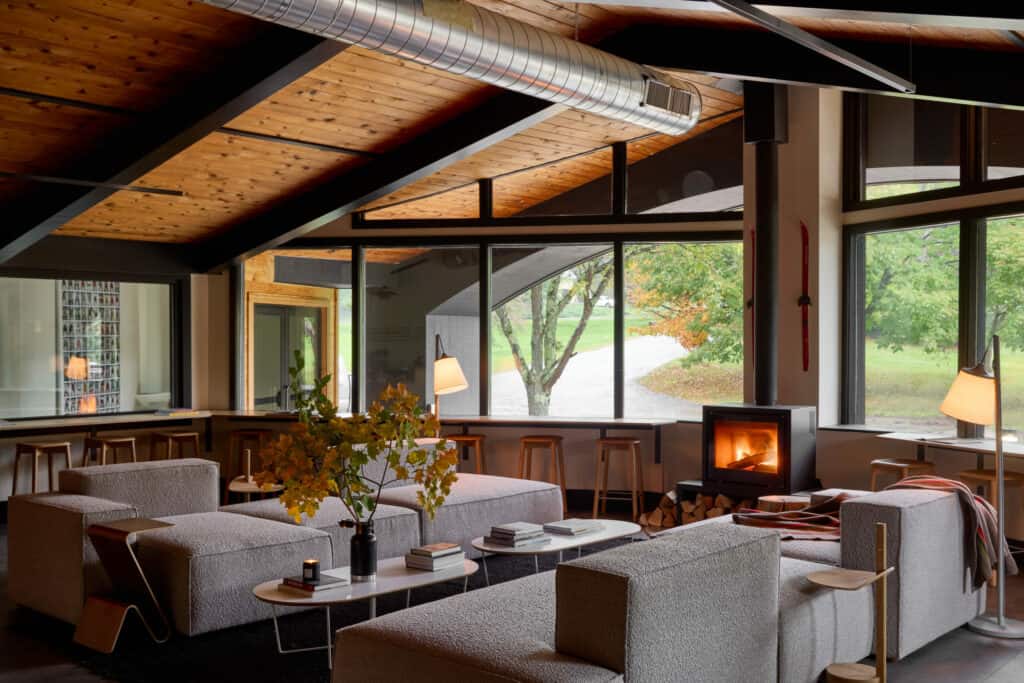 Designed as a base camp for those who come to Stowe with adventure on their agenda, Talta Mountain Lodge is both boutique hotel and base camp, seamlessly blending the little touches of comfort that explorers often crave in their lodging with the utility and efficiency necessary to accommodate all of your adventuring gear!
Rooms are modern, stylish, and comfortable, and several have their own private decks. Plus, rooms have innovative gear walls, perfect for hanging wet gear to dry in preparation for your next day of adventures.
On the property you'll also find an indoor pool and hot tub, a fire pit, bike shed, pump track, and a ton of gear storage, so there will be plenty to keep you occupied as you rest up from each day of adventuring to the next.
Talta's convenient location just down the road from Stowe Mountain Resort is just one more in a long line of perks of staying at Talta Mountain Lodge!
The Lodge at Spruce Peak
Stowe's only ski-in, ski-out luxury resort, The Lodge at Spruce Peak is about as welcoming as welcoming can be, with rooms that are spacious, amenity-filled, and indulgently comfortable.
Club residences and mountain cabins are also available at The Lodge at Spruce Peak if you need more spacious accommodations. The Spa and Wellness Center offers a full menu of body treatments, with a Healing Lodge and a spa sanctuary lounge to fully rest and relax in your soothing spa experience.
When it comes to things to do, not only is there a beautiful pool, hot tub, hiking trails and more at The Lodge, but you are also conveniently situated in the Village at Spruce Peak, which is full of shopping, food, and activities galore. Catch a show at the Whistlepig Pavilion before heading over to browse the shops.
Once you've worked up your appetite, you'll have your pick with dining options galore! Looking for a sweet treat after dinner? Swing by Zamboni's Creemee and S'More for the perfect Vermont Maple Creemee, a perfect cap to any Vermont vacation!
Field Guide Lodge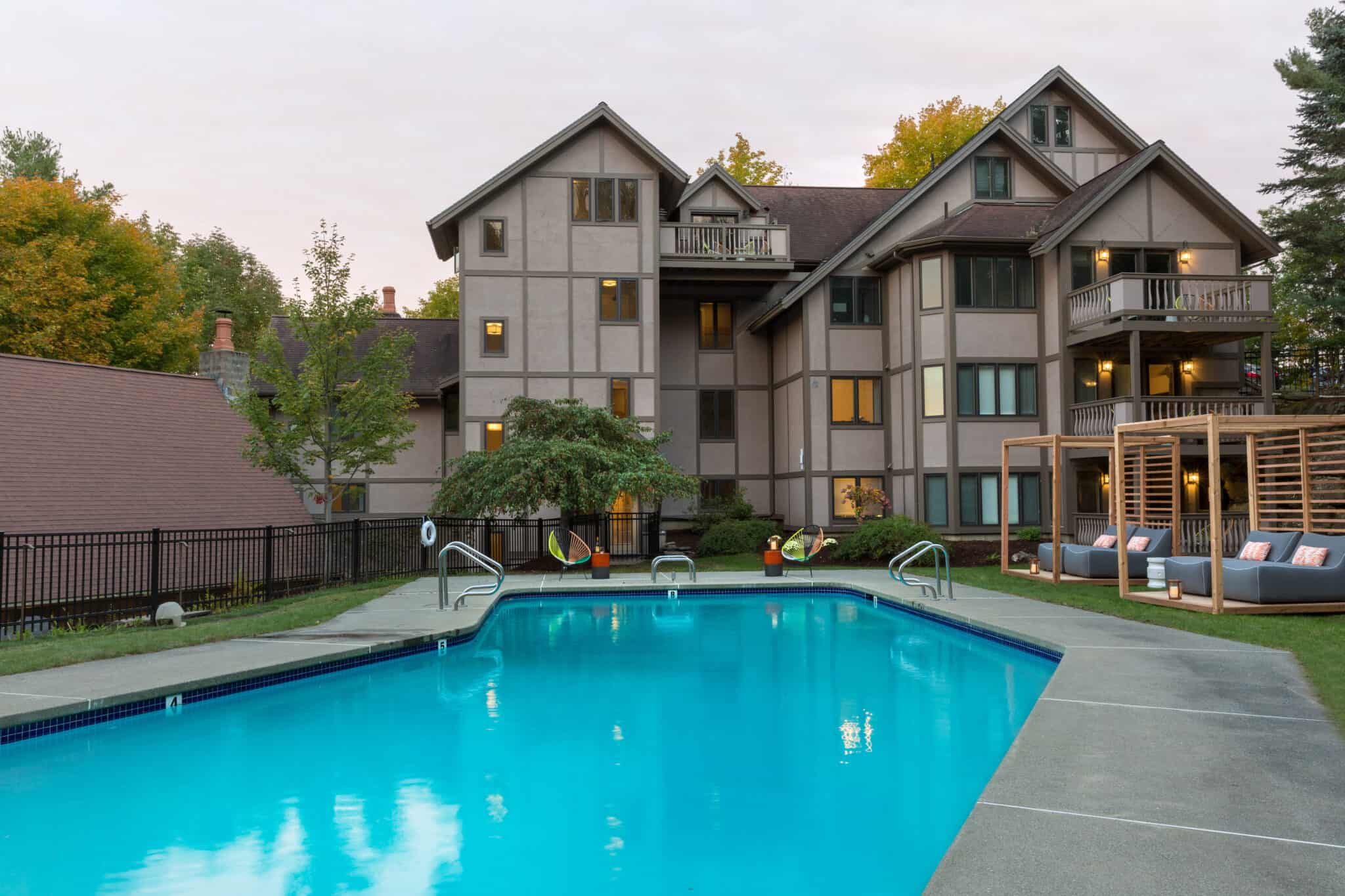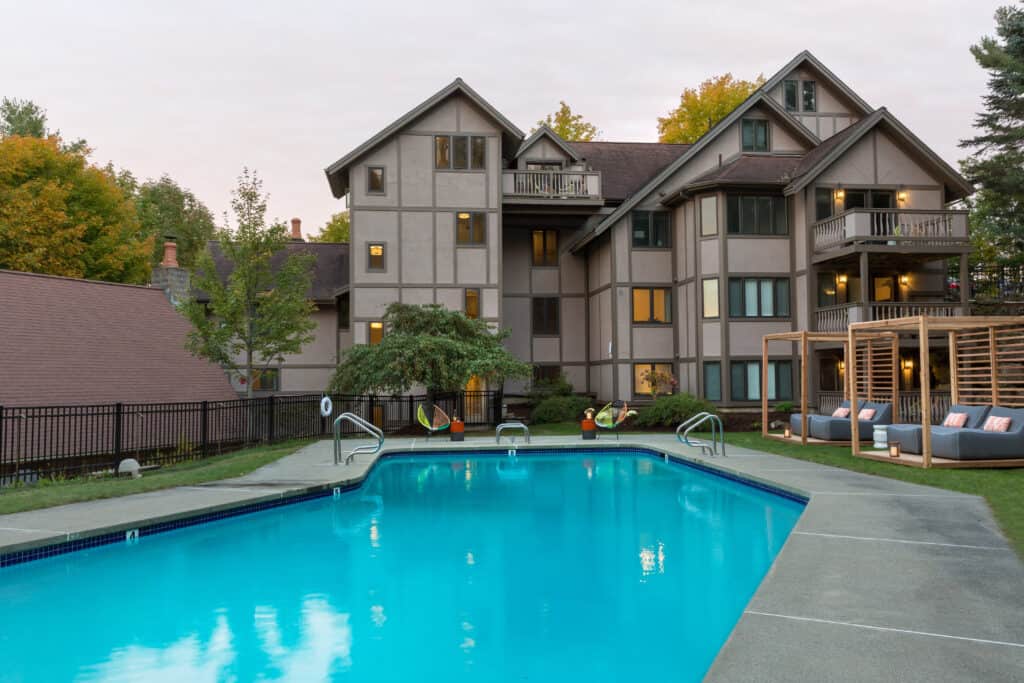 Looking for a place to stay in Stowe that is hip, modern, and oh so cute? If so, Field Guide Lodge is the spot for you!
This completely renovated hotel is mountain-chic, with a comfortable, approachable ambiance that feels carefully manicured without feeling stuffy.
Rooms are hip and modern, with your choice to upgrade to a luxury suite or cottage suite if you'd like to up the ante a little on where you rest your head each night.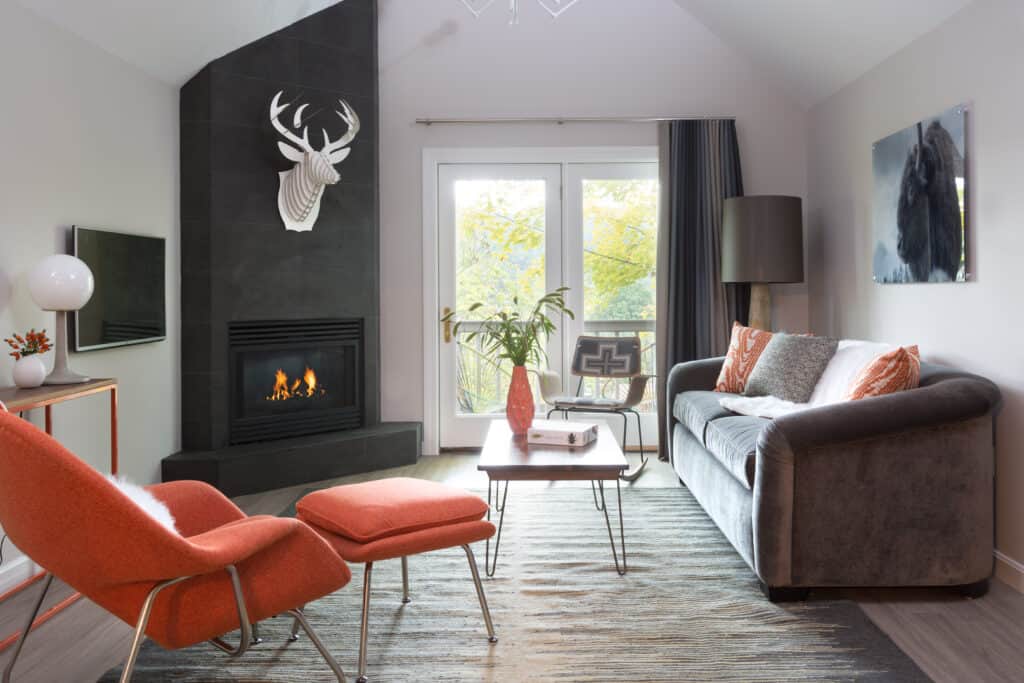 Onsite you'll find a seasonal heated pool and hot tub, fire pit area near the pool, beautiful guest lounge with fireplace and vintage games, and great hospitality touches, like the Vermont staples (local craft beer and wine paired with small bite favorites) that Field Guide will send your room upon request.
Field Guide is also just a quick walk from lots of great Stowe fun, situated a short drive/walk up the Mountain Road from downtown Stowe.
All of this makes this hotel both an adorable and practical option!
Green Mountain Inn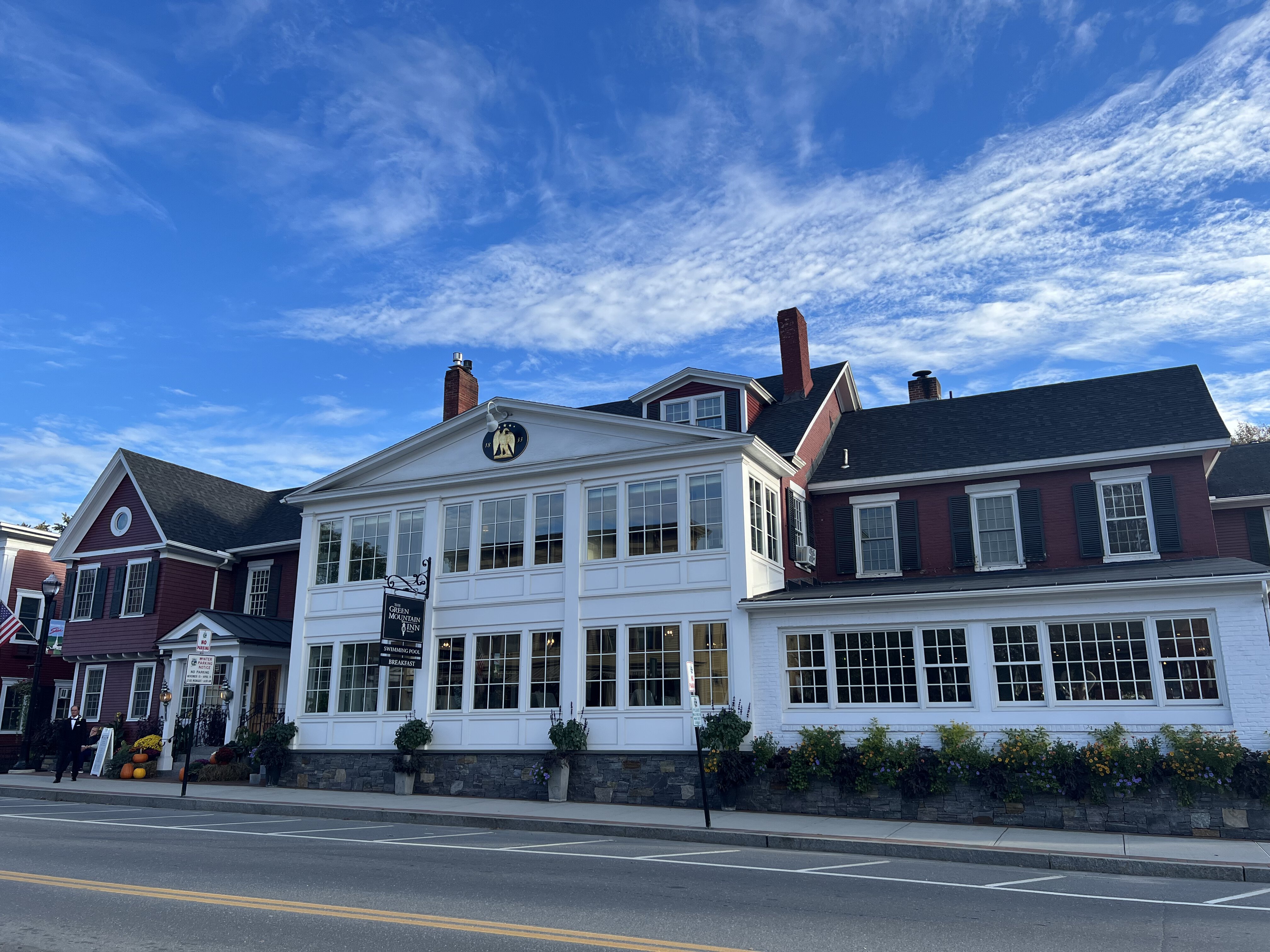 Beautiful Green Mountain Inn is a lovely option for where to stay in Stowe, VT, with the entire inn giving off that classic New England charm. Décor is simple yet elegant, with carefully curated pieces in each room that add to the overall ambiance of comfortable, classic, and well-kept.
There are a plethora of different room options from Classic to Deluxe to Luxury to Apartments and Townhomes; are you looking for a room with a fireside jacuzzi? If so, check out one of their luxury rooms!
Stowe Village Massage is the onsite massage service provider, so you can really lean into your time off with a stress-relieving massage. You'll also find a year-round outdoor heated pool, outdoor jacuzzi, two fire pits, a beautiful garden, fitness center, game room, and so much more to see and do on the grounds.
For dining options, you'll find onsite Whip Bar & Grill pulls in crowds of visitors and locals alike to partake in the fresh, seasonal offerings, and 18 Main is the spot to go at Green Mountain Inn for a quintessential Vermont country breakfast!
Plus, it's got a bit of a fun history with an alleged resident ghost, making it one of the neatest haunted hotels in New England!
The Stowehof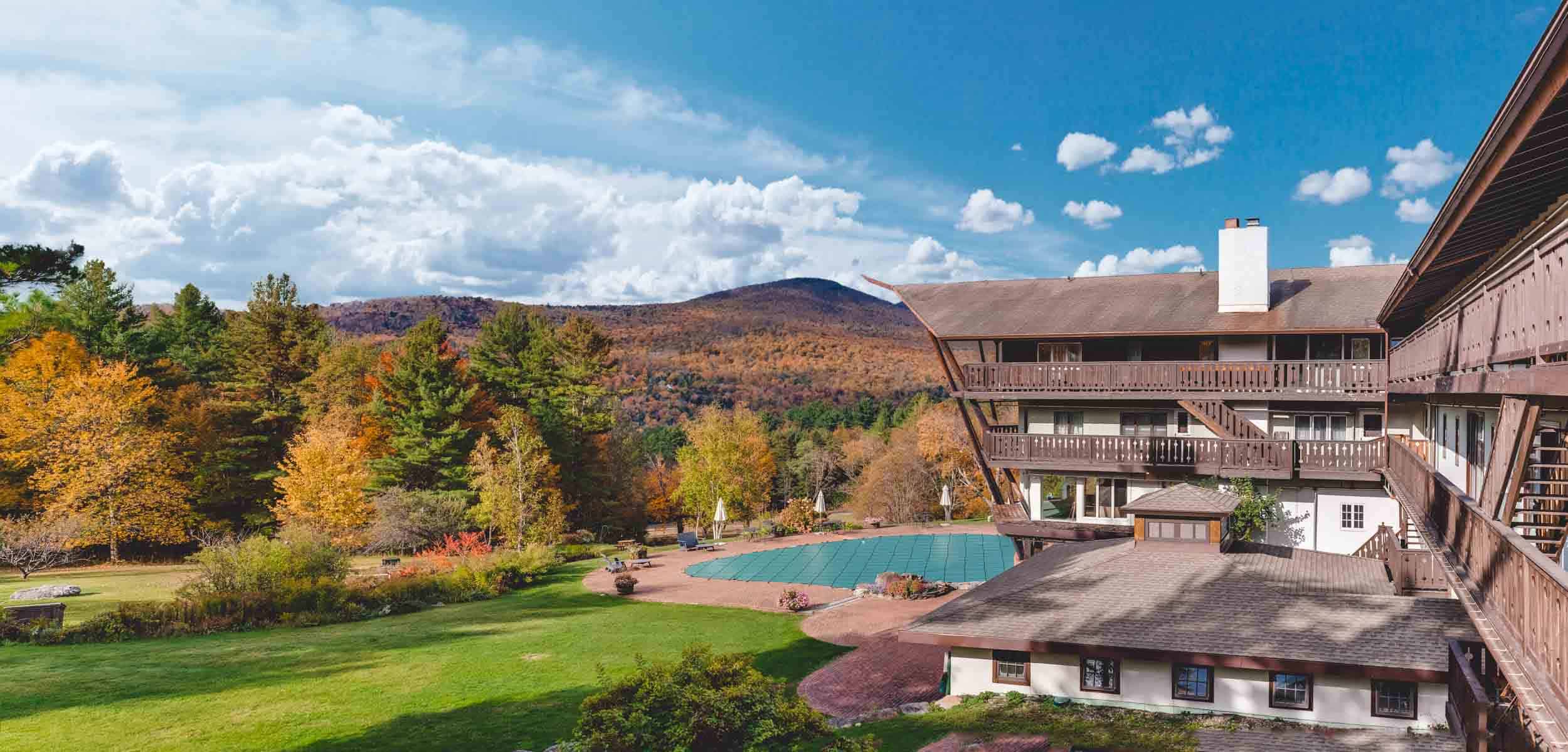 Quintessentially Stowe, The Stowehof is a charming, old-school hotel with Austrian-inspired décor that will have you feeling like you've transported yourself to another time and place.
The history runs deep at The Stowehof, having begun in the late 40s as a lodge that embraced and incorporated the natural beauty of Stowe; this is apparent from the fantastic views visible from all around the hotel and the little touches of the natural world that are woven throughout, like the rustic wooden walls and beams.
Rooms are comfortably decorated in a classic Vermont lodge style, and some offer incredible views and fireplaces.
With an outdoor pool, indoor pool, sauna, fire pit, beach volleyball pit, and more, there's plenty to do onsite at Stowehof, and when it comes to grabbing a bite to eat, Stowehof excels with one of Stowe's favorite restaurants: Fritz Bar + Restaurant, offering a casual Vermont Bavarian menu that is sure to please after a long day of Stowe fun.
Breakfast is served in the Mansfield Room, known for its stunning scenic views and roaring fireplace. The Stowehof offers the classic Vermont lodge experience of days gone by for all who want to see for themselves what that was like.
Stowe Meadows
Stowe Meadows is a luxury boutique hotel that is perfect for anyone looking to add a healthy dose of romance into their Stowe getaway!
Rooms are luxurious and amenity-filled with thoughtful touches like radiant heated floors, optional fireplace, jacuzzi, or private deck, and turn-down service for those that really want to feel pampered during their Stowe vacation.
Breakfast is served daily and features Stowe Meadows own organic chicken and duck eggs, seasonal herbs, berries, and other goodies fresh from the onsite gardens.
Stowe Meadows is conveniently situated 5-miles from Stowe village, and is tucked away in 32 private acres with gorgeous gardens, fountains, trails, and even a swimming hole! Stowe Meadows is the perfect spot for a luxury couples retreat, so remember, no kids are allowed in this boutique hotel.
---
Stowe also has some great Airbnb options, too. Regardless of where you decide to stay, your Stowe vacation is bound to be a blast. Enjoy your time in one of Vermont's most beautiful places!
---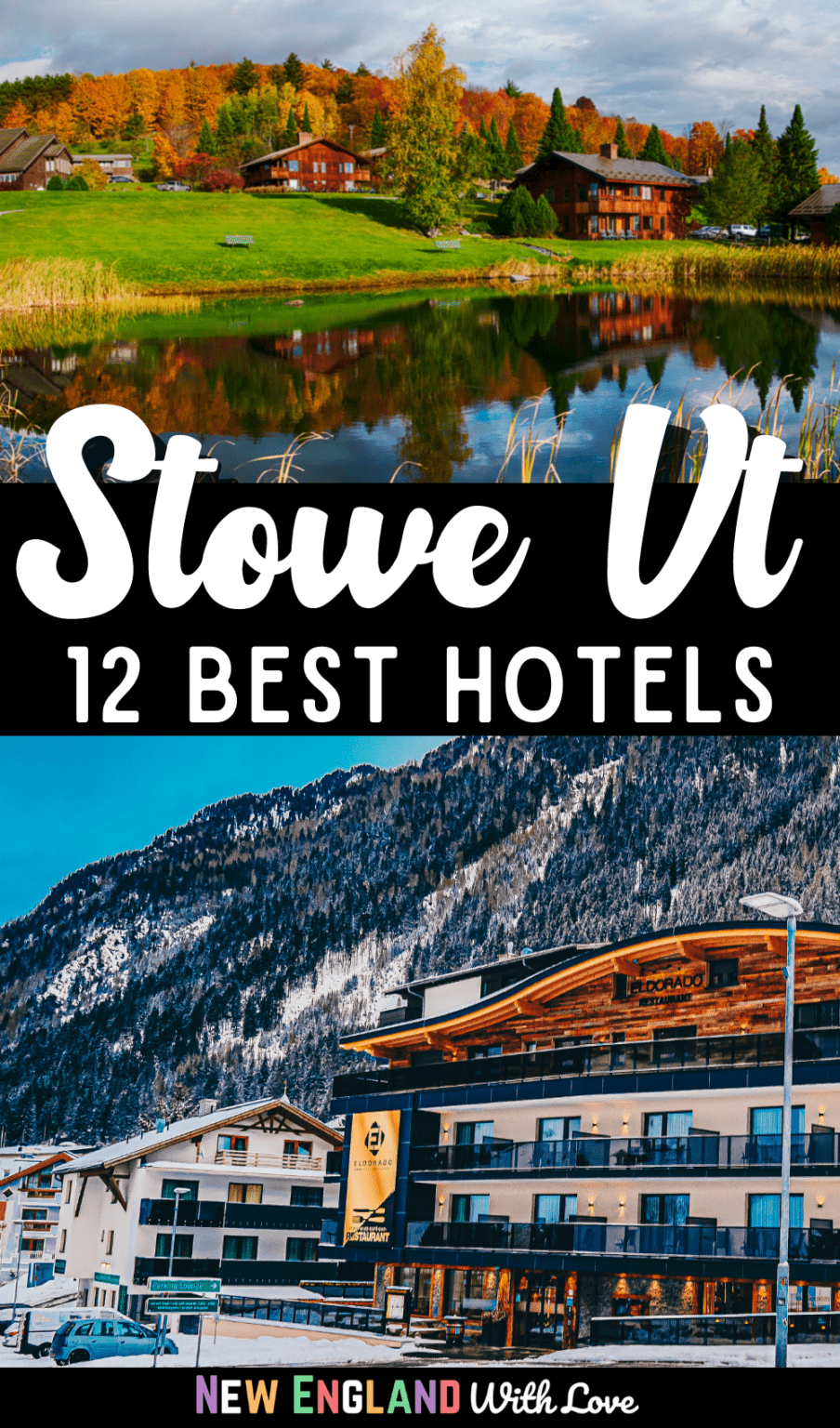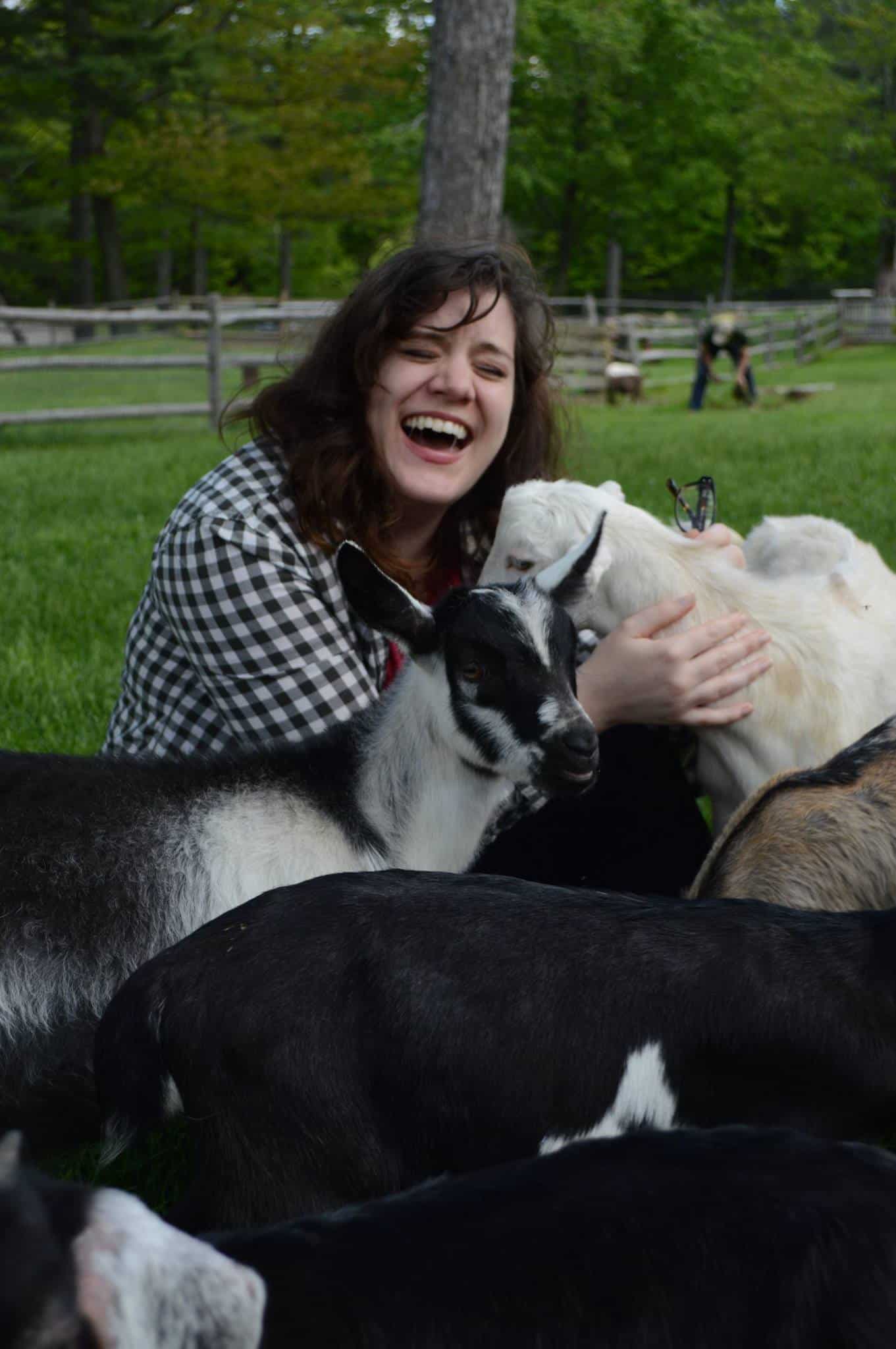 Amy Hartle is the founder and Editor-in-Chief of New England With Love, a comprehensive resource for travel in the New England region. Amy has been exploring New England since 2001. She lived in Vermont for many years and is a graduate of Plymouth State University in New Hampshire. Amy has been writing about travel for over a decade. On this site, Amy aims to share her love of New England and help you to have the best possible adventures!
Amy has been a full time blogger since 2012, and is also the publisher of Two Drifters, where she writes about couples travel and relationships, as well as Let's Adventure Baby, a family travel site. When not traveling the world or creating epic blog content, Amy can be found cuddling with her husband, son, and cats, & drinking a maple latte.