When it comes to the most beautiful places in the United States, Vermont is sometimes overlooked. But make no mistake– hiding within Vermont are some breathtaking views, gorgeous architecture, picturesque landscapes, and so much more to see.
With all the sights Vermont has to offer, it's undeniable that Vermont is so much more than just another New England state. There are many breathtakingly beautiful sights to be seen in the Green Mountain State.
Read on to learn more about the most beautiful places in Vermont!
Most Beautiful Places in Vermont
Lake Champlain
Even if you've never been to Vermont, you've probably heard of Lake Champlain. Located along the border between Vermont and New York, this recreational lake is a must-see for nature lovers.
Waterfront Park in Burlington is one of the best places to go for spectacular views of Lake Champlain, especially when the sun sets over one of the lake's many lighthouses. You can also get out on Lake Champlain yourself!

Read Next: 10 Lovely Lake Champlain Vacation Rentals in VT to Book ASAP
Lemon Fair Sculpture Park
You may not know Vermont is home to several sculpture parks and gardens. One of the best art spots in the state, Lemon Fair Sculpture Park, is home to 50+ sculptures.
Lemon Fair Sculpture Park is located in a field along Route 74 in western Vermont, where a mile-long walking path will lead you to a variety of sculptures from across the country. This self-guided exhibition is free to the public and has a donation box near the parking area for park maintenance.
Blind Tiger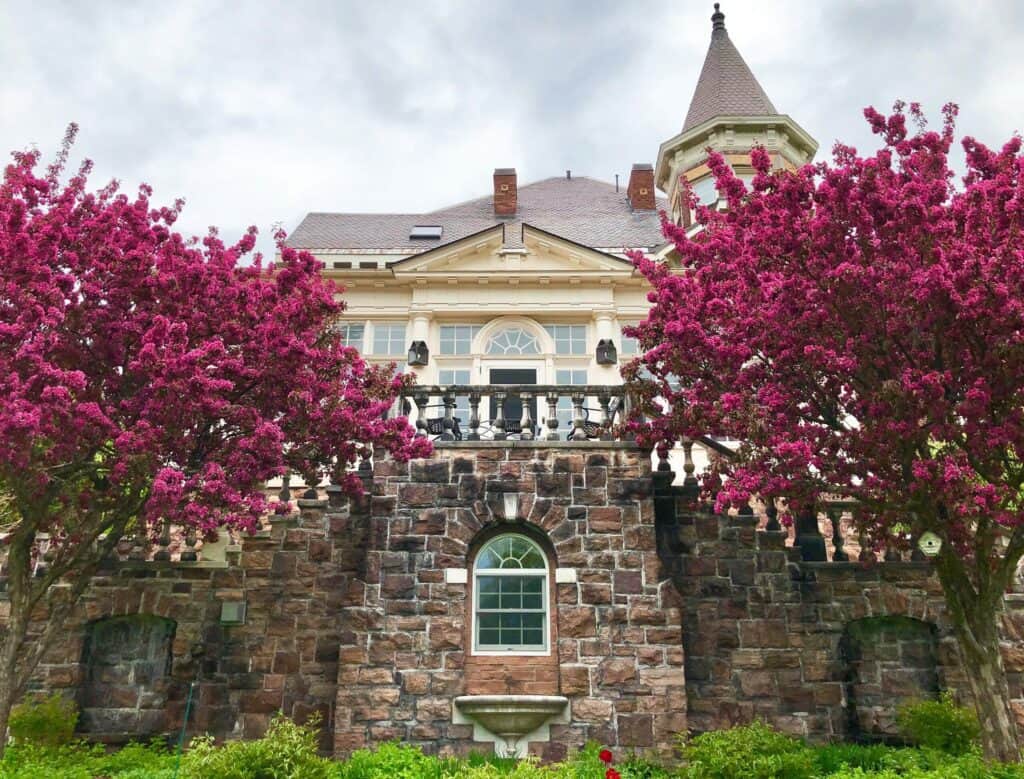 Formerly called the Willard Street Inn, the Burlington Blind Tiger is a bed and breakfast within a mansion built in 1881. There are 14 different guest rooms available to choose from, each with its own unique layout, set of furnishings, and elegant charm.
This gorgeous inn's classic architectural style and beautiful gardens, as well as the incredible views of Lake Champlain and New York's Adirondack Mountain range, will make you want to never return home.
Click Here to Check Prices & Book!
Hildene
Robert Todd Lincoln, the eldest son of President Abraham Lincoln, built Hildene as a summer home in 1905 in Manchester, Vermont. Today, the 412-acre estate has been transformed into a memorial for the Lincoln family as well as an educational center and museum owned by nonprofit organization Friends of Hildene.
While the entire estate is well worth a visit, its most beautiful features include the Formal Garden (with over a thousand peony blossoms), the Dene farm, and 12 miles of walking trails that provide an up-close view of the local wildlife. Not surprisingly, Hildene also has incredible reviews as a wedding venue.
Shelburne Museum
The Shelburne Museum located just outside of Burlington is advertised as "the largest art and history museum in northern New England" as well as one of the most popular attractions in the state of Vermont.
Arguably the most beautiful feature of the Shelburne Museum is their 22 gardens, but there's much more to see, notably the outdoor sculpture displays and 39 buildings on the museum's 45-acre campus.
The Town of Woodstock
Not only is Woodstock one of Vermont's best small towns, it's also been named one of the most beautiful towns in the United States. Woodstock is the quintessential small New England town, complete with buildings dating back to the late 18th century and adorable inns.
We actually love this town so much that we have an entire article about it! It's one of our favorite places to see fall foliage in Vermont!

Trapp Family Lodge
The legendary 1965 movie The Sound of Music was inspired by the von Trapp family, who toured the United States for over 20 years performing as the "Trapp Family Singers." The Trapp Family Lodge, where they moved in the early 1940s, is still owned by the von Trapp family to this day.
The 2,500-acre estate is now a resort in the town of Stowe, Vermont, while the main lodge operates as a 4-star hotel. From the view of the mountains to the gorgeous Wedding Meadow, there is so much beauty to be seen at the Trapp Family Lodge. We loved our stay there!

Click Here to Check Prices & Book!
Quechee Gorge
Quechee Gorge, located in Quechee State Park just outside of Woodstock, is one of Vermont's must-see attractions. There are hiking trails along the mile-long gorge, but the nearby bridge over the Ottauquechee River is the perfect place to view what has been nicknamed "Vermont's Little Grand Canyon."
Island Line Rail Trail
The Island Line Trail along Lake Champlain is a total of 14 miles long and suitable for walking or cycling. Much of the trail is over pavement, making for a smooth, scenic ride, perfect for riders of all levels of experience. Waterfront parks and beaches are situated along the trail, making for a great place to stop for a rest or take some pictures of the landscape.
The best part of the Island Line Trail is the Colchester Causeway, stretching 3 miles into the middle of Lake Champlain and giving the impression of riding across the surface of the water.
This portion of the trail is known for its unbeatable views of the lake and the surrounding Adirondack Mountains. Bike rental company Local Motion runs a seasonal bike ferry to help visitors across "the Cut," a 200-foot gap in the trail.
Mount Equinox
No list of beautiful locations in Vermont would be complete without Mount Equinox, located over 3,800 feet above sea level. It is the highest peak in the Taconic Mountains and the second highest mountain in the state.
According to their website, Skyline Drive, the road that leads to the mountain's peak, is "the longest privately owned, paved toll road" and "one of the safest, best engineered, well constructed toll roads" in the United States.
But, while it is a scenic 5-mile drive to the top, the summit is the true showstopper. The summit of Mount Equinox is known for providing an astounding 360-degree view of the surrounding Green Mountains and Champlain Valley of Vermont, White Mountains of New Hampshire, Adirondack Mountains of New York, and Berkshire Mountains of Massachusetts.
Vermont State House
Vermont's capital of Montpelier is the smallest capital city in the United States, but the Vermont State House is described as one of the oldest and best preserved capitals in the country. It may not sound very exciting, but it really is worth a visit.
Take a self-guided tour and see the bright red and gold decor, stained glass skylights, and historical art pieces that give the inside of the Vermont State House an elegant, old-fashioned feel. Outside, the vivid seasonal displays in the garden on the front lawn will catch the eye of any passers-by.
The Town of Peacham
One of the quaintest towns in Vermont, Peacham is one of those villages that feels like it fell right out of a storybook! It is tiny, and home to only about 700 people, but its rural charm is generous as can be.
Scenic and rich in pastoral beauty, you'll love the country feel and the gorgeous views, especially of its oft photographed white steeple church that sits beside the rustic red barn. Even if you didn't know you were looking at Peacham, it's quite likely you've seen this gorgeous scene, especially during autumn with fall foliage blazing in the background.
Lake Willoughby
With only a little over 300 residents, Westmore is Vermont's least-populated town, so you may not think about stopping here on your next New England trip. However, Westmore is home to the clearest lake in Vermont, Lake Willoughby.
The southern end of the lake is situated between Mount Hor and Mount Pisgah, both part of the National Natural Landmark of Willoughby State Forest. This provides a panoramic view of the area that is so breathtaking, you almost won't believe it's real.
Elmore State Park
This beautiful state park is home to trails, campgrounds, and an absolutely stunning 219 acre lake that is a popular summertime spot for those looking for freshwater bliss.
In fact, Elmore State Park is located in the town of Lake Elmore, which calls itself "The Beauty Spot of Vermont." How cute is that?
Camel's Hump
Camel's Hump State Park is "the only undeveloped alpine area" in the state of Vermont, located near the town of Huntington. Within the state park lies the mountain of Camel's Hump, which is both a National Natural Landmark and one of the highest peaks in Vermont.
The mountain's distinctive shape makes it one of Vermont's most recognizable natural areas, earning it an appearance on the back of Vermont's state quarter. Hiking to the peak of Camel's Hump is not an easy task, but the journey is worth it to see the 360 degree view of the surrounding mountain ranges.
Little Otter Creek Marsh
The next item on our list is another National Natural Landmark in the state of Vermont, known as Little Otter Creek Marsh. You may be asking yourself what's so great about a marsh, but Little Otter Creek Marsh is considered the "best large expanse of marsh land in Vermont" at over 1,000 acres.
This is also a wildlife management area, so you're likely to see a wide variety of mammals, amphibians, reptiles, birds, and fish during your visit.
Mount Mansfield
At almost 4,400 feet above sea level, Mount Mansfield is the highest mountain in Vermont and yet another National Natural Landmark. The name comes from the mountain's recognizable shape said to resemble a man's face looking up to the sky, with landmarks on the mountain known by names such as "the Chin" and "the Nose."
Mount Mansfield is located within the Mount Mansfield State Forest, which spans over 44,000 acres throughout four state parks. There are several ways to the top of Mount Mansfield, including the Auto Toll Road, the Gondola Skyride, and the various hiking trails such as the beautiful but challenging Sunset Ridge Trail.
Read Next: Fall in Vermont: 25 Festive Activities and Foliage Spots
Owl's Head
Located in New Discovery State Park, Owl's Head is another gorgeous mountain peak that is a shorter and far easier hike than the others in this article. New Discovery State Park is one of seven state parks located in Groton State Forest, the second largest state forest in Vermont at over 26,000 acres.
Owl's Head Trail is about a three-mile hike, or alternatively, there is a gravel parking lot about .2 miles from the peak. From the top, you'll get a scenic view of the Green Mountains, Lake Groton, and Kettle Pond.
Town of Stowe
With lots to do throughout the year, there's never a bad time to visit Stowe. This small town has been named one of the best small towns in the United States and is definitely one of the best places to live in Vermont. A few of the places on this list (namely the Trapp Family Lodge, Mount Mansfield, and Bingham Falls) are located in Stowe, along with other alluring attractions such as its 45 hiking trails, 36 mountain bike trails, and three covered bridges.
Stowe is also the location of Moss Glen Falls, the tallest waterfall in the state, as well as Stowe Recreation Path and Stowe Mountain Resort. We have an entire article about things to do in Stowe and another about Stowe's best hiking trails, so be sure to check those out for more information on what makes Stowe such an amazing small town!
Middlebury Gap
Middlebury Gap Road is a State Scenic Road along Route 125 in Vermont. The scenic drive is best taken in the fall as the road winds through almost 30 miles of foliage, waterfalls, mountains, and valleys.
Basin Harbor
Basin Harbor is a relaxing 700-acre resort on the waterfront of Lake Champlain that has been owned by the Beach family since 1886. With 74 distinct private cottages, Basin Harbor rejects the corporate hotel atmosphere for a serene vibe designed to make you feel like part of its own family.
Some of the most beautiful spots within the resort are the wedding venues and the vista of cozy cottages along the lake.
Click Here to Check Prices & Book!
Bingham Falls
Last but not least on our list is Stowe's Bingham Falls in the Mount Mansfield State Forest. Bingham Falls is a popular tourist destination, owing to its stunning 40-foot cascading waterfall and deep gorges.
There are two commonly used trails to reach the falls. The shorter .5-mile long Bingham Falls Trail is steeper, emerging at the base of the falls. The longer but easier 1.3-mile Mill Trail has several offshoots leading to picturesque views of the falls from various angles. It's location in Smuggler's Notch State Park makes this is a can't miss gorgeous Vermont location!

There are so many beautiful places to visit in Vermont, but we are confident that we have outlined some of the most stunning spots to add to your VT bucket list here!
---
You might also like:
---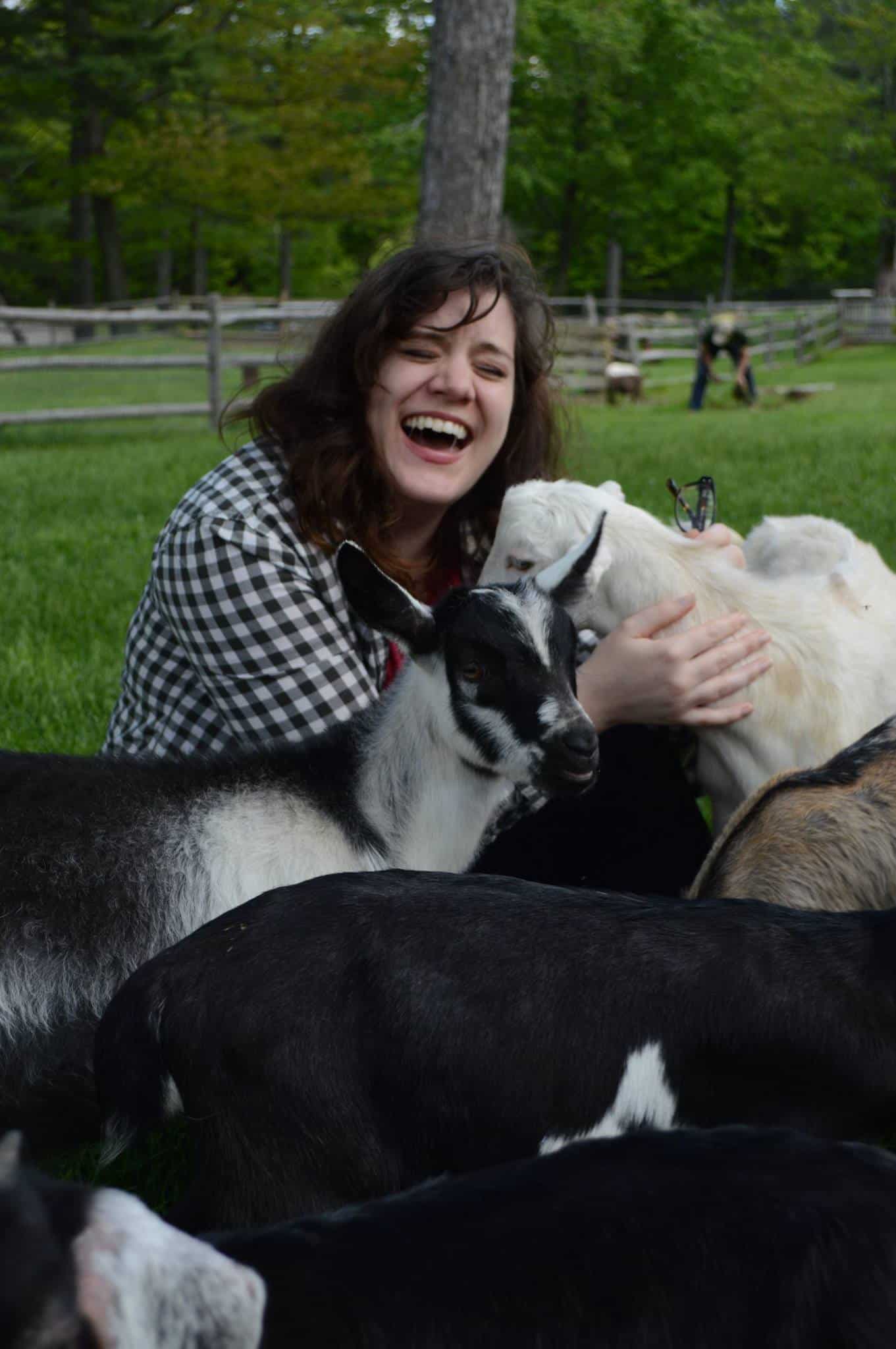 Amy Hartle is the founder and Editor-in-Chief of New England With Love, a comprehensive resource for travel in the New England region. Amy has been exploring New England since 2001. She lived in Vermont for many years and is a graduate of Plymouth State University in New Hampshire. Amy has been writing about travel for over a decade. On this site, Amy aims to share her love of New England and help you to have the best possible adventures!
Amy has been a full time blogger since 2012, and is also the publisher of Two Drifters, where she writes about couples travel and relationships, as well as Let's Adventure Baby, a family travel site. When not traveling the world or creating epic blog content, Amy can be found cuddling with her husband, son, and cats, & drinking a maple latte.