Spring in Vermont is truly unlike any other time of year! While most people visit this beautiful state during the winter and fall, spring is genuinely underrated because everything is starting to bloom and come alive again.
There are tons of fun activities to do during spring in Vermont, from exploring historic sites in the state to attending hot air balloon festivals and even having a weekend away in a cabin! The possibilities are truly endless. Plus, because this isn't a popular time to visit the state, sometimes you can snag some pretty great deals on accommodation.
Keep reading to learn about some of the top things to do during spring in Vermont!
Stop at Vermont's Historic Sites
If you're a history buff, you definitely will want to check out some of the historic sites in Vermont. There are tons of them, and pretty much no matter where you are visiting in the state, you'll be able to find a historical site nearby.
Some of the most famous historical sites throughout the state are the covered bridges. In fact, it's nearly impossible to take a trip to Vermont and not see a covered bridge, even if it's by accident! That's because they're everywhere. Some of the popular ones include the creamery covered bridge in Brattleboro and the brown covered bridge in Shrewsbury.
Of course, if you'd rather step back in time rather than "drive" through it, there are also other options! Consider stopping at the Bennington Battle Day Monument in the charming town of Bennington, the Ben & Jerry's Factory in Waterbury (more on that later in this post), or Hildene in Manchester.
Attend the Quechee Hot Air Balloon Festival
Yes, Vermont has its own hot air balloon festivals! They tend to be hosted in both spring and summer, but since this post is more about springtime, you'll want to check out the Quechee Balloon Festival.
This fun hot air balloon fest takes place during the month of June each year and is right in Woodstock, a gorgeous town worth visiting when taking a trip to Vermont. Seeing hot air balloons in the sky is genuinely mesmerizing in Vermont, thanks to the breathtaking Green Mountains that help to frame any photo that you may take.
You can even book your own balloon ride if you feel up to it! This is not for the faint-hearted but can be a really fun way to get involved in the local traditions. Plus, it'll be a truly memorable experience that you'll never forget about!
Go on a Hike
The best time to go on a hike is during spring in Vermont! Sure, many of the hikes can be done any time of year, but spring is perfect because you can see all the flowers starting to bloom, and the weather is ideal. It can get pretty sweltering in summer and the winter is so cold!
One of the most well-known trails is Mount Equinox. This one is a bit longer and is best for experienced hikers, at around 6.3 miles and 2800 feet of elevation gain along the way. However, it brings visitors right to Lookout Rock, which offers some of the best views that you can get of the Vermont Valley.
Beginners will enjoy the Owl's Head Trail in the Groton State Forest. It's only 1.8 miles long and is in the northern part of the state, which is underrated. Another great trail for beginners is Mount Olga near Wilmington which allows visitors to see out as far as Massachusetts!
Tour the Ben & Jerry's Factory
Obviously, no trip during spring in Vermont is complete without checking out the Ben & Jerry's Factory! Located in Waterbury, it's the perfect short day trip from Burlington and it's completely free.
The tour allows visitors to get a peek behind the curtain at how Ben & Jerry's produces its tasty ice creams. They produce a different flavor each day, so you'll be able to see exactly how that flavor is made. Plus, you get to try a small taster of what that flavor is at the end of the tour!
Once you're done, don't forget to take the time to go out and explore the rest of the factory. There's a merch shop, ice cream store, and the iconic Flavor Graveyard where you can take a look back into the past flavors that have since been retired by Ben & Jerry's.
Road Trip Through the State
Vermont is truly one of the most breathtaking and scenic states that you can visit in New England. So, get out and explore it by going on a road trip through the state! You can make it as long or as short as you want; just make sure you stop at some of the charming small towns, like Stowe, Middlebury, and Shelburne.
The perfect place to start a road trip is right in the southern part of the state in either Brattleboro or Bennington. The small town of Bennington has tons of historic sites and local shops like the Blue Benn Diner, Village Chocolate Shop, and even Papa Pete's, a favorite among locals.
Along the trip, opt to stay at bed and breakfasts run by locals. If you do that, you may even be able to chat with the owners and find some other hidden gems worth stopping at during your trip.
Spend a Weekend Away in a Cabin
The ultimate way to spend a weekend in Vermont during the springtime? Go book a few nights in an incredible Vermont cabin! There are tons to choose from, and they provide a welcome reprieve from daily life because they're often situated in small towns or out in the woods.
No matter which one you choose, make sure you book in advance because they are one of the more popular accommodations to book among both locals and visitors. For a fun time, try to stay at one that's located near a lake!
Another fun place to book a cabin is nearby Lake Champlain so that you can take a trip to Burlington or even pop over to New York if you want to during your stay.
Shop Local at Farmers Markets
Farmers' markets start to reopen in the spring in Vermont! Shopping at these is the perfect way to shop locally and support the farmers in the area. Plus, a lot of these farmers' markets have vendors selling way more than just food.
In addition to farm stands, there are food vendors, live music, sometimes even farm animals that you can visit with, and often vendors even sell artisan jewelry and other art pieces! One of the most popular ones to visit is the farmers market in Wilmington, which happens pretty often throughout the spring and summer months.
If you're not sure which farmers' markets you want to visit, don't worry. Pretty much any small town in Vermont that you visit will have some type of farmers market nearby!
Relax by One of Vermont's Lakes
Be sure to get outside by heading to one of the beautiful lakes in Vermont! There are tons to choose from, and many of them tend to even be located in the Vermont state parks. These lakes provide a great getaway, and they are filled with fun recreational activities.
Some great things to do at these lakes include swimming, hiking, fishing, boating, picnicking, and relaxing in the sand. Most of these lakes also have boat rentals where you can rent a kayak or canoe for a few hours!
If you're unsure of which lake to visit, a few great options include Lake Champlain, Lake Shaftsbury, and Emerald Lake.
Try Maple Syrup
Spring in Vermont means that's its maple syrup season! Stop by one of the Vermont sugar houses to hop on an educational tour so you can learn all about how maple syrup is made. Often, these sugar houses won't even advertise that they offer tours, but they're more than happy to give you one if you visit and ask.
Maple syrup season tends to start in March but can be as early as late February, depending on the weather that year. Once you're done with your tour, be sure to check out the farm's shop so you can support them by buying some tasty maple syrup as a souvenir.
Have a Maple Creemee
The best way to cool off during springtime is to have yourself a tasty maple creemee! This Vermont delicacy is basically just a maple-flavored soft serve. It tends to be served in different ways throughout the state, depending on where you go!
One of the best spots to grab a maple creemee is right in Bennington, VT at Tastee Freez where you can grab one slathered in bacon. If you can't make it there, though, don't worry. You can pretty much find little ice cream stands with drive-ins all across the state, and truthfully, they are all so good. It doesn't matter which one you visit!
This post covered all of the best activities to do during spring in Vermont! Feel free to share this post for other travelers and save it for later.
---
You might also like: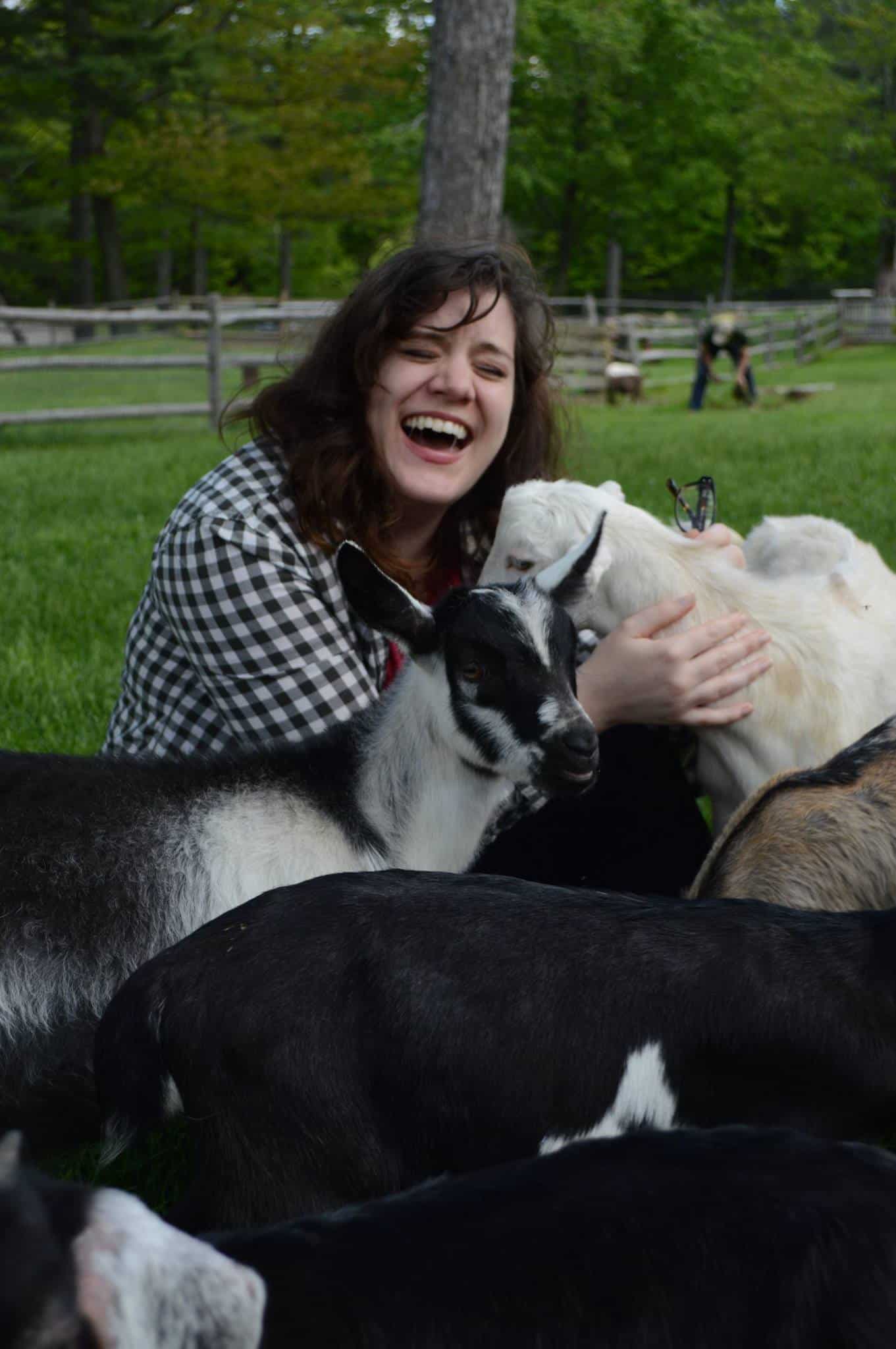 Amy Hartle is the founder and Editor-in-Chief of New England With Love, a comprehensive resource for travel in the New England region. Amy has been exploring New England since 2001. She lived in Vermont for many years and is a graduate of Plymouth State University in New Hampshire. Amy has been writing about travel for over a decade. On this site, Amy aims to share her love of New England and help you to have the best possible adventures!
Amy has been a full time blogger since 2012, and is also the publisher of Two Drifters, where she writes about couples travel and relationships, as well as Let's Adventure Baby, a family travel site. When not traveling the world or creating epic blog content, Amy can be found cuddling with her husband, son, and cats, & drinking a maple latte.