Looking for an amazing castle to visit on your travels? You're in luck! These castles in Vermont range from traditional to ones that hide in plain sight.
Plus, these Vermont castles are located all throughout the state, so no matter where in Vermont you're visiting, you'll be able to visit one close by. There's truly something for everyone throughout this post that was carefully curated.
Many of the castles in this beautiful state are also styled after ones that you'd traditionally see in Europe. That's because a lot of those who lived in Vermont in the past would travel to Europe, love the architecture there, and then travel home to bring parts of that love back!
Without further ado, here are all of the best castles in Vermont.
Wilson Castle, Proctor
First up is one of the more obvious castles in Vermont, Wilson Castle! It's located in Proctor, Vermont, and was built in the 19th century. If you've ever been to Europe, you may recognize the architectural style of this castle, as it's a good mix of those from Scotland, the Netherlands, and even Italy.
The castle was built for the Johnsons, a husband and wife who met in England. The husband, Doctor Johnson, was from Vermont, so they moved back to the state after the castle was built for around $1.3 million dollars and lived there for a short while.
Then, the castle went through a long line of owners, constantly changing, until eventually, it was open for tours in 1962. The current owner is a woman named Denise Davine, who is the daughter of Blossom Wilson Davine Ladabouche.
The best way to enjoy the beauty of Wilson Castle is to go on a tour. They have a few different types of tours that they offer too, depending on what you're looking for. For a classic tour, just book their daily tour, but they also have more spooky night tours, including candlelight tours and even paranormal tours.
Throughout the year, they hold multiple types of paranormal events, which are broken down on their website. For those who love the otherworldly, this can be a super fun and memorable experience, especially if you are visiting Vermont for the first time.
Harry Barber's Miniature Castles, South Hero
One of the more unique castles in Vermont is Harry Barber's Miniature Castles. These are also one of the unique castles in all of New England! They're located in South Hero, and as the name suggests, consist of miniature castles.
Many people come from all over to South Hero just to see these miniature castles. They were created by a gardener named Harry Barber who built each of them as an homage to Switzerland, where he immigrated from.
What makes these castles so unique, besides the fact that they are miniature, is that they are extremely well detailed. Some of them even have moats and little staircases that you can see when you look closely. They quickly grew in popularity until Barber's tragic death in 1996. Many of them are still available to see in South Hero, and most people suggest exploring them by foot or on bike.
Converse Hall (University of Vermont), Burlington
I bet you didn't expect to see a place from the University of Vermont on here! Converse Hall is built in a castle-like style of architecture, which is why it deserves a spot on this list. Obviously, you can't go inside because it is an active dorm on campus, but you can swing by the school to see it from the outside.
It was built back in the 1890s and was recently added to the list of the National Register of Historic Places. That's because it truly is an architectural marvel and stands out amongst the other buildings in Vermont.
At sunset, this dorm gets really pretty. As it begins to get lit up in the evening, the breathtaking sky creates a true one-of-a-kind epic view that will leave you breathless. If you find yourself in Burlington, be sure to stop by the University of Vermont to check out this building's exterior.
Brantview House, St. Johnsbury
St. Johnsbury Academy in St. Johnsbury is home to Brantview House, which is a chateau-like building right on campus. The high school is an independent private school that opened in the 1840s, so the entire campus is truly historic.
Brantview House may appear to look like a regular New England-style building at first glance, but when you look closer, you'll see how it resembles a castle. It has towers with pointed domes, large windows, and even beautiful grounds around it.
The home kind of also looks like a European villa and features many classical features on the inside. There's a library, large parlor, drawing room, mahogany accents, and beautiful carvings throughout. Because it's at a school, it's best just to drive by to check out this place from the exterior.
Shard Villa, Salisbury
Shard Villa is a castle-like building in Salisbury, Vermont that's truly historic, dating back to the 1870s. It was built in an architectural style called Second Empire and has four acres of land surrounding it.
The building was built by a lawyer named Columbus Smith. IIt's now on the National Register of Historic Places as of 1989, just like many other Vermont castles on this list!
The interior of the building features breathtaking murals created by an artist from Italy named Silvio Pezzoli lived there for a time and painted throughout the home. While you shouldn't go into Shard Villa today because it's a senior home, it's still worth driving by if you're in the area because of the beauty of the building.
The Richardson Building, Burlington
Another of the incredible castles in Vermont that's located in Burlington is The Richardson Building! This is one of those castles that truly does hide in plain sight. In fact, it's located along the breathtaking Church Street, right on the corner of Pearl Street.
This building has chateau-like aspects, which can be seen once you look closely. There are towers with pointed accents, big windows, and a brick facade. There are even R's in the wrought iron on the balconies when you look super close!
The building itself is now owned by a person who has turned most of the floors into offices on the higher floors of the building. The bottom part of the building is actually home to a few shops, including a dance store, an accessories shop, and a sandwich place. So, this is one of the castles you can actually go into during your trip to Vermont!
Just like many other castles on this list, it's part of the National Register, because it's included in the Church Street Historic District. It was officially added in 2010. If you find yourself in Burlington, this is definitely one of the fun landmarks that you should be on the lookout for!
Gregoire Castle, Irasburg
Would you like to stay in a castle during a trip to Vermont? Well, one of the best Vermont castles that you can actually rent is Gregoire Castle. It's right in the Northeast Kingdom and is styled after Bavarian architecture. Plus, it's on around 20 acres of land, so there's so much beauty to explore in the area.
The castle can host up to eight guests at a time and features six bedrooms and three full bathrooms and two half bathrooms. The inside will take your breath away and will make you feel like you're in another country. There are also tons of large windows looking out to the nearby mountains so you can enjoy the view!
The main beautiful spot of the house is the grand room area. It features large ceilings, so the room feels incredibly open. There's also a piano here if you have any musically-gifted friends who can play for you as you rest by the fire!
Castle Hill Resort and Spa, Ludlow
Did somebody say spa?! Stop by Castle Hill Resort and Spa to be in a chateau-like setting while also enjoying some true relaxation and rejuvenation. This is a 4-star property in Ludlow that is perfect for a weekend away. If you don't want to have a spa day, you could also just drive by this building to check out the architecture of it.
This historic hotel truly does have an award-winning spa, as well. It's incredibly romantic and has treatments ranging from massages to facial treatments and everything in between. Because it's a luxury spa, the prices are a bit higher, but if you're looking for true relaxation, it's worth it!
It's also located in one of the more charming small towns in Vermont and even New England, so there's quite a bit to do if you decide to stay at this accommodation. For a great weekend away in a Vermont castle, this is the place!
This post covered some of the most interesting castles in Vermont. Whether you visit one of them or all of them, you'll truly create some amazing memories while experiencing the beauty of this state.
---
You might also like: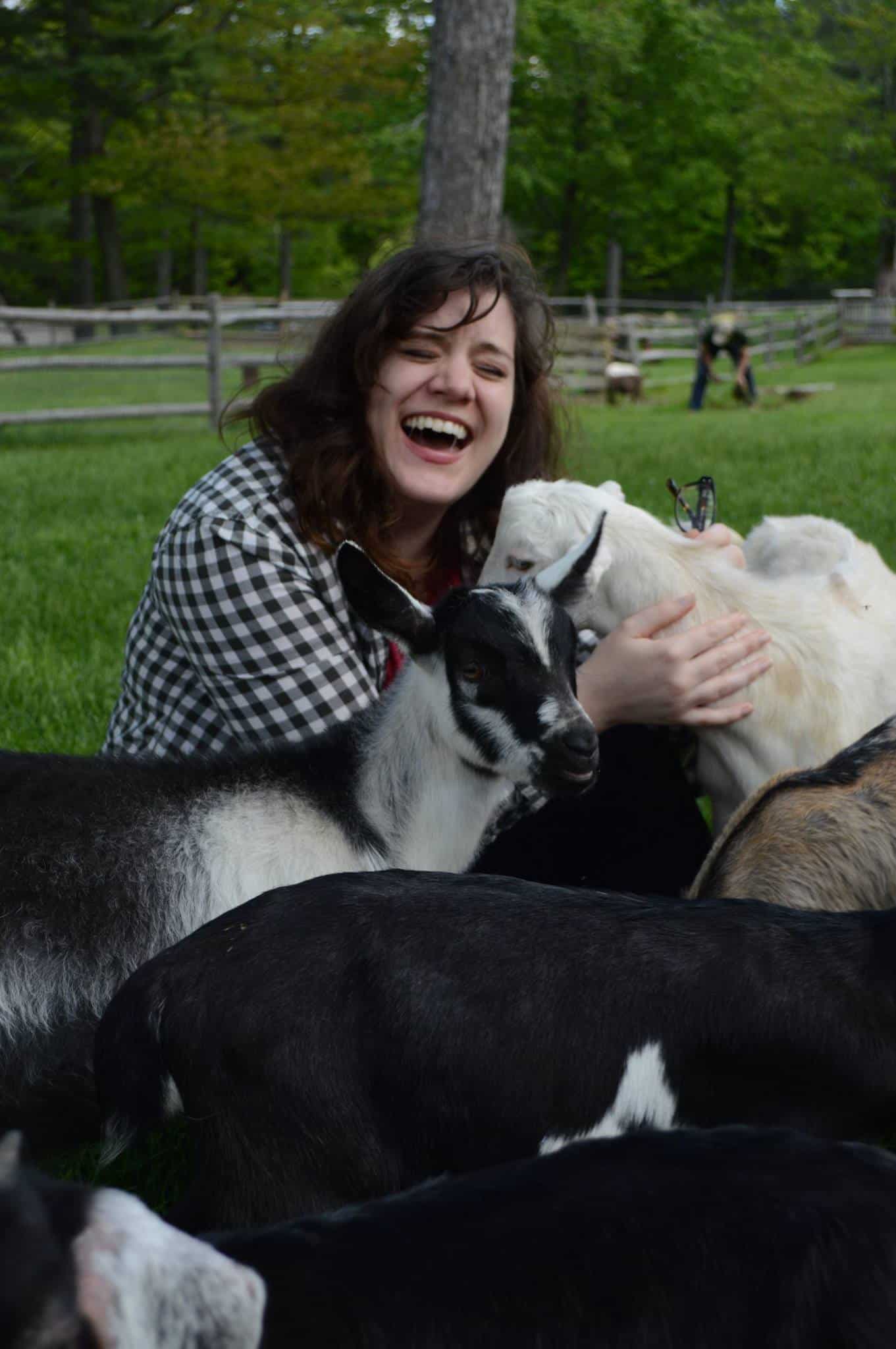 Amy Hartle is the founder and Editor-in-Chief of New England With Love, a comprehensive resource for travel in the New England region. Amy has been exploring New England since 2001. She lived in Vermont for many years and is a graduate of Plymouth State University in New Hampshire. Amy has been writing about travel for over a decade. On this site, Amy aims to share her love of New England and help you to have the best possible adventures!
Amy has been a full time blogger since 2012, and is also the publisher of Two Drifters, where she writes about couples travel and relationships, as well as Let's Adventure Baby, a family travel site. When not traveling the world or creating epic blog content, Amy can be found cuddling with her husband, son, and cats, & drinking a maple latte.