New England is one of the most historically rich areas of the United States, which is why it's one of the most visited! You might be surprised to find that this historic part of the country even has castles! In this article, we're showcasing the many beautiful castles in New Hampshire.
The state holds quite a few castles, including ones that are just ruins as well as ones that are literal hotels that guests can stay at when visiting New Hampshire. To save yourself time researching on your own, we've rounded up some of the best!
Keep reading to learn all about the best NH castles.
Searles Castle, Windham
First up is Searles Castle in Windham, New Hampshire. Built in the early 20th century with the help of famous interior designer Edward Francis Searles, this is a classic style castle that is sure to make you feel like you're abroad. It was built between 1905 to 1915 and is situated on 5 acres of land. The architect behind the design was Henry Vaughan.
Throughout the years, Searles Castle has been used for so many different purposes. For a while, it was the Sisters of Mercy retreat house, among other things. It was completely revamped for its use in 2019 when it was switched to be an event space, most notably for weddings.
Other uses of the castle include for parties, meetings, birthdays, concerts, and also business retreats. How cool would it be to have a business retreat at a castle? You can learn more about the castle and how to book on their website.
The Castle on Charles, Rochester
The Castle on the Charles in Rochester, New Hampshire, actually was built to initially be a church, which is obvious by the interior design of it! It was recently renovated and now has its own 40 foot tower as well as tons of other features like medieval tiles, unique woodwork, arches that are vaulted, and cathedral ceilings. What more could you possibly want?
The castle really takes you back in time when it is night time and the lights are mostly out; it has a medieval vibe to it! The castle is now used mostly for private events, so you can book one on their website to learn more.
They do book a few months in advance usually – for instance, at the time of writing this in January 2023, they are now booking April through December of this year. Parties require at least 40 guests in order to be booked.
Madame Sherri's Castle Ruins, West Chesterfield
Next is another of the best castles in New Hampshire: Madame Sherri's Castle Ruins in West Chesterfield. I know what you're thinking… if they're ruins, then what makes them so worth visiting? Well, it's because of the stories that surround it!
The house, or castle, was set on fire in the 1960s and all that remains are parts of the home's base as well as the stairs that used to lead up to the home. They become super eery when you see them in person, especially in the fall surrounded by dead trees. It has a haunting atmosphere!
What adds to this, even more, is that many people say Madame Sherri actually haunts the area. To get to the castle, you do have to head over to Madame Sherri Forest (named after Madame Sherri herself) and then walk about a mile or so on a trail until you reach the ruins of her castle.
Ice Castles, Woodstock
Head over to Woodstock, New Hampshire during the wintertime to witness some of the most unique castles in the state (and in fact, in all of New England): the Ice Castles! Visit these in the evening to witness literal castles made up of ice all lit up; it's truly fun for all ages, but especially families.
At the ice castle location in New Hampshire, they have everything from fun ice caves you can wander through to a maze you can get lost in. There are also small tunnels for crawling, ice slides to slide down, a walking path that gets all lit up in the evening (which is breathtaking with snow), and snow tubing.
Once you're all done with everything, be sure to head over to the Polar Pub on site to have a fun beverage at an ice bar. For a special event, consider booking a sleigh ride or some time in the arctic alcove for a little romantic time or special occasion!
Hunt Castle, Rindge
Remember how we mentioned that there are some castles in NH that you can actually rent and stay at? Well, Hunt Castle is one of those places. This castle was built on 500 acres of land and all around it are fun things to do like exploring cross country ski trails, swimming in the pool, taking in the view of Mt. Monadnock, and relaxing in the hot tub.
The castle itself is 11,000 square feet, and can sleep 22 people between 8 bedrooms. There are also 6 bathrooms, a kitchen, living room, and more on-site. One thing worth noting is that this rental can't be used for events; it's only meant for accommodation.
For guests who love fun activities, you truly won't even have to leave the property. There's a foos ball table, pin pong table, pool table, bar area, dart board, and more. Plus, for the kids, there's actually a huge play area with everything from doll houses to legos and everything in between.
Castle Anam Cara, Barrington
Though Castle Anam Cara is currently closed to the public as of the time of writing this (January 2023), it's still worth mentioning on this list because it is a castle located in New Hampshire.
Built to be an actual home, Castle Anam Cara was meant to look like an old Celtic castle, thus replicating historic architecture. It was built by both David O'Connor and Loretta Salazar, who occupied the home. From the outside, it's absolutely breathtaking, surrounded by lush greenery.
The home itself is heated with wood, and there's no electric, as it's very close to mother nature. The home is also pretty much lit just with candles, which really makes it as non-modern as possible! For a while, there were day-in-the-life tours offered to educational groups and schools in the nearby area.
Kimball Castle, Gilford
Kimball Castle is located in Gilford and was built in the 1890s. This castle used to be one of the homes that belonged to Benjamin Ames Kimball. During the 19th century, he rose to prominence in the railroad industry. With a long and interesting history, Kimball Castle today is most well recognized for its unique European architecture, reminiscent of that from the Middle Ages.
This castle was actually recently purchased and has been going through renovations, mostly to become a venue to the area, similar to other castles on this list and others throughout New England. In the meantime, guests can actually still rent an Innkeeper's Cottage through Airbnb to spend a night on the grounds. Keep in mind that there may be more places to stay in the future once the restorations are done!
Castle in the Clouds, Moultonborough
Last but certainly not least is the most well known (and possibly the most visited) castle that can be found in New Hampshire: Castle in the Clouds. This 1913 mansion is located in Moultonborough, New Hampshire, and is located on a staggering 6,000 acres of land. The castle was built for a man named Tom Plant and his family.
Up until the 1950s, Castle in the Clouds was referred to as Lucknow Estate, but the new name truly stuck because of the location. The castle proudly serves as an event space and museum today, and it will take you back in time when you visit. There are an abundance of exhibits and artifacts that will show you what life was like back when the castle was first built.
For a fun time, be sure to book a tour of the basement or stop by the on-site restaurant for a treat. You can definitely build up an appetite when exploring the trails surrounding it, which are just shy of 30 miles!
Well, there you have it! All of the best castles in New Hampshire. We hope you enjoy your visit to this state, and consider checking out other New England castles during your stay!
---
You might also like: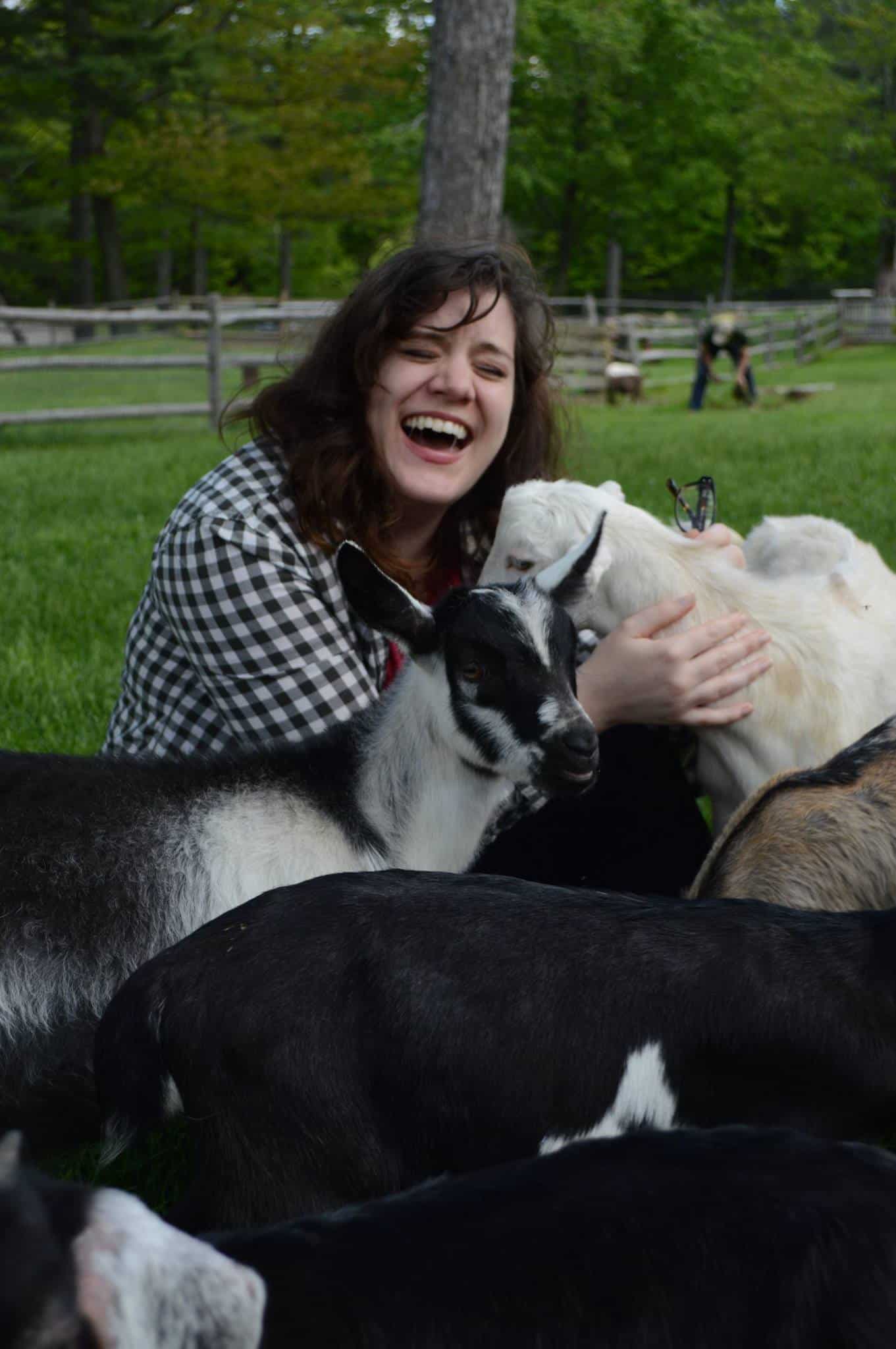 Amy Hartle is the founder and Editor-in-Chief of New England With Love, a comprehensive resource for travel in the New England region. Amy has been exploring New England since 2001. She lived in Vermont for many years and is a graduate of Plymouth State University in New Hampshire. On this site, Amy aims to share her love of New England and help you to have the best possible adventures!
Amy has been writing about travel for over a decade, and is a full time blogger, publishing both Two Drifters and Let's Adventure Baby. When not traveling the world or creating epic blog content, Amy can be found cuddling with her husband, son, and cats, & drinking a maple latte.