Wondering where to go snow tubing in New Hampshire? You're in the right place! This fun, outdoor winter pastime is the perfect way to make memories during the chilly holiday season.
Many people love snow tubing because it's one of those activities that actually doesn't require any lessons at all. It's pretty second-nature, especially if you've gone sledding before, as it's similar. All you have to do is grab a tube, hold on, and go down the mountain! It's truly fun for all ages.
So, what are you waiting for? Here is where to go snow tubing in New Hampshire.
Cranmore Mountain Resort, North Conway
Located in North Conway, Cranmore Mountain Resort is one of the well-known ski resorts in New Hampshire. It also happens to be a great place to enjoy snow tubing! It's a historic ski resort as well, dating back to 1937.
An entire area of the resort is dedicated solely to snow tubing only, and there are ten lifts on their tubing hill. The tubing tickets are sold for 2-hour blocks of time, and there are only a limited number of tickets sold for each block. Tubers must be over 42″ in order to ride, and those under that height must purchase a different ticket to ride with an adult.
One thing to note is that they often sell out of snow tubing tickets very fast on holidays and weekends, so be sure to use their website to purchase tickets ahead of time if you want to make sure you're able to go.
McIntyre Ski Area, Manchester
Manchester is home to the McIntyre Ski Area, which is an amazing spot to enjoy some NH snow tubing. It's actually one of the newer spots, having opened in 1971, and in addition to snow tubing, there's also skiing, snowboarding, and an on-site bar and grill.
Riders here must be at least 5 years old and 44″ tall to enjoy snow tubing. Each person also has to have their own tube, as they can't share. However, some tubes can be connected. Unlike other places, they don't sell tickets online ahead of time for reservations, so they are first-come-first-serve. However, they do often sell out.
Tickets for tubing range around $32, and they are open Thursday through Sunday. There are also extended hours for holidays, especially because children will be out of school. What better way to have fun outdoors than to go snow tubing during the holiday break?
Bretton Woods Ski Area, Bretton Woods
Another place that you could go to enjoy snow tubing is the Bretton Woods Ski Area, in, you guessed it, Bretton Woods, New Hampshire! They have their own tubing hill that's open Friday, Saturday, and Sunday.
Hours are fairly limited, between 10 a.m. and 3:30 p.m., with the last rental normally an hour before closing. Hours can also change throughout the year, especially with holidays, as well. Just be sure to double-check their website before you plan your trip.
Tickets do have to be purchased online ahead of time with at least 48 hours of minimum notice. Tubing rates are also by the hour. One person must be in a tube (so no sharing is allowed), and they can be rented nearby right on-site. Note that there are no lift services at this location; you do have to carry your tube to the top of the hill as you used to when you were younger!
King Pine, Madison
King Pine in Madison is a lovely place to visit for some fun snow tubing outdoors! This one is super fun and unique because it actually also has a tow rope service and various lanes that can be enjoyed as you go down.
Their hours are normally Friday, Saturday, and Sunday, and they do sometimes open for a bit longer on holidays or open up for local school vacation week hours. Tickets are by the hour for a one-hour session and cost just under $20 per person.
Unlike many other spots on this list, there is no minimum height or age that's required in order to enjoy the activity. However, everyone does have to ride alone for safety reasons. Tubes are included in the price (as a rental), and helmets aren't included but can be worn if needed.
Pats Peak, Henniker
One of the larger New Hampshire resorts is Pats Peak Ski Area, which is also a spot to enjoy snow tubing. What's fun is that they also have night activities, and they are not that far of a drive from Boston, making it the perfect weekend excursion.
Tubing is available to be enjoyed at Pats Peak between Friday through Sunday. Friday has night hours, along with Saturday, but Sunday is just during the day. They also have some openings during holidays and school vacations, where they will open up for the entire day for local families to enjoy.
The tubing park has six different lanes, and they do have their own tubes that must be used, but they are included in the price of a ticket. Riders must be at least 44″ tall and have a minimum age of 5 years old. Riders must lay on their stomach to enjoy, and helmets are encouraged. Pricing is in 2-hour blocks.
Gunstock Mountain Resort, Gilford
Next is Gunstock Mountain Resort in Gilford, New Hampshire. It's a lovely place to enjoy tubing because their lanes are very well-maintained, so you can rest assured that you'll have a nice glide every time!
All riders must be at least 3'6″, and riders also have to be able to reach the handles on the tube for safety reasons. There's no double riding, but they do allow linking tubes depending on the snow conditions and weather.
Snow tubing tickets are sold in 2-hour time blocks, and they do sell out, so it's recommended to book in advance, especially for holidays and weekends. One of the lovely things about this resort is that they are open Tuesday through Sunday, so there's lots more flexibility when it comes to planning your tubing schedule!
Waterville Valley Clubhouse, Waterville Valley
Located in Waterville Valley is the Waterville Valley Clubhouse, a lovely place to enjoy snow tubing for the whole family! They have their own tubing and warming center where you can enjoy snow tubing among the White Mountains. What is better than that?
There are dedicated tubing lanes where the activity can be enjoyed, and guests can even head over to the warming center to get warm after staying outdoors in the cold all day. It is a classic walk-up, but you won't get too tired enjoying this outdoor activity.
What's great is that the clubhouse has amazing views of the tubing lanes, so parents will often hang out at the clubhouse and watch out the patio by the fire as their older children enjoy snow tubing. No age limits are required to enjoy it here, and hours are between Thursday and Sunday.
Great Glen Trails, Gorham
If you find yourself near Gorham, you can also enjoy tubing in the snow at Great Glen Trails! Tickets are sold in 2-hour blocks, and they do have tubes on-site that you can use to have some family fun this winter.
Children under the age of 4 are able to ride for free, while those aged 5 and up have to pay the ticket fee of $20. This is a walk-up tubing hill, so there are no lifts, which also often means no lines at all! Each pass is good for two hours.
For a fun time, be sure to visit on the weekends, as this is when they have an event at the top of the tubing hill with a warm fire, hot chocolate, and even s'mores! Keep in mind the weekend does normally sell out, so be sure to book tickets in advance if you can.
Loon Mountain, Lincoln
Last but certainly not least is Loon Mountain in Lincoln, New Hampshire! It's the perfect spot for snow tubing, even though it is more well-known for its skiing and snowboarding. Plus, this one is a bit different than other ones on this list!
First of all, Loon Mountain does have its own lift service for snow tubing, so you and your family could enjoy it without getting tired. The track is around 1000 feet long for the one near the Little Sister Trail, but riders must be 48″ tall and be at least 8 years of age or older.
There's also tot-tubing, which is a walk-up hill that's better for children. Those riders must be 7 and under or weigh under 50 pounds. For each, there's only allowed to be one rider per snow tube. For a fun time, be sure to go during their night tubing times! It's a very unique experience.
As you can see, there are many places to enjoy snow tubing in New Hampshire. Whether you choose to go with your friends or even your family, you're about to have an incredible time! Remember to bundle up.
---
You might also like: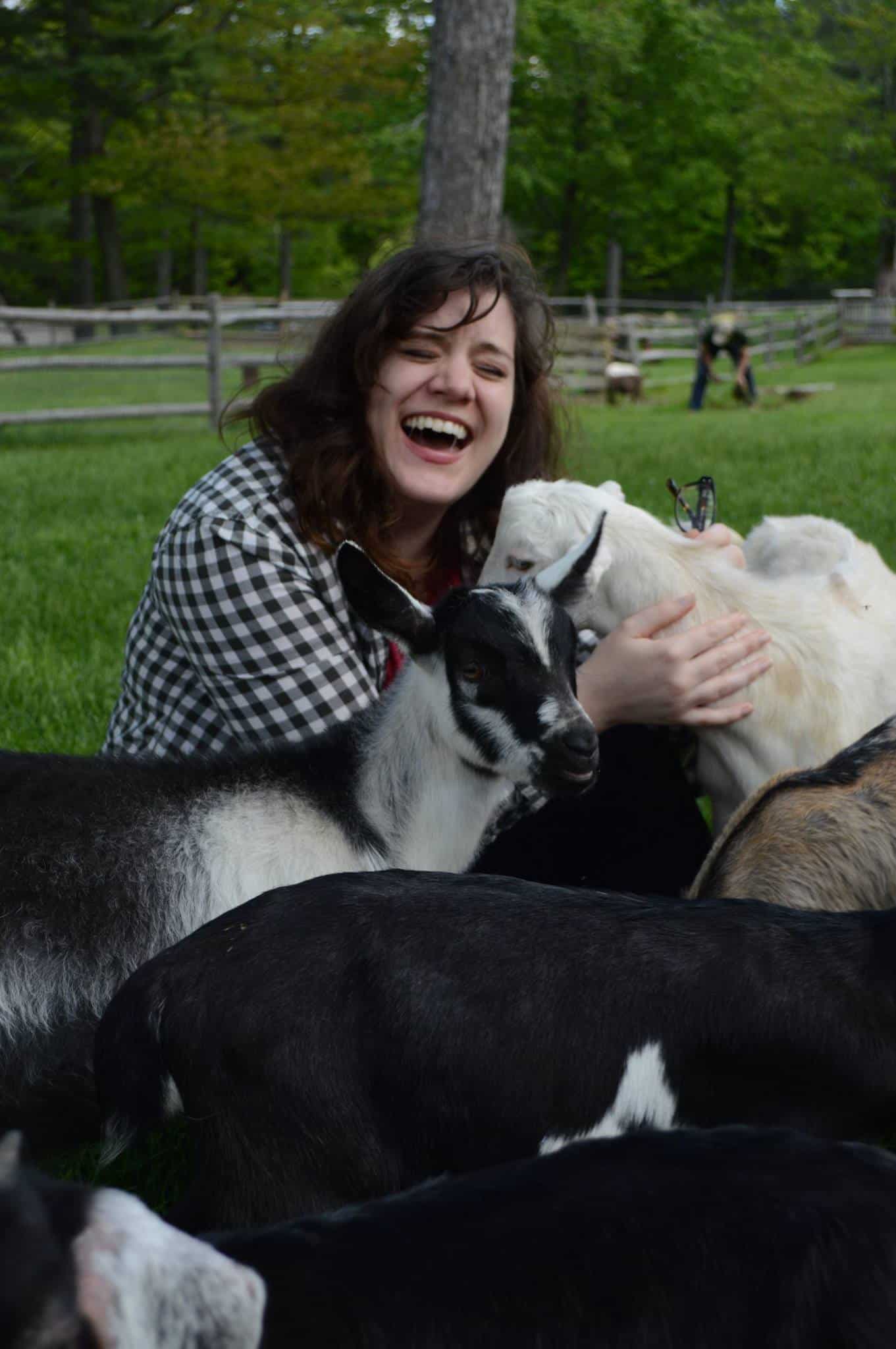 Amy Hartle is the founder and Editor-in-Chief of New England With Love, a comprehensive resource for travel in the New England region. Amy has been exploring New England since 2001. She lived in Vermont for many years and is a graduate of Plymouth State University in New Hampshire. Amy has been writing about travel for over a decade. On this site, Amy aims to share her love of New England and help you to have the best possible adventures!
Amy has been a full time blogger since 2012, and is also the publisher of Two Drifters, where she writes about couples travel and relationships, as well as Let's Adventure Baby, a family travel site. When not traveling the world or creating epic blog content, Amy can be found cuddling with her husband, son, and cats, & drinking a maple latte.