Are you planning your next New Hampshire adventure? You'll want to know where the best restaurants in New Hampshire are. This list of New Hampshire restaurants includes everything from fine dining to classic diners and a little of everything in between, so you'll find the perfect places to eat whether you're on a romantic getaway or a family vacation!
Whether you're looking for places to eat on the Seacoast, restaurants in the White Mountains or beyond, you'll find some great options for where to eat in the Live Free or Die State on this list of the top restaurants in New Hampshire.
Best Restaurants in New Hampshire
Black Trumpet, Portsmouth NH
This popular Portsmouth NH restaurant has an atmosphere of hip sophistication and comfortable elegance within its historic brick walls, and the menu at the Black Trumpet isn't half bad, either! Seasonal Seacoast offerings include ambitious dishes like the Maple brûléed Foie Gras Torchon and the Seared Gulf of Maine Fish that are just waiting to tease your palate with flavors that are creative spins on New England staples.
Black Trumpet is dinner only and is closed Mondays and Tuesdays, but if you're looking for dinner options in Portsmouth NH during their hours of operation, you're in for a fantastic Seacoast treat! Ask for a table with a seaside view.
Jesse's Steaks, Seafood & Tavern, Hanover NH
If you're looking for great steakhouses in New Hampshire, you have to check out Jesse's Steaks, Seafood & Tavern in Hanover. This NH steakhouse gets rave reviews across the board for quality cuts of meat cooked to perfection, dishes that are flavorful and well-executed, and a great cocktail menu that makes for a perfect New Hampshire date night spot!
Jesse's has a classic NH steakhouse feel from the exterior to the interior: log cabin walls, a gorgeous brick hearth, and a newly built brick patio for outdoor dining during the warm weather months make this place feel comfortable and warm year round!
Hanover Street Chophouse, Manchester NH
If you're looking for the perfect place to take a date in Manchester NH, Hanover Street Chophouse has got to be on that list; there's even complimentary valet service and live piano on the weekends!
In addition to the warm and sophisticated ambiance at this elevated Manchester restaurant, the menu speaks for itself. Classics like Surf & Turf with filet mignon and Seared Scallops are just a couple of popular entree options at this NH chophouse, and with a generous wine and cocktail menu, you'll have no problems finding the perfect beverage to pair with meal.
Cure, Portsmouth NH
One of those New Hampshire restaurants that just keeps scooping up the awards, Cure in Portsmouth is the perfect restaurant for a casual dinner with friends or that hot date night you've been planning! Located in a historic building with exposed brick walls, Cure feels cozy and warm, contemporary and historic.
The menu changes seasonally with expertly prepared dishes. There are many crowd favorites at Cure, but the Lobster Mac and Cheese with White Truffle Oil seems to be one of the leads. Whatever you end up choosing off the menu, you're sure to be pleased with what the Cure crew delivers!
George's Diner, Meredith NH
This classic diner in New Hampshire is one of the best places to eat in Meredith and in all of NH, of course. In addition to the welcoming, homey diner atmosphere of George's Diner, they're also known for having excellent service.
But the ultimate thing that has landed George's on this list of New Hampshire's best restaurants? "Just Good Food," exactly as their tag line says! Made to order meals are worth the wait for breakfast, lunch and dinner, and if you're looking for New England comfort food, George's Diner delivers!
Firefly American Bistro & Bar, Manchester NH
Firefly American Bistro & Bar manages to feel both like an ideal spot to swing by after a good movie with friends but also the perfect place for a nice dress up dinner date with your favorite person. Comfortably upscale, Firefly American Bistro & Bar is a great all occasion restaurant in NH!
Open for lunch and dinner throughout the week, you'll find great menu options like French Onion Grilled Cheese and Lobster & Grilled Corn Risotto. Sunday brunch starts at 10 with a dedicated brunch menu, including some inventive cocktails, like their Brunch Punch.
Tuckaway Tavern and Butchery, Raymond NH
One of the most popular restaurants in New Hampshire, Tuckaway Tavern and Butchery is one of those places where it doesn't matter when you go, you will most likely have to wait 1-2 hours for a table… but it's well worth the wait! With a rustic barn style meets modern industrial vibe, this restaurant has a very interesting open kitchen concept, where you can watch the kitchen staff via live feed as they prepare their award winning meals.
And yes, this place has some impressive awards to their name, including Best Burger by New England Today. The menu consists of hearty, meaty entree options (it is part butchery!), fresh ground burgers, seafood staples inventively prepared, scrumptious sides, a full bar, and 24 tap lines devoted to New England brewers. The Tuckaway should absolutely be on your list of New Hampshire restaurants to try!
Polly's Pancake Parlor, Sugar Hill NH
For made from scratch pancakes that will knock your socks off, it's Polly's Pancake Parlor in Sugar Hill NH! It's another one of those spots where a long wait is just a given, but you can call ahead and "save your spot" in line to make the wait a little easier!
You'll find a lot of the diner classics on the menu at Polly's, but in an interesting twist, your server will be the one making your pancakes for you! Kitchen staff prepares everything else, but you'll see it's your server who hops over to the other side of the other counter and starts preparing your pancakes for you. Can't decide which kind to get? You don't have to, just order the sampler!
Hart's Turkey Farm Restaurant, Meredith NH
Are you looking for a hearty, home cooked meal but you don't want to have to cook? Hart's Turkey Farm Restaurant can take care of that for you! This New Hampshire restaurant is known for its home style offerings, including a traditional Thanksgiving meal that you can order any day of the year!
Of course, that's not the only meal offered: there's Turkey Pie, Turkey Meatloaf, Maple Turkey, Turkey Tips, Turkey Shepherd's Pie, and several other turkey-centric, entrees, but there are also some non turkey items to be found on the menu as well! Hart's Turkey Farm Restaurant opens at 11:30 throughout the week, so you can have your delicious turkey dinner for lunch!
Ristorante Massimo, Portsmouth NH
One of the most romantic restaurants in New Hampshire according to Food & Wine Magazine, Ristorante Massimo in Portsmouth is a cozy and inviting Italian restaurant with two offerings for what kind of experience you might like: fine dining happens below in the rich brick-walled formal dining room, and Upstairs at Massimo offers a more casual atmosphere.
Whatever ambiance you're in the mood for when you arrive, the authentic Italian cuisine at Ristorante Massimo remains as impressive as ever! The winner of several state-wide awards, this Italian restaurant in Portsmouth is one of the best restaurants in New Hampshire for fine or casual dining; however you come dressed, just come hungry!
Molly's Tavern and Restaurant, New Boston NH
With a nod to a real historical figure (you'll see the story when you arrive) Molly's Tavern and Restaurant is ran by a father and son Chef team who have made it their business to ensure that those who come into this historic restaurant for a meal are treated as guests, not customers.
Service isn't the only thing that's stellar at Molly's, either, because the menu is full of dishes for just about every craving, from meat to seafood to pastas, to salads, even flatbread pizza! It's not just the fantastic food and the wonderful service that makes Molly's one of the best restaurants in NH, it's also the weekend live music and full bar that make this such a popular New Hampshire place to eat!
Cotton, Manchester NH
Named "One of the ten best neighborhood restaurants in the Northeast" by Bon Appetit Magazine, Cotton is a must try if you're looking for where to eat in Manchester! The vibe at Cotton is modern, yet homey, and it's one of those restaurants that's perfect for a friend's night out or a sweet first date situation.
You'll find steak, chicken, and seafood entrees on the menu; how delicious does a New England Lobster Scallop Ravioli sound? There's also a great wine list and cocktail selection: can't decide which martini sounds best? You don't have to, just order the Cotton Sampler and you can sample 3 of their most popular martinis!
New Hampshire restaurants can provide pretty much whatever kind of meal you're in the mood for, whether you're looking for an upscale place to impress a date or a vintage diner to chow down on pancakes. Maybe you'll find your new favorite restaurant on this list of the best restaurants in New Hampshire!
You might also like: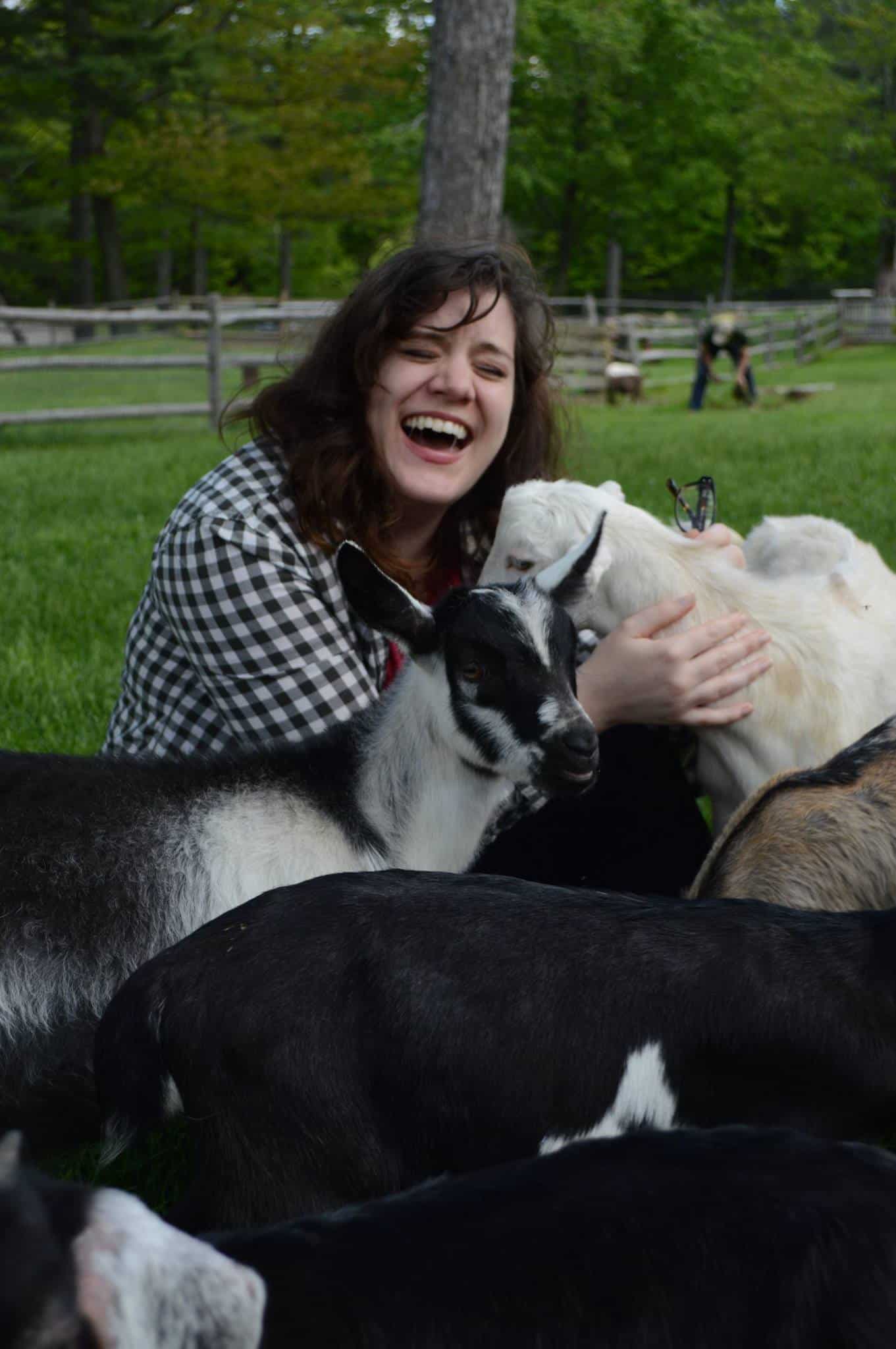 Amy Hartle is the founder and Editor-in-Chief of New England With Love, a comprehensive resource for travel in the New England region. Amy has been exploring New England since 2001. She lived in Vermont for many years and is a graduate of Plymouth State University in New Hampshire. Amy has been writing about travel for over a decade. On this site, Amy aims to share her love of New England and help you to have the best possible adventures!
Amy has been a full time blogger since 2012, and is also the publisher of Two Drifters, where she writes about couples travel and relationships, as well as Let's Adventure Baby, a family travel site. When not traveling the world or creating epic blog content, Amy can be found cuddling with her husband, son, and cats, & drinking a maple latte.