*This site uses affiliate links; if you make a purchase through these, I may receive a small commission at no cost to you.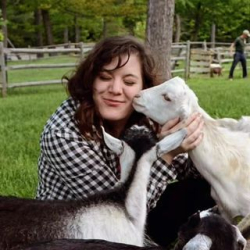 Latest posts by Amy Hartle
(see all)
Is eating on your Vermont to do list? Then you'll need to know how to find the best restaurants in Vermont!
Vermont is known for several food staples including Vermont cheddar cheese, maple syrup, and farm-to-table restaurants that deliver quality meals prepared from the freshest ingredients. There are Vermont restaurants of all kinds on this list, including cute VT diners, fine dining places, and simple spots where good, quality food is the star of the show.
If you're looking for the best restaurants in Vermont to try on your next trip, this list will point you in the right direction!
Best Restaurants in Vermont
The Gryphon, Burlington VT
One of the top restaurants in Vermont is The Gryphon in Burlington, which has a pretty fantastic restaurant scene. The mood at The Gryphon is hip, yet classy, with a beautiful wooden bar and a dining area that's somehow both moody and light.
Offering dinner service 7 days a week and lunch on the weekends (brunch on Sunday!), the menu at The Gryphon includes options like Sweet Potato Nachos, a Pork Schnitzel Sandwich, and Classic Burgers with native Vermont beef- yum! The Gryphon is a great choice for either a casual meal out with friends or a perfect Vermont restaurant date night spot.
Michael's on the Hill, Waterbury VT
Located in a 1920s Farm House in picturesque Waterbury VT, Michael's on the Hill offers the kind of Vermont restaurant experience that most people expect when they come to the Green Mountain State in search of a nice dinner out. With accolades including the "Most Romantic Restaurant in Vermont" by Tripadvisor and the "Best Vermont Farm-to-Table Dining Experience – Vermont" at the Lux Life Food & Drink Awards, Michael's on the Hill is one of the most popular restaurants in Vermont.
The seasonal menu features the best and freshest ingredients that the Chef can procure, and being as how this VT restaurant is chef owned, he has complete creative control of the process! You can expect to find items like Smoked Maple Syrup Glazed Pork Shank with Garlic Confit Polenta and a crispy Rhode Island calamari on the menu, any dinner out at Michael's on the Hill is sure to be a smashing success!
Hen of the Wood, Waterbury & Burlington VT
With two locations in the state, Hen of the Wood is one of the most popular restaurants in VT. The Waterbury location looks over a picturesque waterfall in a historic grist mill, and the Burlington location is at street level next to the very hip Hotel Vermont. Both have fantastic energy for a dinner out with friends or a romantic date night.
At Hen of the Wood, the menu changes daily to accommodate the freshest, in season, locally-sourced goods around, and you might find something like a pappardelle with shishito peppers, corn, aged goat's milk cheese, and breadcrumbs – YUM!
Roots, Rutland VT
If you're looking for a place to eat in Vermont where the fresh, locally sourced menu items are so delicious and the service is so stellar that you're very likely going to have to wait a bit to get in, well, there's Roots in Rutland! With an understated facade, the interior is homey and comfortable, with exposed brick and a cozy little bar area.
Roots has all kinds of fantastic offerings on their menu, including items like their VT Raised Ribeye and a Pork Sandwich made with slow roasted local pork and blueberry barbecue sauce. Roots in Rutland is a great lunch and dinner spot in Vermont.
Chelsea Royal Diner, Brattleboro VT
One of the coolest diners in Vermont, Chelsea Royal Diner in Brattleboro is where to go when you're in the mood for that vintage diner experience, with a twist! One of the seating areas is a retired vintage train car, so this is one of the coolest Vermont diners to grab a bite in.
Breakfast and lunch is served Wednesday through Sunday, and dinner Friday and Saturday until 7. Fries and onion rings are hand cut, blue plate specials are made to order, all sauces and baked beans are homemade from scratch, and lettuce, cucumbers and tomatoes are straight from the garden! This is one of those must visit Vermont diners!
Misery Loves Co, Winooski VT
One of the most popular Vermont restaurants is Misery Loves Co in Winooski, near Burlington. With a laid-back, comfortable ambiance, Misery Loves Co is the perfect spot to meet with friends and family for a great meal, any time of day.
Their entire menu is solid, but they are very well known for their delicious fried chicken. If you are any kind of a fried chicken fan, it's well worth ordering to see what all the fuss is about. Misery Loves Co will never leave you miserable.
The Worthy Burger, South Royalton & Woodstock VT
One of the best places to get a burger in Vermont is without a doubt, The Worthy Burger. With locations in South Royalton and Woodstock, you've got options for where to go to try this place for yourself, and both of them offer a cute, comfortable place to eat that's perfect for lunch or dinner.
On the menu at The Worthy Burger are 100% grass-fed beef cooked over a wood fired grill to order, and the hand cut fresh fries are fried in Waygu Beef tallow instead of vegetable oil – yum! Whatever kind of burger you order at this popular VT restaurant, you're going to appreciate the quality found at The Worthy Burger!
Black Sheep Bistro, Vergennes VT
If you're looking for high class romantic date night options, Black Sheep Bistro in Vergennes VT fits the bill very well! With an intimate, romantic French bistro atmosphere, delicious top quality meals, and a fantastic wine list, this is one of the most romantic restaurants in Vermont.
The menu is comprised of top quality farm to table offerings like Brie & Bacon Chicken Breast, Porter House Pork Chop, and so much more. They also have a lovely outdoor patio seating area that's lovely during the warm weather months.
Dot's Restaurant, Wilmington VT
Charming & quaint, Dot's Restaurant in Wilmington is one of the best diners in Vermont! Not only will you love the friendly warmth at this family-owned VT restaurant, but they are open breakfast through dinner with all the great comfort food classics.
In the mood for pancakes? They've got them. How about homemade chili? Yup, guests rave about their chili. Or are you interested in something like a classic fish and chips combo? Dot's Restaurant in Wilmington has all of that and more!
Ye Olde Tavern, Manchester VT
One of the most unique restaurants in Vermont is Ye Olde Tavern, a historic colonial era tavern that was originally built in 1790. Carefully preserved and cared for throughout the years, you'll feel as if you've stepped back in time when you walk through its doors, and in the cold weather months, a roaring fire in the fireplace will add to the charming ambiance. Dinners are served Thursday through Monday from 4:30-8:30.
On the menu at Ye Olde Tavern are classic New England dishes like a traditional pot roast and a prime rib dish available on the weekends, and all Colonial candlelit dinners include cranberry fritters with Vermont maple butter. This is a truly spectacular Vermont restaurant to check out if you're in the Manchester area.
Three Penny Taproom, Montpelier VT
One of the top brewpubs in Vermont, Three Penny Taproom is an excellent place to grab a bite and a brew in downtown Montpelier. With a comfortable brewpub atmosphere, Three Penny Taproom is an excellent place to meet up with friends for lunch and dinner in Vermont.
The menu at Three Penny Taproom features something for everyone, whether you're vegan, vegetarian, or omnivore. Crowd favorites include the hearty Vermont Onion Soup and the soft and scrumptious pretzel bites. Of course, expect to be wowed by the craft beer options at this Vermont brewpub, too!
Simon Pearce Restaurant, Queechee VT
One of the most romantic restaurants in Vermont and the USA, according to Travel + Leisure, Simon Pearce Restaurant in Queechee is a fantastic place to go for a romantic dinner out! Not only is the Dining Room at the Mill a wonderful way to enjoy the scenic Mill Pond Falls, but the atmosphere inside is comfortably elegant.
On the menu at Simon Pearce Restaurant are entree selections like a Cider Brined Porkchop and an Herb Marinated Statler Chicken Breast, and a popular dessert item is the Maple Creme Brulee – delicious. Also onsite is the gorgeous Simon Pearce shop and glassblowing area, where you can actually walk the talented glass-blowing artists work!
T.J. Buckley's, Brattleboro VT
T.J. Buckley's offers a unique Vermont dining experience, as it is housed in a very small, cozy Worcester diner and only has 8 tables! With a very intimate atmosphere, the mood in T.J. Buckley's is one of friendly fine dining.
The menu changes daily as only the freshest, in season ingredients are used, and you might find scallops, rabbit, beef, and more on the menu during your visit, all artfully prepared and creatively plated so each dish is presented as an artistic masterpiece of sorts! This isn't a kid friendly VT restaurant, so save a trip to T.J. Buckley's for when its adults only.
The Bench, Stowe VT
One of the best restaurants in Vermont is located in none other than Stowe, one of the top vacation destinations in the state. With a modern rustic feel, The Bench is a comfortable place to eat, serving up some of the finest Vermont comfort foods!
On the menu at The Bench, you'll find Duck Fat Fries, Vermont Cheddar Ale Soup, Lamb French Dip, wood fired pizzas, and more. The Bench is an excellent place to go with family, friends, or even on a fun Stowe date night.
Miss Lyndonville Diner, Lyndonville VT
For a homey, small town diner experience in the Northeast Kingdom, check out Miss Lydonville Diner. Serving up classic diner fare in a charming, old school atmosphere since the 1970s, Miss Lyndonville Diner is open from 5:30am-2:30pm except for Sunday, when they are open from 7am-3pm, and Tuesday, when they are closed for a well-deserved break!
Miss Lyndonville Diner has all the classics, from pancakes to a traditional meatloaf dinner! The service at Miss Lyndonville Diner is unparalled, and you'll feel welcome and appreciated from the moment you step foot into this Vermont diner. For breakfast or lunch in the Northeast Kingdom, it's hard to imagine much better than Miss Lyndonville Diner!
There are plenty of awesome places to eat in Vermont, so chances are you'll have no problems finding a great spot for what you need. Hopefully this list of some of the best restaurants in Vermont will give you a good idea of where to look!
You might also like: