---
*Links in this article may be affiliate links, from which we may earn commission. See our
Privacy Policy
for full details.
---
In need of a Vermont weekend getaway? If you're craving cooler weather, serene farmland, cozy cabins, and that Vermont way of life, there's no better time than now to book one of these fabulous Vermont weekend getaways.
As a Vermonter myself, I am immensely proud of the state. It's a wonderful place for a vacation in every season, though of course fall in New England is especially magical and gorgeous.
Vermont is a small state, but it packs a lot in terms of great destinations. To help you plan your weekend in Vermont, I've narrowed down some of my favorite Vermont vacation spots. These are spots that are well-loved by visitors and offer, in my opinion, a true Vermont experience.
A weekend getaway to Vermont is perfect for those who live in the northeast. Southern Vermont will be closest if you're driving.
Coming from further away? Fly into the airport in Burlington, VT, or consider flying into Manchester, NH or Albany, NY and renting a car.
Let's explore!
PS: Have more time to explore? Consider this 1 week Vermont road trip. Also be sure to check out our post on 50 fabulous things to do in Vermont!
7 Great Destinations for a Vermont Weekend Getaway
Burlington
One of my top recommendations for any traveler would be a Burlington VT getaway. Burlington is Vermont's largest city, yet it is quite small when compared with major metropolises. Burlington is well known as a hip, college town that has a hippie, liberal vibe and lots of natural beauty.
The city is situated right on the shores of Lake Champlain, a gorgeous, sprawling lake that is bordered by the Adirondack mountains to the west. Just taking in the views of the lake is enough of a reason to come to Burlington, but there's so much more than that.
Burlington is a hub for craft beer, incredible local food with a farm-to-table emphasis, and outdoor adventure. Biking, hiking, paddling, and more are all available right in town or nearby. And Burlington is a terrific jumping-off point for other areas of north/central Vermont, such as Stowe and Montpelier.
Read our massive post on 25 Top Things to Do in Burlington to see all there is to do in the region.
Where to Stay in Burlington: For those seeking Burlington Vermont getaways, we recommend either Hotel Vermont or the Made Inn Vermont B&B. There are also lots of great Lake Champlain rentals in and near Burlington, too!
Manchester
Manchester is one of the best places to stay in Vermont—especially if you're making a weekend getaway from the south.
Located in the southwest corner of Vermont, Manchester is such a lovely area; perfectly quaint and quiet, yet with plenty of shopping and activity.
Some of the highlights of the Manchester area include driving up or hiking Mount Equinox, the tallest peak in southern Vermont, visiting Hildene, the Lincoln family mansion, and shopping at Manchester's luxury outlets. And there's lots more to do here as well, and some great restaurants and breakfast spots as well!
Where to Stay in Manchester: The chic and convenient Kimpton Taconic Hotel.
Woodstock
Those who are interested in Vermont fall getaways may be attracted by the classic town of Woodstock.
This is a place that many call a "Currier and Ives" town. With a traditional main street, the oldest general store in Vermont, and covered bridges and picket fences everywhere, it's not hard to see why.
We absolutely love Woodstock, and it is especially lovely in the fall. The photo above shows one of the classic images of Woodstock in the fall. You'll see lots of sights like this during your stay.
Read about all of the highlights of Woodstock here:
10 Amazing Things to Do in Woodstock VT: The Perfect New England Experience
12 Terrific Restaurants in Woodstock Vermont
12 Fun and Festive Things to Do for Christmas in Woodstock VT
Where to Stay in Woodstock: There are many great Woodstock hotels and inns, but if you want to be in the center of everything you have to go with The Woodstock Inn & Resort.
Stowe
Stowe is a world-famous Vermont destination. This is one we recommend wholeheartedly, both for family trips or for a Vermont romantic getaway.
Stowe is an amazing mix of an old-fashioned Vermont vibe with an upscale, modern resort lifestyle. Literally everything is beautiful in this part of the state, whether you're strolling down the iconic Main Street with its white church steeple, or soaking in a luxurious spa experience at an award-winning hotel.
You can spend time sipping beer and cross country skiing at the Trapp Family Lodge, while reveling in their fascinating story—this, after all, is the home of the real von Trapps, made famous in the film The Sound of Music.
There are opportunities aplenty for skiing, hiking, and exploring. There are multiple ski areas within driving distance and excellent hiking trails. Even if you'd prefer to stay closer to sea level, you can experience spectacular foliage or snowy winter scenes.
Pop over to nearby Waterbury for a visit to the Ben & Jerry's ice cream factory and don't miss Cold Hollow Cider Mill, an adorable apple mill featuring some of Vermont's best cider donuts.
Where to Stay in Stowe: There are many fantastic options for accommodation in Stowe, but a classic choice is the Trapp Family Lodge. Prefer vacation rentals? Check out this guide to 13 Lovely Stowe Vermont Airbnbs.
Lake Willoughby
Tucked up in the Northeast Kingdom of Vermont, this destination is a bit further afield than the others. But it is definitely worth it. Nature lovers will adore Lake Willoughby. This clean, impressive lake is surrounded by sharply sloping cliffs, giving it the appearance of a Nordic fjord. There are countless opportunities for fishing, swimming, and hiking in the 7,000 acre Willoughby State Forest.
If you're looking for a slice of the Vermont outdoors, this is the ideal, secluded destination.
Where to stay near Lake Willoughby: Airbnb is an excellent choice for staying in Lake Willoughby. Here's a sweet cabin that would be a great option.
Montpelier
Vermont's state capital is small and unassuming, and just might be one of the hidden gems of Vermont.
In Montpelier, you'll find some excellent restaurants in the downtown area. After you've eaten your fill, it's time to get out and explore. Catch a live show at the Lost Nation Theatre, get your history nerd on at the Vermont History Museum, and explore some of the many quirky shops lining the streets. If you come at the right time of year, you might also catch the farmer's market.
If hiking is your thing, Camel's Hump, a challenging "bucket list" peak is not too far from Montpelier. This is one of the most popular hiking spots in the state.
No matter what you do, you're bound to find some cool surprises in Montpelier and the surrounding area.
Looking to save money? You're in luck. Montpelier is not quite as 'touristy' as some of the other destinations on this list, making it top of the list when it comes to cheap fall getaways in Vermont.
Where to Stay in Montpelier: Get cozy in a Vermont B&B at The Inn at Montpelier
Wilmington/Dover:
An unexpected Vermont weekend getaway spot is nestled in the deep southeast of the state. Dover is the location of ski resort Mt. Snow so winter fans will dig this place. Skiing, snowmobiling, snowboarding, and even dogsledding.
Yet, there are also attractions year-round to be enjoyed, particularly for those who like hiking. Dover is right in the midst of the Green Mountain National Forest, so nature is everywhere. Here are some suggested trails for the area.
Check out Adams Farm in Wilmington, where you can go horseback riding or just meet and greet the animals. Definitely perfect for families. And Wilmington also has Dot's, a classic breakfast stop that is certainly a must-visit.
Where to Stay in Wilmington/Dover: The Nutmeg
---
You might also like:
---
Pin this post to save for later!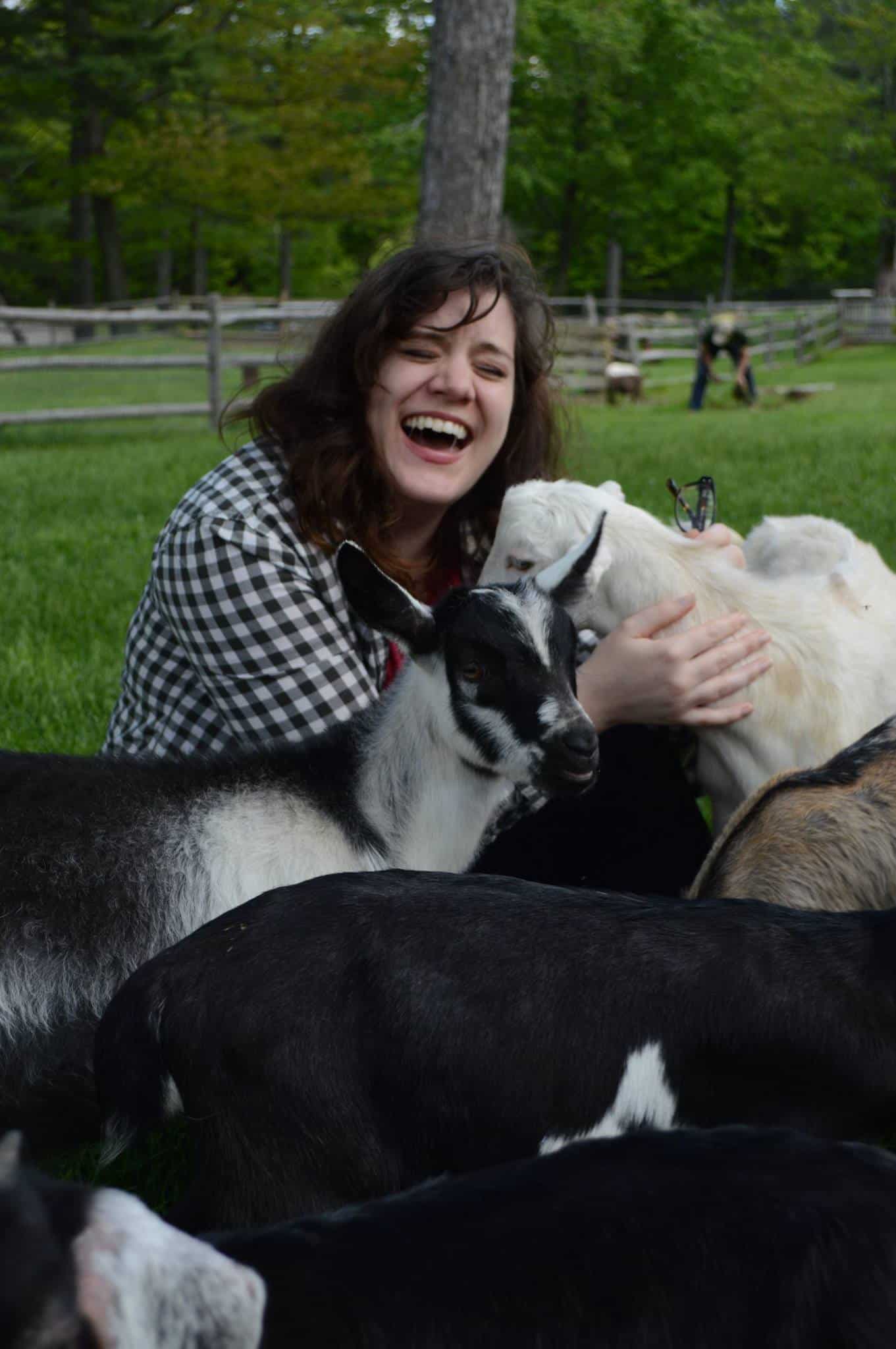 Amy is the founder of New England with love. A proud Vermonter, she hopes to share her love of New England and help you find the best adventures in the region. Amy is also blogger/founder at Two Drifters, where she writes alongside her husband about romantic and couples travel, relationships, honeymoons, and more. When not working on websites, Amy is probably reading, cuddling with her husband, son, and cats, & drinking a maple latte.