*This site uses affiliate links; if you make a purchase through these, I may receive a small commission at no cost to you.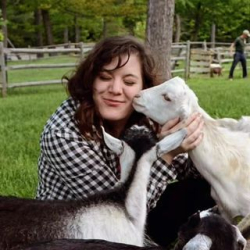 Latest posts by Amy Hartle
(see all)
Are you planning a trip to see the iconic covered bridges in Vermont? Covered bridge "hunting" is one of the best things to do in Vermont, and finding these beauties is easy, as there are over 100 covered bridges in the state.
In fact, the state of Vermont is famous for having the highest concentration of covered bridges per square mile in the country! Many of these bridges are listed on the National Register of Historic Places.
I lived in Vermont for 15 years, and I love finding this state's amazing bridges!
Whether you want to find a covered bridge or two during your vacation or make a Vermont covered bridges tour the entire goal of the vacation, this list will point you in the right direction.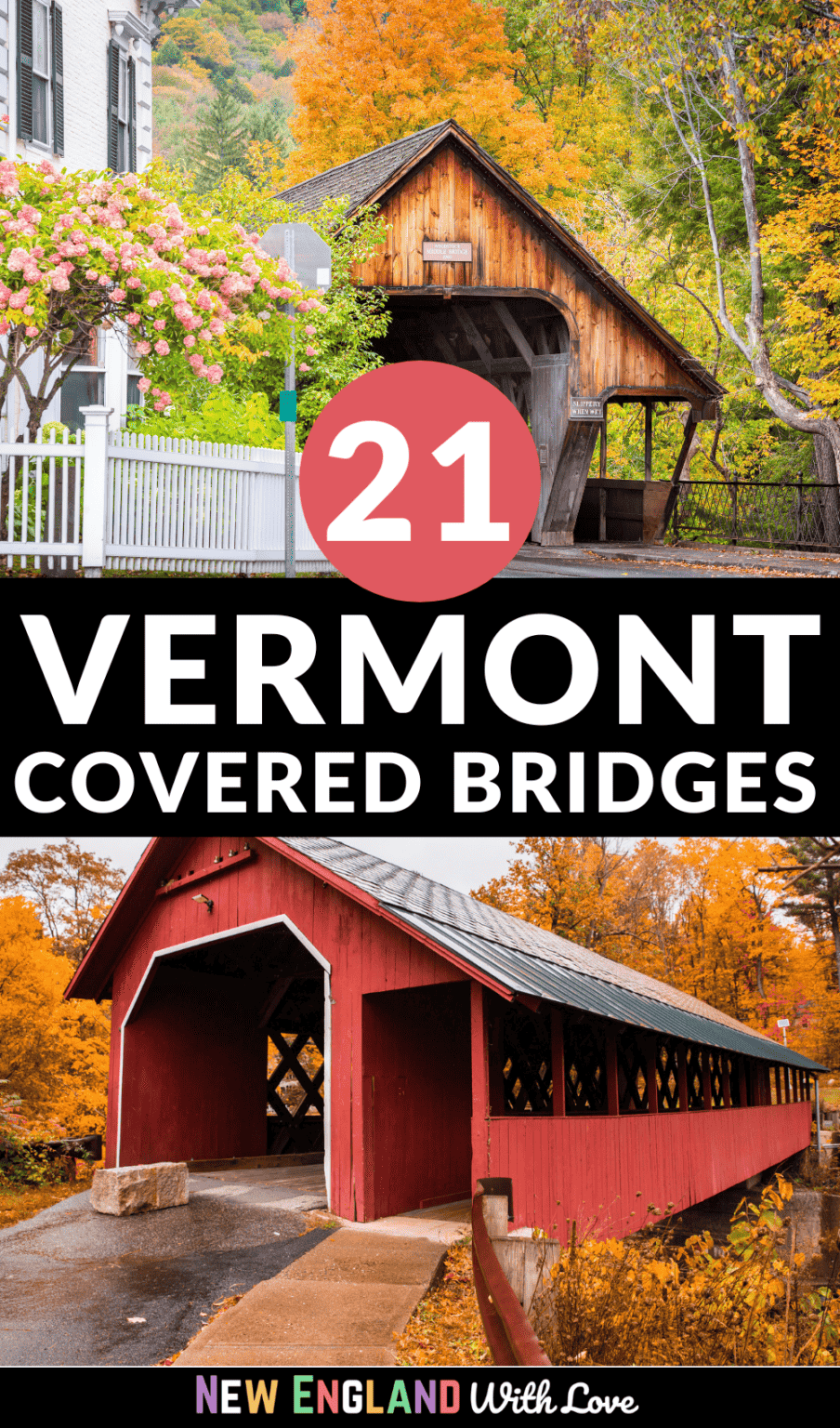 What are Covered Bridges?
Built primarily in the 19th century in the United States, covered bridges are wooden truss bridges that have both sides and roofs. These were put in place to protect the structures from wear and tear due to exposure to rain, wind, and—in New England—ice and snow.
They are of historic interest because they represent architecture from a time gone by, yet they also showcase American ingenuity and significant architectural innovation.
There are between 500 and 600 covered bridges still standing in the United States, and these present a fascinating contrast to our massive modern bridges, made of concrete and steel.
When you see a covered bridge, it feels like stepping back into the past and to a simpler time.
Vermont covered bridges range between perfectly preserved examples of centuries-old craftsmanship, their more modern versions, and quite a bit of in between, and they are a perfect example of what makes Vermont towns so charming!
Vermont is home to many great examples of covered bridges and here are 21 you should not miss.
21 Beautiful & Historical Covered Bridges in Vermont
Middle Covered Bridge
Union Street Woodstock, VT, 05091
One of the covered bridges in Woodstock VT, this lovely landmark is interchangeably referred to as either Middle Bridge or Union Street Bridge, and it's a favorite subject of photographers from all around the region, situated right in the midst of Woodstock Village.
The lattice work and the blooming spring and summer flowers around this lattice truss bridge make it especially picturesque in the warm weather months!
This is one of the newest of Vermont's covered bridges, built just in 1969. It sits at 139 feet in length and crosses the Ottauquechee River.
Unlike many covered bridges on this list, there is a pedestrian walkway attached to this bridge. This makes Middle Bridge a perfect place to stop and grab a photo.
Woodstock is one of the best places to visit covered bridges, in fact, as there are numerous bridges in this region.
Scott Covered Bridge
Route 30 East, Townshend, VT, 05359
Built in 1870, the Scott Bridge is a historic site that is owned and operated by the state. At 276 feet in length, it's one of the longest wooden bridges in Vermont, making it a popular covered bridge to see for that reason.
Arlington Covered Bridge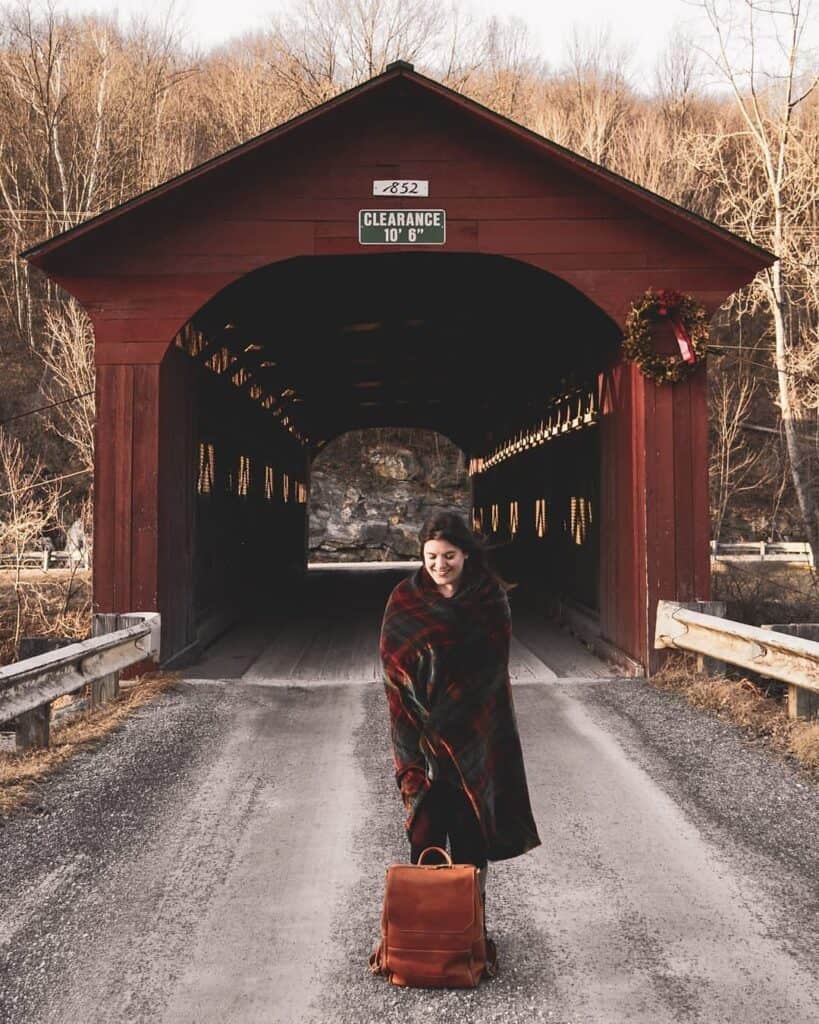 Covered Bridge Rd, Arlington, VT 05250
You'll find Arlington Covered Bridge on Covered Bridge Rd in Arlington, and its also sometimes called the Bridge at the Green. Built in 1852, it's one of the oldest covered bridges in Vermont, and it resides over a tiny little beach and local swimming hole.
One major point of interest at this historic bridge: Norman Rockwell once lived beside it! And, of lesser note, I once lived about a quarter mile down the road from the bridge myself!
The Arlington Covered Bridge is very scenic and often photographed, making it one of the most famous covered bridges in VT.
Burt Henry Covered Bridge
River Rd, North Bennington, VT 05257
One of the best Bennington covered bridges for those who want to get out and spend a little time in the area, Burt Henry Covered Bridge goes right over a popular local swimming hole. There's a nice little parking area so you can get out and explore this lovely covered bridge!
Chamberlin Mill Covered Bridge
Off South Wheelock Road Lyndonville, VT, 05851
The Chamberlin Mill Bridge is an absolute darling of a covered bridge! Its open sides give it such a light and lovely look, and it still can handle light traffic to this day. Being built in 1881, this is one of the Vermont covered bridges that is well over a 100 years old.
Red Covered Bridge
Cole Hill Rd, Morristown, VT 05661
This covered bridge near Stowe is one of those that is visually magnificent against a snowy backdrop due to its bright red color. Red Covered Bridge is a favorite subject for photographers and instagrammers near Stowe.
West Dummerston Covered Bridge
West River Road, Dummerston, VT, 05357
Constructed back in 1872, the West Dummerston Covered Bridge crosses the West River. There is a little area to park and you can walk down to the river below and get some pretty nice views of this wooden covered bridge above the river!
This bridge is a whopping 280 feet long, making it the longest covered bridge in the state of Vermont.
Creamery Covered Bridge
500 Western Ave, Brattleboro, VT 05301
Built in 1879, the Creamery Covered Bridge in Brattleboro is just as cute as cute can be, with the Town Lattice construction so popular in that time. Painted a beautiful barn red color, a pedestrian sidewalk was added a few decades ago. Today, the entire bridge is a pedestrian bridge!
Chiselville Covered Bridge
Sunderland Hl Rd, Sunderland, VT 05250
You know how lots of times covered bridges of Vermont will have little old timey signs on them? The Chiselville Covered Bridge is a good one for that, stating "One dollar fine for driving faster than a walk on this bridge."
This is also the covered bridge from the 1987 movie Baby Boom with Diane Keaton!
Lincoln Covered Bridge
Vermont Route 4, Woodstock, VT, 05091
Another Woodstock VT covered bridge, the Lincoln Covered Bridge was built in 1877 and is 136 feet long. It is just up the road from the Lincoln Inn and Restaurant at the Covered Bridge, one of the top restaurants and hotels in the area!
Kidder Covered Bridge
Bear Hill Road Grafton, VT, 05146
You'll find KidderCovered Bridge on the southern edge of Grafton, and this 100+ year old Vermont covered bridge was built in 1870.
It's a very scenic little covered bridge in the fall, when the fall foliage surrounding the Saxton River makes this a particularly picturesque spot for fall photography.
Taftsville Covered Bridge
River Road Woodstock, VT, 05091
Another classic Woodstock covered bridge, the Taftsville Bridge is long, red, and oh so perfect for snapping photos of, especially in the winter months as the white snow really makes this red covered bridge pop! The 189 foot span really adds to the beautiful effect as you admire this covered bridge's reach over the river.
Vermont Country Store Kissing Bridge
Rockingham Rd, Bellows Falls, VT 05101
With a name like this, it's a must visit in the covered bridges of Vermont category! Vermont Country Store Kissing Bridge was built in 1872 and is located near the Vermont Country Store, so be sure to stop in and pick up some fresh made Vermont goods during your visit.
Oh, and if you're wondering why it's called the Kissing Bridge, it's because all covered bridges used to be called "kissing bridges" due to the little bit of privacy afforded a couple as they walked underneath… apparently it used to be quite common to pause halfway through and steal a kiss!
Quechee Covered Bridge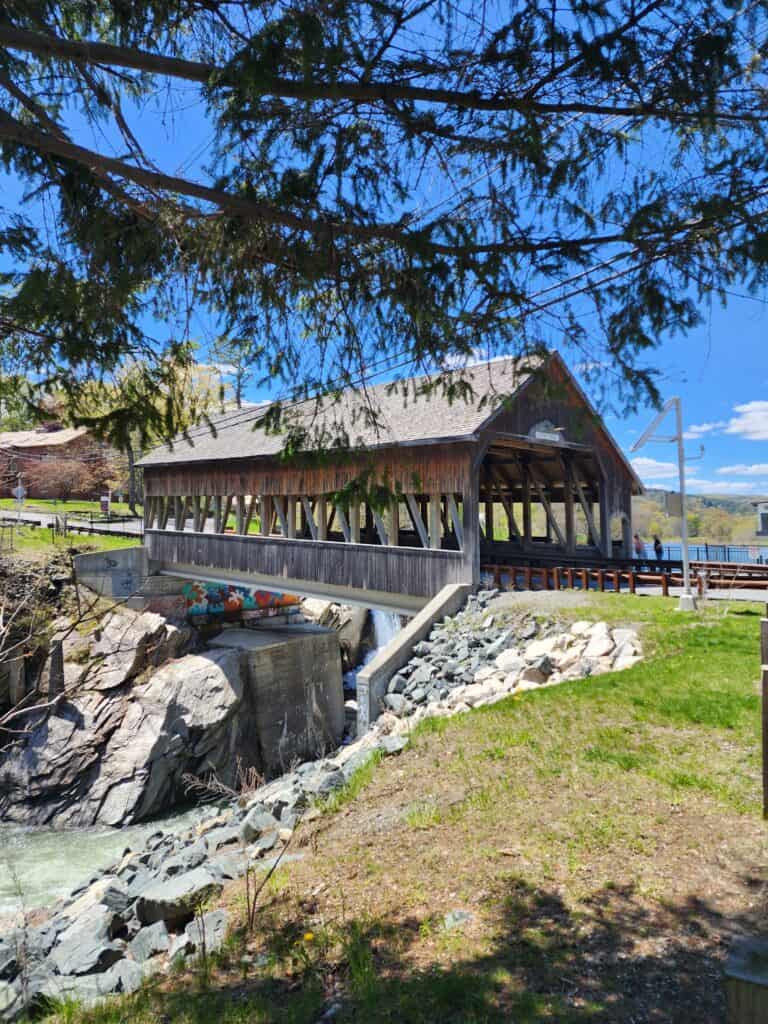 Waterman Hill Rd, Quechee, VT 05059
Welcoming visitors to the quaint town of Quechee, Quechee Covered Bridge is one of those picture perfect covered bridges. The pedestrian footbridge offers the perfect way to enjoy the views of the pretty, impressive waterfall at the dam.
Waitsfield Covered Bridge
Bridge St, Waitsfield, VT 05673
Also known as the Big Eddy Covered Bridge or the Village Bridge, this Waitsfield bridge offers a way across the lovely Mad River. Built in 1833, this is the oldest covered bridge in Vermont, and beneath is a popular local swimming hole.
Green River Covered Bridge
Jacksonville Stage Road Guilford, VT, 05301
Built in 1870, Green River Covered Bridge goes over the Green River… shocking, we know!
This covered bridge is one of the lovely lattice side style bridges, but it can be difficult to find parking nearby, so you might have to settle for a peek as you drive past!
Cornish-Windsor Covered Bridge
Bridge St, Windsor, VT 05089
Until 2008, the Cornish-Windsor Covered Bridge was noted as being the longest two span, covered wooden bridge in the world! While a covered bridge in Ohio took over that title, this bridge is still a record-holder.
An impressive 449 feet in length, the interstate bridge connects Windsor VT to Cornish NH over the Connecticut River, and the current version of this bridge was completed in 1866, with several others before it being washed away in flood waters.
A two-span, timber Town lattice-truss, this is definitely one of the longest covered bridges in Vermont.
Silk Road Covered Bridge
Silk Rd, Bennington, VT 05201
Located in the quaint Vermont town of Bennington, Silk Road Covered Bridge was built in 1840. It has the traditional lattice work design on the sides and that combines with its red color to make it an absolutely adorable covered bridge!
Gold Brook Covered Bridge
Covered Bridge Rd, Stowe, VT 05672
This is one of the wooden covered bridges of Vermont that comes with quite the lore attached. Also known as Emily's Bridge, this covered bridge in Stowe is said to be one of the most haunted places in New England!
Shelburne Museum Covered Bridge
Shelburne Rd, Shelburne, VT 05482
Located at the Shelburne Museum, this covered bridge was built in 1845 and is unique because it has two lanes for traffic and a footbridge, so this is one of the wider covered bridges on this list.
It originally crossed the Lamoille River before being moved its current location over a man made pond at the Shelburne Museum.
Coburn Covered Bridge
Coburn Rd, East Montpelier, VT 05651
Also referred to as Cemetery Bridge, this is one of those Vermont covered bridges that is just perfectly situated for photographs! With a little bit of an incline coming in to it on one side, it just sits so lovely over the Winooski River, waiting to be adored by the right set of eyes.
Map of Vermont's Covered Bridges
So many covered bridges of Vermont are worth admiring for yourself, so check out this map of Vermont covered bridges we've created if you'd like to plan your tour that way.
A perfect focus for your Vermont road trip!
Need help planning that? You can also download this self-paced driving tour of Vermont that includes covered bridges, too! A great way to experience the state and learn more as you drive the beautiful roads.
More Vermont trip planning resources here: