*This site uses affiliate links; if you make a purchase through these, I may receive a small commission at no cost to you.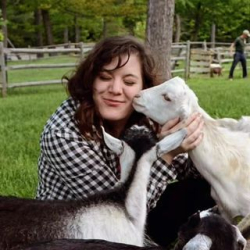 Latest posts by Amy Hartle
(see all)
Have you always dreamed of getting snowed in while staying in a cozy Vermont cabin? This is absolutely one of the top things to do in VT!
Do you have visions of finding the most beautiful fall foliage in the US? Perhaps you grew up watching the classic movie White Christmas and you know that Vermont is a place that invites magic and romance. Or maybe you're just ready for a relaxing getaway in a gorgeously scenic place.
Well, we've rounded up the most cozy cabins in Vermont that can help make your dreams come true!
It should come as no surprise that there are a lot of cabins in VT. These range from lakeside cottages to mountain cabins to super off-the-grid, rustic cabin rentals in Vermont. There are tiny house cabins, huge, elegant cabins, and everything in between.
Well, we've scoured the web to find those Vermont cabin rentals that are the most cozy and charming. Many options are ideal for two people looking to enjoy a romantic getaway in Vermont, while others are larger properties that will suit a family or group of friends.
Psst! Don't have time to see them all? These are a few of our favorite cabins in Vermont!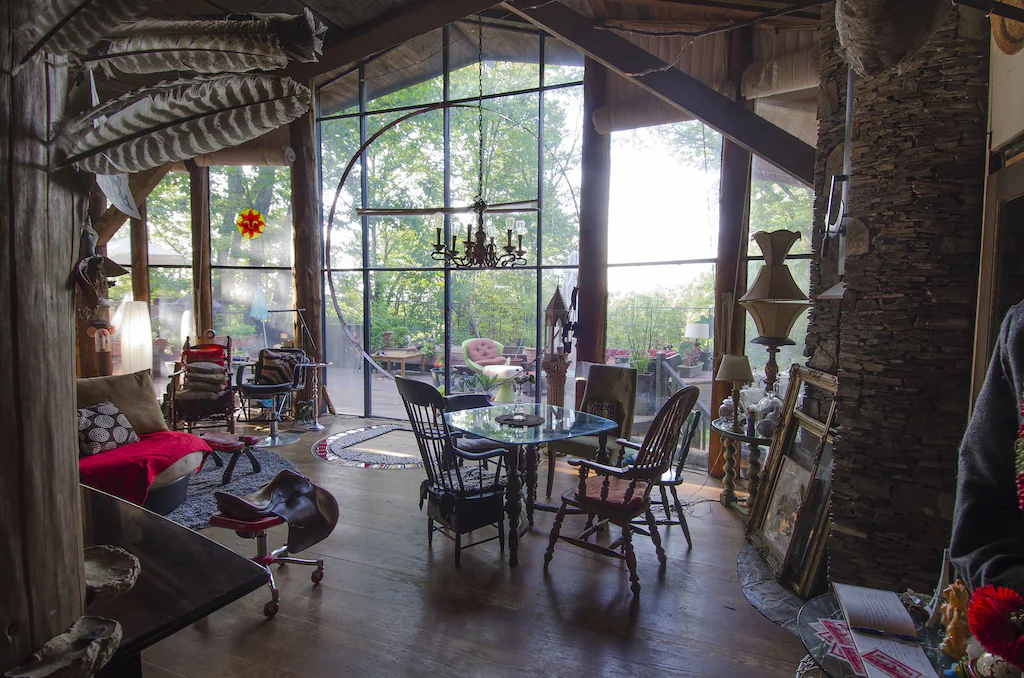 Villino Totemsin | Sky Room | steam sauna • hot tub
🍁 Unique
🍁Stunning
🍁 Fireplaces, sauna, and hot tub!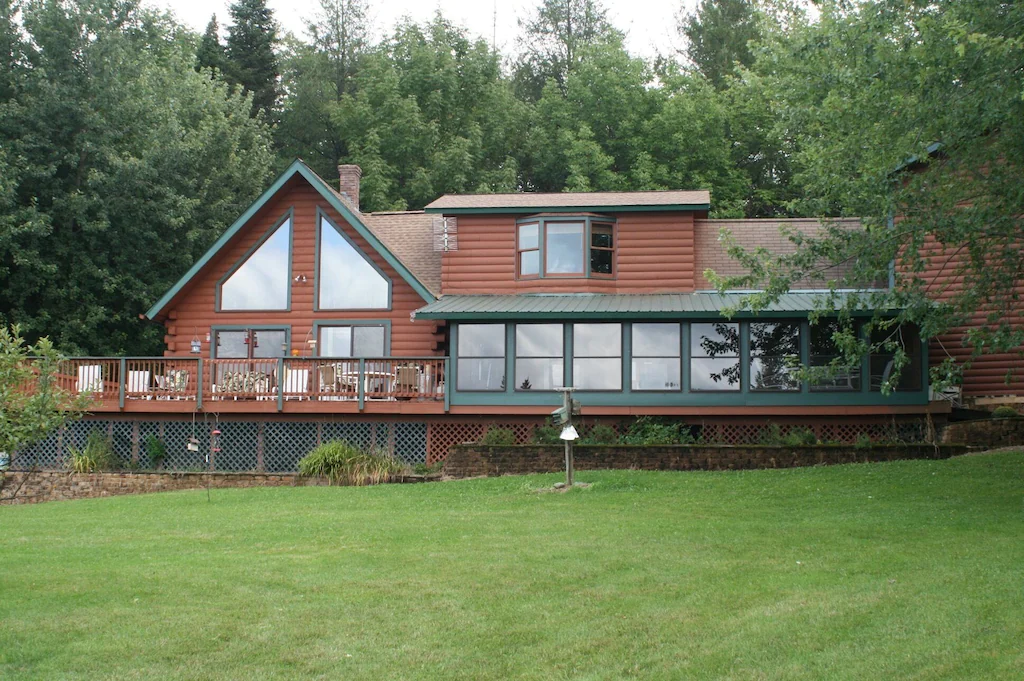 Spacious Log Cabin Perfect for Families and Pets
🍁 Kid & Pet Friendly
🍁 Surrounded by 30 acres of VT woods
🍁 Nearby pond!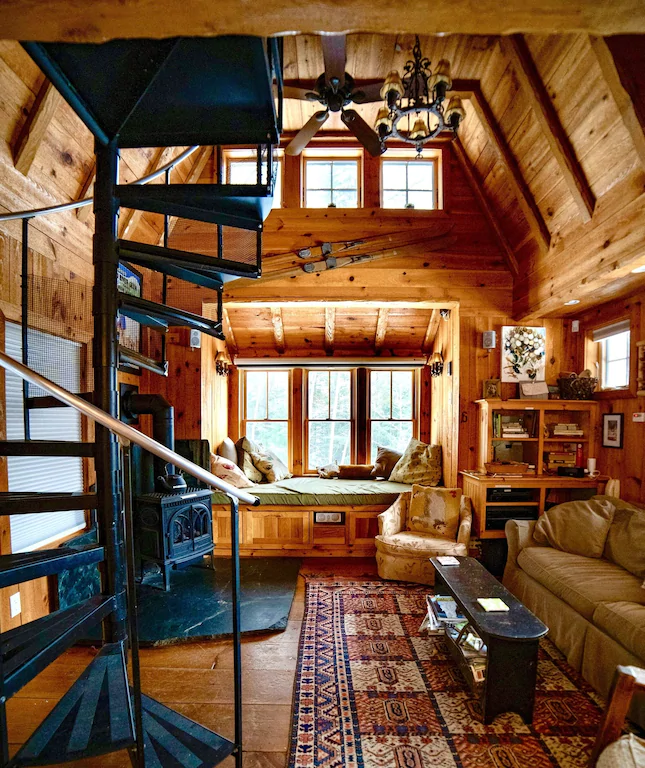 Romantic Retreat: Mt. Views, Hot Tub, Movie Theater
🍁 Hot Tub
🍁 Balcony Views
🍁 Secluded on 10 acres
---
Top Rental Cabins in Vermont for the Perfect VT Getaway
Mod A Frame Cabin in the Woods Close with Hot Tub -close to Mt. Snow & Stratton! -Granville, VT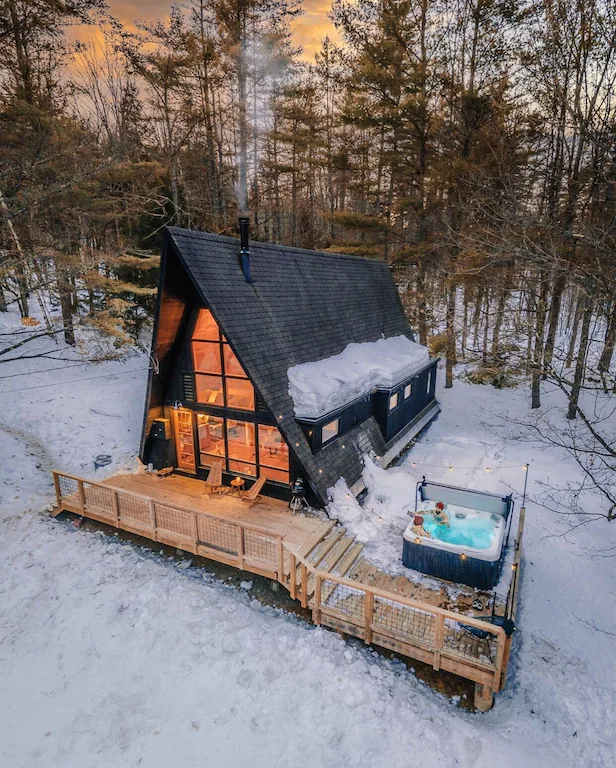 This Instagram-worthy cabin promises "a true taste of Vermont."
This is a beautiful private A-frame cabin in a luscious black hue. On 7 acres just 7 miles to Mt. Snow, this Vermont getaway cabin has an expansive deck and a hot tub, where you can look at the stars in the evenings. 
You'll also enjoy a gorgeous modern kitchen fully stocked and open to the living /dining room, where everyone can hang out in front of the cozy wood-burning fireplace. This Vermont cabin sleeps 6 people in 3 bedrooms. 
Vermont cabins with a hot tub are kinda always the move, right?
---
Romantic Retreat: Mt. Views, Hot Tub, Movie Theater – Granville, VT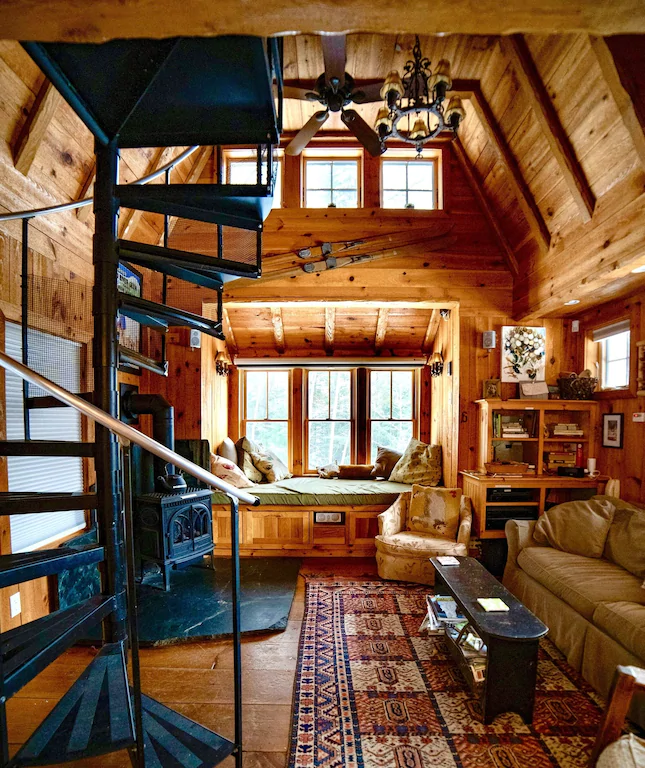 This is one of the coziest cabins in Vermont, and while it's quite quaint, it still packs a punch!
Only 850 square feet, this cozy VT cabin can still comfortably hold 5. You'll be in the heart of the Green Mountains here, on ten acres with mountain views.
You can ski or snowshoe right out the back door or stay in, watching movies in the home theater with over 200 movies.
While this cabin has the remote vibe you're probably looking for with a Vermont cabin getaway, you're in an excellent location.
Only 20 minutes from the Warren/Waitsfield area, 15 mins to the Middlebury Snow Bowl, 25 mins to Sugarbush and Mad River Glen, and 45 to Killington.
---
---
The Private Fairytale Cabin of Your Dreams in Stowe! Featured in VRTravel! – Stowe, VT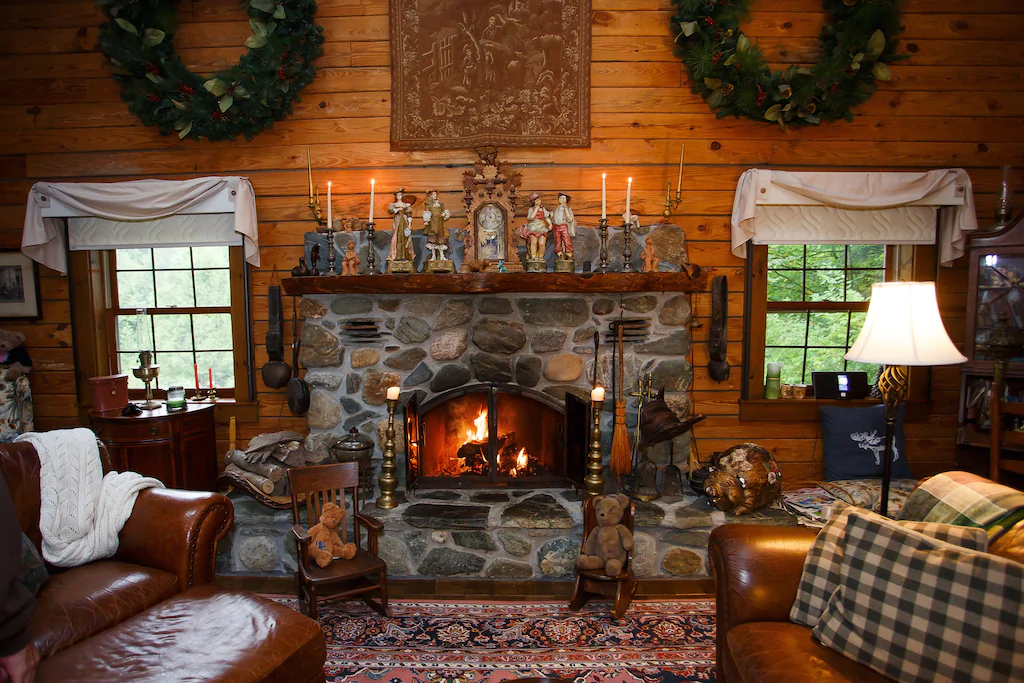 Just minutes from the world-renowned ski town of Stowe, Vermont, Holly Cabin is set on over 10  secluded acres, which includes a trout stream and a swimming pond.
It is a dream come true type of property with pet ducks, fishing, tubing, swimming and boating.
This Stowe cabin sleeps 6 (3 bedrooms and 2 and a half baths) and features a stone fireplace, gorgeous kitchen, covered porch, upstairs loft, and an enormous living room with comfortable leather sofa and chairs.
If you are looking for seclusion plus proximity to everything, you couldn't find a more beautiful house in a more beautiful, natural setting in all of New England.
---
Cozy log cabins in the Green Mountains of Vermont – Brookfield, VT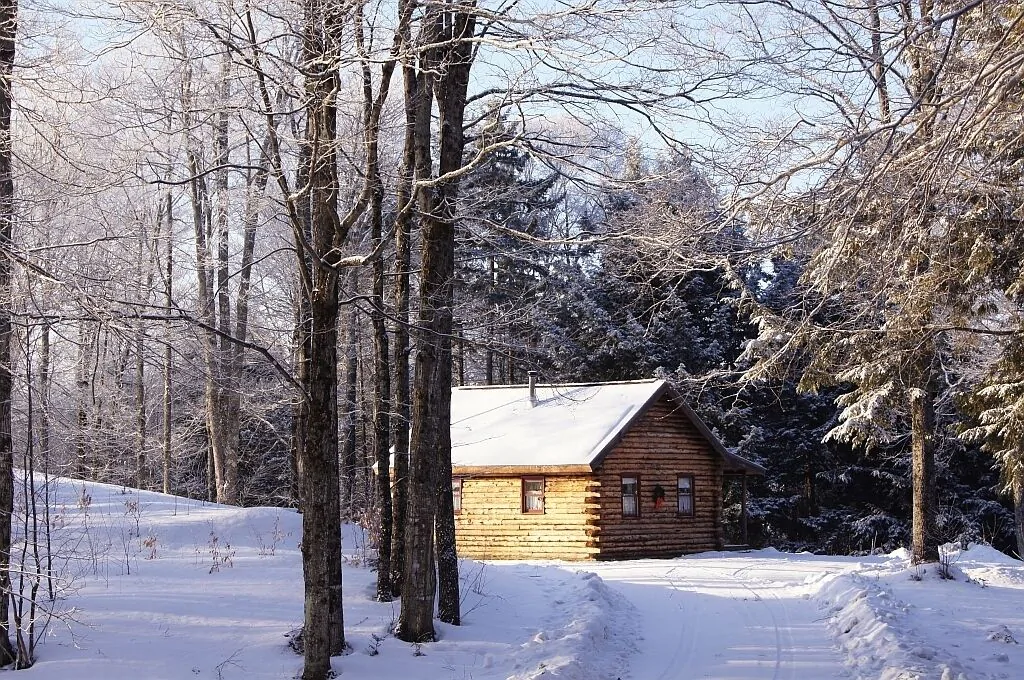 Spend an idyllic retreat in a real Vermont log cabin in the woods!
This cabin sleeps 6 and is on 232 beautiful acres of land. It features a fully equipped kitchen with a wood-burning stove, a covered porch complete with a rocking chair, as well as an outdoor grill and picnic table.
Enjoy your own paddle boat and pond! Have a picnic and watch nature stroll by as you catch glimpses of deer, wild geese, and mallards. This is one of the most serene settings for a cabin in Vermont!
---
---
Beautiful Honeymoon Cottage, by Manchester Center Vermont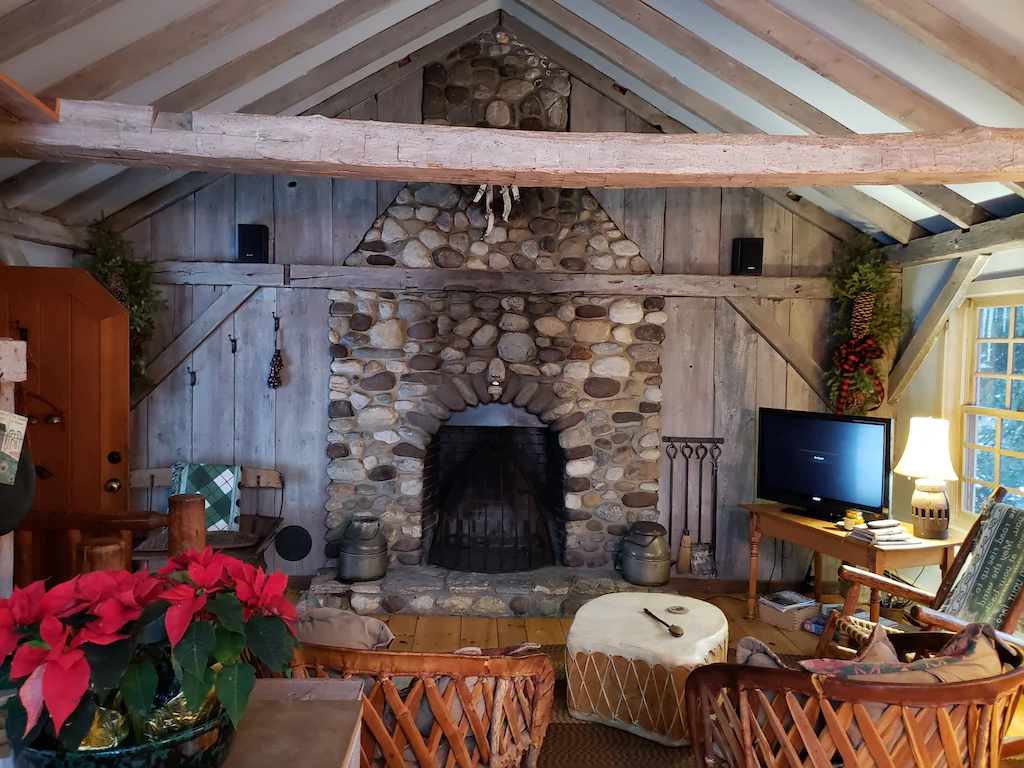 Two can find cozy romance in this Vermont cabin just 6 miles from Manchester.
This two-story cottage is located on a brook and overlooks a pond. Great features of the property include a gourmet kitchen with Viking stove & greenhouse window and a jacuzzi tub and shower for two in the downstairs master bedroom.
Want to hike? Appalachian and Long trail hiking to the top of scenic Bromley mountain are accessible right from this VT cabin.
---
---
Stowe Cabins in the Woods – Waterbury, VT
For simple, no-frills log cabins in Vermont, Stowe Cabins in the Woods are a lovely option. They've got everything you need for a cozy Vermont vacation. Most importantly, they've got woodstoves and fireplaces inside.
I just love being able to cuddle in front of a crackling fire with the person I love most!
The location is also great. Waterbury is just a stone's throw from Stowe, which is one of the absolute best towns to visit in Vermont. It is 100% charming and has so much to do throughout the year. 
These Vermont cabins are considered no frills, so these may not be your top choice if you're looking for luxury. But with kitchens, jacuzzi tubs, and some pet-friendly cabins, these could make for an awesome stay for couples traveling in the area. 
PS: Check out more cabins and other Airbnbs in Stowe VT.
---
---
The Cabin that brings people together – Killington, VT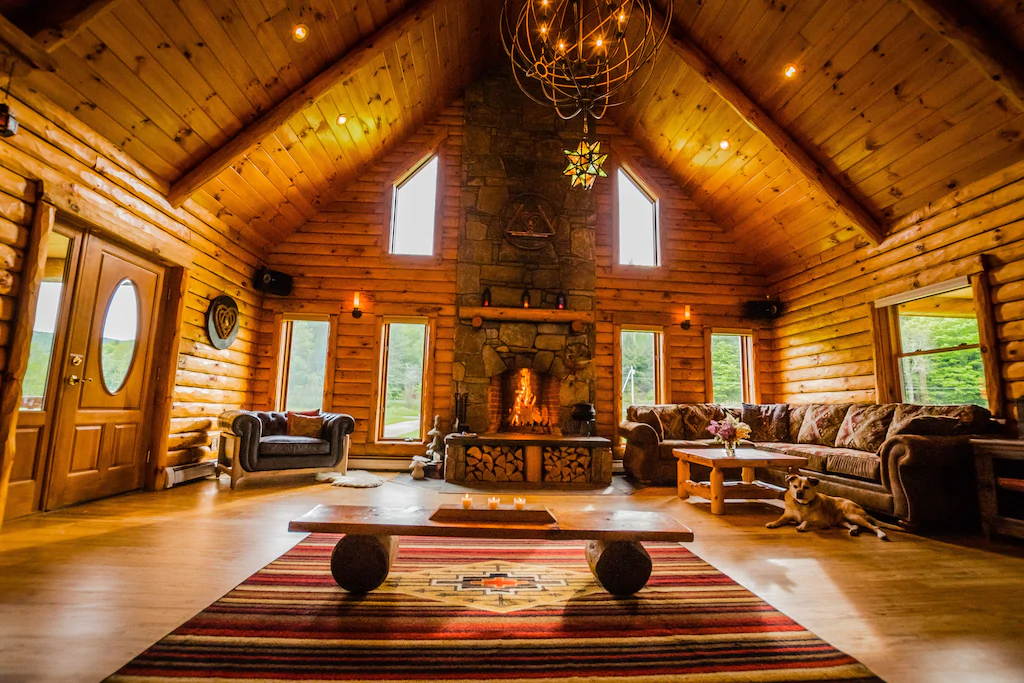 This Vermont cabin is the perfect spot for your next family or friends reunion! Sleeping 25, you'll have no problems finding comfy places for everyone to curl up at night at this gorgeous cabin rental in Vermont.
Plus, it's just a short drive to hit the slopes at Killington and Okemo, so it's the perfect spot for a destination vacation with 24 of your closest friends!
---
Velvet Antlers Vermont Vintage Cottage – Hot Tub – Shaftsbury
If you are looking for a Vermont cabin with a vintage charm aesthetic and a hot tub, you've got to check this one out! Velvet Antlers Vermont Vintage Cottage is 1200 sq ft airbnb that is beautifully situated for a fun Vermont getaway tucked away in the forests of the Green Mountains.
Sleeping 6, you'll find 3 bedrooms and 1.5 baths PLUS a hot tub and outdoor shower, two-level deck, hammock, two grills,  fire pit, and lovely cottage gardens that make this one of the best cottage rentals in Vermont.
---
Authentic Log Cabin! – Mountain Views-Campfires FREE wood – Hot Tub – Near Lake – Charlotte, VT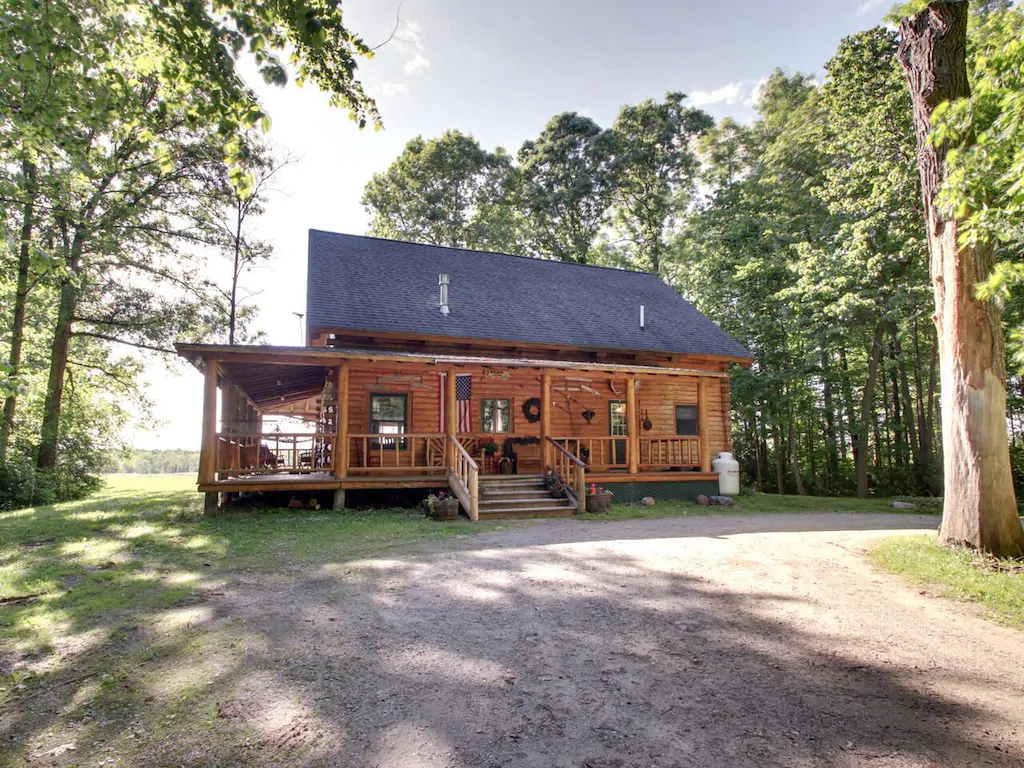 This 2500 square foot Vermont cabin is just 2 miles from beautiful Lake Champlain. The cabin can accommodate 8 guests, and is an excellent choice for a Vermont getaway in any season!
If you're looking for Vermont cabins near the lake that offer gorgeous scenic mountain views, check this one out! This cabin can be a fun place for a family or friend reunion or even the perfect setting for a romantic getaway in Vermont.
There's a fireplace, a hot tub, a game room with a pool table, rocking chairs on the porches, and even a campfire ring with firewood provided! When it comes to Vermont cabins for rent, this one basically has everything a person could possibly want.
---
---
The Perfect Vermont Real Log Cabin House – near Burlington, VT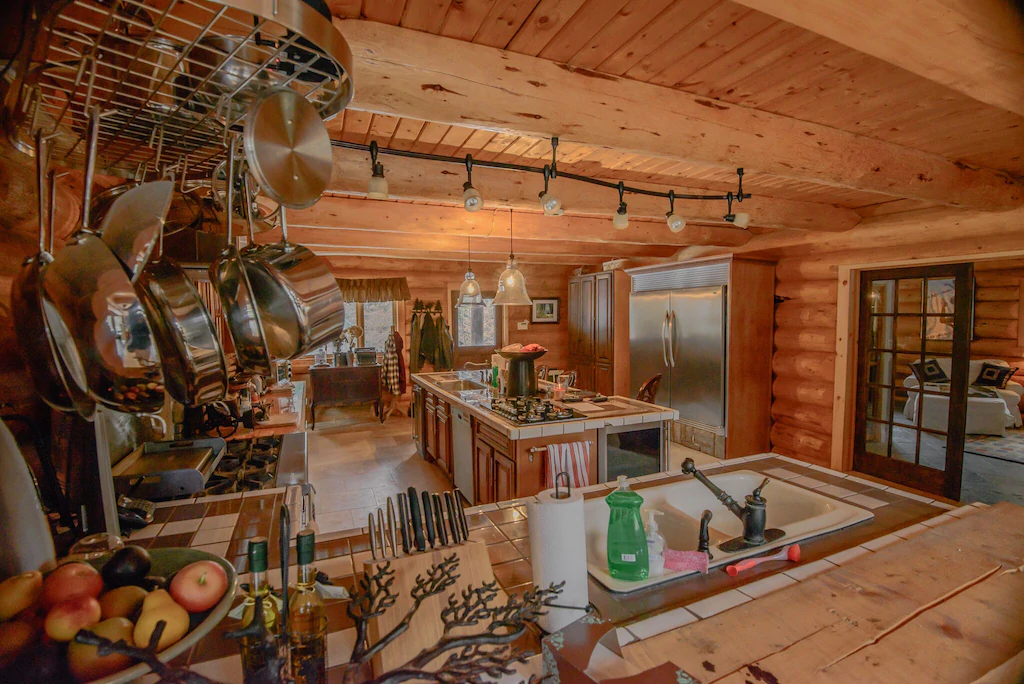 This cabin near Burlington Vermont is massive and amazing. At 6500 square feet, it's ideal for a big family getaway in Vermont. Grab 14 of your nearest and dearest and come spend a few days at this incredible cabin. 
Here you'll be 20 minutes to Burlington and 30 minutes to skiing. But with all the Vermont cabin resort style amenities at this rental like the gourmet kitchen, game room, home theater, giant deck, fireplace, and more, you might not even want to leave!
---
---
Villino Totemsin | Sky Room | steam sauna • hot tub – Fairlee, Vermont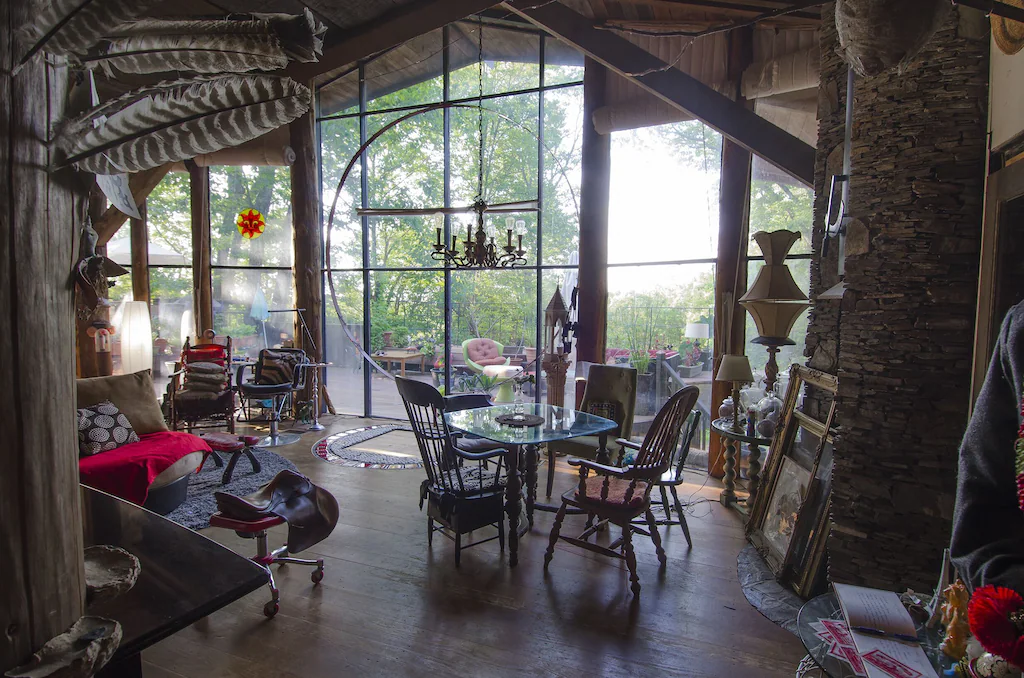 How about staying in a Vermont cabin rental that's been featured in Boston Magazine? This incredible timber-framed home, partially designed by a famous architect, might be one of the coolest places to stay in all of Vermont. It takes the definition of "cabin" to new heights.
With massive windows, a Finnish steam sauna, and 2 stone fireplaces, that's just the start of all that you'll enjoy at this unique, magical property. 
Fairlee is just over the border from New Hampshire, so it's a convenient location, although you may not want to leave this hidden gem. Be sure to read the whole listing as there are many important details to know before booking. 
---
---
This spot is totally ideal for a chilled-out Vermont family vacation. The Bennington, Vermont property is built around the original 1790 cabin that is now the living room – it doesn't get much more classic New England than that!
You'll find all the privacy you need at this gorgeous old farmhouse, and the atmosphere is sure to relax and rejuvenate you and your travel companions (it sleeps up to 15 people). Nearby Bennington and Manchester also have plenty to do if you are looking to do some sightseeing, shopping, or dining. 
---
---
Sterling Ridge Resort – Jeffersonville, VT
Searching specifically for Vermont cabin rentals with a hot tub? There's no denying that a jacuzzi or hot tub is a super romantic amenity.
Well, many of the cabins at Sterling Ridge Resort offer hot tubs, so you're in luck! Not only that, but this is a fabulous part of Vermont for a vacation, right in the heart of mountain country.  We recommend checking out the nearby town of Stowe, a destination with classic Vermont charm.
Make sure to dive in and explore all the welcoming wood-panelled cabins you can choose from at Sterling Ridge Resort. There are options perfect for couples (or for families). You can fish and hike right at the resort, or go skiing at nearby mountains. 
---
---
Newly Built Cabin w/ Hot Tub – 16 Mi to Stowe Mtn!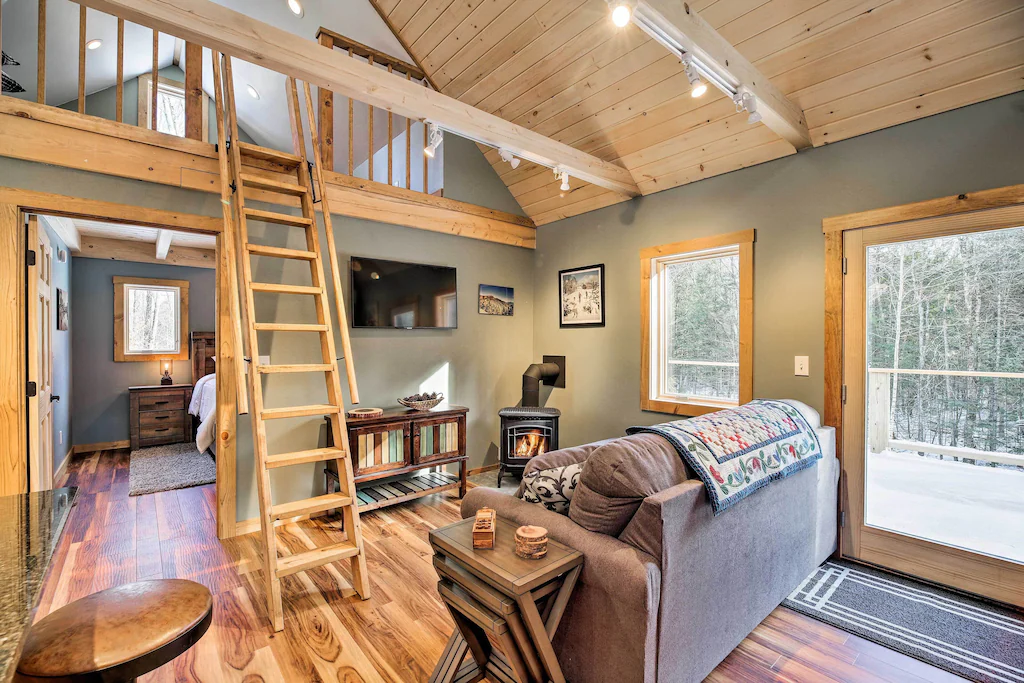 If you're sick of an endless stream of moose, plaid, and bears when looking for the best cabins in Vermont, this one is definitely calling your name.
Forget the old-fashioned cabin decor: this Vermont cabin rental is bright, brand-spanking new, and very modern inside. And of course best of all, you're right near one of Vermont's top destinations, and within easy driving distance to some of the best ski resorts in VT.
---
---
Cozy Family-friendly Log Cabin With 25ft Interior Fireplace + Modern Amenities – Central VT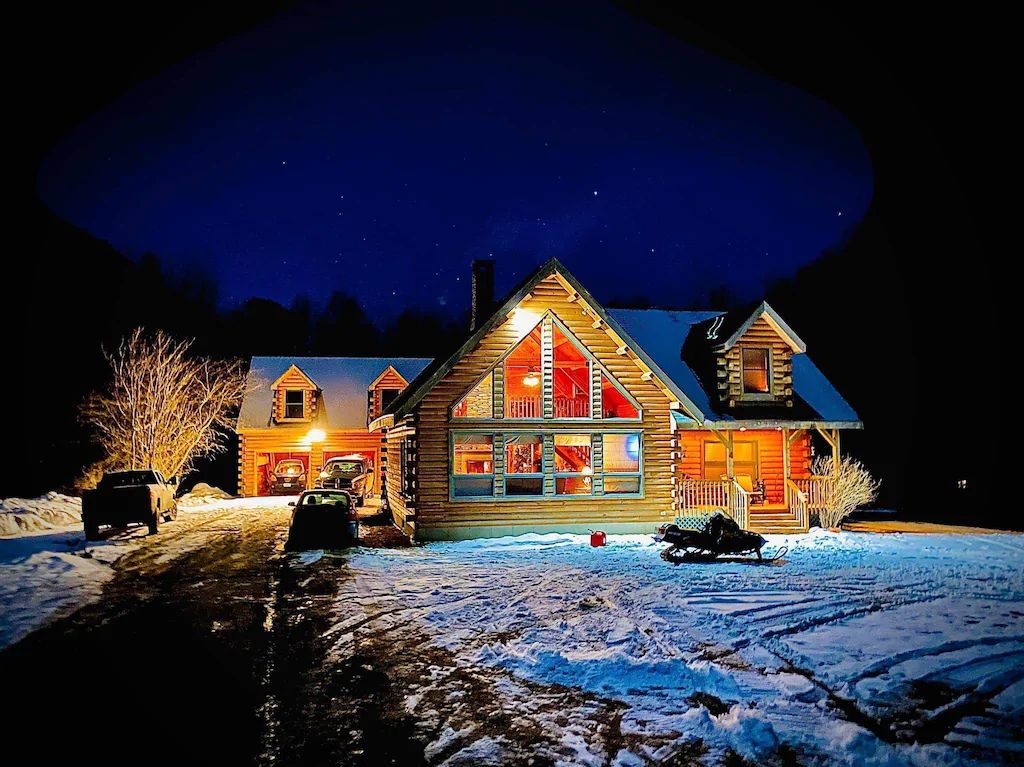 Looking for spacious Vermont cabins? This cabin would make for a perfect stay in Central Vermont (such as for those visiting Rutland, Manchester, or Killington. 
The cabin sleeps 8, and boasts an impressive 25-foot fireplace. Truly, it's gorgeous!
---
---
Spacious Log Cabin Perfect for Families and Pets – Northeast Kingdom, VT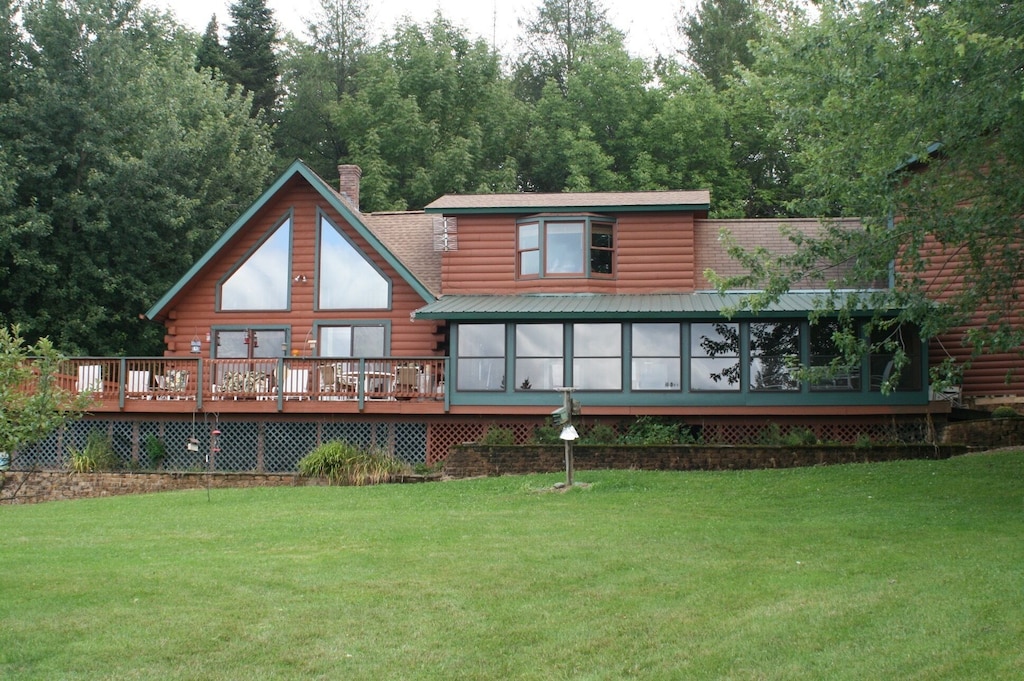 8 guests can stay in this spacious cabin in Vermont that is perfect for a family vacation.
Touting itself as both kid and pet friendly, this gorgeous VT cabin rental is surrounded by 30 acres of Vermont woods just waiting to be explored! This would be a perfect place to stay for a fall vacation in Vermont.
---
---
Secluded dog-friendly chalet in the woods w/fireplace – Wilmington, VT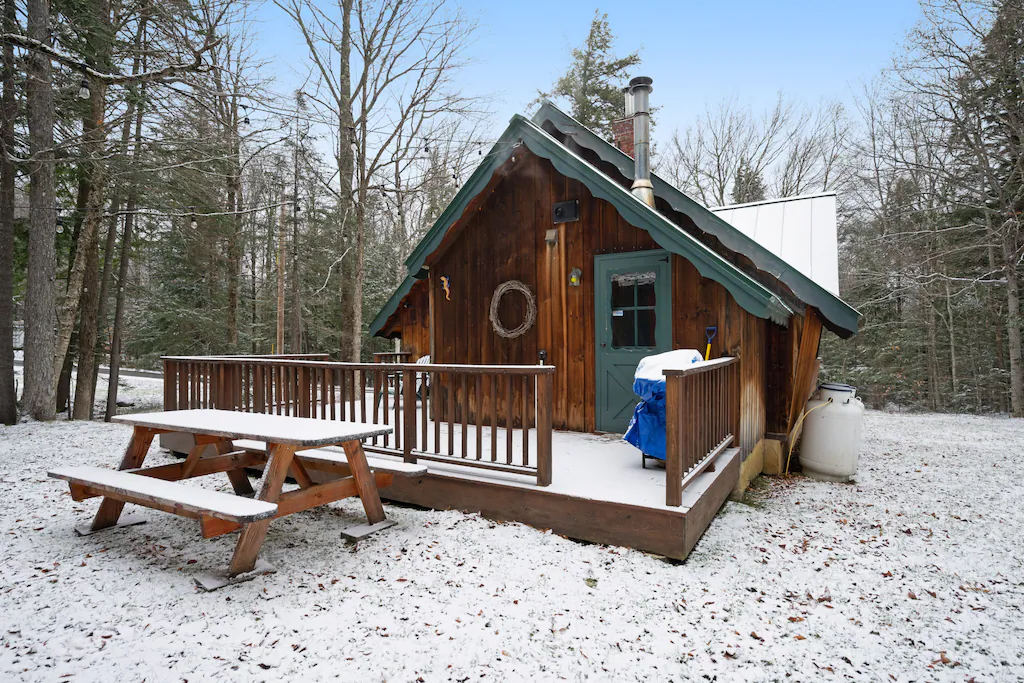 If you're looking for secluded cabins in Vermont, this one here has all the cabin getaway vibes!
Mt Snow is technically just 4 miles away from this cabin in the woods, but this little chalet is perfectly tucked in the woods and will have you feeling like you've truly gotten away from it all… while still having plenty of wifi!
---
---
Fat Sheep Farm & Cabins – Hartland, VT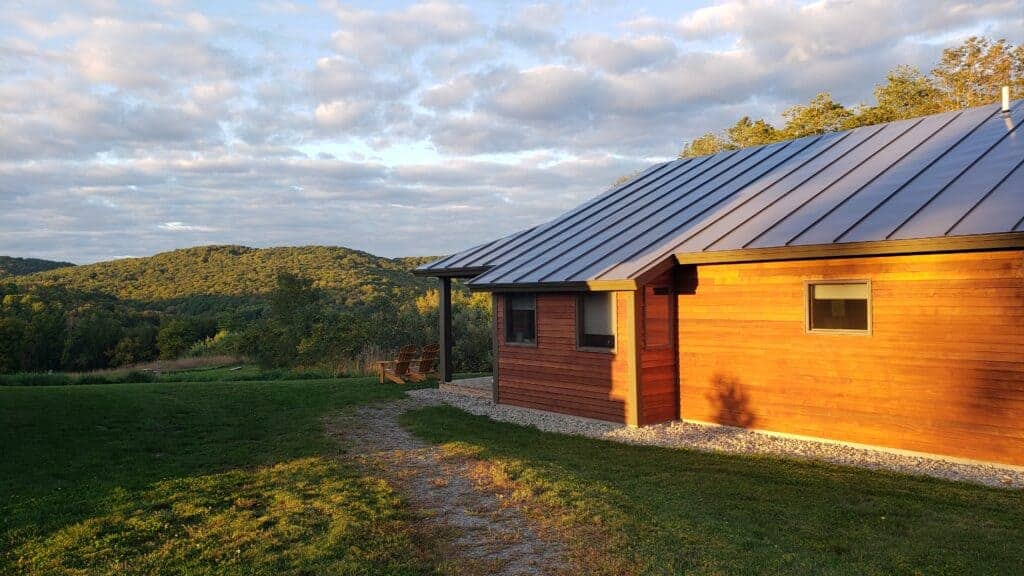 Want to combine a rustic farm stay with the romance of a cozy Vermont cabin? Check out Fat Sheep Farm & Cabins in Hartland.
Located close to Woodstock, they have 5 cabins set on a beautiful hill that offer the perfect seclusion travelers are looking for.
This is such a cool place to stay. We were lucky enough to stay here ourselves a few years ago and it was the perfect weekend getaway. This is a working farm, so you get to help with the animals, if you'd like! 
We helped collect eggs and even learned how to milk the sheep. This is basically the quintessential country farm in Vermont experience.
Check out our experience at Fat Sheep Farm: The Best Vermont Farm Stay.
---
Whether your idea of an ideal cabin getaway involves getting as far away from civilization as you can, or you like your cabins modern and amenity-filled, there's a Vermont cabin out there for you!
Read these next:
13 Best Places to Stay in Killington VT: Where to Stay in Killington
---
Pin this post to save for later!