In between all the fun things you'll be doing when visiting Manchester, Vermont, you're sure to work up an appetite.
Despite being modest in size, there are a lot of excellent Manchester VT restaurants to choose from. I've included some of my personal faves in this list of best restaurants in Manchester VT… bon appetit!
Best Restaurants in Manchester VT
Up For Breakfast
4935 Main St, Manchester Center, VT 05255
You won't want to sleep in knowing that Up for Breakfast is waiting for you!
With its yellow walls and colorful Tiffany lamps, this tiny little breakfast nook tucked above an antique shop is absolutely adorable—and absolutely delicious. Weekends will be busy, but it's worth the wait for fresh coffee, fluffy pancakes, and rich local specialties.
Depot Street Burgers
468 Depot St, Manchester Center, VT 05255
If you're looking for the best burgers in Manchester, Vermont, I think you'll find them here. And the fries are pretty great, too!
Depot Street Burgers is delish, with their fresh-ground, smashed-burger style. Definitely what you're looking for when you crave a burger, and good for lunch or dinner.
Mystic 802
4928 Main Street Manchester Center, VT 05255
Mystic 802 is located right in downtown Manchester Center, this bright and sunny spot is ideal for lunch paired with a delicious glass of wine.
There are some great options for vegetarians here, and pasta is made in house! Other options include salads and sandwiches that are perfect for a light, yet satiating lunch out in Manchester
The Little Rooster Cafe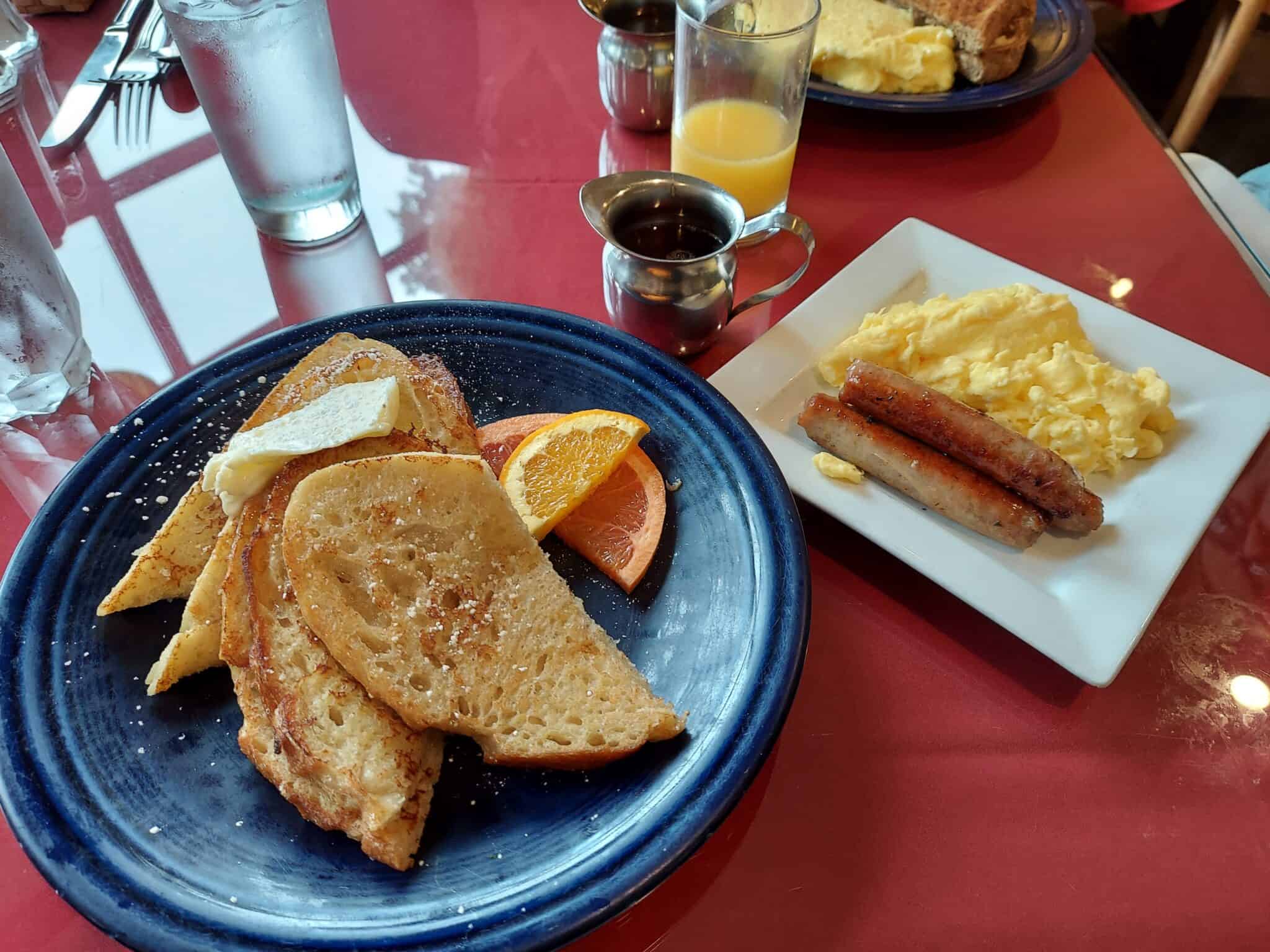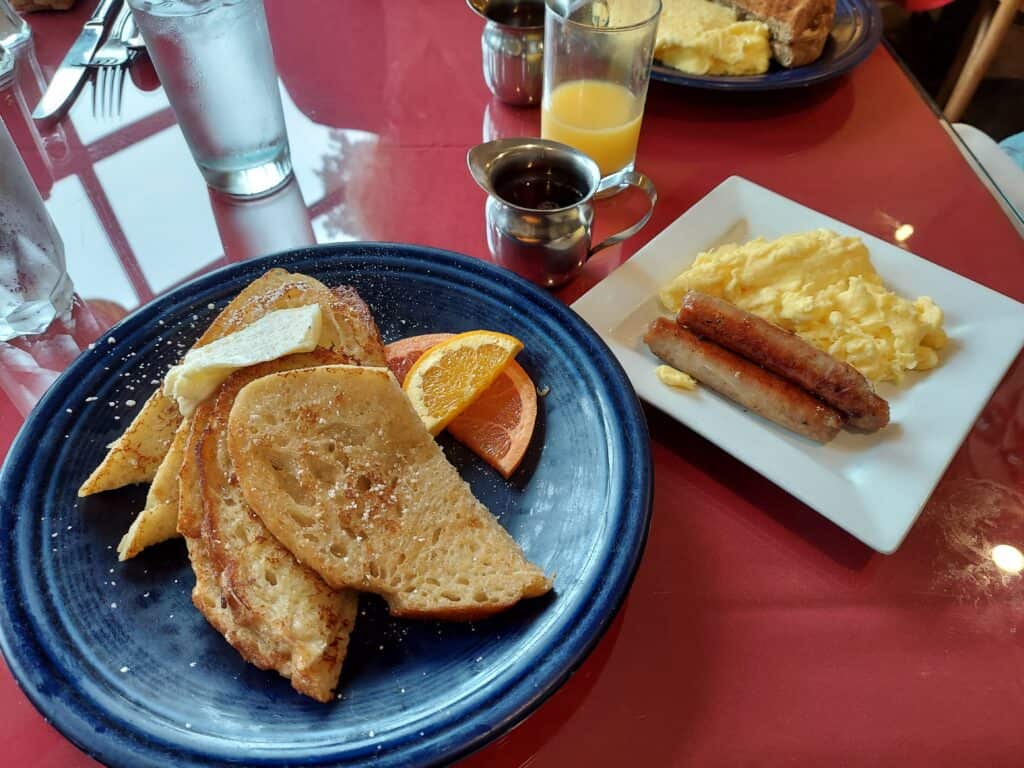 4604 Main St, Manchester, VT 05255
Another one of the most popular breakfast restaurants in Manchester Vermont is Little Rooster Cafe, located on Main Street.
Good coffee, lots of varied breakfast options: you definitely can't go wrong here for breakfast or for brunch/lunch!
Ye Olde Tavern
5183 Main St, Manchester Center, VT 05255
Traditional comfort food in a historic building—sounds quintessentially Vermont, doesn't it?
This is what you'll find at Ye Olde Tavern, a restaurant that is housed in a 1790s inn. There are hearty dishes on the menu such as Cheddar & Ale Onion Soup, Roast Tom Turkey, and Venison. Every meal is served with signature cranberry fritters and Vermont maple butter, yum!!!
Hound Dogs
Around Manchester
For 'cheap eats' in Manchester, VT, you can't go wrong with Hound Dogs, a food truck/catering service that serves up delicious dogs, burgers, fries, and Philly cheesesteaks.
The prices are right and the food is oh, so tasty! Follow their facebook page to see where they'll be parked during your Manchester trip.
Reluctant Panther Restaurant
39 W Rd, Manchester, VT 05254
Located at one of the most romantic inns in Vermont, Reluctant Panther Restaurant is perfect for a romantic date night! Think cozy, comfy, a little rustic yet sophisticated, this is the kind of place that fits the bill for most date night criteria.
Menu offerings include fine dining classics like scallops, lamb loins, and filet mignon.
If you're visiting in the warm weather months when the patio is open, it's the perfect place to enjoy a nice lunch date. It overlooks the gardens and is incredibly scenic!
Thai Basil
4940 Main St, Manchester, VT 05255
If you're craving something different, Thai Basil is a very tasty choice along Main Street in Manchester.
They do a great job on traditional Thai favorites like Pad Thai and (my personal fave) Massaman Curry, but there are also signature Chef's Creations worth trying to mix it up.
This is definitely one of my favorite restaurants in Manchester, Vermont, and I try not to miss when I visit!
Charlie's Coffee House
39 Bonnet St, Manchester Center, VT 05255
In need of a quick latte? I am right there with you.
While you can certainly head to Manchester's Starbucks (which, by the way, has a super friendly staff), if you'd prefer to support a local coffee shop, Charlie's Coffee House is the place to go.
I recommend their maple latte (a must when visiting Vermont). They've also got lots of pastries and other prepared foods, great for dining in or grabbing a picnic lunch to go.
The Copper Grouse
3835 Main St, Manchester, VT 05254
Located at the Taconic Hotel, one of the top places to stay in Manchester, The Copper Grouse has a fantastic cozy vibe.
It will draw you in on a cold winter night and leave you extremely satisfied with craft cocktails and terrific tavern fare that is ideal for a Manchester Vermont dinner date!
Bob's Diner
2279 Depot St, Manchester Center, VT 05255
Wondering if there are any diners in Manchester Vermont offering up classic diner grub? Yes, there most certainly is!
Bob's Diner is retro themed and the perfect spot to fuel up for breakfast before a fun day exploring Manchester. You'll find classic diner fare like omelets, skillets, pancakes and more. This is a very popular breakfast and lunch spot in Manchester!
Nipper's Cafe
4645 Main St, Manchester Center, VT 05255
One of the best spots for a light yet filling Manchester Vermont lunch, Nipper's Cafe is bright and comfy, with excellent Vermont themed art on the walls.
It's popular for both breakfast and lunch, but its solid sandwich and wrap selection is absolutely ideal for a Manchester lunch.
Silver Fork
48 W Rd, Manchester, VT 05254
This lovely, intimate restaurant is set in a beautiful historic building. Silver Fork is a definite must visit if you're looking for nice dinner date places in Manchester, Vermont.
Menu offerings include entree items like fresh ground veal bolognese and small plate options like Caribbean chilled crab salad. This is a great spot for anyone looking for an elevated dinner service that is still quite comfortable and approachable.
Hopefully this Manchester VT restaurant guide will point you in the right direction for where to eat during your next visit.
I've included some of my personal favorites on this list, and maybe they'll become your new favorites, too!
---
You might also like:
---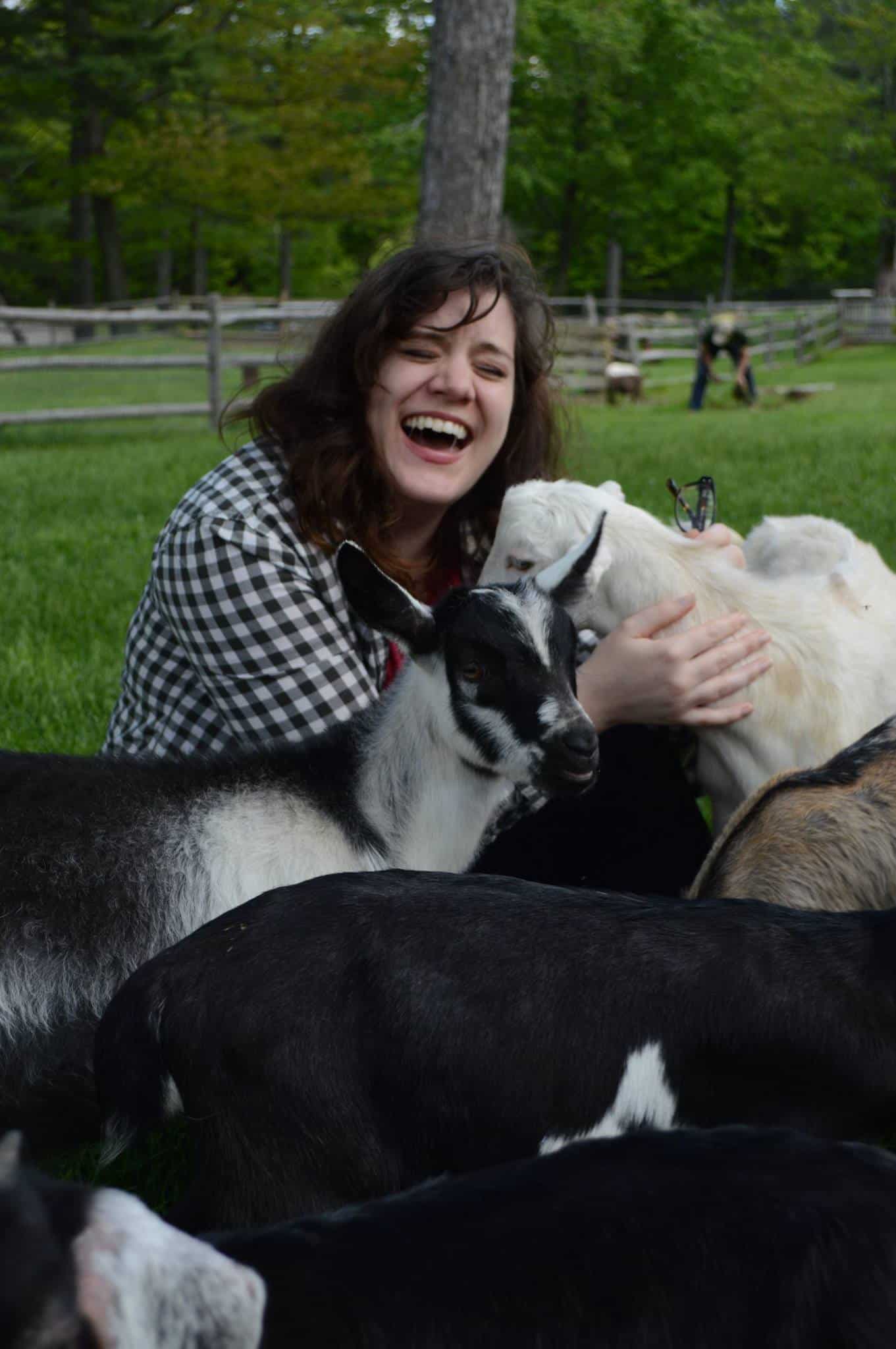 Amy Hartle is the founder and Editor-in-Chief of New England With Love, a comprehensive resource for travel in the New England region. Amy has been exploring New England since 2001. She lived in Vermont for many years and is a graduate of Plymouth State University in New Hampshire. Amy has been writing about travel for over a decade. On this site, Amy aims to share her love of New England and help you to have the best possible adventures!
Amy has been a full time blogger since 2012, and is also the publisher of Two Drifters, where she writes about couples travel and relationships, as well as Let's Adventure Baby, a family travel site. When not traveling the world or creating epic blog content, Amy can be found cuddling with her husband, son, and cats, & drinking a maple latte.