When you think "romantic getaways," does the state of Vermont spring to mind? If it doesn't now, it will be by the time you get done reading this list that includes some of the most romantic getaways in Vermont!

This gorgeous New England state is well-known for its breathtaking fall foliage and its excellent winter activities, but Vermont also boasts ideal summer weather and terrain for activities like hiking and mountain biking for couples that like to adventure during the day and then cozy up together in one of the most romantic inns in Vermont at night.
Vermont getaways for couples include everything from horseback riding during a dusky summer sunset to snuggling up together beside a roaring fire in a cozy resort as snow falls lightly on the ground outside. Here are 7 of the most romantic places to stay in Vermont:
The Loveliest Romantic Getaways in Vermont
Stone Hill Inn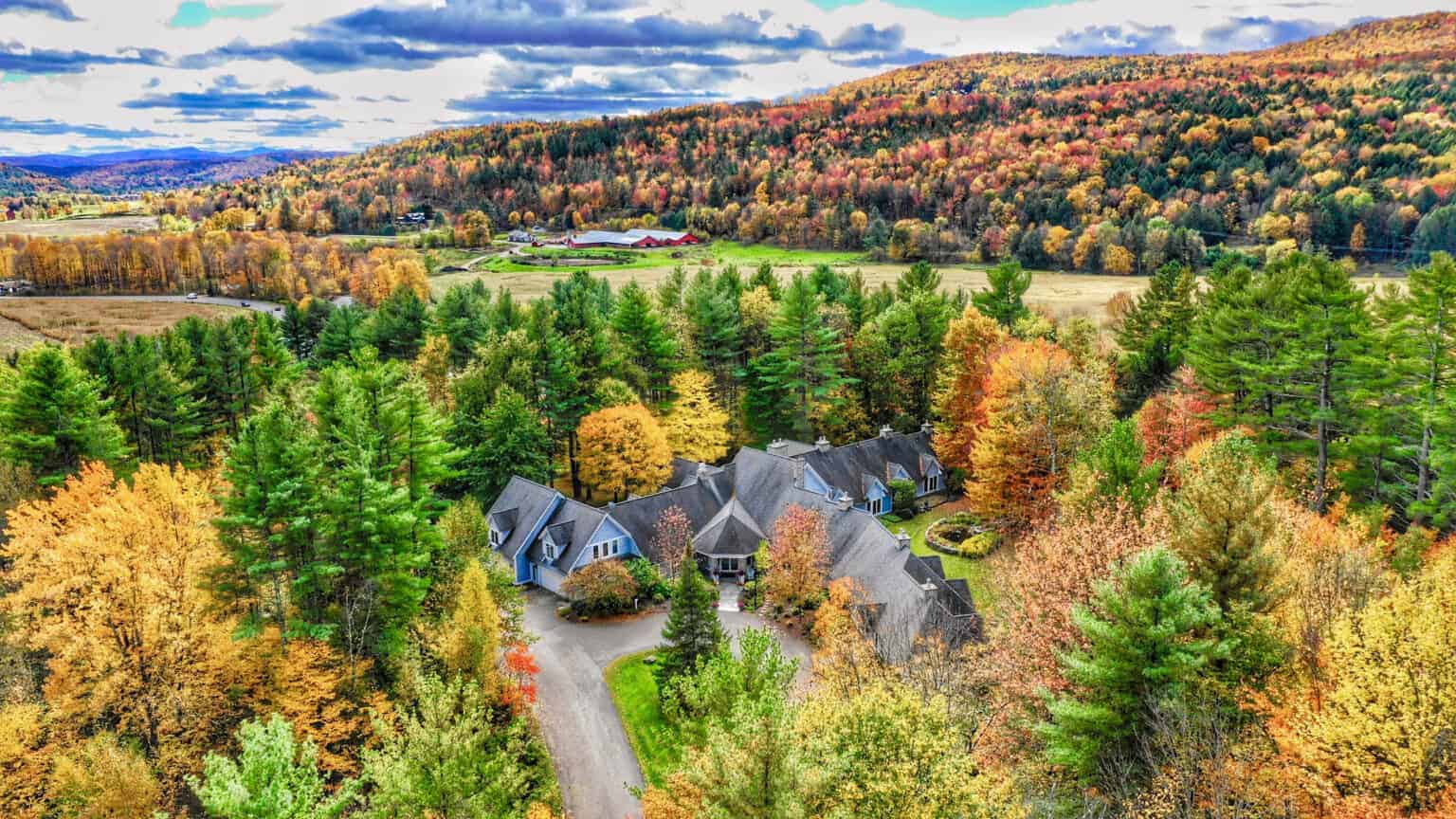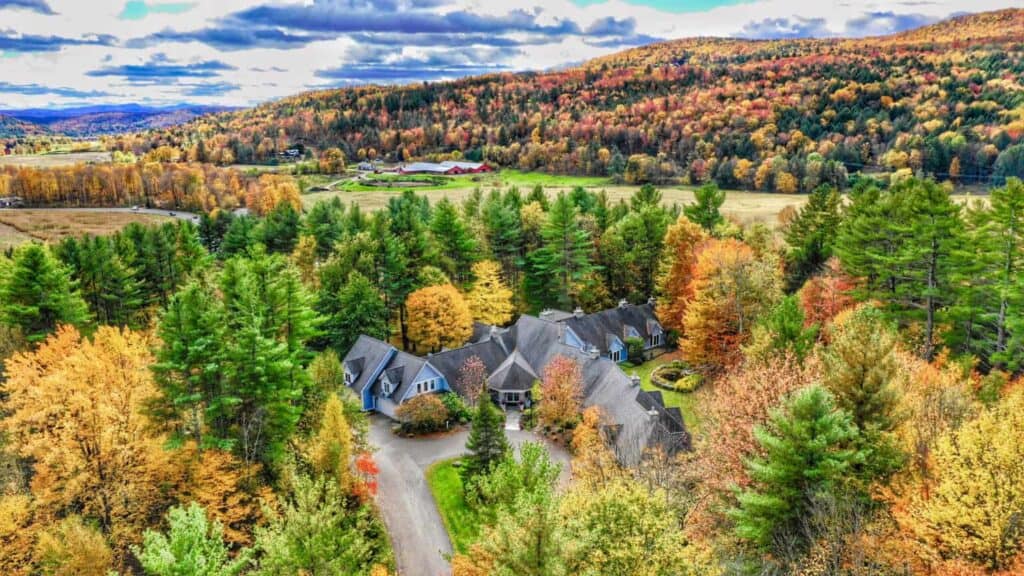 The winner of Yankee Magazine's "Best Romantic Getaway" distinction in 2017, Stone Hill Inn is perfect for the couple that wants to feel like they are really tucked away from civilization… while still being right in the heart of one of Vermont's most beloved skiing destinations in the picturesque mountain village of Stowe.
Surrounded by 9 acres of lush woods, this romantic VT inn features nine guest rooms, with doors leading directly out to their lovely garden space (with Adirondack recliners to relax by the peaceful garden waterfall) and fireplaces in both the bedroom and the bathroom, so you can come in from a romantic stroll through the gardens directly to the two-person Jacuzzi and a crackling fire.
Enjoy a gourmet breakfast each morning that features local Vermont goods served in their bright and airy dining room and then follow it up with a romantic couple's massage with their highly-skilled massage therapists.
Peaceful and luxurious, Stone Hill Inn also has a strict "no children" policy, so if you are looking for a quiet, kid-free zone, this is it! Oh, and don't leave without trying the Orange-Pecan Waffles; you'll be glad you did! (See also our roundup of the best hotels in Stowe).
Click Here to Check Prices & Book!
Castle Hill Resort & Spa
Castle Hill Resort & Spa offers an old-world elegance for your Vermont romantic getaway; for couples in search of a sophisticated venue, this is one of the state's top hotels!
Located in downstate Vermont near the 150+-year-old village of Ludlow, the ivy that grows along the stone exterior of this gorgeous resort adds to the old-world ambiance. In fact, Castle Hill Resort & Spa is on the registry of both the Historic Hotels of America and the National Register of Historic Places.
Ludlow offers lots to do, from skiing Okemo Mountain, to hiking out to picturesque Buttermilk Falls. This beautiful waterfall is a popular swimming destination in the warm summer months, so should your romantic weekend wish-list include swimming under a waterfall, then Castle Hill Resort & Spa is the perfect romantic hotel in Vermont for you!
After you've spent a fun day adventuring in nearby Ludlow, return to Castle Hill Resort & Spa for some of their world-class amenities, such as their outdoor heated pool and hot tub, Aveda Concept Spa and the incredible gourmet meals available in the elegant and intimate candle-lit dining room.
Castle Hill Resort & Spa might just be one of the most romantic and beautiful places in Vermont. Oh, and don't forget Cocktail Hour in the Castle Library!
Click Here to Check Prices & Book!
The Inn on Putney Road
Located in beautiful Southern Vermont, The Inn on Putney Road is a quaint romantic retreat for couples that want to have that cozy bed and breakfast experience and be within walking distance of a fun and vibrant community like Brattleboro, Vermont.
Each room is beautifully decorated, but the most beloved room at this inn is The Ripley Suite, which features original 1920s tile work in the spacious private bathroom.
A major plus? The owners of this lovely B & B pride themselves on what they call their "Privacy Promise" to provide all the fun B & B features like cozy, comfortable accommodations and fabulous breakfasts without the intrusive hovering and forced social interactions that sometimes comes with the B & B experience!
The Inn on Putney Road offers a nice variety of romantic package options to really take your Vermont romantic getaway to the next level, too.

Brattleboro is known for both their wide variety of outdoor activities and their eclectic downtown art community, making it an ideal destination for the couple whose perfect day might include antiquing and exploring local art after hiking or biking a few stunningly scenic trails. Plus, there are many great restaurants there too.
This lovely B&B also has the distinction of being one of Vermont's first Green Hotels, so if responsible and sustainable environmental practices like rainwater reclamation and recycling are important to you and your significant other, The Inn on Putney Road is the perfect place to go for your romantic weekend in Vermont together!
Click Here to Check Prices & Book!
Rabbit Hill Inn

The Rabbit Hill Inn is located in Lower Waterford, Vermont, and this gorgeous VT inn is regularly voted as one of the best resort inns in Vermont and New England!

This beautiful inn prides itself on being both comfortable and luxurious, and they offer several romantic packages to really help make your Vermont couples trip extra special.

After waking up from a night of restorative sleep in one of the comfortable and well-maintained guest rooms, couples are treated to a delicious country breakfast at The Inn before heading out for fun in beautiful Northeast Kingdom. The Rabbit Hill Inn will help organize couples paddling trips, guided snowmobile excursions and more, so if you're the type of couple that likes to get out and get going during your romantic weekend in Vermont, there's plenty to be done!
If you're looking for a more relaxed romantic getaway in Vermont, there's plenty to do at the inn, as well, like cozy up together before the fireplace with a book from the library, wander the beautifully landscaped 15 acres that this lovely inn sits on, enjoy an in room couples massage, and have dinner onsite in the gorgeous dining room. This is a sweet romantic getaway in Vermont any time of year!
Click Here to Check Prices & Book!
The Pitcher Inn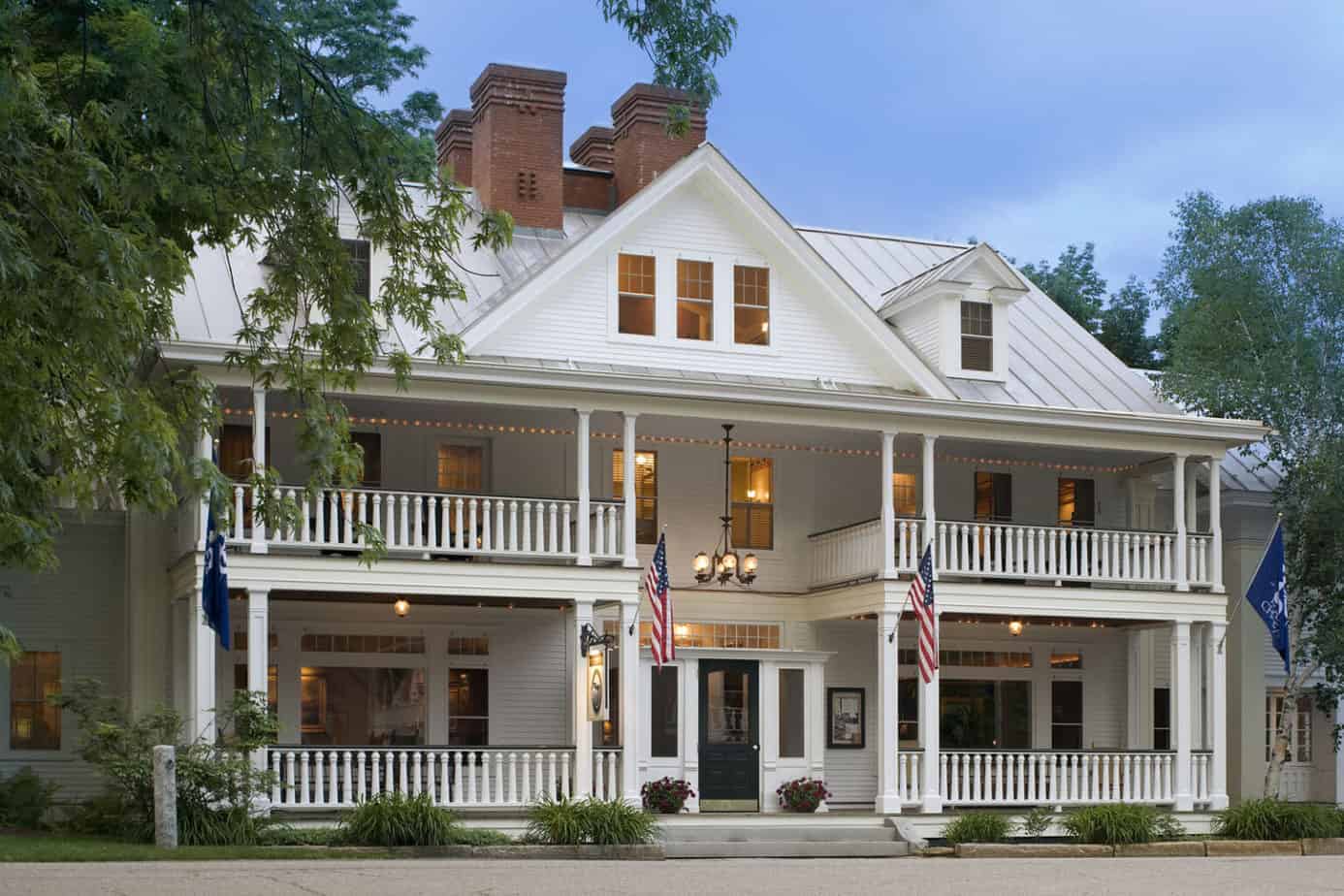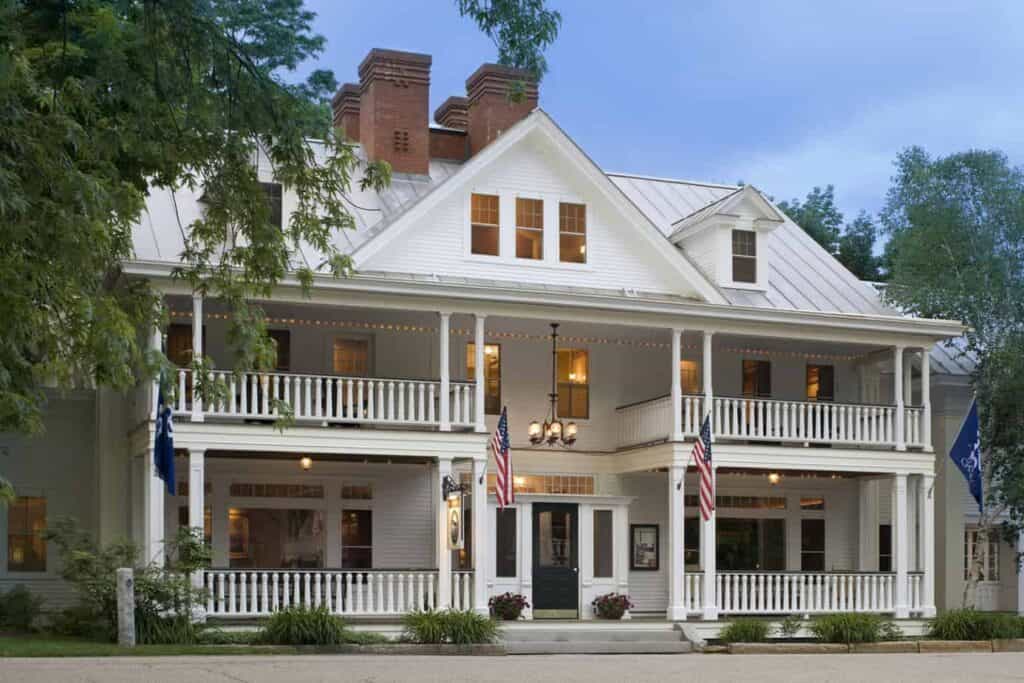 For a quintessential Vermont romantic weekend getaway, The Pitcher Inn in Warren, VT is hard to beat! Luxurious and cozy, each of the 11 guest rooms is uniquely decorated to be both rustic and elegant. Some of the rooms have their own wood-burning fireplaces and others offer private balcony views, but all include luxuriously soft French imported linens to snuggle up with each night!
Your stay at The Pitcher Inn gets you complimentary access to nearby Sugarbush Health and Racquet Club, including their fitness center, pool, jacuzzi, sauna, squash court, racquetball courts, tennis courts, and an indoor climbing wall, so couples can have a full and active day before heading back to The Pitcher Inn for an in-room massage.
Dinnertime is not to be rushed through at The Pitcher Inn, as they offer two dining rooms for guests to choose from, depending on what kind of vibe you are in the mood for, either "elegantly casual" or "backcountry Vermont casual."
Don't skip over the wine with dinner, either, because The Pitcher Inn won a "Best Award of Excellence" for their wine cellar from The Spectator, so be sure to take advantage of that! For couples that want to adventure out into Warren to take advantage of its scenic location in the Green Mountains, skiing and hiking are popular day time activities.
If you decide to hike, be sure to check out Warren Falls– it is a beautiful waterfall that doubles as a swimming hole in the summer months, making the Pitcher Inn an easy choice for a romantic weekend away, any time of the year!
Click Here to Check Prices & Book!
The Woodstock Inn and Resort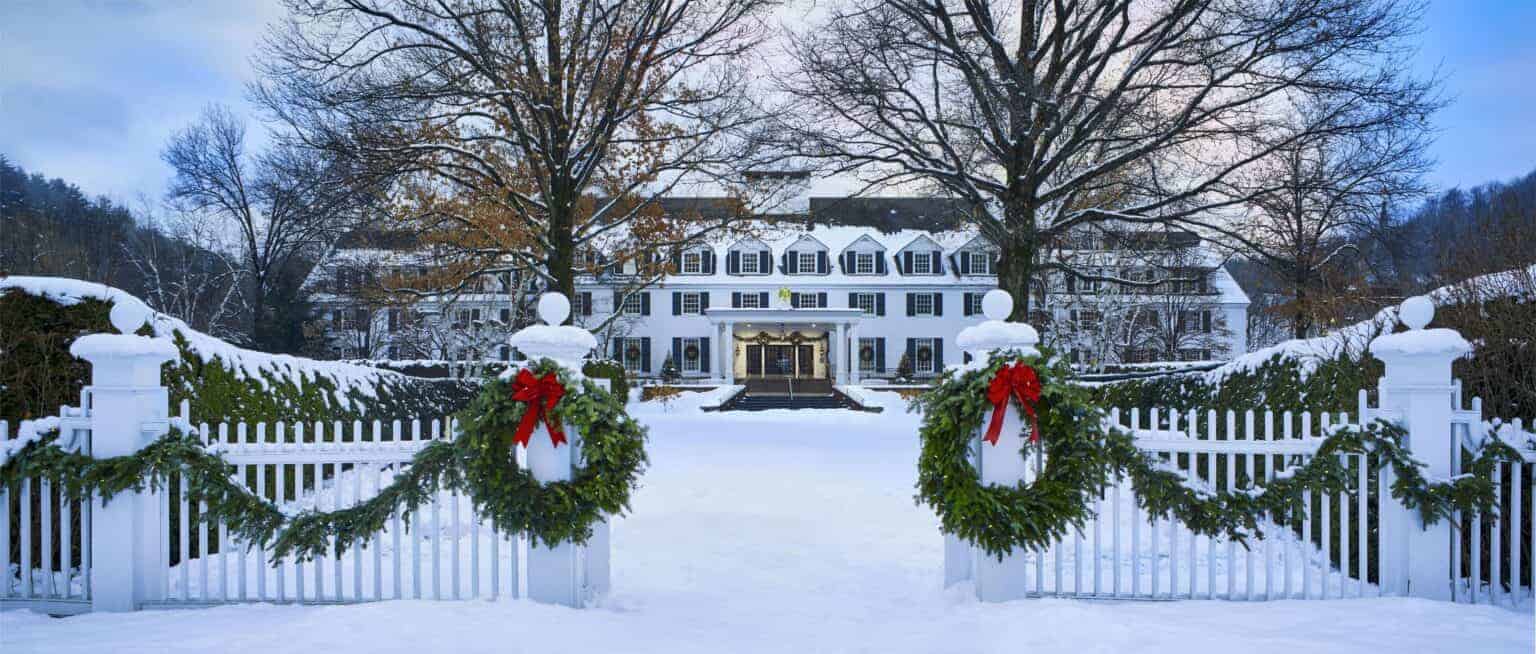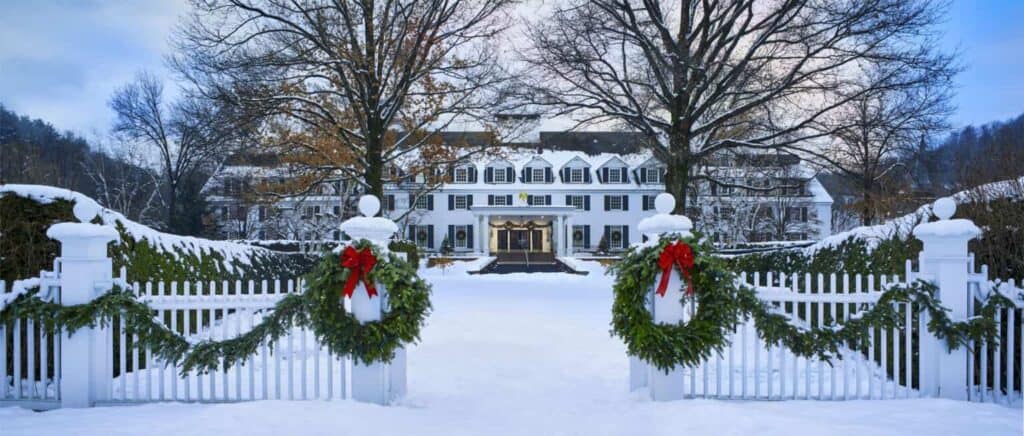 Located in beautiful Woodstock, Vermont, The Woodstock Inn and Resort is a testament to classic New England elegance. With 142 rooms and suites, The Woodstock Inn and Resort seamlessly infuses the luxuriousness of a full-service resort with the quaint historical New England feel that the region is so well-known for.
With both room service and turndown service available upon request, The Woodstock Inn and Resort aims to pamper their guests during their stay, both in their guest rooms and in The Spa, which has been recognized with the renowned Forbes Four Star Award for Spas. Guests can choose from a wide variety of massage options and treatments, including alternative therapies such as Reflexology and Reiki. There is no shortage of ways that a couple will find to pamper themselves while at The Woodstock Inn and Resort.
The Woodstock Inn and Resort offers several different ski packages for their guests to choose from, and the town of Woodstock, Vermont has plenty for couples to see and do, such as skiing, biking, fishing, shopping, and visiting the beautiful historical sights like the Marsh-Billings-Rockefeller National Historical Park, but the place to go for lunch and dinner is right back to The Woodstock Inn and Resort and its four gourmet restaurants.
Each restaurant has its own specialty cuisine and vibe, but all are farm-to-table fresh, as chefs at The Woodstock Inn and Resort work closely with the Master Gardener on the grounds to create innovative dishes that feature freshly harvested ingredients. In fact, one of their restaurants, The Red Rooster, is a AAA Four Diamond-rated restaurant, and a perfect choice for a romantic candle-lit dinner.
Click Here to Check Prices & Book!
The Reluctant Panther Inn
For couples that like a side of fun folklore with their romantic weekend getaway, The Reluctant Panther in Manchester, VT is the place to go. From how the inn got its unique name to its history of color changes over the years, The Reluctant Panther Inn has some stories to tell!
This inn boasts 20 stylish guest rooms with luxury features like fireplaces, marble baths, in-room massage, and nightly turndown service. Located in lovely Manchester, VT, couples can spend their day skiing or snowboarding during the winter months, horseback riding or hiking during the warmer weather, or taking in a touring Broadway show at the historic Weston Playhouse Theatre.
Manchester also has excellent shopping opportunities with designer outlets from Ralph Lauren, Kate Spade, Giorgio Armani, and Michael Kors, for couples that want to take home some designer souvenirs from their romantic weekend away!
The Reluctant Panther Inn's package offerings include a ski package for beautiful Stratton Mountain, a "Best of Vermont" package for couples looking to take full advantage of all the Vermont cultural offerings the region has to boast of, and a "Just Say I Do" Elopement package for the couple that wants to take their romantic weekend getaway a step further!
All guests get to enjoy a complimentary cooked-to-order breakfast with their stay, but couples that choose to dine at The Reluctant Panther Inn for dinner are in for an additional treat: The Main Dining Room is a Zagat rated restaurant, and its gourmet cuisine is well-lauded. In fact, Executive Chef of The Reluctant Panther Inn, Sigal Rocklin, was awarded "Vermont Chef of the Year" in 2018, so be sure to discover for yourselves what all the fuss is about!
Click Here to Check Prices & Book!
There are so many fantastic options for romantic getaways in Vermont, so whether you're planning for a New England Valentine's getaway, an anniversary trip, or just a quick couples weekend escape, any one of these romantic Vermont places to stay could be perfect.
---
Read these next:
---
*This post originally appeared on Two Drifters.
---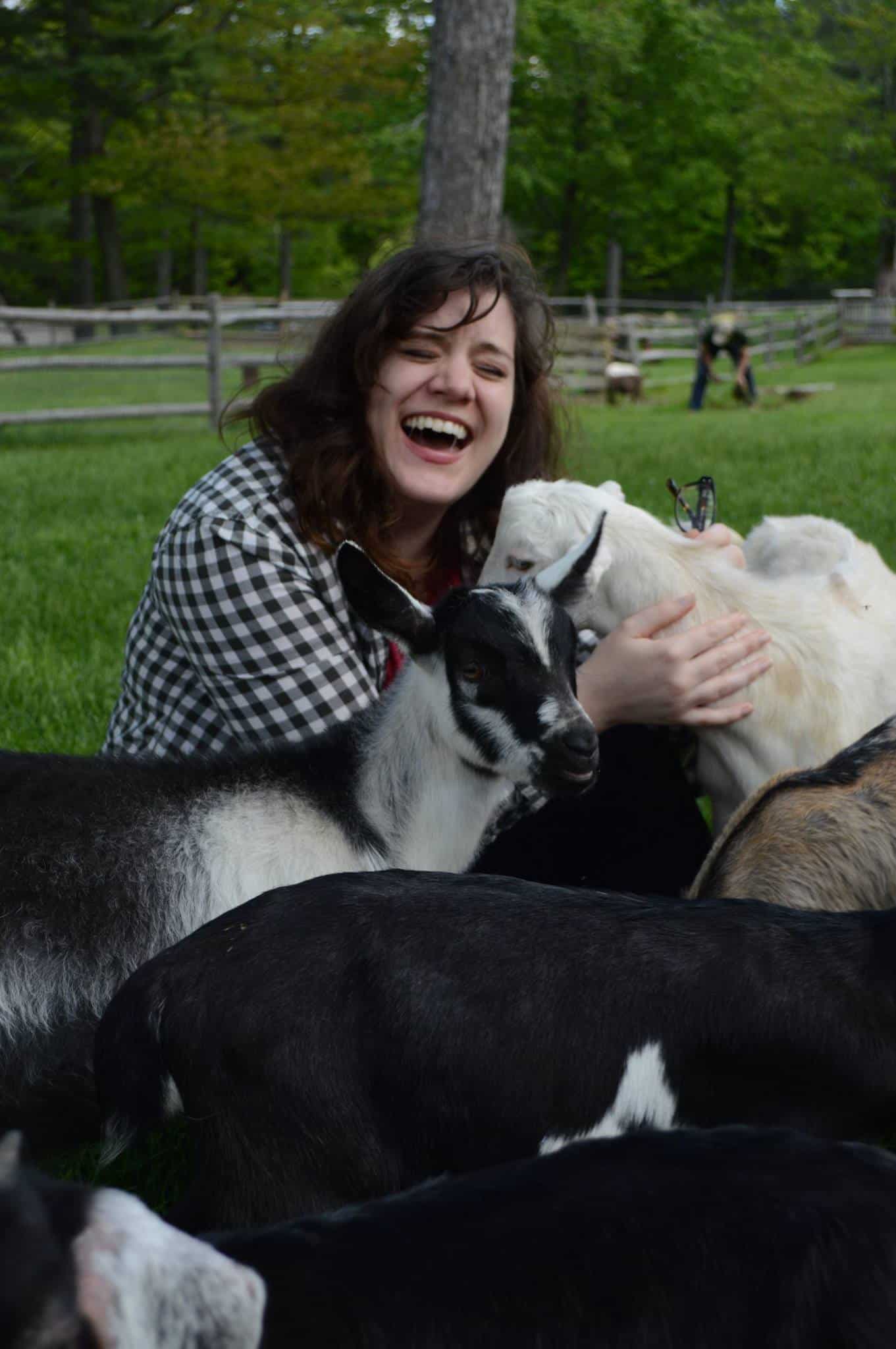 Amy Hartle is the founder and Editor-in-Chief of New England With Love, a comprehensive resource for travel in the New England region. Amy has been exploring New England since 2001. She lived in Vermont for many years and is a graduate of Plymouth State University in New Hampshire. On this site, Amy aims to share her love of New England and help you to have the best possible adventures!
Amy has been writing about travel for over a decade, and is a full time blogger, publishing both Two Drifters and Let's Adventure Baby. When not traveling the world or creating epic blog content, Amy can be found cuddling with her husband, son, and cats, & drinking a maple latte.