---
*Links in this article may be affiliate links, from which we may earn commission. See our
Privacy Policy
for full details.
---
Vermont is one of the most underrated states in New England, but it's truly filled with so many glorious places worth visiting! The southern part of Vermont is filled with more populated small towns, while the north is home to Burlington and beautiful mountainside getaways.
No matter where in the state you're visiting, you'll want to bookmark this list of some of the best places to stay in Vermont. Each one is 100% worth staying at, and they're in no particular order!
PS: Already know where you're traveling? Check out our curated hotel lists for several Vermont destinations:
Wilburton Inn
First up is the Wilburton Inn in Manchester, Vermont. This 3-star hotel sits on top of a huge hilltop, so the views are absolutely impeccable. It's a great place to stay whether you're traveling with family or want a romantic getaway.
The inn has been run by the same family for thirty years. It all started when the family's dad mentioned to the maitre d' that the inn was charming, and before long, he became the owner!
With 27 different bed and breakfast rooms and other nearby mansions, the room options are truly endless. Plus, they vary in budget, so you can choose which one works best for you.
Twin Farms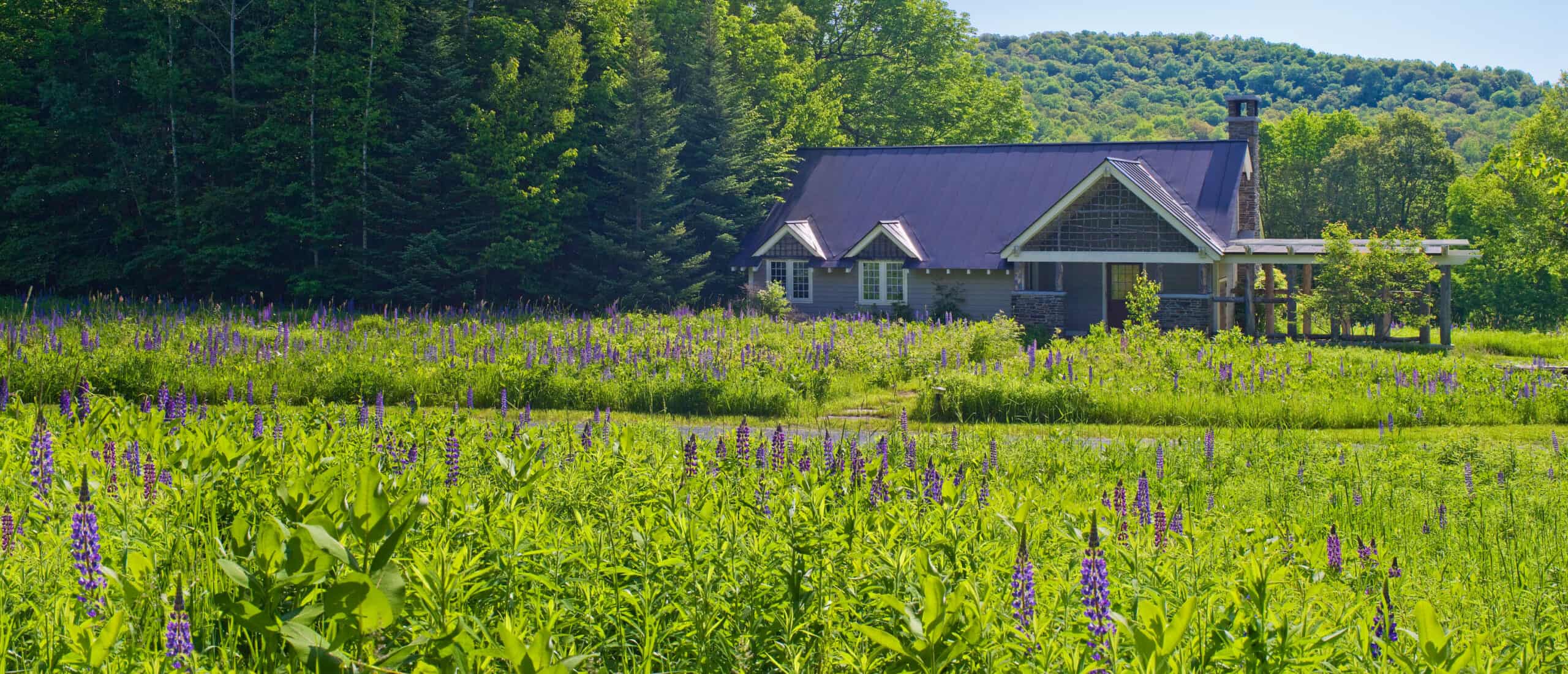 Say hello to one of the best Vermont hotels if you're looking for a 5-star stay, Twin Farms! It's located in Barnard, which is only a short drive away from Burlington, so it's a great place to stay when visiting the northern part of the state.
Twin Farms has all-inclusive packages so you can truly relax on your Vermont vacation. You can find various luxurious suites and cottages, and a professsional interior designer has designed each one.
There are also amazing breakfasts that are made with local ingredients, a farm-to-table dinner, and great lunches. If you're going on a picnic in the area, you can even order one to be packed for your trip.
Topnotch Resort
Stowe is easily one of the most popular places to visit in Vermont because it's truly breathtaking year-round. So, why not consider staying at Topnotch Resort, a great 4-star hotel located right in Stowe?
Topnotch Resort is located on 120 acres of land, so you can genuinely have so much peace and tranquility while staying here among the Green Mountains. This accommodation is perfect both for families and romantic getaways, which makes it such a great place.
There are tons of great inclusions at Topnotch Resort. You can attend tennis lessons at the Topnotch Tennis Academy, relax at the Topnotch Spa, or even go swimming at the Topnotch Pools! Plus, there's even an equestrian center. In the winter, you can go on sleigh rides in the snow.
Read Next: 13 Gorgeous Airbnb Stowe VT Vacation Rentals
The Essex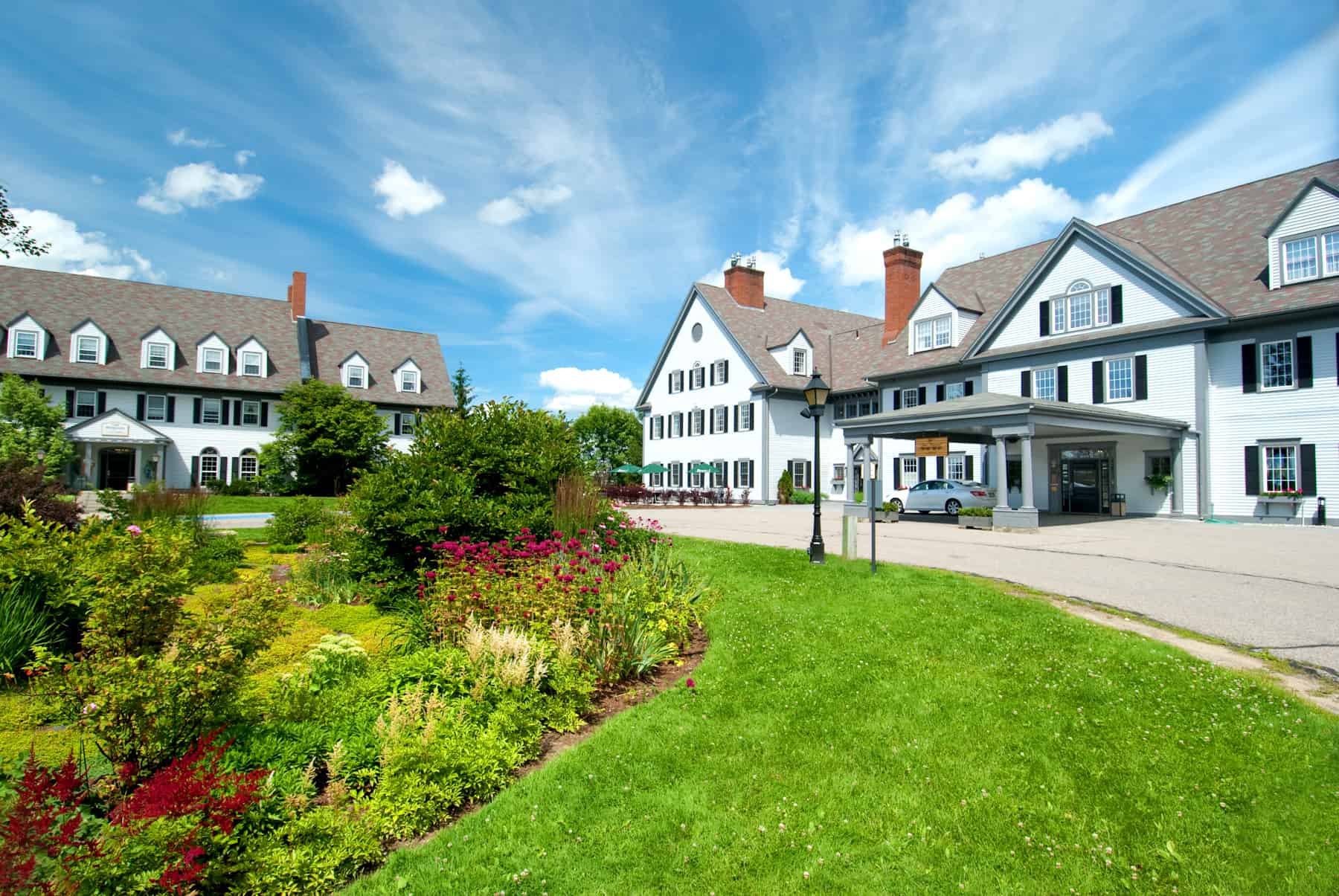 The Essex is a 4-star hotel located in Essex Junction. Despite being such a luxurious and elegant place to stay, the nightly rate is quite affordable. Sometimes, if you stay longer, you can even get a lower rate!
It's located on 18 acres of beautiful land but conveniently placed. With a short drive, guests can easily get to downtown Burlington. By staying here, you can get the best of both worlds by traveling to Vermont's biggest city and also escaping into nature.
There are so many great things to enjoy at The Essex. Spend the day at the spa, swim in the pool, or try to be a chef at Cook Academy.
The Pitcher Inn
While almost everything on this list of the best Vermont hotels has been great for families up to this point, The Pitcher Inn is a top romantic accommodation! It's located in Warren, right among the Green Mountains. It's also only three miles away from Sugarbush Resort so that you can ski in the winter.
Amenities are abundant at The Pitcher Inn. They have a menu of amenities that you can add to make your stay even more romantic. You can add on a birthday cake, couples massage, and even some local brews.
Rabbit Hill Inn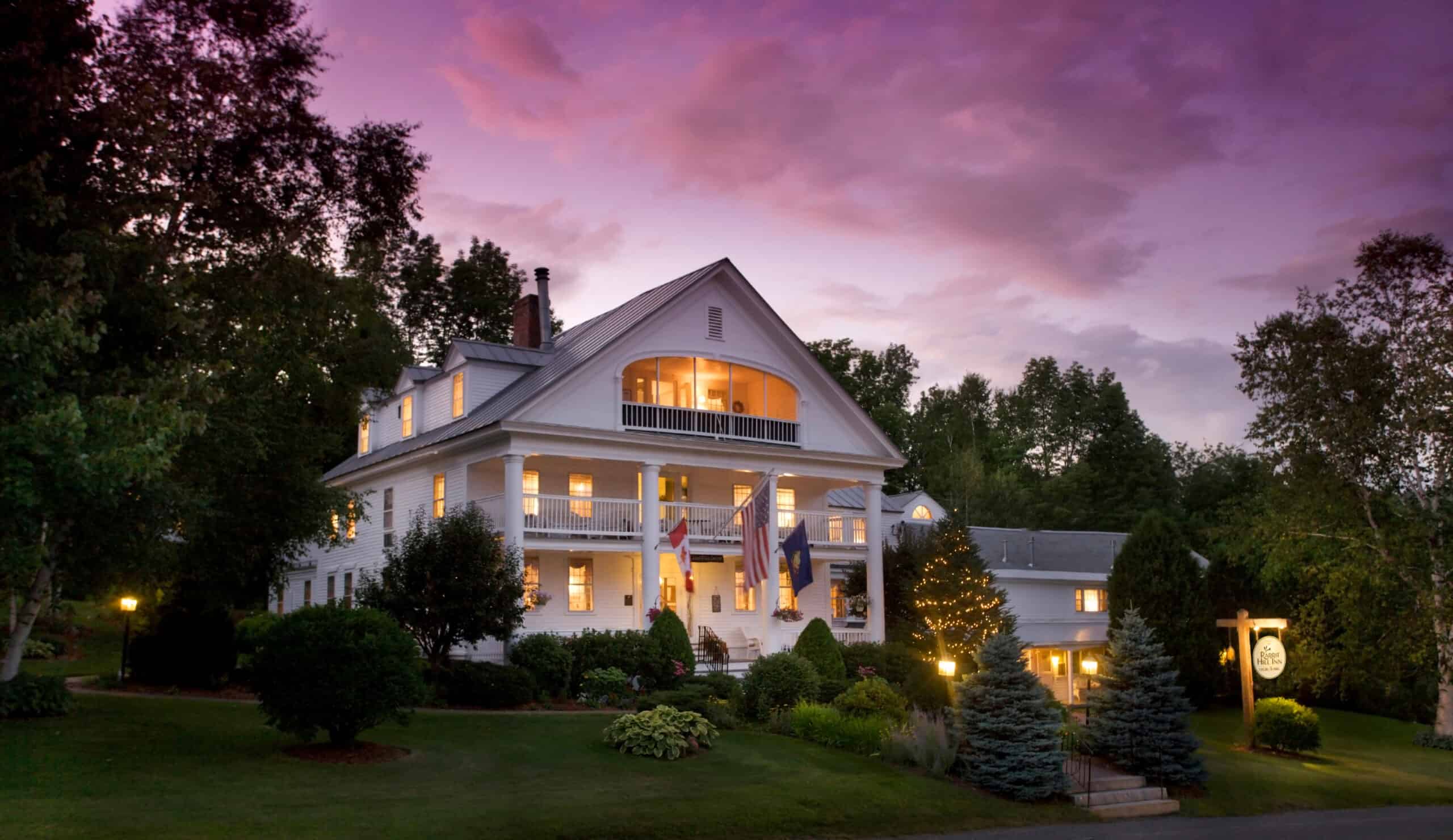 Located in Lower Waterford, Rabit Hill Inn is a great place to stay. It's located on fifteen acres of land and has beautiful architecture from the eighteenth century. There are only nineteen rooms in the inn, so it's a truly tranquil place to stay.
The rooms at Rabbit Hill In vary depending on which one you book. Some of them have great White Mountains views, while others have fireplaces. No matter which room you are in, you'll have a great television and free wifi.
To make your stay more romantic, consider adding on their Romantic Escapes package. It will make your stay even better if you're visiting with that special someone!
Edson Hill
Next is Edson Hill, a 3-star hotel that's also located in Stowe. It's on a huge amount of land, and there are around twenty different rooms total. Because of its location, almost every room at Edson Hill is breathtaking.
Edson Hill is very different from the other hotels on this list. It's a lot more quaint, but it's just as classy. For an even more elevated stay, consider staying at one of the Manor House Rooms. Honestly, though, no matter where you stay here, you'll have a fantastic trip!
The Inn at Shelburne Farms
The Inn at Shelburne Farms is another one of the best Vermont hotels. It's located on property that used to belong to Lila Vanderbilt Webb and her husband, Dr. William Seward. A lot of what is inside the inn is part of the original home, which is why it has such a great feeling to it.
In addition to the Inn, there are great walking trails here and splendid gardens, and even a farmyard.
506 On The River Inn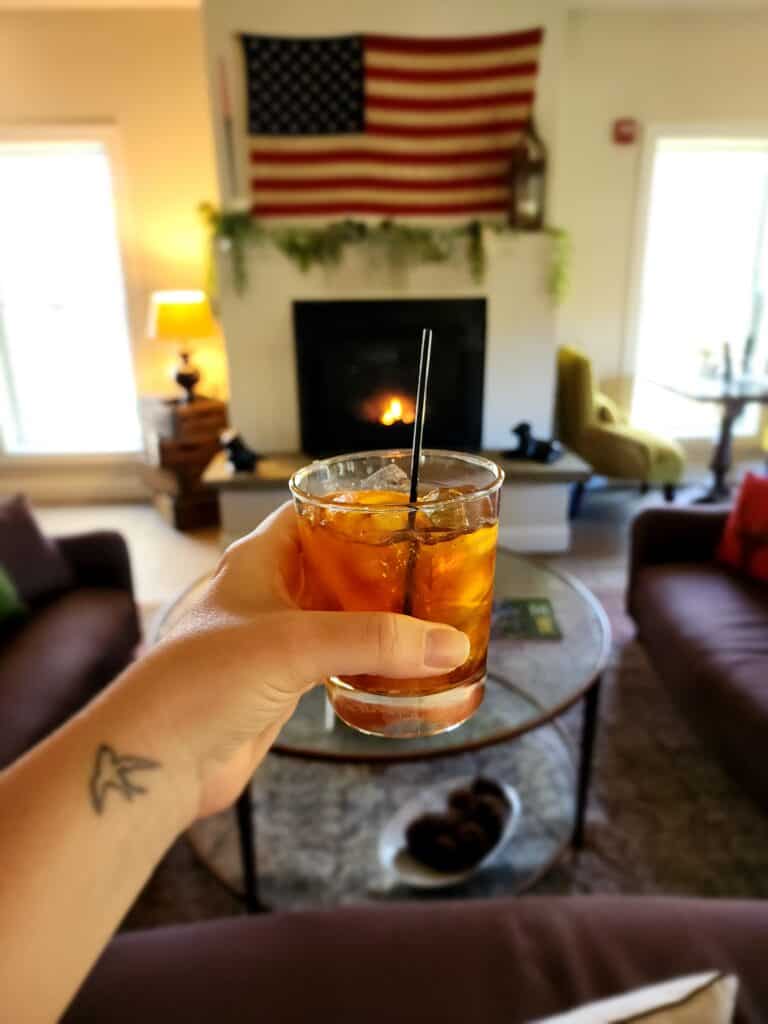 At least one of Woodstock's adorable inns and hotels had to be included on this list! The 506 On The River Inn is a 4-star hotel nestled right against the Green Mountains. This accommodation looks unreal in the fall!
506 On The River Inn is a stylish and luxury accommodation that will knock your socks off. There's so much to do there as a guest. You can stop by Billings Farms to feed the lambs, have a bite to eat at 506 Bistro, or even go swimming or relax in the sauna.
This is an especially kid-friendly Vermont hotel, too. There is a sprawling game room for older kids to enjoy and a toy-filled toddler room nearby. Behind the hotel is a huge lawn where families can play together.
During a recent stay with my son and my husband, I noticed the gazebo was well-equipped with plenty of outdoor toys, like balls, bats, and more.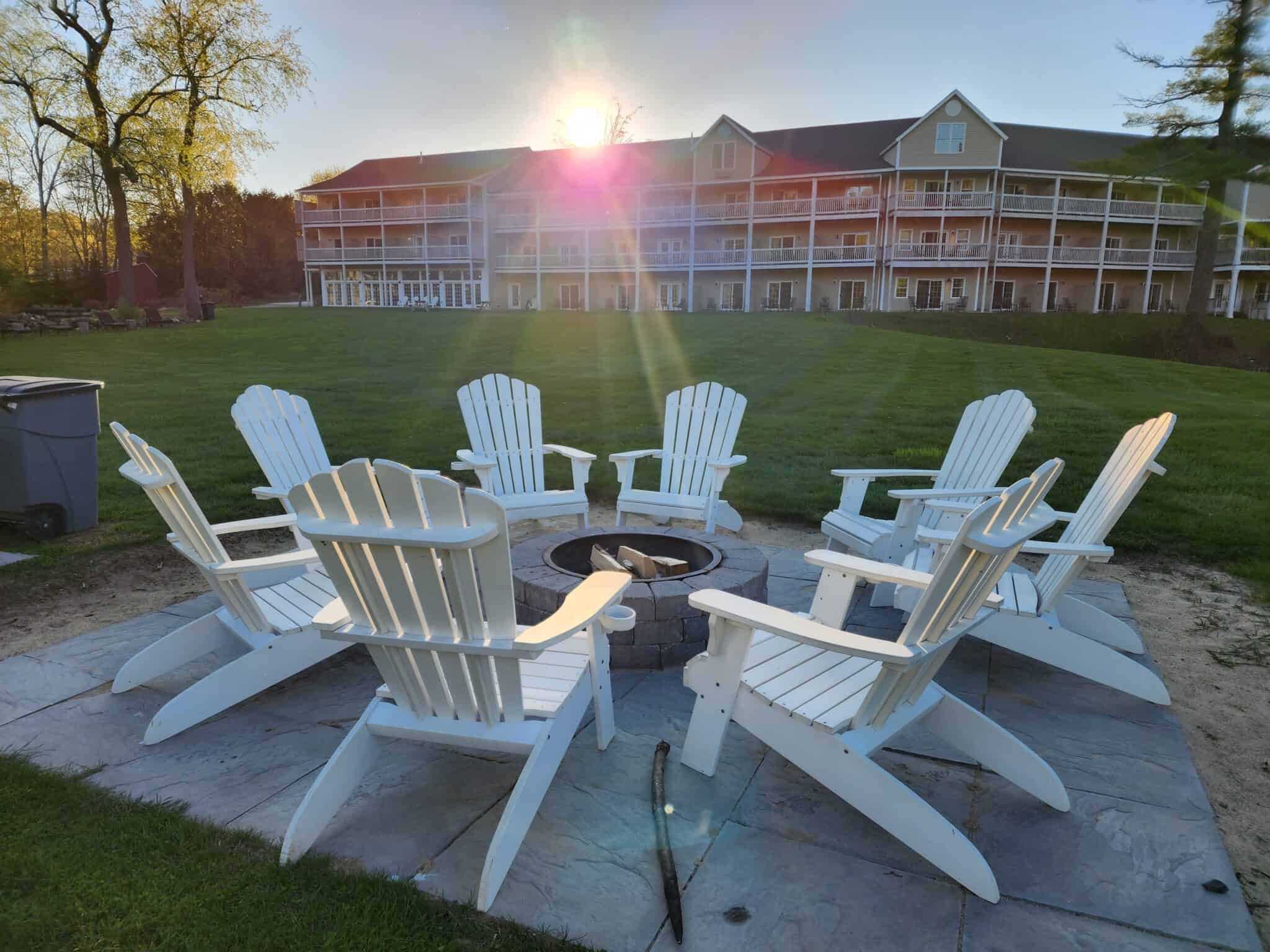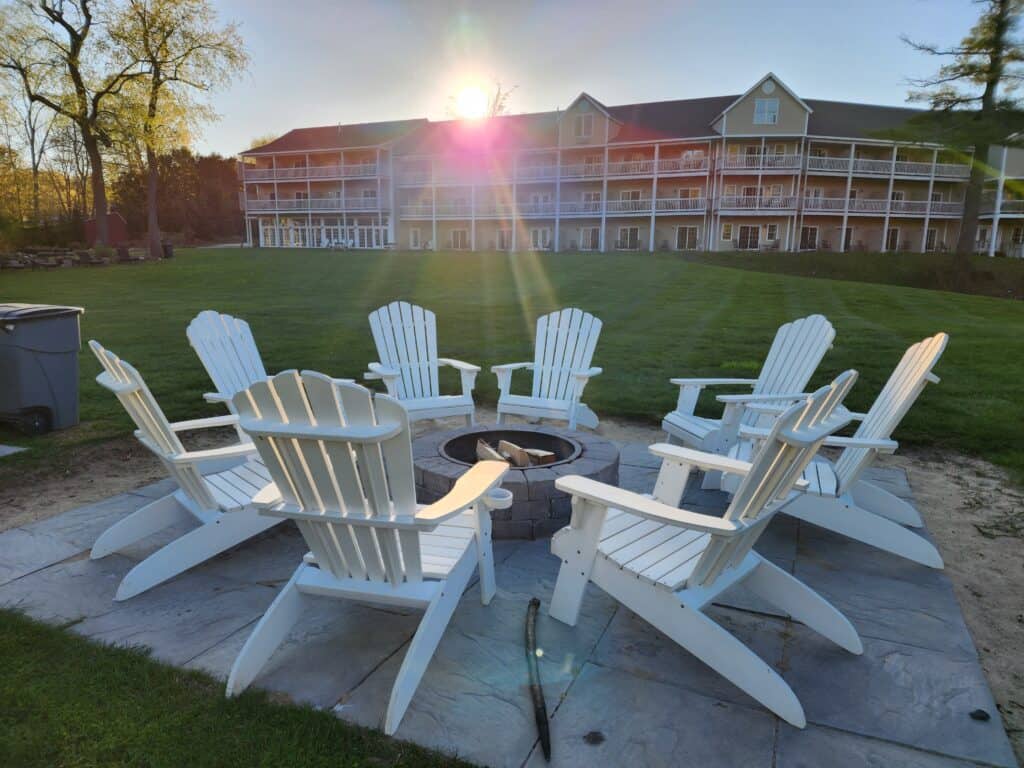 In the evenings, guests can gather around the cozy and welcoming fire pit.
And of course, the river is right behind the property offering magical moments of relaxation in nature.
The Equinox Golf Resort & Spa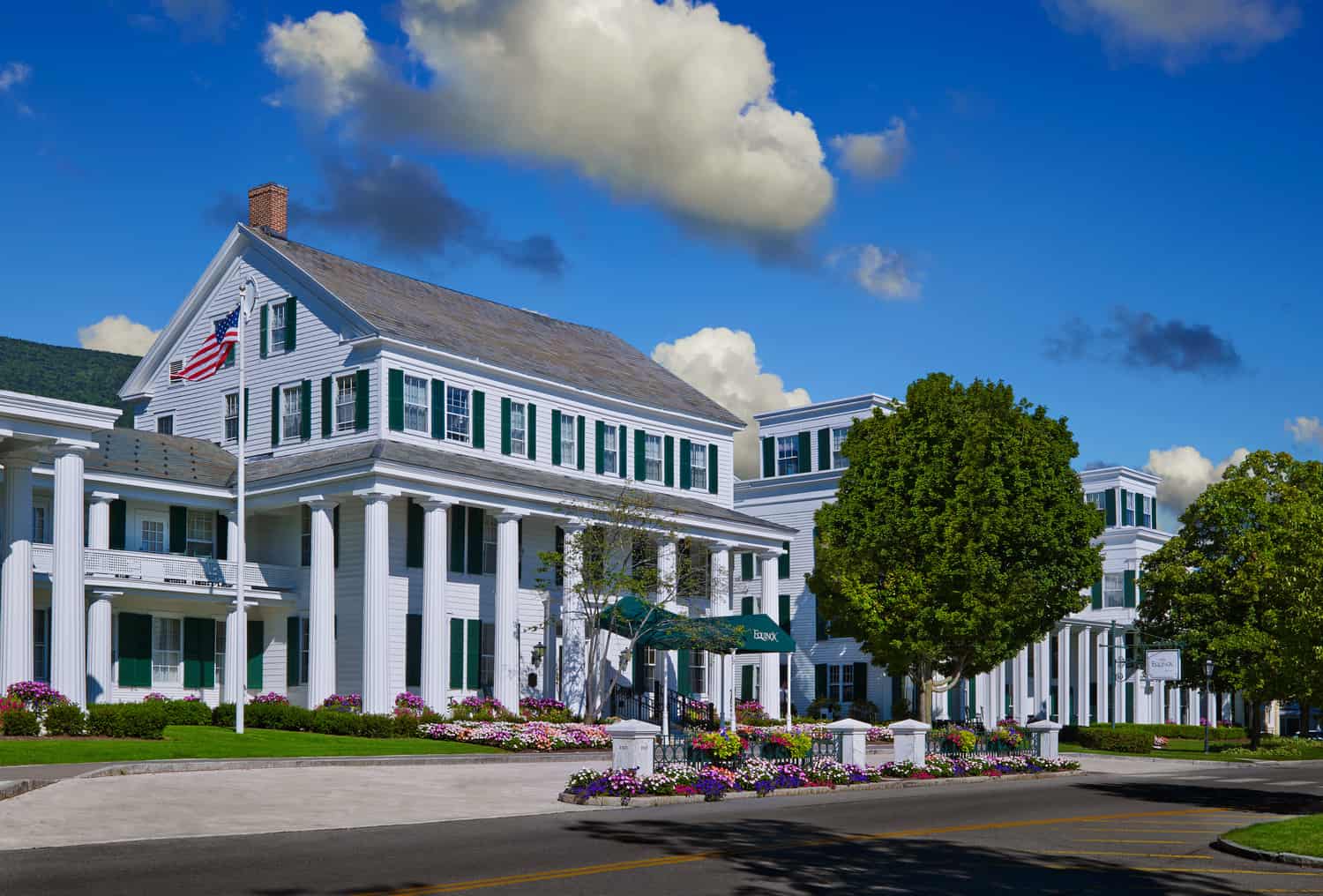 The Equinox Golf Resort & Spa is another of the best Vermont hotels in Manchester. The lodging is situated inside of a historic 18th-century building. It's also only a short drive from Hildene, which is where President Lincoln's son lived in the summer.
By staying here, you'll have a traditional New England experience. There are tons of fun events to participate in here throughout the year. Sometimes they host nightly movies, and other times there are fun lawn games like croquet set up.
The Equinox Golf Resort & Spa is a great place to stay whether you're traveling with a family, friends, or your significant other.
Green Mountain Inn
Green Mountain Inn in Stowe is another of the best Vermont hotels. The hotel is another one of the historic ones in the state, dating back to the early nineteenth century. So many people opt to stay here because it's a short distance to Stowe Mountain Resort, making it a perfect basecamp for winter sports.
There are a variety of different types of rooms available for guests at Green Mountain Inn. There are classic rooms, deluxe rooms, and even luxury suites. If you're visiting with family, you could also opt to stay in a family suite due to their larger size.
Stoweflake Mountain Resort & Spa
For some of the best Mount Mansfield views on this list of best Vermont hotels, look no further than Stoweflake Mountain Resort & Spa. It's located in central Stowe, making it an ideal place to stay to explore the area.
Stoweflake Mountain Resort & Spa prides itself on being family-friendly. It's also dog friendly, so if you're traveling with your furry friend or don't want to leave them behind, they can come with you. If you book ahead here, you can usually save big!
Trapp Family Lodge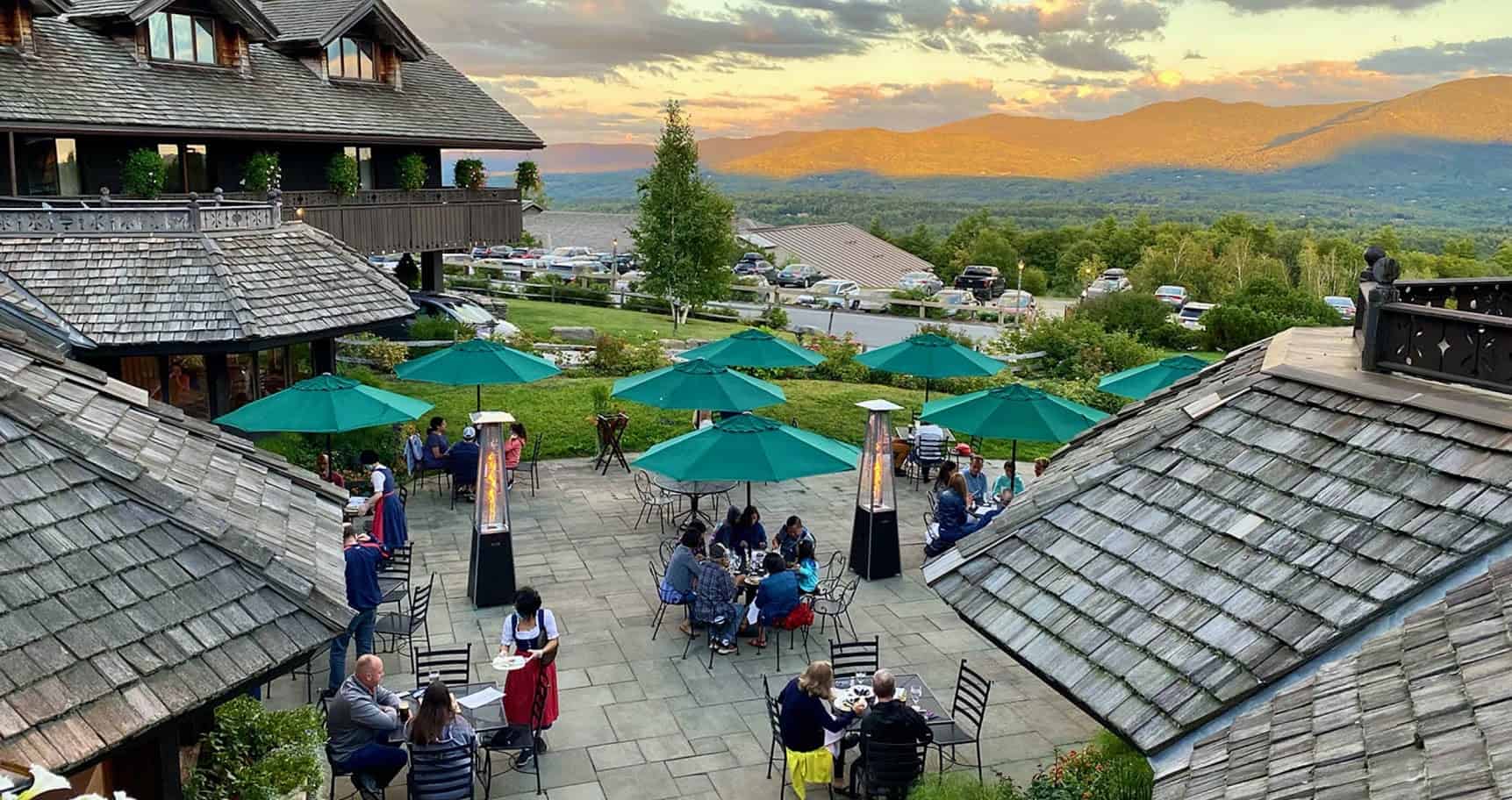 This list of best Vermont hotels would not be complete without Trapp Family Lodge. It's a beautiful historic resort accommodation that overlooks the beautiful nearby mountains. It will almost make you feel like you're in another country!
Tons of different room options are available to those who stay at the Trapp Family Lodge. Stay in a simpler Deluxe Room with a balcony, or consider going all out by booking a three-bedroom Villa with around 2,500 square feet.
The Reluctant Panther Inn & Restaurant
For a great southern Vermont stay, consider The Reluctant Panther Inn & Restaurant. This 4-star hotel is a short drive from Bromley Mountain Ski Resort, an excellent destination for family fun in the summer.
The Reluctant Panther Inn & Restaurant is most well known for its fantastic dining experience. They've won awards for their food before, thanks to Chef Sigal Rocklin! Depending on the time of year you visit, you may be able to save money by booking a package.
Spruce Peak
Last but not least is Spruce Peak, another amazing villa in Stowe. It's a four-star accommodation with luxury rooms. You can opt to stay in the lodge or even book a stay in the Spruce Peak penthouses.
Spruce Peak is located right along the slopes in Stowe, so it's a great place to stay in the winter. Take some time to visit and explore The Village to go shopping, or go out and explore the rest of the surrounding area in Stowe for some epic sightseeing.
—
It can be hard choosing where to stay from this list of best Vermont hotels! Hopefully, this list has at least made your next trip to Vermont a little bit easier. Where on this list would you most want to stay?
---
You might also like:
---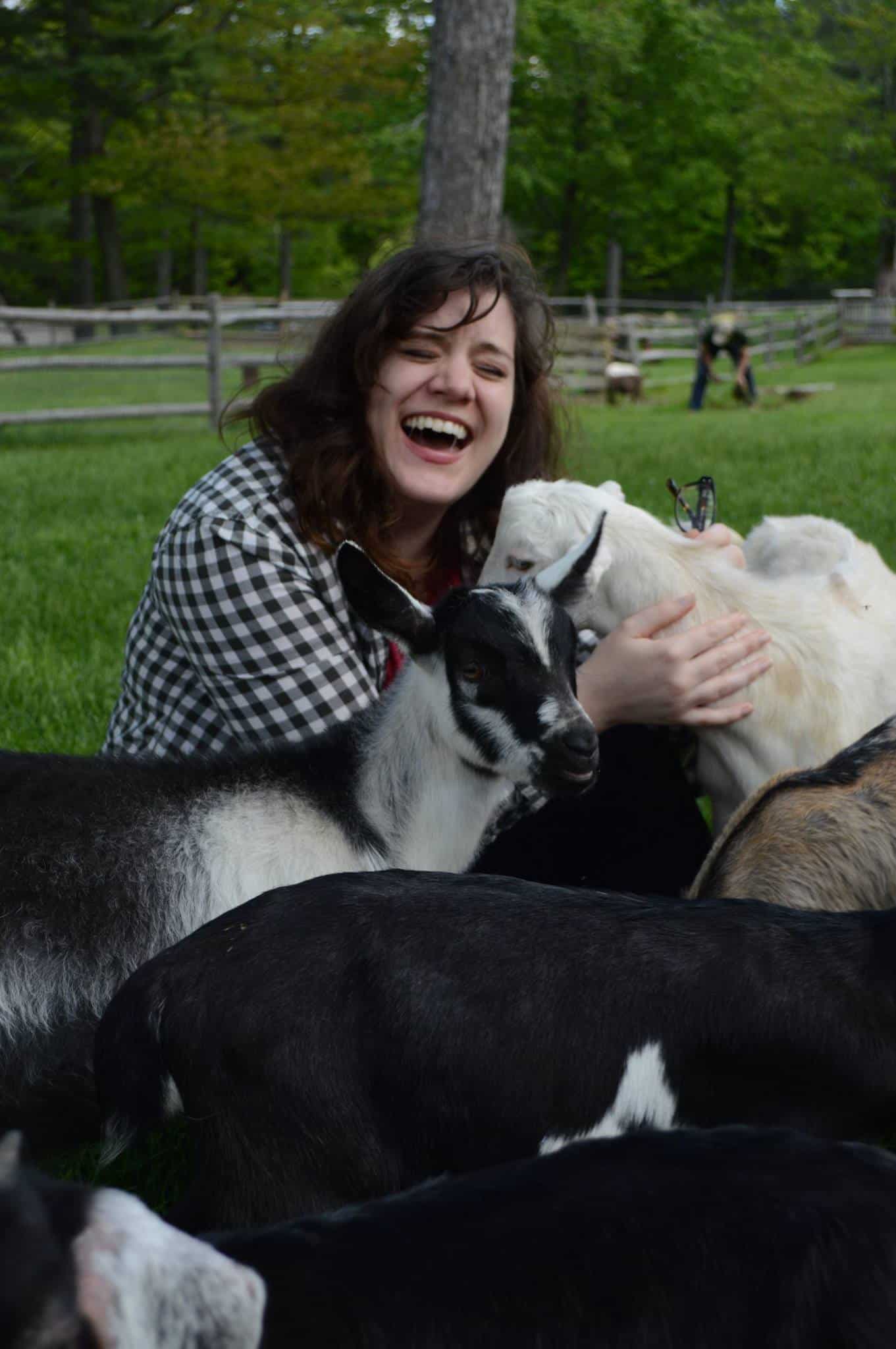 Amy Hartle is the owner and editor of New England With Love, a comprehensive resource for travel in the New England region. Amy lived in Vermont for 15 years, attended Plymouth State University in New Hampshire, and continues to travel regularly around the entire New England region. On this site, Amy aims to share her love of New England and help you to have the best possible adventures!
Amy has been a full time blogger since 2012, and is also the publisher of Two Drifters, where she writes about couples travel and relationships, as well as Let's Adventure Baby, a family travel site. When not traveling the world or creating epic blog content, Amy can be found cuddling with her husband, son, and cats, & drinking a maple latte.