---
*Links in this article may be affiliate links, from which we may earn commission. See our
Privacy Policy
for full details.
---
Let's be completely honest for a second: one of the best parts of traveling to a new place is experiencing the food culture, right? Luckily, this list includes all of the best restaurants in Stowe, Vermont, one of the top (and most beautiful) places to visit in New England.
Stowe is located in northern Vermont and is pretty well known for being near some of the greatest slopes in the area. Plus, it's next to the beautiful Mount Mansfield and Smuggler's Notch State Park.
Little do many know, but it's also home to a rich and diverse food scene! Here are all of the best restaurants in Stowe.
The Bagel
First up is a place called The Bagel, one of the best restaurants in Stowe, Vermont, for breakfast and lunch. It's exactly what it sounds like by its name, too: The Bagel is a bagel shop serving up some of the tastiest bagel sandwiches and cream cheese.
The Bagel first opened back in the 1980s and has been in business ever since. Over the years, they've genuinely perfected their bagel recipe. Their pricing is pretty good, with a plain bagel with cream cheese costing less than $3.
Be sure to try some of their more exciting cream cheese flavors, too, like olive and pimento, bacon horseradish, and maple walnut.
Trattoria La Festa
Look no further than Trattoria La Festa if you're looking for the best Italian food in Stowe. This family restaurant has a super laid-back atmosphere making it perfect for a casual dinner any time of the week. This is another restaurant in Stowe that has been open since the 1980s.
The restaurant is located inside of an old farmhouse which means it has very unique architecture inside. All of the ingredients used at Trattoria La Festa are entirely organic and are grown nearby in the garden. The prices are mid-range, and the food is fantastic!
Sushi Yoshi
Calling all Sushi fans, head to Sushi Yoshi, one of the most excellent restaurants in Stowe, Vermont! This restaurant is more than just your average sushi restaurant. It's a super laidback and fun experience and hibachi steakhouse that will genuinely leave you with lasting memories.
Their menu is pretty extensive and includes a lot more than just sushi. If you're not a fish fan or you want something else, you could have soups, salads, pad thai, General Tso's chicken, and more. There's even an abundance of outdoor seating so you can enjoy the weather, depending on the time of year that you are visiting.
Stowe Bee Bakery and Cafe
This list of the best places to eat in Stowe would not be complete without mentioning a cafe of some sort. One of the best traditional cafes in Stowe is Stowe Bee Bakery and Cafe! It's been voted as the best breakfast and lunch spot in the town.
This bakery is open every day besides Monday and Tuesday and has every type of pastry you could imagine. In addition, they have cakes, cupcakes, sandwiches, wraps, and more. Plus, you can wash it all down with a great drink!
Tres Amigos
Tres Amigos is the best restaurant in Stowe if you're looking for delicious Mexican food. It has a very casual ambiance and is perfect for an evening out with excellent Mexican cuisine and drinks. The interior is also very rustic, which is super unique for a Mexican restaurant.
Despite being a newer restaurant in Stowe, having opened recently in 2017, Tres Amigos has quickly become a go-to for locals. They're open every day of the week except for Tuesday and Wednesday, so plan your trip here wisely. Tres Amigos has a drink and food menu in addition to an entire menu just for kids.
Green Goddess Cafe
The best sandwiches are served up at Green Goddess Cafe! They have mid-range pricing, and their menu is pretty eclectic and also includes great smoothies to wash down your sandwich. They have more traditional sandwiches like chicken caesar wraps and then more unique ones like grilled turkey, ham, cheddar, and ranch made with Cabot cheddar!
Even though they are known for their sandwiches, they also serve coffee, baked goods, juices, large salads, pancakes, and more. They are also open for breakfast if you're looking for a tasty breakfast in Stowe.
Harrison's Restaurant and Bar
Harrison's Restaurant and Bar is more of a luxury restaurant to eat at in Stowe. Their prices are a bit higher than other ones on this list of the best restaurants in Stowe, but the price is well worth it. They have a very elegant ambiance making it perfect for a romantic evening out.
Harrison's Restaurant and Bar serves traditional American food and even has an outdoor patio that's heated in the warmer months. All of their food is super comforting. If you don't want to eat in, you can also order take-out!
Stowe Asian Cuisine
The best Thai food in Stowe can be found at Stowe Asian Cuisine! This is a bit of an underrated restaurant which is what makes it so great. They're open Monday through Friday and have almost every Thai dish you could imagine, including pad thai, fried rice, and more.
Stowe Asian Cuisine has a very long menu, but nothing costs more than $20 unless you order something like a duck! They also have a dessert menu including Thai custard, sticky rice, and ice cream!
Doc Ponds
Doc Ponds is a pretty classic-style restaurant, but that's what makes it so charming. It has a very comfortable ambiance and a patio. The menu has everything from cheddar fritters with pickled jalapeno to dry rub wings and roasted garlic hummus.
Everything on the menu is pretty mid-range with pricing, but the real reason people visit Doc Ponds is because of the atmosphere. It's honestly just such a cool place! The inside is set up with many large tables making it feel a bit like a beer hall.
Von Trapp Brewery and Bierhall
No list of the best places to eat in Stowe would be complete without Von Trapp Brewery and Bierhall. Vermont is known for its craft beers, and this one, in particular, serves up Austrian brews and lagers.
The beer hall itself has pretty budget-friendly pricing, and it's a perfect way to feel like you're in Austria while you're actually in Vermont. The beer hall is usually super busy, so make sure you make a reservation in advance to ensure that you can go.
Piecasso
For a fun hipster pizzeria, look no further than Piecasso. With a name like that, how can you go wrong? With a funky atmosphere and fun mood lighting, Piecasso is genuinely a pizza restaurant unlike any other.
They have tons of different pizzas, but also tons of other Italian dishes as well. There's great calzones, strombolis, sandwiches, pasta, and more. Everything costs below $20 for the most part. You can even build your own pizza!
Umami
Authentic Asian cuisine can be found at Umami, a Stowe restaurant that has fantastic food. The food here is inspired by both the Cantonese and Szechuan areas of China as well as Thailand and Japan, according to their website.
The menu is pretty extensive and is a bit pricier than other Asian restaurants in the area, but it's because the food is so incredible. Some of the best things on the menu include sesame noodles, fried pork wontons, dan dan noodles, and more.
The Nest at the Golden Eagle Resort
The Nest is a lovely place to eat that is located in the Golden Eagle Resort in Stowe. It first opened in the 1960s and is known for using many fresh and local ingredients in every item on its menu. They mainly focus on supporting other small businesses, which is something Vermonters love doing.
No matter what you order, make sure you get something with Vermont Maple Syrup on it because it's delicious. Nothing pairs better with pancakes or a waffle than Vermont's own maple syrup, trust me.
Idletyme Brewing Company
A classic brewpub, Idletyme Brewing Company, is one of the best places to eat in Stowe, Vermont. This restaurant serves tasty American dishes paired with amazing brews in a great rustic and comfortable atmosphere.
All of the beer served there is made right on site. Be sure to order a flight to try a few flavors. If you like their beer a lot, you can even take some home by grabbing craft beer to go. They are open for both lunch and dinner but are closed on Saturdays.
Salute
Stowe's Salute is a classic Italian restaurant that's perfect for a celebration of any kind. They're open only for dinner and have amazing wood-fired pizza and other Italian dishes, pretty much any that you could imagine.
The atmosphere is very warm and comforting. They even have an outdoor patio that gets all dazzled up with beautiful lights. There's nothing better than eating dinner on the patio with the warm lights in the winter!
The pricing here is mid-range to high, with most dishes costing under $35 unless you choose a fancy pasta dish. You can find everything from lasagna to focaccia pizza on the menu!
As you can tell, the food in Stowe is terrific! There are many great places to eat in Stowe VT, no matter which type of food you're in the mood for. Which restaurant would you most want to eat at?
---
You might also like:
---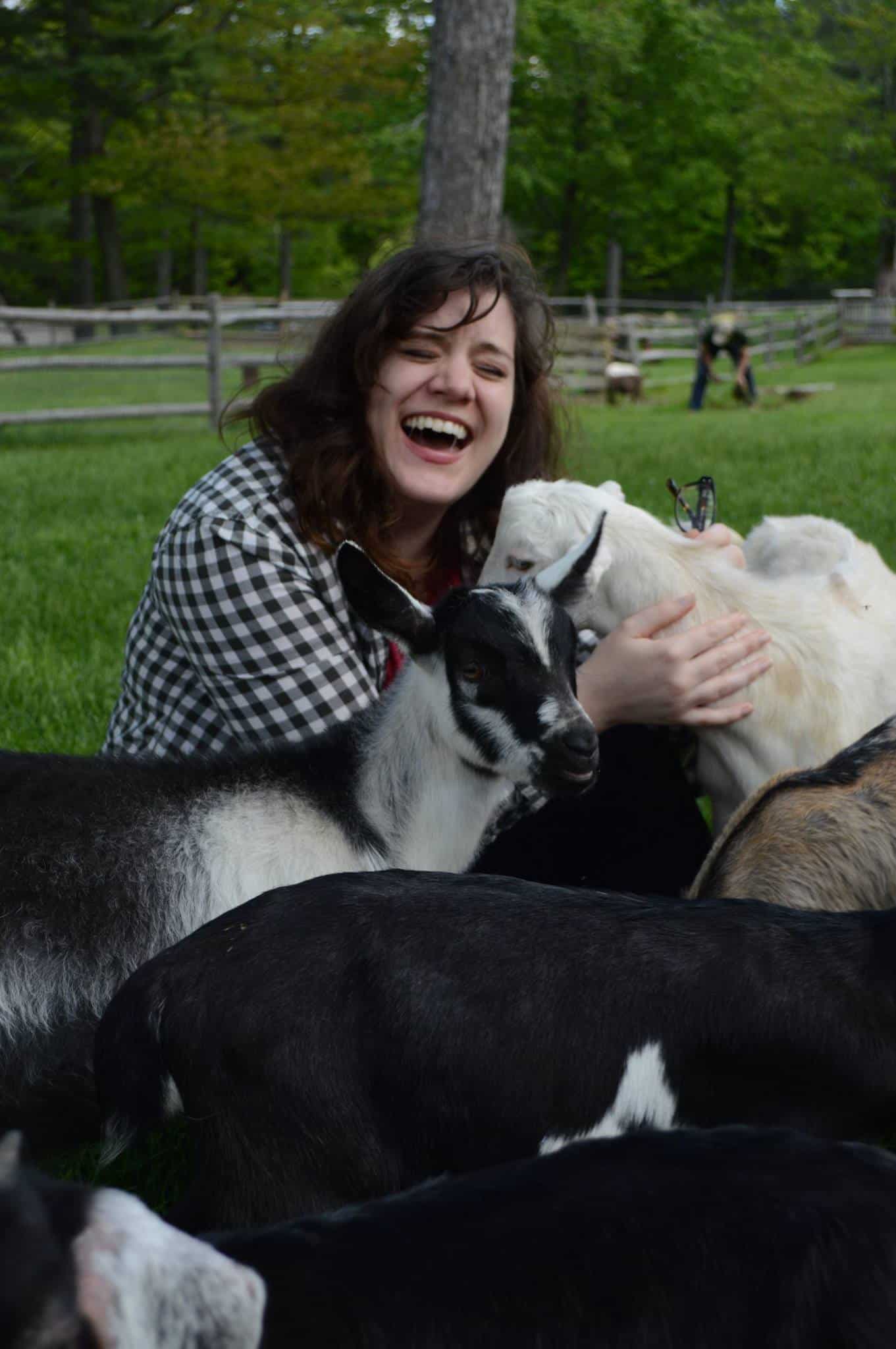 Amy is the founder of New England with love. A proud Vermonter, she hopes to share her love of New England and help you find the best adventures in the region. Amy is also blogger/founder at Two Drifters, where she writes alongside her husband about romantic and couples travel, relationships, honeymoons, and more. When not working on websites, Amy is probably reading, cuddling with her husband, son, and cats, & drinking a maple latte.