*This site uses affiliate links; if you make a purchase through these, I may receive a small commission at no cost to you.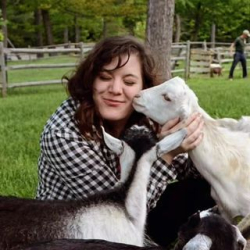 Latest posts by Amy Hartle
(see all)
Easily one of the best ways to experience Vermont's beauty is by going on hikes. It doesn't even have to be a crazy difficult hike for you to check out some of the breathtaking nature in the area – some of the most popular hikes are pretty easy, even when hiking in Stowe VT.
From hikes that will bring you to the tops of some of the biggest mountains in Stowe to ones that lead to beautiful waterfalls, this list of the best Stowe hikes has got it all. No matter your experience level, you'll surely find an awesome hike on this list for your next visit to Stowe.
Below, learn all about hiking in Stowe!
Best Hikes in Stowe VT
First up is Mount Hunger, which most people will do via Waterbury Trail. This is a more challenging hike to do even though the length is pretty short, so keep that in mind if you are thinking about doing this hike. It's usually ranked as difficult.
The trail is about 3.7 miles, and it's an out and back trail. Along the way, you'll be able to experience some of the best parts of Vermont's nature in Stowe, including a beautiful waterfall and unparalleled views along the way.
The trail has an elevation gain of 2,263 feet, so try not to go too fast! It's best to do this trail during the spring and summer months. In the winter, this becomes a popular snowshoeing trail.
Next up is the Sunset Rock Trail. This is a super easy trail to hike, so no matter your experience level, you'll be able to enjoy this one. It's also ranked as doable for kids and even dogs on a leash.
The trail is approximately 1.6 miles long, so it's totally doable within an hour unless you stop a lot along the way. The elevation gain is pretty low at about 367 feet, so the trail is honestly pretty flat compared to other trails in the area.
This out and back trail is the perfect way to spend an afternoon when visiting Stowe. It will bring you through a beautiful forest so you can check out some beauty in the area.
Another great easier trail for hiking in Stowe is the Cady Hill Trail. It's approximately 3.8 miles long, and it's a loop trail, so you won't have to walk back the same way that you would with an out and back trail.
The trail is ranked as easy and will mainly bring you through a forest with some great views along the way. It's most well known for its beautiful nature, including great wildflowers that you'll see while doing the hike.
This is also a popular biking trail in Stowe, so be on the lookout for bikers while on the trail! You'll want to be aware in case someone with a bike is coming by.
Easily one of the best spots for hiking in Stowe is the Stowe Pinnacle Trail. It's one of the most challenging hikes in the area, but the views are so worth it and are honestly unparalleled compared to some of the other hikes on this list.
The hike is about 3.7 miles long and brings you through Putnam State Forest. It's an out and back trail that's pretty heavily trafficked because it's popular among locals and tourists in the area.
This is one of the best trails to do if you want to go bird-watching while hiking. There are about 1,600+ feet of elevation gain, too, so you'll be well above the valley, which is why the views are so great.
Next is the Macutchan Loop Trail in Stowe. This is another easy trail, and it's near the Cady Hill Trail listed earlier on this list.
The trail is about 3 miles long, so it will take an hour or two to complete. The climb to the top is about 350 feet in elevation gain, so it's not too terrible. This hike is seen as great for beginners and intermediate hikers.
If you're into mountain biking or Nordic skiing, then you're in luck. This trail is also used for both of those activities! For skiing, be sure to visit during the winter months when there's snow.
To experience Mount Mansfield in all of its glory, you'll want to check out the Hellbrook Trail and Long Trail. Located in Smugglers' Notch Park, this is one of the most beautiful trails that you can hike in this area. While technically the start is near Jeffersonville, it's not far from Stowe.
This challenging trail has incredibly rewarding views, as Mount Mansfield Vermont is something incredibly special.
It's a loop trail that is about 3.7 miles long and has an elevation gain of around 2,600, so it's a reasonably uphill hike most of the way. However, that means great sights at the very top!
Keep in mind that it's impossible to get to this trail in the winter because there are usually road closures near it due to weather conditions. To hike this trail, visit in the spring or summer when the weather is nice!
Arguably one of the easiest trails in Stowe that still has great views and attractions along the way is the Bingham Falls Trail! It's only a half-mile out and back and leads to a beautiful waterfall. What more could you want?
The trail is great for all levels and experiences, including kids. The trail walks you through a forest for a bit, but the waterfall is genuinely the main highlight. Elevation gain is relatively low, at just 144 feet. You most likely won't even notice the incline!
This trail is usually hiked in less than an hour, but you could elongate the trip by packing a picnic to have near the waterfall if you wanted.
For a great easy loop trail, check out the Kirchner Woods Loop! It's great for all ages and is often used for hiking, mountain biking, walking, and even snowshoeing in the winter months by more experienced hikers.
The trail is only 2 miles long, so it only takes an hour or two to complete. It's the perfect short hike for an early morning or late afternoon activity! The elevation gain of the trail is about 374 feet.
The Kirchner Woods Loop Trail combines a few of the different trails in the area: Maple's Rise, Lower Bucket, Jerry's Trail, Upper Bucket, and a few others. You could easily make the trail longer by checking out some of the other trails and following them to their fullest.
If you like waterfalls, then this is a fantastic trail for you to check out! It's an easy-level trail, so it's kid and dog-friendly. Plus, it's great for all experience levels. If you've never hiked before, don't worry! This hike is doable.
It's an out and back trail that's about 5 miles long, so it is a longer trail on this list. It will probably take a few hours to complete. However, you can easily make the trail shorter by turning around at Moss Glenn Falls, which is right after the trailhead. It's totally up to you!
The train has just under 1000 feet in elevation gain, so the views are amazing along the way. You'll be able to check out some of Stowe's beautiful nature on this trail that leads to one of the prettiest waterfalls in Vermont.

For a moderate-level trail while hiking in Stowe, try doing the Sterling Pond Trail. It's just over 2 miles long, and the main feature is the beautiful Sterling Pond, which is incredibly serene and breathtaking.
This hike is dog-friendly but not necessarily kid-friendly. It has about 900 feet in elevation gain, which isn't too bad compared to other trails on this list and in the area. Parts of the trail are pretty rocky, so make sure you bring your comfortable walking shoes.
The Sterling Pond Trail is also in Smugglers' Notch State Park, so similar to the hike earlier on this list, it's easier to go when the weather is nice. There are often road closures in the area due to weather hazards and other conditions.
Last but not least is another easy trail for hiking in Stowe: Wiessner Woods! As the name suggests, this hike is mainly a forest trail that will bring you through beautiful trees and nature. You might even pass by some great wildflowers or even wildlife.
The trail is great for all skill levels and is kid and dog-friendly. It's just about 2 miles even, so it shouldn't take too long to do. It's not an all-day hike! The trail is a loop trail, so you'll enjoy new views the entire way.
This hike is one of the best spots to go snowshoeing in the winter, which is also a real fun activity while visiting Stowe.
One of the coolest Stowe hiking trails is accessible via Stowe Mountain Resort Auto Toll Road, where you can park near the "nose" of Mount Mansfield and begin your hike to the "chin."
Clocking in at about 2.8 miles round trip, this is considered a moderate hike for most, and you are rewarded with dramatic views of the Adirondacks, the White Mountains, Lake Champlain, and even Canada!
—
Stowe is filled with beautiful hikes. No matter what type of Green Mountains hikes you like to do most, you surely found a new one to add to your Stowe Vermont bucket list after reading this post! Don't forget to save it for later!
---
You might also like:
---