*This site uses affiliate links; if you make a purchase through these, I may receive a small commission at no cost to you.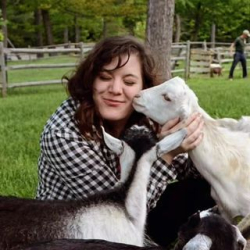 Latest posts by Amy Hartle
(see all)
If you've been to Vermont, you know how naturally beautiful the state is. In addition to having grand mountains and luscious forests, the state is home to numerous breathtaking waterfalls. These are among the best things to see in Vermont.
Vermont waterfalls are spread throughout the state, but they can all easily be visited if you plan the trip out in detail. Here are 10 gorgeous waterfalls in Vermont you have to see, and what it is that makes them incredible destinations.
Waterfalls in Vermont
Bingham Falls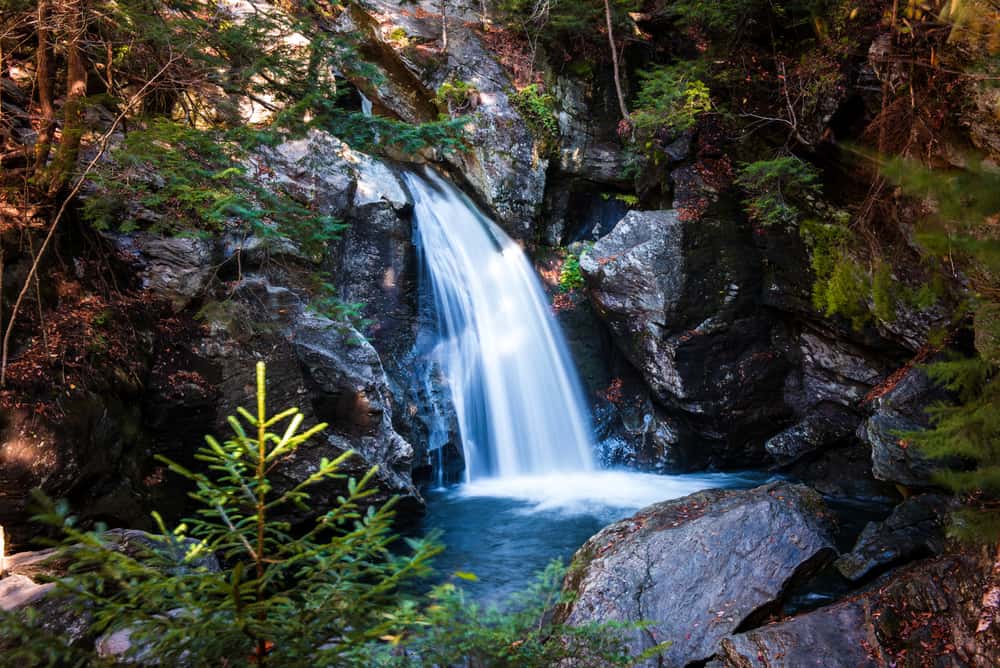 If you want to see a truly beautiful landscape, look no further than Bingham Falls. Bingham Falls is located in Stowe, a tiny town that has Mt. Mansfield as a neighbor. Bingham Falls is located in the Mt. Mansfield State Forest, a 72-acre piece of land filled with rich forestry.
Bingham Falls is known for its deep pools and gorges. The 25-foot tall falls deliver water from the west branch of the Waterbury River into swimming holes, which are popular spots for tourists and locals.
The swimming holes are open to the public, but if you decide to take a dip here, be cautious of the currents. The area is frequently visited year-round for activities such as hiking, hunting, ice climbing, and cross country skiing.
Moss Glen Falls of Granville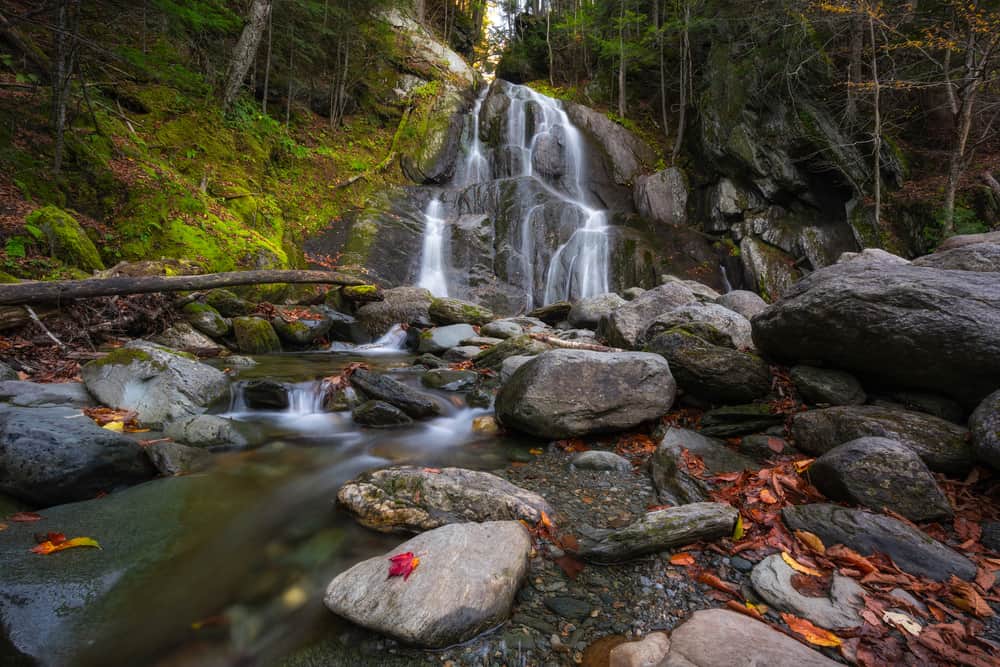 As you plan to explore waterfalls in Vermont, make sure to make a stop at Moss Glen Falls of Granville (Note: there is a Moss Glen Falls of Stowe, but we're showing Granville some love here).
Granville is another tiny town in Vermont that's surrounded by a plethora of natural beauty, and Moss Glen Falls is truly a sight to see. The 35-foot tall falls are located in the Green Mountain National Forest, but they can be seen from Vermont Route 100 if you can't make the hike out to see them. They're stunning to look at no matter where you are.
The best time to see the falls is April through November, but don't plan on swimming if you visit during the summer. While these falls are beautiful to see, they aren't suitable for a quick dip. As a little bonus, if there's enough rain in the spring, another small waterfall can develop near the parking area. It's commonly referred to as Little Moss Glen Falls.
Lye Brook Falls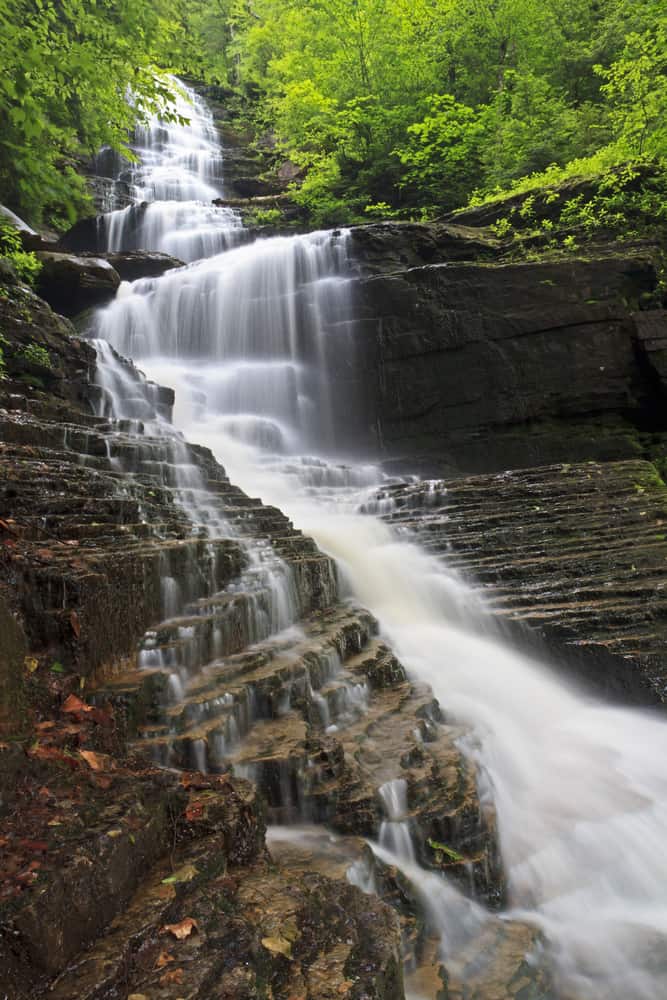 If you want to take a small hike to see one of the tallest (and most beautiful) waterfalls in Vermont, then you'll want to visit Lye Brook Falls. This waterfall is located in Manchester Center, a census-designated place in the town of Manchester. The town of Manchester, overall, has a population of more than 4,200 people as of 2018.
Lye Brook Falls has an estimated 125-foot drop and a unique makeup. If you make the two-mile hike out to see it (it's relatively remote but worth the trip), you'll see it looks like there are layers of mini-steps over large sections of the waterfall. It's recommended to visit Lye Brook Falls during the spring, so you can see the waterfall when there's plenty of rain fueling it.
Hamilton Falls
As you make a list of the best waterfalls in Vermont, be sure to jot down Hamilton Falls. You'll find Hamilton Falls in the town of Jamaica, which has a population of just over 1,000. Don't let the size of the town fool you, though — it may be small, but it's home to a large hidden gem.
Hamilton Falls has a 125-foot total drop and steep terrain. While it's stunning to see, you must be careful when you're hiking this VT waterfall. There are multiple shallow pools at the base of the falls that are suitable for swimming, but there's a deep pothole at the top of the falls that should not be used for swimming. It's extremely dangerous to swim at the top, so save the swimming for the more shallow pools.
If you're looking for more outdoor activities to do while visiting the falls, you can go to nearby Jamaica State Park to hike, camp, or bike.
Bartlett Falls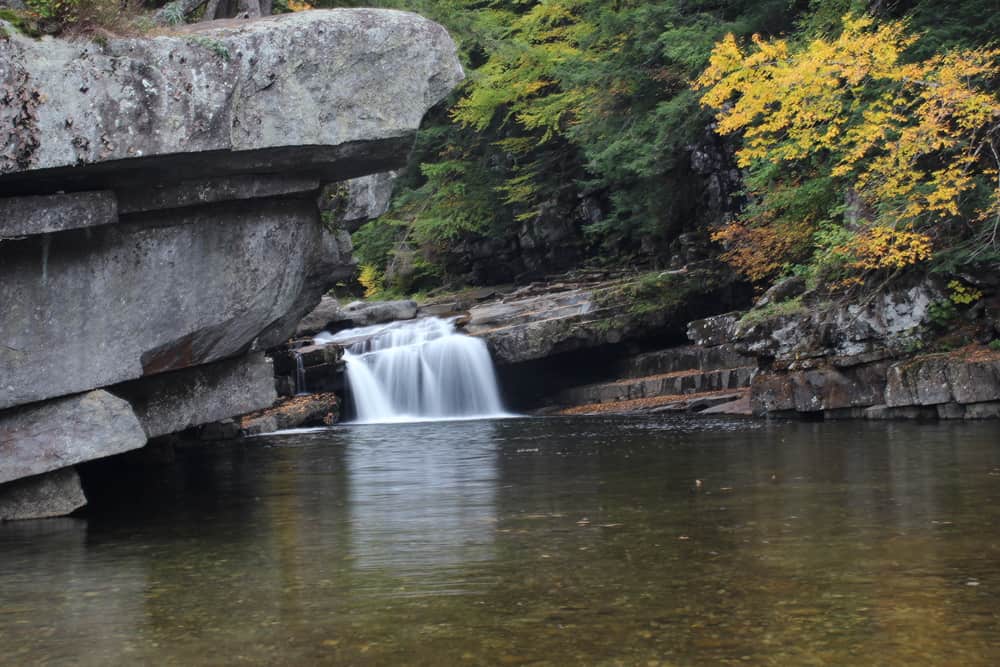 Bartlett Falls is one of those Vermont waterfalls that you genuinely have to see to believe. Located in the town of Bristol, these falls are 15 feet high and have an unbelievable natural swimming pool at their base. The pool is 40 feet wide, 120 feet long, and has a variety of depth to it. You could stand in the water, or dunk below it if you'd like. This pool makes Bartlett Falls a popular spot for tourists and locals during the summer months.
Another unique thing about Bartlett Falls is the large alcove that's behind them. This allows visitors to see the falls from behind, which is incredibly rare. If you're looking for a day of swimming and exploring, Bartlett Falls is the place to visit.
Texas Falls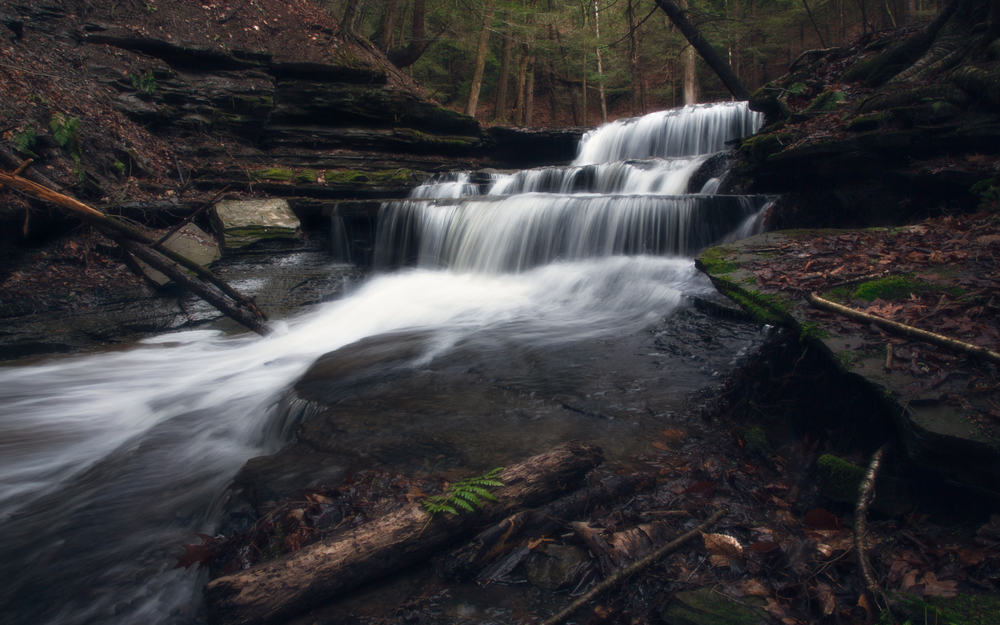 Texas Falls is one of the most photographed waterfalls in VT. Its image has graced numerous portraits and postcards of Vermont over the years, so if the name sounds familiar you may have seen it before.
Texas Falls is located in the tiny town of Hancock and is a popular place to visit in the Green Mountain National Forest. The falls have a 35-foot total drop and are made of numerous punchbowls and cascades. There's a bridge nearby where you can get an incredible view of the falls. While they are beautiful to look at, it's important to note that swimming in the falls is now prohibited. So, be prepared to admire them — but don't plan on taking a dip.
McLaughlin Falls
This is one of the more low-key waterfalls in Vermont, but it's still a sight to see. McLaughlin Falls is located in the town of Mendon, which has a population of just over 1,000. It's off the beaten path, so be prepared to take a short walk to view the falls. They're 30-feet tall and have three drops, with the highest drop being 15 feet.
You can visit these falls and marvel at their beauty throughout all four seasons. Just be careful getting to the falls, especially if you're visiting them during the winter. Ice and snow may make the trail slippery.
Big Falls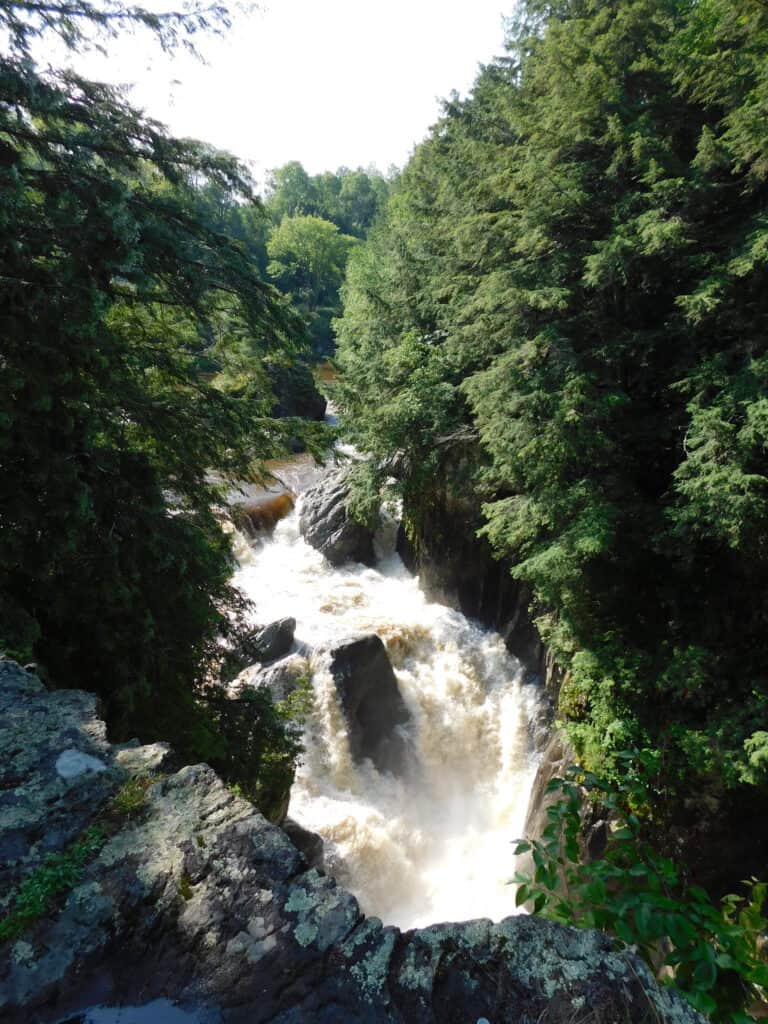 If you find yourself in northern Vermont, make it a point to stop and look at Big Falls. Big Falls is one of those waterfalls in Vermont that'll leave an impression on you. It's located in Big Falls State Park, which lies in the town of Troy.
Big Falls has its name for a reason. It's one of the largest undammed waterfalls in Vermont and is sourced by the Missisquoi River. Water gushes down the cascades and the gorge and eventually finds its way into a pool. If you go at the right time of year, you may be able to see people fishing at this natural beauty.
Buttermilk Falls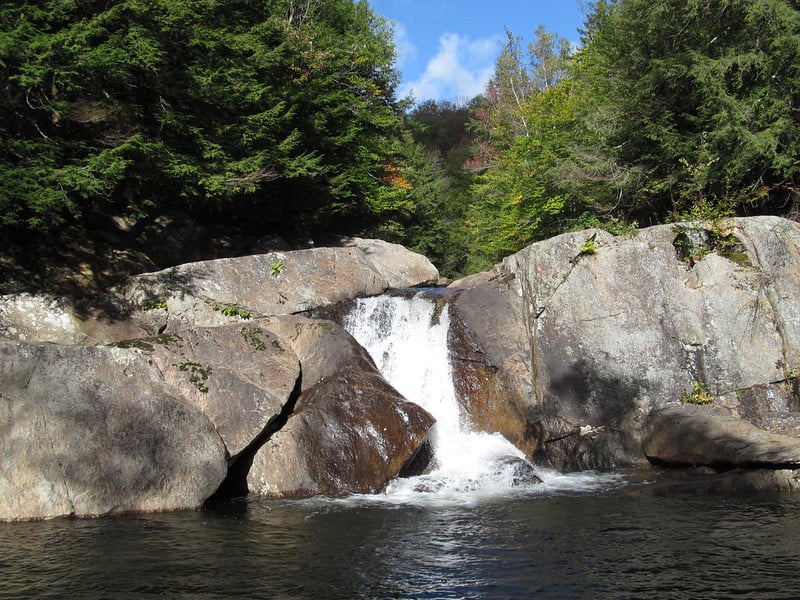 Located in the Okemo State Forest in Ludlow, Buttermilk Falls is one of the top waterfalls in Vermont you must visit. You hike less than a mile to get to this natural beauty surrounded by forestry. Three cascades make up the falls, and there's a beautiful swimming pool that lies below the lower and upper falls. The lower falls flow into a deep 25-foot-wide pool of water you and your friends can swim in.
There are rocky ledges along the falls you can sit on to admire the view from. The swimming pools can get crowded during the summer months, but if you're okay with sharing the water you can find room for a swim.
Falls of Lana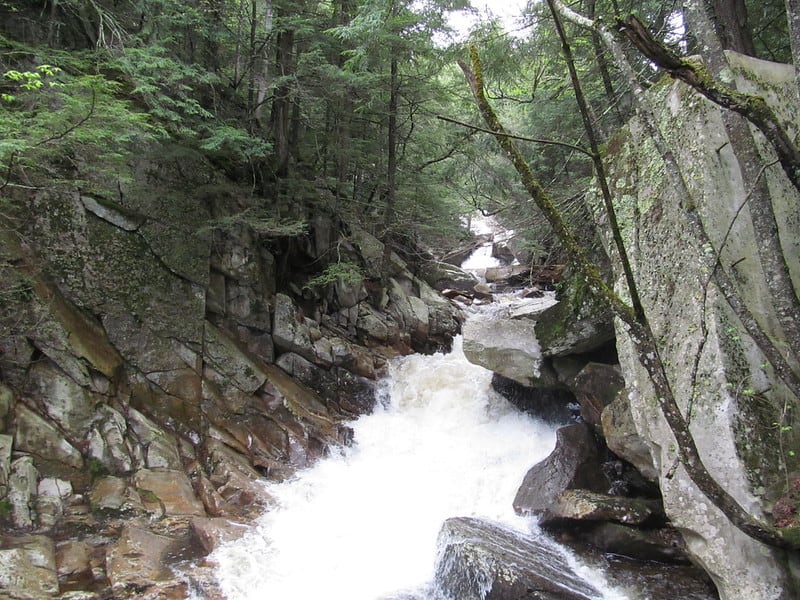 If you want to explore one of the most picturesque waterfalls in Vermont, you should make a trip to the Falls of Lana. These falls are located in Salisbury, a small town that has a population of just over 1,100. You can find them in the Moosalamoo National Recreation Area.
You can get to the base of the falls by walking less than a mile. The trail is surrounded by beautiful forestry you can admire as you make your way to the falls. Once you get to the falls, you can hike the three cascades and admire the water beautifully flowing through the rocks. The falls also have a swimming pool you can take a dip in if you get too hot on the hike.
This VT waterfall is popular for locals and tourists alike, so if you do visit the Falls of Lana you can expect to see others there. It's recommended to visit the falls between March and November, and you can even bring your pup along for the hike if you'd like.
—
There are many beautiful waterfalls in Vermont you can plan to visit. Seeing these waterfalls can help you feel connected to nature and help you relax. You can plan a sight-seeing trip to Vermont with friends and family, and make it a point to stop at these waterfalls along the way. You can take pictures, enjoy the fresh air, and reconnect by admiring the beauty around you.
---
You might also like:
---