*This site uses affiliate links; if you make a purchase through these, I may receive a small commission at no cost to you.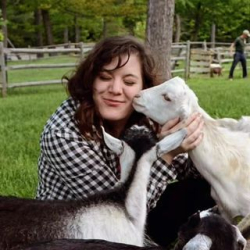 Latest posts by Amy Hartle
(see all)
Hiking is not only one of the top things to do, but one of the free things to do in Vermont! What could be a better way to experience VT than by exploring its hills and peaks? We want you to get out and explore these magnificent natural areas too, which is why we're bringing you 15 of the best hikes in Vermont!
If you're a nature-lover, you will feel right at home in the Green Mountain State! Vermont hiking trails offer something for hikers of all skill levels; you'll come across breath-taking cascades, mountain summits with great views from fire towers, and plenty of ponds and lakes to cool off in on a hot, summer day.
The poet Robert Frost loved this area of the country so much (and who can blame him?) that he spent the latter part of his life in the Vermont wilderness. If you're a fan of his poetry or history in general, you can take a short 1-mile trail around his former cabin, which highlights his poetry along the way.
Summer and fall are without a doubt the best seasons to hike in Vermont; a fall Vermont hike will make any leaf-peepers dream come true. Summers, although they can get a bit on the warm side, sure beat the notorious "mud season" of late winter/early spring.
Whether you're looking for easy hikes in Vermont, an adventurous overnight trip, or something in-between, we've got you covered with this list of the best hikes in VT.
Best Waterfall Hikes
With over 100 waterfalls and cascades dispersed about the state, you will find no shortage of Vermont hikes with waterfalls. The best part is that many of them are short, easy-to-get-to hikes. With so many falls scattered across the state, we decided to include one from each area! Regardless of which ones you visit, they are all sure to be breath-taking in their own way.
Bingham Falls
There are plenty of places to go hiking near Stowe, VT and Bingham Falls is a great place to start. This easy, half-mile out-and-back trail has convenient access right off of 108/Mountain Road near the popular Smugglers Notch State Park (SP).
Due to the popularity of the area and easy access to the trail, you may come across many other fall enthusiasts on hot summer days. Don't let that deter you, though, to see one of the most-loved waterfalls in the state! Enjoy a dip in the cold water at the bottom of the 40-foot falls and the deep gorge views along the way.
Thundering Falls
If you're looking for a short falls hike in central VT, you can't beat the 0.4-mile one to Thundering Falls. Located near Killington, this quick walk takes you to the 6th tallest falls in the state, cascading an impressive 140 feet down a narrow gorge.
This trail sees a lot of people, but the easy hike and falls make it worth the possible crowds. Other than this main attraction, there is also a historic mill powered by the rushing waters of Thundering Falls.
Hamilton Falls
Last, but certainly not least, we have Hamilton Falls located in the southern part of the state. Also one of the tallest waterfalls in the state, Hamilton Falls drops 125 feet, cutting its way through rocky crevasses. Depending on your skill level, mood, and time constraints, you can take one of two ways to see the falls.
The longer, more difficult route takes you 5.8 miles out-and-back. If you'd rather see the falls and be on your way to other adventures, there is a decent-sized parking lot closer to the falls, though the descent to the falls themselves is a bit steep.
Best Green Mountain Hikes
With the state's nickname coming from these mountains, you can be assured there are some great wilderness areas to explore. As with any mountain hikes, you can expect more challenging trails with much more elevation gain. No matter which trail you choose, hiking in the Green Mountains is sure to be a rewarding experience with great views!
Camel's Hump Trail
If you're near the northern part of the state, be sure to hit up the Camel's Hump Trail. Located between the cities of Burlington and Montpelier, this 6-mile lollipop loop trail will take you up 2,500 feet to the 4,000-foot summit of the state's third-highest mountain.
It goes without saying that you will have great views from the summit, but you will also enjoy the unique alpine vegetation and ponds along the way as well to this National Natural Landmark.
Bucklin Trail
This 7-mile out-and-back trail located in central Vermont will give you a run for your money too. You'll gain 2,400 feet of elevation along the course of this trail to its main highlight, Killington Peak.
Though the climb up is steep, you'll be glad you made it with the views of not only the surrounding Green Mountains, but the White Mountains to the east and the Adirondacks to the west. Oh! And did we mention this is the second-highest summit in the entire state? So you can feel extra proud of tackling this one!
Read Next: Top Things to Do in Woodstock VT: The Perfect New England Experience
Mount Equinox
For some of the most beautiful views in the southern Green Mountain region, head out on the Mount Equinox Trail. One of the best southern Vermont hikes, this 6.3-mile hike will take you up a difficult 2,800 feet of elevation to the culmination of this out-and-back hike: Lookout Rock.
From here, the tallest summit in the Taconic Range, you'll find views of four states and a sweeping vista of the Vermont Valley. The abundant wildflowers on the way up can't be beat either!
Best Hikes for Beginners
If you're looking for something a bit less taxing, there are plenty of hikes in Vermont for beginners as well. Here are two of our favorites!
Mount Olga
Located in Molly Stark SP near Wilmington, this 1.7-mile loop trail is great for those of you wanting some great views without exerting yourself too much. Enjoy the shade from the mighty evergreens before reaching the top, where you can climb to the top of the fire tower for awe-inspiring 360° views of both the surrounding mountains of Vermont and even northern Massachusetts.
Owl's Head Trail
There are several different lengths of trail you can take to Owl's Head, but for the sake of this section, we'll stick to the easy to moderate 1.8-mile section. Located in the Groton State Forest in the northern part of the state, this trail heads past a swampy area and up a set of stone stairs built by the Civilian Conservation Corps back in the 1930s before landing at the top of Owl's Head.
Atop this granite-covered overlook, you'll find great views of Kettle Pond, Groton Lake, and the surrounding Green Mountains.
Best Day Hikes
There are limitless options across the state for day hikes in Vermont. Whether you're just looking to hit the trail for a few hours or literally all day, the Green Mountain State has something for you! Here are a few of the most notable ones New Englanders love.
Mount Pisgah Trail
If you're looking to do some hiking near Burlington, VT, check out the Mount Pisgah Trail. It's about a 2-hour drive, but the 4.5-mile trail is totally worth it if you're into big views. The trail itself is rated as moderate, mixing steep ascents with more level terrain.
Although you won't get much of a view from the summit itself, there is a lookout to the west near the 1-mile mark, a view to the south of Burke Mountain and New Hampshire's White Mountains when you're nearing the top, and a little past the summit a ways down North Trail you will find views to the west of beautiful Lake Willoughby.
Little Rock Pond Trail
You'll find not only fellow day hikers on this trail, but section and thru-hikers on the Appalachian Trail (AT) too! This 4.8-mile section of the AT/Long Trail is rated as moderate, but the elevation gain isn't too bad at around 550 feet over a gradual incline.

After passing through the mixed hardwood forest, take a refreshing dip in Little Rock Pond or pack a sack lunch along to enjoy here before heading back. The pond is a popular camping and fishing area, so you could even bring your camping gear and set up under the stars next to the calm water!
Mount Ascutney Trail
If you're looking for something a little more challenging, head out to the Mount Ascutney Trail in Ascutney SP. Although this 5.7-mile out-and-back trail is rated as moderate, you'll gain over 2,200 feet of elevation altogether. The trail to the summit offers a little bit of everything: babbling brooks, a waterfall, and unbeatable views from the fire tower. Want to know the coolest thing about Mount Ascutney? It used to be a volcano!
Best Hikes in Vermont with Kids
Red Rocks Park Loop Trail
This is one of those trails in Vermont that's perfect for older kids! Not only is it mostly pretty easy terrain during this pretty walk in the woods, but there is a somewhat steep spot where older kids will enjoy the challenge of the climb up and then back down!
The Red Rocks Park Loop Trail is only about 2.7 miles, so this easy VT trail only takes about an hour or so to complete.
Queechee Gorge Trail
One of the best Vermont hikes for kids of all ages, Queechee Gorge Trail is a fairly easy out and back in trail that offers scenic views in lovely Queechee Gorge State Park.
Not only is it only 1.3 miles out and back, but you get to see Ottauquechee Dam and Waterfalls during this half hour hike.
Best Overnight Hikes
If day hikes are no longer quenching your thirst for the outdoors or you're already into backpacking, why not go on an overnight hike in Vermont? We've listed one from the northern part and one from the southern part of the state to get you started. Also, be sure to check out this guide from Vermont State Parks on proper usage of backcountry areas and to explore other remote camping areas around the state.
Mount Mansfield via The Long Trail
For one of the absolute best hikes in Vermont, check out Mount Mansfield. Don't let this trail's modest 5-mile length fool you. Though the area is popular, the hike to the summit of Vermont's highest peak is recommended for experienced hikers only. There are several trails in the area, most of which start at Underhill SP, so really you can custom make your own route to the top.
This 4,000+ foot peak may leave you feeling breathless by the time you reach it…But hopefully in a good way with the awesome views of Lake Champlain and the Adirondacks to the west, the White Mountains to the east, and, of course, Vermont's Green Mountains. If you're looking for something a little less primitive, there is a lodge you can sta overnight near the summit.
Bourn Pond-Stratton Pond Loop
For something more relaxing, but lengthier, check out this moderately-rated 23-mile loop trail near Manchester Center. For the most part, your ascent will be gradual as you pass Prospect Rock (a nice lookout and break spot), small streams, ponds, plenty of shelters to spend the night in, and finally reaching Mt.Stratton (3,940 feet) before making your way back to where you started. You can get some great pictures from up in the fire tower atop the summit too!
Read Next: 15 Terrific Things to Do in Manchester VT (and Nearby!)
—
Whether you're looking for an easy VT hike with gorgeous waterfalls, a moderate day hike near a lake, or total wilderness immersion via a backpacking trip, Vermont offers something for nature-lovers of all skill levels. And when you're done hiking, may we suggest visiting one of Vermont's great craft breweries? Here are some of our favorites in the Burlington area.
---
Read These Next:
10 Top Spots for Cross Country Skiing in Vermont
13 Best Places to Stay in Killington VT: Where to Stay in Killington
---