Thirsty in Vermont? This guide to the best Burlington VT breweries will help you sip your way through the city.
Burlington, VT is the state's biggest city, though ringing in at just over 40,000 people, it's still quite small. Just 90 minutes from Montreal, this mountain-fringed locale, perched on the shores of Lake Champlain, is a definite gem in New England.
When I first lived in Burlington, I was in my early to mid-20s.
In other words, I was young, single, and had lots of free time to spend in a lively city where I had great friends. Every weekend we'd enjoy some of our favorite Burlington breweries and bars, drinking, laughing, dancing, and having a downright fabulous time.
My husband and I ended up back in Burlington in 2018 and spent a couple of years living downtown.
In our time here, we visited some old favorite breweries in Burlington VT, and also tried out a couple of the city's awesome new spots. Burlington is a craft beer mecca, but it's also just a fun place for nightlife.
All of our experiences have been distilled (pun intended) into this blog post, featuring some of Burlington's best bars, breweries, and beers.
Thirsty? Read on to discover where to drink in Vermont's Queen City.
PS: You might also want to check out our articles on Burlington's best coffee shops, plus Where to Stay in Burlington.
The Best Burlington VT Breweries
Switchback Brewing Company
Switchback Brewing Company offers a great selection of Burlington craft beer with year-round availability for their hits like the classic Switchback Ale, the Zaboo Hazy IPA (featuring fruity notes of honeydew melon, peach, and pear), and limited-availability brews like their Gemini Cat Double IPA.
This inventive brew has notes of strawberry and lemonade, and is all-grain with no added sugar.
Switchback has been around since 2002, when the first ever pint of Switchback was served at Ake's Place in Burlington.
In 2014, they opened their Tap Room at Switchback where not only do they have their beers on tap, but they also offer all kinds of great Burlington brewery events.
Come down for Stretch & Sip Yoga, or opt for a family-friendly Uke 'n 'Sip event where ukuleles are provided and songs are taught to anyone looking to learn a little ukulele!
Fully hooked-up hot dogs, brats, and sides are on offer on their menu for when you need a little snack.
The company has also been 100% employee-owned since 2017, ensuring that their beer will always be locally made and by real brewers.
Burlington Beer Company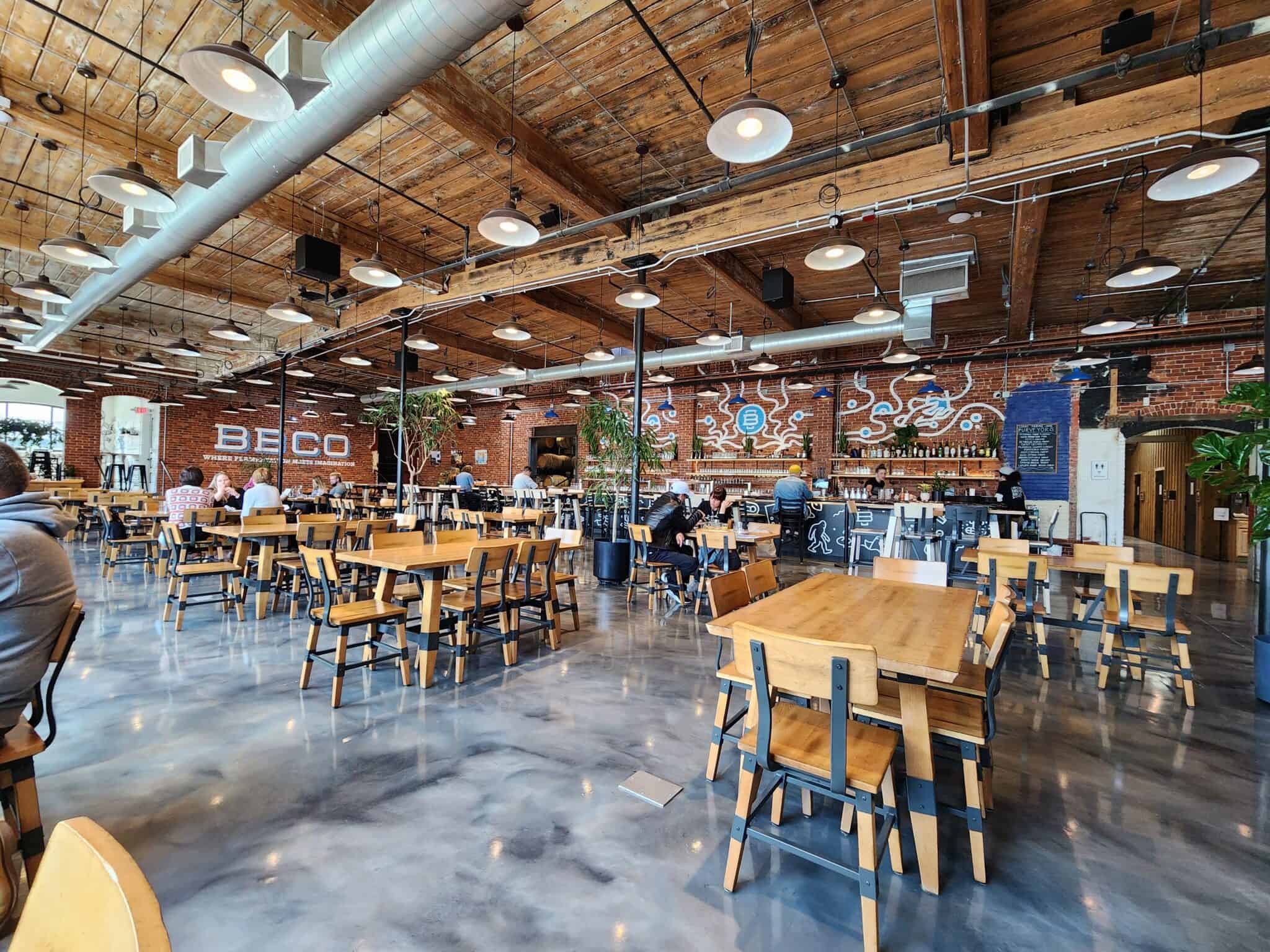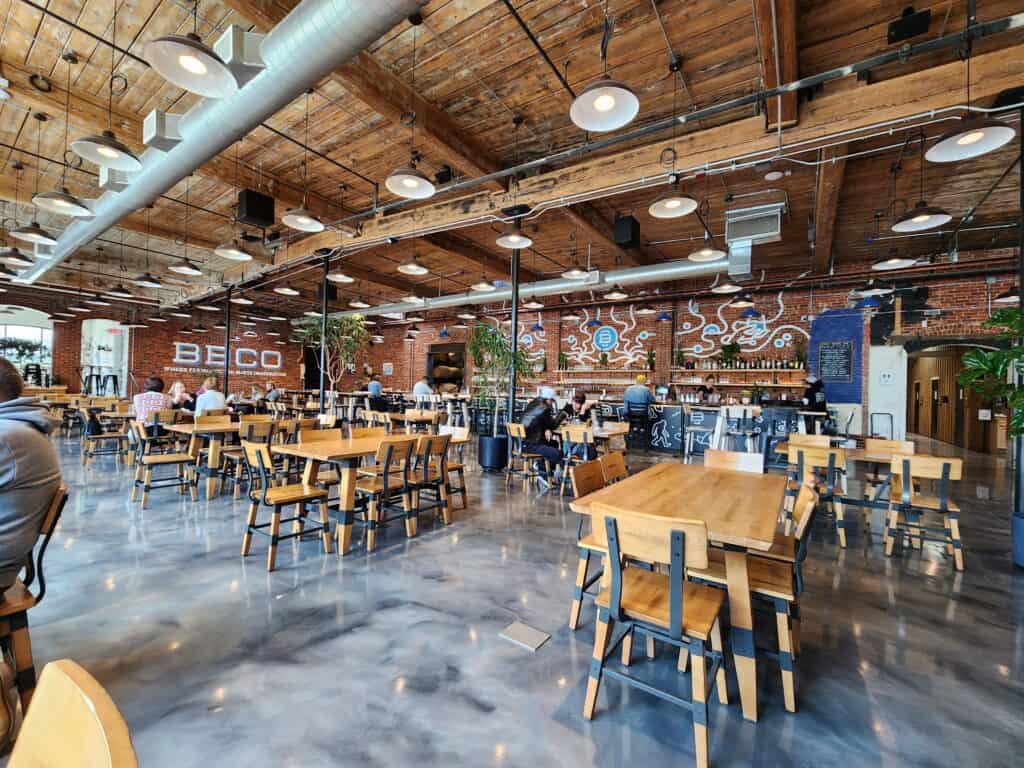 Burlington Beer Company is a terrific place to visit, with their restaurant, taproom, and barrelhouse all located in a big space in a century-old brick building in the South End.
Come for the rotating offers on tap, paired with items from the delicious seasonal menu made up of pub grub essentials.
They have a whole slew of brews, from flagships like Double IPA "It's Complicated Being a Wizard", to some really delicious porters and stouts. Check out the awesome art on their cans, too, it's really unique.
Citizen Cider
Citizen Cider is now one of my absolute favorite Burlington Vermont breweries, though I guess *technically* it's a cidery.
What took America so long to get on the hard cider train? When I traveled in the UK, I enjoyed ciders left and right.
Well, finally, it seems we've caught on, and Citizen Cider produces some of the most delicious hard ciders EVER.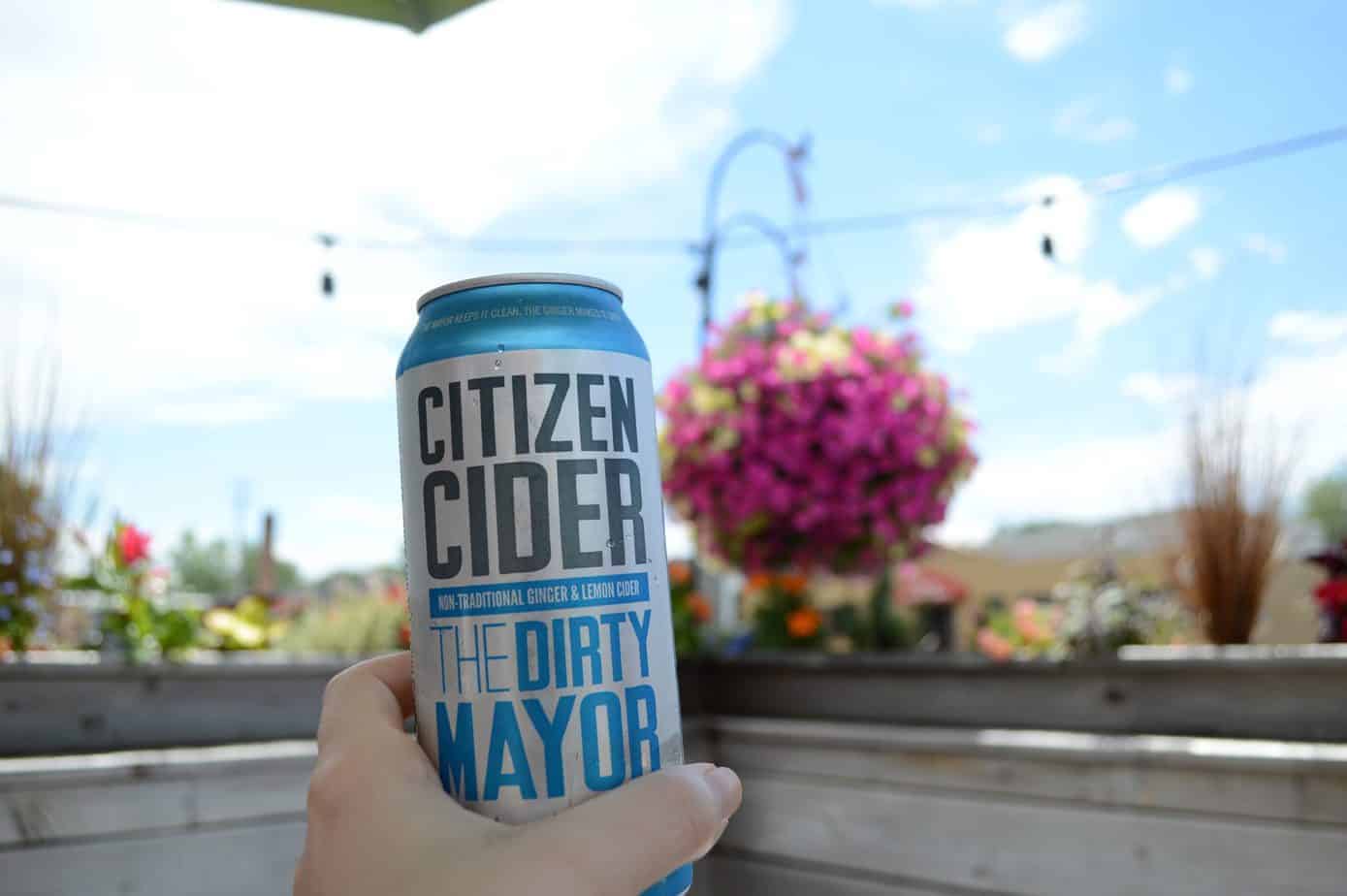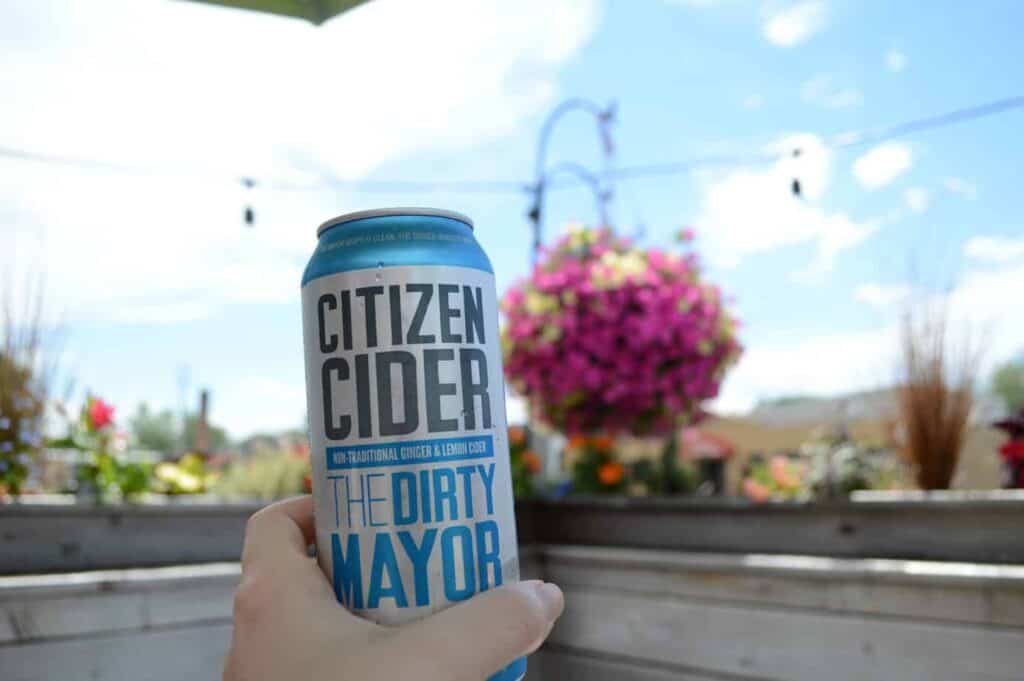 The brewery is located in South Burlington, in the South End Arts District. There's lots of fun spots here, including other breweries and restaurants, and tons of galleries and art studios. (If you're around in September, don't miss the annual Art Hop.)
Citizen Cider is set in a small warehouse/garage-type building that opens onto a wide deck. It's a perfect place to enjoy some drinks in the sun or to sit inside and hang with friends.
On my last visit, groups were playing all kinds of games, like Pictionary and Cards Against Humanity (a personal favorite).
At Citizen Cider you can enjoy cider-based cocktails (I recommend the Cider House Mules) or sample a cider flight. All of the ciders are incredible, but don't miss The Dirty Mayor, a pale golden cider with a ginger kick.
Not only does Citizen Cider have great ciders, but they also have a reliable food menu. Every single time I visit Burlington, I go to Citizen Cider for ciders and for their poutine. It's truly epic and I'm never disappointed.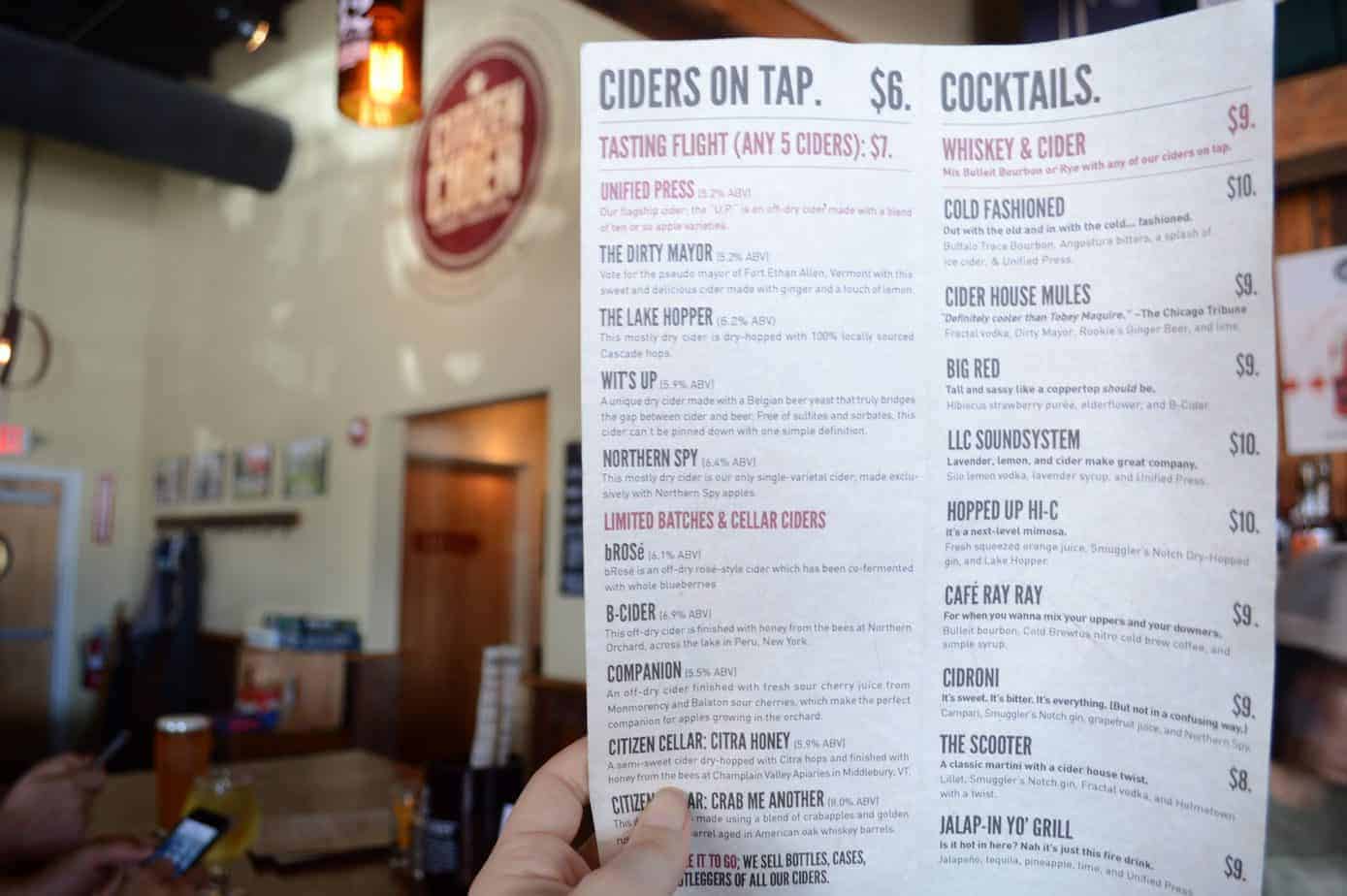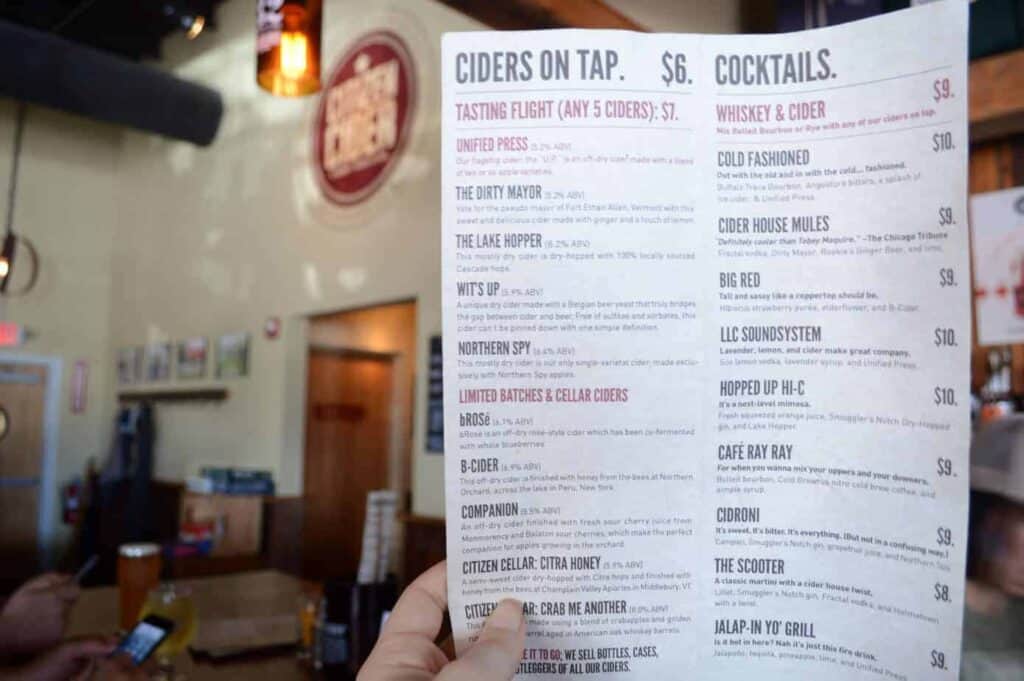 Foam Brewers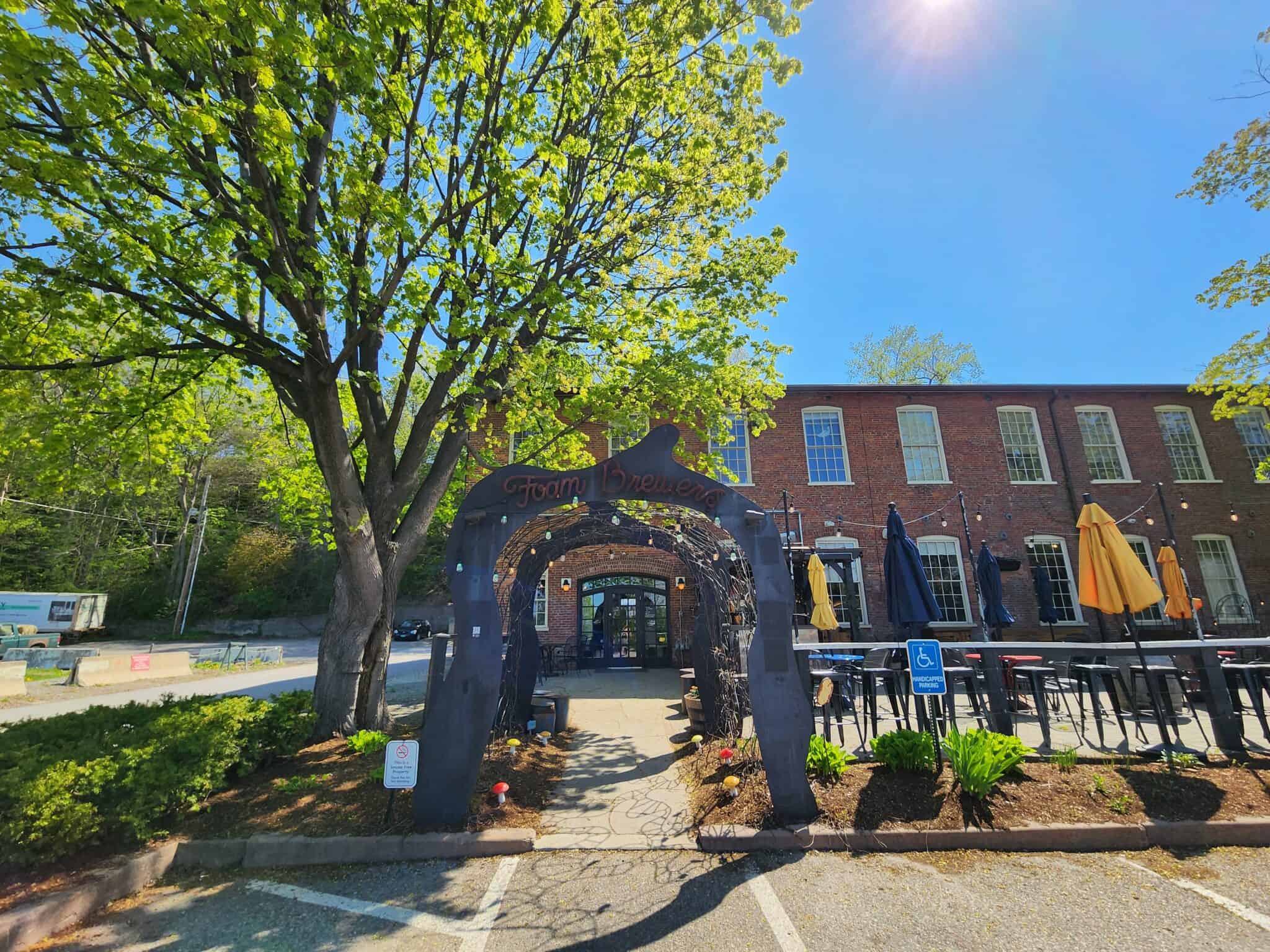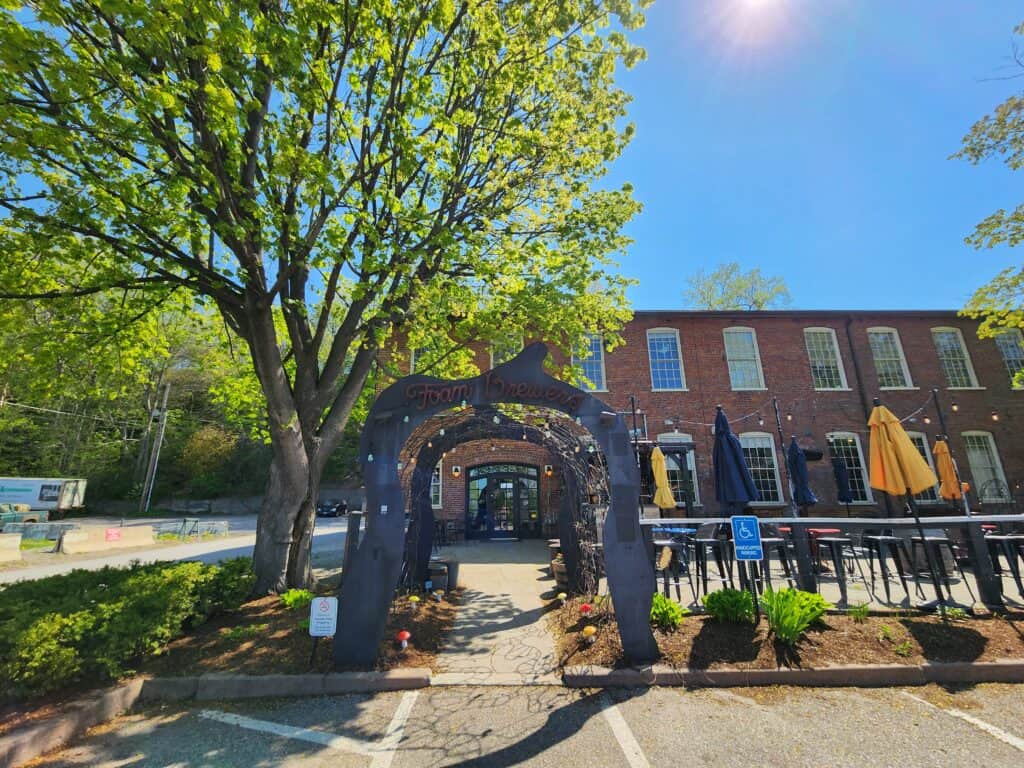 Foam Brewers hit the scene in 2016, and opened in a terrific location. Down at the end of a row of shops near the Lake Champlain waterfront, Foam Brewers mixes a chill, factory-style layout with a range of unique brews.
Their offerings are constantly rotating, but you can depend on some amazing sour beers, hoppy IPAs, and some nice experimental flavors.
There's a great selection of Burlington VT beer and hard ciders on the menu, including some great nonalcoholic options like a maple soda, kombucha, and sparkling ciders.
Foam Brewers have food available, too, including cheese plates and dips perfect for snacking while you sip.
They also host an array of events and live music, so without a doubt, Foam is one of the top breweries in Burlington VT.
Zero Gravity Craft Brewery
Zero Gravity is another hot spot in Burlington's South End that's been around since 2004.
What a great place to drink in Burlington; their Pine Street brewery offers indoor and outdoor covered patio seating.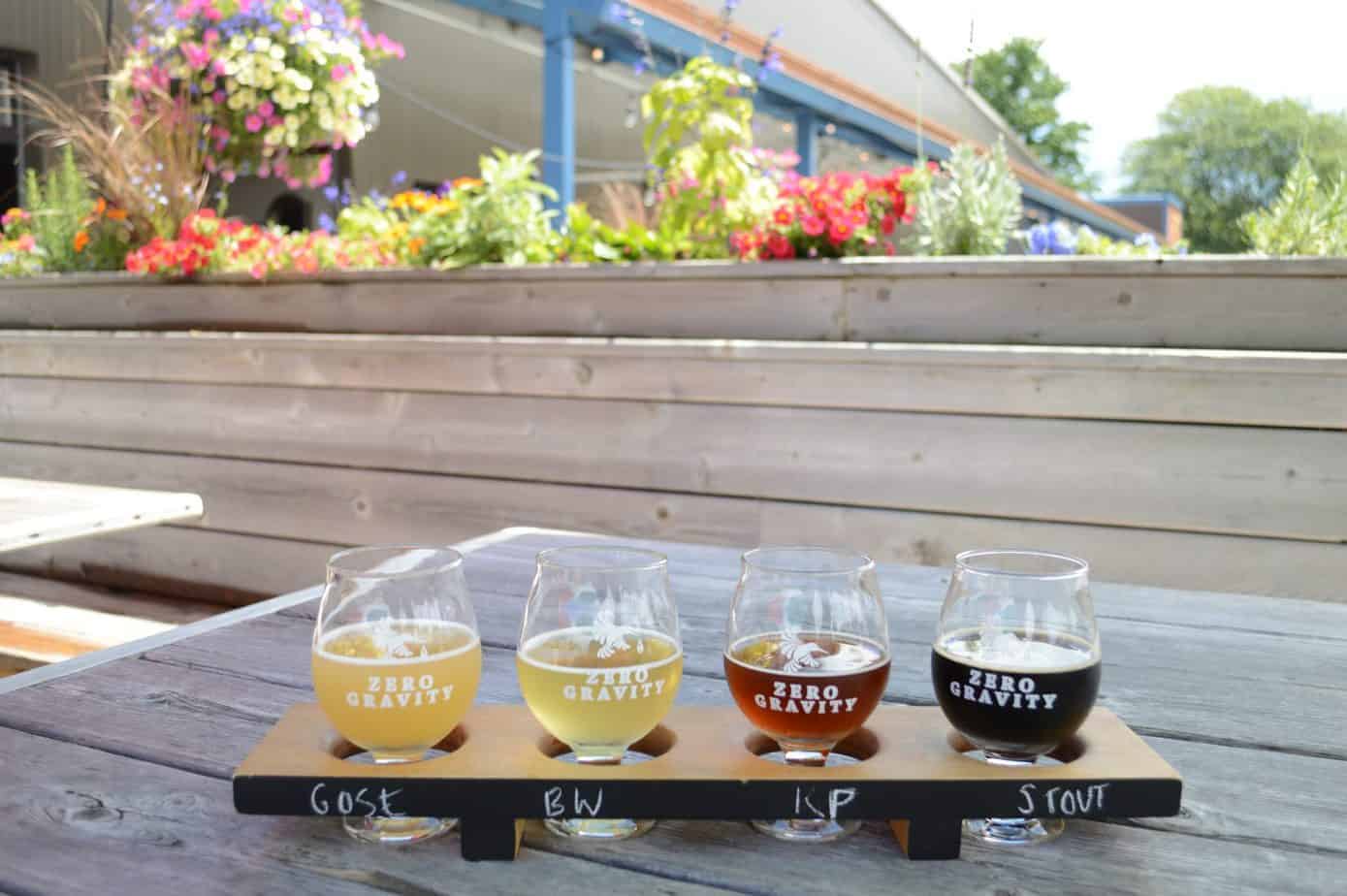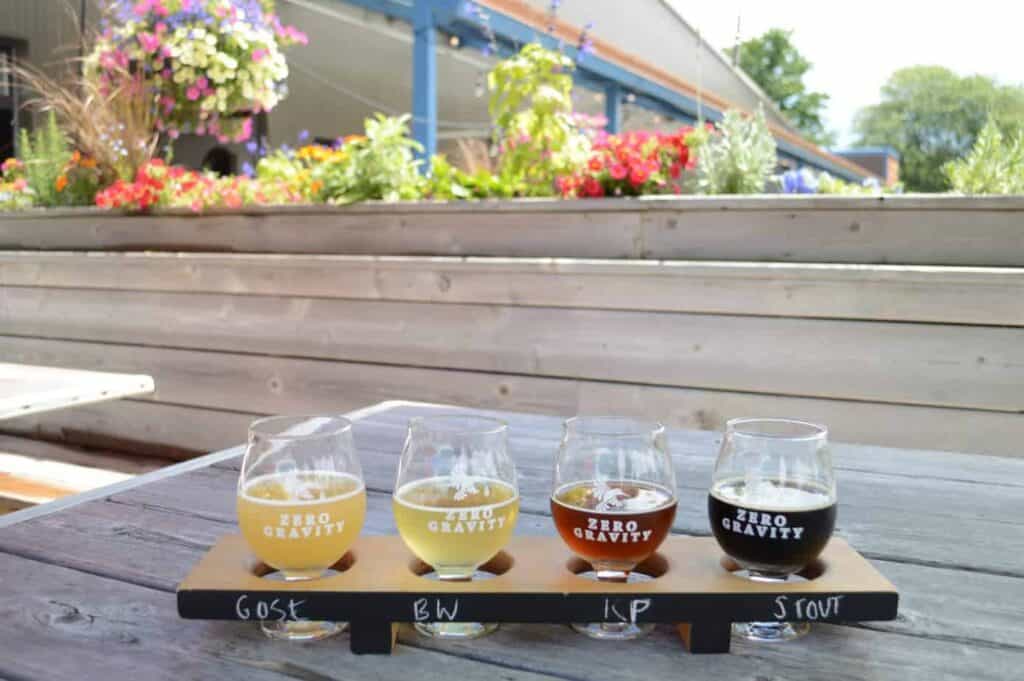 Pictured above, you see the tart, textured Gose, the crisp Bernie Weisse (named for everybody's favorite Vermont presidential candidate), the malty Keeper, and the delightfully smooth Irish Stout. Zero Gravity Beer is also available at the brewpub at American Flatbread downtown.
This Burlington brewery has a crisp, clean interior and a fun brand logo. It all works really well together and makes you excited to sample their offerings, all made with "painstaking attention to technique and recipe."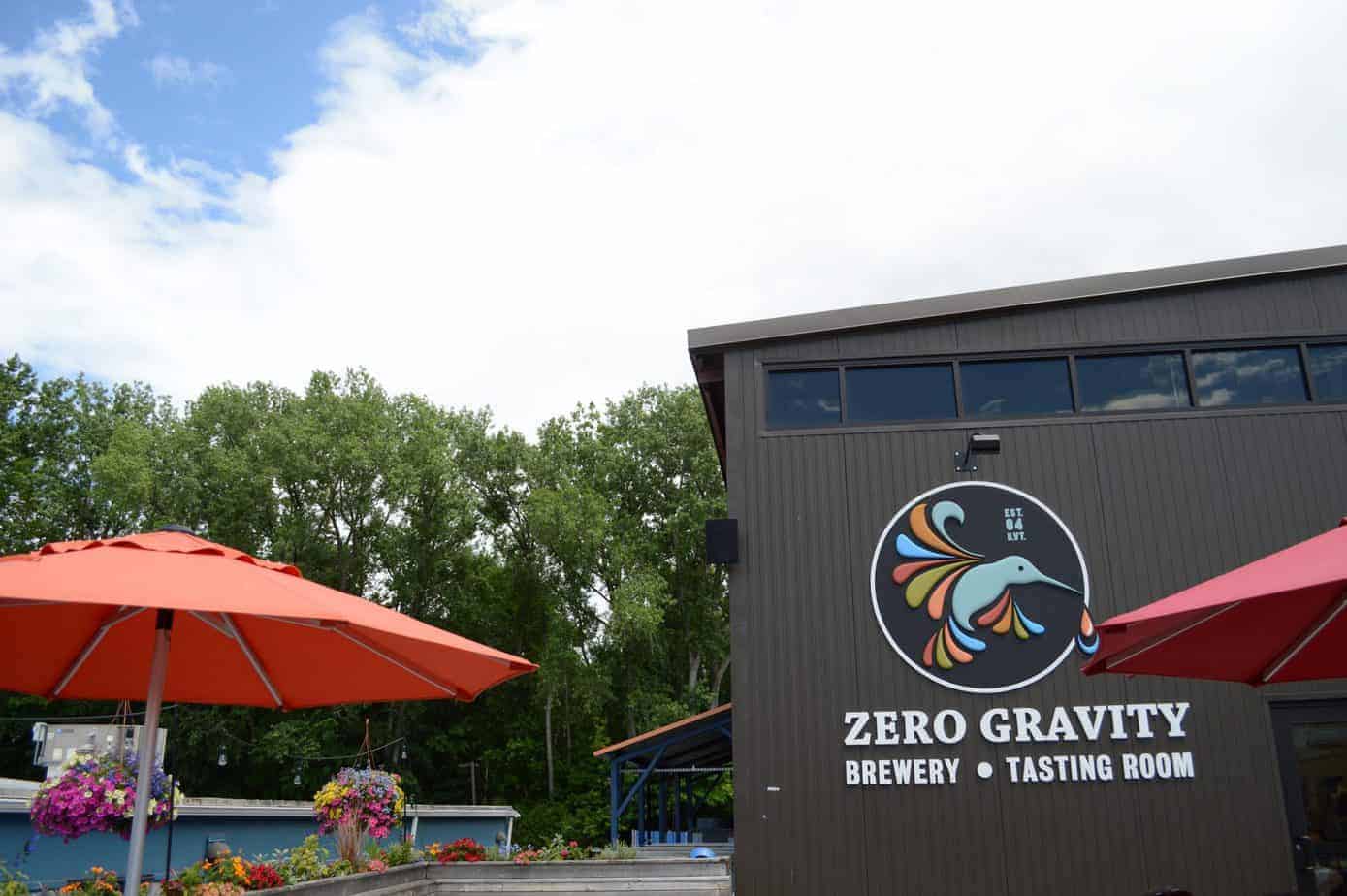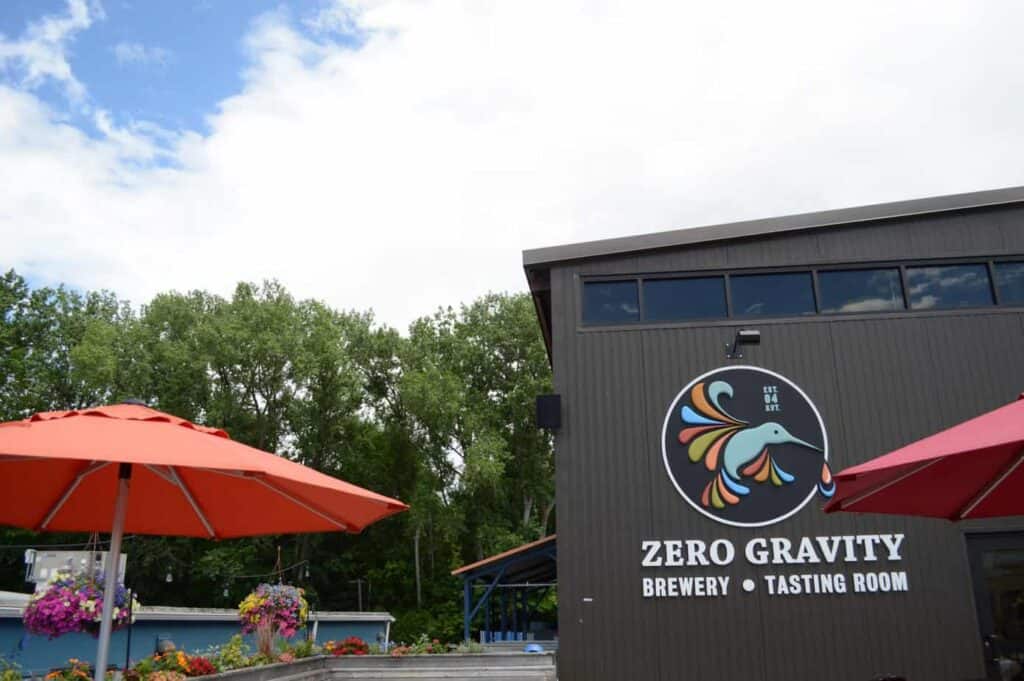 Simple Roots Brewing
Simple Roots Brewing is a Burlington microbrewery that offers all the classics: pale ales, stouts, pilsners, etc, but you'll also find eclectic brews like their Labor of Love Kettle Sour Saison with raspberries, and Elderflower Saison ale infused with elderflowers. You can find their tap room in the Ethan Allen Shopping Center under the clock tower.
Just down the road in Shelburne, VT is Fiddlehead Brewing. It's an easy drive down Route 7, and a great place to stop and enjoy a pint. If you're in search of breweries near Burlington VT with plenty of flavors and variety, Fiddlehead has it.
Though known for their flagship brew Fiddlehead IPA, there is an abundance of rotating options on tap with fun names like Dave's Benefit Car Wash, a pale ale with hints of strawberry and red grapefruit.
There's also pizza next-door that can be brought in, so you can enjoy a bite paired with a winning brew.
Vermont Pub & Brewery
One of my absolute favorite Burlington VT bars has always been Vermont Pub & Brewery, or VPB, as it's known to locals. Set right in a "quieter" area of downtown Burlington, it's a great spot to grab drinks with friends or enjoy a first date. It's always a good choice to bring visitors to the area.
One of the best Burlington VT brew pubs (sweet potato fries, please), they have a reliable set of local brews that are always awesome. Among my faves are Handsome Mick's Irish Stout and Forbidden Fruit, a delectable beer fermented with raspberries. Careful, that's a strong one!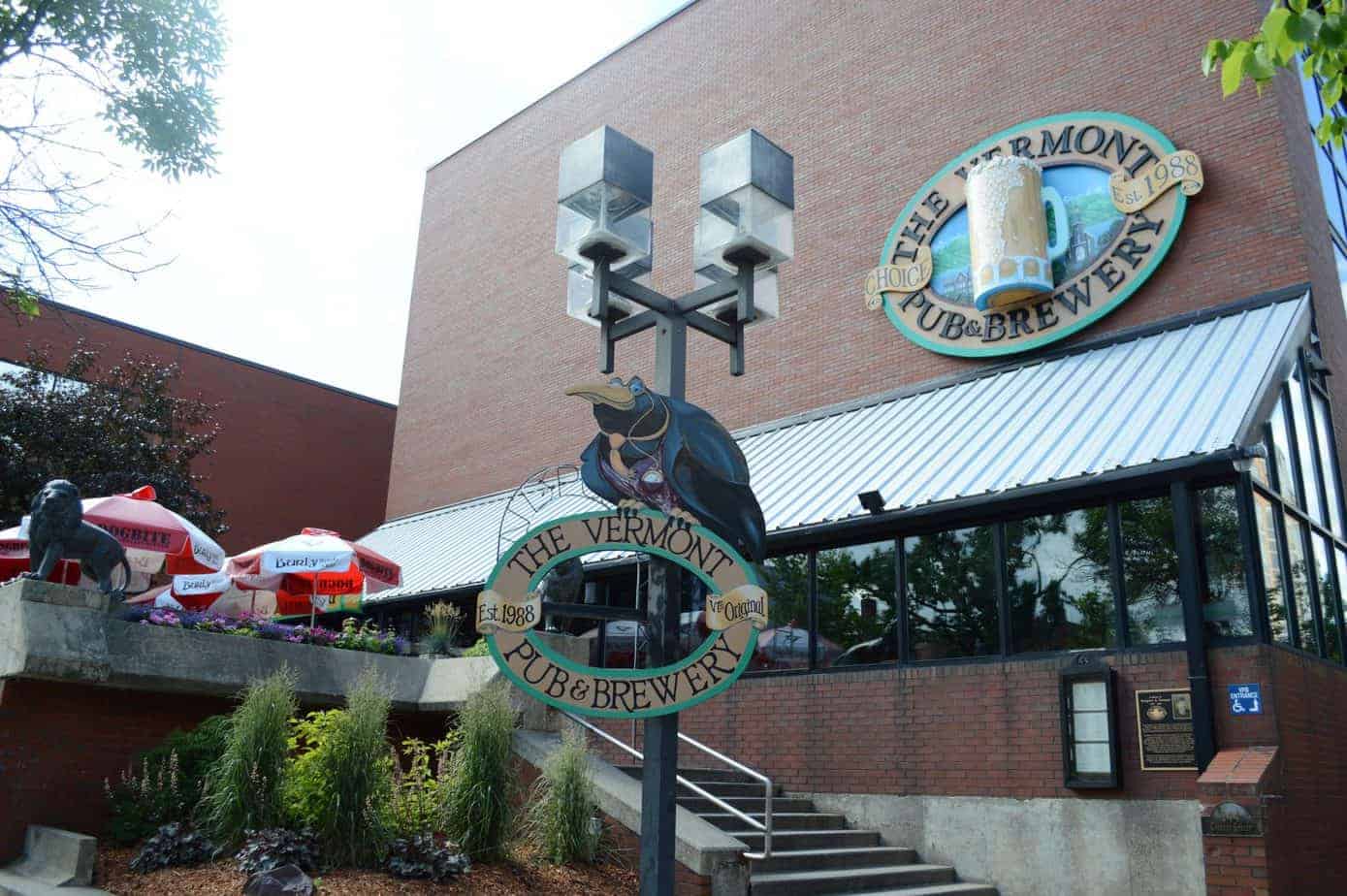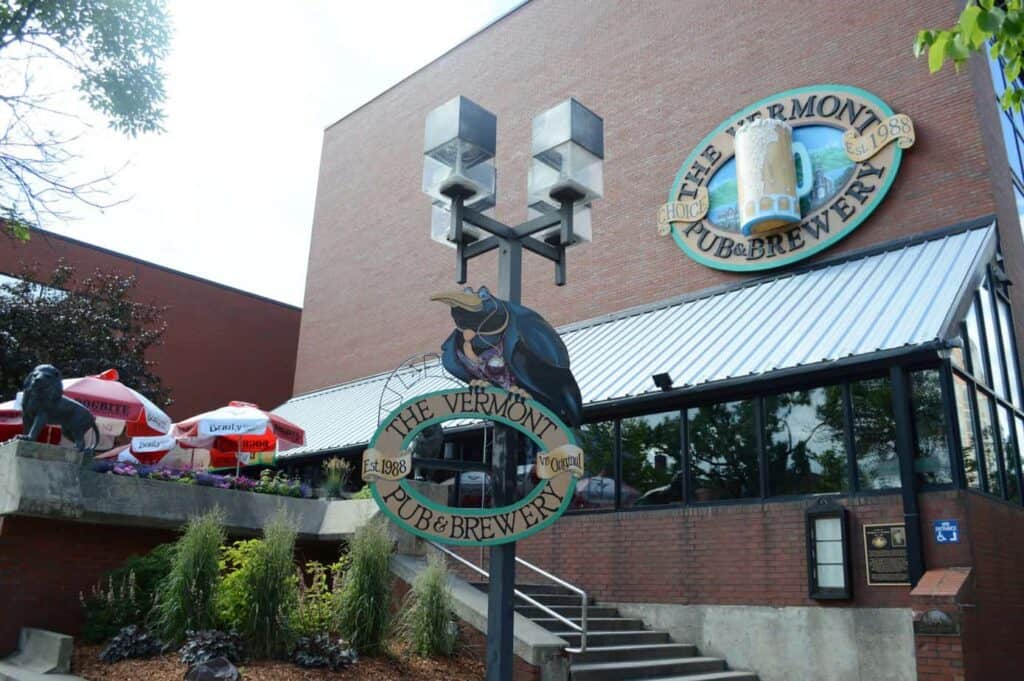 The Best Bars in Burlington
Three Needs Taproom
Just in case these Vermont breweries don't satisfy your thirst, there are a ton of great Burlington bars. My number one, even now, remains The Three Needs. I'm not exactly sure what it is about this Burlington bar that makes it so great, but it might be its laid-back atmosphere.
The Three Needs is both chill and classy. It's clean and cozy and definitely not a dive. You can sit and sip your drinks or join in a game of pool. The music is always good. It has a young vibe, but not a crazy college feel. When I was living in Burlington, it was the hangout for down-to-earth locals in their late 20s, and it still seems to be.
These days, they seem to be offering dollar slices of pizza on weekend evenings. While they don't have their own brewery space, they offer the best and brightest craft beer Burlington VT is known for.
The Whiskey Room
Looking for a classy, even scholarly feel in your pub? The Whiskey Room will not disappoint. This place is something of a hidden gem (or at least it feels that way). With whiskey on the menu (of course) plus some other choice beverages, this is the only place that genuinely felt like a British pub in Burlington. For that UK feeling, visit the Whiskey Room.
Mule Bar
While technically not *in* Burlington, this one is still one of the best pubs near Burlington; some of Vermont's finest spots are just outside the city. One great place to kick back with a drink is at Mule Bar in Winooski. The 'Noosk is just outside of Burlington and is easy to reach by car, bus, or Uber. The small downtown is pretty lively, with a row of bars and restaurants to keep you fed and watered, and definitely qualifies as one of the best things to do near Burlington VT.
Mule Bar is fairly new to the Burlington bar scene, arriving in 2013. They advertise themselves as the home of comfort food and craft beer. Sounds darn good to me! On tap are local craft beers (including favorites from BTV breweries like Zero Gravity) as well as some from other spots outside of New England. Burgers, fries, cheese, and meat round out the food menu. It's safe to say you'll be satisfied in this eclectic and attractive bar near Burlington.
The Gryphon
The Gryphon is another newer addition to the roster of Burlington's best bars. This place has an old-fashioned vibe, craft cocktails, and a very tempting menu. Set in a renovated historic building, The Gryphon has plenty of charm to go around. Just a block from Church Street, this is a bistro/bar with lunch, dinner, and brunch, as well as cocktails and wine.
The dinner options include mouth-watering choices such as Seafood Grits and Petite Filet, while Sunday brunch intrigues with Brioche French Toast (topped with Vermont maple syrup of course). Every meal is paired with fine cocktails. This definitely is a great spot to relax with a good drink and a nice meal, and one of the best cocktail bars Burlington VT has to offer.
Drink
One of the best options to grab a drink Burlington VT has is the aptly named Drink. With mood lighting, live music, and board games at the ready, Drink is a great chill place to meet up with friends.
Deep City
Looking for a great bar and restaurant in Burlington near the waterfront? Check out Deep City, the craft cocktail bar housed in a renovated lumber mill. Not only will you find fantastic food and a full menu of craft cocktails, ciders, and wines, but you'll also find all the Foam Beer favorites on the menu here because guess what? Foam Beer is right next door and Deep City is a part of the team, so whether you decide to hang at the brewery before or after your visit to Deep City, it's all right there!
The Archives
Speaking of games, you should definitely put The Archives on your list of Burlington VT bars to visit. Here, craft brews, classic cocktails, and vintage arcade games combine for a seriously hip spot that all the kids are visiting.
Manhattan Pizza & Pub
No offense to Manhattans, I had some great fun there in my 20s, but I'd consider it more of a divey place these days. Best dive bar in Burlington? Might be this spot. If you're young, undiscerning, and looking for a good local bar, this is a nice choice. The bartenders are always friendly, the people are laid back, and you can't beat it for low prices and simple food options; it's definitely where to go in Burlington VT if you're looking for that laid-back, local bar experience.
No matter where you grab your libations, Burlington is a happenin' city that I know I'll return to again & again.
Thirsty for coffee instead? Check out our list of Great Burlington VT Coffee Shops.
What is your take on Burlington's breweries and bars? What spots did we miss?
---
You might also like:
---
Pin this post for later!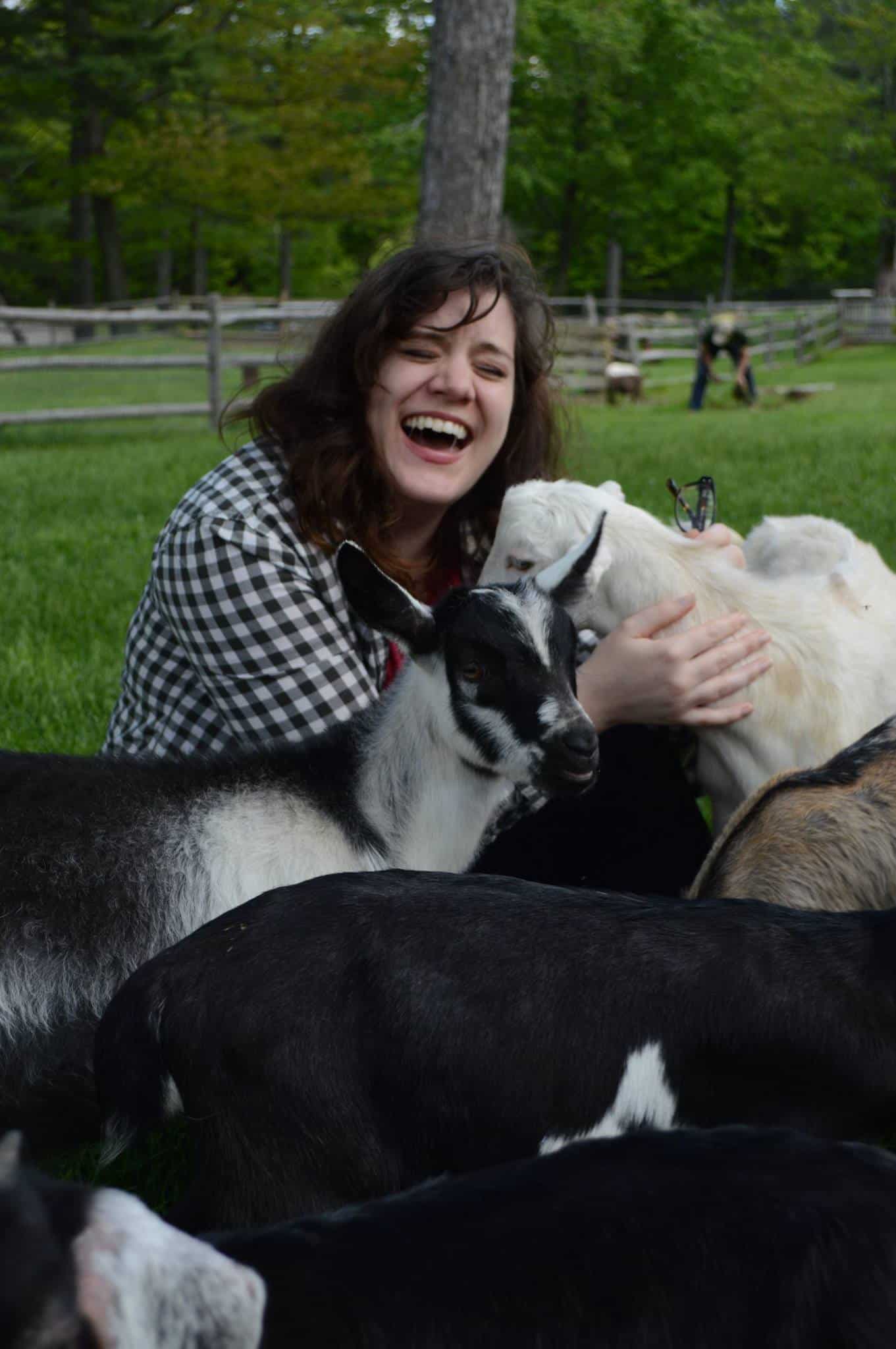 Amy Hartle is the founder and Editor-in-Chief of New England With Love, a comprehensive resource for travel in the New England region. Amy has been exploring New England since 2001. She lived in Vermont for many years and is a graduate of Plymouth State University in New Hampshire. Amy has been writing about travel for over a decade. On this site, Amy aims to share her love of New England and help you to have the best possible adventures!
Amy has been a full time blogger since 2012, and is also the publisher of Two Drifters, where she writes about couples travel and relationships, as well as Let's Adventure Baby, a family travel site. When not traveling the world or creating epic blog content, Amy can be found cuddling with her husband, son, and cats, & drinking a maple latte.