---
*Links in this article may be affiliate links, from which we may earn commission. See our
Privacy Policy
for full details.
---
Burlington, Vermont is one of our favorite places in New England. There is plenty to do there: craft beer, hiking, shopping, sailing, staying in cool Burlington hotels, and Bernie Sanders-sighting, just to name a few.
If you're wondering where to stay in Burlington VT, we've compiled a list of our top choices of great places to stay in and near Burlington. As former residents of the Burlington area, we know the city well, and you can feel confident in our recommendations. Ready to get planning? Let's check out some of the top places to stay in Burlington Vermont!
Where to Stay in Burlington VT
Hotel Vermont
If you're looking for a hip, modern hotel, Hotel Vermont is a great Burlington hotel. It has an ideal location right downtown with proximity to Church Street as well as to Lake Champlain. There is also a popular onsite restaurant and bar. Consider a whirpool King or a suite for an extra luxurious stay.
Why Hotel Vermont is a top pick for hotels in downtown Burlington.
In addition to its prime location, Hotel Vermont places a lot of emphasis on supporting local businesses. In your room you'll find locally-sourced Lunaroma bath products, and the hotel has partnered with dozens of other Vermont-based providers, too.
Hotel Vermont also has not only its own great restaurant, Juniper, but it is situated right next door to Hen of the Wood, one of the most popular and well-loved Burlington restaurants.
Read reviews: TripAdvisor | Check rates & book: Booking.com
Made INN Vermont
Made INN Vermont is a self-described chic boutique bed & breakfast in Burlington. This pet-friendly B&B is incredibly cute and unique but with only 4 guestrooms, you may have to book early to snag a stay.
Those seeking a quiet place to stay in Burlington will love this property. It is located on a residential street in the "hill section of Burlington" just a short walk to the action of downtown. It makes for a beautiful walk as you are descending a hill overlooking the city and Lake Champlain beyond. Made INN Vermont is also very close to the campus of Champlain College.
What makes this one of the best places to stay in Burlington VT:
First of all, the rooms at this Burlington VT bed and breakfast are gorgeous, chic, and cozy. Some of the rooms' Victorian windows have views of the lake (win!) But not only will you love the homey ambiance of this space, you'll feel right at home with your gourmet breakfast, the inn's library, game parlor, and music room, and the inviting hot tub.
Did we mention there are tons of amazing amenities included here? You'll be welcomed with a drink (Vermont's favorite beer, of course) and even your pet will be welcomed with treats and bedding. What's not to love about a Burlington B&B like that?
Read reviews: TripAdvisor | Check rates & book: MadeINNVermont.com
Hilton Garden Inn Burlington Downtown
The Hilton Garden Inn Burlington Downtown is one of the top-rated properties in town. Honestly, you probably could not get a better location; the inn is just a block away from Church Street, and across from City Hall Park.
You may not find anything particularly spectacular or eccentric about the rooms at this hotel in Burlington, but sometimes that's exactly what you want from a hotel: a solid, dependable brand you can trust. Hilton is known for being a high-quality place to stay and this Burlington lodging is no different. Comfort at a good price; plus, Burlington Vermont downtown hotels are hard to beat just for the sheer convenience of location.
What makes the Hilton Garden Inn one of the best Burlington VT hotels:
This is a modern, updated space featuring clean and comfortable furnishings. The hotel has all the amenities you really need, and it's location is top-notch. The complimentary shuttle to and from Burlington airport is also a helpful advantage for travelers. For those driving, this Burlington hotel offers paid valet parking.
Read reviews: TripAdvisor | Check rates & book: Booking.com
The Essex Resort & Spa
Perhaps you're visiting the Burlington area but would prefer not to be in the heart of downtown. If you're looking for a more secluded stay in the region, we absolutely recommend The Essex Resort & Spa, which offers a country feel with the convenience of towns near Burlington: Essex and Williston.
This resort is ideal for a getaway because it offers more than just a hotel: it is also a culinary destination (with onsite restaurants, cooking classes, and a tasty lobby cafe). This luxury accommodation is, perhaps most importantly, an award-winning spa. Ideal for those wanting to destress and unwind on their Vermont vacation.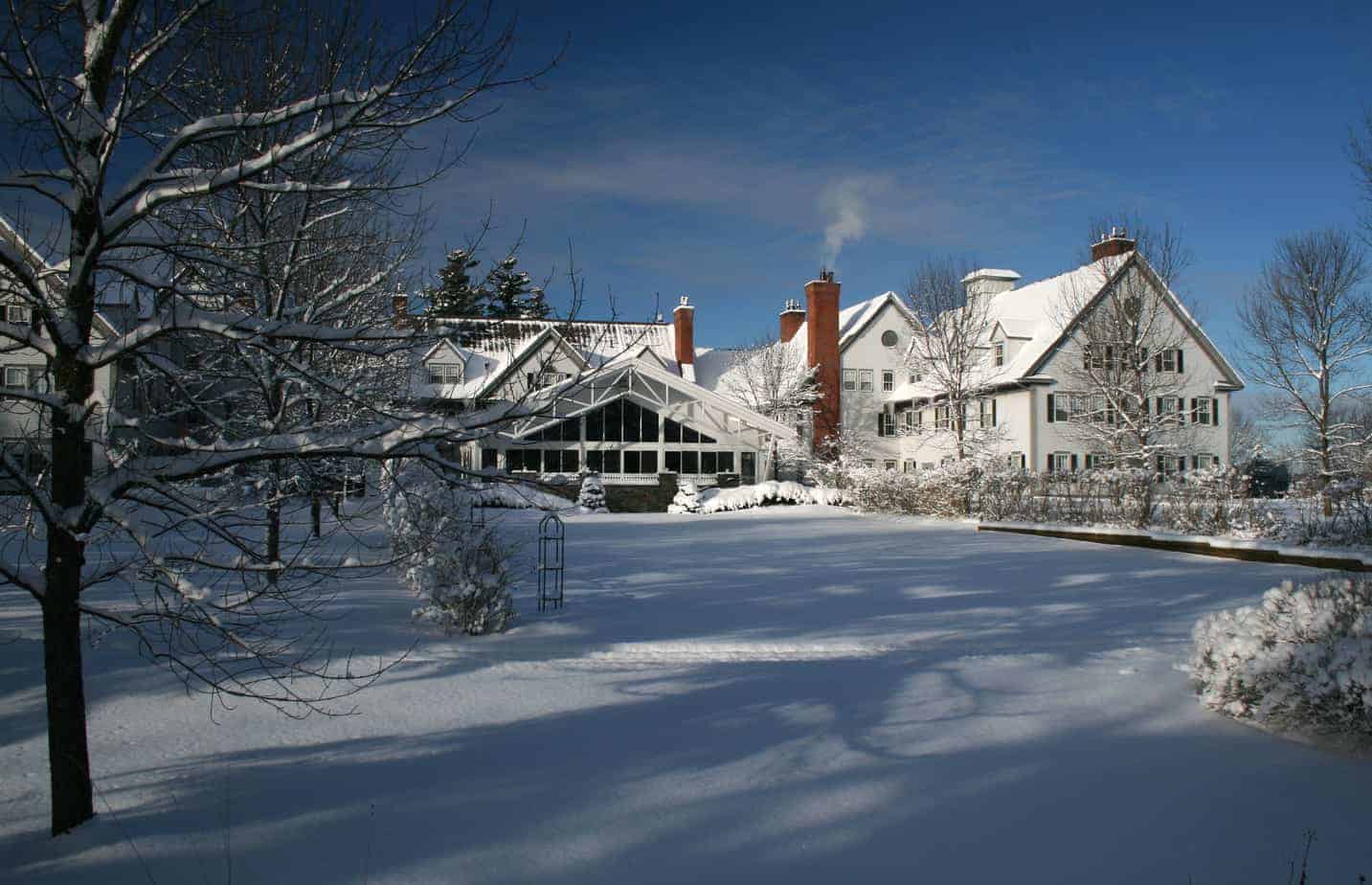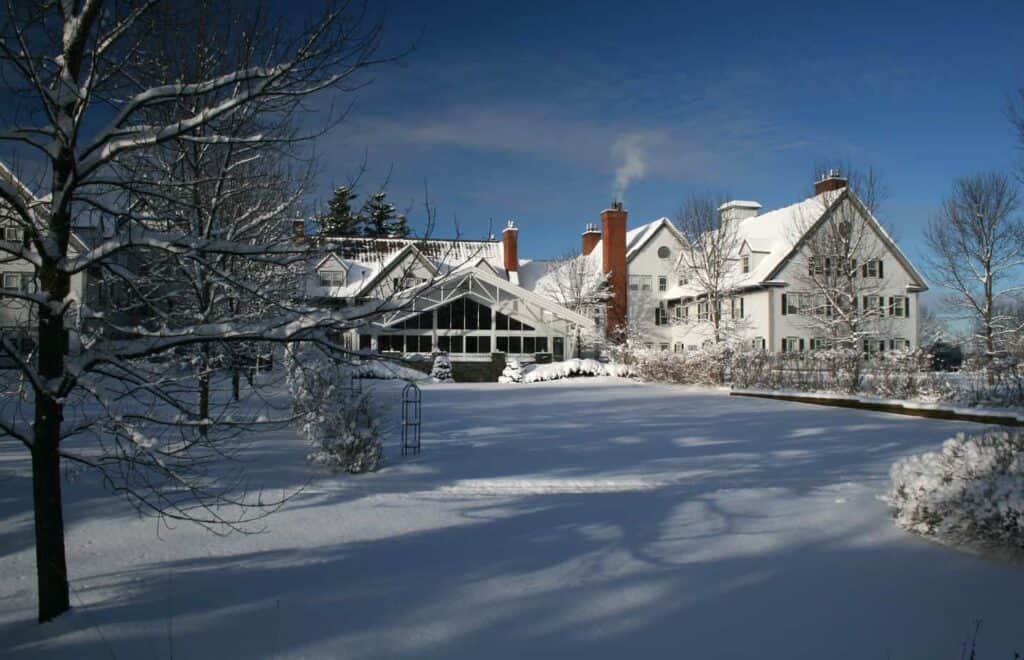 We have insider knowledge of this place. Not only has Amy stayed in the inn, but she also used to work in the restaurant here! She knows firsthand how lovely the Essex is—and how beautiful the rooms and spa.
Why the Essex is one of the leading hotels near Burlington, VT
Burlington is just a 20-minute drive away, but the Essex offers you a real Vermont countryside stay. You have delicious food right on the property and a cozy spa. It's really all you need for an awesome vacation. PS: the guest rooms at this resort near Burlington are all unique and have the warm vibe of an English country inn.
Read reviews: TripAdvisor | Check rates & book: Booking.com
Green Mountain Suites Hotel
Are you looking for hotels near Burlington VT airport? You'll want to consider hotels in South Burlington. Just a short drive from the airport is a scattering of hotels, ranging from budget options to higher-end choices. Nestled right in the middle is the Green Mountain Suites Hotel. Boasting the rustic feel of a classic Vermont country inn (including a massive fireplace in the lobby) this South Burlington hotel will suit your needs for a cozy stay in the region.
You can opt for a room with a fireplace, too, if you'd like. Check out the fireplace and jacuzzi suites.
While staying at one of the hotels in South Burlington VT means that you're giving up proximity to downtown Burlington and the Church Street marketplace, there are lots of benefits to staying in this area. You're close to I89, which is great if you're planning day trips to any nearby areas like Stowe. You also have plenty of shopping and dining nearby, and downtown Burlington is really just a few miles down the hill, anyway. An easy Uber ride.
Why you might consider this option when choosing Burlington VT airport hotels:
Just because you're looking for airport-convenient accommodation doesn't mean you should have to sacrifice quality. Green Mountain Suites combines all you need to be satisfied and well-rested. And their indoor swimming pool is a nice perk if you're looking for a Burlington place to stay with a pool!
If you are looking for pet-friendly hotels in Burlington, VT, Green Mountain Suites is a good choice. They also have plenty of other amenities to ensure your stay is as comfortable as possible.
Read reviews: TripAdvisor | Check rates & book: Booking.com
Willard Street Inn
If you like the idea of staying in a classic B&B in Burlington, then you should check out Willard Street Inn. This historic mansion was built in 1881 and has been meticulously restored to be both a testament to its former glory and still feel fresh, modern, and comfortable by today's standards, as well.
Why you might consider this option when choosing Burlington VT B&Bs:
Gorgeous grounds, generously appointed amenities, delicious onsite breakfast, and the great location are just a few of the things that visitors love about Willard Street Inn. Walking distance to Church Street? Heck yes!
Oh, and this Burlington Vermont B&B has a solarium, too! Swoon.
Read reviews: TripAdvisor | Check rates & book: Booking.com
Courtyard Burlington Harbor
While Courtyard Burlington Harbor is technically a chain with the Marriott hotel group, it is certainly worth noting as a great option for where to stay in Burlington Vermont because of its perfect location! Just a quick walk around the corner to Church Street, this Burlington hotel is beautifully situated within easy walking distance of all kinds of fun Burlington things to do.
Why you might consider a stay at this downtown Burlington hotel:
In addition to its stellar location, this hotel in downtown Burlington VT has onsite dining, an indoor pool, hot tub, and fitness center, bicycle rental, and more to offer its guests, so when it comes to amenities and reasons to stay at the Courtyard Burlington Harbor, they are serving them up on a platter!
Plus, waterfront Burlington VT hotels have the best views!
Read reviews: TripAdvisor | Check rates & book: Booking.com
Burlington VT AirBnbs
AirBnbs are an awesome alternative to the traditional Burlington VT resorts and inns. We love staying in AirBnbs when we travel because it offers a unique experience and is often more affordable. Check out our list of the top Airbnbs in Burlington Vermont here.
And of course, there are plenty of great Airbnbs in Vermont outside of Burlington, too! We hope this article has helped you to discover the best places to stay in Burlington Vermont for your next visit!
---
Read our other posts to help plan your trip to Burlington:
---
Pin this post to save for later!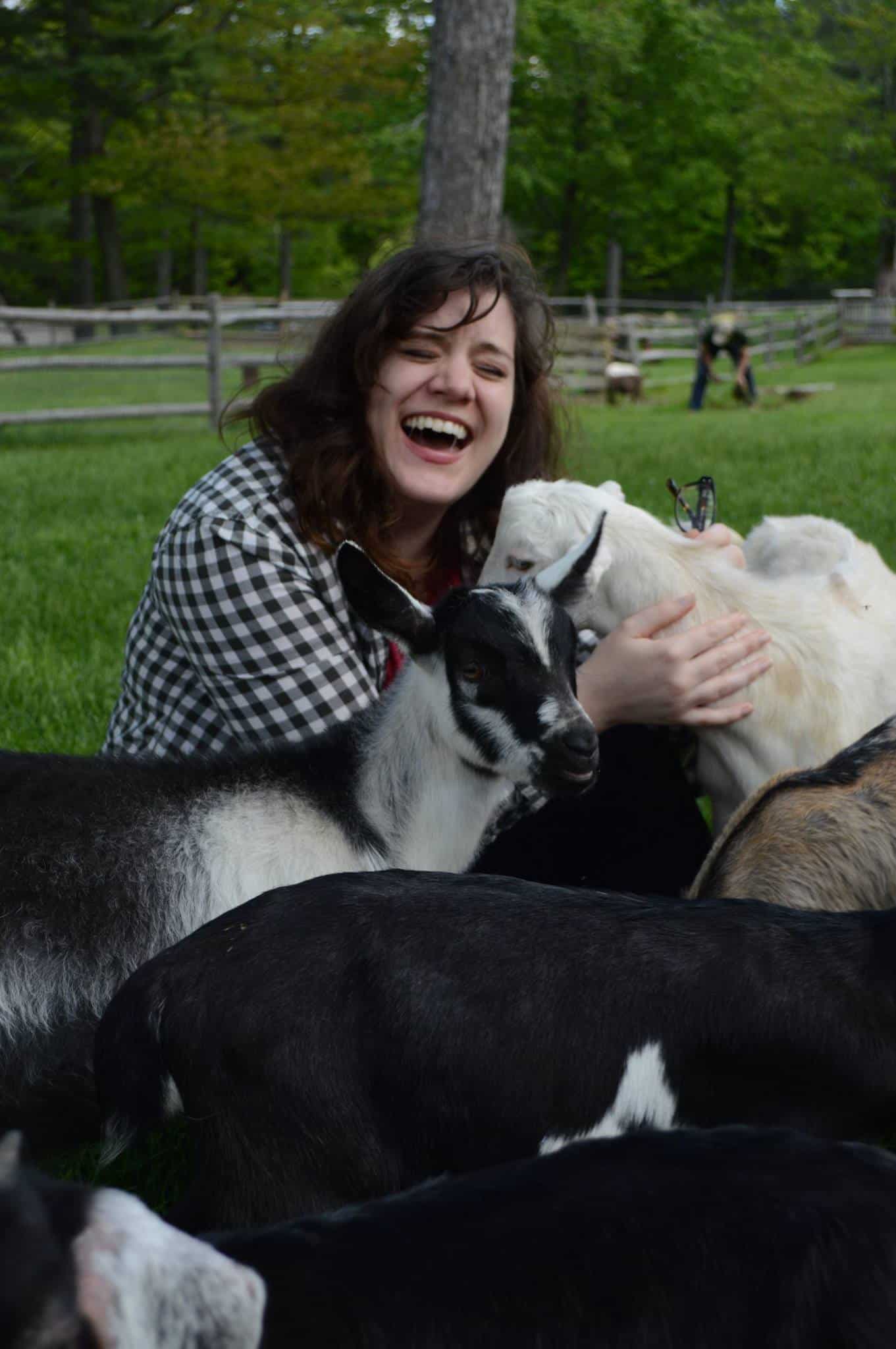 Amy is the founder of New England with love. A proud Vermonter, she hopes to share her love of New England and help you find the best adventures in the region. Amy is also blogger/founder at Two Drifters, where she writes alongside her husband about romantic and couples travel, relationships, honeymoons, and more. When not working on websites, Amy is probably reading, cuddling with her husband, son, and cats, & drinking a maple latte.