*This site uses affiliate links; if you make a purchase through these, I may receive a small commission at no cost to you.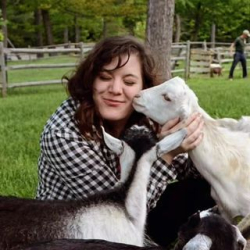 Latest posts by Amy Hartle
(see all)
Believe it or not, but Vermont only has one actual city, and it's Burlington! Located in the northern part of the state, this beautiful city sits right near Lake Champlain (one of the best lakes in Vermont) and has somewhat of a cozy feel to it.
Burlington is known for its small-town feel (despite being a city), the breathtaking location near the mountains and Lake Champlain, and the artsy feeling of the city. Honestly, there's something in Burlington for everyone.
If you're visiting on a budget, you're in luck; there are many free things to do in Burlington VT.
PS: Check out my comprehensive list of things to do in Vermont next.
Relax at North Beach
First up is North Beach, a park and campground in Burlington. It's the largest beach in the area, so it's so popularly visited. While you do have to pay for parking during certain times of the year (May to October), it's free if you visit from November to April. You can get into the park on foot or bike any time of year and bypass the parking fee.
What makes North Beach so great is that there are actually lifeguards on duty between June in August. In fact, it's the only beach in the area that has active lifeguards, so if you're visiting the area with kids, you can rest assured that they'll be taken care of.
You can go swimming, rent a kayak, or go paddleboarding at the beach. There's a food concession stand in case you get hungry, well-kept showers and restrooms, and even a playground for the children. Plus, there are grills and picnic tables, too!
Tour the Ben & Jerry's Ice Cream Factory
While it's technically located in Waterbury, no trip to Burlington is complete without making a trip to the Ben & Jerry's Factory. It's completely free to go on a tour of the factory, making it one of the top free things to do in Burlington VT.
You'll be given a behind-the-scenes look at how the ice cream is made during the tour. They usually make one flavor a day at this factory, so at the end of the tour, you'll be given a fresh sample of that day's flavor.
When you're done, be sure to peruse the shop, and if you do want to spend a bit of money, you can visit the scoop shop. There's also the fantastic Flavor Graveyard, where you can check out old flavors that are no longer available for purchase!
Snap a Picture at the World's Tallest Filing Cabinet
This is one of the quirkier free things to do in Burlington VT, but that doesn't make it any less fun. The cabinet, which is located in the southwest part of the city, is a whopping thirty-eight drawers tall. Yes, you read that right! When you're driving by, it's impossible to miss it because of the presence it holds.
The World's Tallest Filing Cabinet was built in 2002 by Bren Alvarez. It quickly became a fun monumental landmark to visit for locals and visitors from afar. Be sure to bring your phone or camera so you can snap a quick pic in front of it to show that, yes, you have been there before!
One thing that locals have found to be so heartwarming about these drawers is that some of the ones at the top are left slightly opened, and birds have since built nests inside. So now it doubles as a landmark and a home!
Try Some Cheese at Cabot Farmers' Store
If you're a cheese fan, then you absolutely can't miss out on the Cabot Farmers' Store. This is once again a landmark that's technically located in Waterbury, but it's still worth visiting. It is such a great free attraction because they have samples of almost every cheese out that you can try when you visit!
It's best to visit and walk around and try even the flavors that sound super weird. If you have any questions about any of the flavors, you can ask the staff to help you find the right cheese for your taste.
If you find a flavor that you love, you can totally splurge a little and buy a brick of cheese to bring home. Be sure to give the everything bagel cheese a try; you won't regret it.
Walk Along Church Street
One of the best free things to do in Burlington VT, is to peruse Church Street. This street is one of the most popular attractions in Burlington and is lined with tons of local and commercial shops. You could even go into the shops and window shop if you wanted.
Even locals love walking along Church Street because of how beautiful it is. It's pedestrian-only, making it, so there's lots of room for you to enjoy the beauty. Along the street, you'll also find occasional street performers and lots of benches where you can sit down and relax.
Ride a Bike on the Burlington Bike Path
Want to get out and enjoy the nature that Burlington has to offer? Be sure to ride a bike along the Burlington Bike Path. It's about 7.6 miles long but connects a few different paths and parks throughout the city.
If you don't want to ride a bike, it's also a lovely path to walk along. The bike path is relatively flat, so it's even suitable for strollers if you're visiting with younger children. There are a few different beaches along the way, including North Beach, which was listed earlier in this article of best free things to do in Burlington VT.
One unique fact about this path is that it used to be the Central Vermont Railway. It was officially converted into a bike and pedestrian path back in the 1970s!
See a Show at the Verry Merry Theatre
The Very Merry Theatre is a performing arts theater in Burlington that often has free shows for the public. There are a select few that they charge for throughout the year, but the majority of them are entirely free.
What's even better is this is a youth performing arts troop, making the plays even more adorable. They have different shows throughout the year, but some performances of the past include Annie Jr, The Further Adventure of Peter, Wendy, and Hook, and even Jungle Book!
Keep in mind that you don't have to make a reservation in advance if you plan on going to one of these shows. You can just show up and park nearby. Enter inside and wait in line to be let in. There's usually seating available to everyone about 15-20 minutes before the show officially starts.
Catch the Sunrise at Waterfront Park
The sunrises in the northeast are unlike any other. One of the best free things to do in Burlington VT, is to watch it at Waterfront Park! It's nearly impossible to miss the park when you're driving into Burlington because of its location. It overlooks Lake Champlain.
There are minimal spots to sit while you watch the sunrise, but most people will sit on one of the large rocks in front of the water. Truthfully though, you're in for a treat no matter where you sit near the water.
If you're not a morning person, consider catching the sunset instead. It's just as beautiful of a view and is perfect if you happen to be staying in downtown Burlington!
Explore the University of Vermont Campus
Anyone who's a local (even in the state of Vermont) knows the beauty that the University of Vermont holds. This college is often called a "public Ivy" because of how amazing its teachers are and the students' education.
The campus is filled with tons of green space, and if you're visiting the city, you can absolutely check out the outdoor spaces of the campus. Even just walking around and taking in the architecture is a great free way to spend the afternoon in Burlington!
The University of Vermont, or UVM, opened back in the 1700s and is easily one of the more historic campuses to visit in the United States. Visit on a sunny day for the best experience possible!
Hike at Red Rocks Park
Another great way to get outside and do something for free in Burlington is to head to Red Rocks Park. While it's technically located in South Burlington, this park is right along the water and is filled with hiking trails and even a beach.
The most popular trail is the Red Rocks Park Loop Trail. This trail is about 2.5 miles long with around 200 feet of elevation, which isn't terrible. In fact, it usually only takes about an hour on average to complete.
Since it's a loop trail, you'll get different views during the entire hike. It's kid-friendly, dogs are allowed on a leash, and it's relatively stroller-friendly. Many people also say that this trail looks beautiful in the snow. Plus, it's one of the great hikes near Burlington.
Now you know some of the best free things to do in Burlington VT, no matter the time of year. The city is charming and is perfect for outdoor lovers. Which activity do you most want to do? Be sure to save this post and share it with others!
—
You might also like:
9 Best Vermont State Parks You Can't Miss