Planning your next New England family trip? Each of the region's six states offers charming towns to visit in every season, but for family vacations in New England, these kid-friendly travel spots take the cake.
Whether you're looking for family trips in New England that are historical and educational or you just want the perfect kid-friendly New England vacation that has something to offer everyone, this region really does have something for just about every kind of trip.
From adorable fall towns to gorgeous summer islands, you're likely to find something on this list of New England family vacations that's perfect for the whole fam! You can also find some pretty cool family-friendly New England vacation rentals, too.
PS don't miss these great things to do in New England with kids, either!
Family Vacations in New England
Stowe, Vermont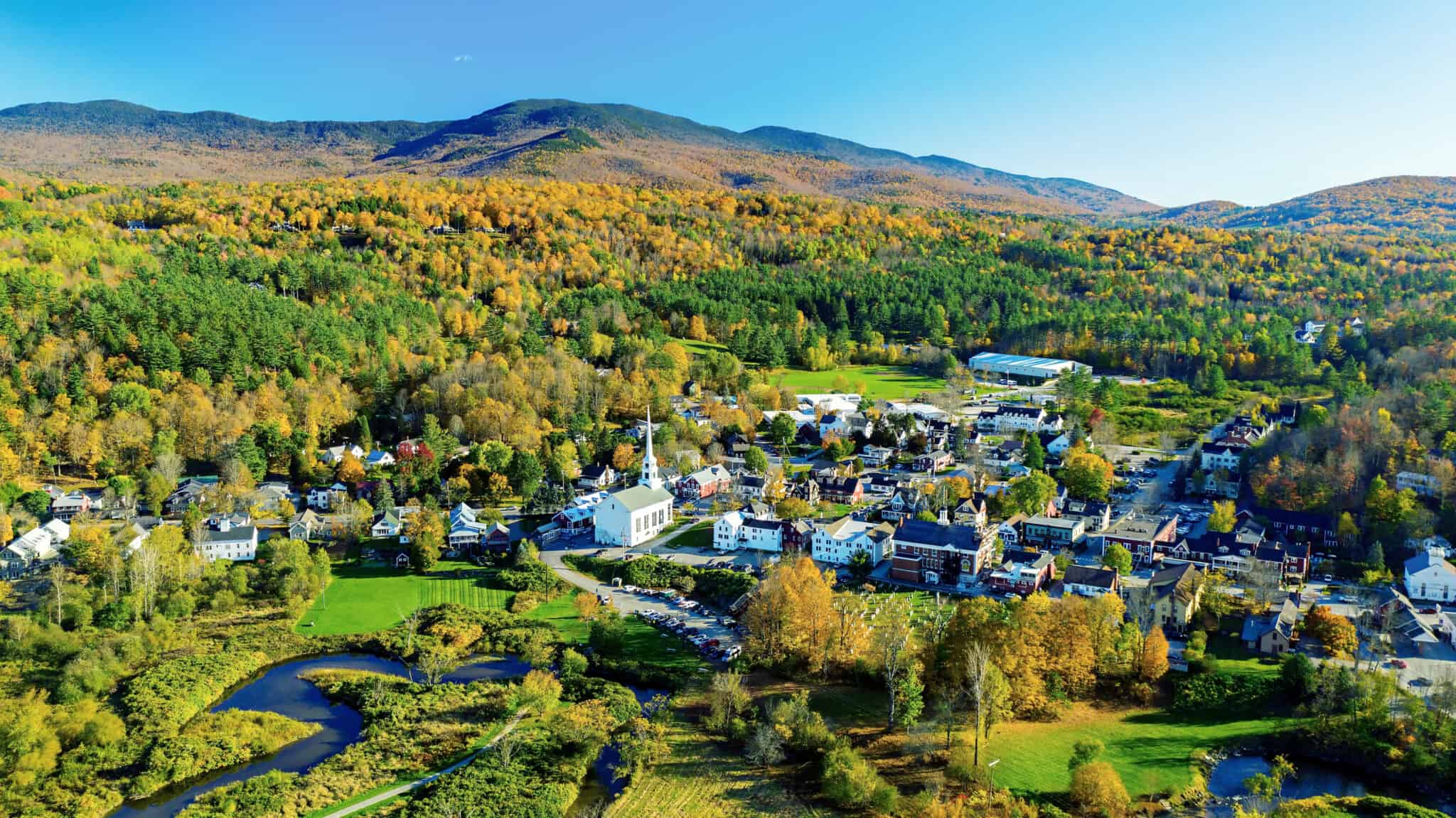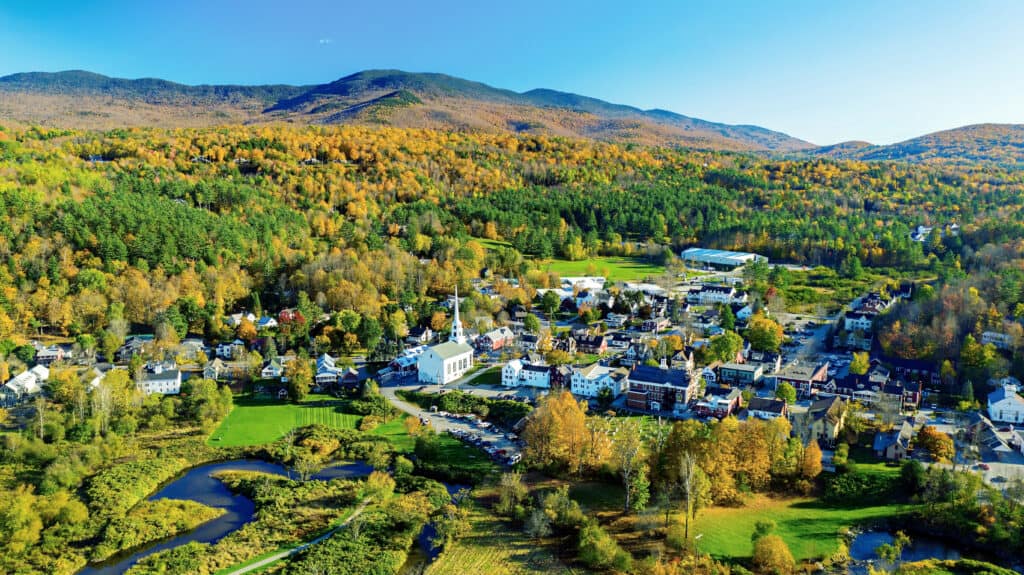 Stowe, in north-central Vermont 35 miles east of Burlington boasts a fabulous Green Mountains valley location with lots of great options for where to stay. With its lush surroundings and countless outdoor activities, it is a family-friendly New England resort town offering far more than just its famed winter skiing.
Visit Stowe during the warmer late spring and summer months and you'll find a haven of inspiration and adventure. Kids of all ages can connect to nature during a treetop adventure course or exhilarating mountain zipline tour. There's also fantastic hiking all around the Stowe area.
How about one of the summer adventure camps for children between 3 and 14 years of age? What better way to create lasting memories and instill a lifelong passion for the great outdoors?
At the end of such an invigorating day relax at one of Stowe's many outdoor concerts or marvel at special annual events such as the 4th of July Parade or Hot Air Balloon Festival. With all this energy consumed a visit to the nearby Ben & Jerry's Ice Cream Factory will be a must!
-Contributed by Paul, The Two That Do
PS here are some of the best family friendly hotels in Stowe!
Martha's Vineyard, Massachusetts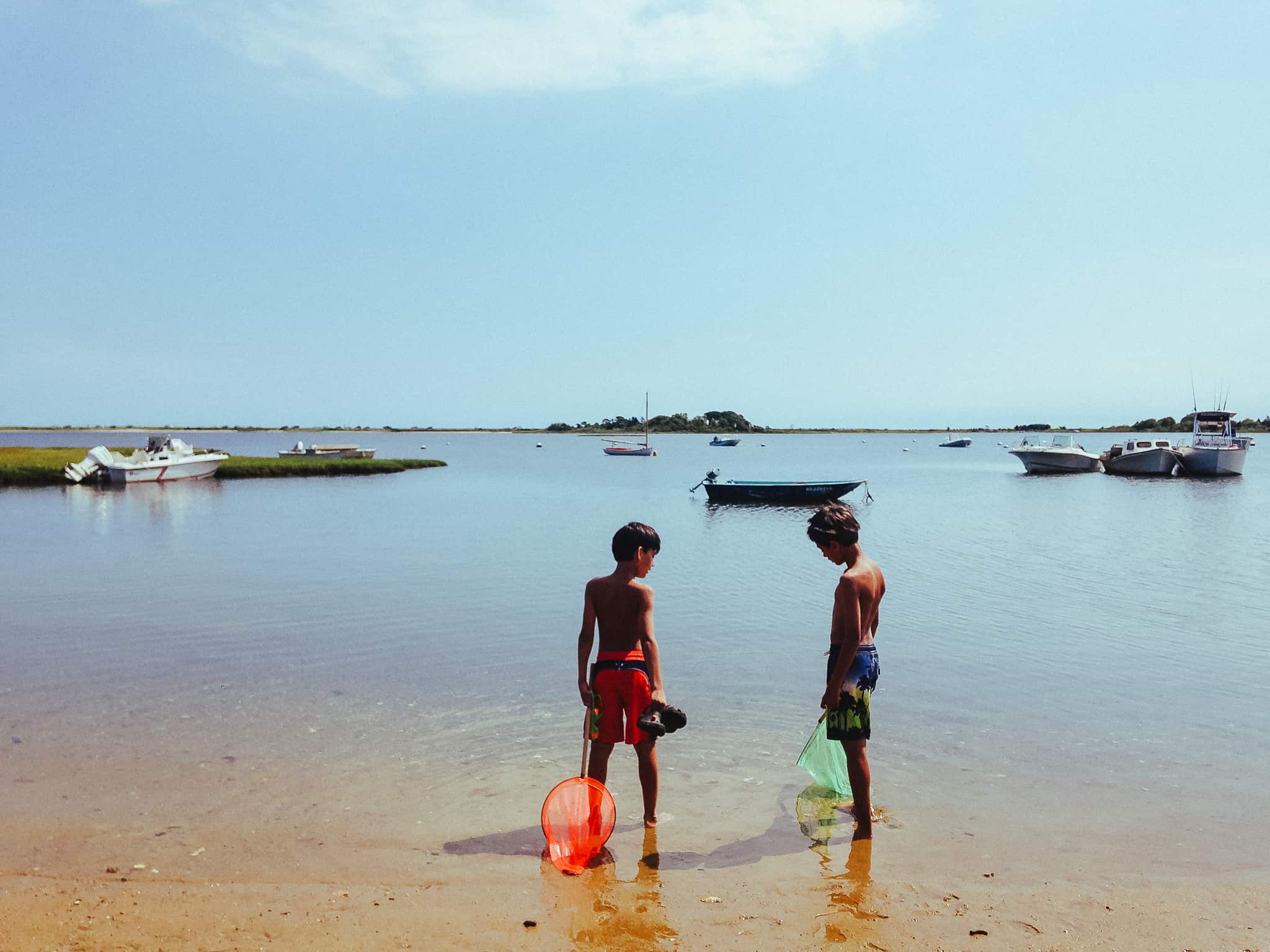 There's very little crime on the island because it's so hard to get on and off the island. We really like letting the kids have some freedom to cycle to the beach or into town for a movie without worrying about traffic or other things.
The White Mountains, New Hampshire
Nothing better than getting the whole family out into the mountains!
White Mountain National Forest is an amazing place for a New England family trip as there are loads of great kid-friendly trails to discover. Your kids can also become ''junior rangers" and learn about the animals, the plants and how to respect and care for the environment.
In winter you and your family can take sleigh rides through the forest and visit Ice Castles. Ice castles are beautiful ice sculptures completely made by hand and it is a very unique New England family vacation thing to do.
In spring and summer, I can recommend visiting the cog railway. This little steam engine takes you all the way to the summit of Mt Washington and is a great activity for small kids.
If it is warm and you want to cool down, you and the kids can head to Whale Tales Waterpark after your hike.
-Contributed by Lieze, Glitter Rebel
Check out these North Conway family friendly hotels for great places to stay with kids.
Mystic, Connecticut
The beautiful town of Mystic, Connecticut might have been famous by its brush with Hollywood, but there's so much more to Mystic than just pizza!
Kids will love exploring the Mystic Seaport Museum, which is one of the most beautiful museums in the world since its actually a living museum comprised of village houses, buildings along the seaport, and even a historic ship!
You can also have them visit the Mystic Seaport Light, one of the most beautiful lighthouses on the East Coast. This one dates to the 1960s, and its design is based on the earlier Brant Point Light in Nantucket.
Curious little minds will also love a visit to the Mystic Aquarium. Older children might enjoy walking through the town's historic cemetery.
Adults who can find a bit of downtime or travel with their own childcare can take a break and spend some time on the Connecticut Wine Trail for a romantic evening away from the kids.
-Contributed by Stephanie, History Fan Girl
PS you can find some great family friendly Mystic hotels here!
Boston, Massachusetts
As the largest city in New England, beautiful, lively Boston is easily one of the best places to head on a family vacation in the region.
Kids will find plenty of New England family-friendly activities like watching the penguins being fed at the award-winning New England aquarium, spotting whales on a whale-watching cruise, taking a Duck tour, and exploring family-friendly Boston museums like the Tea Party Ships & Museum and the Museum of Science.
Once the kids have enough of being inside, head to the Boston Public Garden to check out the Make Way for Ducklings Statue and the Swan boats. Right next door, you'll find Boston Common and the kid-friendly Frog Pond Spray Pool to cool off in during the summer (if you're visiting Boston in the winter, the pool becomes an ice-skating rink).
While you're in the area, point out nearby Park Street Church, and the Massachusetts State House for a quick history lesson–both spots, along with the Boston Common itself, are stops on the Freedom trail.
-Contributed by Kate, Our Escape Clause
Click here to check out all the best Boston family-friendly hotels.
Acadia National Park, Maine
Acadia National Park is a great New England place to go with kids. There are plenty of fun hikes to do, many ending in stunning views of the surrounding islands. The most popular hike is probably the very challenging Beehive, but a family-friendly version along the Bowl Trail takes the back – and safer and easier – route to the same summit.
You can swim at the chilly but beautiful Sand Beach or the warmer – perfect in summer – Echo Lake.
There are dozens of old carriage trails through the hills, and renting a bike and riding through the woods is a great way to experience them. You can also take a ferry to the nearby Cranberry Islands, and explore the small islands, pebbly beaches and lobster huts. Nothing beats relaxing at Jordan Pond and having popovers for afternoon tea.
There is also kayaking and even sailing on a small yacht for adventure-loving families. Acadia also has great campgrounds, and cabins, and Bar Harbor is full of great restaurants and places to stay during your New England family trip.
-Contributed by James Ian, Travel Collecting
Check here for kid friendly hotels near Bar Harbor & Acadia!
Lincoln, New Hampshire
New Hampshire is the perfect spot for a family vacation because it offers things to do for all ages. Lincoln, New Hampshire is a ski town nestled in New Hampshire's White Mountains. It is the home to the ski resort at Loon Mountain but has something to offer in all four seasons.
Foliage in the White Mountains is world-class and you can even find covered bridges. There is ample hiking for any level. You can even find waterfalls, gorges, and caves to explore. It's a fantastic spot for family trips in New England!
For the adventurous, there is ziplining. There are a few amusement parks nearby- Santa's Village, Clarke's Trading Post, and Storyland, as well as a few waterparks. It is one of those New England family vacation spots you will want to return to year after year.
-Contributed by Jamie, The Daily Adventures of Me
Check here for family friendly hotels in Lincoln!
Nantucket, Massachusetts
The windswept island of Nantucket seems designed for New England family holidays. At once at one with the salty breeze and sand dunes that smile back at Martha's Vineyard, Nantucket is smaller and with very, very few cars.
Here, people tend to walk or cycle, toasting 'smores at twilight and making the most of the beaches by day. But there's history and culture here, by the bucketful.
Nantucket's architecture serves as a snapshot from another age. A time when whaling brought gold to this port and seamen risked their lives for bounty. When whaling depleted its own stock and ships grew too big to dock in Nantucket, all that business disappeared and the industrial revolution passed it by.
The result? Nantucket harbor looks much as it did in the 1700s: low roofs, gray shale, white lighthouses. But with all the creature comforts for a New England family vacation in the 2020s.
When it comes to things to do in Nantucket, beyond the beach activities, hiking, cycling and staring at the stars, there is more. Top restaurants, the whaling museum, a coastal conservation area and local brewery, all on the one small island with a central cluster of boutique shops.
-Contributed by Abi, Inside the Travel Lab
PS Nantucket Hotel & Resort is a fantastic four-season, kid-friendly New England hotel!
The Berkshires, Massachusetts
If your family loves exploring the great outdoors on vacation, head to the Berkshires in Massachusetts! This New England family vacation destination is perfect for all kinds of outdoor fun like hiking, snow sports, splashing around at a lake, and so much more.
With beautiful hiking trails all around this gorgeous area of New England, there are hiking routes for every skill level; Stevens Glen is a fun kid-friendly one mile hike in West Stockbridge that's great for little legs, and if you'd like a waterfall hike, check out Bash Bish Falls.
If you're a family that loves to play in the snow, head to Jiminy Peak where you can go skiing, snowboarding, snowshoeing, and even ride their 3600 foot Mountain Coaster! Of course, there are plenty of other great Berkshires attractions, too, like the Norman Rockwell Museum, the Hancock Shaker Village, Tanglewood, and MASS MoCA.
Add in all the great restaurants and places to stay – including cool Berkshires cabins, The Berkshires is a fantastic family getaway destination in New England!
PS the Fairfield Inn and Suites by Marriot is conveniently located in Great Barrington and offers free breakfast and an indoor pool!
Lake Compounce in Bristol, Connecticut
If you're planning a summer family vacation in New England, consider Lake Compounce in Bristol, New England's largest water park and one of the oldest amusement parks in the region. Not only is there a ton of family fun to be had onsite, but just up the road is Dinosaur State Park in Rocky Hill.
This popular state park is always a huge hit with kids of all ages, with a 200 million-year-old fossil trackway, nature trails, an interactive exhibit center, and so much more, so be sure to plan at least one day there!
Bristol is also just a quick half hour drive to Hartford, with a ton of awesome things to see and do, like the Mark Twain House and Museum, the Bushnell Park Carousel, and a huge selection of great restaurants and places to stay: The Hilton in Hartford has an indoor pool, onsite restaurant, and is just a short 10 minute walk to Bushnell Park!
Wherever you end up heading for your next New England family vacation, you're sure to have a great time exploring and enjoying this beautiful region with the fam!
---
Read these next for more great travel ideas!
---