For anyone visiting Rhode Island, Newport is generally an essential destination. In fact, it's one of the must-do spots in all of New England; visiting the famous Gilded Age mansions of Newport is a great RI activity, so you'll want to know all about the Newport RI mansion tours.
There are a few options when it comes to seeing these 11 fabulous homes on the Newport mansions list, once referred to as "summer cottages." You can easily drive around town and visit them all individually, taking tours of each. Some are given by tour guides, while others are audio tours designed to let you move about the mansions at your leisure. You can also choose from unique Newport, RI mansion tours that take you around to the various homes, often by old-fashioned trolley.
We've researched both for you here: what to expect when visiting the Newport mansions on your own, and a selection of top-rated guided tours to choose from. Read on for all you need to know about touring the Gilded Age mansions in Newport Rhode Island.
A Brief History of Newport's Gilded Age Mansions
First, why do people want to visit the Gilded Age mansions in Newport Rhode Island? The primary reason is to view the incredible opulence of the mansions; physical manifestations of the wealth of their occupants. Newport's mansions are gorgeous. Many of their occupants and owners were among the most famous and well-to-do names in American history, as well. So visitors come to Newport to step back in time to these elegant mansions of the past, walking in the footsteps of industrial magnates and oil barons and reveling in the luxury that was enjoyed by those in the upper echelons of society.
Newport RI began to grow as the summer destination of the wealthy in the mid-nineteenth century. The earliest holidaymakers were southern planters who wanted to get away from the heat. They began to build summer cottages on Bellevue Avenue. Some of the first of such homes included Kingscote and Chateau-sur-Mer.
By the dawn of the 1900s, many of the nation's wealthiest families were regularly spending their summers in Newport, including the Vanderbilts, Astors, and Morgans. Here they hosted lavish parties, hob-knobbed with other rich folks, played plenty of tennis, and enjoyed the stunning New England coastline.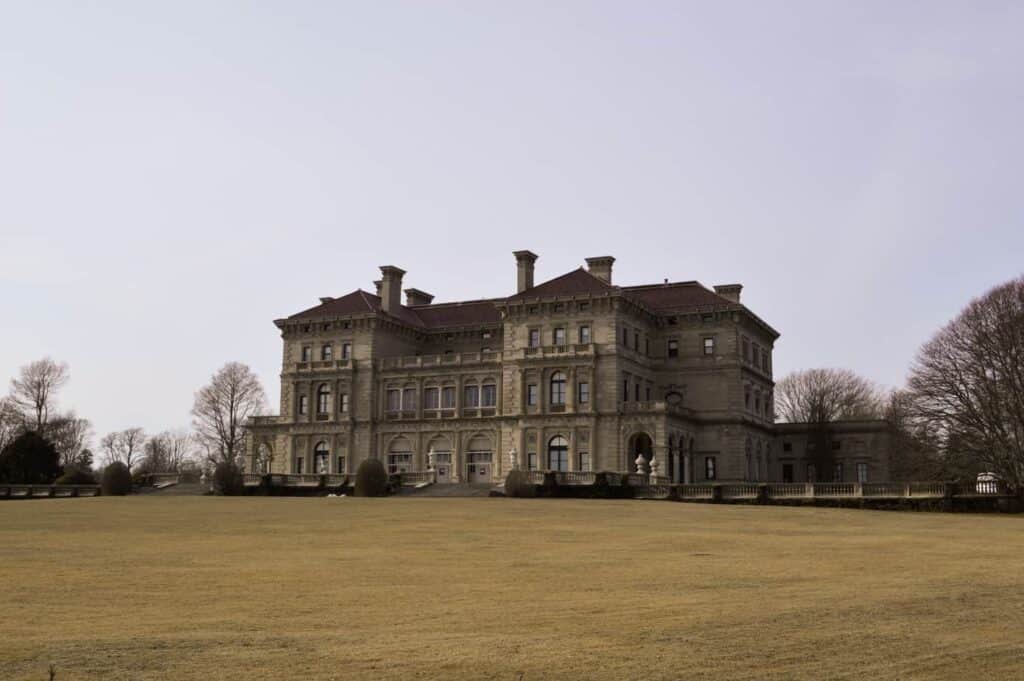 A List of the 11 Newport Mansions To Tour
How many mansions are there in Newport? Today, there are 11 sites that are open to public access. They include:
The Breakers
The Breakers is perhaps the most well known of the mansions in Newport—and certainly the most over-the-top. The Breakers is an Italian Renaissance-style palazzo with 70 rooms. It was designed by prominent architect Richard Morris Hunt, and commissioned by Cornelius Vanderbilt II. Built from 1893-1895, the Breakers totals 125,339 square feet in area.
44 Ochre Point Avenue, Newport RI 02840
The Elms
The Elms is one of the most popular Newport mansions and is located on Bellevue Avenue. Built for Edward Julius Berwind, a coal baron, this Newport mansion was designed by Horace Trumbauer and completed in 1901. It has a grand exterior set upon impressive grounds, and a particularly opulent entrance hall and staircase. The Elms was very sophisticated technologically; it was one of the first American homes to be wired for electricity, and it also had one of the earliest electrical ice makers.
367 Bellevue Avenue, Newport RI 02840
Rosecliff
Rosecliff was built between 1898 and 1902 by Nevada silver heiress Theresa Fair Oelrichs. The mansion was modeled after the Grand Trianon of Versailles by architect Stanford White, and its central point of focus is its grand ballroom, the largest of all the Newport mansions. At 40 X 80 ft, this ballroom is flanked by columns and french doors, with views looking out over the ocean.
548 Bellevue Ave, Newport, RI 02840
Chateau-sur-Mer
Until the Vanderbilts constructed their lavish mansions, Chateau-sur-Mer was the grandest in Newport, and played host to any number of parties. Built by William Shepard Wetmore, the home was finished in 1852, but the home, and Wetmore's fortune, soon passed into his son's hands. Just a decade after the home was finished, William Shepard Wetmore passed away and George Peabody Wetmore became the new owner. This Newport mansion has many interesting features, including its 3-storey great hall with a 45 high ceiling and sweeping balconies.
474 Bellevue Ave, Newport, RI 02840
Kingscote
Built in 1839, Kingscote is distinctive as one of the first of Newport's summer cottages to be constructed. The original owner was a Florida plantation owner named George Noble Jones, who had architect Richard Upjohn design the home in the Gothic Revival style. In 1864, Kingscote was sold to the King family, who would go on to make some architectural adaptations (with the help of Stanford White) in the 1880s.
253 Bellevue Ave, Newport, RI 02840
Isaac Bell House
Cotton broker and investor Isaac Bell, Jr. had this home designed by the firm of McKim, Mead, and White, and built from 1881-1883. Though not outwardly as lavish as other of Newport's summer cottages, this home is one of the best surviving examples of shingle style architecture in the US today.
70 Perry St, Newport, RI 02840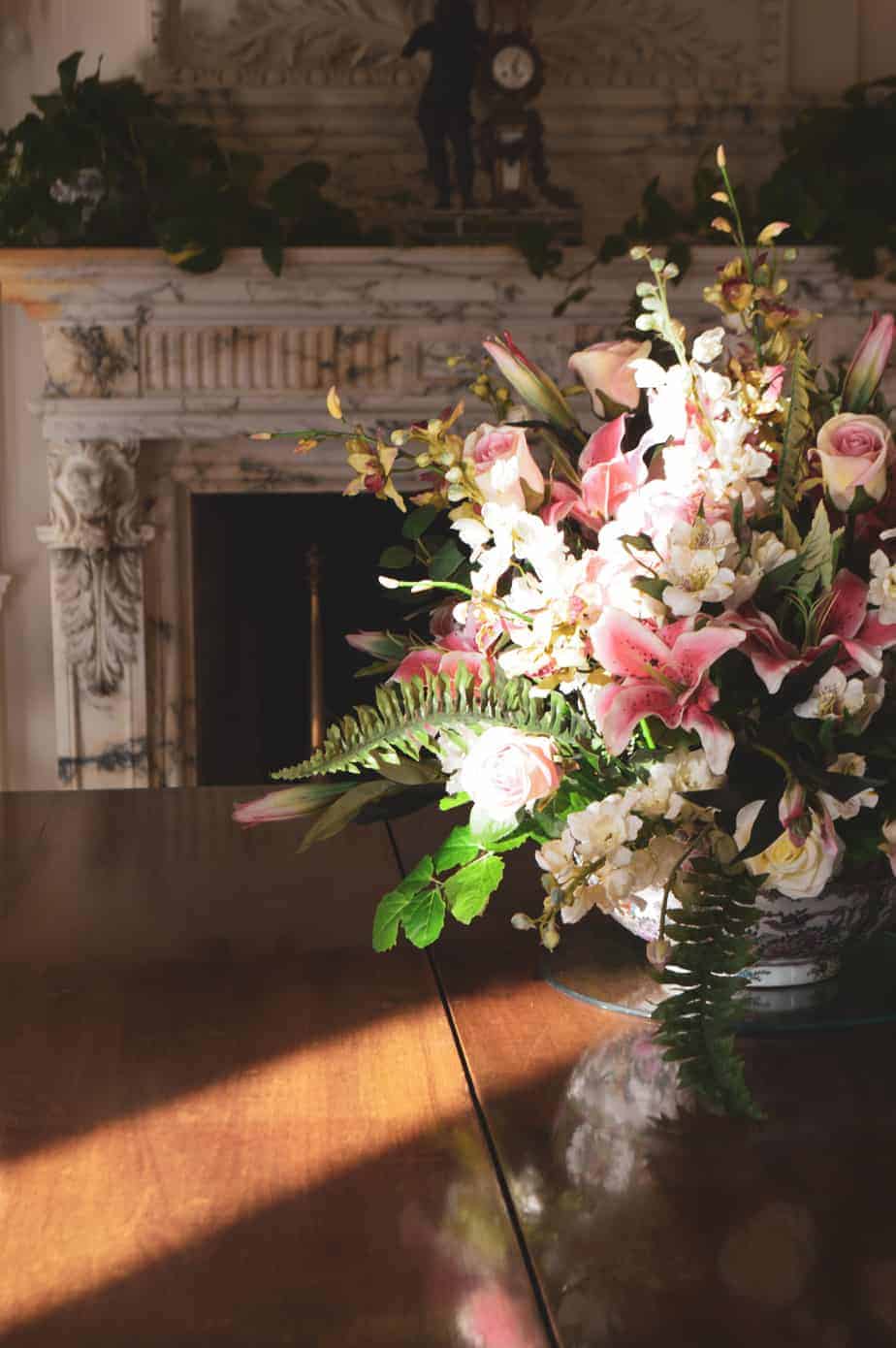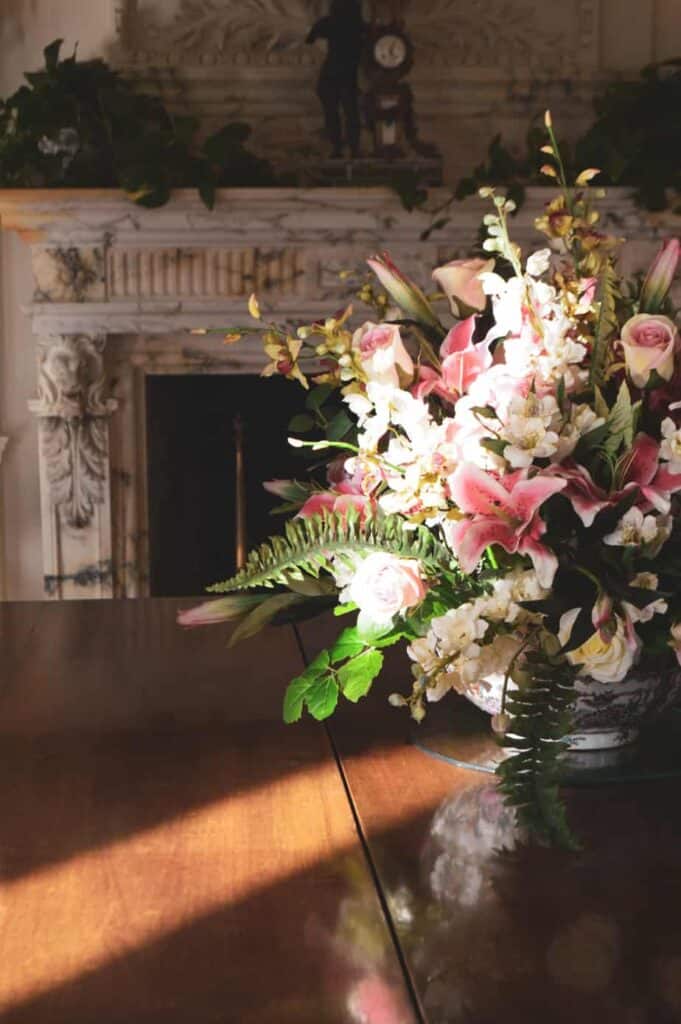 Hunter House
Hunter House is an important historic home in Newport, and nearly 100 years older than the Gilded Age mansions in Newport. Hunter House was built in 1748 for Colonial Deputy Governor Jonathan Nichols Jr. and then sold (and expanded upon) to Colonel Joseph Wanton Jr. in 1756. It was then that a the building became a formal Georgian mansion with its large central hall. From there it passed through a number of different owners.
In the 1940's, The Preservation Society restored Hunter House to how it would have appeared in Colonel Wanton's time (1757 to 1779). The house is a fantastic look into the 18th century in Newport.
54 Washington St, Newport, RI 02840
Chepstow
Another of Newport's lovely one-time summer homes, Chepstow was built in 1860. The architect was George Champlin Mason, who was responsible for building numerous mansions in Newport during the Gilded Age. Though the original owner of the property was Edmund Schermerhorn, Chepstow passed to the Morris family in 1911, where it remained until it was donated to The Preservation Society in 1986.
120 Narragansett Avenue, Ward Ave, Newport, RI 02840
Rough Point
Rough Point is one of the Newport mansions that does not belong to The Preservation Society. Instead, it is owned by the Newport Restoration Foundation. This makes sense since Doris Duke founded the organization and was also the owner of the Rough Point Mansion.
Rough Point was designed by architectural firm Peabody & Stearns for Frederick William Vanderbilt and construction finished in 1892. Its original gardens were designed by the firm of Frederick Law Olmsted. In 1922, the property was bought by James Buchanan Duke, but when he died 3 years later, his homes and fortune were inherited by his daughter Doris Duke. She was only 12 years old.
Doris Duke loved Rough Point and visited frequently throughout her life, staying there often as it was one of her favorite of her homes. She spent time filling the home with collections of fine art and other items. She passed away in 1993, and Rough Point, open to the public, remains largely as it was when Doris lived there. That gives the mansion a unique "homey" feel, which sets it apart from the other Newport Rhode Island mansions.
680 Bellevue Ave, Newport, RI 02840
Belcourt
With a Gothic, almost churchy vibe, Belcourt is definitely different from the other Gilded Age mansions of Newport. Completed in 1894, Belcourt was designed for Oliver Belmont, a wealthy bachelor, and his many horses. In fact, the entire first floor was comprised of stables for Belmont's equine friends.
The home was designed by Richard Morris Hunt, the same architect responsible for The Breakers as well as the famous Biltmore Estate of Asheville, North Carolina. Oliver Belmont married Alva Vanderbilt in 1896 and she soon brought meaningful changes and improvements to the home, making it more welcoming to humans than horses!
The mansion is now under new ownership and is currently undergoing significant renovation.
657 Bellevue Ave, Newport, RI 02840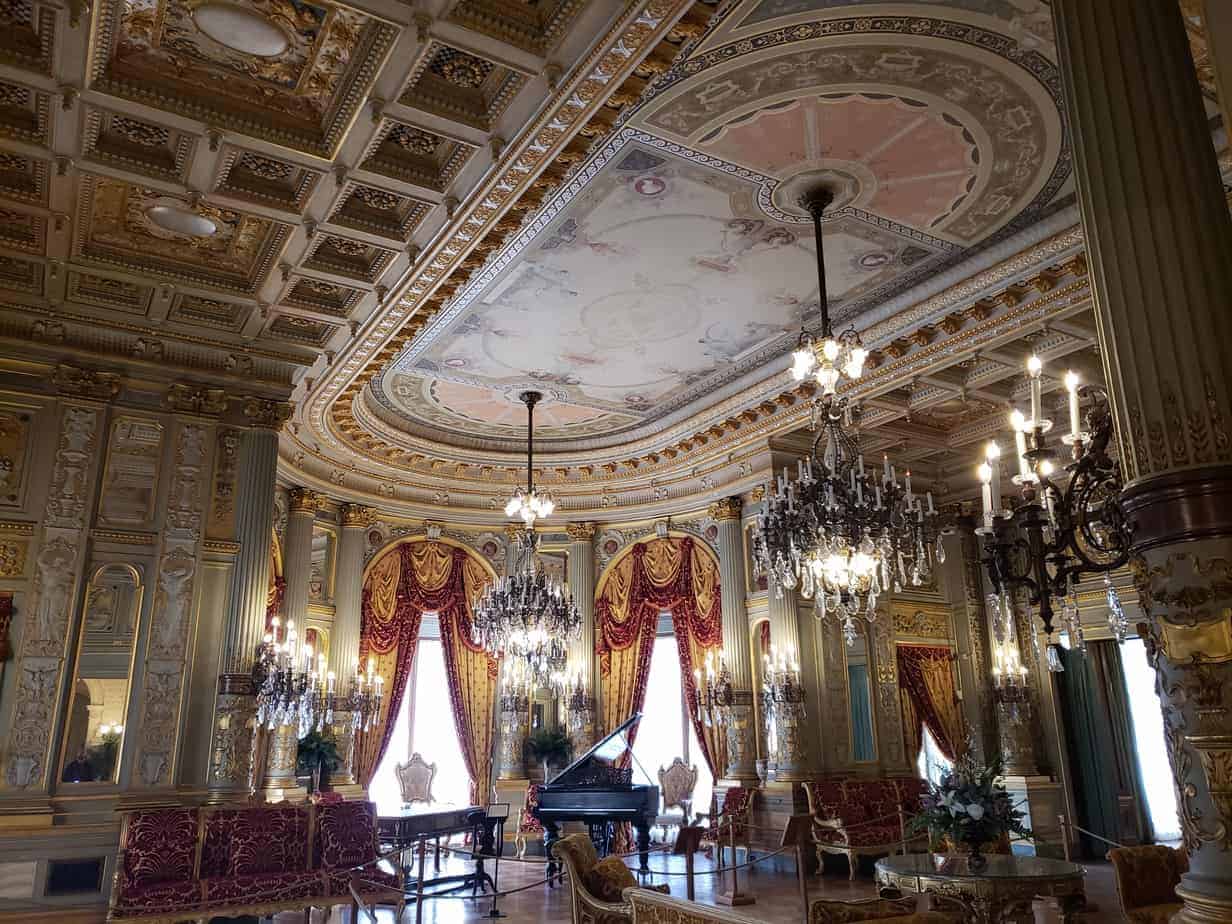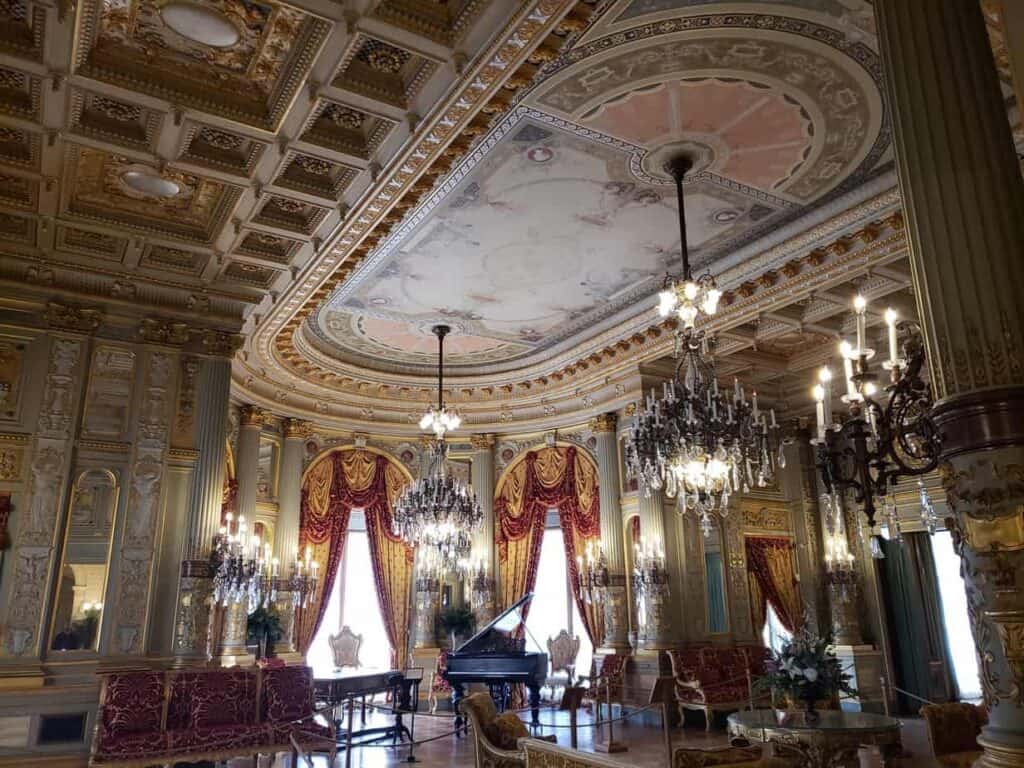 How To Visit the Newport Mansions – Newport Mansions Tickets
Most of Newport's mansions are owned by The Preservation Society of Newport County who operate admission to these palatial estates. To visit The Breakers, Marble House, Rosecliff, The Elms, Chepstow, Chateau-sur-Mer, Hunter House, Kingscote, and the Isaac Bell House, as well as the Green Animals Topiary Garden, you can purchase tickets online at the Newport Mansions website.
What about the Newport mansions tours? Self-guided audio tours are available at The Breakers, The Elms, Marble House and Rosecliff. Docent-led tours are provided at Chateau-sur-Mer, Chepstow, Hunter House, Isaac Bell House, and Kingscote.
You can purchase tickets for Belcourt on their website, where they also list up-to-date opening hours and schedule.
To visit Rough Point, you can purchase tickets on the website.
Newport Mansions Hours and Schedule
For the Rhode Island mansions owned by The Preservation Society, current Newport mansion hours and schedules can be found here. Many of the homes are only open seasonally, though The Breakers (the most popular of the Newport Mansions) is open year-round.
See the up-to-date schedules for Belcourt and Rough Point on their respective websites.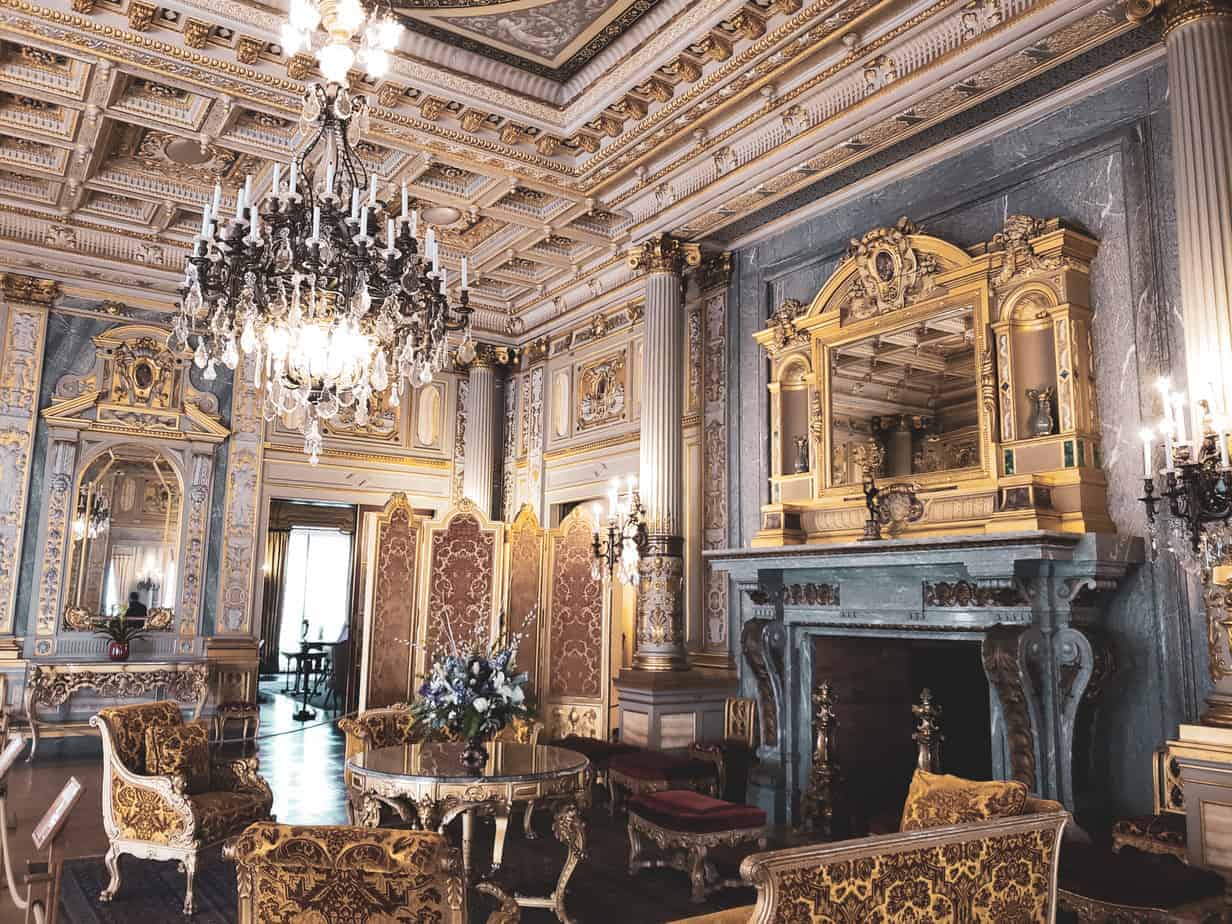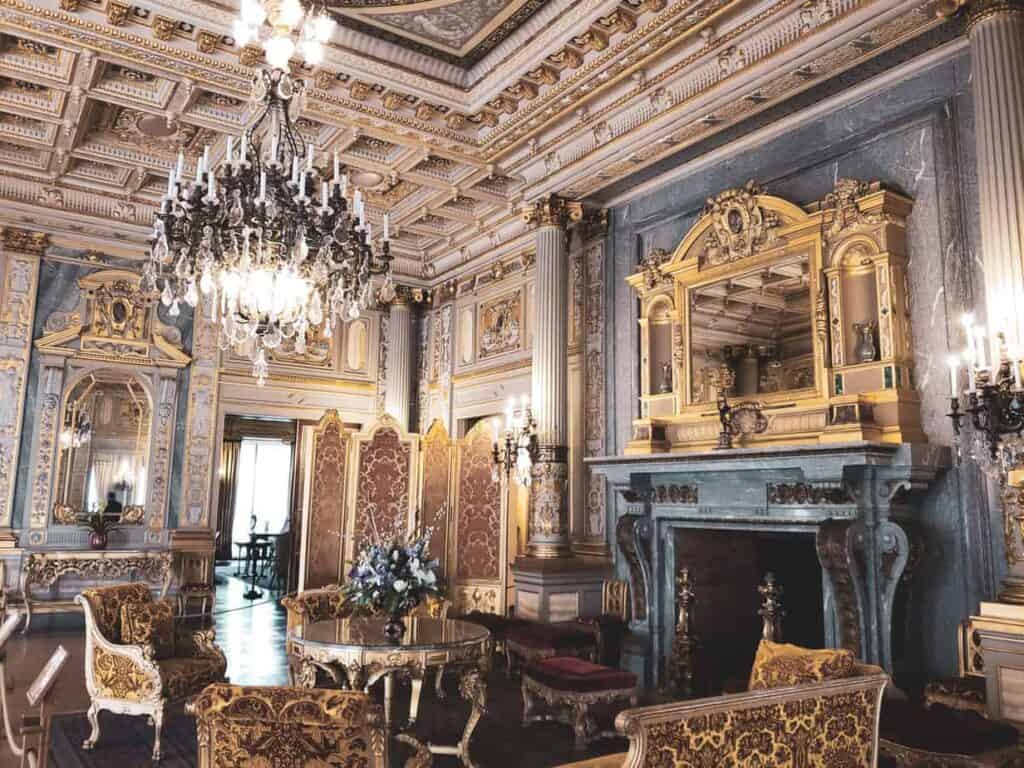 Newport Mansions Ticket Pricing
Newport RI mansion tours ticket pricing fluctuates, but current 2022 ticket pricing is as follows:
The Breakers: $29 per adult, $10 for youth 6-12
1 Property (excluding The Breakers) $25 per adult, $10 for youth 6-12
The Newport Mansions Experience (admission to any 5 properties, excluding Hunter House): $60 per adult, $20 for youth 6-12
The Trio (admission to houses and grounds of any 3 open properties): $46 per adult, $16 for youth 6-12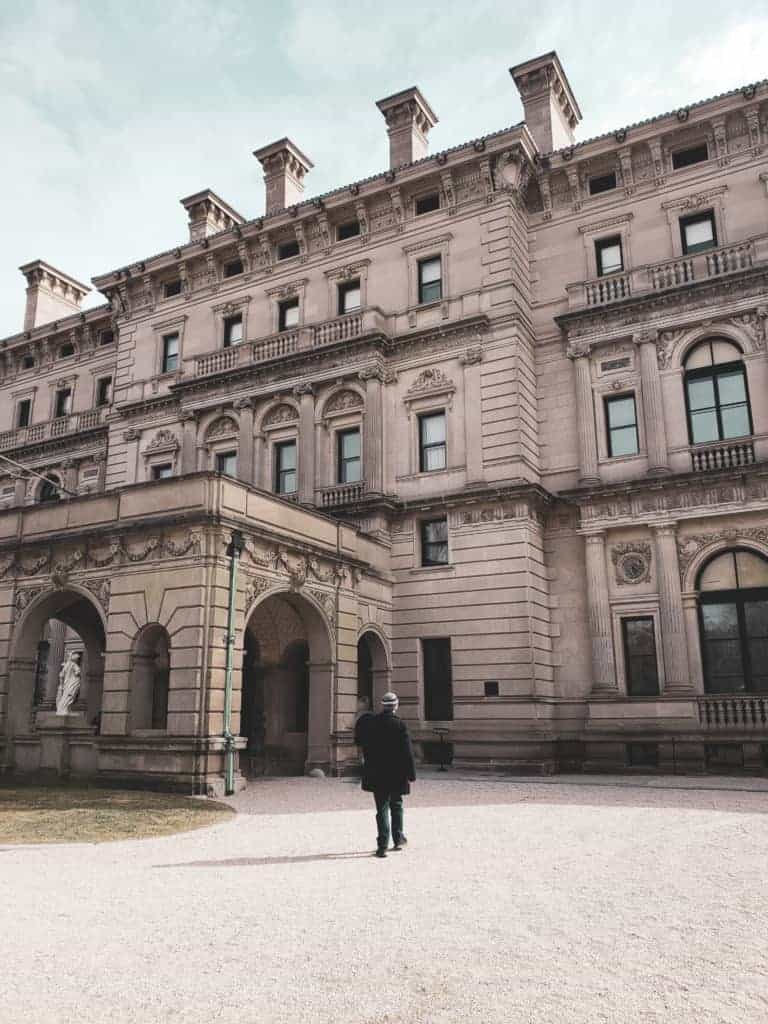 Best Newport Mansions to Visit
Wondering which of the Newport mansions is the very best? If you have time, we recommend visiting as many of these Gilded Age mansions as possible, but if you're short on time, you may want to prioritize The Breakers (by far the largest and most ornate of the mansions), Rosecliff (architecturally beautiful and boasting an impressive ballroom), and Marble House, another Vanderbilt-owned property known for its splendor. On our visit, we only had time for two mansions (and most of the others were closed as it was February) but on a return visit, I think we'd make a beeline for Belcourt. It looks fabulous.
If you're visiting in mid-November through December, check out the Newport mansions Christmas display. The Breakers, The Elms and Marble House are bedecked in stunning holiday festivity, with trees, garlands, and more. There are special events, and even the opportunity to visit with Santa Claus. Check out more about how these Gilded Age mansions play such a starring role in Newport's Christmas charm!
PS if you're a fan of HBOs The Gilded Age, check out this list of the Newport Mansions that are featured in this series!
Newport RI Mansion Tours & More
In addition to the basic, individual mansion tours and admission to the homes, you can also combine your visit with a Newport mansion trolley tour and other options for a fun, unique experience touring Newport's Gilded Age mansions.
This three-hour trolley tour takes you past more than 90 points of interest in Newport. It also includes admission to The Breakers, so it's a super good deal.
For even more Newport mansion goodness, this Viking Trolley Tour takes you on a scenic drive and also grants you admission to both The Breakers and to Marble House. This is family-friendly and wheelchair accessible and has great reviews.
Already visited The Breakers, there's another Viking Trolley Tour that includes admission to one mansion of your choice. You can select from The Breakers, Marble House, or Rosecliff.
Maybe you're in Boston and would prefer going to Newport with a small group. This group tour would be perfect for you. It's a day trip from Boston, includes entry to The Breakers and The Elms, plus takes you to some other historic spots and gives you time on your own to explore Newport a bit more. Get picked up right at your Boston hotel. If you'd prefer to visit The Breakers and Marble House, this alternate group tour offers a similar package.
If you really want to get fancy, like Newport's wealthy residents of yesteryear, consider this private day trip from Boston to Newport.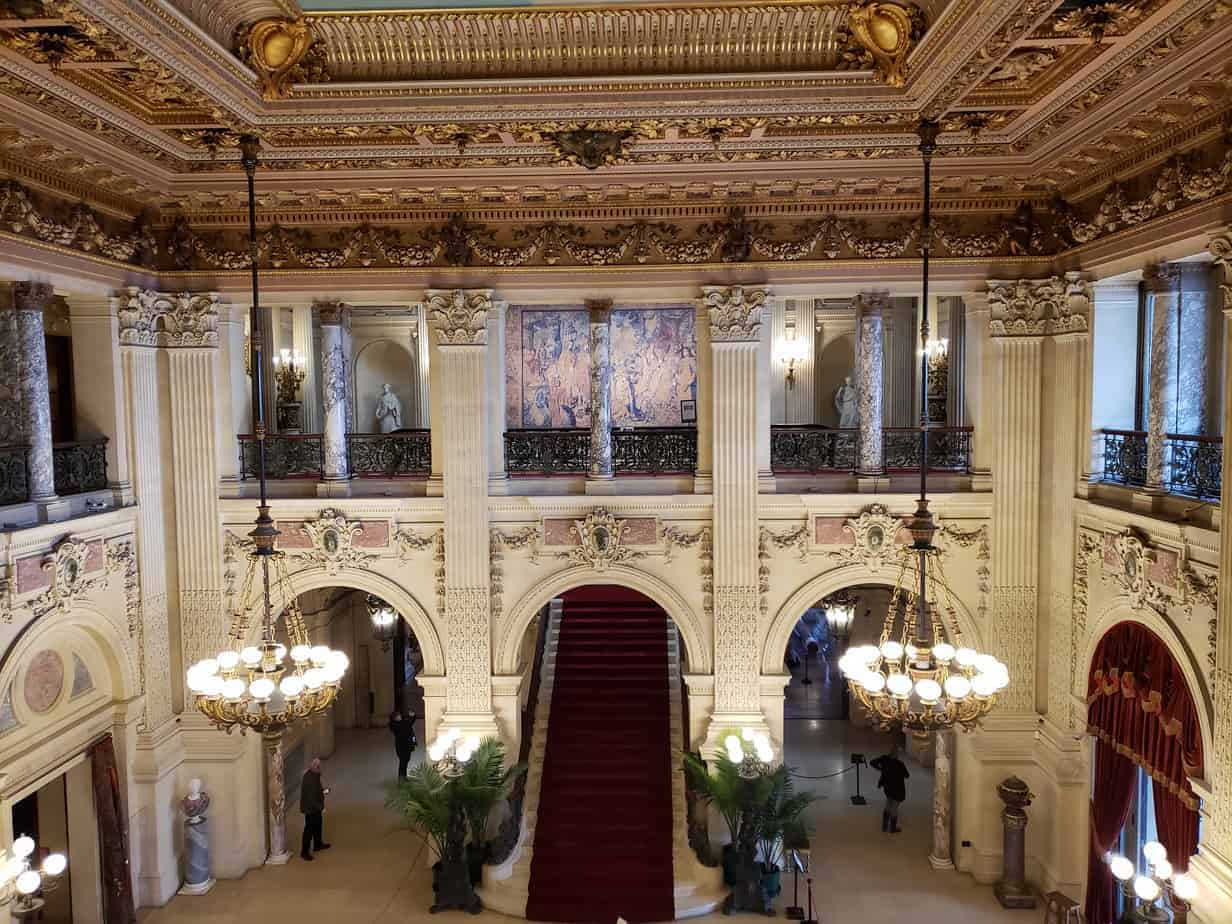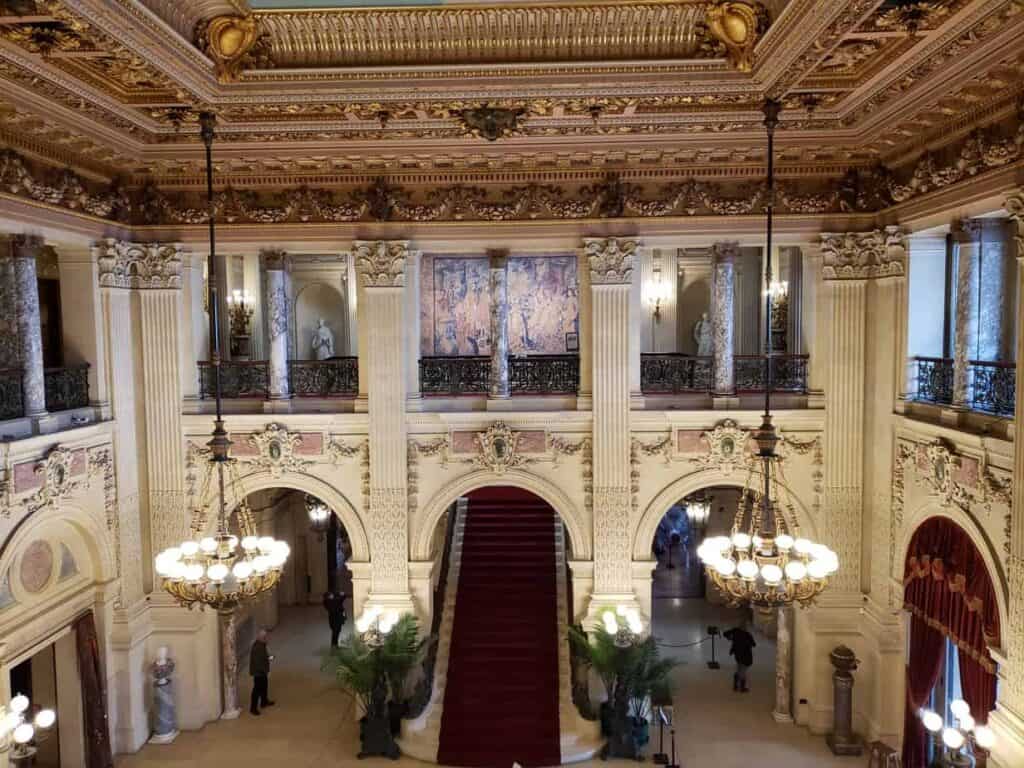 Where to Next?
Spending some more time exploring Rhode Island and the rest of New England? We've got some resources that might help you on your travels:
---
Pin this post to save for later!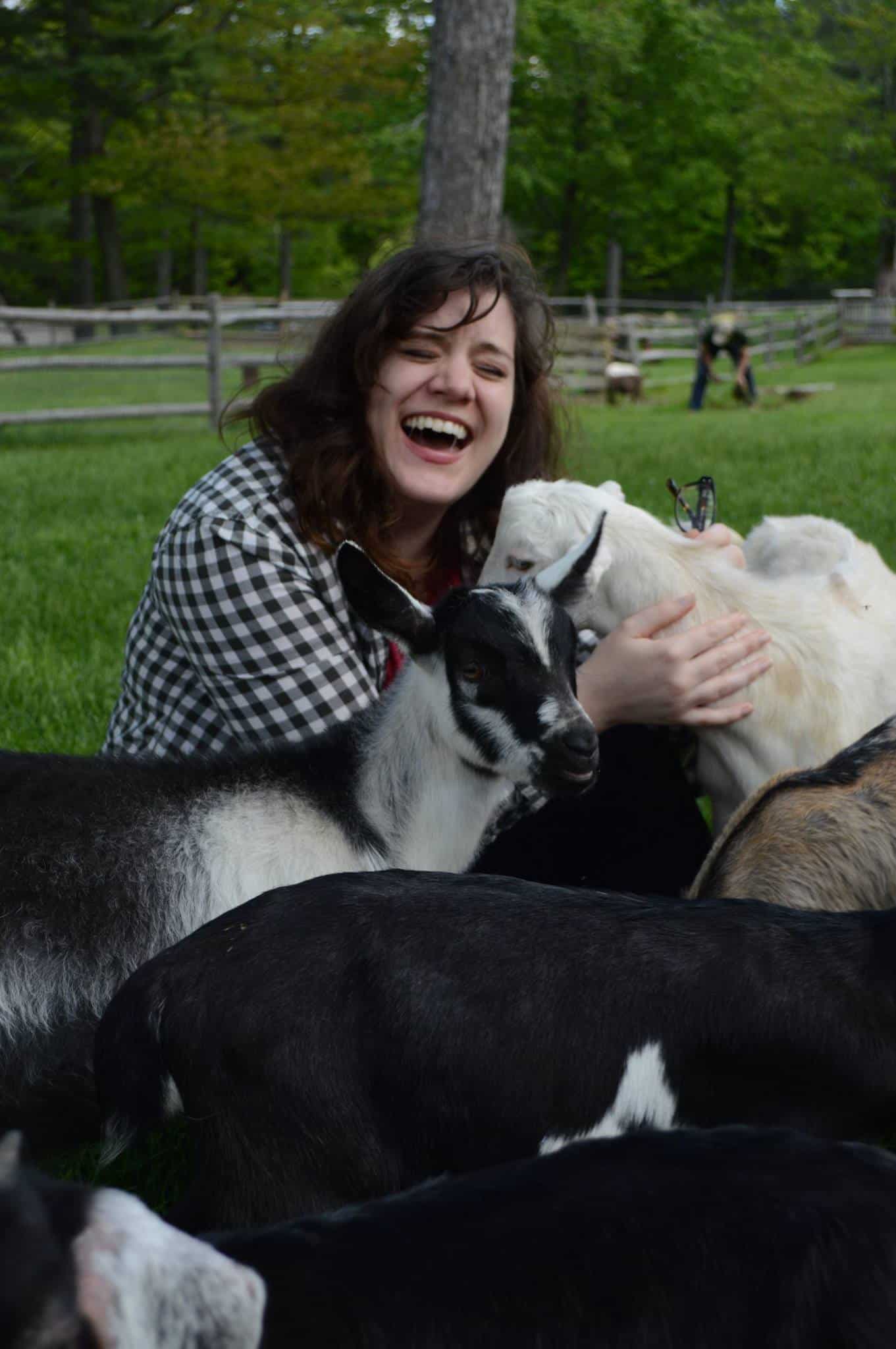 Amy Hartle is the founder and Editor-in-Chief of New England With Love, a comprehensive resource for travel in the New England region. Amy has been exploring New England since 2001. She lived in Vermont for many years and is a graduate of Plymouth State University in New Hampshire. On this site, Amy aims to share her love of New England and help you to have the best possible adventures!
Amy has been writing about travel for over a decade, and is a full time blogger, publishing both Two Drifters and Let's Adventure Baby. When not traveling the world or creating epic blog content, Amy can be found cuddling with her husband, son, and cats, & drinking a maple latte.