---
*Links in this article may be affiliate links, from which we may earn commission. See our
Privacy Policy
for full details.
---
Are you wondering where to stay in the beautiful coastal town of Newport, RI? You're in luck because this post covers all of the top Newport accommodations for families, budget-friendly travelers, couples, and those looking to splurge.
Newport is a breathtaking destination to visit in Rhode Island, no matter the time of year. It has a great charm and is oozing with luxury almost everywhere you look, with so many famous celebrities owning mansions in and around the Newport area.
Here is where to stay: the best hotels in Newport RI.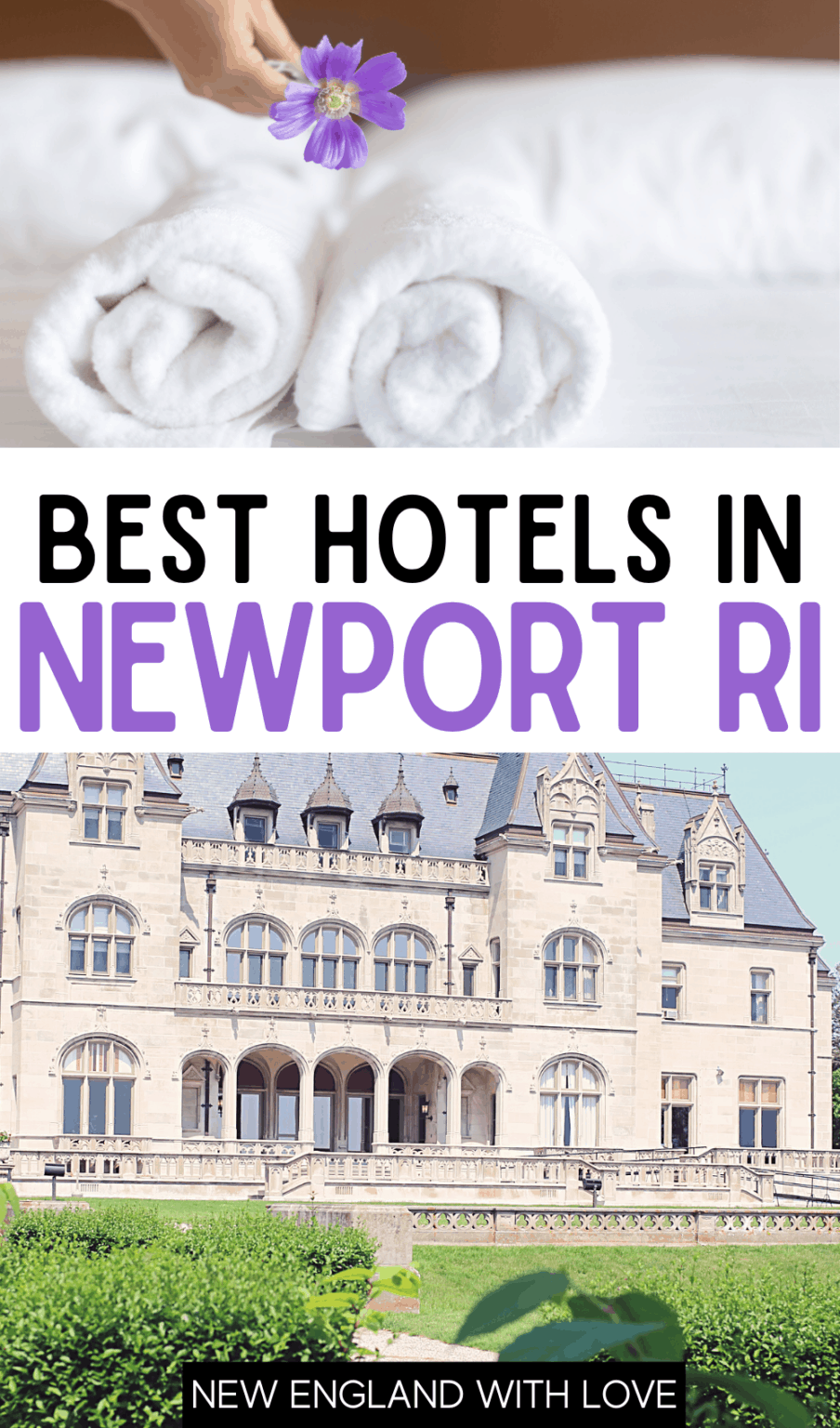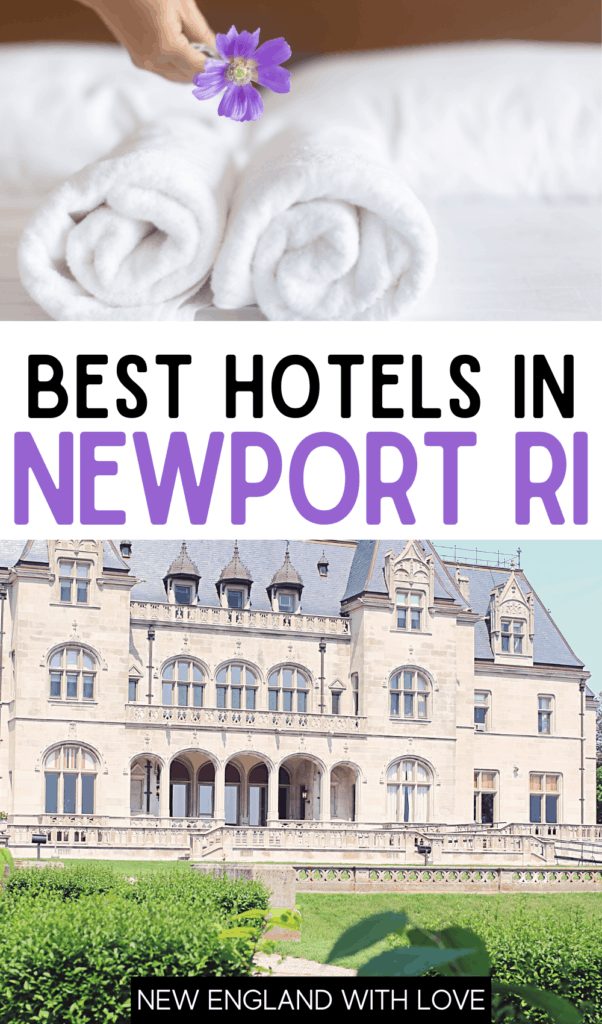 Best Hotels in Newport For Families
The Clarkeston
If you're wondering where to stay in Newport, RI, and you're traveling with a family, consider staying at The Clarkeston. Located right in Newport, this 3-star hotel is also one of the oldest places in the entire town and is now on the National Register of Historic Places.
What makes The Clarkeston so unique is that every room inside the inn is named after a different famous person. You never know which room you might end up in. While it's great for small families, it's also a perfect place to stay for couples.
The inn comes with free parking, non-smoking rooms, and complimentary wifi among other amenities.
Bellevue House
The Bellevue House is another of the most historic places to stay when visiting Newport. It was actually the first summer hotel in the town, so it's a pretty unique place to stay on this list of where to stay in Newport, RI.
Rooms at this accommodation include cable TV, air conditioning, full American breakfasts, on-site parking, wifi, and pets are allowed. There are suites, king bedrooms, and queen bedrooms. Some of the accommodations are quicker to book up in advance than others, so make sure you make reservations as soon as you know you want to stay here.
The Wayfinder Hotel
The Wayfinder Hotel is another excellent place to stay if you're traveling with a family. While it does cost a bit more than the other accommodations in this section of where to stay in Newport, RI. The price tag is worth it because of how nice this 4-star hotel is.
The hotel is located near the Tennis Hall of Fame and The Breakers, which is a popular place to tour when visiting Newport. Touring mansions here are an absolute must-do.
Amenities are pretty abundant here, with a pool, free wifi, parking, air conditioning, a gym, breakfast available for an extra fee, and pets are even allowed. There's also an on-site restaurant to make it easier for you to get a meal.
Best Hotels in Newport For Budget-Friendly Travelers
Motel 6 Newport
One of the most affordable places to stay no matter where in the United States you're traveling is Motel 6. While it may not be what you'd experience in a 4-star hotel, these accommodations are the perfect place for you to lay your head and get rest each night. They are also very budget-friendly and tend to cost less than $100 per night.
For an affordable and budget-friendly 2-star hotel, Motel 6 Newport does include quite a few amenities that make the price even more worth it. There's a 24-hour front desk receptionist, complimentary wifi, private bathrooms, seating areas, and the Newport Marina is actually only a 2-mile drive away.
Forest Trail Hotel
Another great budget-friendly place to stay when visiting Newport if you want to save some money is the Forest Trail Hotel. It is the type of place that you get what you pay for, but because it's budget-friendly, you'd be saving lots of money for the place that you're visiting. Newport is not cheap to visit!
Amenities here include free wifi, breakfast, and daily housekeeping. There are also smoking and non-smoking rooms available. Rooms range from King Studio Suites to single Queen bed offerings.
Please note that this accommodation is technically located in Middletown or Newport East, but it's a short drive still to all of Newport's best attractions.
Harbor Base Pineapple Inn
The last affordable place to stay in Newport and the surrounding area is Harbor Base Pineapple Inn! This 2-star hotel, or motel, isn't that far from the famous Newport mansions or Newport Harbor. Harbor Base Pineapple Inn is a great place to stay if you're traveling on a budget and won't be spending a whole lot of time in your hotel room.
There are modern amenities in each room and also free wifi so you can get work done during your visit. If you get hungry while staying here, there are also a few places to eat nearby, including Becky's BBQ and the International Pocket Cafe.
Best Hotels in Newport For Romantic Getaways
The Attwater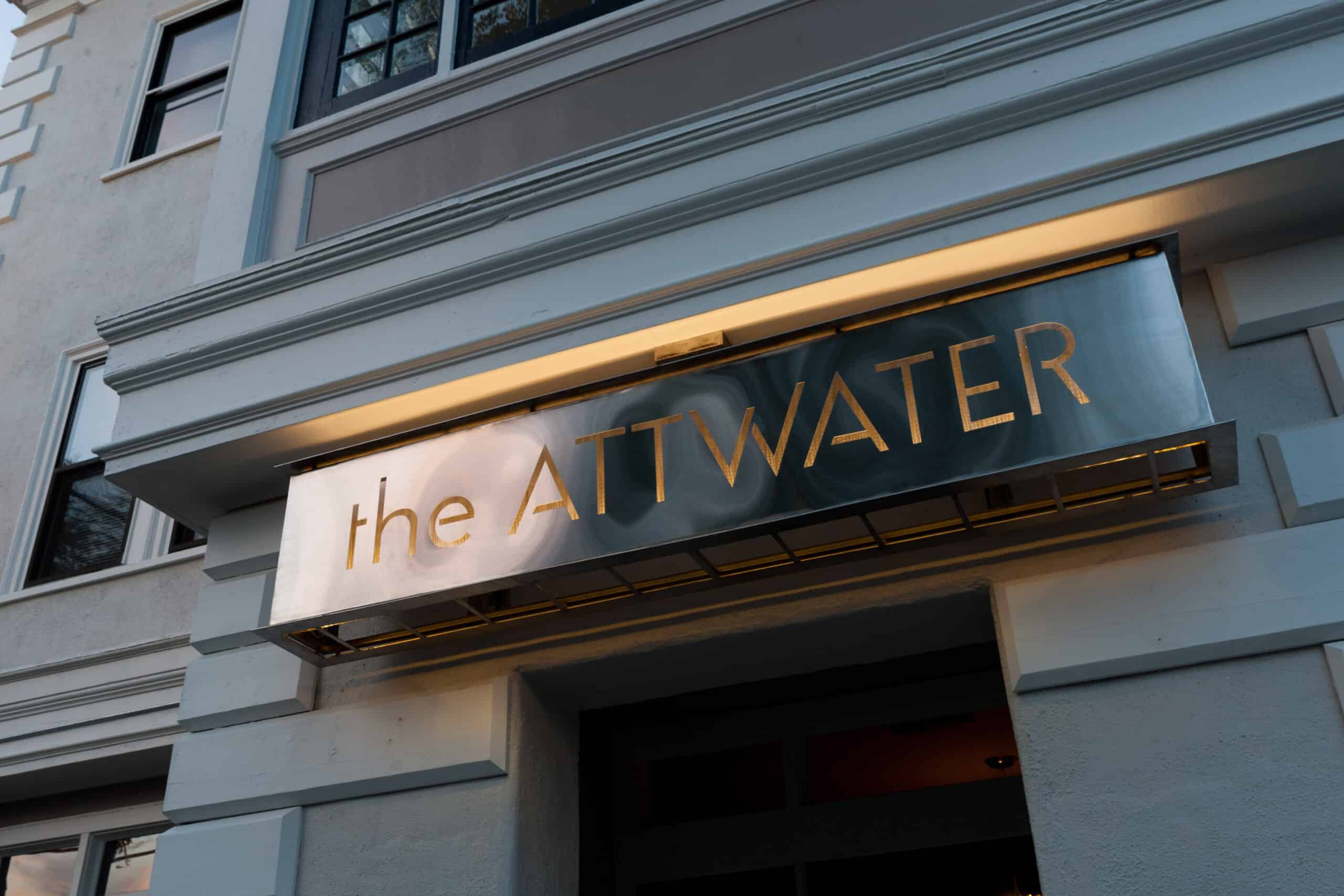 The Attwater is a beautiful yet elegant 3-star hotel accommodation in Newport that is ideal for couples vacationing in the area. It's an upscale accommodation that is right near the Tennis Hall of Fame and the Newport Art Museum. Seriously, guests can walk to both of them!
Guests are absolutely drenched in amenities when staying here, and that's a good thing! There's an iPad and TV provided to each guest in their room, as well as a refrigerator, private bathroom, and more. Plus, some rooms also have sitting areas that feature a sofa near the windows so you can relax somewhere other than your bed.
Hydrangea House Inn
Another amazing romantic accommodation in Newport is the Hydrangea House Inn. It's located in the oldest part of Newport, so there are tons of significant historical places for you to visit with just a short walk. It's truly a beautiful place to stay.
As you may imagine, because this inn specifically targets and specializes in stays for couples, there are pretty great amenities. Rooms are air-conditioned (or heated depending on the time of year you visit), and there's also a refrigerator and a spa bath.
Gourmet breakfasts are available, and guests can get homemade cookies delivered to them in the evenings. Plus, there are complimentary cheese and wine services!
The Brenton Hotel
The last of the best places to stay in Newport, RI, for couples is The Brenton Hotel. This could also count as luxury accommodation because pricing is a bit higher, but it's a truly magical and beautiful place to stay if you're wondering where to stay in Newport, RI.
This is also a much newer place to stay; it just opened in the summer of 2020.
There are tons of terrific amenities, including a close location to the beach, available breakfast, valet parking, smoke-free rooms, housekeeping, and four different places to eat and bars located right at the hotel.
Best Hotels in Newport For Luxury Accommodation
The Chanler at Cliff Walk
One of the best luxury accommodations in Newport is The Chanler at Cliff Walk. With nightly rates starting around $1,500, this 5-star hotel provides amenities and experiences unlike any other.
It's one of the most historic buildings in Newport and only has 20 rooms available to guests. Each one is decorated to represent a historical period of time, so you may get a different experience each time that you stay here.
Amenities for guests staying here include free parking, free wifi, a close location to the beachfront, family rooms, a restaurant, bar, and non-smoking rooms, among other amenities. It's a particularly well-rated place to stay among families and couples visiting Newport.
Forty 1° North
Next is Forty 1° North. With a name like that, you just know that it's going to be a luxury stay! This is a 4-star hotel located right near the water in Newport, so the views are incredible no matter which room you get.
The hotel is a close walking (or driving) distance to downtown Newport and many of the top attractions to see in the area, including the Tennis Hall of Fame. By staying here, guests can enjoy a gas fireplace, iPad, plush bathroom, access to The Grill and Christies, and more. There are even Marina services available!
The Vanderbilt, Auberge Resorts Collection
Last but not least is The Vanderbilt, one of the most popular luxury hotels to stay at in Newport. It's a 4-star hotel that doesn't look like much from the outside with its brick exterior, but it's a very beautiful and elegant accommodation if you're wondering where to stay in Newport.
The hotel was built in the early 20th century and is technically built inside a mansion converted into a hotel. Guests have amenities, including access to a luxury spa, dining, garden terrace, and more. Each room also comes with a DVD player, flat-screen TV, plush robes, and more.
—
There are genuinely so many beautiful places to stay in Newport, Rhode Island, and you can't go wrong with any of them. Just keep in mind that Newport is a genuinely fantastic and popular destination to visit during the summer months. If you plan on visiting in the summer, make your accommodation reservation at least a few months in advance!
Which hotel from this list of where to stay in Newport, RI, would you most like to stay at?
---
You might also like:
---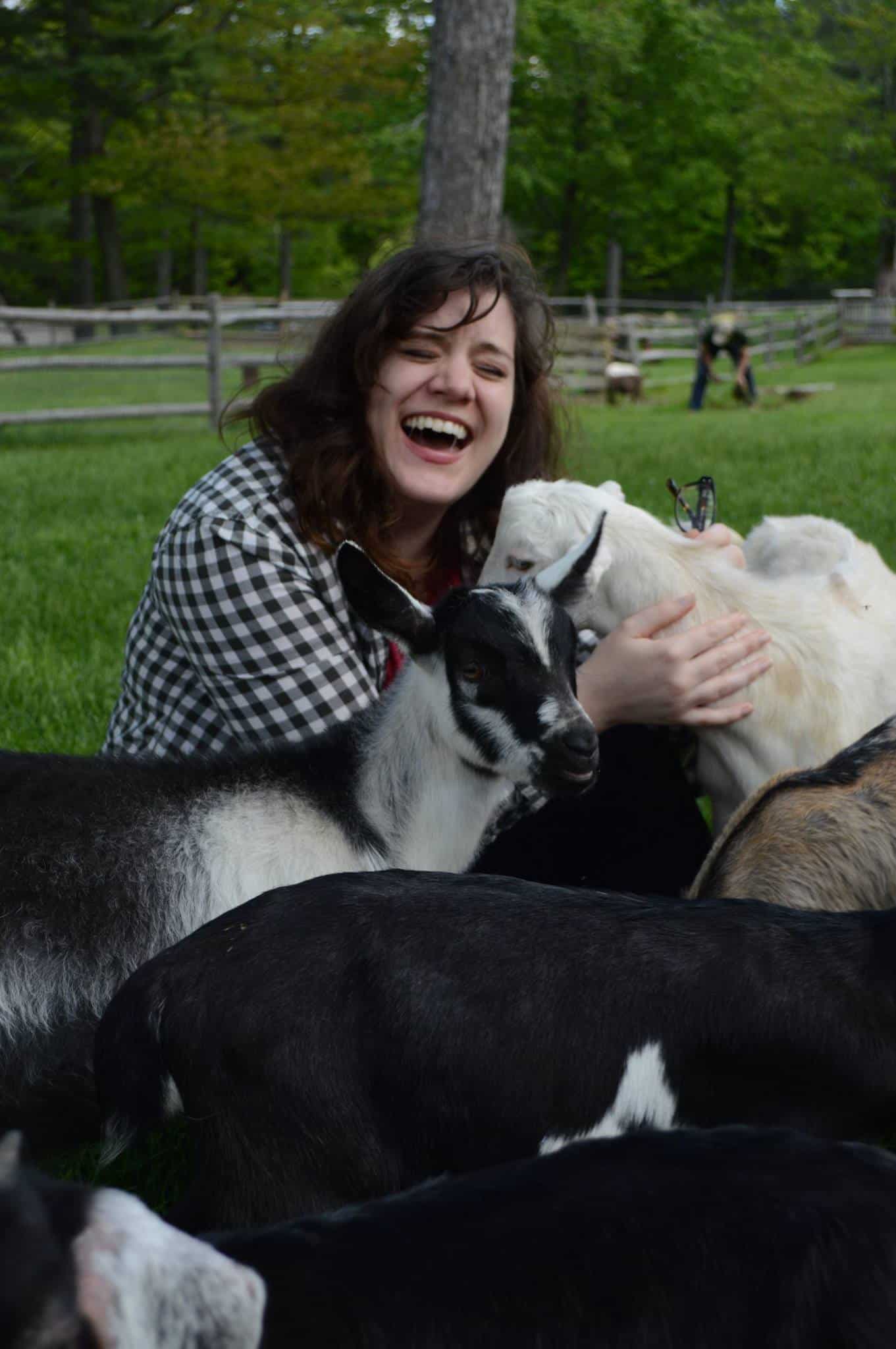 Amy is the founder of New England with love. A proud Vermonter, she hopes to share her love of New England and help you find the best adventures in the region. Amy is also blogger/founder at Two Drifters, where she writes alongside her husband about romantic and couples travel, relationships, honeymoons, and more. When not working on websites, Amy is probably reading, cuddling with her husband, son, and cats, & drinking a maple latte.